Introduce las fechas para ver el precio total. Ten en cuenta que se aplicarán tarifas adicionales y es posible que se añadan impuestos.
2 Bed & Breakfasts
· Danube
2 Bed & Breakfasts
· Danube
Beautiful woodwork surrounds you in this 1897-built house. Walking distance to Cottonwood Lake for fishing and swimming. Easy access to MN Hwy 23. Centrally located between Granite Falls and Marshall, MN.
Steve and Robin were amazing hosts and did dozens of things to give us a great experience. The refrigerator was full of drinks and snacks and great breakfast food, and Steve even brought over the morning paper. The woodwork on this mansion is so rich. The house has been restored and decorated which so much love. There is even a white terry cloth robe to slip on when going to the bathroom in the night. This place is such a HUGE step above local hotels in the area. We would stay there again in the future without hesitation. If you are looking for somewhere any place in south west MN, look no further. This is a gem!
Patti
July 2015
What a marvelous gem of a place! Our hosts were very nice.
Lynn
December 2016
Steve and Robin were great. We stayed at Robin's Next only for a night, since we were only in the area for a wedding. They stopped by to let us drop off our luggage and have a quick tour in the afternoon, gave us the keys, and we all left. Their full time renter was gone for the weekend, so we were alone in the house for the night. We were able to use the kitchen to cook an after-wedding snack, and breakfast, since we are both on strict diets and brought our own food. The house seems really well cared-for and clean.
Lindsey
July 2016
Great place to spend the night! Steve gave me a tour of the mansion and explained its history. Bedrooms are huge, filled with antiques and a very comfortable bed. Steve and Robin live down the street, so you can freely use the downstairs living room, dining room, and kitchen without feeling like an intruder. Good wi-fi and cable TV. Breakfast is self-help, which worked perfectly for me. Cottonwood is a small town, but Marshall is only 20 minutes down the road with lots of restaurants, stores, movie theater, etc.
John
September 2015
This house is absolutely beautiful. Each room wonderfully and warmly decorated. I felt like I had gone back in time to the grand glory of this pristinely renovated building. A great stay. Steve was a perfect host.
Edward
May 2016
Steve met us at our convenience for check in. The house is filled with antiques and replicas and felt quite homey. We enjoyed a nice self serve breakfast in the morning as well as snacks and beverages in the evening. Everything was clean and cared for. The train runs nearby but none disturbed my sleep.
Nancy
July 2016
Steve's great. It's a beautiful house, and it's very comfortable.
Ann
October 2016
Steve greeted us at the door and led us on a great tour of the house, explaining its history and some of its interesting features. We stayed in the bluebird room and enjoyed its turret-shape and natural light. The continental breakfast was comprehensive--fruit, cereal, juice, coffee, and muffins. Overall, we had a great stay!
Soren
August 2015
Tipo de habitación
Habitación privada
---
Tipo de propiedad
---
Capacidad
2
---
Dormitorios
1
Cottonwood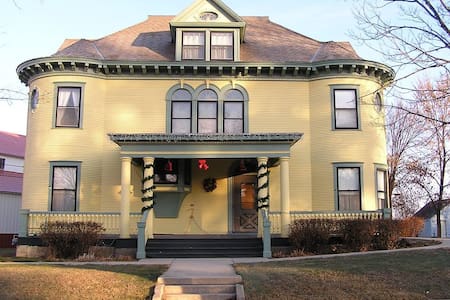 Old world charm and history surround you on this 1884 farm. Modern kitchen, separate quiet rooms, cabin with bunk beds, room to chase chickens or wander through orchard and gardens. Create your own dishes or dine with host.
Lots of places to roam. Many quiet spaces. Guests have access to the entire house. Someone will be on the farm during your stay.
Rural living. Easy access by car with tar road right up to the farm. Very limited public access. The stairway in the house is 'Norwegian Farmhouse' steep and is not conducive for those not sure of step.
Though it didn't work out for us to travel and stay at Glenn's farmstead, he was communicative and answered all my questions when initially setting this up. When the work plans fell through and we were unable to travel to MN for our stay, he was open to us letting a couple good friends take advantage of our paid up month. We are disappointed we were unable to come to MN and enjoy farm living for the month but will be sure contact Glenn if we get called to Marshall again.
Shawn
August 2016
Glenn was a very welcoming host, and his stories were as timeless as his home. We fell under the charm of a crackling fire and cuddly cats. Glenn's home makes for a great destination in seclusion.
Travis
December 2016
We had a wonderful stay on the farm. Glenn was a fantastic and gracious host who made us feel comfortable and welcome from the outset. We enjoyed chatting with him over breakfast - a perk we were not expecting - and exploring the farm, making friends with the various animals (dog, cats, chickens) who call it home. Our room was comfortable and cozy, and gave us the perfect base for our visit with family in the area.
Matthew
November 2016
Glenn's farm is a great place because of the amenities as well as the attention that is provided. Breakfast was amazing, the hot tub was hot and the peace and tranquility of Clarkfield were great. I had a great stay and would recommend Glenn's farmstead to anyone who would like to relax in western Minnesota!
Matias
September 2016
Very accommodating host! Thank you for everything.
Jason
March 2016
Glenn was very welcoming. The farm was pleasant. It was great to wake up to roosters crowing. We were promised morning scones, but none came.
Joan
August 2016
Glenn's farm was a fantastic setting for my group and I would highly recommend staying there. Glenn was a warm and accommodating host who is a great storyteller and he even made breakfast for us with eggs he picked that morning. The farmhouse had wifi, a hot tub we utilized, and three bedrooms big enough for our group. There is also a cabin with a bed and desk that I personally stayed in and enjoyed. It would be a fantastic place for a writer or anyone needing some time away to rejuvenate. The farm has both history and cutting edge technology with the solar powering the farm.
Aaron
December 2015
Glenn was a great host! Made us feel very welcome. The area is beautiful and very relaxing!
Ben
June 2016
Tipo de habitación
Habitación privada
---
Tipo de propiedad
---
Capacidad
4
---
Dormitorios
1
Clarkfield