My stay at Maritza's was great! The place is brand new in a beautiful location. Perfect to get away from it all, yet really convenient to the "hustle and bustle" of the town limits. Maritza was an awesome host! She even drew me my own personal map to show me how to hike up to the scenic Blue Ridge Parkway. I definitely plan to stay again!
Chalice
2016-08-27T00:00:00Z
My girlfriend and I had an amazing weekend in this solar powered cottage surrounded by the mountains and landscape. A real joy having breakfast and dinner outside each day on the deck with nice breezes while looking out at the mountain range. Only a 10-15 minute drive into Boone for shopping, entertainment, and restaurants. We look forward to coming back soon.
James C.
2016-07-25T00:00:00Z
This was a great experience. First of all the house is extremely comfortable with beautiful views. The bed was comfortable, the kitchen is really nice, the bathroom was clean and comfortable, the side deck was great and the outdoor seating offered beautiful views. This cabin was a great getaway for my girlfriend and me and a great place to unplug and have some peace and quiet. From certain areas you can see the main house from the cabin but its so far away and high up we felt complete privacy. The land it is on is beautiful. There were gravel and grass paths to walk around and see the land. We got to see rabbits, hawks, and even a few deer. One deer walked calmly in front of us across a path about 30 feet from us. During our stay there was an issue with the solar power and we were without power during one day and I think one night but our hosts were so great in communicating and making sure we were still comfortable. It did not bother us because the stove and hot water functioned without power and the outdoor, stream-fed "refrigerator" tub worked great to keep all our food cold. They were quick in resolving the issue while respecting our privacy and keep us informed as to what was going on. The road up to the cabin is rough but my girlfriend's Honda civic made it up and down no problem. If you want a place to go and enjoy nature, leave your phone world behind, and relax in quiet beauty this is great place to stay.
Colin
2016-07-20T00:00:00Z
I rented this cabin for my daughter and her friends. The cabin was clean and the communication with the hosts was easy. They were mainly there to go to Appalachian which was about a 20 minute drive. The cabin was very modern and they would love to go back!
Angela
2016-11-20T00:00:00Z
This cabin was everything I needed for a solo, secluded stay. The property manager was responsive and wonderful to work with. I will absolutely go back! The off-grid lifestyle is a wonderful change of pace and helps gain perspective on your energy consumption in your everyday life. Thanks for a wonderful trip!!
Doug
2017-03-12T00:00:00Z
We loved our stay! This was a very clean and beautiful cabin. The view of the mountains was awesome! Without a doubt I would stay here again :)
Brandy
2016-09-18T00:00:00Z
The cabin was up a private lane. My girls had a great time hiding out in the reading nook and exploring the nearby pond and lane. The cabin was ready for us to check in and there was a fully stocked kitchen with all of the dishes and utensils needed. The location was great, private but close enough to Boone and Blowing Rock that going out to dinner and attractions was convienent. It was very cloudy and rainy the first 2 nights we visited but our solar power lasted until about 4 am which was fine because there was plenty of natural light in the morning and they had left us 2 lanterns just in case. The days that it was sunny out the solar power did fine and lasted all day and night.
Melissa
2016-08-13T00:00:00Z
Beautiful views from a beautiful home!!! Peaceful and quiet and very unique. Enjoyed the location and experience so much that it will definitely be my first choice when returning to the area.
Thad
2016-09-28T00:00:00Z
Tipo de habitación
Casa/apto. entero
---
Tipo de propiedad
Cabaña
---
Capacidad
4
---
Dormitorios
Boone, Carolina del Norte, Estados Unidos
Whether you are looking to have a romantic getaway for two or to making new family memories, The Mountain Retreat is the perfect place for you! This gem of a cabin is perched on the hillside with everything you need for the ultimate retreat.
The Mountain Retreat is a wonderfully cozy cabin situated on several acres deep in the mountains of North Carolina, in close proximity to Boone, Blowing Rock, West Jefferson and Wilkesboro. The Mountain Retreat is the PERFECT spot for a romantic retreat for 2 or a small family. There is 1 bedroom with a queen bed and a queen size sofa bed in the living room. There is room for an inflatable queen size air mattress if needed (it would be very cozy). Just a stone's throw from the cabin there is the pleasant sound of a mountain stream. The terrain surrounding the cabin is full of plants, flowers, shrubs and fruit trees. We even have a gazebo with swing and a doll house for you to enjoy!
The Mountain Retreat is just a few miles away from the Blue Ridge Parkway and located in a charming cabin community called Creekside Estates. There are only a handful of cabins in the neighborhood, so you can rest assured to experience a most special stay. The Mountain Retreat is located 15 minutes from Boone and 20 minutes to West Jefferson and 30 minutes Blowing Rock. The Blue Ridge Parkway is only 4 miles from the cabin.
We had a great stay! The neighborhood was quiet and the mountains were beautiful. Richard was kind enough to check in with us and make sure we didn't need anything. We loved getting to enjoy the porch. We would definitely come back!
Emily
2016-07-24T00:00:00Z
We had a wonderful trip to the mountains. The cabin is exactly as described. Cute and cozy.
Holly
2017-04-10T00:00:00Z
Wonderful place! I have stayed there twice now and can't wait until I can go back. Richard was always quick to respond whenever I had any questions. I would highly recommend it if you are looking for a a nice, cozy getaway.
Caleb
2016-06-25T00:00:00Z
This spot is a great one! I stayed here with my two children ages nine and 12 who spent a lot of time hiking in the woods behind the house. The fireplace is great and unlike most rentals, the bed and linens are fabulous. The Wi-Fi is excellent though I could get no cell reception up here. You will have to go to the main road most likely to get reception. Also, the nearest grocery store is a pretty good distance away so come prepared. This is a great Airbnb! Big thanks to Richard for letting us stay.
Heather
2016-12-31T00:00:00Z
The cabin was great. Within 15-20 minutes of several communities. Easy access to BRP and local fishing which was a big win for me. Richard was super easy to communicate with and always very prompt on his responses.
Adam
2016-06-06T00:00:00Z
This cabin was the best! We really enjoyed our stay. Quiet and peaceful and not far from the slopes. I will definitely be back.
Angie
2017-02-13T00:00:00Z
Seen no bugs, completely clean, everything you need available, and beautiful creek/mini waterfall a short hike from cabin. Overall very cozy.
Timmy
2017-03-21T00:00:00Z
This is my favorite place to stay near Boone. The cabin has everything you need to be completely comfortable! Richard is an amazing host and as always well be back!
Elizabeth
2017-02-14T00:00:00Z
Tipo de habitación
Casa/apto. entero
---
Tipo de propiedad
Cabaña
---
Capacidad
4
---
Dormitorios
Fleetwood, Carolina del Norte, Estados Unidos
Our cabin has stunning views of the Blue Ridge mountains. It is perfect for family vacations, romantic getaways, active seniors, and for weekend visits to App State students. Our favorite moments are morning coffee, a glass of wine watching the sunset from the rockers on the deck, and sitting around the firepit after dark. Our favorite activities are Hiking, Kayaking, Ziplining, Scenic Driving, Horse riding, Tubing, Fishing, Cycling, Antiquing, and enjoying family and friends.
Our cabin is a beautiful log cabin inside and out. It has 2 bedrooms with queen beds, a kids cave (3rd bedroom) with a sofa bed suitable for 1 adult or 2 children, and a day bed with a trundle in the loft area. It is ideal for one or two couples who are looking to get away from the crowds. For young families wanting to escape the virtual world, and for active over 50's who enjoy life, and exploring this beautiful country.
Gated community with barbecues, picnic tables & pavilion next to a fishing lake, minutes from the Blue Ridge parkway. Boone and West Jefferson are 15 minutes drive.
Tipo de habitación
Casa/apto. entero
---
Tipo de propiedad
Cabaña
---
Capacidad
8
---
Dormitorios
Fleetwood, Carolina del Norte, Estados Unidos
Our mountain cabin is located in a gated community in Fleetwood NC. It is located minutes from the Blue Ridge Parkway, 15 minutes from Boone and less than 35 minutes from skiing. Our cabin offers over 2,500 sq ft of decking to enjoy the beautiful mountain views. Rockers, swings, fireplace and firepit add to your enjoyment outside. If you prefer to enjoy the view from the inside, there are large windows which both maximize the view and let lots of light into the cabin. Sleeps 14
Great location and view. House was beautiful!
Josh
2017-03-12T00:00:00Z
Tipo de habitación
Casa/apto. entero
---
Tipo de propiedad
Cabaña
---
Capacidad
14
---
Dormitorios
Fleetwood, Carolina del Norte, Estados Unidos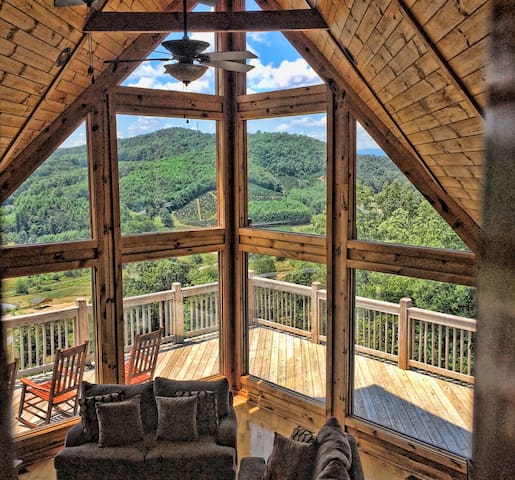 The reservation was canceled 19 days before arrival. This is an automated posting.
Kathy
2014-04-05T00:00:00Z
I would rate Christine and Tom's place a "7" out of 5 stars if AriBnB would only let me. I could not have invented a nicer place to stay. We looked for a place not far from the Virginia Creeper and stumbled upon this beautiful cabin and adorable couple in Todd, NC. In the process, we made two new friends. The cabin is tidy and peaceful and has a stunning view of the New River. You will not find a better chef within at least a two hour radius. We so enjoyed breakfast of homemade items. We also opted for dinner and were blown away with Christine's creations. Much of it straight from their garden. We were surprised the next morning with a kayak trip they offered - taking off from the house and Tom offering to pick us up an hour's ride away. It was beautiful and amazing. We can't wait to do it all over again.
Allie
2012-09-17T00:00:00Z
Tom & Christine were amazing! They were both so accommodating and their attention to detail was perfect! The house was beautiful, comfortable and extremely clean and cozy. Christine's preparation for our gourmet breakfast was delicious and special. Her French roots are visible throughout their home and her culinary perfection! Tom made sure we had anything we needed and took extra time to inform us of local events he thought we would enjoy. We enjoyed our stay so much and didn't want to leave! Thank you both so very much for welcoming my family. We will definitely be back and highly recommend anyone wanting to be pampered and comfortable for their visit to the area!
Amy
2015-07-06T00:00:00Z
Christine and Tom were such wonderful hosts. Their cottage was cozy and the views were breath-taking. Christine welcomes you with a wonderful gourmet snack when you arrive, and breakfasts are absolutely delicious. The best continental breakfast I've had yet. Tom has great recommendations for outdoor activities, and provides you with bicycles and kayaks to use if you want. A++++We will definitely be coming back!
Maria
2012-10-08T00:00:00Z
Great place! Tom and Christine were amazing hosts! The cabin is in a beautiful spot on the river and their back deck is a perfect spot to enjoy it. Christine's cooking was superb, highly recommend the additional breakfast on Sunday! Tom's knowledge of the areas best spots to kayak and bike made it a easy trip to plan. Check this place out!!
Alex
2012-07-30T00:00:00Z
Chritine and Tom were awesome hosts! They made me and my girlfriend feel extremely welcome. The stay was impeccable. Everything was beautiful and refined. And every inch of the cabin was spotless! They provided useful tips for places to visit during our stay, provided a fantastic breakfast, and everything they did was designed to make us comfortable during our time there. I would absolutely recommend them to anyone looking for a stay near Boone and the NC ski slopes.
Danny
2015-01-05T00:00:00Z
I would highly recommend this cabin to anyone wanting to get away. Tom and Christine were extremely hospitable and nice to be around. Their home is very cozy and the description on the website is very accurate. We had a fabulous weekend with them!
Brittany
2015-05-04T00:00:00Z
Picture yourself seated on the back porch of the River's Edge Inn. A morning breeze whispers by, and you hear the burbling of the river just a few hundred feet away. Before you a fresh, homemade French-inspired breakfast waits on fine china to be tasted. Little birds eat their breakfast as well on the hanging bird feeders near two adirondack chairs for sitting and viewing the river. A tasty repast and picturesque location is only one aspect of our stay at Tom and Christine's. We came in for a one-night stay on short notice, and Tom and Christine were more than ready! Everything was clean and fresh, from the firm mattress to fresh pillows. Our room was artfully decorated with French paintings and other fine ornaments. Christine showed us such hospitality: she offered us some fine French wine with some treats as we sat on the porch, and they told great stories. One highlight was taking Tom up on the opportunity to kayak. He graciously drove us to the nearby bridge, let us borrow his kayaks and other equipment, and sent us downriver to pick us up later. When we capsized soon after putting in, he kindly helped us back up again! We will remember a dozen precious details about this special place: the morning sunshine, the ongoing scrabble game between Tom and his son upstairs, Christine's art, a bike ride by the river, seeing an otter while kayaking, their friendly cat Casper, dinner with live music downtown, seeing shooting stars at night, and more. They truly welcomed us into their home. Thank you again for a great (and much needed!) stay.
Susie
2016-08-13T00:00:00Z
Tipo de habitación
Habitación privada
---
Tipo de propiedad
Cabaña
---
Capacidad
2
---
Dormitorios
Todd, Carolina del Norte, Estados Unidos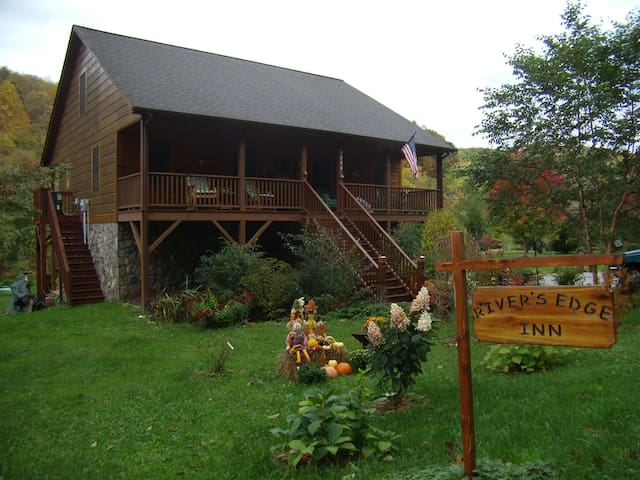 Beautiful house. Great place for family to hang out.
Kaye
2016-12-19T00:00:00Z
The cabin is very well stocked and clean! Our group came for the skiing, which is about 35-45 minutes depending on which mountain you pick. They definitely seemed to have thought of everything, from kitchen cookware and spices to bathroom toiletries. We loved the hot tub (despite some minor technical difficulties) and game room! Our group also liked that the cabin seemed newer than some others we considered. Despite not being high on the mountain the view is still absolutely gorgeous. Overall, would definitely recommend and stay again!
Erica
2017-02-28T00:00:00Z
Tipo de habitación
Casa/apto. entero
---
Tipo de propiedad
Cabaña
---
Capacidad
10
---
Dormitorios
Todd, Carolina del Norte, Estados Unidos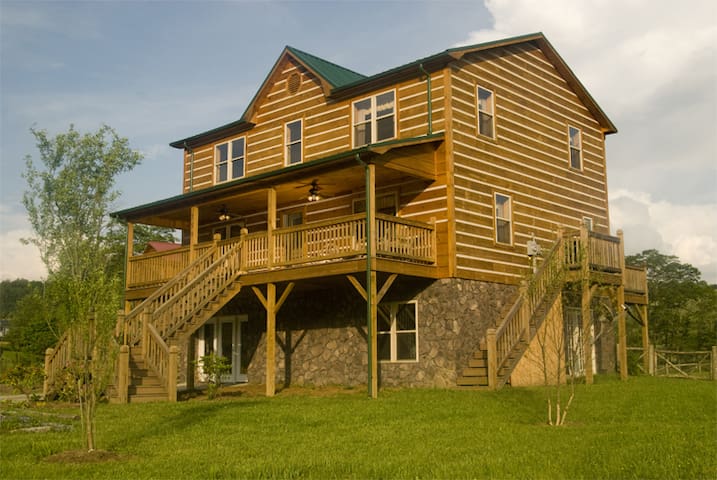 1

–

6

de

6 Alquileres de Cabañas
Introduce las fechas para ver el precio total. Ten en cuenta que se aplicarán tarifas adicionales y es posible que se añadan impuestos.