North beach in Hampton. New construction top floor surf loft with ocean view on a quiet rd off ocean Blvd. ideal for a surf get away with ample parking. You will love this loft, as it has unobstructed ocean view. Although the loft is tiny, it is well maintained and minimally supplied, which is perfect for beach life. Directly across from one of the longest beaches in NH. This is a true gem of a location.
Top floor of a 3 unit condo building. Small kitchenette, with basic essentials. 1 full bed and 1 pullout queen futon. Ideal for spending hours on the beach and enjoying the majestic Atlantic Ocean, with views of Isles of Shoals and points north. Directly across from 2 mile long beach and easy access to both Hampton beach and major highways of 95 and rt 1A
Quiet neighborhood off of Ocean Blvd.
Really clean and next to the beach. Great for a small stay!
Hélène
2016-08-09T00:00:00Z
Incredible location! Close enough to the strip to walk, or take a cheap Uber ride, but far enough away to have a peaceful night. Coming back from the strip and enjoy a couple of hours at the beach directly across from the house was a real highlight. The unit is definitely small, but was perfect for my three friends and I. Bed sharing is a must for more than 2 people. The apartment was beautiful and clean. We were very thankful for the host-provided fans, as the third floor unit was HOT when we first got there. After opening all the windows and setting the fans to create a cross breeze, it cooled down quickly and was comfortable the rest of the weekend. We had a great time and would definitely recommend this location!
Jessica
2016-08-01T00:00:00Z
This place was perfect for a weekend or a few days stay. Perfect location close to the boardwalk. I would definitely stay here again.
Max
2016-07-19T00:00:00Z
This apartment was not an apartment its an attic. An attic with very slanted ceilings, so slanted my husband had difficulty using the toilet and he is 6" tall and in order to stand straight he had to stand 6 inches from the toilet. We were not greeted or shown the apartment and how it the futon worked. After arriving from a long trip we had to use the bathroom there was no toilet paper or hand soap in the apartment. There is no ceiling lights in the front room, just two mini head lamps, making the front of the house very dark. When we booked it we were called and asked to provide our own sheets for the beds and we declined as it was not in the listing and we were traveling from far. When we arrived we found the sheets crumpled up in a bag and we had to dress our own beds and therefore had to see the very old pillows with stains that looked like they had been picked up a the Salvation Army. There was only two stools and no kitchen amenities such as salt, sugar, oil, dishwashing liquid basic things that all of the apartments I have rented in the past have. Cute place for two, not four and if you want to be surrounded with very frail old looking furniture and dirty lamps, trashcan and tables. We had to purchase cleaning materials just to stay there because it was so dusty but only cleaned where we had to. Not expected for the cleaning fee we were charged. And to top it all off one of the days we were having a shower our neighbor said we were leaking water into his apartment I suppose because the drain in the shower was not working so it was not going down easily. A hot mess if you ask me.
aixa
2016-09-06T00:00:00Z
Keper was available via text throughout the weekend. The pictures were accurate (apartments is very pretty and clean), except that we thought the bed was in its own space and not just a few feet from the futon. Safe, quiet, clean neighborhood. You have to drive to get to the main drag of the boardwalk, but the northern part of the beach is just a two minute walk from the apartment. No A/C or dark curtains (to block sunlight) was a bit of an issue--it was 97+ during our visit and we were on the third floor. Bring a box fan! Marsh in the back was a pretty view.
Justin
2016-08-15T00:00:00Z
Tipo de habitación
Casa/apto. entero
---
Tipo de propiedad
Loft
---
Capacidad
4
---
Dormitorios
Hampton, New Hampshire, Estados Unidos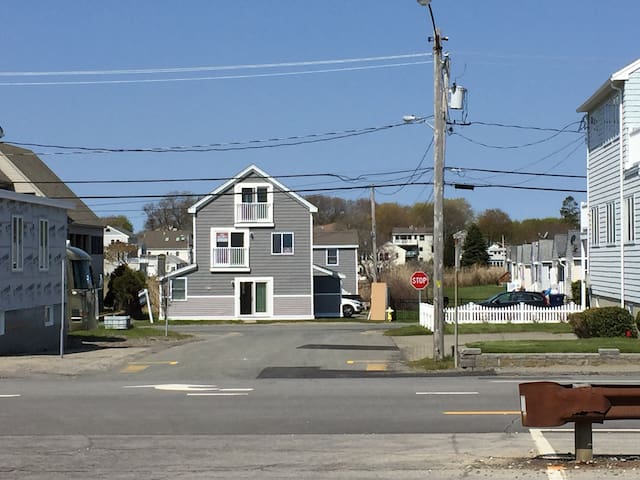 This is a modern downtown studio (over large garage) in the heart of Kennebunk just 4 miles from Kennebunkport. Walk to shops, restaurants, entertainment and the trolley stop! The location couldn't be better. Includes a beach parking pass if you decide to drive. A great space for two people! This space is being rented for the first time this summer, therefore, it does not yet have reviews. Please visit the following link for reviews on my other property: https://www.airbnb.com/rooms/5260907
The space is clean and updated and very comfortable for two people. There are two areas that are open to each other. The bedroom and the living room/kitchen. There are 20+ steps up to the apartment so you'll get your exercise! Access is outdoors and completely private.
Diagonally across the street there is nightly entertainment in the park. Mostly Shakespeare but also music from time to time.
Tipo de habitación
Habitación privada
---
Tipo de propiedad
Loft
---
Capacidad
2
---
Dormitorios
Kennebunk, Maine, Estados Unidos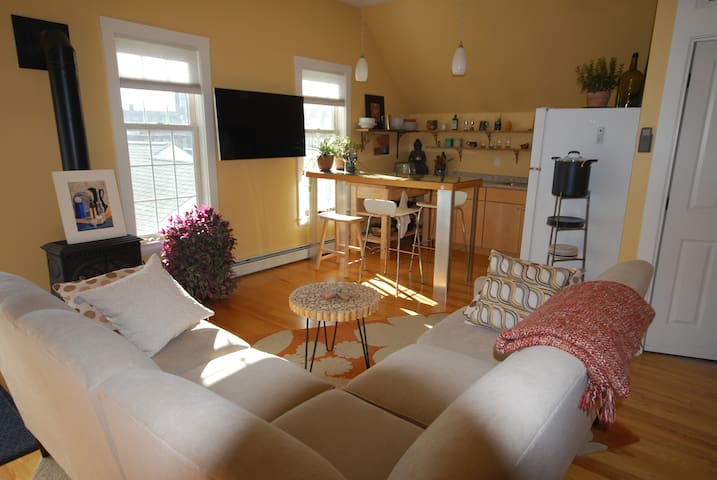 Newly renovated loft separate from main home with Queen bed and futon; offering the opportunity to refresh and renew. Discount on healing and yoga services, proximity to beaches, hot and wet sauna, surrounded by cute towns, beaches and nature walks.
State of the Art Tranquility loft, completely private with modern amenities, and peaceful vibe. A perfect place to unwind and relax.
Friendly rural community miles away from the North Shore's finest beaches, wildlife reserves, Newburyport, Plum Island, historic towns and shops.
This place was just perfect. The landscape is spacious and warm and the chickens are beautiful! The loft space is very comfortable with lots of great books and a great seating area in the corner. Our hosts were perfect and the homemade chocolate and yoga were huge bonuses! A must stay for anyone looking to unplug, relax, and tour this area of the world.
Derek
2016-12-26T00:00:00Z
The space and place were so comfortable and aligned with our values. Anthony and Rachael were so welcoming and helpful over the weekend.
Robin
2016-10-08T00:00:00Z
We greatly enjoyed our stay at the Tranquility Loft. We especially appreciated the friendliness of Rachael and Anthony, the on-site sauna, and the home-made chocolates! The evenings were very quiet, allowing us to sleep soundly. If you are visiting the area for a wedding or similar event, do yourself a favor and plan for an extra day or two - we wish we could have stayed longer to take advantage of the fire pit, the famous hot chocolate, and the local restaurants and scenery!
Zackery
2016-05-09T00:00:00Z
This is a peaceful spot in a quiet rural suburb, located just a few miles from restaurants in Newburyport and nature preserves along the Parker River. Anthony's morning yoga class featured helpful, aspirational coaching to simultaneously maximize streching strength training.
Tobias
2016-12-29T00:00:00Z
I had a great time. They are wonderful people and the place is excellent.
Manuel
2016-06-25T00:00:00Z
We spent a peaceful night at the Tranquility Loft while visiting family in Boston. Rachael and Anthony were super hospitable, and the place was absolutely gorgeous. We had privacy and freedom to come and go as we pleased, it was the perfect coastal getaway!
Meaghan
2016-08-02T00:00:00Z
I had the best experience this past weekend meeting Anthony and Rachel. They both run a lovely Yoga Studio and I've enjoyed learning different techniques of infant massage that Rachel showed me with my son Leonardo. I've received the best combination of massage and acupuncture. I felt so relaxed and at peace, both in my mind and body after the session on Saturday that I still feel the benefits today Monday, after 48 hours. I strongly recommend it and I can't wait to go back for more! Over the top healing and detox experience from the chaos of every day life! Loved it! Thank you for an amazing experience of a lifetime!
Anna
2015-06-29T00:00:00Z
This is a lovely spot. Anthony and Rachael are wonderful. The space is beautiful and peaceful. Anthony's Monday morning yoga class, followed by a sauna, was just what I needed. The delicious and healthy breakfast smoothie Anthony offered was the icing on the cake.
Ruth
2017-02-20T00:00:00Z
Tipo de habitación
Casa/apto. entero
---
Tipo de propiedad
Loft
---
Capacidad
2
---
Dormitorios
Rowley, Massachusetts, Estados Unidos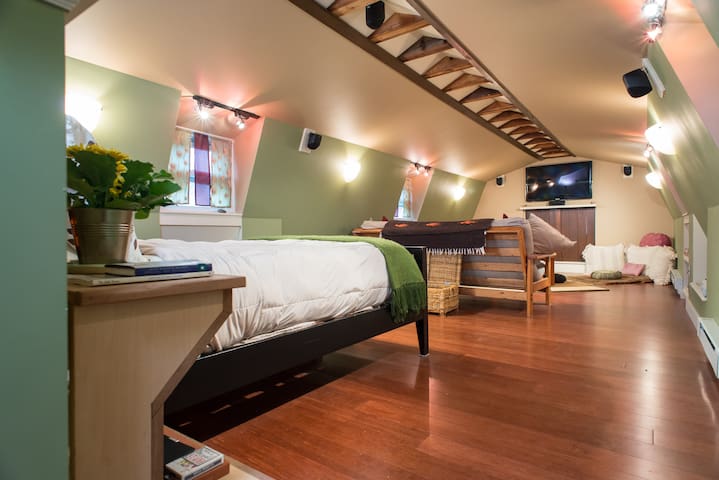 Our space has direct access to beach. Can walk to nearby islands at low tide. Nine miles from Kennebunkport, 10 miles from OOB, and 20 miles from Portland. One mile from the University of New England. Very quiet, residential area with friendly and relaxed atmosphere. We can't wait to meet you!
Welcome to Hills Beach! Here, we offer you a relaxing stay in a quiet, safe, residential neighborhood directly on Hills Beach in Biddeford, ME. We are located just a short drive (20 minutes) from Kennebunkport, ME and approximately 30 minutes from Portland, ME. Additionally, we are located just a short drive from the University of New England's main campus (5 minutes). The space you are renting is a small studio apartment (270 square feet) above our garage that is has its own full bathroom. The loft space is separate from the house and has its own private entrance for you to use. There are two beds: one is full-sized and the other is a twin. The loft has a closet for you that is outfitted with plenty of hangers, along with a bureau for additional space for your clothes. We also have WiFi available.
We live in a quiet, friendly, family-oriented neighborhood that is good for walking and offers quite beautiful views of the ocean. Should you wish to walk to Buffleheads Restaurant for dinner during your stay, we are only about 300 yards away.
Séjour fantastique avec des hôtes extraordinaires! Nous avons été accueillies comme si nous étions de vieilles connaissances; Richard et Rachel sont des personnes vraiment chaleureuses. Les conseils de Richard pour les restaurants sont précieux, nous n'avons regretté aucunes de ses suggestions. Rachel parle très bien le français, un plus si vous n'êtes pas à l'aise dans la langue de Shakespeare. L'endroit est parfait, près de tout mais loin des foules. La chambre, au dessus du garage, est indépendante de la maison. On peut entrer et sortir sans déranger nos hôtes. Tout est propre et bien entretenu et la plage est superbe. Nous y retournerons sûrement.
Vesna
2016-08-30T00:00:00Z
Richards place was great. Room was quant clean and nice. The beach was just steps away would recommend to anybody who wants to stay in Maine. Both Richard and his wife very nice.
patrick
2016-08-16T00:00:00Z
Richard and his wife were excellent hosts and really made our stay enjoyable. The space was very well done, clean and conveniently located directly on the ocean. We relaxed on the water in the mornings and did day trips to Kennebunkport, Perkins Cove & Portland during the evenings. Highly Recommend.
John
2016-07-29T00:00:00Z
Richard greeted us on arrival and both he and his wife made us feel welcome.. a beautiful location on the water.He gave us great recommendations to local restaurants that were off the beaten path. Aside from a broken television remote control, the accommodations were excellent.
sarah
2016-08-26T00:00:00Z
Richard and Rachel are very welcoming hosts! They were helpful with restaurant suggestions in the area and with sharing information about the area! The view from the house is fantastic and a perfect getaway! Make sure to stick around for the sun set. This loft apartment is the perfect base for exploring the area. I highly recommend their space :)
Sonia
2016-07-31T00:00:00Z
We had a wonderful time at Richard's place. Beautiful view of the water, nice clean, refreshing surroundings, made to feel very welcomed, gave suggestions of places to go to, local paper in room. We had a terrific time there, felt very comfortable, safe and will plan to use it again! It was perfect for us! Thank you Richard to opening your home to us!
Susan
2016-08-05T00:00:00Z
Wonderful vacation in a beautiful area. Richard and his wife were very welcoming. The studio apartment was private, spotless and very comfortable. Felt very much at home. Got to revisit an area I had stayed in with my family as a child. Good memories. Couldn't have asked for more. Would recommend highly to others.
Peg
2016-07-24T00:00:00Z
We had a lovely stay in the quiet Hills Beach Retreat. Richard warmly greeted us upon our arrival and we had several nice chats with him and his wife throughout our stay. They gave us several suggestions of things to do in the area. The space was perfect for a quick getaway with my husband. The space was very clean and included several travel guides, local newspapers, as well as a microwave, mini-fridge, and coffee maker. The Murphy bed was quite comfortable, as was the daybed, which we used as a couch while reading or watching TV. The highlights of our stay were eating breakfasts in their yard overlooking a spectacular ocean view and walking on to the beach, out to several sandbars and islands during low tide. This is a terrific AirBnB, with lovely hosts, at a great value. Hope we can come back again!
Kate
2016-08-02T00:00:00Z
Tipo de habitación
Habitación privada
---
Tipo de propiedad
Loft
---
Capacidad
3
---
Dormitorios
Biddeford, Maine, Estados Unidos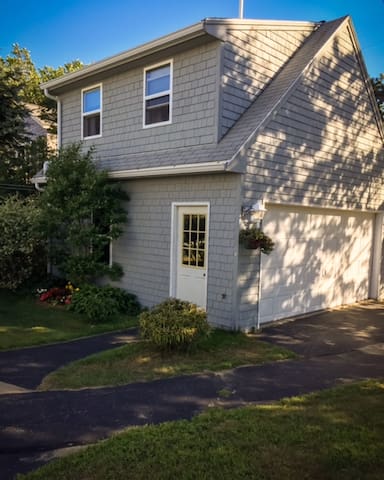 Nestled amongst the Lake Winnipesaukee area in beautiful New Hampshire sits this rustic lakefront carriage house on peaceful Mirror Lake, minutes to Wolfeboro NH, close to dining, shopping and a short drive to New Hampshire's White Mts National Park Region
Carriage House second floor Studio Loft with a rustic log cabin feel, on the shore of Mirror Lake with mountain and lake views from every window. Queen size bed, full bath, futon couch, fridge, microwave, coffee maker, dishes, utensils, drink ware, bedding, towels, shampoo, conditioner, hair dryer, 42in flat screen TV, dining space and living room area. Limited wifi. There is a grill and outside seating. A separate entrance affords privacy, parking for one car included.
We are located on the shore of a quiet private lake. Wedged between Mirror Lake and Lake Winnipesaukee, with beautiful views of majestic mountains, off the beaten path on a private country road. Quiet neighbors in a relaxed setting with North Country comfort. Listen to the loons or watch a beautiful sunset lakeside or on a romantic canoe ride. The Lakes Region of New Hampshire is host to numerous attractions and activities including boating, shopping, antiquing, dining, seasonal foliage, hiking, and exploring New Hampshire's natural beauty.
Beth was such a great host! My boyfriend and I really enjoyed ourselves relaxing in their beautiful loft carriage house. The loft was spotless and came with all the amenities that were needed. Beth even left us fresh fruit and Danishes for breakfast for our first day. The lake was beautiful and very peaceful. We enjoyed relaxing on the dock with our morning coffee and using canoe. We will definitely be back again!!
Heather
2015-08-20T00:00:00Z
Kate and I had an amazing experience. Beth and Nick were delightful hosts and insightful. It was good to come from an overloaded work schedule and enjoy the lakes of tuftenboro and wolfeboro. There are a lot of bonuses to stay with Beth and Nick, including but not limited to bicycles, a canoe, a gorgeous loft, and a lake that is much warmer than major lakes in the area.
Joseph
2015-07-04T00:00:00Z
This was an absolutely perfect getaway! Beth and Nick were lovely hosts - friendly and helpful but not intrusive.
Emma
2016-05-30T00:00:00Z
This place is amazing! One of my favorite Airbnb stays yet. Beth and Nick are warm and friendly, and made us feel welcome to their home. They had many nice touches – when we arrived they had a plate of tasty croissants and muffins, yogurt, cheese/crackers, coffee/creamer, and hershey's kisses. They also had a nice hand written welcome note for us, and a booklet with tons of recommendations for local attractions and restaurants. They had thought of everything – there were plenty of towels, beach towels for the lake, a basket of extra toiletries, etc. Beth and Nick were particularly gracious in giving us a late afternoon check out on Monday: we had come up for a weekend when it rained on Sat & Sun, and they let us stay late on Mon so that we could canoe and swim in the beautiful lake. This was so generous of them, and really completed our stay as we had a blast on the lake in the sun that day. The unit is beautifully done, even nicer than it appears in the photos. All of the materials are top quality – gorgeous wood walls, floors, and ceilings, and a beautiful tiled shower and modern bathroom. The unit even has a window with a great view of the lake. The property is right on Mirror Lake, and you have access to their canoe to paddle around the lake and swim. Mirror Lake is gorgeous – I think it's nicer than Winnipausakee itself, as it's smaller and warmer. It has a beautiful mountain in the backdrop, and the water is clear and refreshing. Highly recommend this place – we will be back!
Kristin
2016-07-12T00:00:00Z
Beth and Nick were wonderful, friendly hosts. We enjoyed our very first Airbnb experience and would to it again! Mirror lake is gorgeous and the photos Beth provided accurately depicted the accomodations. They were very clean, spacious and welcoming. Beth's attention to little details were great - not just yogurt, yogurt plus granola and berries. Many hooks and drying rack for wet towels, many fans for air circulation at night. Very comprehensive book with restaurant and activity recommendations. And Beth and Nick were happy to give us their personal favorites and ideas of things to do. They also shared wonderful stories and filled us in on the Loon family and bald eagle! Wolfeboro is a 5 min ride and is filled with cute shops and restaurants.
Susan
2016-07-25T00:00:00Z
Beth and Nick could not have been nicer. The entire experience felt like we were staying with friends rather than renting a property. While the pictures on the website are nice, the space itself is actually nicer in person. Its a very spacious loft with beautiful views of the lake. It is very well stocked with complimentary beverages and snacks, along with plenty of dish-wear and cleaning supplies for those looking to bring their own food. Some highlights included a sunset canoe ride and stargazing from the dock at night (would recommend). Thank you Beth and Nick for sharing their incredible property with us!
Erik
2015-10-13T00:00:00Z
We had an incredible stay at Mirror Lake! Beth is an amazing host; this was easily one of the nicest and best managed Airbnbs I've ever stayed in. The loft is perfect for 2 people. It is as described--essentially one large room/garage apartment that is adjacent to Beth and Nick's house. It is the perfect combination of a private room and a entire house since you have the privacy of your own space, but you also interact with Beth and Nick frequently because they are so close. It was not uncommon for them to be enjoying the lakeside yard/outdoor space alongside of us. We enjoyed having the opportunity to meet them and hear about their favorite spots in the area. As other reviewers have commented, Beth provides plenty of information about local attractions and restaurants. She also left breakfast items (blueberry loaf, orange juice, coffee, creamer, etc) in the small refrigerator and there are basic kitchen supplies (although there is no "kitchen"--just the fridge, microwave and gas grill outside). The apartment is top notch. It is clear that every detail is carefully thought out and high quality (nice linens, basic toiletries, racks for drying swim suits, etc). We loved the surrounding area. We used the bikes available and explored a trail in Wolfeboro, and we also canoed out on Mirror Lake at sunset (both at Beth's suggestion!) It was a perfect relaxing getaway. Our only difficulty for the entire four days was accessibility to wifi and cell service. T-Mobile customers beware: we had no cell service at all either on the property or in the nearby town of Wolfeboro. In addition the property's wifi never worked for us. So we resorted to trying to find free wifi in Wolfeboro, which was also not an easy task. In the end when we needed to communicate with the outside world during our four days we went the Wolfeboro Dunkin' Donuts. This was not ideal, but in the end it worked out fine and actually allowed us to truly feel that we had escaped our busy lives. I highly recommend Beth and Nick's property on Mirror Lake --the lake is truly serene and special and the property is extremely well managed and maintained.
Gretchen
2016-07-31T00:00:00Z
We had such a wonderful time! We picked this place as a quick romantic get away- my only wish is that we stayed longer! Our hosts were very welcoming and accommodating, and even provided us some suggestions of places to see and things to do, which I very much appreciated. They provided us with a small breakfast, which was a great touch. My favorite part was having the canoe and dock available! We'd definitely love to come back.
Laura
2015-06-14T00:00:00Z
Tipo de habitación
Casa/apto. entero
---
Tipo de propiedad
Loft
---
Capacidad
2
---
Dormitorios
Tuftonboro, New Hampshire, Estados Unidos
Situado en el centro a 3 cuadras del centro de la zona Concord. Amueblada concepto abierto 3er piso elevado. cama de matrimonio, sofá de cuero en forma de L, Smart TV, Internet, abastecido cocina, baño de 3/4. ropa de cama y toallas de monedas op. lavadora secadora aparcamiento en la calle.
Ellen was very accommodating in regards to my uncertain arrival time. She was willing to meet me with a 30 minute notice. The place is clean, quiet, and very comfortable.
Anthony
2016-03-16T00:00:00Z
Nice location!
Rachelle
2016-11-12T00:00:00Z
Ellen was welcoming and kind. The lofty was a very cool space and only made our visit more enjoyable. Her place is a 15 minute walk to town making it an ideal location for a weekend away. Thanks so much, Ellen!
Lindsay and Bill
2016-04-19T00:00:00Z
Cozy, elegant, minimalist. Thank you so much Ellen for a wonderful experience in Concord. The loft was so cool and all the good places were a short walk away. You were so friendly and accommodating and you really made us feel at home and welcome! Million times better than a hotel.
Daniel
2016-08-07T00:00:00Z
Ellen is kind and welcoming. She was flexible and able to accommodate my arrival time. The space was private and architecturally interesting, as well as well located in downtown Concord. The bed was comfortable and the towels clean. Unfortunately the wifi, while available, was slower than optimal.
Caitlin
2016-10-02T00:00:00Z
Ellen was very nice and the house was in a quiet neighborhood close to downtown and easy to find.
Catherine
2016-10-16T00:00:00Z
Very gracious and loving home. The space was clean and the hosts were friendly
Eric
2016-09-12T00:00:00Z
Nice space. Quiet, fun, easy. Ellen was the perfect host. We traveled to Concord from Massachusetts for a #24 hour vacation. Saturday night out - dinner at The Crazy Goat and a great live concert of Cape Brenton/Celtic fiddle music at the Concord City Auditorium. The morning after we enjoyed breakfast at Tuckers, followed by some good thrift store action and window shopping on the main drag which was a ten minute walk away. Thanks Ellen.
Timothie
2017-03-05T00:00:00Z
Tipo de habitación
Casa/apto. entero
---
Tipo de propiedad
Loft
---
Capacidad
4
---
Dormitorios
Concord, New Hampshire, Estados Unidos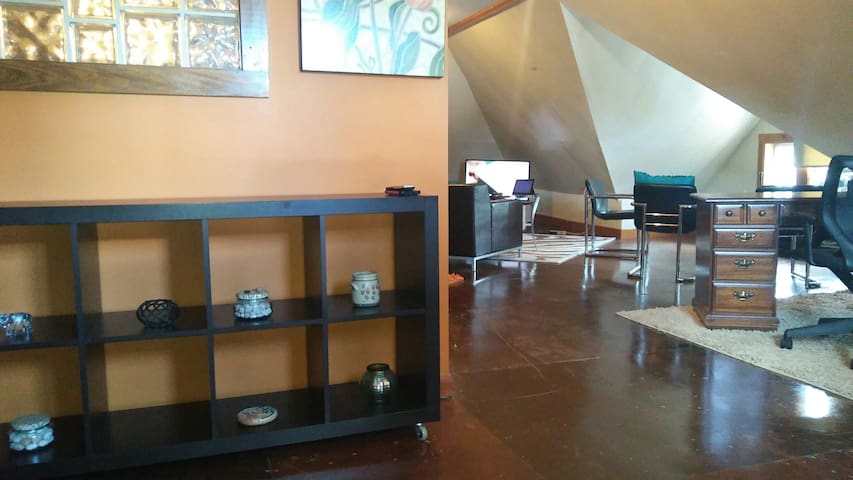 Dover - Airbnb
:
Una media de

4.91

estrellas de un total de

5

de

134

evaluaciones de huéspedes
Introduce las fechas para ver el precio total. Ten en cuenta que se aplicarán tarifas adicionales y es posible que se añadan impuestos.