Right on Main Street , this spacious, remodeled loft occupies the top two stories of the building and has spectacular river side and mountain views. The bottom floor is home to Yuba Expeditions, host to the Downieville Classic and where mountain bikers catch the shuttle for the Downieville Downhill.
Originally built in 1867, the "Weaver" building, as it is known in the county, was completely remodeled in 2005. The third story, originally storage for the store, was remodeled into rental loft accommodations complete with hand made furniture and trim salvaged from Kezar stadium bleachers in San Francisco. The loft sleeps up to eight guests in three queen size beds and three trundle beds in a loft style space -- not great for romantic couples but GREAT for large groups of friends or bike buddies.
Our mountain biking group had a fabulous weekend doing some epic rides and hosting a barbeque for our group. The new webber grill was perfect for outdoor barbequing. Being located above Yuba expeditions was convenient and helpful. The accommodations were comfortable and inviting. This is our 6th time renting from Bibi and Jeff and we can't wait to do it again next year. Mountain Bike and Martini Club, Los Gatos, CA
Bob
2015-10-04T00:00:00Z
We had an awesome time! House was perfect! Kitchen and open living room was great to cook in and hangout in at the same time. Definitely would stay here again.
Aaron
2016-05-31T00:00:00Z
Thank you Bibi and Jeff for their wonderful super awesome house. The house is very spacious for 2 families. Kitchen are well equipped. Check in and check out are super easy. The swimming hole close by was great. People downstairs working at Yuba Expedition was nice and helpful. Thank you for giving us info on other swimming holes and waterfalls nearby. We had nothing but great fun for 4 days. We are coming back for more days!
S
2015-08-24T00:00:00Z
The host was informative and helpful. Questions about the loft were answered quickly. Downieville is a a great small town. This loft sits in the center of town, above a local bike shop, across from the local grocery store, down the street from the local bar, and around the corner from a wine shop and bakery and up the bank from two rivers. We were there to celebrate mountain biking with the help of yuba expeditions on the ground floor of the building. Needless to say, waking up, walking downstairs to the shuttle van was awesome. As is coming home, having a beer, and either jumping in the river and/or taking a shower. The loft has a a well stock kitchen in term of equipment, the areas for congregation are ample, and the beds are comfortable. Love, love, love.
Kyle
2014-09-01T00:00:00Z
Our group has been coming to Downieville for an annual mountain biking trip for over a decade, and the Loft has always played a central role in the experience we've had. It's spacious, comfortable and comes equipped with all the cooking appliances, pots/pans and utensils you could possibly need. Solid Internet access, and having a nice TV to stream our daily GoPro footage was a big plus. We'll definitely be back!
Chris
2014-09-28T00:00:00Z
We have been visiting the loft for over 5 years. This year was just as comfortable. Great location in the center of the quiet town. Bike shop seconds away (little to no extra noise), various river swimming spots minutes away, same with restaurants and shops. Our 2 families always have plenty of room and sleep well on the comfortable beds. Kitchen is over flowing w pots pans utensils to make as many meals as you like. Grocery store is limited in selection so plan your meals out in advance. Internet worked well and provided access to streaming video for evening movies. Thanks Jeff and Bibi.
Ronald
2014-07-26T00:00:00Z
The house was everything we expected and more. Very spacious and accommodating for a group. The pull out beds were great and the spacious living area made everyone feel comfortable. Awesome location in town! We were there when the Clampers invaded the town, so some extra entertainment was had just outside our windows. (Mens drinking club) The bike shuttle company was just outside our door, so making the shuttle was easy. Fabulous! We are looking forward to coming back! Thanks Bibi and Jeff!
Russell
2014-08-25T00:00:00Z
Great space and ideal location for mountain bikers in Downieville and looking to make the most the Yuba shuttles downstairs. Hosts were extremely accessible and flexible. We will be back next year!
Megan
2014-06-09T00:00:00Z
Tipo de habitación
Casa/apto. entero
---
Tipo de propiedad
Loft
---
Capacidad
8
---
Dormitorios
Downieville, California, Estados Unidos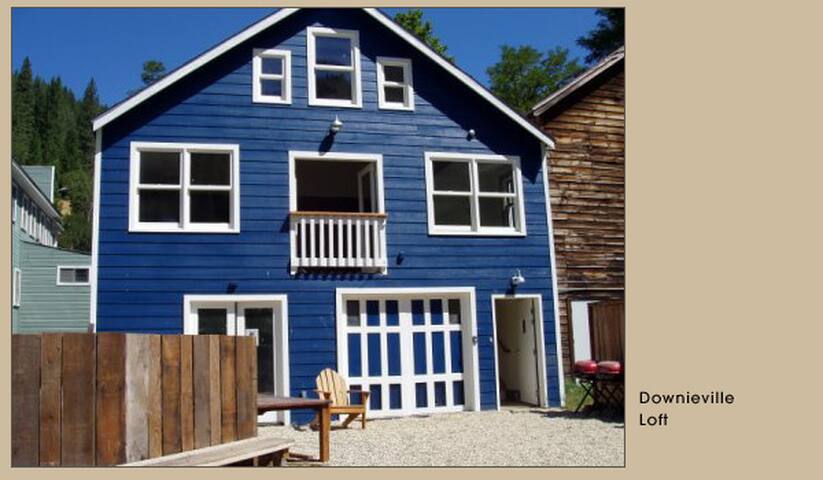 This nearly 1000 sq. ft loft is perfect for anyone that is looking to disconnect and breath in the peace & quiet of the hills. Just 3 miles out of Historical Downtown Nevada City & 4 miles from the Yuba River, you're centered between the best features of Nevada County. Sit or Swing outside on the hammocks under the trees on the large porch, cozy up inside on the many seating options, or the full size bed. A great deal of kitchen counter space for home cooking, and equal working table spaces.
ABOUT LOCATION: Hi! Thanks for looking at my space and considering it for your stay in Nevada City. You have found the center point between Downtown Historical Nevada City and the Yuba River, BEST SWIMMING. Just 3.2 miles from downtown Broad Street and 4 miles to the Yuba River. Bounce around in town or shoot over the hill for a swim. It's close enough to town that it's not inconvenient, but just far enough away to relish in the peace and quiet under the stars and tree tops. This is my full time home where I live and work. I however work out of town frequently, leaving the space unoccupied from time to time. It's clean, simple and organized. Easy to get in and out. NO INTERNET - NO WIFI - LIMITED TO NO CELL INTERIOR: The interior was decorated by a designer and merchandiser, you're sure to enjoy the aesthetic. Several seating options, large windows with natural light, and tall ceilings. EXTERIOR: Although the interior is appealing, it's the back balcony I love the most. Nice sunshade mounted under the trees with an equally open space. Lounge in the hammocks or seating around the table. Perfect if you like being outdoors. NOTE: We are slowly undergoing some remodeling to improve the space. The living space is in normal condition, however the stairwell into the loft is being remodeled. This doesn't effect your comfort or safety, but a disclaimer cause it's not the most appealing entrance at the moment.
The only current neighbors are in the main home of the property.
Our experience with Cru and his incredible home is best described as one incredible thing after another. Please, do yourself a favor and stop looking, because you've already found the most perfect, peaceful retreat in Nevada City. Stay at The Barn -- you won't be disappointed! Cru is a wonderful human who made a point to personally welcome us into town and give us fantastic recommendations on things to do, places to see, and all the favorite local hot spots. So helpful and everything we tried, we loved. And as far as details on the space: - exactly as described - clean and well equipped with anything you could need - decorated with impeccable style, incorporating many of the natural elements that make Nevada City and the artists that inhabit it so special - super close to downtown and all the local swimming holes - tucked into a beautiful and quiet tree-lined location that was perfect for tuning out real life and tuning in to nature We cannot WAIT to come back here. One more thing -- don't forget to do some stargazing from the hammocks on the back porch. Holy cow! Thank you, Cru for sharing this beautiful space for others to enjoy.
Kate
2016-08-08T00:00:00Z
The host canceled this reservation 7 days before arrival. This is an automated posting.
Taira
2016-07-15T00:00:00Z
The apartment is exactly as in the pictures! Beautifully decorated, wonderfully spacious and with a view of trees from the hammocks on the deck. My wife and I enjoyed the separation from technology that this secluded location demands (out of phone range and no wifi). Highly recommend!
Ruth
2016-09-17T00:00:00Z
The listing description was accurate and Cru's communication was excellent. We had an amazing weekend and spent most of it at the beautiful Yuba river and downtown Nevada City. We already miss it and can't wait to return! To anyone reading this, do not hesitate to come visit. You will have no regrets.
Tim
2016-08-14T00:00:00Z
Our overall stay was amazing. The place was beautiful and everything that we wanted. Cry was very helpful and describe so the place great. Would definetly go back!
Haley
2016-12-31T00:00:00Z
Cru's Airbnb is just as nice as it looks in the pictures. My friends and I enjoyed a great weekend relaxing in hammocks on the porch, cooking dinner in the loft, and hiking and swimming in the nearby Yuba River. Cru was eager to offer tips, and his neighbors are a nice family who lent us olive oil to cook with when we asked about the closest store. I recommend Cru's place!
Alex
2016-09-25T00:00:00Z
Cru's place is very conveniently located just a 5 min drive from downtown Nevada City. It was great being out in the woods yet having a comfortable home base to all that the area offers. Having no Internet, phones, or TV really allowed us to unplug from our day-to-day. Highly recommended!
Steve
2016-09-13T00:00:00Z
This place is so great! Better then pictured. The outdoor deck hovering in the trees with hammocks is magical. Very clean stocked with all you need. In the woods but close to town.... Nothing better. Cru went out of his way to make sure we were happy and set. I will be back!
Rae
2016-07-30T00:00:00Z
Tipo de habitación
Casa/apto. entero
---
Tipo de propiedad
Loft
---
Capacidad
4
---
Dormitorios
Nevada City, California, Estados Unidos
Upstairs unit in Large farm style house with 1 bedroom and 1 bath, nice size living room and kitchenette. My home is located aproximently 3 blocks from beautiful and quaint downtown Quincy. Across from my house is Dunn's coffee house, the local health food store, and Papa Murphys. On Thursday nights in the summer you can enjoy going to our local farmers market, which is across from court house on Main st. Please call about Government and long term stay rates.
The host was very helpful and responsive during my week long stay. The house was clean and well furnished and felt like home. The covered porch was especially nice for a private outdoor area out of the sun. The location is within downtown Quincy, CA. making it convenient and a pleasant place to stay. I highly recommend it and will select it again over nearly every other accommodation in town.
Scott
2016-06-05T00:00:00Z
Pam was a great host! She gave very clear instructions and even went out of her way to get the home ready earlier than expected. The apartment is in a perfect location. It's within walking distance of Quincy's downtown shops and restaurants and right across the street from the coffee shop. I didn't have to drive anywhere! The apartment itself is really cute, clean, comfortable, and well taken care of. There was plenty of indoor and outdoor space to lounge around in. I loved the variety of reading materials that were available, and it had the perfect place to set up my laptop and get to work. I can't wait to stay at the Cloman House again! Thanks Pam!
Shauna
2016-06-11T00:00:00Z
First of all, it is as charming as it looks! The location was perfect for walking to restaurants and shopping. Pam texted to let me know that it was ready before check in time. She also very quickly responded when I had a question about the Internet. All of the info was in the living room, I had just overlooked it. Everything was spotless and very comfy! I would highly recommend staying here. Kudos Pam! Fabulous place.
Kristin
2016-07-20T00:00:00Z
We enjoyed the Cloman House greatly. Very nice - perfect location for our long weekend at the High Sierra music's fest. Pam was a great communicative and friendly host....plus we enjoyed her super sweet dog! Also.....we loved walking to the super Quincy Natural Foods Co-op.
Carter
2016-07-04T00:00:00Z
Pam's place is just wonderful. My sister and I had such a relaxing vacation together. The loft is super clean and comfortable, pictures do not do it justice! Unbeatable location close to everything. We especially enjoyed waking up surrounded by the beautiful trees, grilling in the backyard and warm nights relaxing on the porch. Can't wait to visit again - we will definitely be back!!!
Jessica
2016-07-11T00:00:00Z
Tipo de habitación
Casa/apto. entero
---
Tipo de propiedad
Loft
---
Capacidad
2
---
Dormitorios
Quincy, California, Estados Unidos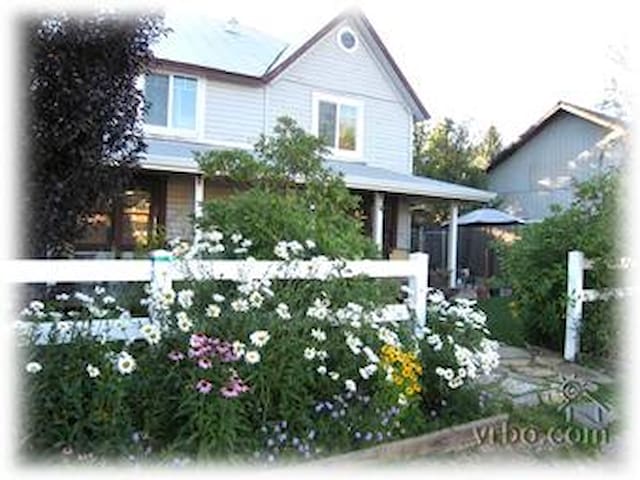 Introduce las fechas para ver el precio total. Ten en cuenta que se aplicarán tarifas adicionales y es posible que se añadan impuestos.