Más de 300 alojamientos en alquiler
Lovely New England home steps from a private beach. Quiet neighborhood in a charming town. 40 minutes from Boston and 40 minutes from Cape Cod. 15 minutes from historic Plymouth, MA. Beautiful interiors. 2 screened porches and an outdoor patio.
Elaine's home was beautiful and spacious. Check-in was a breeze and everything was clean. We had a great time even though it rained during most of our stay. We have another wedding in the area next year and would love to stay again!
Liane
2016-10-02T00:00:00Z
The listing was absolutely spot on about the location and amenities. Elaine explained the simple arrival and departure procedure. She left a perfect fact sheet explaining everything I needed to know about the house and even provided great suggestions for local shopping and restaurants. There was literally not one glitch in our stay. I will definitely stay there again.
Joseph
2016-10-25T00:00:00Z
Elaine is a great host! She made us feel very welcomed during our stay. The description of the house is very accurate and the neighborhood is great for families.
crystal
2016-10-11T00:00:00Z
My family and I stayed here for a long weekend for a wedding in nearby Plymouth. I would definitely recommend this place to anyone visiting the area. It was about a 15 min drive to Plymouth and worked out very well for our group. Everything about our stay was excellent. Elaine provided all necessary communications in a timely manner and the house was absolutely beautiful. We wouldn't have changed a thing!
Michael
2016-09-19T00:00:00Z
My friends and I stayed at this house for a mom's weekend away. We LOVED the house. It is just as beautiful as the photos make it look, if not more so! The neighborhood was so quiet and the one minute walk to the beach was perfect! There were 7 of us staying for the weekend, so there were plenty of beds and bathrooms for almost all of us to have our own space. The large number of sitting areas made it perfect for us to be together all the time, or each of us could pick a different space and have a few quiet moments alone to read. The house was exactly what we were looking for as far as location, space and value!
Patty
2016-11-13T00:00:00Z
Lovely home, super close to the beach and in a quiet neighborhood. Well-supplied, clean and comfortable. The screened in porch was awesome as well as the fire pit. We had a wrinkle, but Elaine was helpful in getting it resolved. Great place for a family vacation.
Carolyn
2016-09-13T00:00:00Z
Entire experience was great! Beautiful house, great location, good local food options, wish we could have stayed longer. Elaine was easy to reach, very friendly, and helped make our time as enjoyable as possible. Thank you Elaine
Eugene
2016-09-28T00:00:00Z
Tipo de habitación
Casa/apto. entero
---
Tipo de propiedad
Casa
---
Capacidad
10
---
Dormitorios
Duxbury, Massachusetts, Estados Unidos
This charming cottage is just 100 feet from a private beach. Three bedrooms sleep six comfortably. This one bathroom home is accompanied by an outdoor shower. The home is air conditioned which will keep you cool on hot summer nights. The house has a front and back three-season porch. In a quiet beach community, you are walking distance to Duxbury Beach Park's bath house with restaurant and ice cream. Local restaurants are a close drive or you can stay in and cook or grill. You'll enjoy views of Duxbury's wooden bridge and beautiful sunsets, or sunrises.
The story behind this home makes it unique. The owner's grandfather originally owned this home. It was sold in 1985. It was purchased in 2012 back into the family. We are excited to share this home and special area with you and your family.
The neighborhood is quiet and friendly. You will feel safe.
Tipo de habitación
Casa/apto. entero
---
Tipo de propiedad
Casa
---
Capacidad
6
---
Dormitorios
Duxbury, Massachusetts, Estados Unidos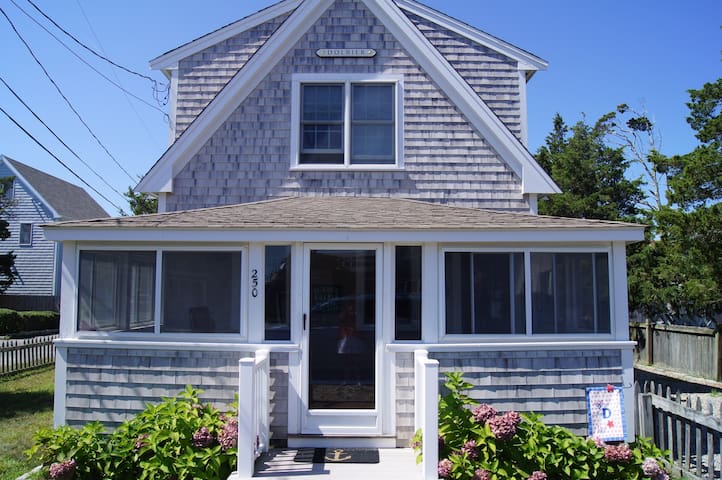 This delightful cottage sits .4 mile from village and 1 mile from beach in lovely and historically significant seaside town of Duxbury, Massachusetts. Close to both Boston and Cape Cod, Duxbury is a fun destination all year round. There are restaurants, a museum and historical houses to tour, easy bike riding most of the year and cross-country skiing and snowshoeing trails when there's snow.
Cozy little cottage a short walk to shops and restaurants. Cable television, Internet, music system via app (Heos); fish pond and manicured yard. Two bedrooms, with queen bed in first floor bedroom and full bed in second floor bedroom. Open layout living space, galley kitchen. Gas heater that looks like a wood stove. Seating for 8 around goldfish pond and an open yard area for playing games or tossing a frisbee. Parking for four cars in driveway.
It's a very short walk to the village, and the town is quaint but full of activities and beautiful areas. It goes to bed early so you'll have to travel to one of the surrounding towns for a late night life!
Brads place was beautiful! It was perfect for our long weekend away. The beds were comfortable and it had all of the upgraded amenities. The fish pond in the back was a big hit with my two year old, who enjoyed giving them breakfast and dinner. I sat out in the private fenced yard in the morning and listened to the trickle of the water. Brad was very accommodating and I would recommend staying there to anyone! We would love to come back and stay again! Thanks Brad!!
Meaghan
2016-09-06T00:00:00Z
We loved our stay at Brad's house in Duxbury. The house was well equipped and Brad provided everything we needed before we arrived. Duxbury is a very pretty town and very convenient location between Boston, Plymouth and the cape. The house is adorable and has a very cool vibe. Would stay again.
Jason
2016-09-17T00:00:00Z
The cottage was even better than expected. All the amenities that we needed and more. We didn't want to leave and will be bsck!
Dawn
2016-09-27T00:00:00Z
Tipo de habitación
Casa/apto. entero
---
Tipo de propiedad
Casa
---
Capacidad
4
---
Dormitorios
Duxbury, Massachusetts, Estados Unidos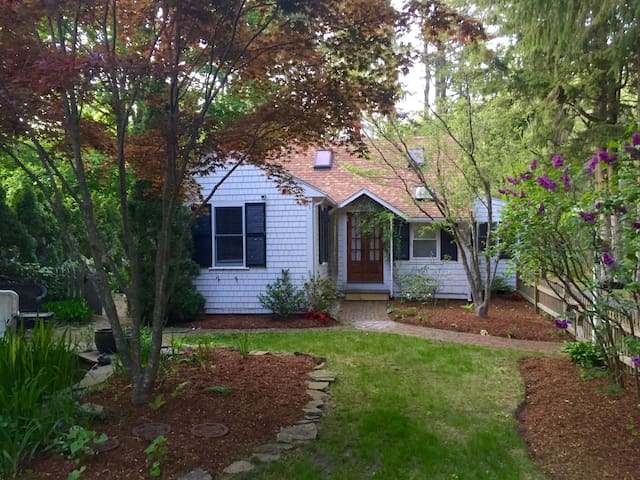 Our guest cottage is on a small lane on the water side of Bay Road. It is a 1BR, 1 & 1/2 Bath that was gut-renovated in 2014. The living room has a couch that converts to a queen-sized bed. A terrace and outdoor shower will be completed by spring.
The cottage is a (very) small single family house on a quiet lane with just 6 other houses. In the winter, there are nice views through the trees to the bay (mornings and sunsets are especially nice). In the summer, the back yard is very private once all the leaves grow in. There is a queen-size bed upstairs, and the sofa in the living room converts into a queen-sized bed. We are planning on putting a day bed/storage chest upstairs, which could work well for a small child. During the summer, we have a 1-week minimum stay, although we may be flexible on this rule depending on the week or availability.
The location is good for Duxbury. It's a great spot for runners or bikers; 10-15 minute walk to closest beach, and a short bike ride to other beaches; very close to Halls Corner for groceries/liquor/restaurants/ice cream/shopping. Farm stand is short drive/bike trip away. Lots of open space...etc.
Another perfect stay on Mayflower Lane! We're so happy this spot is available as a rental for when we visit family in town. Hosts are wonderful and accommodating.
Erin
2016-07-10T00:00:00Z
Stephen was an excellent host - very communicative and responsive when we needed assistance. The cottage was perfect for our weekend trip to Plymouth for a wedding. It's a pretty small space but has everything you need and really tastefully renovated. Would highly recommend it!
Renata
2016-09-06T00:00:00Z
We had an excellent stay at the cottage. We were able to check in early and leave bags whilst the house was getting cleaned. Communication up and when we where there was great. The cottage had everything we wanted and was well laid out. Stephen was a great host and I would recommend using Stephen if you are looking for a great place to stay
Peter
2015-10-13T00:00:00Z
Our stay in Steven's cottage was delightful. The house is full of New England coastal charm and even more picturesque in person. Steven provided helpful area info and had the house stocked with everything we needed. We hope to stay again sometime!
Amy
2016-09-20T00:00:00Z
Stephen was a great host! Any questions we had he answered promptly. Also, he made arrival very welcoming by introducing himself and letting us know he's nearby if we needed anything. The cottage was exactly what was depicted in the description and we definitely would want to stay again.
Cameron
2016-02-20T00:00:00Z
Stephen was an excellent host. He prepared carefully for my arrival and made everything convenient and easy. His beautiful cottage was immaculate and was actually in my opinion better than advertised. All in all it was a great stay and served exactly what I needed.
Sean
2016-06-05T00:00:00Z
This gorgeous cottage is on one of Duxbury's best streets. When the leaves fall, you can glimpse the Bay! My 74 year old parents were extremely happy with their long term stay here. Steve and Nathan provided everything they could need for the house (laundry detergent, dishwashing liquid, ironing board, cute kitchen appliances and accessories). They definitely thought of all the "little things" . . . they were so accommodating on every level, for example, when my mom asked for curtains on a certain window (she's got a thing about windows), Steve came by with a cute pair later that day. They were the envy of all of my friends who came by to visit! Steve and Nathan's renovation is simply stunning and my parents can't wait to come back! Thank you both for being so kind to my parents.
Tanya
2015-12-01T00:00:00Z
Stephen and Nate are fantastic hosts. Very friendly and also committed to giving guests their space. The cottage is absolutely adorable and feels more spacious than it appears. Full kitchen, comfortable bed, full laundry, and the patio doubles the seating space and is a very peaceful spot. We spent a week and would love to come again.
c
2016-07-17T00:00:00Z
Tipo de habitación
Casa/apto. entero
---
Tipo de propiedad
Casa
---
Capacidad
4
---
Dormitorios
Duxbury, Massachusetts, Estados Unidos
Cozy one bedroom suite on the ground floor of our home with ample living area, dining area, mini kitchen and bathroom. Enjoy the quietness of a residential home and easy access to the highway and beach. We also have a large pool and wetland views.
Your suite is separated from the rest of the home, and encompasses about 1/2 of the ground floor of our home. The suite includes a bedroom with pool view, double bed and ample closet. Just outside the bedroom is the full bathroom with shower and strong water pressure. The living area has a large, comfortable sofa and TV with cable access. There is also a small dining area, and mini kitchen with microwave, fridge, toaster and coffee maker. We also have a spare bedroom just outside the main door of the suite with a single bed.
The neighborhood is very quiet, and residential. Our home overlooks a wetland which you can skate on it winter, enjoy the wildlife in summer and view the colorful leaves in the fall. There are lots of trees and grass, making it quite a scenic area. Our home resides in Duxbury, an upscale suburb about 30 minutes south of Boston. Duxbury is renown for its beautiful beach, large colonial homes and its history. Famous ship captains like King Caesar had homes here. Famous American founders also lived in Duxbury and many of their homes are now museums such as Myles Standish, John Bradford and Nathaniel Windsor. Don't forget to visit Farfar's for their delicious Danish ice cream. It's a local favorite open in the spring, summer and fall.
Karen and her husband were friendly and were nice to let us use the pool! It was very hot and humid and the pool was very refreshing. The space was clean and cool; the beds were comfortable and the location was close to Green Harbor. Thanks for letting us stay!
Carolyn
2016-08-16T00:00:00Z
Karen provided us with muffins, juice, milk, fruit, coffee and cereal--that was such an unexpected and lovely surprise! She also gave us a list of places to visit in Duxbury and provided some maps and tourist info. The location of the house is convenient and the beds are comfy. The only negative is that the shower is very small so it was a little tricky to get clean. Also, the suite is the lower level of the home and there is not a separate entrance, so it's not totally private. Overall it worked for us--it was a comfortable place to sleep and rest while we were in town to visit with friends.
Janice
2016-07-23T00:00:00Z
This is a great place, especially for the value. We are NYC'ers, in MA for a wedding, and we were all sick (partner, 14m old, and myself) and baby had terrible car sickness, so we were in survival mode, and didn't get to see Karen or take advantage of a lot she offered (including the lovely food in the fridge!) but appreciated the nice clean space and great area. The small bedroom is large enough for a pack n play and the beds were cozy. She was very accommodating and I recommend this space!
Sabrina
2016-10-03T00:00:00Z
Clean suite, conveniently situated to explore the South of MA. Not appropiate for people who want to prepare their own food.
Bettina
2016-08-27T00:00:00Z
Karen and Bob and family were absolutely fantastic. They were very understanding about our delay in arriving (weather, coupled with underestimation of traffic and drive time) as well as allowing us to stay a few hours later on the day of check out. The suite is really delightful with both modern and antique furnishings. We were very comfortable. I would highly recommend Karen's for an excellent and relaxing stay in Duxbury.
Manon
2016-07-30T00:00:00Z
Karen and her husband Bob were great hosts! It was a bit like visiting family or friends, and they made us feel at home from the moment we arrived. The appartment is beautifully furnished and decorated, absolutely clean and spacious. There were some cookies, milk, soda cans and water bottles in the fridge to welcome us, the little kitchenette was well equipped and the pool outside is great for hot days. It's close to Plymouth and Boston, but a wonderful quiet place in a really scenic area, so for us it was the perfect place to spend a couple of nights. Thanks, Karen and Bob, for the wonderful time !!!
Connie
2016-07-15T00:00:00Z
Tipo de habitación
Casa/apto. entero
---
Tipo de propiedad
Casa
---
Capacidad
3
---
Dormitorios
Duxbury, Massachusetts, Estados Unidos
Enjoy a private beach just steps away from the public Duxbury Beach Park and a mile down the beach from Burke's Beach in Marshfield. A short drive from downtown Duxbury or Brant Rock with fabulous shops and restaurants. Enjoy breakfast on the front deck just 20 short steps to the beach and ocean! Views from two additional decks of the ocean and marsh.
Tipo de habitación
Casa/apto. entero
---
Tipo de propiedad
Casa
---
Capacidad
10
---
Dormitorios
Duxbury, Massachusetts, Estados Unidos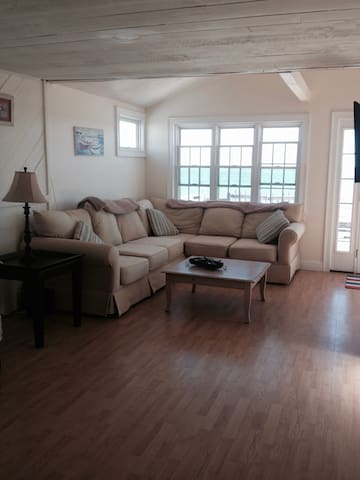 Lovely 1880's updated antique on historic Powder Point, just a short walk from Big Beach across the Bridge (one of the longest open wooden bridges in the world). The home is very private with a deck (with outdoor shower) facing away from the street to provide pristine privacy.
This was a great find, big spacious house with fantastic professional grade kitchen. Huge yard and short hop to beach and duxbury cafes. Sorry to leave.
Peter
2016-07-14T00:00:00Z
Tipo de habitación
Casa/apto. entero
---
Tipo de propiedad
Casa
---
Capacidad
8
---
Dormitorios
Duxbury, Massachusetts, Estados Unidos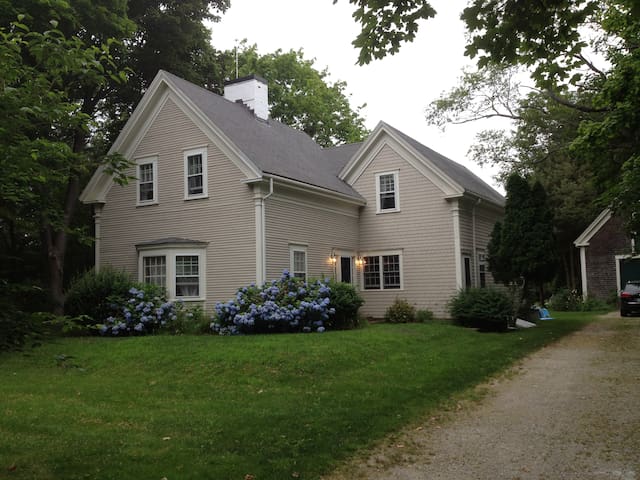 Master Suite private entrance, closet, private bath shower & whirlpool tub, sitting area, 46 inch Plasma TV. Walk to harbor and beach. Cape Cod 20 miles, train to Boston. Quiet area private st. In Suite: Refrig Mirco Toaster oven Krug. Central AIR.
Quite neighbor and quite home. Refrigerator, Microwave, Krug machine, and toaster oven are located in private suite area.
Quite neighborhood within walking distance to park, harbor and beach. Nice walking and biking trails. Home is located private street.
Because of a storm, wrecks, and heavy traffic we didn't arrive until close to midnight for our stay. Elaine was gracious in helping us get there and leaving lights on, doors open, etc. Our room was wonderful, huge with comfy chairs, TV, desk, and a fluffy bed. Our bathroom was wonderful. She had thought of everything--bottled water, teas, coffee, milk, sweetener, hand lotions, soak, shampoo, even a bedside fan. She had it all. Thanks so much for a wonderful stay in a beautiful neighborhood.
Carla
2016-07-18T00:00:00Z
Elaine was very helpful, kind and accommodating. The room was clean, well-kept, spacious and comfortable. My son and I had a great time in Duxbury going to the beach and kayaking, and the location was convenient for trips to the Cape as well.
Peter
2016-08-19T00:00:00Z
Wow!! A beautiful home and a gracious host! Elaine was most accommodating despite our late arrival. On a last minute trip to visit family in Boston on Saturday and on the Cape on Sunday, Elaine's home was the perfect in between spot. The room was so spacious and comfortable with every convenience one could hope for. Additionally Duxbury is beautiful...definitely take the chance to explore!
Daniel
2015-10-12T00:00:00Z
Great place! Elaine was so friendly and responded quickly. We felt at home and very welcomed. Larger mini fridge and freezer were great to have for our week long stay. Very quiet neighborhood, good location, close to beach and stores. We will stay here again!
Margaret
2016-08-08T00:00:00Z
Elaine was a wonderful host - she helped us with everything we needed and was caring for us. The room is very large, with an even larger bathroom in an awesome area: not far from the beach and with the two bikes its great to discover! We would go there again!
Judith
2016-08-13T00:00:00Z
Our stay at Elaine's was great! She and her husband welcomed us to their house and shared unique stories of the town with us. The room itself was very spacious with adequate lighting. To top it off, there is a private beach behind the house and the bathroom has a jacuzzi; too bad we did not have enough time to enjoy them!
Feby
2016-05-31T00:00:00Z
Everything was perfect and as described. Great, quiet location. Elaine was very nice, helpful, and thoughtful. We enjoyed our stay!
Rebeca
2016-08-28T00:00:00Z
Elaine was very responsive. The bed was super comfy. There were plenty of towels, kleenex, cups, etc. Great location, just minutes from the main beach (maybe a mile and a half?)
Jeff
2016-09-05T00:00:00Z
Tipo de habitación
Habitación privada
---
Tipo de propiedad
Casa
---
Capacidad
3
---
Dormitorios
Duxbury, Massachusetts, Estados Unidos
Two miles from the beach and one mile from the town harbor, Pine Hill House has the charm of a New England antique home which you can enjoy whether you're in town to visit family and friends or are exploring Boston, the South Shore, or Plymouth as a tourist. This corner room has a raised bed (full-size) plus a twin size trundle bed below. The bathroom for guests is just down the hall. Window fan provided. (Additional 2nd bedroom available on Airbnb).
This corner room has a raised built-in bed with a new full size mattress with a twin sized trundle bed below. You might just feel a little bit like you're at sea. The room was recently re-done and has the original wide-pine floor boards and three windows that provide a nice breeze and birds-eye view of below. The shared bathroom is just down the hall, but please feel free to try the private outdoor shower by the barn. Fan provided.
Pine Hill House was built 160 years ago and is located in the older section of town, just down the street from where the Shipbuilders District begins. Clipper ships used to be launched a quarter mile away, where we now jump from the Blue Fish River Bridge. The flat streets lend themselves to biking around the neighborhood or even to the bay and the beach and we can let you borrow our kayaks to explore Back River with its beautiful water and lively birds and wildlife. The property fronts on one of Duxbury's oldest main streets, but the house is set back and access is from a quiet side street. A mile away is Duxbury harbor where one can buy wonderful breads and pastries at French Memories or satisfy your seafood cravings at Snug Harbor Fish Company. The Duxbury Bay Maritime School allows the public to enjoy their covered back deck or one can pass the time at the Town Pier just next door, where there are always boats to watch. For more information on Duxbury, click on this link from Vogue Magazine for a recent article: (URL HIDDEN)
I booked this listing for my mother and she stayed there herself. Here is what she said: 'My sincere thanks for my very fine stay with you.'
Kateri
2016-09-29T00:00:00Z
Cloudy and Matt were wonderful hosts while my sister and I were traveling in New England. The space was excellent, and they were able to provide great food recommendations when we arrived. Our stay could not have been better. Thanks for everything!
Alissa
2016-09-25T00:00:00Z
Cloudy and Matt welcomed us like friends. Their home is incredibly cosy and the pets especialy the cat are very cuddly. They gave us good informations about what to do in the area and good locations about rating. It was a wonderful Ende oft our trip.
Silke
2016-10-02T00:00:00Z
Claudia was friendly and open and made me feel very welcome. She was very engaging and eased my anxiety right away about staying in an unfamiliar place. She helped me bring in all of my luggage and welcomed me into her home. The house is a lovely older home in Duxbury and it is decorated in a pretty country style. It is impeccibly clean and neat but in a relaxed comfortable way. Claudia gave me information about where I could find the best local dining fare and told me about lovely places to visit and eat. The hosts left the house for the evening and it was actually nice to have some time to myself. The room off the upstairs hallway and is neat and pretty and clean. There were fresh towels and some lovely chocolates and other treats. On Sunday I left the house at 5:30 AM to race in the Duxbury Triathlon and Claudia programmed the coffee maker for me to go off at 4:45 AM and actually got up to see me off! After the race I came back to the house and took a shower and Claudia made me some fresh coffee and offered me lunch. I ate lunch and spent some time with relaxing and talking with her which was lovely. I had a wonderful stay and I would highly recommend staying here. I hope to return some time soon!
Pam
2016-08-01T00:00:00Z
We had an amazing stay! The home is gorgeous. Cloudy and Matt are such friendly and helpful hosts. The town is very charming, and the beach is beyond words. If anyone is thinking of heading to the Massachusetts coast, stay here! You may get an additional treat of fresh and delicious clam chowder!
debi
2016-08-14T00:00:00Z
We loved staying here! The house is really lovely - classic New England. Our room was comfortable and clean. Cloudy went out of her way to help us out. The location is great - away from the madness of Boston traffic and near Plymouth. We'd love to return someday.
Pamela
2016-10-17T00:00:00Z
Cloudy was very hospitable. She met me at checkin, gave me a tour and asked if I had questions. She made my short stay very easy she even had snacks in the room for me an added touch to the stay! This means a lot I am a flight attendant and the little details to any stay mean the world to us!!
Tara
2016-08-08T00:00:00Z
Tipo de habitación
Habitación privada
---
Tipo de propiedad
Casa
---
Capacidad
2
---
Dormitorios
Duxbury, Massachusetts, Estados Unidos
Charming cottage set on private grounds. Two bedrooms, one on ground floor level , with queen size bed, the other upstairs with two twins. Marble bathroom and Kitchen. Private grounds.
Private guest cottage on established grounds, in quaint coastal New England town.
Duxbury is a historic New England town where many of the original pilgrims settled. A gorgeous coastal town with a private barrier beach and historic neighborhoods.
Ashley's home is the south shore at its finest. My husband and I brought our two boys, 3 and 5, to this beautifully appointed cottage with classic "beach chic" charm for a week in October. The kids loved having their own level in the loft. The grown ups appreciated the fresh scones and pastries! The cottage is an ideal jumping-off point for exploring the nature trails, beaches and charms of Duxbury. Plus, a 20 minute drive to Braintree puts you on the T with easy access to all the fun of Boston. The kitchen has everything you need to make a cozy dinner or morning pancakes. Don't feel like cooking? Thoughtful Ashley has provided a great restaurant guide so you can eat like a local. And not to be overlooked is the brand new washer/dryer- complete with supplies- which means I could pack half as less for my family of four. We will certainly stay here again.
Whitney
2016-10-24T00:00:00Z
Ashley's cottage was a wonderful home away from home for our weekend visit with family in the area! Ashley has created a welcoming, bright and clean, comfortable little get away! Thank you!
Meghan
2016-03-20T00:00:00Z
We were warmly greeted and assisted by our hosts. The home was very comfortable and clean. The warmth and charm of this cottage is top notch, with wonderful bedding, towels, toiletries provided. Will gladly return! Thank you, Terry and Tracie Montgomery
Tracie
2016-05-16T00:00:00Z
Recommend highly. You gotta stay here! No question. Well appointed and cozy. Lovely pastries waiting for us and a wee jar of local honey! These hosts didn't forget a single thing. Warm comforters on the beds and a ping pong table in the basement! Great location in the middle of the South Shore halfway between Boston and Cape Cod. But, don't forget to venture out in the area. Duxbury couldn't be a more quintessential New England town on the water. Definitely go to Duxbury Beach and relax. We were in town for a "big chill" weekend with friends. A wonderful place to unwind. On our last day a tiny pumpkin was sitting on our stoop. A simple, but delightful reminder of our wonderful hosts. Hosts, who think of everything. We will be back!
Margot
2015-10-12T00:00:00Z
This cottage was exactly what we needed. It is perfect for a family of four out for week long visit to Duxbury and the south shore. The cottage is a very modern spin on the traditional cape. Ashley was very gracious and clear in her communications. The location of the cottage is excellent. Close to Halls corner but very close to the shops in Kingston.
Nathaniel
2015-12-30T00:00:00Z
Ashley was a perfect host. We found a bottle of wine and fresh pastries waiting for us. She made us feel very at home, responding immediately and warmly to any need that arose, at the same time respecting our privacy. The photos were very accurate and we loved every detail of her decorating style. The kitchen, though small, was well appointed, with everything we needed. The upstairs loft was very special; our adult daughters wanted to move right in! We hope to come back, especially in the summertime.
Thomas
2016-03-04T00:00:00Z
Wonderful little cottage in a great setting! Host was very hospitable. Unbelievably good parties when we arrived! My little girls loved playing in the yard, swinging on the swing, and enjoying the trampoline. Very nice stay! Thank you Ashley
Lee
2015-10-18T00:00:00Z
The host was really nice. She gave us everything we need for our stay (pastries, wine , beer, oil, shampoo, bodywash, etc...). The cottage is really comfortable and cozy.
Luca
2016-09-05T00:00:00Z
Tipo de habitación
Casa/apto. entero
---
Tipo de propiedad
Casa
---
Capacidad
4
---
Dormitorios
Duxbury, Massachusetts, Estados Unidos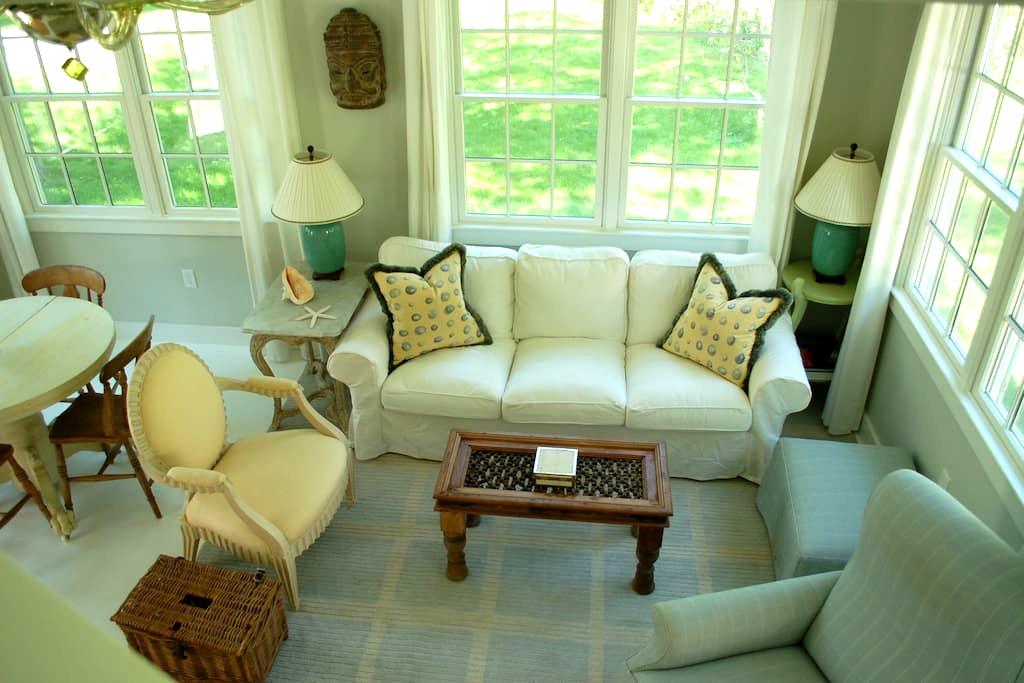 This is a suite with sitting area which includes sofa which converts to double bed-ideal for couple with one or two children. Suite has private entrance. Bathroom in hallway immediately outside suite.
Tipo de habitación
Habitación privada
---
Tipo de propiedad
Casa
---
Capacidad
4
---
Dormitorios
Duxbury, Massachusetts, Estados Unidos
Beachfront property with panoramic ocean views! Walk down the stairs and your feet touch the sand. This home has just undergone a complete renovation. 3 bedroom, 1 full bath, new private outdoor shower off the beach (w/HOT water), front and rear deck, sleeps 8 comfortably. All bedrooms have dressers and closet space. Washer/dryer, dishwasher, microwave, WiFi (150 mbps), 45" flatscreen TV w/ DVD. An amazing getaway for couples or families!
Approximately 1000 square feet of living space in a newly renovated 3 bedroom, 1 bath beachfront property on private Duxbury beach. All bedrooms are good size with closets. Floor thru with amazing ocean breeze right off the water.
In close proximity to coffee shops, grocers, ice cream, general store, top rated seafood, and more!
The house and location exactly matched the listing. The house is in close proximity to neighboring house that cultivates a friendly feel to the surroundings. The interior was very clean and recently updated. The beach is nice for long walks or sitting in a beach chair.
Suzanne
2016-08-31T00:00:00Z
We had a great Labor Day weekend here. Debbie was easy to work with. The property was exactly as described and pictured. The beach was literally right out the door. We just love being that close to the ocean. The house was comfortable, very clean, and new. Beds were comfortable, which is a must. Bedrooms were spacious with plenty of storage. Very convenient to have a washer and dryer at the beach as we were able to keep up with clean dry towels. Outdoor shower was fabulous. :-)
Sheri
2016-09-06T00:00:00Z
Tipo de habitación
Casa/apto. entero
---
Tipo de propiedad
Casa
---
Capacidad
6
---
Dormitorios
Duxbury, Massachusetts, Estados Unidos
This house has the best view on the South Shore, looking out at Clark's Island and Plymouth harbor. All these photos were taken from the property. Walk down to private bay beach in seconds. Upstairs and downstairs living rooms, each bedroom has a private bath. Duxbury is an historic, exquisite town. Duxbury's ocean beach is two miles away, a great bike ride. The house has lovely antiques, hardwood floors and area rugs. House is assessed at $2.1 million, for good reason.
Water views from every room in the house. View from the living room, sitting room and master bedroom are breathtaking. It feels as if you are on a yacht. One of the great joys is watching the tide come in and go out, and going for long walks halfway to Plymouth at low tide. Great place to go kayaking as well.
House is completely private, on Standish Shore, one of Duxbury's most prestigious neighborhoods. Grocery store and other shops are a mile away. Myles Standish's farm is several hundred yards away from our property. All that is there is a marker noting the property, but the house of John and Priscilla Alden is about two miles away and is open to the public.
Tipo de habitación
Casa/apto. entero
---
Tipo de propiedad
Casa
---
Capacidad
6
---
Dormitorios
Duxbury, Massachusetts, Estados Unidos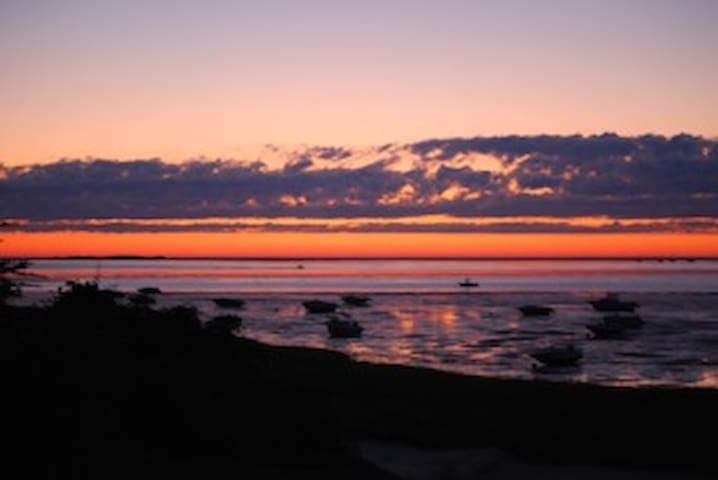 Welcome to paradise!!! A beautiful cottage nestled in the sand, fun for the whole family to enjoy. Cottage is located in the middle of a 3 mile PRIVATE beach, one cottage behind front beach. Enjoy sun filled days, beautiful sunsets, and fireworks at night. This two bedroom, one bathroom (2nd shower is outside, to clean off after a beach filled day) sleeps 7. Pull out couch in family room makes room for 9! Cottage is powered by solar panels, 4 wheel drive is a must. One adult kayak, 2 kid kayaks.
Available will be one adult kayak, 2 kids kayaks and a 7 foot boat with oars.
Tipo de habitación
Casa/apto. entero
---
Tipo de propiedad
Casa
---
Capacidad
7
---
Dormitorios
Duxbury, Massachusetts, Estados Unidos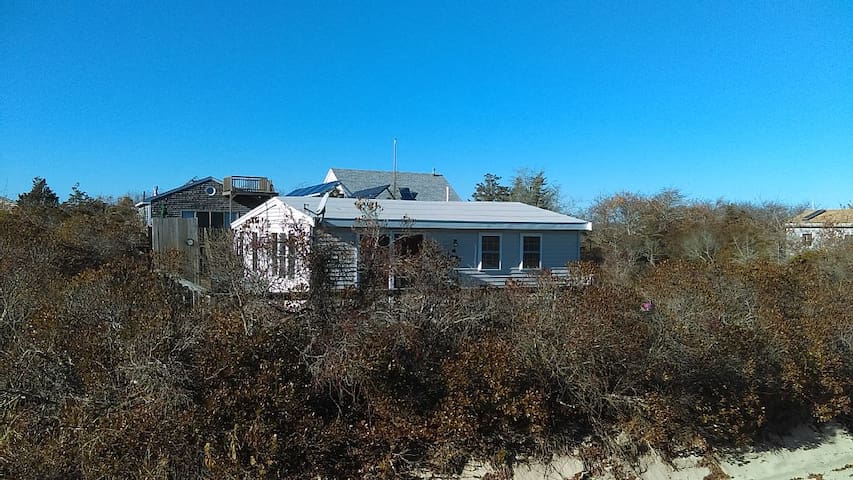 You'll love my place because of the neighborhood, the outdoors space, and the comfy bed. My place is good for couples, solo adventurers, business travelers, and furry friends (pets).
Tipo de habitación
Habitación privada
---
Tipo de propiedad
Casa
---
Capacidad
2
---
Dormitorios
Duxbury, Massachusetts, Estados Unidos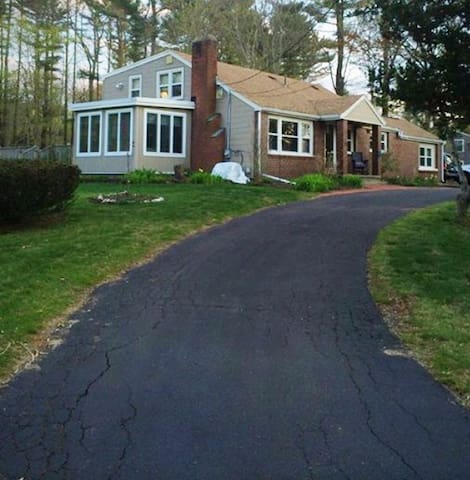 Renovated, rambling Cape. Private master suite with king bed, three other bedrooms with 1 double bed, and two bedrooms with one twin bed each. One acre fenced in yard. Easy 4 mile bike ride to beautiful Duxbury beach.
600 sq foot deck off the kitchen. Wifi available. Master suite is at one end of the house, and other bedrooms are separate, so this is a better home for older children/teenagers, not toddlers. Plenty of parking available. One mile walk to the center of Duxbury. This home is located on Tremont Street/3A.
One mile from the center of quaint Duxbury. Very close to the Milepost Restaurant. Easy bike ride to Snug Harbor shops, fish market, and bakery.
Cecelia was wonderful. I had plenty of Q's because we needed the house to accommodate elderly I laws and our toddler AND a teenager. It was perfect. Wifi for the teen, big beautiful master for the inlaws with a step in shower, soaking tub for toddler and plenty of space to run around, nooks and crannies to explore, and near the beach and village green. The power went out while we were there during a storm, and there were candles and matches and flashlights, and Cecelia emailed us back instantly. the house is well stocked with fluffy towels - even two beach towels which many places don't provide - and clean linens. The laundry area already had detergent, so no need to purchase that. Beautiful deck with big family table - we ate outside most meals and watched our neighbors: a flock of turkeys that seemed to enjoy the yard and roosted in the trees. The cleaning service did a great job too. Two warnings: the house, while set back and fenced, is on a busy street, so getting out of the driveway was an adventure, and beware poison ivy, which grows with abandon on the Massachusets shore, even in well-tended backyards. No reservations recommending this house - it was exactly what we wanted and a perfect - almost luxurious - family vacation base camp.
Leah
2016-07-27T00:00:00Z
This was a great getaway, in a great town, in a great house. Cecilia, you made my first AirBnB experience an easy and enjoyable process and because of that I will use this service again. Close to all of the amenities of town while being secluded enough to feel almost rural. Five minutes to the grocery store, ten minutes to the beach with easy access to the highway. The house has an excellent layout with a gorgeous master suite and bathroom, a great sunroom with skylights, and open kitchen / dining / living rooms. Beautiful big deck, with a big yard, the yard could use a manicure but nothing that would ever steer me away from this house. I would definitely love to visit again!
Ben
2016-07-18T00:00:00Z
Tipo de habitación
Casa/apto. entero
---
Tipo de propiedad
Casa
---
Capacidad
6
---
Dormitorios
Duxbury, Massachusetts, Estados Unidos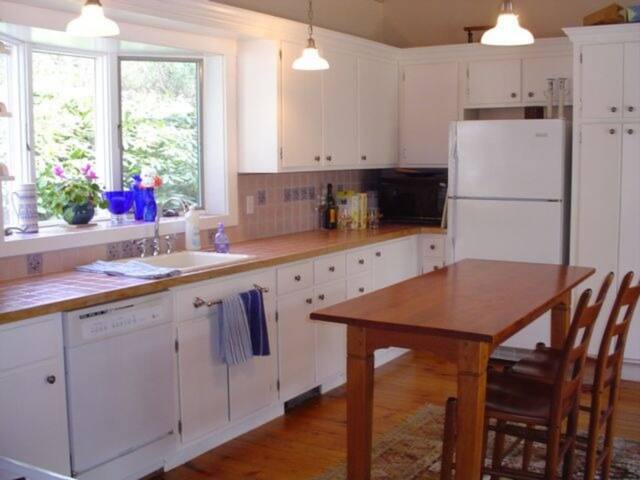 quiet seaside town. home is newer, with comfortable accommodations, easy access to boston and cape cod. queen room has window a/c. single room has fan only. short walk to beach.
2 bedrooms with private bath. newer home in pristine neighborhood. short 5 minute walk to beach. nearby shopping and range of restaurants. very quiet and immaculate. 6 miles to plymouth center and harbor 35 miles south of boston
comfortable mix of families, with mature shade trees, 5 minute walk to beach, popular restaurants. proximity to boston, plymouth and cape cod
Slept well and enjoyed Mark's splendid room and shower. Had to get to bed early as our race was at 7am Sunday morning. His room was clean and the bed was very comfortable. Highly recommend anyone stay here. This place was a 13 min drive from Myles Standish Forest where our marathon was.
Frederick
2016-11-13T00:00:00Z
We really enjoyed the stay! The room is clean and comfortable, and Mark is really friendly! I would definitely recommend this place!
Mengru
2015-05-24T00:00:00Z
We enjoyed our stay with Mark & his wife, who are very relaxed and easy-going. The room is comfortable & clean, and the area is very quiet. Nice location for visiting Plymouth or even day trips to the Boston area.
Kristen
2014-08-23T00:00:00Z
Beautiful neighbourhood and house, room is simple but lovely. everything was easy peasy!
Kyrian
2015-09-25T00:00:00Z
Mark's place is peaceful and quiet. We stayed there for one night on our way to the Cape. It was easy to find and Mark was always available when we had questions.
Tommaso
2015-08-01T00:00:00Z
Mark and his wife were really nice hosts. We stayed here for just a night. This place is amidst woods - serene and peaceful, still right off the highway. Mark suggested us some places to visit around (including some restaurant options for dinner) . The bed was really comfortable and that was the best part of the place. We had a good night sleep!
Rama
2015-07-04T00:00:00Z
We had a wonderful time in this beautiful super clean and cosy house!! Mark and his wife were very friendly and the surrounding is magical!! We would have loved to be able to have breakfast though!! But for the rest, just perfect! !!
SIsi
2015-06-27T00:00:00Z
Mark greeted me at the door and was very welcoming. Over all a very positive experience
Matthew and Deb
2016-07-20T00:00:00Z
Tipo de habitación
Habitación privada
---
Tipo de propiedad
Casa
---
Capacidad
3
---
Dormitorios
Duxbury, Massachusetts, Estados Unidos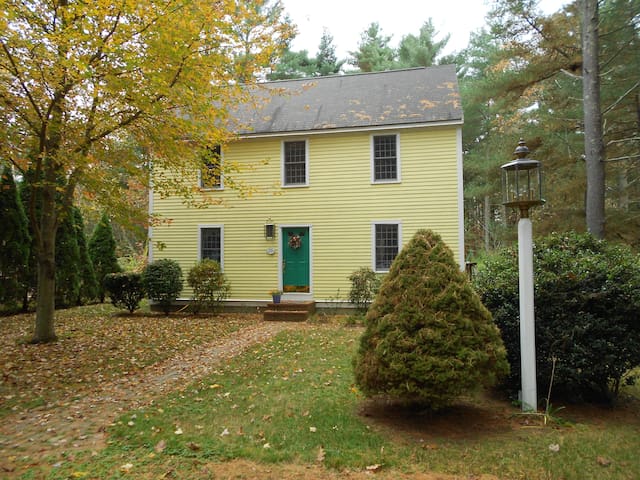 Our sea inspired home is a 5" walk to the beach, located in a quiet residential neighborhood. There are many beaches & accesses for kayaking, sailing, paddle boarding & fishing. We are 45" from Boston & Cape Cod, 1 1/2 hrs from NH foliage & skiing.
Our home reflects our love of the sea. The living room & dining room are in a large open space with high ceilings. There is a loft area where the TV is located. The kitchen has a full size kitchen table. Both bathrooms are new within 2 years. The patio area is perfect for morning coffee & reading.
This is a relatively quiet residential neighborhood.
Tipo de habitación
Casa/apto. entero
---
Tipo de propiedad
Casa
---
Capacidad
4
---
Dormitorios
Duxbury, Massachusetts, Estados Unidos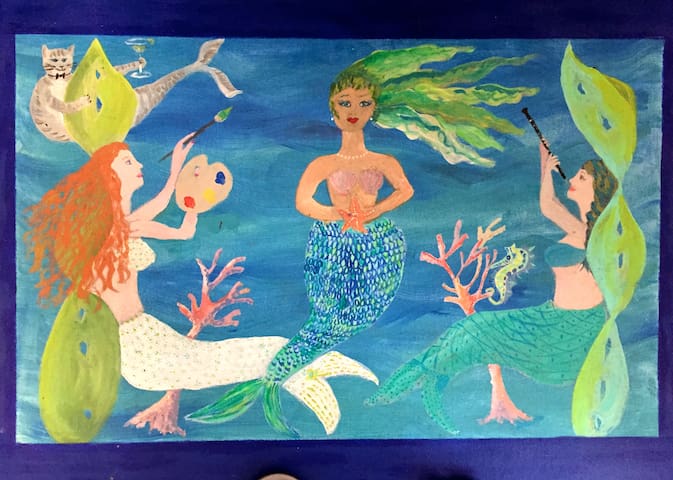 Duxbury - Airbnb
:
Una media de

4.64

estrellas de un total de

5

de

173

evaluaciones de huéspedes
1

–

18

de

Más de 300 alojamientos en alquiler
Introduce las fechas para ver el precio total. Ten en cuenta que se aplicarán tarifas adicionales y es posible que se añadan impuestos.