Introduce las fechas para ver el precio total. Ten en cuenta que se aplicarán tarifas adicionales y es posible que se añadan impuestos.
3 lofts
· Eastern Finland
3 lofts
· Eastern Finland
A unique loft apartment renovated into mill property built 1908. Gorgeous views over the lake Muuruvesi, peaceful yard with sandy beach. Great opportunities for activities summer and winter time. Or just relax and enjoy small village atmosphere.
Enjoy a piece of Finnish industrial history with modern day facilities renovated for a unique apartment. An excellent place to spend active holiday surrounded by beautiful Finnish lakeside nature. Great opportunities for summer and winter time activities just from the main door: fishing, trekking, picking berries and mushrooms, bicycling, boating, canoeing, cross country skiing (also with dog), snow kiting etc... Activities reachable with car: alpine skiing, golf, visiting national parks, culture and historic sites. You can enjoy your stay with your own privacy at the apartment. Veranda and terrace by the front door are only for your use. Yard and beach areas are shared with all the residents. I will help you throughout your stay. Since I'm living and working else where you can ask help for any matter by phone or e-mail, quickest and cheapest way is to send message via WhatsApp. My mom and grandad live in the mill estate, they will help you out if comes urgent matters.
There are other houses surrounding the estate. Due to ending road and kind neighbours the yard and road areas are very peaceful. Easiest way to get to Muuruvesi and explore surroundings is by own car. If you don´t have one, there is a bus line coming from Kuopio to Muuruvesi centre, 1 km away from the apartment. Timetables vary by the school year, so pay attention for direct lines for 45 min. Kuopio airport provides car rental services. Closest city Kuopio you can access by train, bus, and airplane. Check for: BUS TIMETABLES: https://www.matkahuolto.fi/fi/ TRAIN TIMETABLES: https://www.vr.fi/cs/vr/fi/etusivu FLIGHTS: http://www.finnair.com/fi/fi DISTANCES: Kuopio city 55 km Kuopio airport 42 km Helsinki 445 km Muuruvesi centre, bus stop 1 km Juankoski village 10 km Tahko holiday centre 37 km Please consider the old estate, wooden constructions and pipelines between the walls carry out the sounds of living. You might hear upstairs neighbours dogs playing around and washing machine running sometimes.
La casa esta en perfectas condiciones y tiene todo lo que se puede necesitar. No nos falto de nada.
Alba
October 2016
Beautiful, clean house with an amazing view. Very quiet and relaxing, with an amazing sauna. The lake is steps from there house, with a charming dock. Satu was extremely helpful, and we highly recommend her gorgeous house.
Tim
July 2016
We had a great time in Satu's place. The hoy se was perfect and very confortable. In summer, The place is great and in winter has to be amazing also!
MARTIN
August 2016
Notre séjour c'est très bien passé! Je recommande cette location , le cadre est super!
Mathilde
August 2016
Satu was a great host. We communicated through (SENSITIVE CONTENTS HIDDEN) and made sure I had everything I needed. The neigjbourhood is nice and quiet
Chris
September 2016
Nous avons passé un excellent séjour dans cet endroit très joli au bord du lac, à profiter du calme et de la nature, de la belle lumière sur le lac, des balades dans les environs, du sauna suivi d'un bain dans le lac .. . formidable .... La balade à Pisa est très jolie. Le logement de Satu est très confortable. Nous n avons pas rencontré Satu mais avons eu un bon contact avec elle. Les voisins sont très gentilles et parlent un peu Français. It's a very nice place and flat. A wonderful 3 days.
Nadine
July 2016
Satu's place was nice and I would use it again.
Sami
January 2017
Vastasi annettuja kuvauksia ja kuvia, ehkä isompi asunto kuin osasimme odottaa. Sopii työporukalle jos perheellekkin.
Mikko
March 2016
Tipo de habitación
Casa/apto. entero
---
Tipo de propiedad
---
Capacidad
4
---
Dormitorios
1
Muuruvesi
Хозяева очень приятные люди и хорошо принимают гостей. Дом очень удобный для проживания. Много места, хороший камин и отличная сауна. Коттедж обставлен с большим вкусом, все детали продуманы до мелочей. Приятным сюрпризом для гостей был полный холодильник с продуктами. Рядом с домом живописное озеро, есть где отдохнуть.
Олег
January 2016
Perfect stay at Eeva 's cottage. It was actually bigger than we expected, including a second floor bedroom and lots of kitchen equipment. The matrass was great on the bed. Hike the Virkanharju near Sulkava!
Tijs
January 2016
Мы с женой и внучкой были приятно удивлены встречей с хозяйкой Евой, ее супругом и подругой. Нас ждали в условленное время. И не просто ждали. Ева пригласила подругу, знающую русский язык, чтобы все наши просьбы были понятны и удовлетворены. А просьбы не возникли. Хозяева предусмотрели все для нашего комфортного проживания. Побеспокоились о том, что мы приезжаем поздно вечером, и заполнили холодильник продуктами. Мы очень благодарны за такой душевный прием и заботу. Большое спасибо!
Viktor
August 2016
Eeva and her husband are the loveliest people! :) They were able to host us on really short notice and were very welcoming.They even put some food in the fridge for us.The place is really comfy and clean.We enjoyed especially the warm oven and would come back anytime! :)
Isabelle
October 2015
Все было просто замечательно! Отличный дом, теплый и уютный. Камин, сауна, 2 туалета, классный душ, гриль на газе, электрокоптильня, и другие необходимые электроприборы. Продукты на первое время. Evaa и Urjo милые, очень приветливые и отзывчивые хозяева. Отдельное спасибо Urjo за то что отвозил нас пару раз за небольшую плату до города. Спасибо за все! Счастья и процветания вашей семье! Из России с любовью! Рекомендуем для семейного отдыха на машине. It was wonderfull. We enjoyed all! House is cool, very warm and cozy. Fireplace, sauna, 2 toilets, great shower, grill by gas, electro smoker and many kitchen things. Food for few days. Evaa and Urjo is very friendly, cute and responsive host. Special thanks to Urjo that he drive us to Juva town for small fee. Thanks for all. Happines and prosperity to your family! From Russia with love! Recommend for family traveling with car.
Renat
January 2017
Отдыхали две семьи (4 взрослых и 2 детей) с 22 по 27 Августа. Всем остались более чем довольны. Действительно, очень хорошие, гостеприимные хозяева. Если вы собираетесь отдохнуть от городской суеты, порыбачить (отличное озеро по соседству 1,9 км. 3 щуки и множество окуней, сороги. Рядом, также на расстоянии где-то 1 км другое озеро с Форелью. Но поймать не смогли, но дело скорее в рыбаках). В общем очень всё понравилось...Сауна (а точнее русская парная - дровяная) всё есть. Разместяться 6 человек спокойно
Igor
August 2015
Adorable house! There is everything you need. Kitchen, Fireplace, sauna. There is pool in the yard, grill. Beautiful lake is in 1 km from the house. The owners are very kindhearted people! They were always ready to help! It was such a pleasant stay! Hope we will come again! I recommend this house for the families and small groups of friends.
Maria
August 2015
Прекрасный, большой, светлый дом на 4 человека, отличная кухня, свежая еда на завтрак в холодильнике, тёплая сауна после долгой дороги. Очень рекомендую!
Victor
April 2016
Tipo de habitación
Casa/apto. entero
---
Tipo de propiedad
---
Capacidad
4
---
Dormitorios
2
Juva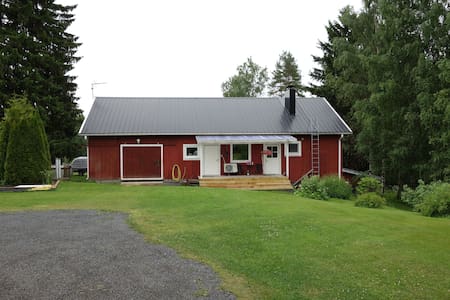 Beautiful 100m2 accommodation at Lake Saimaa on the top floor offers accommodation for 6 + 3 people upstairs. Possible to rent only upstairs or ask for the entire Villa. Peace of nature around: excellent beach for swimming and rowing and fishing.
Finnish style area in the middle of nature. Surrounded by Saimaa Lake. Perfect place for relaxing and enjoy the fresh nature and clean water. Possibility of doing outside activities: rowing, fishing, hiking, swimming... The Villa is a very new beautiful and it offers accomodation for bigger groups / families. It is 200 km far away from Helsinki and about 30 km from Mikkeli city center. From Anttola village center there is 10 km. Top Floor accommodation is an upstairs accommodation with 2 separate bedrooms and a large combined bedroom-kitchen, livingroom, bathroom and toilet. Own entrance. Suitable for 6 + 2 persons. Extra service: Also possible to enquire as an entire 220 m2 villa with downstairs in addition to upstairs. Downstairs 1 bedroom, 2 sleeping corners, large kitchen with a baking oven, large livingroom with a fireplace, utility room, bathroom and 2 toilets, sauna, large terass and a breakfast room in summertimes. The Villa is full equipted, electricied, earth warming, running hot and cold water. Further information www bblapland com Visitors will be welcome by the house owners. Information infobblapland g mail com The visitors are supposed to inform their arriving time for organizing "Check in Window" .
Quiet nature surrounding the Villa. Fresh and clean lake side. Beautiful and large private yard. Traditional Finnish Sauna as an extra if required. Train from Helsinki to Mikkeli and by coach from Mikkeli city center to Anttola village. We suggest to have a car in use. Available a House-Book with all specific information.
Villa Kotiniemi was in a beautiful setting by Lake Saimaa 30 minutes from our Finnish friends. We chose this listing because we wanted to relax in an isolated location and get away from a busy life. The small beach was good for swimming and we took the rowing boat out twice with our 6 year old daughter. The grounds were being developed by Aila and her parents on our arrival. Aila was painting the sauna house and her parents were stacking timber. On our arrival Aila explained that we had booked the upstairs 100sqm of the property which was a misunderstanding on our part due to the lack of English translation of the AirBNB site. Aila has now updated the website. Aila made us a drink and explained the work they had been doing with her husband and parents and her plans over the next few days. We were then asked for the €200 euro deposit in cash. There are 2 bedrooms. One with a double bed, which we chose. The second bedroom has a double bed, a single bed and a cot which our daughter choose. The large kitchen has a double and single bed tucked at the end. We awoke the following morning, had a shower and headed for the car and Aila met us and explained that the house had an alarm which is triggered if water is used continuously for more than 15 mins. The alarm has to be reset in the main house. Aila also kindly picked some local mushrooms to try. Next morning Aila met us again. She asked us about the additional €80 cleaning charge. I queried this as it was not on the English airBNB site. I explained that we would keep the house clean and leave the flat as we found it. Aila then offered the €40 option for cleaning instead. Alia would have preffered cash at the time but we agreed it would be deducted from the deposit. Aila was kind enough to offer our daughter an English children's book to look at along with a photo album of her dogs. We made a mistake leaving the keys in the house whilst taking food outside and failing to set the catch on the door which was caught by the wind. We called Aila and her brother who lives 5Km away came to our aid and let us back in. He also also tried to rectify the smoke alarm bleeping with a low battery in our daughters room. At around 10pm, after about 40 mins, we accepted the alarm was winning and Paul removed it from the ceiling for us.  The following night Paul offered to fire up the wood burning sauna for us to use before him. It was a beautiful place in a lovely location but not as isolated as we hoped. I think once the grounds are finished it will be a lovely.
Jo-anne
August 2015
It was awesome holidays! Here, in Villa Kotiniemi, you have everything you've ever dreamt about: beautiful, comfortable and spacious house; spectacular scenery; wild nature with it's deep forest and pure lake. You have many possibilities here to make your rest unforgettable. You can swim, boat, fish, enjoy sun and fresh air. It was also amazing to play outdoor games, barbecues or just drink your morning coffee on the wonderful terrace. Villa Kotiniemi makes you forget about any troubles and problems and just have a rest by soul and body. And, of course, our weekend wouldn't be gorgeous without the hostess of the villa – Aila. She is very hospitable, attentive and communicative person. She is also delicate and perfectly knows when you need her help or advice. In the evenings, it will be splendid to spend time in sauna. It was the favorite entertainment for us to jump into the water after warming in sauna. To cut a long story short, I should say that we were captivated by this marvelous place and hope to return here soon!
Денис
July 2014
Villa Kotiniemi was as I imagined, and a perfect place to relax and recuperate after some busy travel. Aila was an energetic host who made my friends and I feel welcome and at home, inviting us to local events and gatherings ensuring we experienced some true Finnish culture. I warmly recommend this beautiful home by the lake.
Heidi
June 2015
Aila has made us feel as at home. We have enjoyed our stay a lot!!! Going rowing on the lake Saima, doing sauna, barbaque and swimming. Thaks Aila very mucha also for your hospitality and your enthusiasm to show an shere with us a real Finnish experience!! Definetely we recomende to stay at villa Kotiniemi it you are looking for peace and relax in a wonderful place!!
Francisco
July 2014
Tipo de habitación
Casa/apto. entero
---
Tipo de propiedad
---
Capacidad
7
---
Dormitorios
2
Anttola