A relatively new built Finlog cabin literally on the banks of the Thames with a beautiful view of the weir and guaranteed spectacular evening sky! Located between the Penton Marina and Laleham golf course, you will surely enjoy this idyllic setting. Thorpe Park is a ten minute walk away if you are looking for something more adventurous, buses regularly operate to Staines, Chertsey (walking path takes 20 minutes) and Heathrow. Other nearby sights on the train include Windsor - Legoland and the Castle (15 minutes), Richmond (15 minutes) and London Waterloo (35 minutes). Spacious open plan lounge and kitchen with doors completely opening onto a decking for that indoor/outdoor living feel and what I have been told is the most comfortable blue sofa in existence. Wonderful sky lights flood the house with plenty of natural light and are perfect in the summer if sunshine is what you are after - who isn't really? Plenty of board games to keep you entertained or bring your laptop along and you can connect to the WiFi (please note Apple TV is available if you have a compatible device) and an MP3 docking station for your convenience. Whether you are looking for a short weekend stay (breakfast options could be included) or longer escape over the summer holidays (perfect for groups of friends or couples) you will leave completely relaxed and rejuvenated. The photo's really don't do the residence justice. If you have any other questions please don't hesitate to contact me as I will be more than happy to help.
The place is amazing and so is Brooke! My friends and I had a wonderful time at the beautiful cabin. It is picturesque and peaceful. Would love to go back again :)
swati
2013-12-27T00:00:00Z
We had a wonderful stay at Brooke's river cabin. We LOVED the views, watching the bird life and listening to the roar of water through the weir. The cabin is light and bright with everything you need. Our bed was super comfy! The cabin was the perfect base for exploring Windsor and Legoland. We hope to return again some day.
Janet
2016-04-06T00:00:00Z
Cabin is lovely and view is beautiful. Brooke was really helpful and even put up a birthday banner and balloons as it was my partner's birthday. We had a trip planned for Legoland but cabin is literally minutes away from Thorpe Park and easily walkable. Brooke had also left us juice and stuff for breakfast which was a lovely touch. All in all, our visit was lovely and we didn't want to leave. Thankyou Brooke :-)
Kelly
2014-08-31T00:00:00Z
We have just returned from a wonderful weekend in Brooke's cabin. The pictures don't do justice to how lovely this place is - bright, airy and friendly. Once you're there it's hard to leave and as a result we spent a lot of time on that very comfortable blue sofa taking advantage of what Netflix had to offer, with the back doors wide open. Brooke really was incredibly helpful and had thought of everything. We shall definitely be back.
Beck
2013-08-19T00:00:00Z
Stayed here for 2 nights with some family to celebrate my 30th birthday, Cabin is in a lovely location right on the river. Brooke was very helpful throughout booking and in the run up to the stay even when we struggled to find it a quick call to her and she helped us locate the property. Cabin Is 2 bedrooms, one double bed and one with a futon that two adults can easily share, very clean and comfortable with doors that open out fully on to a lovely decking area that looks out over the river. No TV but plenty of board games to play, we had a great evening playing Cranium, we also bought some disposable BBQs which we held in the garden. Garden is shared with the elderly gentleman next door but he was very polite and sociable and even joined us for a drink as we invited him. Would definitely stay here again and all the family thought it was an amazing place to stay. Thank you Brook for letting us stay in your Idyllic Riverside Cabin, it definitely is!
emma
2015-07-26T00:00:00Z
We had a great stay at Brooke's beautiful cabin. It was cosy, well equipped and in a gorgeous location - just perfect for a short weekend away. It was a tiny bit difficult to find in the dark when I arrived but fortunately Brooke was very quick to respond to my messages and gave me really useful directions. Thanks Brooke!
Emily
2016-09-18T00:00:00Z
This really was an idyllic location for us and the perfect place to unwind in peace. The house was lovely and clean and felt very spacious. It was nice to have the veranda so you could still sit out even if it was raining. It took us a bit longer than 20 minutes to walk to Chertsey and if you want to walk you need to turn left out of the back of the house and follow the signs to the golf course for the shortest route. There is a fairly regular bus service available from the main roundabout of the Marina on route 446, this is just a few minutes into Chertsey and also goes to Staines. We drove to the Three Horseshoes in Laleham and did the circular walk from there which is on i-footpaths. This takes you over the locks and bridges you can see from the house and is a nice walk. We had an issue with the cooker during our stay but this was resolved quickly by the host. If you want to truly drop out and relax, you couldn't pick a more perfect place to do it. Hope we can return one day.
Mary
2016-08-22T00:00:00Z
If you can drag yourself away from the view seen from the very comfy settee it is an ideal place to stay while visiting Thorpe Park! It's always lovely to stay somewhere just the little bit different from the norm and a little querky but with all the comfort required. Great internet connection.
Deborah
2016-04-02T00:00:00Z
Tipo de habitación
Casa/apto. entero
---
Tipo de propiedad
Cabaña
---
Capacidad
5
---
Dormitorios
Chertsey, Reino Unido
Cabin is located in our delightful garden and has an en-suite shower/toilet. It has a small fridge,tea/coffee making facilities and a microwave oven. There is a large sofa in the room.
The cabin is well insulated and provides a private space for visitors.
Residential area with mainly large detached houses. South Ascot village is about 5 minutes walk away. Shops include a general store, hairdresser, beauty salon, chemist, a bookmaker, a pub and a Chinese restaurant. There is also a recreation ground with a kids playground and adult fitness equipment.
Barrio muy lindo y tranquilo . Buenos anfitriones ! Muy agradable todo !!!
Sofia
2016-07-14T00:00:00Z
Excellent accommodation and great alternative to one of the local business hotels which I have tended to use. The cabin is very private and is well furnished. Disappointed I did not have the opportunity to sit in the garden during trip due to short term nature of the stay. Whilst I have no complaints, the lack of wifi probably needs to be resolved if business visitors are going to stay (a great commercial opportunity) as this is the only thing which would stop me staying in the future. However, the wifi aside, this is a great place to stay with easy access to Ascot Races and the various golf tournaments which are held locally.
Iain
2015-07-24T00:00:00Z
Feedback left on first two nights
Richard
2016-10-04T00:00:00Z
Jeffrey's cute cabin was what we needed to escape London. It has lovely smell of wood, it's bright and airy and it is set in a lovely, spacious garden. Cabin has everything one might need, even a shower which is a huge bonus,not needing to go to the main house to take the shower. Jeffrey was very kind by letting us stay longer than normal check out hours. Highly recommended!
Laurynas
2015-08-31T00:00:00Z
Jeffrey was very welcoming and made the arrival easy. The cabin was lovely but it was difficult to regulate the temperature. The surroundings were beautiful and would be just lovely in the summer... perhaps not quite so good in the middle of winter.
Kim
2016-11-15T00:00:00Z
Jeff was very helpful and responsive during our communication. The garden cabin is exactly as described and is ideally situated to go to Ascot Racetrack or the many other attractions in the area. South Ascot is in walking distance and is a lovely little town.
Karen
2016-06-18T00:00:00Z
Absolutely beautiful cabin in the prettiest garden I've seen, a nice and warm welcome from Jeffrey and his massive fluffy dog :) Jeffery thought of every little extra touch to make our stay more delightful and peaceful- there was everything you could need in the cabin, he even filled up the kettle for us beforehand. I'd definitely stay here again!!
Katie
2016-06-24T00:00:00Z
Lovely peaceful place, just what I needed to wind down before a big day!
Simon
2016-08-09T00:00:00Z
Tipo de habitación
Habitación privada
---
Tipo de propiedad
Cabaña
---
Capacidad
2
---
Dormitorios
Ascot, West Berkshire, Reino Unido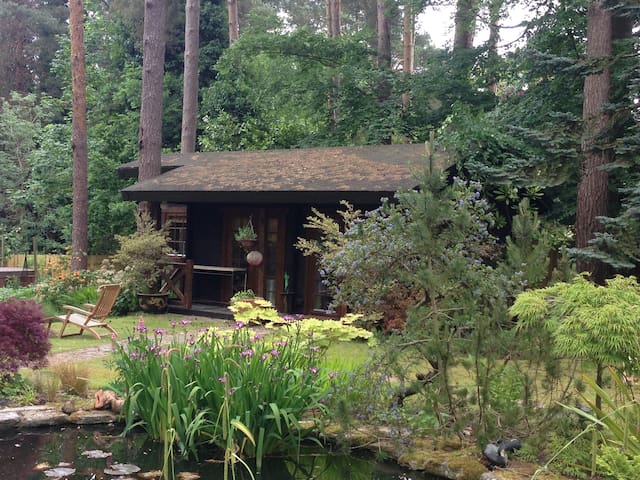 Light, bright, newly decorated Garden Studio. Fully insulated and double glazed. The property is located on a beautiful, peaceful, foot access only island. (access via Shepperton Lock). Close to LHR, Thorpe Park, Shepperton Studios and of course London (direct train to London Waterloo). Double bed, very comfy 100 mm thick memory foam mattress topper. Ensuite Shower Room & Kitchenette. Plenty of wardrobe and bathroom storage. 
Spacious studio room. Table with a desk chair, but can be set up for dining with 2 dining chairs. Facilities - Fridge, Electric hob, microwave, kettle, toaster, hair dryer, TV (freeview), Heater, Fan. Plenty of hot water.   Wifi coverage is temperamental. If internet access is vital for work, guest are advised to best bring a mobile dongle/hotspot.
Shepperton is lovely. Great riverside walks & local riverside pub (The Thames Court).
Tipo de habitación
Habitación privada
---
Tipo de propiedad
Cabaña
---
Capacidad
2
---
Dormitorios
Shepperton, Inglaterra, Reino Unido
Mi lugar está cerca del centro de Weybridge y los bares y cafeterías de carretera de Queens con fácil acceso a la estación principal (20 minutos andando) y tren rápido a Londres Waterloo en 30 minutes.Short distancia de M25, M3, Heathrow y Gatwick. Es ideal para parejas y viajeros de negocios.
Tranquil lovely host great setting perfect for a single or couples retreat
Gary
2017-02-02T00:00:00Z
Lovely Place with Excellent host's will definitely stay here again.
Ian
2016-12-07T00:00:00Z
The Lodge was really lovely. A perfect little self-contained annex in a beautiful setting. It had everything we needed for a perfect stay. Melanie was a very communicative, accommodating host - thank you! :)
Anna & Simon
2016-10-30T00:00:00Z
Melanie is a nice host. Her communication is excellent and her welcome is warmly.The cottage is really cosy and romantic ! You can walk easily to Weybridge dowtown. We had a great pleasure there!
Jacques
2016-11-16T00:00:00Z
We have just enjoyed an eight-night stay at the lodge and have rebooked to stay in December, which says it all really. Melanie and her husband were wonderful hosts and the accommodation was clean, cosy and comfortable, with excellent facilities. In our opinion, it also seemed more spacious than reflected in the photos. It is very conveniently located, giving easy access to shops and restaurants. Strongly recommended and we are looking forward to returning.
Jane
2016-10-11T00:00:00Z
Wonderful stay in perfect location. Great host.
Kieran
2016-10-15T00:00:00Z
Fantastic property and fantastic hosts couldn't have asked for a better place to stay.
Omar
2016-08-16T00:00:00Z
Fiona and I had a lovely couple of nights stay. The lodge is comfortable, cozy and tastefully furnished. We had a great walk along the Thames towards Hampton and hope to return in the new year to explore further.
Duncan
2016-12-21T00:00:00Z
Tipo de habitación
Casa/apto. entero
---
Tipo de propiedad
Cabaña
---
Capacidad
2
---
Dormitorios
Weybridge, Inglaterra, Reino Unido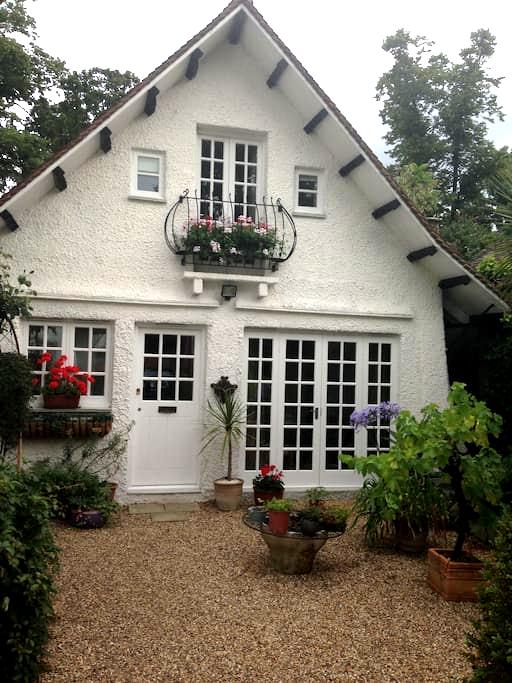 Think cosy - think bijou. What this is NOT is an apartment. Priced at an amazing level for the area but as a completely self-contained unit, offering amazing value. Has small double bed (4ft) so best suited for 1 person. Limited storage.
This is a self contained cabin within the grounds of my house in Sunningdale complete with a very comfortable 4ft double bed, ensuite walk-in shower (electric), small basin, heated towel rail, toilet and under-floor heating. Tea and coffee making facilities, microwave and small fridge, along with free WIFI and off street parking. You may struggle if you have large suitcases. THIS IS NOT AN APARTMENT BUT AS YOU CAN SEE IS APPROPRIATELY PRICED ! With your own entrance to come and go as you please it's perfect for those guests who work unsociable hours. Convenience store/Post Office and Fish & Chip take-away is a short walk away. 5 Minute walk from two pubs, and a restaurant (favoured by Brad Pitt and George Clooney) Sunningdale Station which is adjacent to a Waitrose Supermarket is 15 mins stroll down the road. The station has trains every 30 minutes to London (taking 50 minutes to London Waterloo) and to Reading in the other direction. The 500 Bus runs every couple of hours to Staines - passing Royal Holloway University. There is also a bus stop outside the house which runs to Ascot & Windsor. Longcross Film studios are a 6 mins drive away. 10 Minute walk to Windsor Great Park and the Guards Polo Club. Sunningdale and Wentworth golf courses are a short drive away. Ascot Racecourse is 1.5 miles away. Whether you're on a business trip and want a quiet, secure and clean place to stay or on a weekend away golfing, enjoying the Royal Estate, or visiting Royal Holloway University, the LongRoom caters for all. I look forward to hearing from you.....
Sunningdale is a residential, quiet neighbourhood. The Great Park, Virginia Water a main-line railway station with trains to London and Reading every 30 mins are on the doorstep. Ascot Racecourse is 1.5 miles away, trains run from Sunningdale station. Check more details on the Guidebook link.
The Longroom is a fabulous place to stay if you want a little peaceful bolthole. The neighbourhood is lovely with shops not too far away. The room itself was beautifully clean and Trisha has thought of everything. Although the space is compact, I didn't want for anything and really appreciated the fridge and crockery and cutlery. Trisha was really easy-going and made me very welcome. She was really helpful and gave me great advice on routes and parking. She has a gorgeous garden and I think the best thing about my stay was being able to sit outside enjoying the surroundings. As a theatre-worker, it was really easy to come and go at odd times and parking and access is great!
Helen
2016-08-28T00:00:00Z
Perfect for my working week.
Carl
2014-06-22T00:00:00Z
Trisha was very friendly and accommodating when I first arrived and showed me where I was staying. I really liked the set up with the accommodation in a separate annex at the side of the main house. You have your own key and access through a side gate enables easy 24hr access. It's basically a detached bedroom with an ensuite bathroom and was totally adequate for my stay. It's not particularly spacious but is totally functional and I really enjoyed my stay and as I'm working in the area again at the end of the month I've already booked another 2 weeks which pretty much says it all.
Brendan
2016-06-18T00:00:00Z
This was just as described; bijou, but everything I needed. Trisha was very welcoming and helpful. The house is in a quiet area (other than the occasional jet, but I never heard a thing after 11pm) and has a really country feel. As it is separate to the main house, and in a private courtyard, it was easy to come back late without disturbing Trisha. I would recommend The Longroom and will stay again if I'm in the area.
Sue
2014-08-11T00:00:00Z
Trisha was the perfect host. I was staying in the Long room and commuting to slough for a training course and I couldn't have asked for a better place to stay. It was peaceful and lots of local shops and restaurants a short drive/walk away. Also, Bumble was quite a character!
Jatinder
2016-11-11T00:00:00Z
Trisha is a very friendly person and a great host. Also, I would to say thanks again for ironing my shirts!! The long room is small but is well equipped and a good base. It's in a great location with pubs and shops within walking distance.
Darren
2016-09-16T00:00:00Z
Wonderful host made sure that everything was taken care of and the stay was as easy as possible.
Paul
2015-02-13T00:00:00Z
Trish was a very welcoming and friendly host. She was very flexible regarding my delayed arrival. The accommodation is small but that is clearly explained in the advert. It is clean, and warm plus it is situated in a lovely garden which on a fine day would be lovely.
Bruce
2015-09-21T00:00:00Z
Tipo de habitación
Casa/apto. entero
---
Tipo de propiedad
Cabaña
---
Capacidad
1
---
Dormitorios
Sunningdale, Berkshire, Reino Unido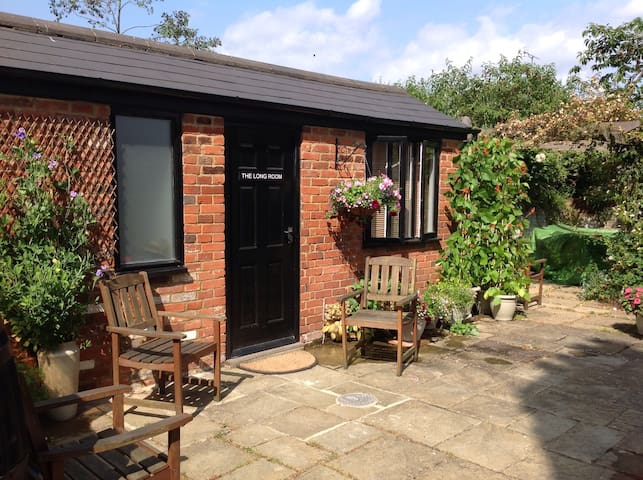 Five minutes walk to Windsor town centre, and Windsor and Eton train station. This cosy cabin is a bright and comfortable place to relax and enjoy all the amenities and attractions of Windsor. You have your own self contained private space away from the family home at the end of our garden with your own entrance to come and go as you please. Good for couples, solo adventurers, and business travellers, we can also provide a travel cot or blow up mattress if you are travelling with a child.
Relax onto crisp white cotton sheets, Hungarian goose down duvet and pillows. Enjoy the peace and quiet of this fully insulated and heated cabin, keeping you warm in winter and cool in summer. With en-suite bathroom, your own hi speed WIFI connection and all the Virgin TV channels, you've everything you need. The blackout blind also gives you complete darkness to allow for a restful sleep, whether you are using the space on your travels or on business.
We had a lovely stay in Jennies beautful small cottage. Only a small walk from central windsor was perfect for a weekend getaway.
Julian
2017-01-07T00:00:00Z
The Garden Room is nicely furnished, very clean and private. My stay was made even better by the attentive and pleasant hosts, who were on hand to help with any matters. Great location. Would definitely recommend.
Jason
2017-03-24T00:00:00Z
Cute and cozy! Short walk to castle and town. Would recommend and stay again!
Brianna
2017-03-16T00:00:00Z
A great place if you are looking for somewhere close to the centre of windsor and separate building to yourself, if you don't need Parking this place is perfect....I will be booking again in the future....
Ross
2016-11-18T00:00:00Z
I highly recommend staying at this place. The place is well located and cosy and the host is great, providing all the information I needed to stay there.
AChand987
2016-12-08T00:00:00Z
We booked Jennifer's place on the spur of the moment trip to Windsor and were not disappointed! She made our stay so easy with spot on communication before and during our visit. Parking was easy and straight forward thanks to Jenny's help. Really centrally located with a everything within a 5 Minute stroll. The room was beautiful, just as pictures depicted, really clean, comfortable and cosy with the added bonus of a visit from her cat "Norman" if we have a return visit to Windsor we will definitely be checking in with Jennifer again. Thank you
Nicky
2017-03-19T00:00:00Z
Jennie was very accommodating and had fast communication. The cabin is lovely and cosy and I wouldn't hesitate to recommend staying there! Great location and very clean, thanks again.
Nick
2017-03-15T00:00:00Z
While we didn't meet the hosts all of the communication was excellent and finding the property was straight forward. The separate studio room was ideal for a short stay - very clean and modern.
John
2017-01-13T00:00:00Z
Tipo de habitación
Casa/apto. entero
---
Tipo de propiedad
Cabaña
---
Capacidad
2
---
Dormitorios
Windsor, Inglaterra, Reino Unido
Un autónomo cabina con acceso propio, situado al lado de nuestra casa. Una pequeña zona de la terraza conduce a un salón amplio y luminoso con sofá y WIFI. Tiene una zona de cocina totalmente equipada, cuarto de baño con ducha y una habitación doble independiente con 4 pies de la cama de matrimonio, armario y cajones.
Autónomo, un alojamiento independiente, privada y familiar.
Las instalaciones locales situados a la vuelta de la esquina incluyen tienda de conveniencia, oficina de correos, / pescado chino y comida para llevar chip y salón de belleza
Tipo de habitación
Casa/apto. entero
---
Tipo de propiedad
Cabaña
---
Capacidad
2
---
Dormitorios
Virginia Water, Inglaterra, Reino Unido
Gorgeous, high quality, recently renovated garden pavilion, in park like grounds but near all facilities. Underfloor heating, generous vaulted living space, kitchenette and shower room. Own access and parking. Freeview TV. Fantastic bolt hole. Convenient for Ascot Racecourse, Windsor, Royal Holloway University and Sunningdale railway station with quick London links. Minutes walk from Windsor Great Park.
Large open plan living area with underfloor heating and wood effect tiled floors. Designer furnishings. Kitchenette with microwave, fridge and sink. Kettle and toaster. Crockery and cutlery. Private outside seating area with chairs overlooking fields with horses and tennis court.
Privately located but close to all amenities. Ascot, Sunninghill and Sunningdale villages all within 5 minutes. Pub and chinese restaurant within walking distance. Excellent access for Wentworth (golf) and Ascot Racecourse as well as London, Richmond, Wimbledon etc 5 minutes drive from Sunningdale railway station.
Pennie is the host everyone would like to have, a kind geniue lady who is very creative and knows to treat others the way she would like to be treated. I will definitely recommend her place. Lovely area with lovely cosy pubs.
Diana
2017-01-16T00:00:00Z
A beautiful house in a stunning area. Quiet, private and very tastefully furnished and decorated. Pennie was great with her communications and was helpful at all times. I stayed for a month and would've happily stayed longer if circumstances had permitted. Amazing value too!
Ashley
2017-03-15T00:00:00Z
Tipo de habitación
Casa/apto. entero
---
Tipo de propiedad
Cabaña
---
Capacidad
2
---
Dormitorios
Sunninghill, Inglaterra, Reino Unido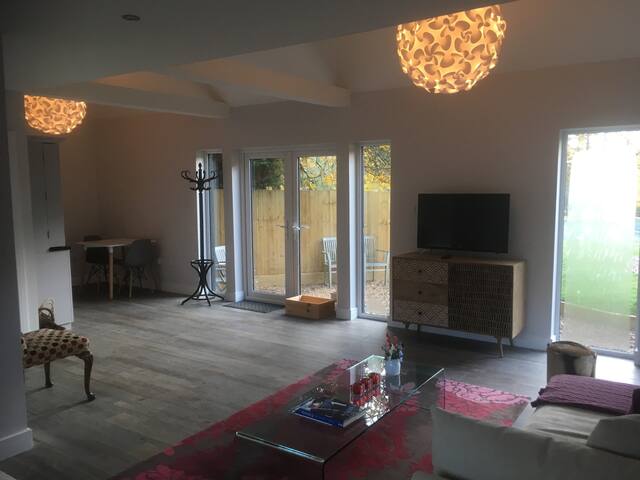 Egham - Airbnb
:
Una media de

4.86

estrellas de un total de

5

de

258

evaluaciones de huéspedes
1

–

8

de

8 Alquileres de Cabañas
Introduce las fechas para ver el precio total. Ten en cuenta que se aplicarán tarifas adicionales y es posible que se añadan impuestos.