This is a rustic cabin that has been beautifully redone on the interior. 275 square feet of modern furnishings. There are 2 rooms. The first is a combination kitchen/living space, and the second a bedroom. Brazilian cherry flooring, new furniture and a nice kitchenette. There is one compact bathroom with a shower.Towels and bedding furnished. Thermostatically controlled Heat and A/C . Ceiling fans and sliding windows . Hairdryer, small Keureg,cookware, dishes, glassware, microwave, small fridge, and alarm clock available. Direct TV in bedroom. Very small seating area on front porch with bistro set. Parking is right next to cabin. This is a rural setting popular to boat,kayak, canoe, fish, hunt, hike, and to enjoy nature. Convenience/gas station (Rutters) is 15-20 minutes away on Rte. 74 N. We will provide you with some breakfast items and assorted teas /coffee stocked in the cabin.
Public campground is across the street,and the river is with in site of Cabin. Muddy Creek is nearby and is a great place to tube ,Kayak or ( inflatable kayak) on ,and does not require an advanced skill level. This is a very scenic stream well worth seeing. 1 and 2 person Kayaks are available to rent for a very reasonable price, with all equipment and shuttle service included . When I'm available ,and guest's are interested,I'm glad assist you on short hikes ,or short drives in the neighborhood. There are Trout fishing streams nearby, as well as good Deer ,Turkey and small game hunting from October through December.
We cannot say enough about how welcoming and accommodating Hans was. He welcomed us when we arrived and explained everything about the cabin and told us that he would be happy to make suggestions of what to do, where to dine, etc. He also offered to take us up to an area of his property where we could hike out to the ridge, overlooking the river (we took him up on that offer and were not disappointed). Hans also had stocked the cabin with plenty of food and drink for breakfast (lunch and dinner too). The cabin itself exceeded our expectations. It is on a quiet and private spot on Hans' property. We happened to visit on Valentine's weekend (during record breaking cold temperatures). The cabin is well insulated and the heat works very well...keeping us warm and cozy inside as the temperatures outside plummeted below zero with the wind chill. The kitchen had everything we needed for cooking our meals. The bedroom was very comfortable as well. We look forward to going back during the warmer weather.
Paul
2016-02-15T00:00:00Z
The cabin is located in a very pretty location surrounded by woods and it is very quiet. It is only a short distance from the water where we went kayaking. The cabin itself is very modern and was perfect. The WiFi could be a little faster, but I was able to get all of my work done. The light fixtures were very cool looking. The air conditioning was amazing and the television has a wide range of channels. The cabin was perfect for our trip. The hosts were both extremely nice. We were shown around the area and they were always available if we needed help. We saw Hans at the boat launching dock and he came over to help us load the kayak back into our car which was very nice. The experience at this cabin was perfect and I highly recommend going!
Kyle
2016-07-08T00:00:00Z
It was an amazing weekend I spent in this cozy and comfortable cabin. The host is very nice and hospitality. Definitely recommend to stay and wish we can come again.
Susie
2014-09-29T00:00:00Z
This cabin was everything I hoped it to be. It was in a fairly remote area. The cabin was very clean, nicely furnished and had all of the necessities. Hans couldn't have been a better host. He had recommendations for things to see in the area, lent us his bicycles to use, and offered us a ride on the water on his boat. Be sure to go grocery shopping before arriving. Hans told us this and we still came a little unprepared and there is not a grocery store within 1/2 hour of the cabin. Luckily he had the essentials already in the cabin, they were a lifesaver. I hope to come here again. Be sure to check out Pinnacle Overlook!
Eric
2014-08-12T00:00:00Z
This cabin was ideal for the quiet, secluded weekend I needed. The place was spotless and comfortable. There were plenty of pots, pans, and spices, not to mention coffee and teas available. Plus, the place was stocked with some yogurt, bananas, and other foods for my enjoyment. I felt right at home the second I walked in the door. Hans was a perfect host. He made sure I had what I needed while giving me privacy and freedom to enjoy the cabin. The cabin is located near the shores of Lake Aldred, part of the Susquehanna River. This is beautiful farm country with plenty of things to see and do. I recommend visiting the area. And when you do, I suggest this cabin. I know I hope to return.
Nick
2016-10-16T00:00:00Z
This was my second stay at the cabin. The cleanliness surpassed any hotel I've stayed in. The refrigerator was stocked with plenty of snacks and Hans was more than willing to take me to area restaurants or bring anything I requested to me. Hans goes out of his way to make sure my stay was as pleasant as possible. I highly recommend the cabin and I will be staying there again.
Robert
2016-05-11T00:00:00Z
I can't speak highly enough of this cabin and its host! Hans was scrupulously attentive from the moment we made the reservation, checking on any dietary restrictions we had and texting me pictures of the location so we wouldn't get lost. The cabin itself is a gem--beautifully renovated with all the modern amenities and even well-stocked with food. It's a great spot, very close to the water, and while the cabin is on the same property as the owner's house, you still feel very secluded. I could go on at length about Hans himself, who is super-nice and went above and beyond what we could have possibly expected of him (he even took us out on his boat!) Our only regret is that we couldn't stay longer--I would recommend a two-night stay, if you can manage it!
Keith
2014-08-08T00:00:00Z
My husband and I wanted to steal away a quiet weekend to celebrate our wedding anniversary. I'm glad I spotted Hans cabin on Airbnb. He was a generous, accommodating and courteous host. The cabin was perfect; it was quaint, very clean, comfortable, cozy, inviting with all the comforts of home. Hans also made sure we had breakfast food; eggs, breads, butter, OJ AND Starbucks coffee! Our stay was a slice of heaven and I would HIGHLY recommend renting this quaint cabin for two. The cabin is tucked away on a wooded lot which is steps from the Susquehanna River in York County, PA. Loved every minute of it and really appreciated Hans generosity in opening us his cabin to us. We'd love to return some day.
Ingrid
2015-07-06T00:00:00Z
Tipo de habitación
Casa/apto. entero
---
Tipo de propiedad
Cabaña
---
Capacidad
2
---
Dormitorios
Airville, Pensilvania, Estados Unidos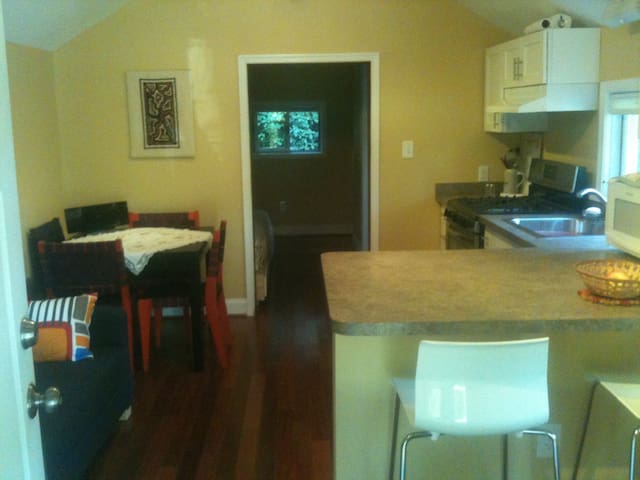 The beautiful rustic cabin is close to prime hiking locations & gorgeous views.... You'll love the cabin because of lack of cell service & wifi. Disconnect from the world! With a queen bed, and a 2nd bedroom with a single bed (w/ pull out trundle underneath) - the cabin is great for couples, solo adventurers, or smaller families (with kids). This is a recently renovated rustic cabin, tucked away in the heart of Lancaster County!
This is a recently renovated rustic cabin, tucked away in the heart of Lancaster County! Perfect for honeymooners, a weekend getaway/anniversary, small groups, small families. Includes one spacious master bedroom and a smaller bedroom with a trundle-pull-out bed. A quaint little bathroom (note: only a craw-foot vintage tub with a detachable shower nozzle) & a kitchen designed to resemble the early 1900's! You may expect to very quickly fall in love with the rippling creek that runs through the backyard & the rusticly romantic cabin atmosphere... (especially since cell service is a 5 minute drive away) Neighbors are sparse, and the Lancaster County shopping malls & Amish country are a scenic 30 minute drive away. The cabin is about an hour from where we are located, so you will receive complete instructions on how to unlock the cabin and close it up again. There is a land line phone at the cabin that can call make local calls, and can call our number if you have any questions.... What a beautifully unique place to relax and refocus! Please note: -No cell service or internet -We give you the code and you can check in and check out yourself. -Your security deposit will be returned if the cabin is found in the same condition, this being: nothing broken or damaged, nothing missing, nothing stained, etc. - Guest Access You have the joy of relaxing anywhere inside, outside on the back patio, by the fire-ring... Internet & cell phone service are non-existant, so come prepared to spend quality time with your group! Sheets and towels are provided!
Such a delightful charming cabin in the middle of a quiet forest! The cabin and its surrounding garden space serves as a wonderful respite for someone in need of retreat and reflection. Particularly the babbling brook behind the house was calming to sit beside to think and reflect. Comfortable bed, and the cozy gas fireplace was more than sufficient to keep the entire cabin warm. My wife loved spending one of her mornings taking a warm bath in the claw foot tub. The most awe inspiring moment of our weekend was sitting outside and looking at the stars. Because it was pitch black dark at night without any light pollution from the city, the stars were bright. As expected, the kitchen was bare bones – no oil for cooking, no sugar for coffee. We definitely recommend that guests bring pretty much any and all food supplies that they need for the kitchen, as there isn't a grocery store nearby. Overall, a peaceful calming time and we hope to come back!
Leonardo
2016-10-03T00:00:00Z
Thank you for a wonderful place! Communication was wonderful. A peaceful place with so much charm.
Jenny
2016-10-15T00:00:00Z
Gorgeous spot with all the modern amenities while still providing the antique rustic charm of a cabin.
Alene
2016-11-27T00:00:00Z
Everything was perfect; I would definitely go again
Gennaro
2017-02-19T00:00:00Z
Tipo de habitación
Casa/apto. entero
---
Tipo de propiedad
Cabaña
---
Capacidad
3
---
Dormitorios
Holtwood, Pensilvania, Estados Unidos
Our quaint cabin is located a quarter of a mile from the Susquehanna River. Perfect place to escape the city life and get back to nature. Relax and enjoy your morning coffee in the hammock and wind down your evenings at the fire pit by the creek.
Outdoor Spaces: The cabin has two screened in porches that overlook the creek and fire pit. The porch of the great room has two rocking chairs and is perfect for you morning devotions. The side porch features a gas grill, marble counter tops and picnic table. There is also a small deck off of the bedroom that overlooks that backyard space. Kitchen: Features marble counter tops, gas log fireplace and is stocked with all your cooking and eating utensils. Great Room: Large living room area with plenty of seating, gas log fireplace and large screen T.V with DVD player. Loft area: Overlooks the great room and has two sofas and a table that is great for playing cards at night. Bedroom: King size bed with gas log fireplace. Has a small deck with french glass door and ceiling window. Enjoy the stars and the sounds of the evening while lying in bed. Bathroom: All slate bathroom features a shower.
We are located a quarter of a mile off the Susquehanna River. There are two other cabin that you can see from our property. The road is a one lane road that others use so we ask you are respectful of the speed limit.
We did not see the host.
david
2016-08-19T00:00:00Z
Ended up not renting from the owner and there was a mixup with canceling the billing on airbnb's side. However, the host communicated really well and did what they needed to in order to resolve the issue promptly. Will definitely consider them in the future if we decide to rent a house in PA this summer.
Junot
2015-04-05T00:00:00Z
This cabin is in a most wonderful location, isolated enough that you can hear the creek in front of it and yet just a few minutes from town. The cabin is comfortable, with a nice size kitchen and two really great screen porches. The cabin itself is on a few levels, so there are small steps from room to room, but we got used to that. The hosts were very accommodating, and we thoroughly enjoyed our visit. We felt very much at home. We hope to come back again.
Marie
2015-08-17T00:00:00Z
It was great!
Brian
2016-09-01T00:00:00Z
Wanda was a great host. she communicated well and sent a great email with all the information we would possibly need about the cabin prior to check-in. The cabin itself was tidy and everything the pictures showed. we had a great weekend relaxing and listening to the surrounding nature and the gurgling stream from the screened in patios. looking forward to coming back with friends in the future to share this gem tucked in the hills.
Matthew
2016-10-31T00:00:00Z
Nice, rustic property with suitable updates and amenities indoors.
michael
2015-08-27T00:00:00Z
We loved the house! Great location and just our style! Thanks again
Melyssa
2016-06-28T00:00:00Z
Tipo de habitación
Casa/apto. entero
---
Tipo de propiedad
Cabaña
---
Capacidad
4
---
Dormitorios
Wrightsville, Pensilvania, Estados Unidos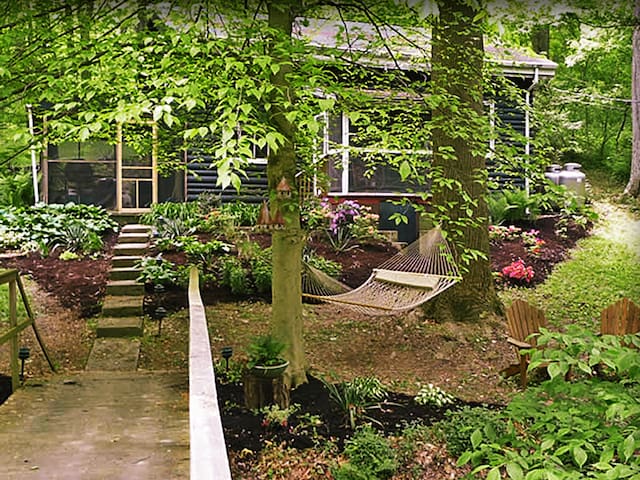 1

–

3

de

3 Alquileres de Cabañas
Introduce las fechas para ver el precio total. Ten en cuenta que se aplicarán tarifas adicionales y es posible que se añadan impuestos.