Newly renovated loft separate from main home with Queen bed and futon; offering the opportunity to refresh and renew. Discount on healing and yoga services, proximity to beaches, hot and wet sauna, surrounded by cute towns, beaches and nature walks.
State of the Art Tranquility loft, completely private with modern amenities, and peaceful vibe. A perfect place to unwind and relax.
Friendly rural community miles away from the North Shore's finest beaches, wildlife reserves, Newburyport, Plum Island, historic towns and shops.
We arrived by bike and the location was ideal - 1 mile from the commuter rail and reasonable ride to Newburyport, Ipwich, and Crane Beach. Anthony and Rachel were excellent hosts - very friendly and communicative, and they even made us smoothies. The loft itself was very clean and a perfect space to relax. Great experience, would definitely return!
Becky
2016-09-06T00:00:00Z
The space and place were so comfortable and aligned with our values. Anthony and Rachael were so welcoming and helpful over the weekend.
Robin
2016-10-09T00:00:00Z
From the moment we arrived we felt at ease and welcomed into Anthony and Rachael's beautiful home. Our vacation felt more like we were visiting friends and family than meeting for the first time and we could not have been happier with our experience. The Tranquility Loft is all that and more, calm, peaceful, beautiful and comfortable. The yard and yoga studio were great for our young son to play in and the company of their children was even better! Anthony made us healthy delicious smoothies every morning, handmade chocolates, kept us toasty with a fire every night, enlightened us with great conversation and shared his home and family with us without reserve. The location is also a huge plus too, right between Newburyport and Rockport, we discovered both for the first time and wondered how we could not have known of them sooner- Fantastic places to vacation! The beaches near by were magical. Our only regret is that we did not book for longer- but we will be sure to return as soon as we can! BEST AIR BNB EXPERIENCE EVER! enough said! Katie & Brendon Woodward (and solomon too)
Katie
2015-07-06T00:00:00Z
Awesome stay
Amy
2016-05-05T00:00:00Z
Anthony and Rachel were super friendly hosts and the tranquility loft lived up to its name. My wife and I enjoyed a relaxing night away made sweeter by Anthony's homemade chocolates and Rachel's warm hospitality. Our only regret is that we didn't get to take advantage their yoga expertise. Maybe next time.
Brett
2016-02-29T00:00:00Z
Anthony and Rachael were great! The loft was very clean and comfortable.
Bridget
2016-07-26T00:00:00Z
The Tranquility Loft lives up to its name! This is a beautiful place to take a retreat and enjoy the beauty of the north shore. Rachael and Anthony have done an excellent job creating a space that is quiet and private. The sauna and steam shower are an incredible bonus treat. We were so very glad to find this alternative to the B&Bs in the area.
luba
2016-02-08T00:00:00Z
This was by far and I believe to be one of the best air bnb experiences I will have. Anthony and Rachel are amazing people and I left inspired from what they have built for themselves and have to share. My only regret is only staying one night and not partaking in the total experience of services they offer. I highly recommend this to anyone who is in need of a mind body spirit experience in the lovely area. We plan to make this an annual excursion!
Andrew
2016-09-05T00:00:00Z
Tipo de habitación
Casa/apto. entero
---
Tipo de propiedad
Loft
---
Capacidad
2
---
Dormitorios
Rowley, Massachusetts 01969, Estados Unidos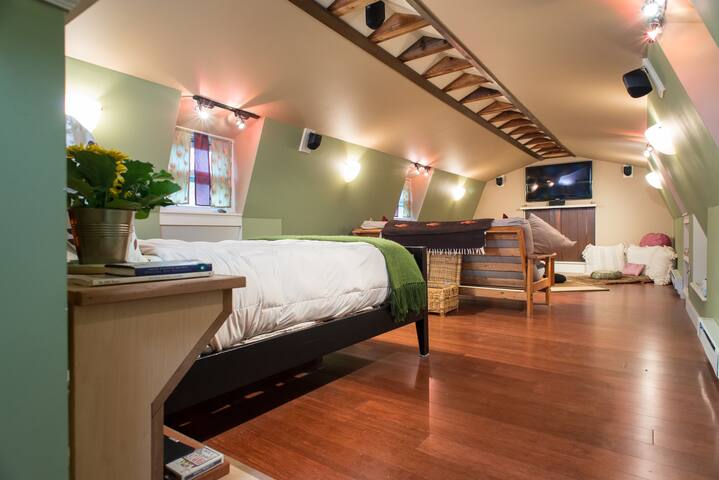 Centrally located 3 blocks from downtown Concord area. Furnished open concept 3rd floor lofty. Queen bed, L-Shaped leather couch, Smart TV, Internet, stocked Kitchenette , 3/4 bath. Fresh linen and Towels Coin op. washer Dryer off street parking.
Cozy, elegant, minimalist. Thank you so much Ellen for a wonderful experience in Concord. The loft was so cool and all the good places were a short walk away. You were so friendly and accommodating and you really made us feel at home and welcome! Million times better than a hotel.
Daniel
2016-08-08T00:00:00Z
Ellen was very accommodating in regards to my uncertain arrival time. She was willing to meet me with a 30 minute notice. The place is clean, quiet, and very comfortable.
Anthony
2016-03-22T00:00:00Z
Nice location!
Rachelle
2016-11-13T00:00:00Z
Very gracious and loving home. The space was clean and the hosts were friendly
Eric
2016-09-13T00:00:00Z
Ellen is kind and welcoming. She was flexible and able to accommodate my arrival time. The space was private and architecturally interesting, as well as well located in downtown Concord. The bed was comfortable and the towels clean. Unfortunately the wifi, while available, was slower than optimal.
Caitlin
2016-10-02T00:00:00Z
Nice space. Quiet, fun, easy. Ellen was the perfect host. We traveled to Concord from Massachusetts for a #24 hour vacation. Saturday night out - dinner at The Crazy Goat and a great live concert of Cape Brenton/Celtic fiddle music at the Concord City Auditorium. The morning after we enjoyed breakfast at Tuckers, followed by some good thrift store action and window shopping on the main drag which was a ten minute walk away. Thanks Ellen.
Timothie
2017-03-06T00:00:00Z
Ellen was very nice and the house was in a quiet neighborhood close to downtown and easy to find.
Catherine
2016-10-24T00:00:00Z
Ellen was welcoming and kind. The lofty was a very cool space and only made our visit more enjoyable. Her place is a 15 minute walk to town making it an ideal location for a weekend away. Thanks so much, Ellen!
Lindsay and Bill
2016-04-20T00:00:00Z
Tipo de habitación
Casa/apto. entero
---
Tipo de propiedad
Loft
---
Capacidad
4
---
Dormitorios
Concord, New Hampshire 03301, Estados Unidos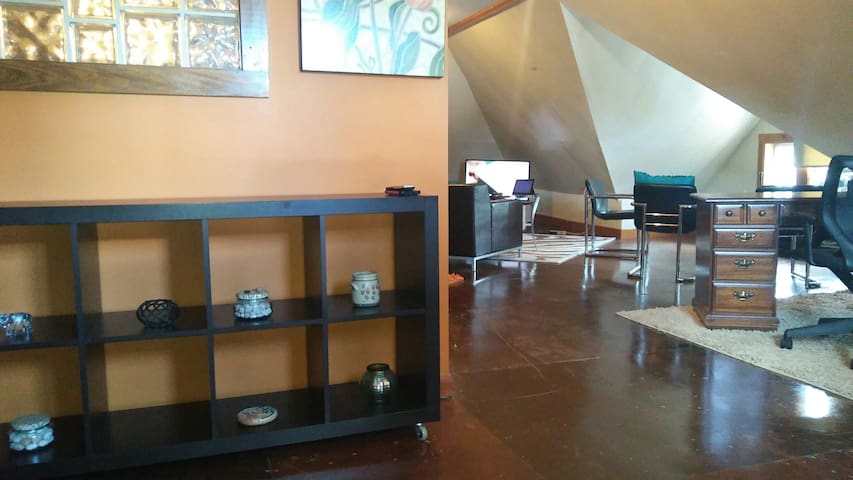 North beach in Hampton. New construction top floor surf loft with ocean view on a quiet rd off ocean Blvd. ideal for a surf get away with ample parking. You will love this loft, as it has unobstructed ocean view. Although the loft is tiny, it is well maintained and minimally supplied, which is perfect for beach life. Directly across from one of the longest beaches in NH. This is a true gem of a location.
Top floor of a 3 unit condo building. Small kitchenette, with basic essentials. 1 full bed and 1 pullout queen futon. Ideal for spending hours on the beach and enjoying the majestic Atlantic Ocean, with views of Isles of Shoals and points north. Directly across from 2 mile long beach and easy access to both Hampton beach and major highways of 95 and rt 1A
Quiet neighborhood off of Ocean Blvd.
Incredible location! Close enough to the strip to walk, or take a cheap Uber ride, but far enough away to have a peaceful night. Coming back from the strip and enjoy a couple of hours at the beach directly across from the house was a real highlight. The unit is definitely small, but was perfect for my three friends and I. Bed sharing is a must for more than 2 people. The apartment was beautiful and clean. We were very thankful for the host-provided fans, as the third floor unit was HOT when we first got there. After opening all the windows and setting the fans to create a cross breeze, it cooled down quickly and was comfortable the rest of the weekend. We had a great time and would definitely recommend this location!
Jessica
2016-08-04T00:00:00Z
Really clean and next to the beach. Great for a small stay!
Hélène
2016-08-10T00:00:00Z
Keper was available via text throughout the weekend. The pictures were accurate (apartments is very pretty and clean), except that we thought the bed was in its own space and not just a few feet from the futon. Safe, quiet, clean neighborhood. You have to drive to get to the main drag of the boardwalk, but the northern part of the beach is just a two minute walk from the apartment. No A/C or dark curtains (to block sunlight) was a bit of an issue--it was 97+ during our visit and we were on the third floor. Bring a box fan! Marsh in the back was a pretty view.
Justin
2016-08-17T00:00:00Z
This place was perfect for a weekend or a few days stay. Perfect location close to the boardwalk. I would definitely stay here again.
Max
2016-07-20T00:00:00Z
This apartment was not an apartment its an attic. An attic with very slanted ceilings, so slanted my husband had difficulty using the toilet and he is 6" tall and in order to stand straight he had to stand 6 inches from the toilet. We were not greeted or shown the apartment and how it the futon worked. After arriving from a long trip we had to use the bathroom there was no toilet paper or hand soap in the apartment. There is no ceiling lights in the front room, just two mini head lamps, making the front of the house very dark. When we booked it we were called and asked to provide our own sheets for the beds and we declined as it was not in the listing and we were traveling from far. When we arrived we found the sheets crumpled up in a bag and we had to dress our own beds and therefore had to see the very old pillows with stains that looked like they had been picked up a the Salvation Army. There was only two stools and no kitchen amenities such as salt, sugar, oil, dishwashing liquid basic things that all of the apartments I have rented in the past have. Cute place for two, not four and if you want to be surrounded with very frail old looking furniture and dirty lamps, trashcan and tables. We had to purchase cleaning materials just to stay there because it was so dusty but only cleaned where we had to. Not expected for the cleaning fee we were charged. And to top it all off one of the days we were having a shower our neighbor said we were leaking water into his apartment I suppose because the drain in the shower was not working so it was not going down easily. A hot mess if you ask me.
aixa
2016-09-07T00:00:00Z
Tipo de habitación
Casa/apto. entero
---
Tipo de propiedad
Loft
---
Capacidad
4
---
Dormitorios
Hampton, New Hampshire 03842, Estados Unidos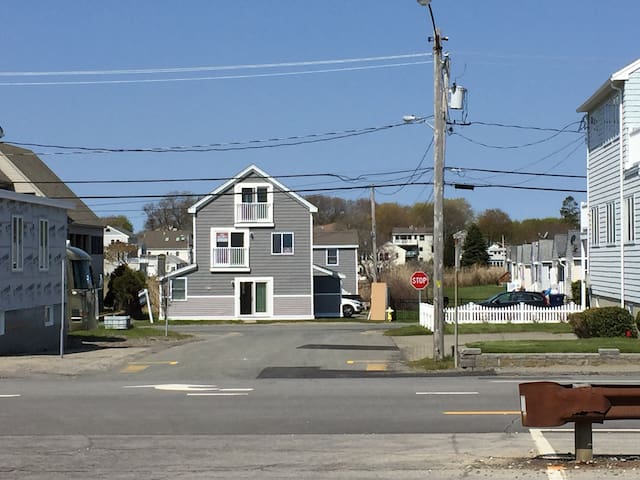 Introduce las fechas para ver el precio total. Ten en cuenta que se aplicarán tarifas adicionales y es posible que se añadan impuestos.