Introduce la fecha de llegada en el formato dd/mm/aaaa
Introduce la fecha de salida en el formato dd/mm/aaaa
Anuncios que no requieren que el anfitrión acepte la solicitud.
Introduce las fechas para ver el precio total. Ten en cuenta que se aplicarán tarifas adicionales y es posible que se añadan impuestos.
En julio y agosto, podrás disfrutar de 100 de los alojamientos con las mejores valoraciones de Sonoma a precios muy diferentes y disfrutar de la cara más auténtica de la ciudad. Relájate y disfruta de tu estancia sabiendo que puedes hacer una reserva inmediata, llegar a cualquier hora y disfrutar del vino de la zona y de otros tentempiés.
Complementary western ranges wine on arrivel and 20% discount at great local restaurant in Leura (Flemish Flavours). Our private loft is the perfect cosy mountain retreat! Situated in a quiet, leafy street, only 15 mins drive from Leura & Katoomba, 10 mins walk to the train station, and 5 mins drive to the local cafe, restaurant & shop.
We have private off street parking . A complimentary bottle of wine from the western ranges is provided on arrival. A 20% discount on food at Flemish Flavours in Leura (10 min drive) is also offered. The loft is a large upstairs room, chalet-stye with an apex ceiling. Exposed warm wooden beams add to the cosy atmosphere. The bathroom is separate downstairs, and coffee and tea facilities and fridge space are all available. A baby cot and a child bed can be made available upon request. Private access via separate gate We like to give our guests some privacy but are always there to help or answer questions if need be!
Train station is a 10 min walk
Thank you so much to Claire, who accomodated us at short notice,and was absolutely charming. This a lovely, modern and funky converted loft space above a double garage. The photos do not do it justice. It has been converted with a lot of thought and with many clever details. Totally private and in a beautiful location, we were sad to leave, and would definitely stay again. A bottle of wine was a thoughtful and lovely touch,and very much appreciated. Thanks for having us.
Claire
December 2016
Everything was amazing. Wim and Claire are wonderful thoughtful people. Recommend this place very highly.
Sara
December 2016
Amazing place! Clean, just as described and the owners were easy to communicate with. We didn't get the chance to meet them but still had a lovely time and loved the location. So much do in the area. Highly recommend.
Zac
December 2016
Great place to be
Bruno
January 2017
Great location in a quiet neighbourhood. Very spacious loft, tastefully decorated and comfortable. Hosts were friendly and welcoming.
Kate
December 2016
The perfect spot to visit the blue mountains. The room is cosy and clean and the host is lovely! Eating in Flamish flavours is recommended!
tine
January 2017
Great base to explore the blue mountains! Clean, Spacious room in a quiet street
Roanna
January 2017
Claire was such a great host! She came down in the rain to meet us one morning, and even popped by to give us milk & coffee later on. Everything in the house was lovely, clean and in fantastic condition. The complimentary wine was of course a bonus. We also liked the fact that parking was a breeze. Would highly recommend this place as a base to explore Blue Mountains from.
honghui
December 2016
Tipo de habitación
Casa/apto. entero
---
Tipo de propiedad
---
Capacidad
3
---
Dormitorios
1
Bullaburra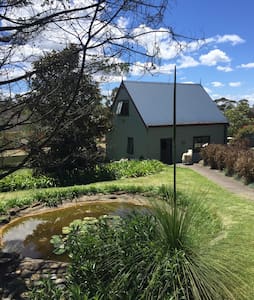 A large, self contained room above the garage, separate from the house, with a kitchenette and bathroom. Convenient 5 minute walk to train station and only a 15 minute walk to the bush. Local shops 10 mins walk, more shops 5 mins in car/train.
Large single self contained room in the lower Blue Mountains, complete with 2 seater lounge, large table, TV, kitchenette & double bed. Bathroom. Feel free to ask us about the train time tables, bush walks in the Blue Mountains and places to eat.
One of the quieter suburbs in the Lower Blue Mountains. 30 minutes drive from Katoomba, 10 minutes drive from Penrith. Great Italian Restaurant and convenience store/post office are just over the highway. Train station and bus stops are just across the road. We are 5 minutes walk from the train station so you may hear the trains.
Excellent place! The room is very cleaning and confortable.
Milena
May 2016
Lovely quiet and private space. Close to transport and with all amenities. Jacqueline made sure we had everything we needed, even some restaurant reviews. Would be a great base for exploring the blue mountains and surrounds.
Jessica
December 2016
That's really a wonderful experience. The house is warm and sweet. And it is really near to the station. But little bit far from Katoomba. Jacqueline is kind and help us a lot. We definitely recommend the house if you drive the car to blue mountain and want to stay there for a night. One more thing, breakfast is so good with a lot of choice.
Jennie
September 2016
We really enjoyed our stay at the Barn. Jacqui and Paul were very welcoming and we loved the assortment of teas and cereals. The barn was private and quiet, and was perfectly located for all the activities we did. Would definitely recommend to friends and family. Thanks for the great stay. Alyce & Cam
Alyce
June 2016
The barn was an excellent place to stay. The decor was lovely and the space was cosy and clean.
Meryl
July 2016
The barn, is that the correct name for it? I thought of staying in a barn would be cold and miserable, but not this BARN, set above as a single self contained unit proved to be such a great getaway, the host was super nice, the barn was very clean and tidy. Breakfast was pretty easy with a decent amount of options, cool little poems to keep you informed, loved my stay there although very brief, I will be back!!
Phillip
July 2016
Jaqueline was a very nice host. She was really supportive and gave us lots of helpful informations of hikes and lookouts in the region! The place is so cozy and just perfect to stay for a weekend. The room in general was very clean and you notice straight away that the host is looking after the place. Everything looks new and maintained. I definitely recommend this place!
David
May 2016
"The Barn" is such a delight! Private entrance and detached means you have complete privacy which was nice. The property has a great feel and everything you need, with a cupboard full of nice surprises. Only met Jacqui but she was great help with information about the area but mostly just really nice. Great place to stay!
Raul
April 2016
Tipo de habitación
Casa/apto. entero
---
Tipo de propiedad
---
Capacidad
2
---
Dormitorios
1
Warrimoo
This is a lovely modern 1 BR self contained apartment at one end of Apsley House on the second floor, a period home near tourist sites & with views to the escarpment. Set in lovely landscaped grounds with plenty of off-street parking, this studio is part of a private residence. Suit 2-3ppl, 4 if there are two couples.
Modern and newly renovated private Loft Studio 1BR apartment upstairs on the second floor at one end of a period home conveniently located 2.5 km from Katoomba's main street. Outside landscaped garden is yours to explore and there is ample off-street parking I'm usually present in the main residence. Available to welcome guests depending on the arrival time otherwise keys are available and instructions for collection are sent in the arrival communication.
Beautiful escarpment views, peaceful bushland surrounds with privacy from the neighbours. An ideal location to start your Blue Mountains adventure if you like walking on the trails around Megalong Valley and Cliff Drive. NOTE: The location of the house makes having a car a better option. There is an irregular public bus stop near the house, week days only. The train station is 2.5km from the location but the roads are hilly. Taxi is a better first option or your own car. Ample off-street parking available for those with a car. The town centre and shops is 20 minutes brisk walk from the house down the road and up to the shopping street - Katoomba Stree - note: it is quite hilly. The apartment is in a family home above another self-contained apartment so respectful guests who are quiet late at night (10pm onwards) are ideal for booking a stay. Small kitchenette - NOT SUITABLE for cooking meals. (with NO kitchen sink - use bathroom sink). Equipped with a Aldi Expressi pod coffee machine, electric jug, convection microwave, toaster, refrigerator. NOTE: This is only suitable for preparing light breakfasts or snacks. Washing up can be done in the deep bathroom sink and dried on the drying rack provided. Ironing board and iron available for loan on request.
Our 2 day stay in "The Studio" was very pleasant. The apartment was simple tidy clean & new. The bed was very comfortable & reverse cycle aircon kept us warm on a cold mountain weekend. The unit is fully private from the main house & we came & went as we pleased, enjoying all the nostalgia & charm that Katoomba & Leura have to offer. We met Andrew briefly after arrival & he was very courteous & helpful.
Jeff & Karen
September 2015
We had a really lovely stay in the studio. It's much bigger than we expected and a really great place in a great location, just up the road from the Three Sisters. Andrew was also a really great host, full of advice on the area.
Nick
December 2015
Andrew was a great host, very helpful and very easy to contact. The apartment was the perfect size, very close to the Main Street, while still being in a quiet location. You could walk to the Main Street if you wanted to. The facilities provided in the apartment were fine for a short stay, and it was very well maintained.
Josie
August 2015
I booked this place for my parents to getaway for the weekend. They absolutely loved it. The host Andrew was super friendly. The property was very cosy and well kept. Thank you
Therese
July 2016
Andrews BnB was wonderful , the studio was very private , great to hear all the birds in the morning with wonderful views , Andrew provided a bottle of wine for us as it was new years eve, a lovely thought.
Ron
January 2016
We had a great time at Andrew's place. It was very clean and the beds (even the fold out)were super comfy and warm. We also appreciated the wifi as we were there on a business trip.
Taire
January 2016
Andrew was incredibly welcoming, and provided very clear instructions on how to get to the apartment. Our stay was lovely. The apartment was large and well-lit and clean, and the beds super comfortable. The views were beautiful. And there are plenty of flowers. My Mum and I had a really lovely time. Would definitely stay there again.
Ella
December 2015
The perfect place for a quick stopover in the Blue Mountains. Located within a few minutes drive of the beautiful town and mountain walks and views. Andrew made all the arrangements for an easy stay in his beautiful studio in a lovely, quiet street.
David
November 2015
Tipo de habitación
Casa/apto. entero
---
Tipo de propiedad
---
Capacidad
3
---
Dormitorios
1
Katoomba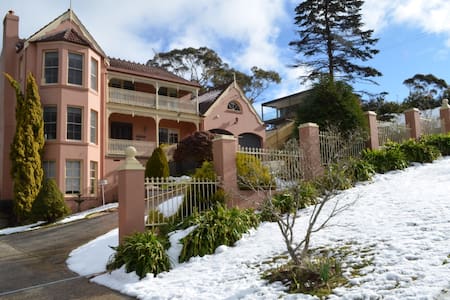 Monkey Creek sits high on a ridge with commanding views over World Heritage area. The Attic sits above the Café with great coffee and private decks to watch the spectacular sunsets and moonrises. Fully self contained. 3 night minimum Long Weekends
Monkey Creek has been developed with high environmental standards such as double glazing, rainwater harvesting, extra insulation, composting worm farm and solar power. The design withstands the sometimes hostile mountain climate while taking advantage of expansive views to the north east and southwest. It a truly remarkable place for watching sunrise, sunset and phases of the moon; all without having to get out of your chair! It offers a fully equipped kitchen with oven, convection microwave and necessary utensils to self cater or you can take advantage of the café downstairs. You have exclusive use of the upstairs decks and living area while the grounds are shared by café guests during trading hours 9-5 each day. Mark lives nearby at Hatters Hideout and is readily available for advice on tours, sightseeing, and any problems that may arise
the skyscape is spectacular! there is a local saying "if you don't like the weather up here, wait a minute" and there is no better place to watch the everchanging spectacle than from Monkey Creek. If you are into moonrise and sunsets here is a place you can get to see both without leaving the dining table.... or to watch the mountain mists swirl and blanket the valleys below before magically evaporating.... or to hear the sounds of lyre birds mimicking in the rainforests... simply divine you need your own transport
We enjoyed our stay at the loft. Mark is a very colorful character and very helpful. Only negative point I did not expect the road noise, which spoilt it a bit for me.
Hera
January 2016
The Place was awesome and exactly as described. Mark was very welcoming and everything, was as described. We would always come back.
Boris
April 2015
Mark was flexible with our arrival time, helpful with info on the area and a good for a yarn. Great spot, apartment and view. Thanks again!
Tony
May 2015
Lovely view, excellent gas heater. Mark was friendly and very helpful.
Peter
July 2016
A great location, away from tourist traffic. Great views (including of the stars at night) and dwelling design. Nice to have cafe downstairs for breakfast.
Paul
August 2016
The place was lovely, great secluded location. We were very warm inside despite being very cold outside - perfect cosy place to stay!
Hayden
August 2016
Excellent and friendly host with a great place with awesome views
Brian
December 2016
What an amazing place. Everything you could want, spectacular views and a great location. Mark was an excellent host, easy to get hold off, responsive and friendly. Would love to have stayed longer
Ewan
January 2015
Tipo de habitación
Casa/apto. entero
---
Tipo de propiedad
---
Capacidad
2
---
Dormitorios
1
Dargan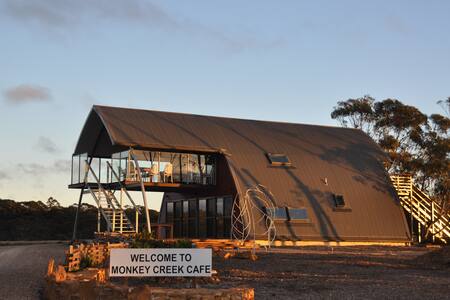 This stylish self contained apartment located in the heart of the Blue Mountains is situated in the grounds of Oak Lodge, Leura. With a flat 10 min walk to boutiques, cafes, restaurants and bush walks, this is an ideal retreat for couples.
Oak Lodge Loft offers a queen bedroom with luxury bed linen, soft bath towels, high quality bed and duvet, plump comfortable pillows, surrounded in pleasant décor. A large ensuite marble bathroom and large private lockup parking space for your vehicle. A selection of teas or coffee await you in the sitting area, to be enjoyed whilst you relax with a book or DVD. Private access is via The Loft entrance door.There you will find the flight of white stairs to your hideaway luxury retreat. The Loft is external to the main Oak Lodge House. You may have as much or as little interaction as you wish with the owners who are in residence in the main house. We understand peoples' need for privacy on their break and respect that. The Loft may be taken in conjunction with the Oak Lodge Garden room and /or The Forrest Room in the main house.
A very light breakfast is provided in the bar-fridge. However, our philosophy is to enjoy the delightful flat, paved stroll up "The Mall" to the café strip and enjoy a fabulous brunch with 'real' coffee and embrace lovely Leura. The Loft is ideal for the more sophisticated traveler, who enjoys quality accommodation surrounded with the peace and privacy of a beautiful 2000sm English garden on their short term breaks or touring routes. Guest's do not have access to a full kitchen . The Loft is for those who love to eat out and enjoy the great and varied café and restaurant options so close to Oak Lodge. For those who love to explore everything the Blue Mountains has to offer in such close proximity. Get a higher perspective on you short break, in the tree tops at The Loft, over looking and surrounded by stunning gardens in the best location in Leura. So easy to find, 700mts to Leura Mall shops 300mtrs to the best escarpment lookouts and "uncrowded" National Park bush walks and waterfalls. Leura Train Station is about a 1km flat walk in one direction. The Blue Mountains Explorer Bus has a bus stop one block from the property. The property is surrounded by magnificent gardens in which you can roam free!
Michael was very helpful with restaurant/ cafe recommendations. They have a beautifully maintained garden complete with giant cicada! The Oak lodge was compact but has most essential items. Though the low head room in some parts of the accommodation may cause some accidental head bumps for the taller population :). Overall would come back again especially to check out the family accommodation option with my kids.
Nina
October 2014
We enjoyed our stay. The Loft at Oak Lodge is a nice walk from Leura and comfortable to stay in.
Justin
January 2016
The place was great! Everything that we needed and the hosts were great with providing information about the area!
Emma
June 2016
Michael and Leonie are fantastic hosts. They were very welcoming and provided us with recommendations for restaurants and hikes. The room was very clean and exactly like the pictures. The bathroom was also very clean. Had a wonderful stay.
Justin
April 2014
We had a wonderful stay at Oak Lodge. In the run up to our stay Michael gave us loads of helpful suggestions about our itinerary. The room itself was great - spacious, spotless and furnished to a very high standard. Location was fantastic - just a short stroll to some lookout spots with fantastic views, and also a short stroll into town. We'll certainly stay here again next time we're in the Blue Mountains.
Ewan
September 2014
michael was easy and supportive .a late booking and we were happy to be accomodated..the loft is a very pleasant walk to town ..leura is a gem and the flowers bathed you in their scent.the loft feels a little closed in but the weather was kind so we spent most time wandering ..a lovely garden for a night sit...breakfast items were appreciated very much michaael was very helpful with food and coffee venues,and the japanese restaurant is a pleasant relaxed place..
paul
October 2014
The loft was exactly the way it appears on the site, very roomy comfortable and quite we really enjoyed our stay. Michael and Leonie where lovely and welcoming upon arrival. We would love to stay again on out next trip to the blue mountains.
Lucas
March 2015
Great little Leura getaway spot. Would definately stay again. Restaurant / Cafe recommendations were spot on also
James
July 2014
Tipo de habitación
Casa/apto. entero
---
Tipo de propiedad
---
Capacidad
2
---
Dormitorios
1
Leura