Introduce la fecha de llegada en el formato dd/mm/aaaa
Introduce la fecha de salida en el formato dd/mm/aaaa
Anuncios que no requieren que el anfitrión acepte la solicitud.
Introduce las fechas para ver el precio total. Ten en cuenta que se aplicarán tarifas adicionales y es posible que se añadan impuestos.
En julio y agosto, podrás disfrutar de 100 de los alojamientos con las mejores valoraciones de Sonoma a precios muy diferentes y disfrutar de la cara más auténtica de la ciudad. Relájate y disfruta de tu estancia sabiendo que puedes hacer una reserva inmediata, llegar a cualquier hora y disfrutar del vino de la zona y de otros tentempiés.
It is a cosy room with a woodstove and family decor. Guided hikes Easy - 3 hr $50 per reservation Moderate - 5hr $75 per reservation Board or Ski private lessons $40 per hr. Please call for details on any activity. 760-524-6458
Again on our third visit (and it's our third for a reason!), Jeff was kind, friendly, keeping us stocked with wood and starter sticks, sharing cake with my daughter and letting her watch TV, making sure the dogs were well-behaved (which they are), and letting me chat his ear off. I want to add that the photos are not updated: He has made the room even more guest-friendly, with more space to put things and a table next to his AWESOME lazy-boy chair. He is a real gem.
Hilary
March 2016
Jeff was an exellent host! The private room he offered was very spacious and cozy, he made us feel just like home. When we got there he was already waiting for us and had everything ready in the room so we didn´t get cold during the night. In the morning he offered us coffee and helped us out with anything we needed. A big plus is the location of his house, located only 5 minutes away from Mountain High Ski Resort. I would definately recommend staying with Jeff (and would do so myself in the future, if possible).
Pablo
January 2016
Jeff is a very warm and hospitable host, he makes me and my wife feel home right from the start. The room is exactly as it is described, in a loft with skylight, heater and wood stove. We cooked our dinner using Jeff's kitchen, and had a very nice conversation with him in the evening, as he told us about his years of hosting experience, starting with passing hikers of Pacific Crest Trail to skiers/snowboarders in the winter, and his son's recent artwork with ceramics. He took extra effort to keep the wood stove burning in our room, and his two big dogs are very friendly too, making this a very homey experience.
Wei
January 2016
Jeff was, as always, welcoming to the extreme. He wasn't there when we arrived, so he made arrangements for us to get in easily. His older daughter let my little daughter watch a movie in their living room. His dogs are gentle and love being petted.
Hilary
February 2016
Jeff was an amazing host. My boyfriend and I were passing through after driving 13 hours. We brought our St. Bernard along with us and she had the best time playing with Jeff's three dogs. The house itself was clean and cozy. Believe me, with 3 dogs let alone 1, cleanliness is very difficult. The bed was comfortable: The wood stove made the chilly mornings perfect. He was even kind enough to offer us bagels, coffee, and bacon in the morning.
Alix
March 2016
Great vacation experience! Super nice guy and loved his puppies! It's been a pleasure at jeff's! Super close to mt high and big pine zip lining! Thank you so much!
Christina
February 2016
The expirience with jeff was awesome ... it was a clean room , and warm, jeff is a helpfull person and so friendly.... For sure i will come back!!!!!
Oscar
January 2017
Jeff and his family were friendly and accommodating during my stay and flexible with my uneven work schedule. The room was cozy and warm. I would stay here again.
Tom
January 2016
Tipo de habitación
Habitación privada
---
Tipo de propiedad
---
Capacidad
2
---
Dormitorios
1
Wrightwood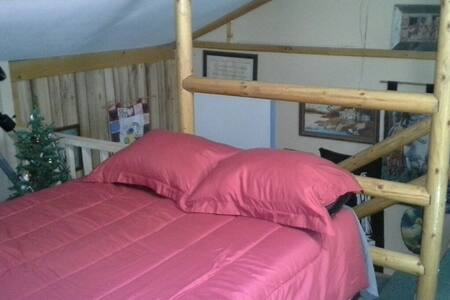 This beautiful creative space can accommodate up to 20 people for a party or group function. It's the perfect location for work parties, photo shoots, meetings, bridal showers. etc. The possibilities are endless. Rowdy parties are not tolerated.
Currently decorated for Christmas. Beautiful space for Christmas parties. This wonderful space will not only save you money, it will give you the chance to spend quality or working time together without having to separate into different rooms. Unique, spacious and tranquil, it can accommodate an entire film crew, bachelorette party, birthday party Also perfect for photo studio work. A three minute walk and you can relax at a day spa, a beautiful salon, or even do Zumba. There is a CVS, laundromat, department store, arts and craft store and a post office, all within five minutes walking distance. This space has one bathroom and no shower, but I will provide toiletries to freshen up. With lots of natural sunlight, 28 recessed lights, dimmable track lights and lots of table lamps, you can brighten up, or create a warm inviting atmosphere at the touch of a button. There is a small well stocked refrigerator, microwave and very large countertop for food serving. There is not a stove or oven.I will provide an ample supply munchies. You will have the entire loft to use as you if it were yours. Upon arrival, I will show you around and then hand you the keys. I am only a few minutes away, if you should you need me,
The loft is in the perfect location for privacy, no prying eyes from neighbor's, no need to worry about the noise level, within reason of course. Private, yet is very safe to come and go as you wish. Please note, this is not an overnight venue. Things should begin to wrap up about 10:00pm-11:00pm. Close to everything, 5 minutes from the 55 freeway, 10 minutes from Disneyland, 15 minutes from the beach. Clean, tranquil and relaxing. Public transportation is two minutes away, Uber is always a wise and inexpensive choice as well. Please contact me with any questions or needs. I will be more than happy to help you.
It is a really nice place!!! Best experience ever!
思佳
December 2016
Her studio space was a great place to have birthday party with family and friends. She hand painted and designed the whole place herself and it is just beautiful. One of her paintings had my family in awe as it looked 3D. She was a great host and had plenty of linens and mattresses to use. This studio has a lot of open space and you can make as much noise as you want. There is also a mini fridge to use. She also let us use her fog machine and strobe lights.
Meghan Gabrielle
May 2016
Great place , even better in person !
Timoithy
December 2016
Unfortunately, I didn't get to meet Leanna due to a family emergency, but I believe that she tried to accommodate us as best as she could, given the circumstances. The place is beautiful! Renting out the location was perfect for my little get together. The location comes with many different lights and even a fog machine! I would definitely come back!
Roselle
November 2016
My friends and I came up to Leanna's place to see a show at night. We were extremely late notice and she was still very accommodating. She readied the place in tip top shape for us in no time flat. I couldn't have asked for anything more from Leanna. We had a great night. The place is a beautiful loft with a really open floor plan that's just great for a get together. It is in a perfect location for us, we were equal distance from everything we had planned for the night. We throughly enjoyed our time and would definitely do it again. Thanks again Leanna.
Devan
May 2016
My group and I were all in awe of the studio. As soon as everyone walked in, they were amazed with the design of the place. Leanna met all of our expectations and was very welcoming and helpful.
stephanie
May 2016
Awesome and quiet location! I highly recommend this location, the owner is lovely and helpful.
Garrett
September 2016
Leanna made me feel very welcome! She is an amazing host. The location was super awesome and she made sure I had anything I needed. Very beautiful loft! Would book again!!
Rotha
November 2016
Tipo de habitación
Casa/apto. entero
---
Tipo de propiedad
---
Capacidad
16
---
Dormitorios
1
Orange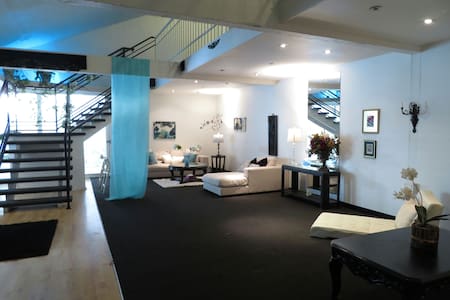 Spacious open loft available in owner occupied home. Vaulted ceilings with large skylights, 2 sofa beds with mattress toppers. Wifi, television, Netflix, Play Station, board games. Microwave, mini fridge, coffee maker, and complimentary tea, coffee, hot chocolate. Nestled in picturesque mountain community of Running Springs, within walking distance of town, hiking, and 5 miles only from famous Snow Valley ski resort and the newly opened Santa's Village!
The house is truly a "home away from home". With its rustic charm and very spacious interior, vaulted ceilings and skylights, it is both cozy and contemporary. The spacious loft area is very large, open plan with 2 sofa beds, tv, games etc. wifi is available.. It accommodates 4 guests. There is a downstairs private bathroom with fresh towels available daily. Use of modern kitchen which is fully equipped for extended stay of three nights and more, and outdoors patio area for star gazing weather permitting. The loft rental is in a shared house with my husband and I. I will be happy to provide guests with anything I can, including information of local activities, public transportation, hiking trails, dining options....please do not hesitate to ask. Equally, I totally respect and honor your wish for privacy. My wish is that you feel totally at home and enjoy you mountain stay
This Running Springs neighborhood is so delightful. Neighbors are extremely friendly and genuinely look out for one another. The house is located within 5 minutes walk to town which includes a bank, library, post office, unique gift/antique shops, restaurants etc. Public transportation (MARTA) travels up the mountain to Big Bear or down the mountain to San Bernardino. In winter months please check road conditions for safe travel.. The mountain enjoys four very distinct seasons. From fishing, hiking, boating, zip lining, helicopter tours, water ski ing, kayaking, outlet shopping to simply relaxing by the lakes, there is something for everyone in the San Bernardino Mountains! During the winter months, checking weather and road/driving conditions is highly recommended. In heavy snow chains may be required and it is advisable to carry them in your car
Gillian and Amir are amazing couple their hospitality is great , the loft is comfortable and Cousy , the location is vey good and it's easy to get to the all attractions in the area .
Joushua
January 2016
We stayed at Gillian's place for New Year's Eve. Our hosts were very welcoming. They also offered us bagels and coffee in the morning which was lovely. I would recommend them to a friend.
Farrukh
January 2016
Gillian and her husband are very nice and warm people; made us feel at home. We had a very good time staying at their place. The upstairs loft is great, very spacious. My kids also loved playing with their dog, Jojo, who is very friendly, too:) The place is located just couple minutes from Snow Tubing Park, which was very convenient for us. Overall great experience!
Duska
December 2015
If there were 10 stars, Gillian and her husband would get a 20. This was my wife and I's first Airbnb experience, and boy did they set the bar high. From the minute we stepped foot into the house, we felt like we were visiting old friends. You cannot get this level of hospitality in any hotels in the area. My wife and I were visiting Big Bear for the first time and the location was perfect, peaceful, safe and quiet. The beds were incredibly comfortable and the sun gently woke you up in the morning through the skylight which was absolutely glorious. Gillian and her husband were generous enough to make us breakfast in the morning and my wife and I truly felt like they were our family. The conversations were so lovely and their spirits were incredibly peaceful & uplifting. We will most certainly return to this lovely home and I recommend this to anyone who is looking to get away from the city and stay with family. Thank you for your generosity, Gillian, and for welcoming us into your beautiful home with open arms! We look forward to seeing you again soon! Much love to you, your husband, and your dear friend!
Mahmoud
November 2016
Gill was lovely. We were warmly welcomed and felt right at home. The space was perfect for us and they even provided breakfast and coffee. We enjoyed chatting with her in the morning and would return anytime!
Tara
December 2016
Gillian and Amir are wonderful hosts. It feels like visiting a family member. We really enjoyed our stay. They have a beautiful and loving dog, Jojo, my teens loved her. The house is cozy and clean. Wonderful people, home and place.
NEMA
January 2017
We enjoyed our short overnight stay in Running Springs with Gillian and her husband. They are very warm and welcoming, and the loft is large and comfortable, just as described. I appreciated having the mini-frig in the loft. We had a lovely breakfast with fresh eggs from their chickens - what a nice treat. We would definitely stay again. It was a pleasure to meet them.
Shari
May 2016
They are kind and we can stay comfortably! And their dog Joejoe is so cute~
제영
January 2016
Tipo de habitación
Habitación privada
---
Tipo de propiedad
---
Capacidad
4
---
Dormitorios
1
Running Springs
The Eagle's Roost is directly above the Eagle's Nest Tavern. A clear view of the Lake, Beach and Playground can be seen from the living room. The efficient wood-burning stove adds warmth and charm during the chilly fall and winter nights.
Myself or my staff is available for questions, additional needs, maintenance reports and local knowledge. We are available during business hours at The General Store. We are there between 7:00AM and 8:00PM Sun - Thu and 7:00AM to 10:00PM Fri-Sat. Assistance after closing may be available at the Eagle's Nest Tavern. Late check-ins (after 10:00pm) should call 909-685-4077. This will insure that we leave keys with the Staff at the Eagle's Nest.
Green Valley Lake is the highest community in Southern California, with house at 7,200ft. Green Valley Lake is a private lake operated by property owner/shareholders. The damn that makes the lake was built in the mid 1920's. After construction the land surrounding the community was preserved and has prevented growth, making this a small, quiet and cozy community that is a stone's through from more busy areas of the mountain. Please note that during winter drivers are required to carry tire-chains/cables (even if you have a 4x4 with snow tires). 2017 is bringing plenty of snow, be prepared to use your chains/cables. Dress warm and carry blankets and water for your ride up. If you get stuck, call us and we will do our best to help. Due to the nature of mountains and limited cellular service we often experience drops in cell-phone coverage and other frustrating delays receiving and placing phone calls. If I can not be reached on my cell phone please call The General Store at 909-685-4077.
Josh and Anita were great host. My concerns are the lack of proper communication. I call Dan and get a VM however the VM box is full, can't leave a message . When I (SENSITIVE CONTENTS HIDDEN) the telephone number to the Store or Tavern I get a wrong number, again can not communicate. At check out the store & Tavern was closed, could not drop off the keys. Had toi lock the keys in the loft for sake keeping. It's a shame something as simple as basic communication was so frustrating. Upon arrival the loft was in repair, we arrived early at noon, could not get in the loft until 6:00 pm.
Daniel
December 2016
Tipo de habitación
Casa/apto. entero
---
Tipo de propiedad
---
Capacidad
6
---
Dormitorios
2
Green Valley Lake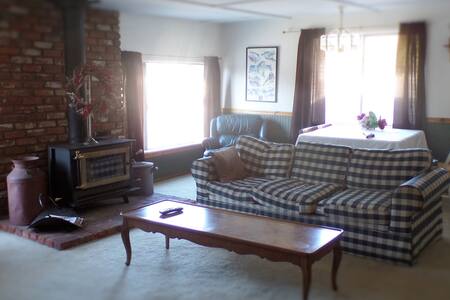 The Lakeview Lofts are located directly across Green Valley Lake; above the General Store. This listing is for the General's Loft, a two bedroom unit with a kitchen. The pull-out couch in the living room provides sleeping space for additional guests.
Skiing, snow shoeing, fishing, sledding are within twenty minutes drive, most a few steps away. Get a free appatizer and two entrees at The Eagle's Nest Tavern with any two-night stay between January 2nd and 13th.
My friends and I made a last minute decision to stay the night on the mountain and we found the Lake View Lofts here on AirBnB. We were able to instant book and head on over. It's above a general store and a small tavern. Our experience was nothing short of amazing! A slight confusion on some rules and paperwork (there were a couple different people trying to run it), but once we spoke to Josh and Anita everything went so smoothly. They were great hosts (they run the store and the tavern too). We were able to get some late night food and beverages downstairs and hang out with them a bit. They were very accommodating to our needs and wants. We'll be booking again soon this winter!
Lindsay
November 2016
My experience at this location was fantastic! The hospitality was top notch. The downstairs tavern (The Eagles Nest) was amazing with live music and amazing ciders and mix drinks. The patio section had a fire place and mountain air that was refreshing.
Jonathan
November 2016
We really enjoyed our time at the generals loft. The town is very quiet. Not like the hustle and bustle of Big Bear at all. The space was clean and had what we needed. The hosts wife was very helpful and kind and made us feel very welcome. Green Valley Lake is right across the street and quite picturesque. We found Some great trails to explore close by too. The loft itself is comfortable with plenty of space to spread out and lounge around. The beds were comfortable and there was plenty of storage. The tv cable worked great also. The food at the tavern down stairs was also really good! Nice surprise :) Overall lovely experience!
Michelle
November 2016
thank you for the stay in your place everything was awesome my family really loved it! we stayed in big bear a lot of times but really loved your place even better (and the general store and the bar) we cant wait to come back
Nicholas
October 2016
very good experience with this host! very nice place!
Yong
November 2016
This place was a little rough around the edges so I wouldn't recommend it if you are looking for a pristine romantic getaway. If you are OK with a little grit, it is perfect! You can't beat the location right across from the lake playground and above the general store. Everything was comfortable if a little worn, but it's a really old historic building that they are trying to restore and fix so you can't compare it to something new. The people are super nice and helpful, but definitely on "mountain time"
Kimberly
November 2016
The host canceled this reservation the day before arrival. This is an automated posting.
Amber
Tipo de habitación
Casa/apto. entero
---
Tipo de propiedad
---
Capacidad
6
---
Dormitorios
2
Green Valley Lake