Situato in una strada tranquilla a poche centinaia di metri dalla strada principale (str Brailei) e con facile accesso ai mezzi pubblici. La camera si trova al 1 ° piano con accesso ad un bagno di servizio e un bagno con doccia. Fumatori + animali domestici in casa
Molto vicino al supermercato, mercato degli agricoltori, negozi di caffè, ecc E 'tranquillo e molto sicuro.
Nice people, nice place. There is a light cigar smell, to be considered. It is a house between building blocks, which is not clearly indicated in (SENSITIVE CONTENTS HIDDEN).
Anton Horatius
2016-08-01T00:00:00Z
Hosts are friendly and very interesting people. Absolutely fascinating house, thoroughly designed by those who build it and live in it themselves - that means a space with lots of love and taste. The place is very well connected to the city centre by public transport; while walking to the centre will take less than 30 minutes. Sincerely recommended.
Andrey
2016-09-09T00:00:00Z
My stay was more than perfect. Sincerely, my hosts are such a lovely people. Their loves to talk about their things always interesting. They prepare breakfast for me, they meet me and see of me all time, until i stay there. Their house is very beatiful and big, in timber frame style, nice small garden. I must recommend that all of you stay at this place. Thank a lot Alexandra, Your and Your nice parents. Its a home, where i want coming again. I recommend.
Andrei
2016-07-19T00:00:00Z
The host canceled this reservation the day before arrival. This is an automated posting.
Stanislaw
2016-05-15T00:00:00Z
Tipo de habitación
Habitación privada
---
Tipo de propiedad
Casa
---
Capacidad
1
---
Dormitorios
Galați, GL, Rumanía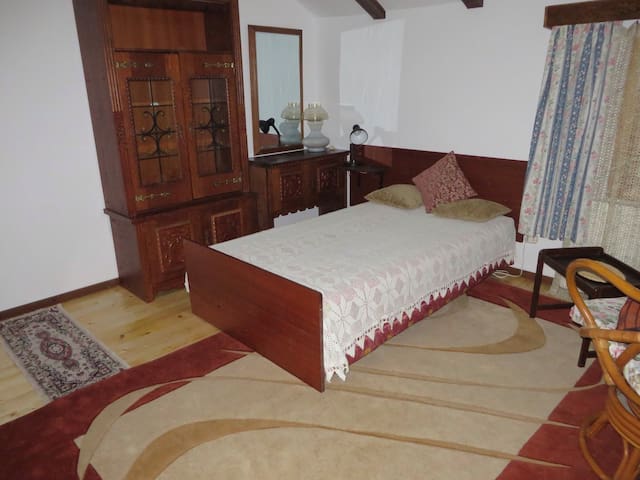 This place overlooks vineyards and the surrounding countryside. Owner Constantin is passionate about permaculture and maintains a beautiful garden from which he picks the freshest ingredients for the traditional Moldovan meals that he prepares.
Greetings, and welcome to my Airbnb profile. My name is Constantin. I live in southern Moldova, in the village of Rosu. Rosu is approximately 5 kilometers (3 miles) from Cahul, which is Moldova's third-largest city. My village is a convenient stopping point for those traveling to or from Bucharest or Chisinau. At the moment, I live alone in my family home, but sometimes my mother comes to visit. I have 3 private bedrooms available, which are outfitted with couches and ample floorspace. A recently-renovated bathroom and kitchen are located on the ground-floor of my home. Free Wifi is available. I also have a dog named Gutsu, who lives outdoors. I am a non-smoker, and ask that you only smoke outside. I have a water pump which provides running water in the bathroom and kitchen. My home has a large garden, in which I grow fruit and vegetables using permaculture principles. There is a table and chairs outside, which overlook my neighbor's grapevines and the countryside. If the weather permits, I'd be happy to BBQ with you outdoors. Upon request and for a fee, I can cook traditional Moldovan dishes such as Mămăligă (polenta with sour cream and cheese) or hearty, fresh salads. I'm happy to teach you how to cook these delicious meals if you're interested! :) The city of Cahul is easily accessed via the local mini bus #7, which runs frequently to and from Rosu. A one-way bus ticket costs 3 Lei (approximately 0.15 Euro cents), and the ride takes about 15 minutes. Cahul has ATM machines, a modern supermarket, a fresh outdoor market, and several smaller specialty shops. Restaurants and bars there offer delicious food and wine, and the city's people are friendly. Cahul is a popular spa and health-resort destination and is also home to the folk music festival 'Nufarul Alb' (which translates to 'White Nymphaea'). Here in my village Rosu, you'll enjoy all that Mother Nature has to offer: sunny skies, fresh air and water, organic fruit and vegetables. Rosu's villagers are friendly and eager to interact with travelers. Some of them even offer home-produced products for sale, such as eggs and wine. At my home, you'll also have the chance to meet other travelers from around the world. Guests sometimes refer to Rosu's homes as 'gingerbread houses' because of their pretty blue exteriors and elaborate folk-art paintings and designs. Even the neighborhood water wells are decorated by hand! Each one is unique. I'm happy to accompany you on walks throughout Cahul or Rosu, and might even be able to take you on a train excursion to meet my uncle and grandfather. In the past, I've even made arrangements for guests to visit an elementary school and the home of a local beekeeper. I'm also here to help you if you have questions about your onward travel in Moldova. I speak Moldovan-Romanian, English, Russian and Italian. I look forward to welcoming you to my home! :) Warm regards, Constantin.
Unfortunately we naver made it to Constantins due to some unforeseen troubles with the car rental company, but Constantin was very responsive and friendly in all his communications.
Ronni
2014-07-17T00:00:00Z
Costel is very energetic and motivated, he will really do everything he can to make your stay enjoyable. It is amazing what he can do in such a small poor village! Definitely worth a stop for the village life experience.
Radu
2017-04-05T00:00:00Z
Really relaxing to spend a few days here. A peaceful and pleasant place. We feel good, like at home. Mulţumesc.
Antoine
2017-03-30T00:00:00Z
Nous avons passé un très bon séjour chez Constantin qui est un hôte très agréable. Nous avons particulièrement apprécié sa cuisine fraîche et inventive, son jardin reposant et la douche en plein air. Un très bon souvenir !
Babebi
2016-08-06T00:00:00Z
I had a very good time with Constantin .He was a great host.Very recommendable.
Gernot
2014-08-15T00:00:00Z
Tipo de habitación
Habitación privada
---
Tipo de propiedad
Casa
---
Capacidad
5
---
Dormitorios
Cahul, Cahul, Moldavia
Freundliche Villa im Herzen von Dobrogea, nur 30 min. entfernt, mit dem Auto, von der Donau-Delta oder 25 km von Jurilovca entfernt. Tulcea ist 40 km entfernt und Sie können Corbus wilden Strand am Schwarzen Meer, Constanţa, Măcin Mt. erreichen oder Enisala Festung weniger als eine Stunde.
Preise werden berücksichtigen: 1 Zimmer = 50 Euro / Nacht. 2 Zimmer = 35 Euro / Zimmer / Nacht. Das ganze Haus (5 Schlafzimmer + 1 Wohnzimmer) = 150 Euro / Nacht. Frühstück: auf Anfrage, füllen Kühlschrank. 20 € / Tag
Natur. Freiheit. Schweigen. Leben.
Bianca was just lovely. She went trough huge hoops to do her best to accommodate us/ Her parents are just as lovely. Our stay was very pleasant and we totally recommend her.
Daniel
2016-07-27T00:00:00Z
Bianca was cordial, hospitable, pleasant and did everything to make it comfortable for us to stay at home. Strongly advise to stay with Bianca. The house is spacious, clean, well-equipped and well-maintained, breathtaking views.
shlomi
2016-08-16T00:00:00Z
On Airbnb you never really know what you can expect until you see it live. Well, this house is a dream! Wow, 4 private bedrooms, 2 huge ones and 2 smaller ones. Two balconies, one is even in one of the big bedrooms. The two rooms have en suit bathrooms! And downstairs also a bathroom. The living room is big and spacious and the kitchen idem an equipted with everything. Then the garden: OMG: huge beautiful and with lovely fruit trees, and tables in the sun and in the shadow; and in the gaden there is a door that leads you to a forrest! The house is new and fresh and super clean and smells lovely. With lovely carperts upstairs. This house is the best holiday house, it seems to have been made especially for holidays. The house is very private, no other people in the house, no one that bothers you. Bianca is an amazing host, we kept calling her for tips about the neighboorhood and she was so helpfull and nice and down to earth and funny. The location is perfect when you are by car. Within 30 minutes you are at the Danube Delta, Tulcea, the lovely beach of the Portita island (almost private beach feeling, where the Danube meets the Black sea), the oldest city of Romania (Histria), the forresty/ Turkish city Babadag and many more to explore. What else to say, we were there with 3 adults and 2 kids from 3 different countries and we all just loved it, especially the space, the friendliness and the location. Thank you Bianca and Raluca, thanx to you Ciucurova was the best part of our holiday!
ioana
2016-07-14T00:00:00Z
Tipo de habitación
Casa/apto. entero
---
Tipo de propiedad
Casa
---
Capacidad
12
---
Dormitorios
Ciucurova, Județul Tulcea, Rumanía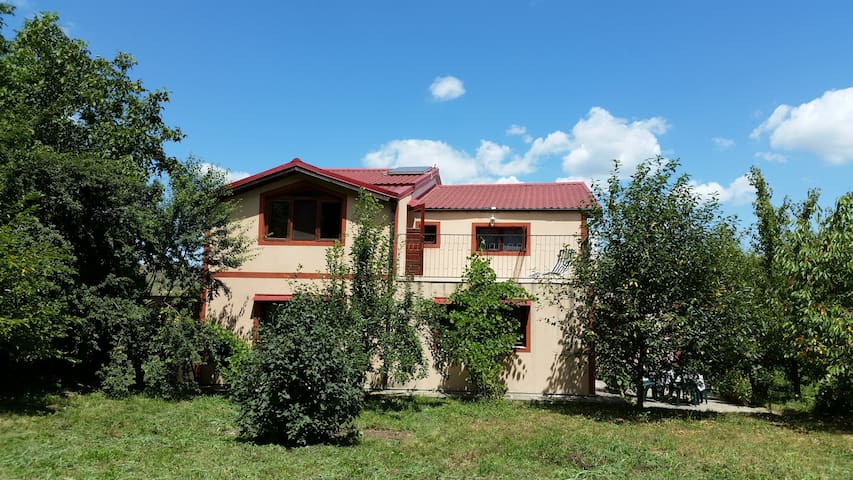 Tipo de habitación
Habitación compartida
---
Tipo de propiedad
Casa
---
Capacidad
1
---
Dormitorios
Tulcea, Județul Tulcea, Rumanía