Introduce las fechas para ver el precio total. Ten en cuenta que se aplicarán tarifas adicionales y es posible que se añadan impuestos.
2 lofts
· Condado de Gavleborg
2 lofts
· Condado de Gavleborg
You get to live in the setting of a late 18th century rustic barnyard loft, located on a "Hälsingegård" - Decorated Farmhouse of Hälsingland. Wifi, Tours, Gym, Washer + Dryer, Trips and alike can be set up with the hosts but may cost extra.
The area is most known for it's old history of the Decorated Farmhouses of Hälsingland as well as the beautiful landscape. All of the six listed farmhouses on the UNESCO World Heritage are within a couple of miles. Located only 600m from a stop on the local buss lane and 20km from the city Bollnäs where a trainstation is located.
We stopped off here for a couple of nights before heading on to the mountains. As mentioned by previous reviewers, communication was problematic but - once there - we were warmly received. The tour of the adjacent farmhouse was a delight. The loft is a cosy space and worked well for our needs.
JONATHAN
July 2016
It was a really nice stay in Alfta. I don't meet Axel (he is just managing the Airbnb account) but I meet the other parts of his family. Mr. and Mrs. Hansers are lovely people and they showed me the farmhouses (UNESCO World Heritage) where they live in, gave me a lot of information and talks as well as they invited me to a wonderful cake with cream.
Johannes
November 2015
Axel's family was very welcoming and friendly. The apartment is really nice, situated in a old house with typical decorations and furnitures made by axel's grandfather himself. It's comfortable, clean, with everything you need. We highly recommand this place, really beautiful and traditional.
Marie-paule
July 2016
The accommodation was wonderful. We were met by the host's charming grandmother who showed us the loft. We stayed overnight on our way to Umeå. The host himself did not seem to be contactable but the family who live there were very helpful and lovely.
Jesse
July 2016
The host canceled this reservation 39 days before arrival. This is an automated posting.
Lisa
Had a wonderful stay in Alfta with my friends! The nature is beautiful and there is alot of hälsingegårdar and other placea to visit in the area. The loft is even better than in the pictures, and the kitchen is well equipped. I did not meet Axel, it's actually his grand parents who owns the loft. He just runs the Air bnb account. The were very lovely people both Ulla and her husband PG. Ulla even gave a tour of the farm, it has an interesting history! The only negative thing I have to say is that for me it was a bit hard to reach Axel. I think it would be good to put Ullas number in the ad. And don't forget to bring your own bedding. We missed that part! ;) I would definitely come back here!!
Caroline
May 2016
The place itself is just perfect. We thoroughly enjoyed our time in this barn-turned-guesthouse. With a fully-equipped kitchen and bathroom, a cozy sitting area and plenty of beds, we had all we needed (not to mention a second-hand store and a World Heritage painted farmhouse on the same property). The Hansers were most hospitable and very friendly. The big negative is communication with their grandson who manages the listing. It took a week to receive a response to my first query about bedding and towels (which are not included, but 40 SEK/person), and my second question about how to contact the on-site hosts about arrival went unanswered. Consequently, the Hansers had no idea what time to expect us.
Erika
July 2016
Tipo de habitación
Casa/apto. entero
---
Tipo de propiedad
Loft
---
Capacidad
6
---
Dormitorios
1
Ovanåker NO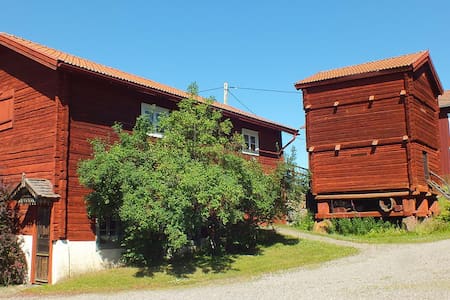 Läckert tornhus 7,5 m över marken med fantastisk utsikt. Fönster åt alla väderstreck. 2 sovrum och ett stort allrum. Badrum med wc och dusch. Närhet till unika vandringsleder och cykelleder i Säterdalens naturreservat.
Frukost går att köpa till.
Unikt boende, som en koja högt upp med hög standard. Barnen tyckte att det var superspännande!
Maria
March 2016
Originellt! Trevligt! Vacker utsikt! Generösa utrymmen att umgås i. Fräscht!
Michael
March 2017
Clean! New! Comfortable! We felt at our own home. Interesting design of the building, quiet, cows and horses around :) We would definitely go there again. It's 30 mins from Romme and it's worth the drive.
Serkan
January 2017
Casa molto bella esattamente come nelle foto della pubblicazione, arredi e biancheria nuova, calda e accogliente ,difficile da trovare perché lontana dalla strada principale senza alcuna indicazione e poiché nel mio caso il navigatore aveva smesso di funzionare l'host mi ha aiutato guidandomi telefonicamente . Purtroppo la pioggia ha impedito di fare belle passeggiate perché nei dintorni ci sono prati e boschi molto ben tenuti nello stile scandinavo. Eravamo una compagnia di amici ed è stato piacevole nonostante il tempo. Bella esperienza
Lorena
June 2016
Toppenfräsch och faktiskt förvånande stor lägenhet med utsikt över nejden. Vi var sex personer. Massor med plats. Välutrustat kök. Allt fanns.
Tom
April 2016
The apartment is very nice.comfortable and warm.Everything is new.Susanne is very friendly.
Yao
February 2016
Wow! what a great and different place - high up over a farm with a lovely view. Easy to find, with car though. The apartment is as new, large with everything you need to stay and some thoughtful extras. We stayed there to ski at Romme which is about 30 minutes drive and I think this is one of the best options in the area. Highly recommended and will recommend to my friends. Thank you !
Martin
March 2017
Detta är ett riktigt unikt boende, toppfräscht, bekvämt och med fantastisk utsikt. Vi kommer gärna tillbaka!
Linnea
February 2017
Tipo de habitación
Casa/apto. entero
---
Tipo de propiedad
Loft
---
Capacidad
6
---
Dormitorios
2
Säter C