73 apartamentos en alquiler
A very safe, beautiful environment convenient to all major highways. Clean, quiet Queen bedroom w/luxury linens. Large closet w/ hangers. Full bath w/towels and basic toiletries. Large living room w/Amazon Fire TV Computer desk Free WiFi Fully equipped kitchen & large dining table. Washer & Dryer Mature, lush landscapes Walking paths, large swimming pool w/ cabanas 24 hr gym This is a large 2bed/2bath spilt plan-owner occupied condominium Please read Guest Access!
The condo in on the 2nd floor in a quiet building surrounded by ancient Oak Trees. There's plenty of room inside (1200 sq ft) and a unique split floor There's an enclosed patio between the outside front door and french door leading into the living room. The patio is the perfect spot to enjoy your morning coffee and listen to the birds sing, or enjoy late night quiet time with candles and a glass of wine.
This condo is perfectly located near every major highway in the Tampa Bay Area- but not so close that the sounds of the City can be heard. There are hundreds of excellent restaurants just minutes away. Several large grocery stores ( Publix & Winn Dixie) are nearby. Westfield Brandon Mall is 5 minutes away and has excellent restaurants and retail shopping. WalMart is 2 miles away. The world's most beautiful beaches are only 45 mins away. Disney is 90 mins, Busch Gardens is 20 mins. Top Gold, I Fly & Outdoor World are within walking distance. Historic Ybor City is 10 mins away. Downtown Tampa is 15 mins.
From start to finish this was a great Airbnb experience. Rita took extra effort as a host to make me feal welcome. Handwritten notes with area tips. Each morning she would provide coffee or a muffin. He place is easy to get to and has a park like setting in the community with mature trees. After a day of work, it was nice to sit by the pool and then retire for the nite in a clean quite home. Thank you for a great experience and I hope others take advantage of your great place and our hosbitality.
Trevor
2017-02-02T00:00:00Z
Rita was an amazing hostess. The hostess with the mostess. At first was I a little doubtful about sharing a place with another person but it was actually pretty great. She prepped the coffee pot every night so you could have coffee every morning. She's there and available to talk if you need her but she also gives you the whole space of the condo. The condo was beautiful, neatly kept and there was plenty of space. it was in a great location...easy to get on a few of the major highways but not very traffic busy. I had an amazing small little vcation and Rita made it better. definitely will be using her again. thanks Rita oh and the towels were really fluffy :)
Megan
2016-07-08T00:00:00Z
The best words to describe Rita and her house are: Great, Fantastic. Rita was entertaining and so much fun. Instead of writing everything that Rita did for us, the absolute short version is that if anyone gets the opportunity to stay there, jump on that opportunity. This woman is fantastic and we will stay there, and only stay with Rita when I go to Tampa again. She is a great hostess and I feel lucky that Rita was my first experience at BNB. The best way to describe Rita, I told her that I needed creamer for my coffee and she went out and bought the creamer so that we could enjoy our vacation. Rita even helped us to our wash. If anyone is in the Tampa area, they would be stupid and foolish to not stay with Rita. We were so happy at Rita's condo, that we tried to take her out for dinner as a thank you.
Paul
2016-06-05T00:00:00Z
Rita makes you feel right at home. The amount of communication and small touches that she provided make you feel like you are a part of her family. She even through in some extras that were not expected which was so nice and she was always very concerned about me and my well-being. It is so nice to have a person like this to stay with that not only cares about you but also is a joy to talk to and to engage with! The community was very nice. The work-out and pool facilities are literally next door to this condo so you really could enjoy your time while here! Parking is abundant and it is centrally located to shopping, attractions, downtown Tampa and more! This is a great place and I cannot say enough great things!
Chris
2016-08-16T00:00:00Z
Rita was simply put, an amazing host. She is an excellent host who will go above and beyond to make your stay comfortable. She is not only friendly, but helpful and kind. For reasons like these, I understand why AirBNB labeled her as a 'Superhost." The room was excellent. It has a big bed and a spacious walk-in closet. The bathroom is located right across from the bedroom, which is accessible without waking others. The apartment is located in a beautiful location which is quiet and peaceful. Additionally you will have access to the pool and the gym. (Did not have a chance to use these amenities as I had my trip filled with too many activities!) Rita treats her guest like a family member, you almost forget that she's a host! I highly recommend this location if you have the opportunity to book.
Ryan
2016-05-30T00:00:00Z
Rita gave excellent directions on how to find the building. The condo was very clean and comfortable and Rita was very good about keeping in communication with us. We really enjoyed our stay!
Clare
2016-07-04T00:00:00Z
Rita was awesome! She is extremely welcoming and available whenever needed! I did not stay for a long time, but the time I was there was pleasant. She offered us water and snacks! Everything was clean and tidy. Really comfortable bed. Highly recommend!
Jonathan
2016-05-31T00:00:00Z
5 Stars! The hostess with a big heart I spend 6 days living with Rita and it was by far the best Airbnb experience I've had. Her place is amazing and the hospitality was unparalleled. Very inviting- and exactly how it was photographed. Rita truly is the perfect Airbnb hostess; she gives you full range to the whole of the house to have a "home away from home" feeling. The house is very clean and we get access to use the pool and gym (for those that workout). This location is perfect to Downtown Tampa and Brandon. Just minutes away to everything. Rita's place is perfect for business professionals or seasonal vacationers! What I loved about staying with Rita, she give you the privacy that you want and if you want to hang out and get to know her, she is open and ready for great conversation. I choice to hang out with her and made a new friend; I am very blessed that I did! We hit it off fabulously. Thank you Rita!
Diana
2016-06-17T00:00:00Z
Tipo de habitación
Casa/apto. entero
---
Tipo de propiedad
Apto. en complejo residencial
---
Capacidad
2
---
Dormitorios
Tampa, Florida, Estados Unidos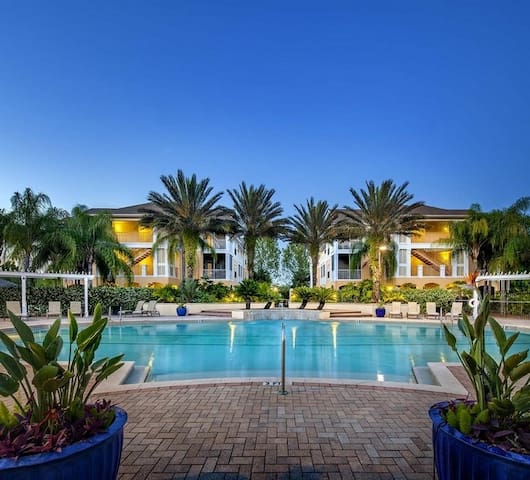 Welcome to Davis Islands! In the heart of downtown Tampa, near the Riverwalk, Amalie Arena, Tampa Convention Center, the University of Tampa, Tampa General Hospital, Tampa Aquarium, Tampa History Center, Tampa cruise terminals, Curtis Hixon Park and MUCH more. This condo is one block from the water and two blocks from Davis Islands restaurants and bars, the perfect location! Enjoy this freshly renovated first-floor, two-bedroom condo and all of the luxuries of Davis Islands.
One block from the water, two blocks from restaurants and bars, down the street from a park and playground. Anything you could need within walking distance.
Tipo de habitación
Casa/apto. entero
---
Tipo de propiedad
Apto. en complejo residencial
---
Capacidad
3
---
Dormitorios
Tampa, Florida, Estados Unidos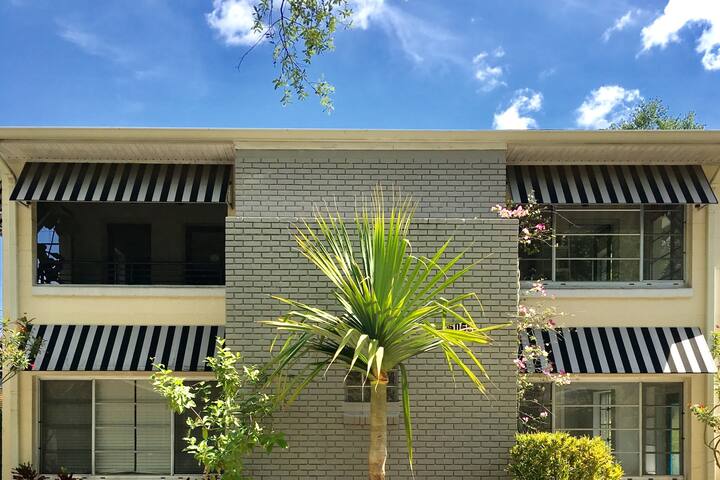 located on a beautiful complex with pool, gym, basketball ct, volleyball on hwy 301, next to the Selmon Expressway. 15 mins from ybor, downtown and South tampa. 40 mins away from St. Petersburg Beach and Clearwater. 5 mins away from Brandon Mall.
It has a beautiful lake view, very peaceful environment.
Everyone is friendly, quiet and mind their own business :)
Ana made my stay very enjoyable on very short notice. Great bed, very clean house, and easy to get to. Pillows were so great that I ordered a set for my house. I would definitely stay there again.
Timothy
2016-07-08T00:00:00Z
The place was neat and comfy, Nice view too, just 12 minutes away by car from downtown, Ana always responded so fast and really helpful.
Mustafa
2016-05-23T00:00:00Z
This was a great location for my business trip. Ana's place was very clean and beautiful view out of my bedroom window over the lake. I will definitely stay there again when I am in the area.
Ace
2016-11-03T00:00:00Z
Comfortable, neat and clean room and bathroom. Lovely condo complex with nice pool and grounds.
Carol
2016-05-30T00:00:00Z
Ana is a very good host. Her home is beautiful and in a very good community . The room is spacious and with a comfortable bed, TV, Closet and beautiful window with a great view of the outside. I recommend her rental room.
Prasad
2016-10-08T00:00:00Z
Incredibly gracious host. Room was clean and comfy, just what we needed! We also got locked out and she actually drove back to let us in even though it was totally our screw up. Thank you Ana!
Justin
2016-07-10T00:00:00Z
I had to find a place to stay as quickly as possible! As soon as I landed, I was able to get in touch with her. I had a private room and a bathroom. It was very clean and pretty. As my first experience in airbnb, it was awesome!
SU
2016-05-19T00:00:00Z
Very convenient location to 75. Ana is ver gracious. Wonderful stay
steve
2017-03-24T00:00:00Z
Tipo de habitación
Habitación privada
---
Tipo de propiedad
Apto. en complejo residencial
---
Capacidad
2
---
Dormitorios
Tampa, Florida, Estados Unidos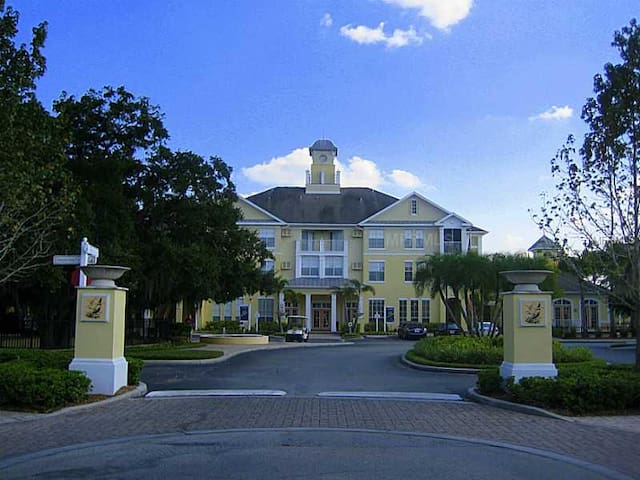 12 miles to Raymond James Stadium. VERY easy highway access. 5-10 minute drive to downtown Tampa. Mall and any restaurant 2-3 miles away.
Tipo de habitación
Casa/apto. entero
---
Tipo de propiedad
Apto. en complejo residencial
---
Capacidad
5
---
Dormitorios
Tampa, Florida, Estados Unidos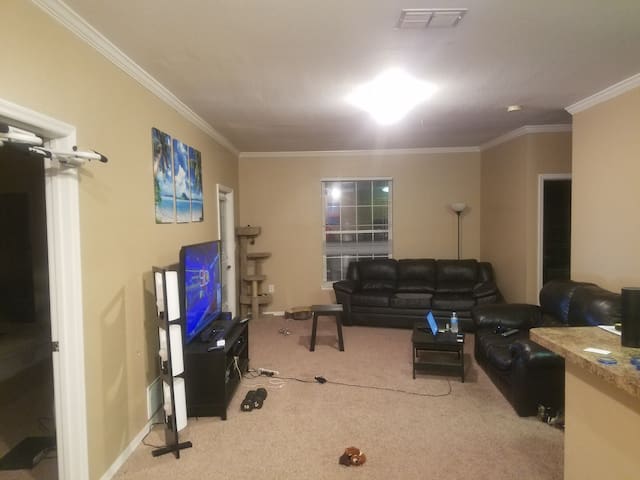 My place is close to Curtis hixon park, Raymond James Stadium, Tampa convention center, Downtown Tampa, Amalie Arena. You'll love my place because of the location and convenience to all CFB playoff events . My place is good for couples, business travelers, big groups, and furry friends (pets).
Tipo de habitación
Casa/apto. entero
---
Tipo de propiedad
Apto. en complejo residencial
---
Capacidad
6
---
Dormitorios
Tampa, Florida, Estados Unidos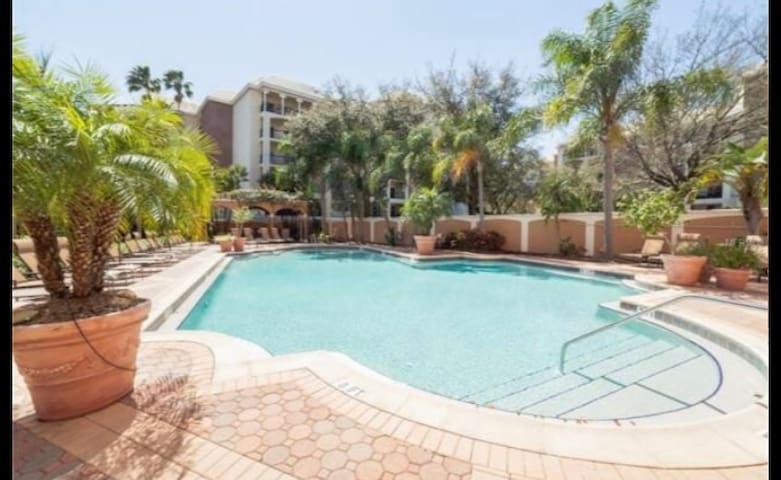 Welcome to my spacious condo in Historic Ybor City! Stay in the heart of Ybor with a short walk from the action to have the peace and quiet you need. Enjoy the shops, restaurants, and nightlife that Ybor has to offer, or hop on the Streetcar to Downtown, Channelside, or the Convention Center. Close to the city center, art, culture, and parks, my place is great for couples, solo adventurers, business travelers, LGBT travelers, and families (with or without kids). 2 beds + twin sofa bed + couch
I love staying at hotels and Airbnb properties and my goal is to provide you with a friendly, clean, modern, spacious home away from home that you can relax and have fun in while you enjoy everything this great city has to offer. Relax and enjoy my 1000 square foot condo with Ybor City at your doorstep. Wi-fi, AppleTV, a kitchen full of supplies, two bedrooms and two full bathrooms (one with a tub and one with a walk-in shower) are all yours!
There is much to explore about Ybor City. Tampa's premier historic district is one of only two neighborhoods in Florida to be designated a National Historic Landmark District. Founded by Vicente Martinez-Ybor, Ybor City has enjoyed a rich culture for more than a century. For decades, Spanish, Italian, Cuban, German and Jewish immigrants made their living by working in the cigar factories that were the main economic source for the city. Since then, factory warehouses have been converted into business lofts, restaurants, shops and more. Ybor City has grown to be known as Tampa's Latin Quarter, offering an ample menu of arts and culture, and is known for its popular nightclubs and entertainment. See yborcityonline • com for more information.
Brian was a please to work with and very accommodating. The location is very convenient to all of the restaurants and bars in Ybor city. We had a great stay.
Andrew
2017-01-10T00:00:00Z
Super clean, comfy beds, walking distance to the Ybor restaurants and nightlife! We LOVED staying here and hope to every time we are in Tampa!
Jennifer
2017-02-12T00:00:00Z
LOVE LOVE THE SPACE!! Perfect for enjoying this awesome city. It is in walking distance to restaurants and bars. It's a very short drive to soho and channelside area. I high recommend this place. Also very well stocked with pretty much everything you need.
Hannah
2016-12-19T00:00:00Z
Everything was perfect. Couldn't have asked for anything better!
Chris
2016-12-07T00:00:00Z
Quiet neighborhood (we stayed during spring break), just a 5 min walk to all the great restaurants, bars and shops. Brian was very gracious and welcoming which made our stay super comfortable. His home is very well kept with a cool decor. The washer and dryer were great to have and use as well!
Donna
2017-03-18T00:00:00Z
A hip and affordable condo close to downtown Ybor and accessible to the rest of Tampa. Very comfortable, great amenities (Apple TV), super clean and private, and there are chickens and roosters in the neighborhood! Awesome place. Brian is a great host- attentive but gives you space. Overall a great place to stay for leisure or business!
David
2017-02-19T00:00:00Z
The apartment is awesome and Brian is a super host. Great location, so comfortable, well equipped and stylish. I definitely recommend this place. Thanks Brian, you got a lovely place.
gabriel
2017-01-26T00:00:00Z
Great place! Very clean and close to Ybor. Would rent here again!
JENNIFER
2017-01-22T00:00:00Z
Tipo de habitación
Casa/apto. entero
---
Tipo de propiedad
Apto. en complejo residencial
---
Capacidad
6
---
Dormitorios
Tampa, Florida, Estados Unidos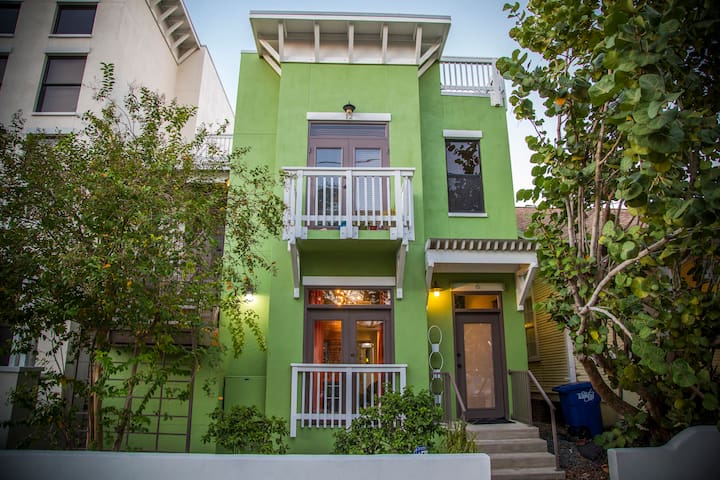 Top 5 reasons to stay in the Channelside District of Tampa! 1. A charming walk away from all major downtown events, landmarks, nightlife, and dining. 2. All amenities are provided in the building, hair salons, spas, pubs, bars and restaurants. 3. Trolley stop across the street to Ybor City, Convention Center, and downtown entertainment. 4. Resort-style amenities: luxury pool, hot tub, sauna, and gym. 5. Bike or run by the water on Bayshore Blvd with fitness equipment installed along the way.
Your private bedroom will be fully furnished with the following: -Full-Size Bed -Nightstand -32" Smart HDTV (Free Netflix) -Mini Refrigerator -Starbucks Coffee Brewer -Iron/Ironing Board -Hangers in the Closet -Extra Pillows/Blankets -Fresh Towels -Shower Soap (Travel Sized) -Shampoo/Conditioner (Travel Sized) -Body Lotion (Travel Sized) -Tissues The bathroom will include the following: -Toilet Paper -Hand Soap -Hair Dryer -Lighted Makeup Mirror Your stay also includes complimentary water, juice, tea, and Starbucks coffee.
Calling it a "booming district" is an understatement when describing the neighborhood around the Grand Central on Kennedy. In addition to the many conveniences already on the ground floor of the building, there are many more just steps away — from Tampa Bay Lightning games at the nearby Amalie Arena to Victory Coffee, Bamboozle Tea Lounge, Straz Center and Tampa Riverwalk.
One of the nicest locations in Tampa and the pool is phenomenal.
Margaret
2017-04-08T00:00:00Z
Tipo de habitación
Habitación privada
---
Tipo de propiedad
Apto. en complejo residencial
---
Capacidad
2
---
Dormitorios
Tampa, Florida, Estados Unidos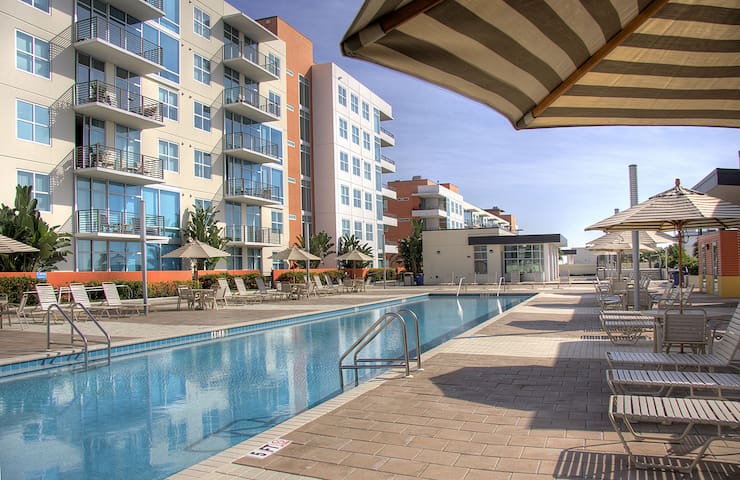 My condo is a 1 bed/1 bath located in historic Hyde Park and close to Hyde Park Village shopping, Bayshore Boulevard, SOHO nightlife, Downtown Tampa, Tampa Convention Center, Amalie Arena, historic Ybor City, and world renowned Bern's Steakhouse. You'll love my place because of the beautiful, safe and convenient location. There is one queen bed and one pull-out sofa. One off-street parking space and ample free street parking are available.
Hyde Park Village is a beautiful, historic neighborhood close to Tampa's downtown. The oldest home dates back to the early 1870's, but most homes were built just after the turn of the 20th century for Tampa's growing middle class. Bungalows and Victorian architecture are prevalent styles here. The streets are tree-lined and the area is very bike/ped friendly. Don't miss a walk on Bayshore Boulevard at sunset time. Enjoy all of the shopping and dining right outside the door in Hyde Park Village and along South Howard Ave.
Abby's condo is in a great location, for shops, restaurants and bars, all within walking distance. Peaceful and quiet location, parking no problem! Would defiantly stay again!
Laura
2016-10-08T00:00:00Z
Abbey's place is a gem. Well maintained and perfectly situated between Bay Shore Drive and Hyde Park shopping and restaurants. Some of our favorite restaurants were within easy walking distance (Bern's/Bella's).
William
2016-12-07T00:00:00Z
Real nice apartment! It was clean and just as described . Abby was quick in her responses and the neighborhood was lovely.
Kristen
2016-08-21T00:00:00Z
Abby's place is an ideal location if your stay needs to be around Hyde Park. The apartment was very clean, easily accessible, had all the comforts of home, parking was safe and available . She was a polite, wonderful host and made sure that everything was as promised. My wife and I were very pleased with our stay and strongly recommend. We have been at several Airbnbs and this one definitely is at the top of our list!
Jose
2016-09-19T00:00:00Z
Abby's place was a great location! The place was very welcoming and comfortable. Abby was also a great host!
Morgan
2016-06-26T00:00:00Z
Abby had a very clean neat home. She made everything understandable. I loved the instructions printed out. Her home was in a very good location for Tampa. Very convenient for us, my brother lived 2-3 doors down from her apartment. Thanks for allowing us to stay in your home. Hope you choose my airbnb in Nashville when you come to visit. This was my first visit with airbnb and I loved it.
Brenda
2016-07-06T00:00:00Z
Everything was wonderful. The location was AMAZING. So close to everything and hyde park is beautiful. Abby was accommodating, I am more of a guest that likes to only talk during check in, so I loved that we were able to get the key very easily, etc. thank you!
Farin
2016-07-12T00:00:00Z
Abby's place was exactly what we needed, walking distance to Hyde Park village and convenient for seeing our son who lives within a mile. It was clean, comfortable and welcoming. Easy to access, Abby responded promptly and it was an easy experience. I would definitely recommend this property.
Alison
2016-10-31T00:00:00Z
Tipo de habitación
Casa/apto. entero
---
Tipo de propiedad
Apto. en complejo residencial
---
Capacidad
4
---
Dormitorios
Tampa, Florida, Estados Unidos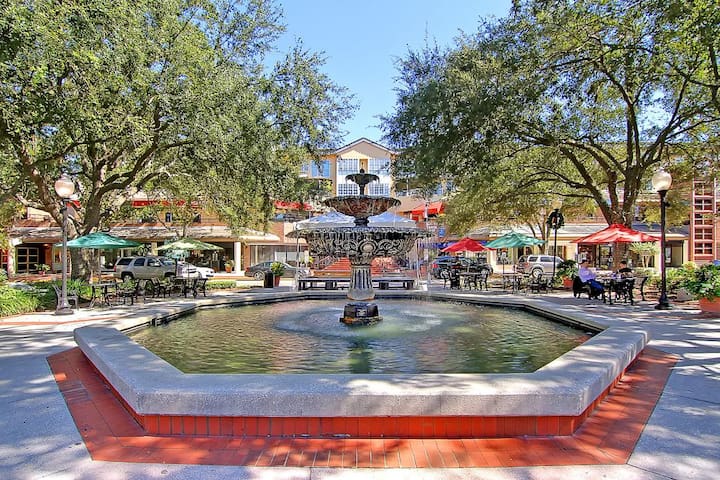 Your Home away from Home. Clean & quiet. Private queen bed & bathroom. Perfect location off Hwy 301 & I-75. 5 minutes from; Hard Rock Casino,-State Fairgrounds-Top Golf- Westfield Brandon Mall, Top Golf, Indoor Skydiving, Outdoor World /Bass Pro Shops. 10 minutes to Historic Ybor City, 20 mins to Busch Gardens, 10 mins to Downtown & Convention Center-Amalie Arena. 25 mins to Airport. 45 mins to Beaches. Easy Access to All Major highways.
Comfy private room w/Queen size bed fitted in luxury linens. Walk in closet. Large private bathroom with shower & tub. Luxury towels & basic toiletries. Free WiFi. Full access to living room, outdoor patio, 24 hr gym & swimming pool. Space in the refrigerator for to go food. Microwave for leftovers! Lovely view of beautiful park like setting from your room with ancient Oak trees, ponds, wildlife. Just minutes from State Fairgrounds, Hard Rock Casino & Downtown. Short drive to the Best Beaches in the World! One hour from Disney/Orlando attractions.
Conveniently located near every major thoroughfare in Tampa. Everything you could ever want to see or do is only minutes away. Very quiet, very safe community. Tons of restaurants, bars & tourist attractions nearby. See map.
I enjoyed my stay at Rita's. Her place is very well kept and clean. The decor actually reminded me of my first apartment (which was the floor model). Also, I can't say enough good things about Rita as a host. She really puts attention to detail and goes out of her way. I will definitely be back.
Rafael
2015-12-28T00:00:00Z
Rita was an awesome host and made sure we got the most out of our stay in Tampa. We had our 4 month old toddler with us and this was not a problem at all. Rita walked that extra mile to make us all feel as home, she even cooked us a superb Easter dinner before we left. The place is spacious and very clean, kitchen got all we needed (as we made several meals there ourselves) and the surrounding is quite and well suited even for morning walks. Can only highly recommend staying at Ritas place. Thanks and hope to see you again :)
David
2016-03-27T00:00:00Z
we had a great time at Rita's place-great place -great host -and a great price. She was a wonderful host and I have already recommended her to several friends to use in the future. She accommodated smoking and was very helpful with suggestions from car repair to shopping..we had a great time at Rita's !!! It was like staying with family...only better.
Kevin
2016-04-01T00:00:00Z
Again, extended my stay with Rita because she made it so easy. Very pleasant!
Mark
2015-06-27T00:00:00Z
My wife and I stayed at Rita's place for seven days and it was absolutely amazing. Everything is as specified in the listing and the location was very safe as well. I would defenitely recommend this place to anyone who wishes to stay here. Rita also made us feel welcome and was very nice. One of the best Airbnb experiences.
Joseph
2016-08-30T00:00:00Z
Rita was a wonderful host! What could have been an unhappy ending to the last 2 days of our wonderful vacation turned out to be a real blessing for us due to Rita's compassionate spirit! Rita went above and beyond what would be expected of a hostess, thank you! She is very friendly and accommodating. She recommended places to see and where to buy things. The home itself was clean, large, homey and comfortable. Nice complex in a good area, (even for just a walk of the grounds), great location with many stores and restaurants nearby. Our room had a very comfortable bed with comfy pillows, nice walk-in closet. Nice clean bathroom with a great shower. We felt very welcomed and relaxed staying with her. When we return to Tampa we will definitely look you up again.
Sue
2016-02-25T00:00:00Z
Rita is an excellent host! She goes above and beyond to make you feel at home. Staying at her place is like putting on your favorite pair of jeans or some old slippers. I have never felt this comfortable at a hotel. Her place was very conveniently located, and I would definitely stay there again. It was also very clean, which is nice. You will not be disappointed.
Patrick
2015-09-07T00:00:00Z
I really enjoy the stay in Rita's house. The house is beautiful and clean. Rita just shows everything you might need in her house. By the way, I really like the memo that on the refrigerator ' if you finish everything today, you will have a free tomorrow that others doesn't have' We arrived late in the night, Rita is very helpful in keeping touch with us and navigate us to her house. Talking with Rita is really a pleasant. All in all, Rita is definitely the hose you want to spend time with.
Lingxiu
2015-12-31T00:00:00Z
Tipo de habitación
Habitación privada
---
Tipo de propiedad
Apto. en complejo residencial
---
Capacidad
2
---
Dormitorios
Tampa, Florida, Estados Unidos
Location! Location! Beautiful and spacious unit with tons of windows. Wake up every morning surrounded by trees and sunshine. 3 blocks from Bayshore Drive. 2 blocks from the shops and restaurants in Hyde Park Village. Less than 5 minutes to downtown and Soho. This fourplex is located in the gorgeous Old Hyde Park area. Extremely serene, family friendly environment. My place is good for couples, solo adventurers, business travelers, and families (with kids).
This is a classic space in a preserved historical building. The neighborhood is outstanding. If you are looking for peace and quiet, upscale surroundings and close proximity to everything that Tampa has to offer, then this is the space for you!
The Historic Hyde Park neighborhood is a must see for visitors. The homes are beyond gorgeous. Walking down the street makes you feel like you have escaped into a different era. Sprawling front lawns, huge porches, giant trees. This community is absolutely amazing.
Ideal location in Tampa. A group of four of us were visiting Tampa for a long weekend (spring training, Clearwater Beach, Tampa nightlife) and Liza's place was perfect for us. Lovely neighborhood.
David
2017-03-20T00:00:00Z
Liza was a great host and her place is located in a great area. The beds, linens, towels, coffee pot and supplies were all perfect and we had a wonderful stay!!
Kari
2017-03-26T00:00:00Z
Tipo de habitación
Casa/apto. entero
---
Tipo de propiedad
Apto. en complejo residencial
---
Capacidad
4
---
Dormitorios
Tampa, Florida, Estados Unidos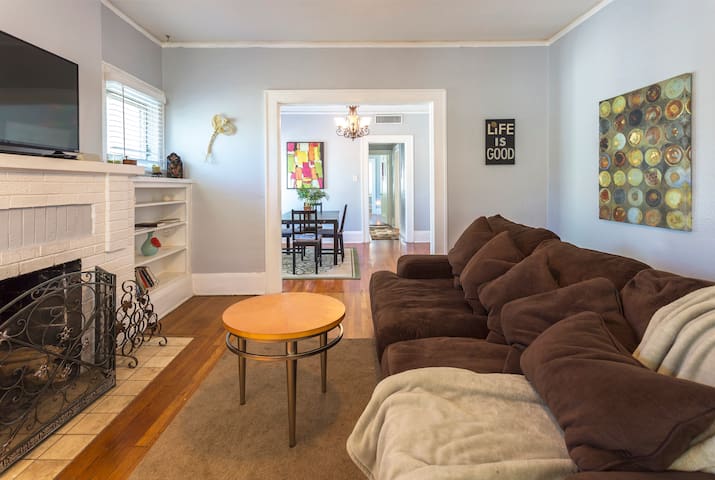 Located on Harbour Island. Just a short walk to Downtown Tampa and Channelside. Conviently located just walking distance to restaurants, bars, Riverwalk and the Convention Center. Approximately 15 minutes from Tampa International Airport and Raymond James Stadium. Minutes away from the Soho District, Hyde Park Village and Ybor City.
This is a beautifully decorated apartment on Harbour Island - just across from downtown Tampa. You can walk to most places downtown or to the streetcar which will take you to Ybor. Uber works like a charm plus their is a downtown only option called The Downtowner which is free (app based like Uber). This is a great option for folks looking for proximity to downtown while experiencing life like a local.
Amy
2017-01-11T00:00:00Z
Tipo de habitación
Casa/apto. entero
---
Tipo de propiedad
Apto. en complejo residencial
---
Capacidad
4
---
Dormitorios
Tampa, Florida, Estados Unidos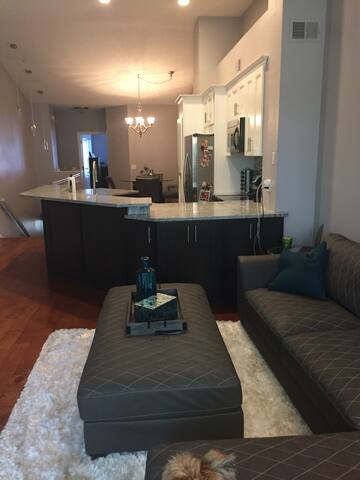 Conveniently located across the street from Channelside Bay Plaza, restaurants, Channel District dog parks, Harbour Island, TGH on Davis Island, and Amalie Arena. Plus, easy access to the trolley and Tampa's Bike share system, so you can easily get to Downtown or Ybor without driving.
Tipo de habitación
Casa/apto. entero
---
Tipo de propiedad
Apto. en complejo residencial
---
Capacidad
4
---
Dormitorios
Tampa, Florida, Estados Unidos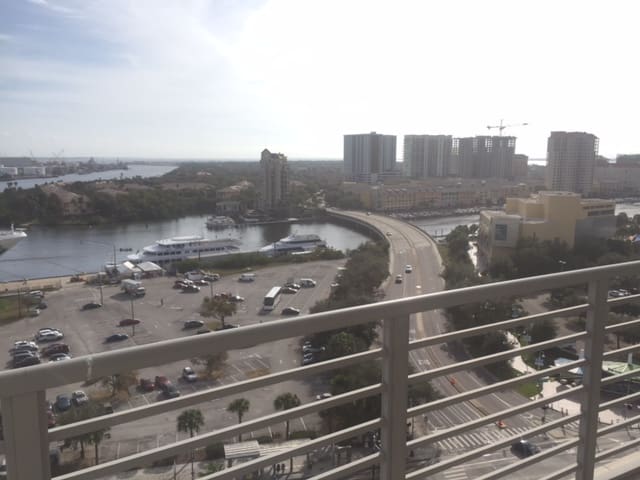 Channelside/Downtown Tampa with City View My condo is a 1 bed 1 bath + den on 2nd floor with a balcony. My place is perfect for couples, solo adventurers, and business travelers. It is immaculate & very modern. Washer and dryer in unit. Key fob entry with 24 hour concierge. There are 2 pools, a gym, sauna, internet room and roof-top sun deck. My condo is super close to the cruise terminal, convention center, sporting events, nightlife, family-friendly activities, and the beaches.
Perfect for solo travelers, business travelers & couples.
Channelside is adjacent to Downtown Tampa & Ybor. You can walk to local restaurants & bars, the the Convention Center, Aquarium, Amalie Arena, electric boat rentals, etc. Renting a bike can add options. It's a short ride to the airport as well South Tampa & Ybor City restaurants & nightlife. It's approximately 45 minutes to the beaches (Clearwater, St. Petersburg, Bradenton & Sarasota). Raymond James Stadium is approximately a 15 minute ride if you're here for a game or concert. Tropicana field is approximately 45 minutes away if you're here for a MLB game. The list goes on.
Tipo de habitación
Casa/apto. entero
---
Tipo de propiedad
Apto. en complejo residencial
---
Capacidad
2
---
Dormitorios
Tampa, Florida, Estados Unidos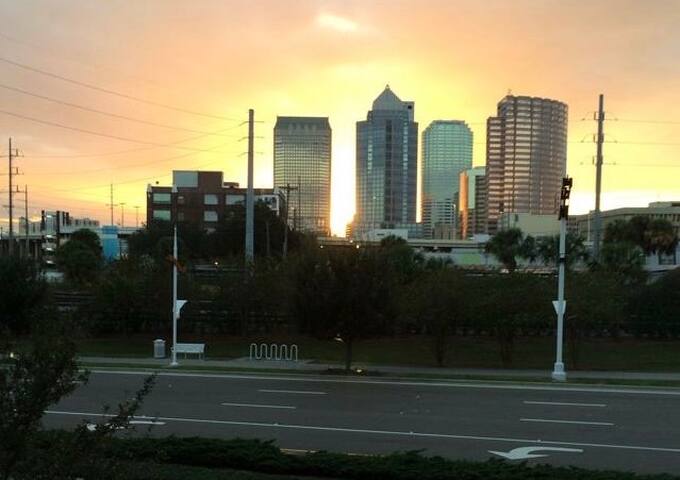 I am a business professional who travels for work, therefore interested in renting my condo out when I am out of town. My place is close to restaurants and dining and great views. You'll love my place because of the location, the views, and the ambiance. My place is good for couples and solo adventurers. 35 minute drive to Clearwater or St. Pete Beach
Great spot. Walking distance to so many awesome places. Very courteous host.
Brian
2017-03-12T00:00:00Z
The condo was just as advertised - clean, comfortable, and convenient. Phil was easy to coordinate with, accommodating, and made sure we had what we needed and knew our way around. The condo had everything we needed including wifi and a fitness center. It had a nice view, was close to restaurants and stores, and was an easy walk to downtown. Would definitely recommend this place to others.
Mindy
2017-01-10T00:00:00Z
Tipo de habitación
Casa/apto. entero
---
Tipo de propiedad
Apto. en complejo residencial
---
Capacidad
4
---
Dormitorios
Tampa, Florida, Estados Unidos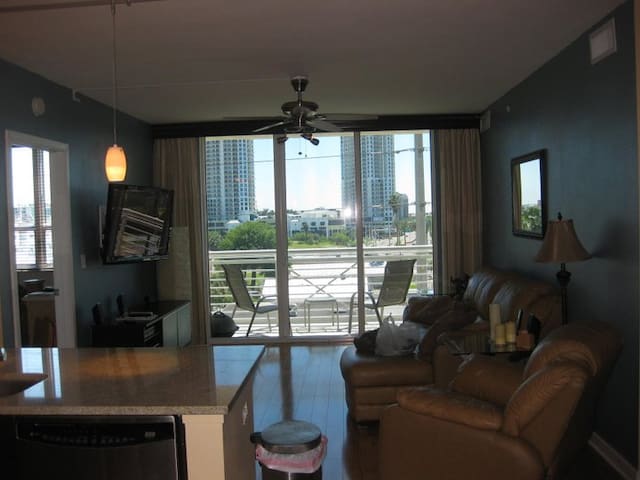 1,075 square foot condo with 2 bedrooms/1 bathroom in Channelside district. Two rooftop pools and rooftop gym. Two parking spots available on same floor in gated parking garage. Restaurants/bars located on ground floor. Condo is a 5 minute drive to South Tampa, 25 minute drive to St. Petersburg, 15 minute drive to Busch Gardens. Amalie Arena is a 15 minute walk.
Tipo de habitación
Casa/apto. entero
---
Tipo de propiedad
Apto. en complejo residencial
---
Capacidad
4
---
Dormitorios
Tampa, Florida, Estados Unidos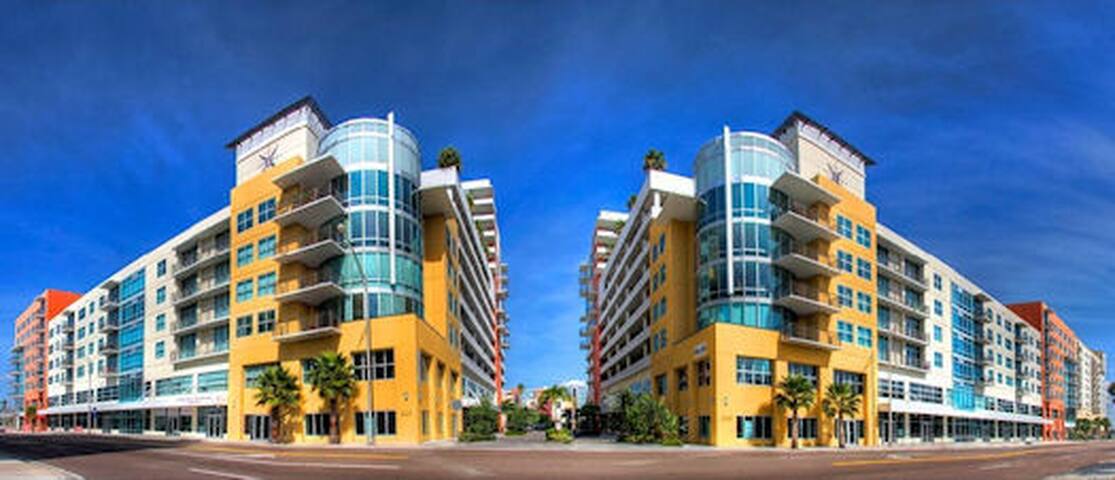 My place is close to Channelside Cruise Port, Downtown Tampa, it has great views, nightlife, restaurants and dining. You'll love my place because of the high ceilings, the views, the location, and the ambiance. My place is good for couples, solo adventurers, business travelers, families (with kids), and furry friends (pets).
This two story loft with towering 26 foot ceilings, is a modern condo located in the heart of Tampa. It has new modern furniture in the living room, and there are wall mounted flat screen TV's in the living room and both bedrooms. It has a spacious open concept kitchen with granite countertops, has a large breakfast bar and if you choose to have a larger party the dining table seats 8. The master bedroom, is located on the second floor in the loft and is approximately 500 sq ft. with a desk and printer. The en suite is massive with a double vanity, a bath tub, and walk in shower. There is enough closet space for you to hang all of your clothes. The second bedroom, is to the left when you walk into the door, and has sliding barn doors. If you are the artistic type, there will be chalk left for you as the walls on the outside are a chalk board. Leave us a nice piece of artwork if you are up for it. The guest bathroom has a walk in shower and single vanity. This room is very comfortable. In the mornings or evenings you can lounge outside on the balcony and watch the cruise ships come and go. This space works for all types of travelers, from business to families. The location is perfect for all of your needs here in the Bay Area.
There are coffee shops, bars, restaurants, and many other attractions within several blocks. You are about 6 blocks from the Amalie arena. So if you are looking to take in a Lightning game, or one of your favorite concerts you won't have to worry about parking. You can walk there in a matter of minutes.
Tipo de habitación
Casa/apto. entero
---
Tipo de propiedad
Apto. en complejo residencial
---
Capacidad
6
---
Dormitorios
Tampa, Florida, Estados Unidos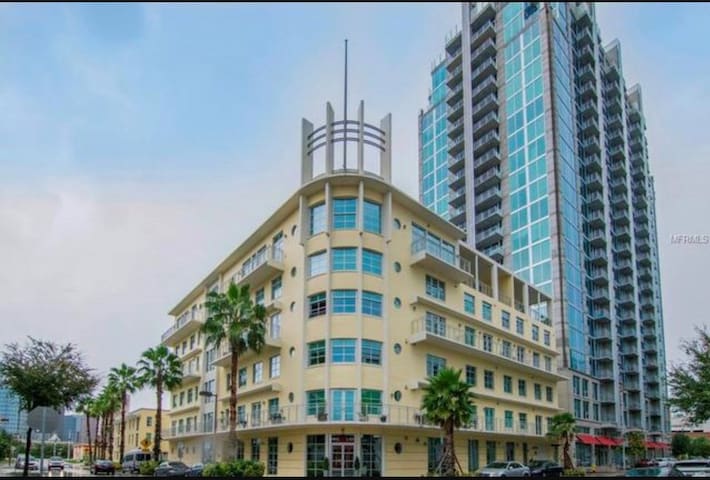 This is a one of a kind 3/3 waterfront, high-rise condo in the heart of Tampa in the exclusive Harbour Island community. The condo is very contemporary and boasts the best views in Tampa as the building is aptly named "The Grandview of Tampa." You will be walking distance to everything and a lot of the events for the National Championship are in this area! More details below. Serious inquiries only! You can reach out me (EMAIL HIDDEN)
There are 3 bedrooms and 3 full bathrooms. Master bedroom has a king bed, guest bedroom has a queen. 3rd bedroom is an office but has a LARGE, very comfortable futon. With a feather bed that I usually place on it, it's just like sleeping in a queen bed (yes it's a large futon)! The space is great for entertaining but I do not want it used for throwing a party. Guests can have a couple people over but doorman will prevent a big party. Parking is also provided.
Harbour Island is located right next to downtown where all the action for the National Championship is taking place!
Tipo de habitación
Casa/apto. entero
---
Tipo de propiedad
Apto. en complejo residencial
---
Capacidad
8
---
Dormitorios
Tampa, Florida, Estados Unidos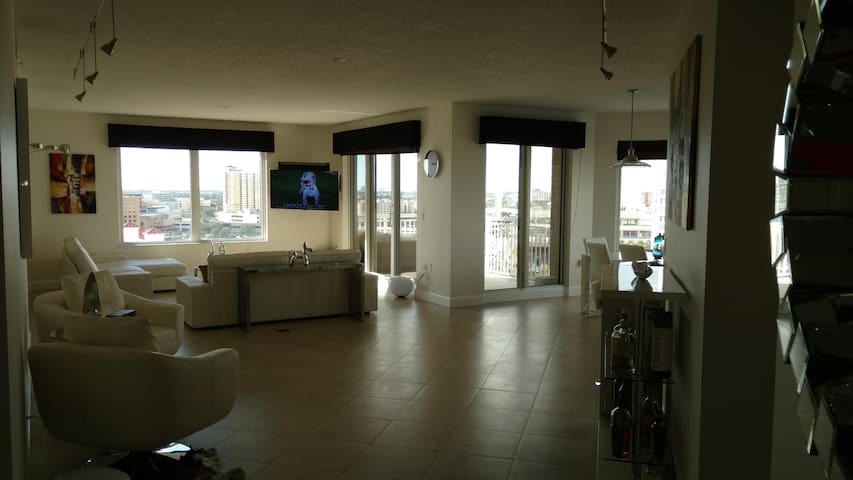 Located on the corner of Bayshore & Howard, this condo is in the heart of it all. Walk right out the door and onto Bayshore Blvd or head up Howard Ave to our infamous SOHO district. Enjoy South Tampa living on gorgeous Bayshore Blvd! I rent my condo when I am out of town. Available dates are below. I usually require a 4-5 night min, preferably longer. If you have a special request just let me know. October 1st-October 11th November 23rd-27th
There's no better way to experience South Tampa than by staying on Bayshore Blvd. The water views and easy access to Bayshore are the main highlights, but you're steps away from some of the coolest bars and restaurants in Tampa. Ciro's, the popular speakeasy, is directly across the street. Copper Fish restaurant is one block north, Bern's Steakhouse and the Epicurean Hotel are 4 blocks north. Venture just a bit further and you've reached the center of SOHO where you'll find plenty of bars.
Bayshore Blvd is the longest continuous sidewalk in the world. It stretches from the downtown riverfront to Gandy Blvd along Tampa Bay and offers gorgeous views, day and night, of the Tampa area. It's the absolute best place to exercise in Tampa.
Everything about our stay was great. Brandon communicated very well, and we knew exactly what to expect. The condo is in excellent condition, and very comfortable. The location can't be beat, with the bay right across the street and the restaurants of SoHo in easy walking distance. The walk certainly saved me from gaining a few pounds! I couldn't recommend Brandon and his condo any more highly.
steve
2016-06-19T00:00:00Z
Brandon's condo on Bayshore is where you want to be in Tampa. The absolute best location. Bay views. Close to restaurants, bars, shopping. Great running paths. His condo is well-furnished and decorated to reflect a beach vibe. Very chill and comfortable. Brandon is easy to work with and checking in was a breeze. I would definitely stay here again in the future. You won't be disappointed.
Jeff
2015-11-29T00:00:00Z
From the beginning of arranging the stay, Brandon was super helpful. The location is excellent and close to a lot of bars, restaurants, and stores in downtown Tampa. The condo is spacious and beautiful. The pictures shows the place perfectly. There were many essential items/amenities Brandon had at the condo so we didn't need to purchase much. The handbook he supplied us with made the stay better and it was a seemless transition. The residents and door men was nice. I would definitely recommend this location to a friend and stay again while visiting Tampa.
Portia
2016-03-20T00:00:00Z
The host canceled this reservation 15 days before arrival. This is an automated posting.
Scott
2016-11-08T00:00:00Z
Tipo de habitación
Casa/apto. entero
---
Tipo de propiedad
Apto. en complejo residencial
---
Capacidad
2
---
Dormitorios
Tampa, Florida, Estados Unidos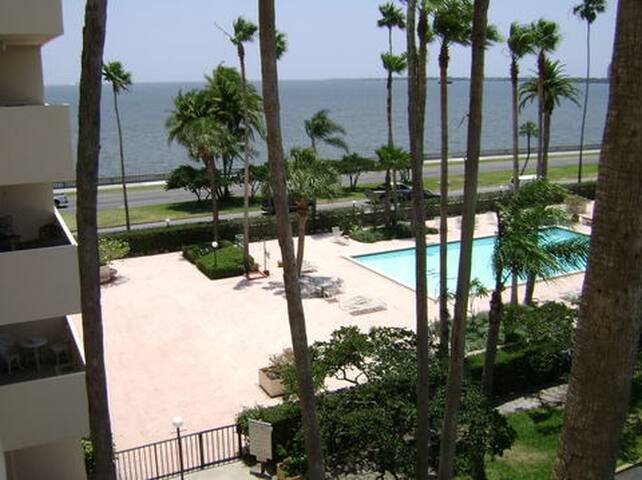 Gibsonton - Airbnb
:
Una media de

4.87

estrellas de un total de

5

de

153

evaluaciones de huéspedes
1

–

18

de

73 apartamentos en alquiler
Introduce las fechas para ver el precio total. Ten en cuenta que se aplicarán tarifas adicionales y es posible que se añadan impuestos.