Introduce las fechas para ver el precio total. Ten en cuenta que se aplicarán tarifas adicionales y es posible que se añadan impuestos.
This romantic, charming loft apartment is located in the middle of town. Walking distance to Olympic park, Maihaugen, main street, hospital, art museum, restaurants/clubs. Kitchenette, shower/WC, washer/dryer, TV, wifi. One or two rooms available.
Two blocks from main bus and train station with connections to Oslo and surrounding ski facilities. Parking available in courtyard.
What an amazing place in a perfect location! Two large bedrooms that comfortably accommodated my two friends and I. Don't let the ceilings fool you - even though they are slanted there is plenty of room in the centre to walk around without bumping your head :). The kitchenette allowed us to save some money and make our own meals - everything you need is there. The shower is a little small but great water pressure and heats up quickly, and the rest of the bathroom is quite large. The whole place was big, warm, comfortable, and only 5 minutes from the main shopping street. The train station was also only about a 10 minute walk away. The physical loft aside, Mari herself was very hospitable and kind right from the start. Despite my constant stream of questions (sorry again!), she welcomed me and my companions with open arms and was always approachable throughout the duration of our stay. I can't say enough good things - our stay was perfect :)
Katie
January 2015
Mari was lovely, very warm and welcoming on arrival. The loft apartment was well appointed and very clean. I was concerned that my 198cm tall brother might struggle to stand up straight but he was absolutely fine although he did find the shower slightly small, fine for most people though. The kitchen was small but very equipped with everything we needed. This property is in a fantastic location less than a 10 minute walk from the town centre and train station.
Kirsty
February 2017
Hello, Staying at Mari's place was my best airbnb experience so far!!! :)) Upon my arrival, I was greeted with a warm welcome. Mari made sure I had everything I needed and made sure I was comfortable. What I liked most about staying here is the fact that the pictures looked just like how they are in person and I was very suprised how it looked even better in real life than on the pictures! The space was VERY neat and clean and the area outsiede was amazing too (especially during winter time). I would definetly recommend this space for people who want a brilliant experience in Lillehammer. Mari you're the best! :) Loved staying at your place and will definitely come back someday! All the best! Overall rating is a full 10/10!!! Greetings from London! TAKK! Kind regards, Magic.
Magic
February 2016
Had a great stay in Lillehammer at Mari's apartment. Mari made us feel very welcome and gave us helpful tips for things to see, places to eat etc. The apartment was cosy but big enough for us (family of 3), it was as described, clean and well equipped. The location was great, just a short walk into town and walking distance to the ski jump and about 20 mins drive from Hafjell ski area. Would happily stay here again.
Jamie
April 2016
This was the third time that I stayed in the loft apartment and was just as pleased. There was a problem with the heat when I arrived, but it was fixed in no time! Highly recommended.
Ren
January 2016
Bodde to netter hos Mari i helga, helt supert! Alt er som på bildene og som beskrevet - veldig sjarmerende trehus med kort vei til alt. Tusen takk for oss!
Hege
May 2016
Felt very welcomed by Mari and enjoyed the other guest staying in the room nearby. She helped us solve the problem of too much light coming through the windows , allowing us to sleep.( longest light days in July). I loved my hikes in the city hills with interlinking trails. Would have liked to have rented local bikes in the city, but had to rent 20 minutes away. Discovered trails by the water and a long pedestrian bridge linking another city to Lillehammer. The town was beautiful and always felt safe. The train and bus station were within walking distance and I easily learned how to get around the city(URL HIDDEN)
Pamela
July 2016
Veldig hyggelig og imøtekomment møte med datter i huset, etterhvert også med far. Veldig koselig loft, stille strøk, men allikevel sentralt med kort avstand til «downtown» Lillehammer, rett ved Søndre park. Min datter og jeg bodde her en helg, som utgangspunkt for alpinthelg på Hafjell (kun 15 minutter å kjøre). Parkering i bakgård. Flere hyggelige restauranter i nærheten. Bor gjerne her igjen!
Irene
March 2016
Tipo de habitación
Casa/apto. entero
---
Tipo de propiedad
Loft
---
Capacidad
5
---
Dormitorios
1
Lillehammer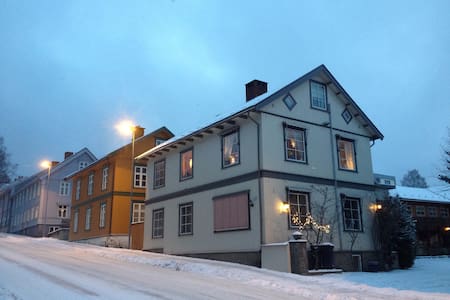 Located centrally, the loft apartment overlooks the park and is a stone's throw away from the train and bus station, main street, charming cafes, shops, and the Maihaugen open air museum. Easy walk to the Olympic Park and the ski jumping arena.
Private loft apartment and bathroom. Minikitchen, living room with TV, bathroom with shower, WC, access to washer & dryer. Your hosts live in the second floor of the house. Close enough to answer any questions you may have.
Like so many other people told before: This is a great place to stay, a house with a lot of personality where you just feel comfortable. Kjell and his girlfriend were super friendly an caring hosts. My boyfriend and I really enjoyed to stay at this great place.
Romina
September 2015
Kjell Tore og hans kone var fantastiske verter — de var varme og kjempe hyggelige begge to, og jeg følte meg veldig velkommen. Loftsrommet var utrolig koselig og sjarmerende, rent og pent, og masse plass Jeg kommer desidert tilbake!
Nicole
January 2017
Kjell was really helpful in a very short notice request of the stay. The place is so cosy and is hard to find more central. We had a short but relaxed stay, on good beds, as we needed before a long jouney home to germany again.
Rikke
November 2015
It was a perfect location for us to both get some work done and go to the the town center for chill time. It was easy to communicate with Kjell, he responds quickly. The accommodation is just like the pics portray. The kitchen is tiny, but it is efficient! If you are a tight sleeper than you should not have any trouble sleeping. The beds are comfy and the whole atmosphere is warm and fuzzy :)
Tina
October 2015
Kjell is a very nice host! He's very helpful and has lots of good tips about places to see and restaurants to eat at. The apartment is nice and has 4 beds in it!
David
May 2016
It was a perfect stop in the center of lillehamer. Kjell and his wife are very kind and welcoming. The appartment is just under the roof with a very little part for a kitchen. Doesn't mater we were in restaurant for the dinner !
Marine
August 2015
We had a wonderful 2 nights in Lillehammer staying here. The apartment was easy to find from the station and KjellTore kindly showed us around after our late arrival. The location is very scenic and so well connected due to the bus and train station being minutes away. The apartment is clean, comfortable and so cosy to come back to after a day in the snow! Thanks again KjellTore for a great few days in Lillehammer.
Rachel
January 2017
If you are comming to Lillehammer - that's the BEST PLACE to stay. It's impossible to find more central location in the city. Only 10 min walking from bus station and 1 min from Storgata (the main street). Unfortunately we had no chance to meet Kjell Tore but his girlfriend Mari (greetings to Dronningen) was very helpful and adorable. The place for the guests on the top floor was occupied, so the hosts rent us their own apartment which is amazing. Mari furnished and decorated it with a great taste. There are many antiques and art there. Kjell Thor and Mari - thank you so much for a perfect weekend! :)
Paulina
December 2015
Tipo de habitación
Habitación privada
---
Tipo de propiedad
Loft
---
Capacidad
6
---
Dormitorios
1
Lillehammer