Jo was a super accomodating host. The place was extremely clean and comfortable. Would definitely recommend staying here!
Timothy
2017-03-11T00:00:00Z
Jo's home was lovely and welcoming as was Jo. We had a great chat about life over breakfast! Her home has had a major sustainable makeover and that in itself is fascinating! Highly recommended! Great quality mainly vintage furnishings which make it feel like a real home rather than a hotel. I had a lovely stay!
Adrian
2017-02-18T00:00:00Z
We very much enjoyed our stay with Jo, in her environmentally sustainable home. She was very welcoming, and we enjoyed a wide-ranging conversation with her. Comfortable bed and lovely quiet location.
Annie
2017-03-13T00:00:00Z
A beautiful house with a beautiful host. The garden is magnificent. We were made to feel very welcome and we were also given some great suggestions about how we can spend out time in Castlemaine. Thank you Jo
Julie
2017-02-26T00:00:00Z
We had a wonderful stat at Jo place. It was cute, cosy and very sustainable house. Jo was a warm friendly and hospitable host.
Annick
2017-04-01T00:00:00Z
Jo was very welcoming and accommodating. Very comfy stay!
Maree
2017-03-04T00:00:00Z
Tipo de habitación
Habitación privada
---
Tipo de propiedad
Bed & Breakfast
---
Capacidad
3
---
Dormitorios
Castlemaine, Victoria, Australia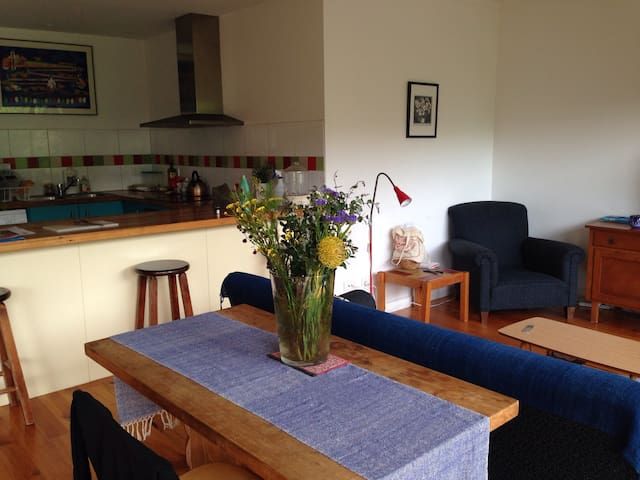 We are 8km out of town surrounded by bush, lovely walks along the creek. Bedroom and bathroom in a large country style house. Plenty of kangaroos around at dusk and lots of birds. Alpacas, goats and a friendly emu on the property. we have our Jazz Festival coming up on the June Long weekend. Some great variety to choose from. Ride on a steam train with 2 groups performing. A 2 night min would apply for the Jazz long weekend weekends. Come join the fun. ALso 2 nght min over the Easter weekend
There is a queen size room for 2 people with private entrance and private bathroom. Tea/coffee making and good continental breakfast. Lots of outdoor areas, so sit back and relax and enjoy the bush outlook.
Castlemaine and Maldon have a lot to offer, good resturants, Antiques, art gallery. 25min to Bendigo and (URL HIDDEN) much to see, or just take a bushwalk or a swim in the local res.. It is the Castlemaine Festival 13-22 March. Check out the full program online. Booking fast. Lots of live shows ans over 90 open Art studios.
We stayed at Julie and Paul's place for 3 nights and thoroughly enjoyed our time away from the city in beautiful Chewton. Our room as well as the bathroom were beautiful, comfortable, clean and so much better than any hotel room in the world. The 'personal touch' that Julie and Paul provide was such a lovely addition to our stay and Julie has a wealth of knowledge about the region, it's history, things to do, places to eat and even local, native plants & animals. The breakfast was delicious and we recommend staying at J&P's place to anyone who wants to explore Castlemaine, Daylesford, Bendigo etc.
Greta
2016-01-26T00:00:00Z
Julie and Paul were lovely! Not only were their instructions clear as to how to get to the property but the property and room was fantastic! Julie and Paul were great hosts, showed us the ins and outs of the region and made a lovely breakfast! I would definitely pop in again if I was in the area again and stay there as it was a great experience!
Patrick
2016-04-26T00:00:00Z
Thanks Julie and Paul for your great hospitality. We had a lovely stay at Chewton, perfect escape from town. Thanks to you both we had a fantastic dinner at the recommended pub. Julie recommended wonderful hikes to discover the surrounding, one just starting in front of the house. We've been to Dog Rocks at the end of our trip and enjoyed the views. We would love to come back and to stay in your house at some stage. There's so much to see and discover and we miss Julie's bircher musli and having cuddles with Alpha.
Kathrin
2016-10-17T00:00:00Z
Charming room and property with lovely gardens. The animals were a treat for my daughter. May be the one and only time she will get hug an emu. She was thrilled with that. As with collecting eggs in the morning. The room was cosy. Breakfast enjoyable. Verandahs and places in the garden suit quiet reading and contemplation. Julie and Paul was great hosts. There were even some great children's books placed in the room for my daughter. Recommend this B&B for Castlemaine stay.
Blue Mountains
2015-01-17T00:00:00Z
Julie has a comfortable room in a very nice house. She is a personable hostess.
David
2014-12-15T00:00:00Z
Our short stay at Julie's was fantastic. Our room, the house and surrounding area are just beautiful. We were treated to a lovely breakfast in the morning, with great company too. I would highly recommend Julie's homely and comfortable bnb to anyone visiting Castlemaine, or the surrounding area.
Hannah
2017-03-18T00:00:00Z
Friendly host and beautiful farm house with alpacas, goat and emu. Great for family holiday.
Jane
2017-03-13T00:00:00Z
Thoroughly enjoyed my stay- lovely property in a beautiful setting. Julie and Paul were fantastic hosts- who even put on a quality spread for breakfast!
Matt
2017-01-08T00:00:00Z
Tipo de habitación
Habitación privada
---
Tipo de propiedad
Bed & Breakfast
---
Capacidad
2
---
Dormitorios
Chewton, Victoria, Australia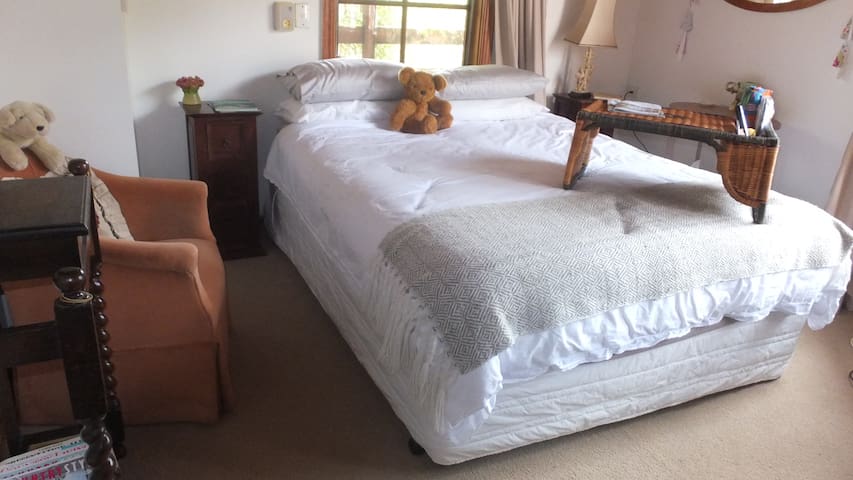 Hotel històric Castlemaine al centre de Castlemaine A poca distància de la localitat de Six 5 dormitoris amb llit de matrimoni mida i un llit individual altres amb futons Deliciosament pati i cuina vella paraula encant al voltant de 1850 al centre de la ciutat El preu és $ 120 per habitació per nit persones 30 $ extra
còmoda habitació amb llar de foc i antic edifici de mobles de cuina té un gran caràcter belles zones enjardinades i prop de totes les instal·lacions i atraccions de Castlemaine. La majoria de les coses són a poca distància de l'edifici. Castlemaine és un veritable exemple d'una ciutat Goldrush sense canvis des de la dècada de 1850 Varietat d'habitacions pregunta sobre les opcions Algunes d'elles dormen altres 3 un llit de matrimoni i un màxim de 14 persones futon en un moment donat tenim una bonica cuina i dos banys patrimoni Aquest és el lloc ideal per a un casament amb un restaurant amb llicència i bonic del nord enfront de la coberta operadors admeten viuen al lloc i fer que els hostes còmode ia casa
Globe Hotel és a poca distància de Castlemaine i totes les seves atraccions Sopar de luxe única arquitectura colonial es va relaxar vivint país únic camina en Kalimna Parc Globe Hotel disposa d'un període bell menjador on es pot provar la millor cuina índia en el centre de Victòria. Si va a viatjar en tren de Melbourne, contacteu amb nosaltres i nosaltres li recollim de l'estació de tren de Castlemaine i el portarà a la Globe Hotel També podem tornar al tren
The location is great and the courtyard shown in the pics is lovely. Be aware that you might be upstairs and these rooms are above the Indian restaurant. So cooking smells are present if you are sensitive to this. Old fashioned but nice room. Two bathrooms is a good idea - you don't have to wait too long.
Sue
2017-03-25T00:00:00Z
Very nice place to say, central to Castlemaine. Beautiful historical building. Comfortable beds, well-kept bathrooms. Quiet, except for a little traffic noise from the main road through Castlemaine. Lovely outdoor sitting areas out the back -- on a raised deck (nice for breakfast) and in a garden area below.
Mark
2017-01-21T00:00:00Z
Lovely, friendly and helpful hosts. Homely room with a comfy bed. Didn't have a chance to taste the cooking but I'm jealous - it smelled great!
Jonathan
2015-01-27T00:00:00Z
Trevor was a delight as always. I stayed in a huge spacious room with shared bathroom facilities. Very comfortable stay!
claire
2015-03-13T00:00:00Z
Nice old hotel still work in progress. Large old room with mix of furniture. Trevor & Selvi are cheeful and welcoming. Dinner at the Indian downstairs then walk around town with a few drinks on the way. Come and go as you please all very easy and peaceful
Michael
2015-01-19T00:00:00Z
We felt very welcome by Trevor when we arrived at Globe Guesthouse. It was relaxing and like a home away from home. The food was a bonus and the smell of it through the place was lovely as curry is my favourite food. We were pleasantly surprised with coffee for myself and a hot chocolate for my son in the mornings during our stay. Selvi was most hospitable to take us to the bus stop at 5 am on our departure day. We loved their little gigs also. Most flexible, friendly and kind people and such an interesting old building with so much character.
Rhiannon
2016-01-22T00:00:00Z
Trevor was very welcoming and the place was easy to find - just walk in through the restaurant out the front :) Cozy inside, homey atmosphere. We had a great night.
Denis
2015-03-23T00:00:00Z
The accommodation was excellent! Beautiful rooms! Made our stay in Castlemaine very enjoyable.
Thomas
2015-06-09T00:00:00Z
Tipo de habitación
Habitación privada
---
Tipo de propiedad
Bed & Breakfast
---
Capacidad
3
---
Dormitorios
Castlemaine, Victoria, Australia
Ellen was a friendly host who made sure that we knew our way around her lovely house and kitchen. Our room and ensuite were bright and very comfortable. Ellen made some great suggestions for us to do in Castlemaine, including the brilliant Austrian cafe. Thanks for the wonderful stay.
Sam
2017-03-12T00:00:00Z
We enjoyed staying at Ellen's place, she went out of her way to make sure we had everthing we needed including plenty of food. The room was pleasant and the bed was comfortsble, thanks for a good experience.
Julie
2016-08-01T00:00:00Z
My husband and I had a wonderful stay with Ellen. She was considerate, friendly and wonderful to chat to. Made us a mean breakfast too! Our room was tidy and clean. Would recommend to anyone.
Geetha
2016-05-16T00:00:00Z
Ellen was very welcoming and extremely accommodating. The house was beautiful and there was a lovely feel staying there.
Imogen
2015-11-23T00:00:00Z
Such a lovely quiet spot to stay , comfortable beds and a cosy home made this a great stay. Thanks Ellen !
Fiona
2017-03-28T00:00:00Z
Murrnong Manna is set on a beautiful property and Ellen is a wonderful and generous host. The room is a lot larger than it looked in the photograph, heaps of space and your own semi ensuite as well! Thanks for the lovely breakfast and coffee Ellen, we would love to comeback one day to explore Castlemaine.
Stacey
2017-03-24T00:00:00Z
Ellen is exactly the kind of host who makes Air BnB so much better than a regular B&B/hotel stay. She was friendly, interesting and very easy to be around. We had a great time chatting away and will re-book next time we visit Castlemaine. Great Coffee and food too -definitely worth paying $10 for the breakfast!
Lauren
2015-05-12T00:00:00Z
Ellen's house is a beautiful home set amongst bushland just on the edge of town. Ellen was a very welcoming host and made us feel right at home for our short stay. The room and house was very clean, comfortable and with beautiful views of the garden. We would definitely recommend Ellen's as a relaxing and welcoming place to stay.
Ollie
2015-11-16T00:00:00Z
Tipo de habitación
Habitación privada
---
Tipo de propiedad
Bed & Breakfast
---
Capacidad
2
---
Dormitorios
Castlemaine, Victoria, Australia
1

–

4

de

4 Bed & Breakfasts
Introduce las fechas para ver el precio total. Ten en cuenta que se aplicarán tarifas adicionales y es posible que se añadan impuestos.