altillo linda en poca distancia del centro de Hood River. 2 plazas de tamaño queen cama alta, cocina con microondas, cafetera. tostadora, licuadora y más esencial, cuarto de baño con bañera, WIFI, TV, radio, ventana unidad de aire acondicionado. Acabamos de un nuevo sofá de cuero, que se convierte en una cama de tamaño completo para aquellos que prefieren no utilizar la alta cama alta que se puede acceder por una escalera empinada y cerca del techo. Cerca del centro, de la garganta, windsurf, kitesurf, senderismo, kayak, ciclismo y mucho más .... Estamos acepta mascotas, pero requieren una tarifa de $ 20 por mascota adicional, a pagar a la llegada. Ofrecemos un montón de revistas al aire libre, mapas y material de lectura acerca de Hood River y de la garganta para su conveniencia. La ciudad de Hood River tiene una población 7.320 a partir del 1 de julio de 2011 y está situado en el corazón del área escénica nacional de la garganta del río Columbia entre Mt. Hood y el río Columbia, aproximadamente 60 millas al este de Portland, Oregon. El puente de peaje de Hood River atraviesa el río Columbia y conecta la ciudad con las comunidades de White Salmon y Bingen se encuentra en el estado de Washington. Las principales industrias locales incluyen huertos y empaquetado de fruta, la salud, la madera, la ingeniería de software y la tecnología, el turismo y la recreación (particularmente el windsurf, kitesurf, ciclismo y ciclismo de montaña, senderismo y esquí). Hood River es el hogar de cuatro fábricas de cerveza, una creciente industria del vino y una comida escena próspera.
la vista es impresionante, y la calle es muy tranquila con fácil acceso al centro de la distancia a pie. Advertencia: estamos en la cima de la colina del centro. Caminar por pasos es fácil, caminar hacia atrás no es tan fácil, pero una gran manera de trabajar fuera de esa cena o comida o la cerveza / vino :)
Great stay as usual!
Samantha
2016-10-08T00:00:00Z
Nicole and Whit have a great little space for what was a quick stay for my wife and I. Great neighborhood near downtown, and just a great feel.
Brent
2012-09-24T00:00:00Z
We had a nice time here - it was super quiet and chill and we were able to get a ton of sleep - which is what we needed! We also really enjoyed the view off of the back porch. We did not sleep in the loft; instead chose the futon.
Christie
2015-07-31T00:00:00Z
The loft was as described - clean & cozy. We decided to use the fold-out bed downstairs instead of negotiating the steep stairs and sloped roof line. The location was nice and quiet and very convenient to downtown Hood River. We never met Whit; however, he checked in several times via email to make sure all was well. The walk down (and then up!)the stairs to town is not for the weak! Beautiful area for wandering the Fruit Loop!
Lynn
2014-10-05T00:00:00Z
Whit's place is a great little spot in very convenient location. Super smooth check-in and check-out. No problems at all. We had a great time in Hood River!
Kelsey
2016-09-20T00:00:00Z
Whit's loft is exactly as described, cozy and clean. Our encounter was brief but Whit was friendly and happy to provide us with recommendations for things to do. We are happy we decided to spend our wedding anniversary weekend here and in the very magical, Hood River!
Renee
2014-09-21T00:00:00Z
Whit sent instructions on how to get in several weeks early which really helped after a long day in terms of checking in and getting settled. The space is clean, well-ordered, and has very tasteful decor. I appreciated that there was an AC unit as well- I didn't need it much while I was there but during the summer it can get sweltering in the Gorge. It was a pleasant walk down to town for events/beer but you will definitely get a workout in coming back up the hill- consider driving or bringing a small flashlight as some of the sidewalks have half-flights of stairs. Great spot overall!
Brenden
2016-07-25T00:00:00Z
Whit was quick to respond to emails/texts. The place is as advertised: cozy and clean.
Kara
2015-01-30T00:00:00Z
Tipo de habitación
Casa/apto. entero
---
Tipo de propiedad
Loft
---
Capacidad
2
---
Dormitorios
Hood River, Oregón, Estados Unidos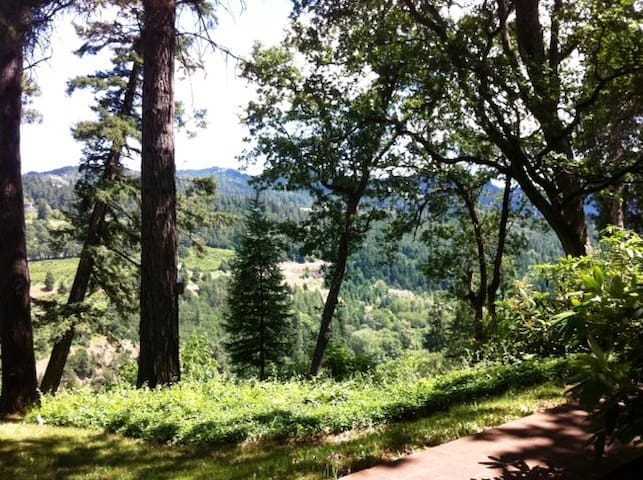 Encontrará en paz en este loft 1 habitación cómoda y limpia. Totalmente equipado con todas las comodidades que pueda necesitar. espacio tranquilo barrio a poca distancia de las cafeterías, restaurantes, bares y muchas actividades al aire libre.
artesanía única en todo este espacio hará que su estancia una de una clase. Una terraza de atrás le proporcionará una ligera vista del Monte Adams mientras disfruta de una taza de café o una copa de vino. Una cocina totalmente equipada le dará la comodidad de su propia casa si decide cenar. Wi-Fi se proporciona junto con TV vía satélite.
El loft se encuentra en las alturas de Hood River. Hay varios restaurantes y tiendas de café con en pocos minutos a pie. Un paseo de 10 minutos o corto trayecto en coche le llevará hacia abajo la ciudad para una abundante cantidad de restaurantes, tiendas, bodegas, pubs y la línea de costa.
This was the nicest airbnb we have ever stayed it! It was so clean and cute, and in a perfect location. Melissa thought of everything and hope to stay again soon!
Diane
2016-03-26T00:00:00Z
Melissa's loft is a clean, comfortable, and "funky" upstairs apartment.
Natalie
2016-09-12T00:00:00Z
Ideally situated, perfectly close to the grocery store and tons of pubs/restaurants/entertainment. Quick drive or taxi ride away from downtown. The apartment was also beautifully appointed and decorated....A great value for the rate in the area! (My girlfriend's only complaint was that there was no full-length mirror.) Melissa was very thoughtful, and there were nice little touches throughout the apartment. Would definitely stay at this listing again if we go back to HR.
Eric
2016-04-05T00:00:00Z
We had a great stay at Melissa's loft. The apt was really nice and in great shape, and we could tell that the hosts put a lot of thought into it - even the small things. Would definitely stay again if we ever find ourselves back in Hood River!
Ari
2016-08-23T00:00:00Z
This place is exactly as described. It's a very easy (and pretty) walk downtown to restaurants and breweries, and there are even great spots just a block or two away. Melissa was easy to communicate with and made our stay feel very comfortable.
David
2016-06-04T00:00:00Z
Melissa welcomed us as soon as we arrived and showed us the loft. The neighborhood was close to downtown and there were stores and restaurants within walking distance. The loft was very comfortable and cozy with all the comforts of home and then some. The loft had a very unique design. Really enjoyed our stay and would love to stay there again.
Michael
2016-07-19T00:00:00Z
Melissa put together a great space for a couple to stay for a few days! It's in a beautiful area of town, up on the hill about 5 minute drive from downtown/the river. She was super communicative and helpful when needed. Highly recommend this apartment!
Lauren
2016-05-26T00:00:00Z
We had the best time! Melissa takes such great care of her place. The cozy one bedroom was super clean and decorated with such charm. I just loved the back porch and the view of Mt Adams was an added bonus. We will definitely return! Thank you, Melissa!!
Michelle
2016-04-10T00:00:00Z
Tipo de habitación
Casa/apto. entero
---
Tipo de propiedad
Loft
---
Capacidad
2
---
Dormitorios
Hood River, Oregón, Estados Unidos
Spacious 1 bed, 1 bath loft above a private garage in the East hills of Hood River. Queen plus Queen Futon in living room. Mini-fridge, microwave, coffee maker, electric kettle. Air conditioner. One mile from downtown, Waterfront Park, event site, marina. Walking distance to hiking and biking trails.
Close to Downtown Hood River, Columbia River, Hood River, East Side trails.
Cory's place was very nice. Much roomier than a hotel room, with nice conveniences like a fridge with beers in it, coffee maker, etc. The bed was comfortable, and an air conditioner helped cut the afternoon heat. It is close to town, but out of the frenzy and made a good base for a weekend of windsurfing and exploring.
Bari
2016-08-09T00:00:00Z
Cory and Pippa were just great hosts. Although they were out of town the time we arrived they made sure that we had everything we needed and we had a really nice communication via e-mail. Before and during our stay Cory was always available for questions , responded promptly and checked in how we were doing at the time of our arrival. We really enjoyed staying at this very comfortable loft which was just perfect for exploring the Hood River area.
Ulrike
2015-09-13T00:00:00Z
Our family of 4 loved this cozy getaway for it's private entrance/exit, quiet, but scenic atmosphere, and it's nearness to downtown Hood River. The place was furnished with easily accessible wi-fi, a mini fridge, microwave, and Keurig coffee maker. Due to the fact that it's a converted attic space the angled ceilings were fairly low. The main bed and futon were comfortable and the room was decorated with charming photography. Overall, we had a splendid stay.
Stacie
2016-11-27T00:00:00Z
The loft is located in a upscale and quiet neighborhood. We slept well and felt very comfortable. Hood River is a good place to stay for visiting the Gorge, Fruit Loop, and Mt Hood. Thanks Cory!
Luqi
2016-06-21T00:00:00Z
The two of us had a great stay here. The neighborhood is beautiful and just far enough removed from downtown to be out of the range of traffic and train noise, but not so far as to make a spur-of-the-moment trip to town inconvenient. The loft is comfortably appointed and gets welcoming morning and evening light. Cory and Pippa are welcoming hosts. Our visit coincided with the middle of the work week, and I only regret that we didn't get to spend a little more time with them. I can recommend this spot as a place to stay without hesitation!
Don
2016-03-24T00:00:00Z
The hosts were great... they have busy lives and a beautiful family, but are very cordial and went out of their way to greet us and provide us with dining tips that were spot on. The room is great, and in a stunning setting. Four of us stayed and would not hesitate for a second to go back...hopefully soon!
Steven
2016-09-11T00:00:00Z
Cory & Pippa have a great place to stay for anyone looking to spend some time in Hood River. It is close to town but away from noise. They made us feel welcome and made sure we had everything we needed. I would recommend their loft and hope to stay there again.
Cole & Lea Anne
2016-04-17T00:00:00Z
Cory was such a great host and went the extra mile to make sure we were comfortable and had everything we needed. His home is really beautiful and in such a prime location in Hood River. The loft was exactly what we were looking for and the futon is really comfortable! Would definitely recommend his home to anyone coming through Hood River.
Noah
2015-07-19T00:00:00Z
Tipo de habitación
Casa/apto. entero
---
Tipo de propiedad
Loft
---
Capacidad
4
---
Dormitorios
Hood River, Oregón, Estados Unidos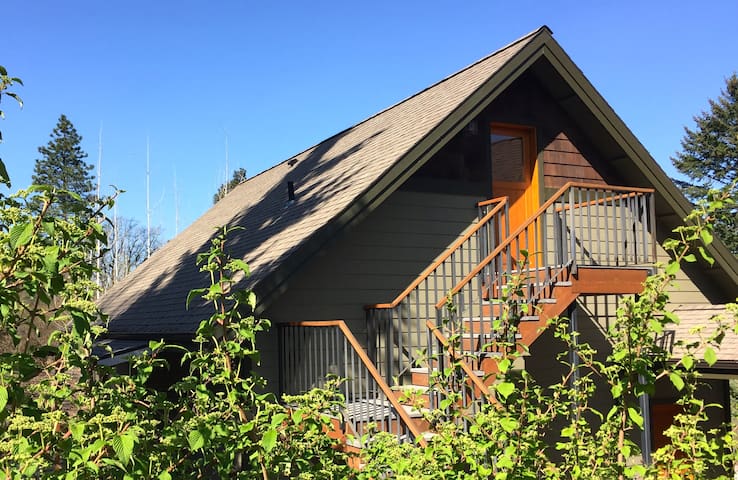 Introduce las fechas para ver el precio total. Ten en cuenta que se aplicarán tarifas adicionales y es posible que se añadan impuestos.