Introduce las fechas para ver el precio total. Ten en cuenta que se aplicarán tarifas adicionales y es posible que se añadan impuestos.
3 Alquileres de Cabañas
· Gouvia
3 Alquileres de Cabañas
· Gouvia
Sea Harmony is right on the beach completely isolated it is truly a magical place for a certain type of customer one must love the nature and quiet, waking in the morning to a sea you can almost touch is unbelievable it is unique beyond words. I am a designer with art education and it is reflected in the artistic design this paradise is not for the faint of heart as it is not easy to get too but if you like this sort of reclusive setting you will fall in love with this place everyone does !!
The cabin is only a five minute walk down the beach to the local beachside taverna plus the large village agios matheios is only a 6 minute drive and has everything from supermarket to butcher, baker and coffee shops plus your a 10 minute drive to Halkuna beach one of the best beaches in corfu a very long sandy beach!! You can always contact me and i will help in anyway i can plus i will suggest good places to eat and things to see ..
Tipo de habitación
Casa/apto. entero
---
Tipo de propiedad
---
Capacidad
4
---
Dormitorios
2
Corfú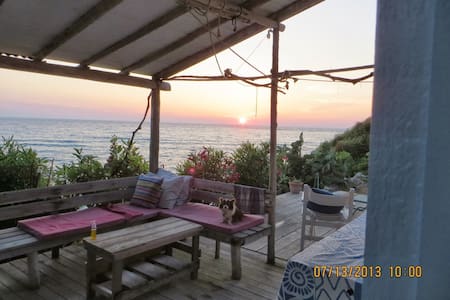 We offer bungalow rental for couples or family of 3. The accommodations are news with sea view,a balcony, a/c,a small fridge,and a private bathroom with shower . We offers free private parking & wi-fe and we are located 100m from the sea.
Brilliantly helpful and fantastic location. Clean and large room, air-conditioning. Very near to the beautiful beach. Beautiful surroundings and honest ,helpful staff. Free parking and wi-fi. Vila Druri offers free private parking and it is located only 30 m from the seashore. There is a grocery shop 30 metres away, while an ATM , a bar ,a restorant and a pizzari can be reached in just a few steps. 2 minute walking distance from an excellent italian seafood restaurant "Piratet" The owner is always present and helps in all matters for ,bus schedules, changing money, and general info about dhermi.Not the standardized hotel-feeling, but very personal, with love for the detail.
Numerous beaches can be found in Dhermi or the vicinity , such as Drymades beach, Gjipea beach, Jala beach, or Porto Palermo. Tourist attraction that should not be lost is the "Cave of pirates" The Ferry Port can be found in Vlore 40 km away, while Tirana Airport can be reached in 260 km (4-hour drive away).Local buses stop 500 m away and feature lines to Himare, Saranda and Vlore few times daily. The rooms were new, very simple, and adequate. The design is very open and straighforward as the pictures describe.
The house is paradise, in front of the beach and several restaurants (we recommend to eat which is down on the left). In the grounds of the house you are a mini bar where you can order good coffees and beers. Tomi is very nice, kind, quiet and helpfull. Would repeat without hesitation!!!!
Mariana
October 2016
Tomi is really nice and helpful, the rooms are simple but nonetheless wonderful and we really enjoyed sitting on our lovely terrasse in the morning, looking out on the sea and the beautiful garden! Nothing to complain, everything was perfect :-)!
Vivian
June 2016
Definitely recommend!
Pavel
September 2016
Tomi and his beautiful little family were fantastic hosts! Tomi was always around to help us find things we needed and offer some suggestions for places to eat and see in Dhermi. Aside from the amazing hospitality, the apartment itself was perfect and a stones throw away from the beach- wouldn't hesitate to stay here again in future summers!
Owen and Amy
July 2016
The location of this place was perfect, just a minute walk from a small beach with the clearest water. It was clean, Tomi was very welcoming and had a nice little garden and balconies for some afternoon chill. Would definitely recommend you to stay here if you are looking for a couple of lazy days in the sun.
Evelina
July 2016
Tomi's place was perfectly located, literally a stonesthrow from all the action but was very quiet and comfortable. The beach was no more than a minutes walk. Being on the northern end of Dhermi beach was a blessing because it meant we could walk left to the main beach or right and explore the little coves to the north. The rooms are perfect for a beach holiday with generous bathrooms and balconies. The air-conditioning meant we could sleep in because the mornings heat up pretty quickly in Albania. Tomi was always available for advice and any questions. I would definitely stay here again.
Ben & Lou
August 2016
Tomi and his family were very welcoming and friendly. The apartment was as described, very clean and comfortable! The environment was beautiful and we really enjoyed our stay! I would definitely recommend this place!
Carlotta
September 2015
vila druri Dhermi is a very beautiful and familiar place. on the one hand side it is very close to the beach and on the hand it is directly at the mountain view, so it's a very diversified trip with a beautiful landscape. The area itself is not a typical touristic place, with gift shops and arranged activities, but you are free to explore a beautiful landscape by yourself, or relax at the beach and sea. Tomi (and his family) are always available for good Tipps in the area or a nice talk by a good cup of coffee, During our 9 days stay we felt very welcome and in good hands.
Felix
August 2016
Tipo de habitación
Casa/apto. entero
---
Tipo de propiedad
---
Capacidad
3
---
Dormitorios
1
Dhërmi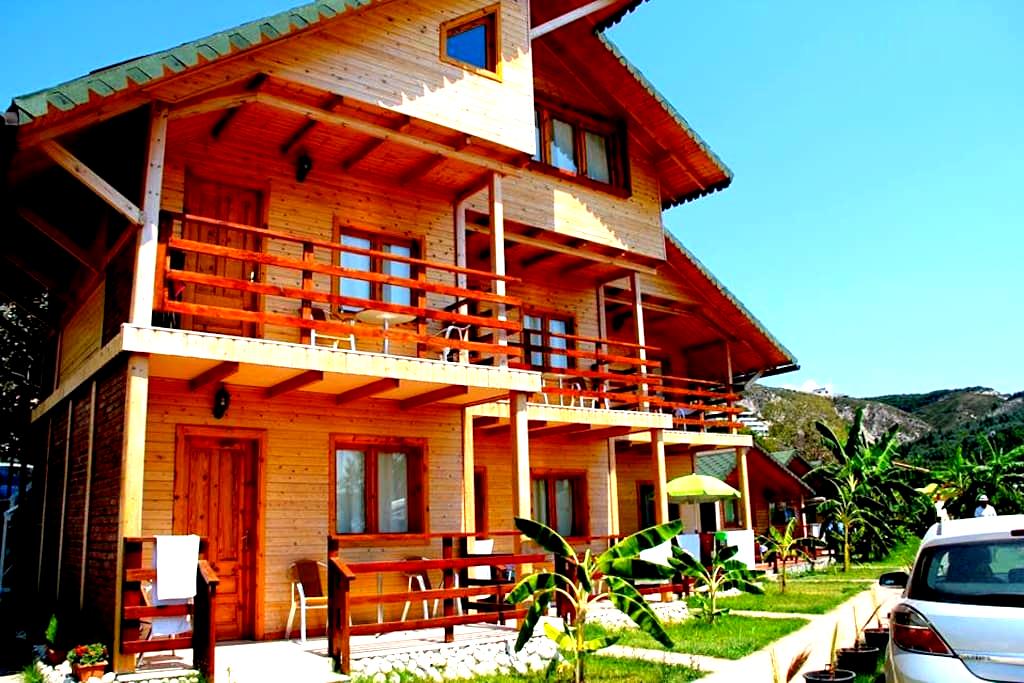 7 Cabins, 100 meters from Borsh's pristine waters, our place will become your second home. 2 rooms, 3 beds a kitchen and olive gardens; these cabins are the perfect weekend getaway from the crowded city life. Ideal for couples and small families.
WE HAVE 7 CABINS - SO BEFORE YOU THINK WE ARE BOOKED, SEND ME A MESSAGE & ASK :) Our cabins are small and cozy. Perfect for a family with small children. Located in the middle of an olive plantation, they are in perfect harmony with the sea and land. You can park your vehicle anywhere under an olive tree, take a walk into the woods, collect figs from a tree and finally dive in the crystal-clear waters of Borsh. We welcome you all to come and enjoy a quiet and safe family vacation with us. Wonderful beaches, quick access to city centers, tranquility and a home like environment. Parking, WiFi, beach tents, BBQ, bar-café. The owner or manager spends the entire summer with his guests, in one of the cabins, to ensure that your every need is met. You will have the opportunity to interact with him/her several times a day to resolve or clarify any issues at hand.
The Borsh coastline is one of the largest among the Albanian southern coast. Our cabins are located exactly in the middle of the beach-line. There are no other buildings around, allowing you a complete quietness and privacy. However, visitors can reach the nearest populated are within 5-10 minutes of walking. Our cabins are situated 3km away from the national road, offering both the much desired distance & isolation and a fast access to city centers around Borsh. The closest city is only 15km away (less than 10 minute drive). The center of Borsh village is less than 1km away where you can enjoy traditional cusine, use ATMs, visit the Castle of Borsh and shop.
The place is one of the most beautiful and quite in the area and I can say in Albania!. Perfect atmosphere, wonderful Vladimir, very nice beach. Everything was unforgettable. 10 days of relax eating fresh fish made in the barbecue and sun exposure beach all day. Thanks a lot for the nice mood end to create the perfect atmosphere. Vladimir is a great person that help you every time for every thing. He love his job and help you to feel in you home. The small house is located just 20 mt of the beach, is very comfortable, well equipped, air conditioning, small garden to eat at night in the fresh air of the see. It's a quite place , perfect for families and couples.
SERGIO & KATY
August 2016
I decide to stay at this place for my small family vacation for a week because it is near the beach , it was a quiet place to stay and very relaxing. On the other hand it offered many flexibility for a quick access to town center and few minutes away from Borsh bars and restaurants; The cabin was functional and had all the necessary things. As a result, it was a good accommodation and a clean & quiet environment and had a good price. The host was kind and helpful. He reacted with pleasure to ensure our needs were fulfilled at any moment. I am thinking on returning back there for a weekend with my friends and my family. It`s simple nice place in Old Town :)
Aida
September 2015
The host is super helpful - he found the additional accomodation for us, as by mistake we arrived a day earlier. The huts were functional and conveniently located close to the beautiful beach. The kitchen is provided with really basic cooking equipment but there are many places to eat out nearby. Remember to bring your own toilet paper.
Ren & Tomasz
August 2015
The place is very closed to the beach. The cabin is nice and simply but not very clean. It's perfect for a few days. The hoste is kind and very helpfull.
Coralie
August 2015
Jeśli szukasz cichego i położonego niedaleko od morza miejsca to jest to właśnie dobra oferta. Pokoje zgodne z opisem, choć kuchnia była do posprzątania .
Piotr
September 2015
Tipo de habitación
Casa/apto. entero
---
Tipo de propiedad
---
Capacidad
5
---
Dormitorios
2
Borsh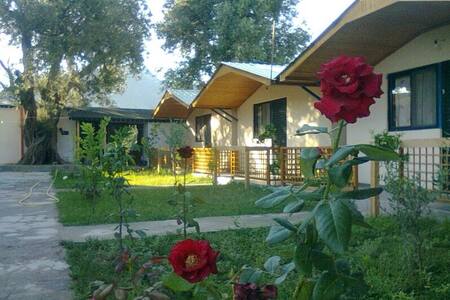 1

–

3

de

3 Alquileres de Cabañas