Artemis Retiro es una cabaña de playa privada, situada en una zona residencial tranquila. Se encuentra enclavada en un oasis verde y tranquila, a pocos minutos de la famosa playa de Grace Bay. Damos la bienvenida a parejas, grupos pequeños y familias. Disfrute de su estancia con nosotros! Para obtener más información sobre los turcos y Caicos, aquí hay algunos sitios que nos gustan: (URL HIDDEN) (URL HIDDEN) (URL HIDDEN)
Artemis Retreat es una cabaña de playa del Caribe 'vieja escuela', en un hermoso barrio. Tiene tres dormitorios, con dos camas de matrimonio y una individual. Hay un baño, con inodoro, lavabo y ducha. Una, ducha exterior adicional, se accede desde este cuarto de baño. También hay un lavamanos en la habitación doble. La casa tiene una cocina completa y lavadora. Hay una barbacoa de propano exterior.
Es una comunidad segura, cerrada, dentro de un cinco a diez minutos en coche de zonas. Artemis retirada es de tres a cinco minutos a pie a la parte más privada de Grace Bay Beach.
My parents and I loved staying at Artemis Retreat. It was in a great location. Close to everything yet very private. We had everything at the house that we needed plus more. The house was very clean and I would highly reccomend this listing to anyone looking for a cute house one block from the beach.
Kathryn
2016-01-27T00:00:00Z
Nice neighborhood. Very quiet. Beautiful beach.
N
2016-05-29T00:00:00Z
Very beautiful place in a silent area. Everything is well maintained and the house is very well equipped with everything that might be needed. Especially loved the big deck and the outdoor shower. Ruth is very responsive and takes very well care in case something is not up to 110% satisfaction of the guest. Would book again and absolutely recommend the place.
Nico
2015-12-01T00:00:00Z
This listing was a perfect place to spend an island vacation. Ruth provided a very detailed guide to the house and surrounding areas and was very responsive with any questions. The house was only a few minute walk to a beautiful and secluded beach. I would recommend this house and Providenciales in general to anyone not wanting to fight the crowds for a beautiful beach spot during their vacation.
Erin
2015-06-12T00:00:00Z
Ruth was very attentive to my needs and responded quickly to any questions. Leeward, where Artemis Retreat is located, is a quiet area away from the crowds in Provo, but only a 5 minute walk to the amazing beach. There are actually 3 bedrooms. The yellow bedroom is larger than the photo suggests and has a small work area in case you are on a working vacation. I would return again. It was delightful and more affordable than the tourist hotels.
Bill
2016-03-29T00:00:00Z
It was very positive. We liked it a lot. I really recommend the cottage. Ruth's description was very accurate and detailed. The place is wonderful. Many thanks Ruth for the hospitality. Added to that, we would like to thank Olga, property manager, for keeping checking on us.
Bassem
2015-12-19T00:00:00Z
Nous avons vraiment eu l impression d être chez nous. Tout était parfait, juste à côté de la plage. Nous reviendrons et encore merci aux Gordon de partager ce paradis
nadine
2015-09-26T00:00:00Z
La casa è' stupenda. Immersa in un giardino naturale, luminosa, fresca e silenziosa. A due minuti a piedi da una delle più belle spiagge di Provo e a 5 minuti di auto da tutto quello che può servire: supermarket, farmacia e negozi. La cucina è' perfettamente attrezzata ed anche il bagno con persino una seconda doccia sotto le stelle. Molti armadi. Una veranda spaziosa. Tutto pulitissimo. In casa c è' un libro fatto dai padroni di casa con tutte le indicazioni utili e molte riviste e piantine di Provo. La generale manager Olga è' super gentile e il servizio di pulizia su richiesta è' ottimo. La casa è' posizionata i una zona che rende facilmente accessibile qualsiasi parte dell' isola. Spero di poter tornare presto !
ursula
2015-08-03T00:00:00Z
Tipo de habitación
Casa/apto. entero
---
Tipo de propiedad
Cabaña
---
Capacidad
4
---
Dormitorios
Providenciales, Turks and Caicos Islands, Caicos Islands, Islas Turcas y Caicos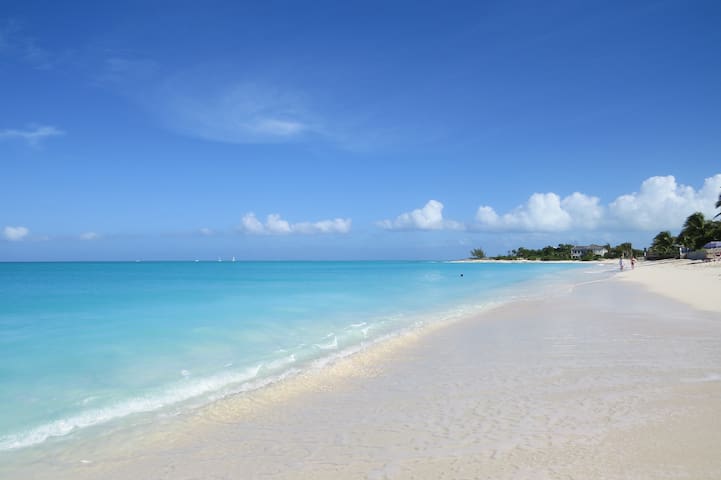 Our Cottage is Centrally Located on the Discovery Bay Intercoastal Waterway. We provide Complimentary Watersports Items such as Double Ocean Kayak, SUP's, Snorkel Gear, Beach Chairs, Coolers & more. Optional Jeep or SUV Rental, Seadoo or Boat Rental. Our Guest Directory provides driving directions to the Islands 7 Beaches & the best places to set up your beach chairs & the amenities in each location such as: Beach Bar for food/drinks, washroom, outdoor shower, resorts to visit, pool bars, reefs.
The Guest Cottage is a 400 sq/ft self-contained structure with a beautiful Caribbean Wood Beam Ceiling. We installed high-end Porcelain Tiles in 2008 & painted with Benjamin Moore's Waterbury Cream Designer Colour in an Eggshell Finish. The trim, bathroom door, ceiling, shelving and closet door are painted in Decorator's White semi-gloss finish. White Kitchen Cabinets, Custom Storage Shelves & Microwave Shelf between the Stove & Fridge. Gorgeous Black Granite Countertops with flecks of silver look really nice when the light is reflecting on them. Spacious 3 pce bathroom with matching tiles, Pottery Barn curtain, floor mats, cabinet with sink & mirror. There is a blow dryer with a cooling button & cleaning supplies underneath. There is a Glass Storage Unit over the back of the toilet containing TP, White Bath Towels, Hand Towels, Facecloths, Q-Tips, Make Up Quilted Cotton Rounds, Beach Towels. We provide Crabtree & Evelyn La Source Guest Soaps & Body Wash for our guests. In the Kitchen/Bathroom their are lots of extra's such as quilted make up pads, q-tips, a small tube of tooth paste in case you forgot yours, travel size scope, shampoo, conditioner, etc.
The homes were constructed by a Canadian Builder "Chris Wright". The development was known as Palm Breeze Villa's. They are all Waterfront Lots on the Discovery Bay Canal. Each home has a minimum of 50 feet or waterfront up to 200 feet of waterfront. Sweet Escape Villa is on a quiet cul de sac with 4 homes next to each other on the Canal. Our property has the largest lot and runs from Waterview St & Mahogany Close where the white retaining wall & gated entry is, all the way to the Dock on the Canal. The Villa is closest to the Canal and it's screened in porch faces the Dock. The Guest Cottage is 30 Feet behind the Villa and its screened in porch faces its own garden, palm trees, seating area & hammock opposite from the Villa. The lot is fully fenced with mature trees & flowering shrubs. Flowering shrubs line the fence & make it nice & private. The neighbor to the east is a Realtor and they have a Double Car Garage & Guest Cottage that you do not see. The neighbor to the west is Wayne & Caroline from TCKiteboarding. They live in the bungalow & rent out their guest cottage to kiteboarder's, travellers, & friends. There is NO ONE on the other side of the Canal so you have no one looking at you when you are at the dock. It is completely private. Also, there is no traffic on the canal as we are at the top end. Only our two neighbors go buy once a month when they get chance to go Fishing. Our guests have the waterfront all to themselves. When you go down the canal out to South Side Marina & Cooper Jack Bay Beach you will pass alot of canal homes with boats docked along the way. There is a inland lake called Turtle Tail. It is ocean so there is a 3 foot tide and a current as you get close to the lake. It is a nice quite neighbourhood. Most people are either retired or gone to work during the day. Turtle Creek Drive takes you up to the Leeward Highway which is 2 lanes east and 2 lanes west at 40 mph. Each intersection has a Round A Boat with a Link down to the Ocean Route. The First being Turtle Cove Marina, the 2nd being Pratts Road down to The Bight Childrens Park, Gansevoort Hotel, Coral Garden's Resort where Somewhere on the Beach Restaurant & the Princess Alexandra National Park Roped Off Reef System is. This & Smith's Reef at the mouth of Turtle Cover are the two best snorkel sites from the beach. The other is at Malcolm Beach. Other than those 3 area's you will need to book a 1/2 day excursion on a power catamaran or sail catamaran boat will take you to many amazing snorkel sites. This area is also a World Renowned Scuba Diving Destination. I am a Rescue Diver and can tell you that the TCI BARRIER REEF is in very healthy condition. On the North side of the Island you can see the waves breaking on the Reef. There are cuts in the Reef with channel markers so that big boats can go out or in through the cut without hitting the reef. On the inside of the reef the depths range from 6 to 50 feet. On the outside of the Reef their is a WALL which runs 1000's of feet deep. Scuba Diver's generally go to a maximum of 100 Feet unless they are a commercial diver with different equipment & education. There are several Dive Sights in Grace Bay. There are several Dive Sights at North West Point and West Caicos, South Caicos, Grand Turk, Salt Cay and south of Provo to French Cay. If you are interested in learning to dive you can sign up for what is called a Discover Scuba Course which costs approx $250 per person. There are several Scuba Companies on Island. They would have an instructor take you into a pool to teach you the basics. Then the next morning you would go on the dive boat with them to a real dive site. You would remain with your instructor and go in at a slower pace and go down to a maximum of 40 feet. Your instructor will ensure safety is #1, there is no rush, this is a great way for you to see if you want to invest in becoming a Certified Diver. Should you want to become a Certified Diver, you can start Online Courses at home before you get to Provo. You can even go into the Pool at home so that when you arrive in Provo you can book to due your 5 Open Water Dives with one of the local instructors and learn to dive in the ocean in some of the best conditions in the world. Meaning the water temperature ranges from 70 to 83. Thus, you only need a thin wet suit or shorty and in the summer you can dive without a wet suit if you want. I always where a wet suit because I am climatized now but when we used to come from Canada, we didn't need wet suits. They serve lunch in between dives. Their is a cooler with water & sodas. You can also bring a snack on the boat with you. There is another company called Snuba TCI which is fun for the whole family. I took my son when he was 8 years old and he was so adorable. You can walk in from the beach with a breathing device in your mouth, your mask on, a weight belt to help you sink gradually, your instructor will have all the tanks in a raft which follows you around the roped off reef system at Coral Gardens. You can go up to 30 feet at your own pace for 1 hour to 1 hour and a half. There are Kayak & Stand Up Paddle board eco tours at Big Blue Unlimited or you can do it on your own and leave from the Leeward Beach to the north of Blue Haven Marina, on the point you can see Little Water Cay and paddle board acroos the Leeward Cut to Little Water Cay to Iguana Island. Take a guided tour on the board walk. Then continue to the Mangroves on the south side of Little Water Cay thru to Half Moon Bay. Pack a cooler and have a picnic, bring a frisbee & enjoy an amazing day. Do not forget your sunscreen. I recommend a 50 spf to a 70 spf and a hat when you are on the water all day. You will still get a very nice tan and it will save you from burning or sunstroke. If you have any hobbies and want to know where to do that here, just ask.
Sweet escape is a charming little villa that is perfect for two people to have a quiet, private holiday. It was clean and in a great location. I do recommend a car for your stay. Katherine went out of her way to ensure a fantastic stay. I rented her Jeep as well and it was the quintessential island car that safely got me around the island.
Ash
2016-12-20T00:00:00Z
We had a wonderful 8 night stay at Katherine's Cottage. The location was minutes from many of the best beaches on the island. The cottage was charming and cozy, and supplied with everything you need to have a great stay. We appreciated all the extras such as the beach chairs, umbrella and cooler. The neighborhood is very quiet. Renting Katherine's jeep was a bonus. Communication with Katherine and her staff was exceptional. Highly recommended!
Brad
2017-03-07T00:00:00Z
Tipo de habitación
Casa/apto. entero
---
Tipo de propiedad
Cabaña
---
Capacidad
4
---
Dormitorios
Caicos Islands, Caicos Islands, Islas Turcas y Caicos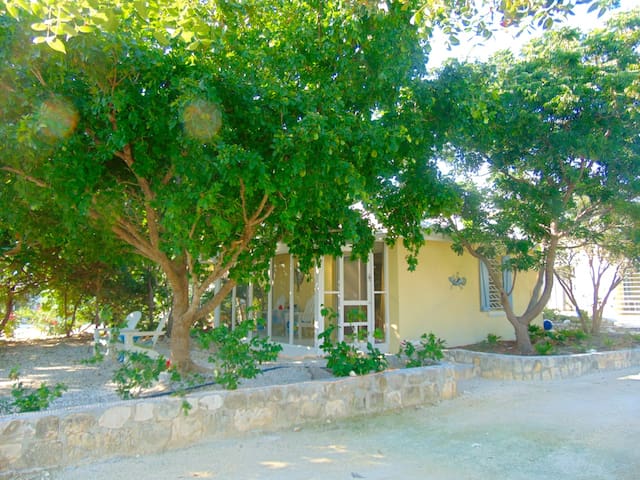 Ubicado en la cresta de la botella Creek, este paraíso amantes de la naturaleza ofrece la opción de permanecer en su propia cabina privada o el alquiler de toda la casa de campo para su auto, amigos y familiares. Kayaks, Paddleboards y alquiler de vehículos están fácilmente disponibles.
3 noches de estancia mínima
Scooter bobs is great for the adventurous traveler! North Caicos provides a wonderful area for discovery and meeting locals. If you are in search of unknown areas and the great outdoors with a break from the shopping and jersey shore-like aspect of Provo, this is the spot!
Laura
2015-01-27T00:00:00Z
We were picked up at airport by Yan and she gave us a car to go to grocery before we caught the ferry. She was awesome! The lodge is amazing and perfect for fishing. I would recommend getting groceries and alcohol before going to north Caicos. We will definitely be coming back.
Claire
2016-12-12T00:00:00Z
I stayed at the Fish Camp in Bottle Creek, hosted by Scooter Bob. This trip was the 75 year anniversary of my great grandfather's attempt to start a Utopia on East Caicos Island. I only had 6 days to investigate the history of my family on the Caicos Islands. The location and host were perfect for such an adventure! Before the trip Scooter Bob emailed me suggestions of people to speak with regarding access to East Caicos. When we arrived, we were met at the airport by Yan who made sure we had everything we needed before delivering us to the ferry (concierge and taxi service free of charge). Once on North Caicos, we drove to the Fish Camp where we settled in to the fish camp as our second home. The little bungalow was perfectly clean and had everything you need. We chose to cook breakfast, make our lunches and eat out for dinner. We watched the stars from the top deck of the big house and walked to kayak on Bottle Creek where bone fish ran from under our paddles. The fish camp allowed us to explore these amazing islands from the comfort of an island bungalow! The people, the accommodations and the scenery is second to none.
Melissa
2015-03-30T00:00:00Z
The cottage was very cute and on a beautiful hill with views of the sunrise over the creek and the sunset over the island. Temperature was comfortable and the location was halfway between north beaches and middle caicos caves. Very quiet, surprisingly good wifi. A car is necessary. Bob was generous with a ride to the ferry and a very easy car rental once on North. Outdoor shower and screened toilet separate from cottage but very clean and accessible. Watch out for the gnats that bite - no screen will keep them out since they are so tiny (I've heard baby oil may help...). Water is not potable, so be sure to stock up on your way in before stores close.
Amy
2015-04-03T00:00:00Z
We were not able to get in touch with Scooter Bob to get transportation from the airport to the ferry, then we missed the ferry, and could not use our phones. So unfortunately we never met him. However we figured it all out and I must say Scooter Bob's property is WELL worth it!! The walkway down to the water feels very private and it's perfect for a relaxing getaway. Bikes, kayaks, snorkeling gear. Not another house in sight. All i will say is definitely arrange for a rental car when you get off the ferry, and look on a map before you get there. I would absolutely love to stay at this property again!!
Lydia
2016-02-18T00:00:00Z
It was good experience.Yan picked me up at the airport and drove me to the (URL HIDDEN) take 30 minuts to get to North Caicos and cost me both ways 50$.It was easy to find my car and Bob's place. Accomodation is very simple but clean and charming,very close to water.Kitchen is good equipped.Shower behind the cabin.Toilet U need to share with hosts but it didn't bother me. If U need info Bob and Judy are for You and very helpful.
Dorota
2014-12-29T00:00:00Z
Had a great time! Bob's place is in a nice remote area, perfect for enjoying peace and tranquility. Bob was also very helpful in arranging transportation and a fishing trip for us.
nathan
2015-02-26T00:00:00Z
This place is a gem! Very accurate with the desciption & the pics on line. Perfect hide away. In touch with nature, quite, very clean. It is a smooth operation: Bob the owner, organizes the pick up at the airport, transportation to the ferry, can arrange car rental which is a must to discover that beautiful island. He is a wealth of information as far as local spots etc...
Frederic
2015-03-07T00:00:00Z
Tipo de habitación
Casa/apto. entero
---
Tipo de propiedad
Cabaña
---
Capacidad
2
---
Dormitorios
Bottle Creek, Caicos Islands, Islas Turcas y Caicos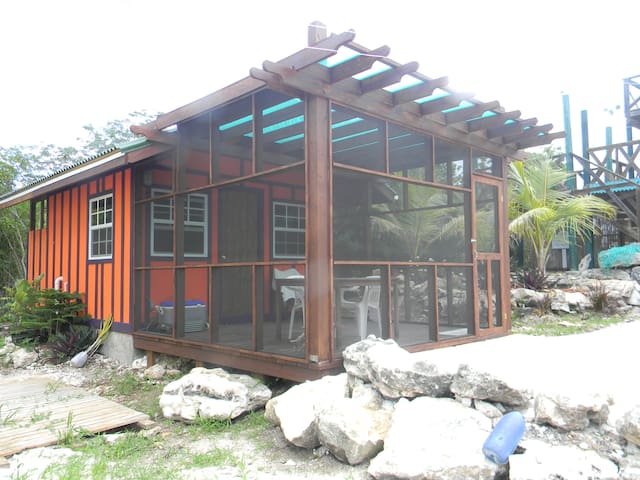 Ubicado en la cresta de la botella Creek, este paraíso amantes de la naturaleza ofrece la opción de permanecer en su propia cabina privada o el alquiler de toda la casa de campo para su auto, amigos y familiares. Kayaks, Paddleboards y alquiler de vehículos están disponibles bajo petición. Ven a disfrutar de la naturaleza en su máxima expresión!
$ 150 / noche en la casa principal (3-4 personas) 3 noches de estancia mínima
Nuestro vecino más cercano al WukaNuka está a una milla de distancia que hace WukaNuka privada ultra!
The only negative thing about the lodging facilities was that the mesh netting did not help with the no see ems (Sand fleas). Weather conditions (on and off rain) caused many of them to attack me and my other three companions. Other than that, locals were amazingly nice. Scooter Bob greeted us at the beginning of our stay and then we were left to ourselves. I highly would go back again, I'd just personally be more prepared for the bugs. (Olive oil, baby oil, and lots of tea tree oil) Having a view in the morning to greet the sunrise was worth all the bug bites. :) I felt like I was living in a tree house. :)
Mariana
2014-12-18T00:00:00Z
Felt welcome, beautiful environment, but definitely an eco lodge.
Hassan
2016-12-31T00:00:00Z
Scooter Bob and his son are super nice and generous hosts. Everybody knows Scooter Bob in North and Middle Caicos so you'll make friends everywhere you go. Check in was at their store in Provo at Turtle Cove, easy and breezy. You get the keys of the car (a must, $70 a day) that will be parked by the ferry dock in Middle Caicos and that's it. Scooter Bob upgraded us to the larger house and we had a great time during the three days we spent there. Nice cottage, well ventilated, functional, great view, a very good base to explore the islands. Mudjin Harbor is a must of course, you'll be overwhelmed.
Alex
2014-03-02T00:00:00Z
We absolutely loved our stay at Bob's. Very good jumping off point for beaches on North and Middle Caicos. If you like to cook your own meals, the place has most everything you need, although we'd recommend bringing your own knife for filleting. Don't worry about bringing baby oil - previous guests have left a supply that should cover everyone for the rest of the season and probably next :) A bonfire pit was icing on the cake. We had a fantastic time, and look forward to coming back soon!
Kascie
2017-03-09T00:00:00Z
Steve and I found the accommodations at the Bottle Creek Bungalow clean, comfortable and adequately appointed; a perfect fit for our get-away. The location is remote, yet an excellent springboard from which to explore and experience the beauty of North and Middle Caicos. The Bungalow has a large screen porch with a great view of Bottle Creek and spectacularssunrises. There is easy access to Bottle Creek and the free use of kayaks was a bonus. As noted in the description of the Bungalow, there is no AC, but the ceiling and floor fans along with the breeze through the screened areas kept us comfortably cool. Bob, Amos and Yen were great to work with; available to answer all our questions and took care of our every need. Upon our arrival, Yen even met us at the Provo airport, then drove us to the North ferry dock and was able to recommend/provide transportation while we were on North. Steve and I enjoyed our time at Wuka Nuka very much and would definitely stay at the Bungalow again. Enjoy! Debra
Debra
2017-01-12T00:00:00Z
Scooter Bob was a fantastic host! I cannot speak highly enough about him or our experience in North Caicos. We had everything we needed for a comfortable, enjoyable stay. Also, if you're looking to visit North Caicos, you should already know that the whole island is much more relaxed and laid-back than Provo. There's nothing really upscale to be found on North Caicos, but everything is comfortable and welcoming, which describes Scooter Bob's fishing camp perfectly. The location is also pretty great. There are no neighbors on either side for quite a ways, and the spot is at a good middle point, providing easy access to all the beaches up north as well as Middle Caicos. Again, I can't recommend Scooter Bob highly enough. Be sure to consider him when planning your relaxing stay in paradise!
Sean
2014-03-18T00:00:00Z
We stayed for 3 nights at Bob's house. It was just a great experience. Away from tourists and big resorts, his house will provide you with a relaxing and amazing experience. Renting a car is def a must do. So you can explore North and Middle Caicos Islands. The people are really friendly so is Bob. I would def come back in a heart beat. Thank you Bob!
F
2014-03-24T00:00:00Z
I had great couple nights staying in the cabin at Scooters. If you are looking for a true get away place thats tropical and relaxing, this is the place.
Seth
2014-03-10T00:00:00Z
Tipo de habitación
Casa/apto. entero
---
Tipo de propiedad
Cabaña
---
Capacidad
4
---
Dormitorios
Bottle Creek, Caicos Islands, Islas Turcas y Caicos
1

–

4

de

4 Alquileres de Cabañas
Introduce las fechas para ver el precio total. Ten en cuenta que se aplicarán tarifas adicionales y es posible que se añadan impuestos.