In the magical setting of Grottaferrata (Roman Castles), a few steps from Rome, is located this romantic cottage, a little piece of paradise surrounded by an hectar of green, between olive trees and suggestive cypresses. It is an intimate, special, welcoming place, where couples or families can spend unforgettable moments. The pretty cottage of 62 square meters is composed by two romantic bedrooms, a sunny kitchen, a welcoming living room, a private bathroom with bathtub. When you enter this cottage there's a comfortable living room with a big sofa and antique forniture, in front of this space there's a romantic bedroom decorated with blue floral patterns. To the left of living room there's a bathroom with bathtub and washing machine. Then, on the other side there's a big kitchen with dining table decorated in country style. Finally, to the right there's the second bedroom decoreted in orange color wih imagines of mountain and sea sunset. Outside the cottage there are more than 11.000 meters square of garden composed by a rocket garden in front of the house, a panoramic terrace, a principal garden with footbal field, a typical street in roman style which take to a delicious square, near it there's a vast expanse of park with fruit trees and an old woodshed and a little private church. A minute's walk from the location there are a Bar and a supermarket and two tipical and delicious italian restaurant. The position where is located this cottage is strategic for start you Rome's tour and visit Romans Castles towns. The breakfast is included and will be served into the cottage or in the surrounding garden. Outside the Cottage, outdoor furniture where you can relax while enjoying the wonderful view. The breakfast is included and will be served into the cottage or in the surrounding garden. Possibility for large groups to book also the other Cottage within the same property or to request availability for the other house even if the desired dates are not available. Services: - Free pick-up service from/to Frascati railway station - 5 minutes from Frascati railway station - 10 minutes from Metro Anagnina by bus  - Bus Stop for Metro Anagnina in front of the property  - 15 minutes from metro stop to the center of Rome - Breakfast served into the cottage  - Free parking inside the property  - Free wireless network  - 32 inch flat screen tv  - Air conditioning - Fan system into the rooms - Heating system  - Daily cleaning of the room  - Linens and towels  - Hairdryer  - Extra pick-up service from/to the airports and main train station  - Bed for small Children - Basketball hoop - Football goal Other nearby places: Castel Gandolfo and the lake of Albano, Frascati, Marino, Tivoli (Villa d'Este), Villa Adriana, Ostia antica and Ciampino airport (10 minutes).
We spend a week in Allesandro's lovely cottage and over the whole week it was an excellent stay. Everyday the cottage got cleaned and we were presented with fresh linen twice during our stay. Around the cottage is a very big garden with lots of spots for our daughter to explore. She also enjoyed the play equipment. Unfortunately the cottage is situated between 2 busy roads. From the cottage it took us about 1:15 hour to reach Termini station in Rome. To sum it up: A very clean and tidy cottage owned by a very friendly host. Recommended for visiting Rome and surrounding area.
Francis
2015-10-10T00:00:00Z
Absolutely amazing place to stay! The best choice for travelers with cars, because you have a parking place in front of the house door and its easy to get to Rome. Fantastic huge garden around the house. Alessandro and his family are very pleasant and helpful. Every day you can be sure that you will have something for breakfast and your apartment will be cleaned up.
Denis
2013-05-19T00:00:00Z
Spacious, clean and with beautiful garden. Alessandro was a great host with very good sense of humor. I recommend this place, especially if you´re travelling by car and your flight is to/from Ciampino.
Maarja
2015-10-13T00:00:00Z
If you want to base yourself outside of Rome, but wish to remain accessible, this is a brilliant place to be. There is a bus service from just outside the main gate to the nearest metro, but we had a car and drove a couple of kilometres to Frascati where we parked for the day for €5 & got a train to Rome for €2.40 return! The trains run reasonably late into the evening too and it made our day in Rome a breeze! Also a great location for visiting Villa D'Este in Tivoli (highly recommended!) which was our main reason for coming here. The cottage is charming with a really homely kitchen dining area and a great coffee machine - the only one I've used that makes coffee taste as good as from a barista! Alessandro was a helpful and friendly host and responded quickly to all my transport queries during our stay! I'd definitely base myself here if I wanted to head to Rome again.
Debbie
2016-10-09T00:00:00Z
The house was easy to find with good directions. It is in a good location for visiting Rome. Alssandro had a lot of tourist information in the cottage and was happy to pass on info. The property was clean and well presented, with all the basics and more. Would recommend it as a good base.
Brian
2016-10-03T00:00:00Z
Great place with lots of room. Great views and property
Michael
2017-02-19T00:00:00Z
Our visit was excellent. Alessandro was extremely helpful every step of the way. We feel he went above and beyond to make our stay enjoyable.
Andrew
2015-07-29T00:00:00Z
We stayed at Dolce Casseta for two weeks and thoroughly enjoyed it. We used it as our home base to explore Rome and the areas south and east of Rome. Our host, Alessandro, was charming and extremely helpful. He picked us up at the train station in Frascati, helped us rent a car and even made phone calls to help us find Italian family members. The house was very clean and ideal for two couples. The kitchen was well stocked. We really enjoyed the coffee machine. We sat outside and enjoyed the beautiful view and lovely garden area. Don't miss going to downtown Grottaferrarta. The restaurant closest to the house was wonderful. Thank you Alessandro for making our stay very special.
Lynn
2016-09-25T00:00:00Z
Tipo de habitación
Casa/apto. entero
---
Tipo de propiedad
Casa
---
Capacidad
4
---
Dormitorios
Grottaferrata, Lazio, Italia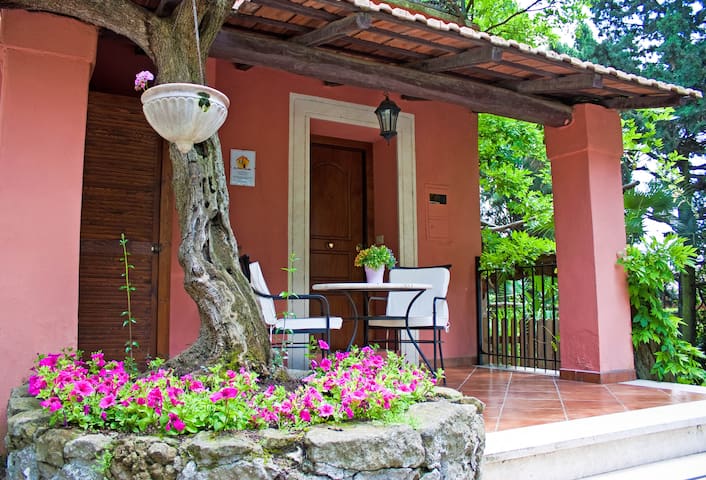 Una casetta in stile shabby immersa nella natura, nel cuore dei Castelli Romani. Nella casetta troverete 1 bagno con doccia, 1 letto matrimoniale, TV, Wifi, macchina del caffe con capsule, asciugacapelli, bollitore per thè ed infusi. Relax assicurato anche a bordo piscina. Siamo a 20 minuti dall'aeroporto di Ciampino, e a 15 minuti dalla stazione Metro Anagnina, a 5 minuti dalla stazione ferroviaria di Frascati e di Marino. Forniamo un servizio di navetta su richiesta.
A shabby dependance surrounded by nature, in the heart of Castelli Romani, with different cultural attractions nearby. In this little house you will find 1 double bed, 1 bathroom, TV, Wifi, and a little fridge. You can relax by the pool! We are 20 min from Ciampino airport, 10 min from Metro station Anagnina, 15 min from Frascati and Marino train station. We can make shuttle service on request.
Tipo de habitación
Casa/apto. entero
---
Tipo de propiedad
Apartamento anexo
---
Capacidad
2
---
Dormitorios
Grottaferrata, Lazio, Italia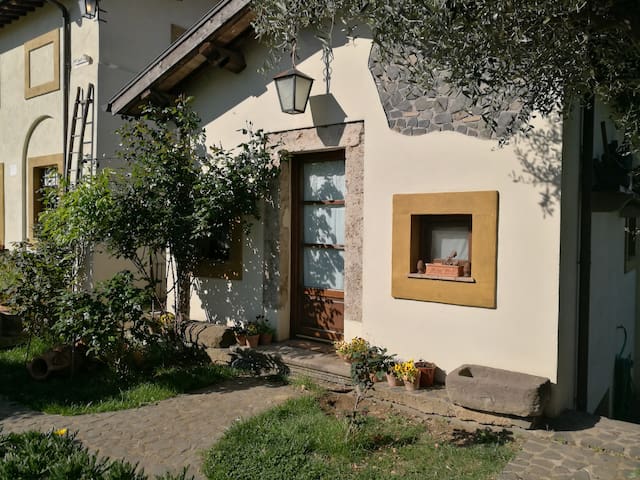 Charming cottage with private garden located in an exclusive area . The house consists of a beautiful dining room , table for 6 people , sofa bed , 1 bathrooms and bedroom with a double bed and barbecue.
The villa is very fresh but for the winter there is heating sistem
A few minutes drive takes you to Grottaferrata . If you like to walk, 10 minutes to get to Frascati which is a typical city of the Castelli Romani where you can find shops , bars , restaurants , parks and beautiful Historic villas of 1600 . The view of Rome by night and by day it's lovely.
they welcomed us very nicely and helped us so nicely for the apt, the Place is really really nice and Clean , and we got such nice welcome present and breakfast. Sooo nice.
erika
2015-08-17T00:00:00Z
We had the most beautiful stay in this typically Italian apartment. We felt very welcome from the moment we arrived and had tea, coffee and breakfast bits available after our late arrival. We were also given wine and olive oil which were made on the premises and really made us feel we were staying in real Italy. Our host Alicia was excellent! She was most welcoming and provided us with a helpful list of places to explore. We had a hire car which made exploring the local areas easy and the Frascatti train into Rome takes just 30 minutes. We couldn't recommend this place more!! Thank you xx
Claire
2016-07-28T00:00:00Z
Grottaferrata is a great place to stay (quiet and green neighbourhood) and ideally situated for visiting Rome (train). Nice appartment with everything you need. There is wifi but very slow...
Steph
2016-07-19T00:00:00Z
The place is situated in a peaceful area. It is perfect that it is right across the street from Villa Grazioli where events, like the wedding I was attending, are held. The place itself is in excellent condition and every care was taken to make it comfortable and cozy. Bring socks as all floors are stone. The hosts were very accommodating even though I arrived one hour later than planned at 9pm on a Saturday. It helps a cab driver to know it is just one drive down from the villa. It was wonderful that there was some basic food provided! The villa actually also has a restaurant with limited hours. The caretaker was very nice and helpful in showing me the pool and laundry. As other reviews have said, this is an aparment in a complex. It is nice, but is just that. The picture shows the entrance which is in the parking area really. There are no vistas from the place. And the place has windows and the front door only out to that parking area. So there are no windows in bathroom and bedroom upstairs making the place a bit stuffy. Privacy is also limited. You must have the curtains closed which then also limits air. There are neighbors above with kids and the noise was pretty loud. Not at night but not condusive to peaceful lounging during the day. Same with side neighbors and there is a wine making shop that shares a wall with the place. So more day noise but nice sweet smells of wine. I thought it was nice having wine for a neighbor. All these small cons are only an issue if these things are particular issues for you. The location makes up for any drawbacks. The pool area was absolutely delightful so I spent great time there. The water was warm and felt perfect. There is no hot tub. There is covered seating for sun or rain. Overall it was worth the stay. Gratzie mille to the hosts!
Natalie
2016-10-04T00:00:00Z
Characteristic appartement in quiet location. We loved our stay and were helped well by Alisia who went out of her way to bring us a much needed fan and who provided us with some basics and even with a home-brew bottle of wine. The swimming pool was a dusillusion though as it was very crowded as it we did not only have to share it with the other guests staying in the building as expected, but also with the many, mainly loud guests that were staying in the hotel opposite our appartement.
Esther
2016-08-12T00:00:00Z
Excellent stay in a very well maintained apartment. Great welcome present. Would certainly use again.
Declan
2016-06-04T00:00:00Z
Perfect surroundings and a very warm welcome. We loved to come back. Thanks.
hans-peter
2016-06-27T00:00:00Z
This lovely appartment is very beautifull and fully renovated. It has a new kitchen and bathroom all in style and with much character.We stayed with our two kids and is was very comfortable. Good wifi and HD tv with a lot of channels. The swimming pool is large and has lots of sunbathing beds. Towels are provided and drinks available. The welcome was very nice and warm, with lovely people running the place. There was even some groceries and drinks provided in the fridge! Frascati and Grottaferrata are within minutes with lots of Italian character, Piazza's, restaurants, while Rome is just 20 min by car, or take the direct train to termini station. In all, very nice place, good location for Rome but also very nice to just explore Castelli Romani!
Diederik
2015-09-12T00:00:00Z
Tipo de habitación
Casa/apto. entero
---
Tipo de propiedad
Casa
---
Capacidad
4
---
Dormitorios
Grottaferrata, Lazio, Italia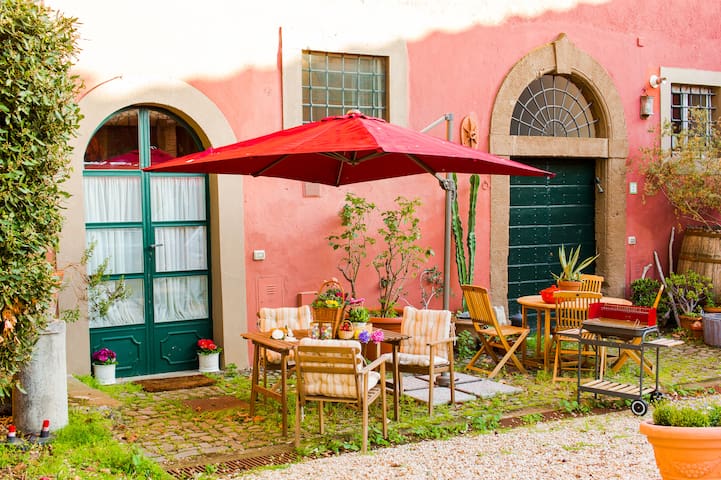 In villa situated in a quiet residential area, just minutes from the center of Grottaferrata, within walking distance. Frascati train station at 5-minute drive with hourly connections to the center of Rome (Termini Station). Rome's Ciampino airport at 20 minute drive. Will always welcome you with respect and enthusiasm, the atmosphere will be still friendly and familiar, the garden and the views of the Roman Castles will fill your eyes. My accommodation is suitable for couples.
Tranquility, scenery and hospitality will cheer your stay in the house. You will visit important and interesting historical sites such as the Abbey of San Nilo, enjoy typical local cuisine, taste the best wines of Frascati.
Tipo de habitación
Habitación privada
---
Tipo de propiedad
Casa
---
Capacidad
2
---
Dormitorios
Grottaferrata, Lazio, Italia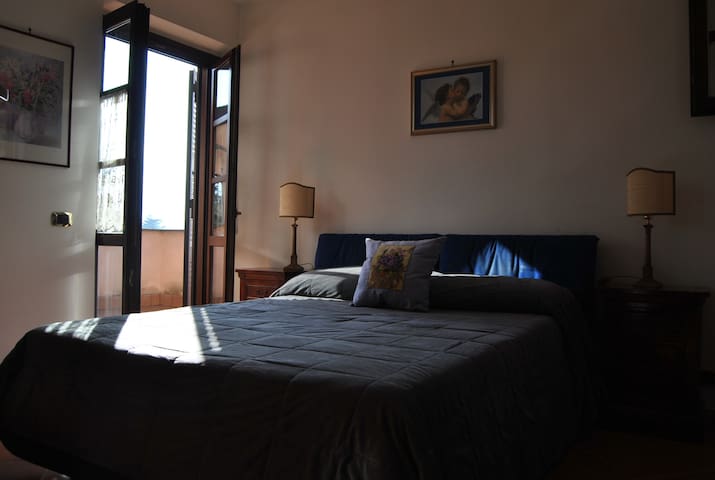 My apartment overlook a luxuriant private park where you will be able to relax among geraniums, magnolias, rose bushes and lemon trees. Seated comfortably in these surroundings, you will truly enjoy the scents and aromas of our land. I'm sure it will give you the peace and tranquillity you deserve. I look forward to seeing you! Apartment of 45 square metres consisting of one bedroom and a living room with kitchen corner and sofa bed.
Tipo de habitación
Casa/apto. entero
---
Tipo de propiedad
Apartamento
---
Capacidad
2
---
Dormitorios
Grottaferrata, Lazio, Italia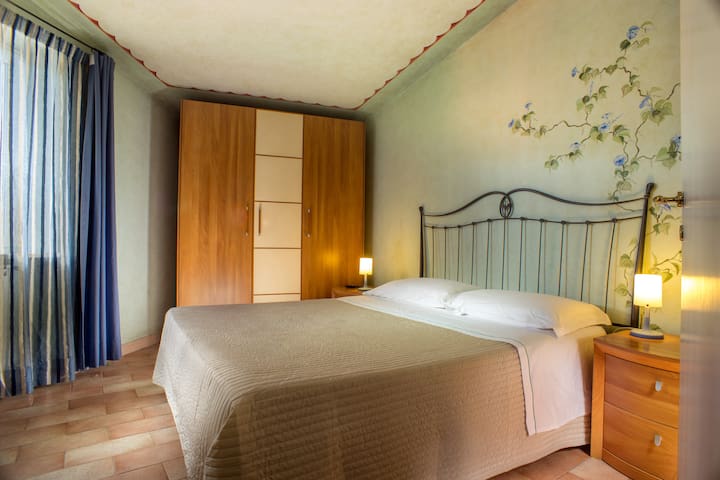 Situato nel comune di Grottaferrata, a pochi km di distanza dal centro di Roma e dai principali servizi, per godere della tranquillità e del verde dei Castelli Romani, senza dover rinunciare ai vantaggi di essere a due passi dalla capitale. Il mio alloggio è adatto a coppie, avventurieri solitari, chi viaggia per lavoro, famiglie (con bambini) e amici pelosi (animali domestici).
Tipo de habitación
Habitación privada
---
Tipo de propiedad
Apartamento
---
Capacidad
4
---
Dormitorios
Grottaferrata, Lazio, Italia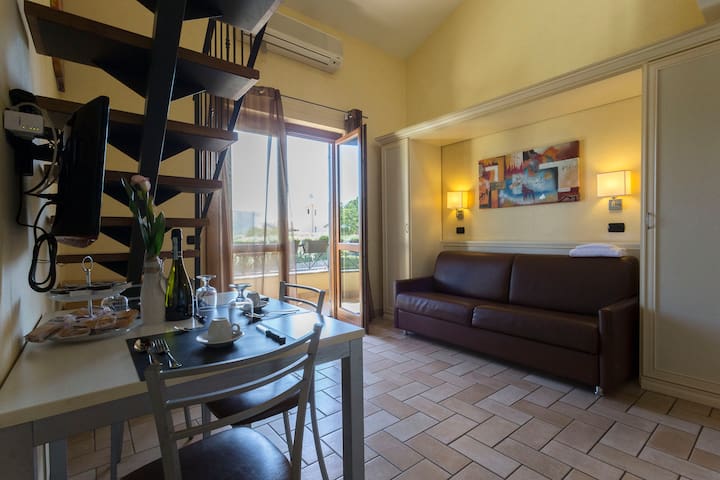 Nestled in the castles Romani Park on the slopes of Monte Tusculum a few steps from the center of Frascati and 10 km from the underground terminus of Rome ideal for those on business or holiday wishes to visit the "Citta 'Eterna" and enjoy the tranquility' of countryside and escape the great summer heat. I forgot, if you come with your car you will not have to think about finding parking.
The apartment is surrounded by the Archaeological Park of the Castelli Romani, (where you can find trails for mountain biking and horseback riding and the remains of the ancient city of Tusculum). We are located at 500 m above sea level is ideal for those who want a relaxing holiday while visiting Rome. There is a garden and free private parking spaces (ideal for those coming to Rome by private car or want to rent) We are in the town of Grottaferrata, 15 km from the Coliseum. At 20 meters there is a bus stop 10 km to the terminus of the Rome Metro A (Anagnina) in Rome, and 7 km from Frascati train station, 10 km Highway "sun" exit Monte Porzio Catone. Shuttle service from and to Frascati station on request for a fee
I had such a great experience staying here! The house is outside of Rome, but the metro and train system make it easy to get there. Gionatan's son picked us up at the train station and drove us to the house. The room was so clean and nice. Gionatan drove us to the train station both mornings, so we could go to Rome, which was so nice of him because we would have been so lost without him. We really appreciated all they did for us, but we barely knew Italian so we couldn't express how grateful and wonderful our experience was! They were very nice people and we would stay with them again if we are fortunately enough to come back to Rome!
Austin
2011-11-01T00:00:00Z
Giovanni and his wife (Gionatan's parents) and their guests - adjacent long term renters, were wonderful hosts. Coordial to pick us up at the train and bus stations (even when we took the wrong bus) and drive us to the train station on the morning of departure. English is not spoken very much, but the warmth and hospitality of the Italian people is well represented in their home. Room was clean and very comfortable.
Terresa
2011-10-29T00:00:00Z
What an amazing place to stay! Gionatan and his family were incredibly gracious (they even invited us to a couple of meals!) and the room is BEAUTIFUL... it's so nice to return from a visit to Rome to such a relaxing place. And when Giovanni found out I was a pastry chef he made some phone calls and brought me to a local bakery to watch them make bread. We couldn't have asked for a better experience. Thank you all so much!!
Alyssa
2011-10-09T00:00:00Z
The host is very kind and tries his outmost to help with information for sightseeing and activities. House is spacy and well equipment and is good value for the money. Communication was good all the way through. Onliest backside is the distance to Rome, which takes some time to drive. Ideal location if one also wants to go south 1 day for a trip to Pomopeji f.ex. Steffen
Steffen
2012-04-19T00:00:00Z
we had beautiful and pleasant stay, i recommend to anybody who wants have great time in rome.
boris
2011-09-29T00:00:00Z
The Falcomata family provided a great welcome to their two-bed (each with a bathroom) apartment where we shared the kitchen with another couple for the week. The location was a little tricky to find when we arrived by car in the dark, but Tamara (G's sister) was able to understand our phone call and we were quickly rescued! It was a great base from which to visit Rome (mostly via the train from Frascati), and we also enjoyed the beautiful local hills and historical sites. Very clean accommodation with all sorts of generous welcome gifts provided. Highly recommended.
Sarah
2012-04-12T00:00:00Z
Persone molto gentili ed accoglienti. Appartamento molto pulito e ben attrezzato
Fabio
2016-10-05T00:00:00Z
This place is absolutly nice to stay one night or more ! It's really quiet ans the appartement is very well equiped ! Our host were the perfection of kindness, always available to help us for everything, giving us informations about Roma and asking us if everything alright or if we need anything. If you want a very calm place with a safe parking for your car and meeting adorable people, this place is for you ! We really recommend this place !
Ena
2016-10-07T00:00:00Z
Tipo de habitación
Habitación privada
---
Tipo de propiedad
Villa
---
Capacidad
2
---
Dormitorios
Grottaferrata, Lazio, Italia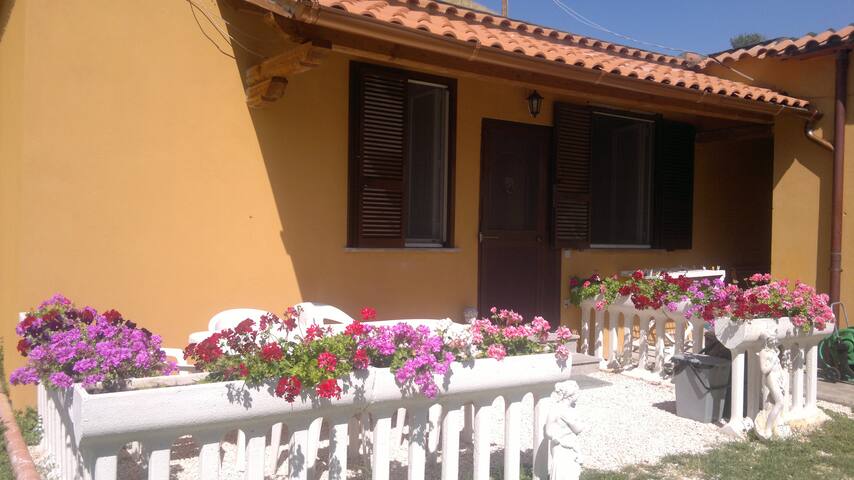 Il mio alloggio è a 700 metri dal centro storico di Grottaferrata E' a 500 metri dalla fermata dell'autobus E' a 12 km. dalla prima fermata della metro A "Anagnina". Ti piacerà il mio alloggio per questi motivi: il quartiere, la luce, la tranquillità, gli spazi esterni e la comodità del letto. Il mio alloggio è adatto a coppie, avventurieri solitari e famiglie (con bambini).
Tipo de habitación
Habitación privada
---
Tipo de propiedad
Villa
---
Capacidad
6
---
Dormitorios
Grottaferrata, Lazio, Italia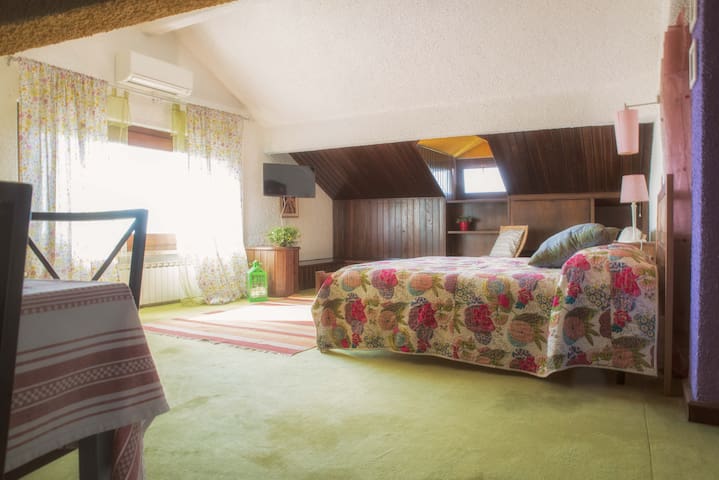 Il nostro spazio, pur essendo a tre minuti di strada dal centro di Grottaferrata, è immerso nel verde con una vista completa su Roma. La nostra dimora, pur essendo spaziosa, ha due camere da letto complete di ogni comfort, eleganti e autonome.
La dimora è affascinante perché si trova in una posizione privilegiata: potrai godere della vista panoramica su Roma e dei suoi tramonti, nel nostro giardino potrai trascorrere momenti di relax e di tranquillità ed essendo molto vicina al centro di Grottaferrata, ti piacerà andare a fare una una bella passeggiata visitando i negozi locali o fermandoti a mangiare in un tipico ristorante dei Castelli Romani. La suite " Cezanne " è una camera molto bella che accede ad un ampio terrazzo coperto dal quale potrete godere di un'ottima vista. Basata sul bianco, verde salvia e avorio e il colore caldo del legno a pavimento. Il letto è matrimoniale. L'elegante bagno privato è corredato dalla doccia.
Grottaferrata, definita " città-giardino " per la bellezza dei suoi luoghi, è la zona residenziale dei Castelli Romani. Situata a breve distanza dalla capitale, è una località tranquilla, dove potrai apprezzare l'arte, la cultura, la buona cucina e fare lunghe passeggiate nel verde.
Tipo de habitación
Habitación privada
---
Tipo de propiedad
Bed & Breakfast
---
Capacidad
2
---
Dormitorios
Grottaferrata, Lazio, Italia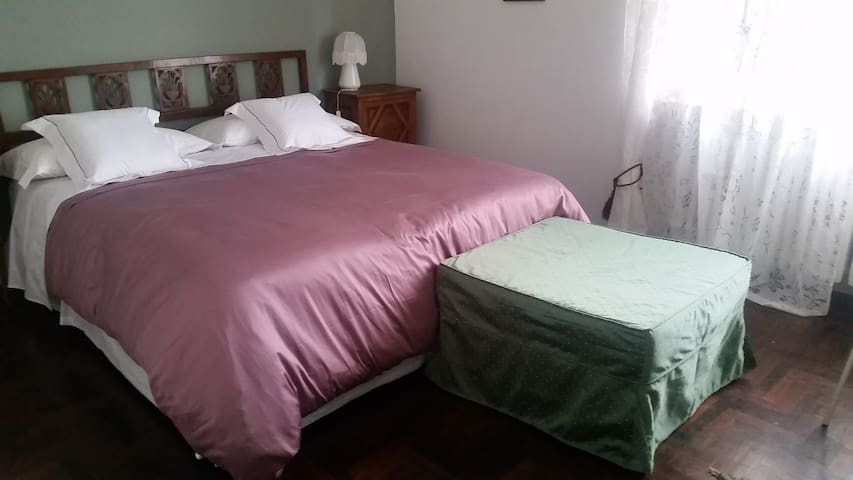 Il casale di campagna è situato nel Comune di Grottaferrata in prossimità del Parco Regionale dei Castelli Romani e a soli 25 km dal centro di Roma. Immerso tra vigneti e uliveti fa parte di un'antica azienda agricola risalente all'epoca romana.
la casa dispone di un cortile e di un giardino con prato e alberi da frutto dove è possibile utilizzare il barbecue, in entrambi i luoghi potrete trovare tavoli spaziosi e comode panche.
La zona dei castelli romani è nota per le innumerevoli opportunità di svaghi. Si possono fare meravigliose escursioni naturalistiche nei boschi o nei laghi del Parco con entusiasmanti passeggiate a piedi, in bici o a cavallo. Le bellezze artistiche e architettoniche dei Paesi circostanti insieme al celeberrimo patrimonio di tradizioni enogastronomiche fanno di questo luogo una meta imperdibile!
Tipo de habitación
Casa/apto. entero
---
Tipo de propiedad
Casa
---
Capacidad
7
---
Dormitorios
Grottaferrata, Lazio, Italia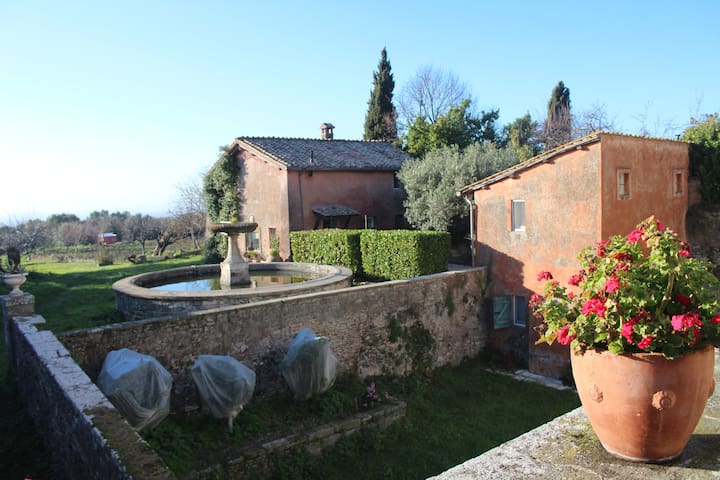 In un Palazzo signorile del 1700, in Centro Storico di Grottaferrata, una dependance mansardata al piano superiore, composta di camera da letto, bagno autonomo e stanza armadio adiacente. L'appartamento complessivo è di 120 mq., abitato solo da me.
Il fascino dei palazzi d'Epoca, con i muri grossi e protettivi , arredato personalmente, per una accoglienza calda e confortevole.
Io abito nel Centro Storico di Grottaferrata. I Castelli Romani, e in particolare Grottaferrata, sono rinomati per i ristoranti. Qui si mangia benissimo, sopratutto cucina tradizionale romana. Inoltre il paesaggio è Unico. A due passi da Roma si può respirare aria pulita e godere di splendidi panorami.
Paola è una persona che ti fa subito sentire a casa, accogliendoti come uno di famiglia; il tutto è coadiuvato dalla sua tenera e affettuosissima compagna di avventure, la cagnolina Violetta: il suo nasetto verrà subito a cercare un bacio, una strofinatina, una carezza, per l'appunto come se foste uno di casa, magari semplicemente tornato da un lungo viaggio. La casa è accogliente, la posizioni invidiabile, al centro della nota Grottaferrata. L'affaccio fellow stabile è multiplo: sulla via principale e su un verdeggiante parco locale. Consigliate, casa e inquiline.
Stefano
2016-05-24T00:00:00Z
Paola mi ha subito dato consigli e indicazioni per raggiungere facilmente la sua casa. Una volta li mi ha accolta informandomi delle bellezze da vedere. L'appartamento è elegante e posizionato lungo la strada principale del paese. Mi sono trovata bene!
Amanda
2016-05-10T00:00:00Z
Siete a Grottaferrata e volete sentirvi coccolati e come a casa? Allora andate da Paola, vi consiglierà sui posti da visitare e dove mangiare qualcosa di tipico e particolare. La casa in pieno centro è arredata con gusto ed è accogliente, e la sua cagnolina, Viola vi farà sentire della famiglia. Consigliatissima!!! :-)
Sarah
2016-07-15T00:00:00Z
Ci siamo trovati benissimo Paola molto gentile e ottima padrona di casa , ci ha fatto sentire subito a nostro agio. Una nota anche alla dolce cagnolina Viola che come Paola ci ha accolti subito come componenti della famiglia. Sicuramente super raccomandato non ci torneremo sicuramente.
luisa
2016-08-31T00:00:00Z
Paola & Violet grazie per la tua ospitalità! Paola went above and beyond as my Airbnb host - she was very accommodating when I arrived late after missing my train, her home is decorated with her treasures and inspiration from around the world. I had a space of my own on the second story with a very comfortable bedroom and bathroom to myself. The coffee she prepared every morning was divine, she shared with me how to cook her special carbonara recipe while listening to music and drinking local sparkling wine. It was a stay in Italy I will never forget!
Alexandra
2016-09-06T00:00:00Z
Tipo de habitación
Habitación privada
---
Tipo de propiedad
Apartamento
---
Capacidad
1
---
Dormitorios
Grottaferrata, Lazio, Italia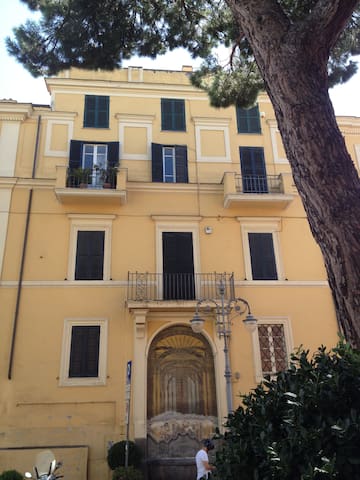 You will be haunted by the beauty of the place, the kindness of the owners, the suggestive atmosphere, the flowers and trees, and the singing birds in the morning!! You will feel home, relaxing by the swimming pool, reading and enjoying a sweet breeze and its sound rustling through the trees. At night the place is quiet, and especially when there's a full moon, its light will fill your hearth. That's the perfect time to chat while tasting a good italian wine and delicious italian food!
Villa Isabella has surrounded by the nature. It has an ideal temperature even in the summer time, during the night the air and the room are fresh, perfect for dreaming and rest well. This room as a sharing bathroom In this oasis there is no a cellphone coverage or it's weak.
Villa Isabella is nestled on the slopes of Tuscolo's mountain. It blends with Roman archeological site. Follow your daily mood you can choose to be surrounded by nature, enjoy walking horses or excursion; or to be surrounded by the beauty of Eternal City, Rome!You can reach it by car (40') or in twenty minute by train, from frascati to Rome, the train gets you in the heart of the city, the central station is close to Colosseo, Fori Imperiali, Rione Monti, Altare della Patria...And the station is connected by ounderground and buses to the rest of the city, as Vatican Museum, San Peter...
La villa è molto bella, curata nei particolari e ben arredata; immersa nel verde e con una piscina pulita. Abbiamo passato un weekend rilassante apprezzando anche la cucina della casa.
Chiara
2016-08-21T00:00:00Z
Tipo de habitación
Habitación privada
---
Tipo de propiedad
Villa
---
Capacidad
3
---
Dormitorios
Grottaferrata, Lazio, Italia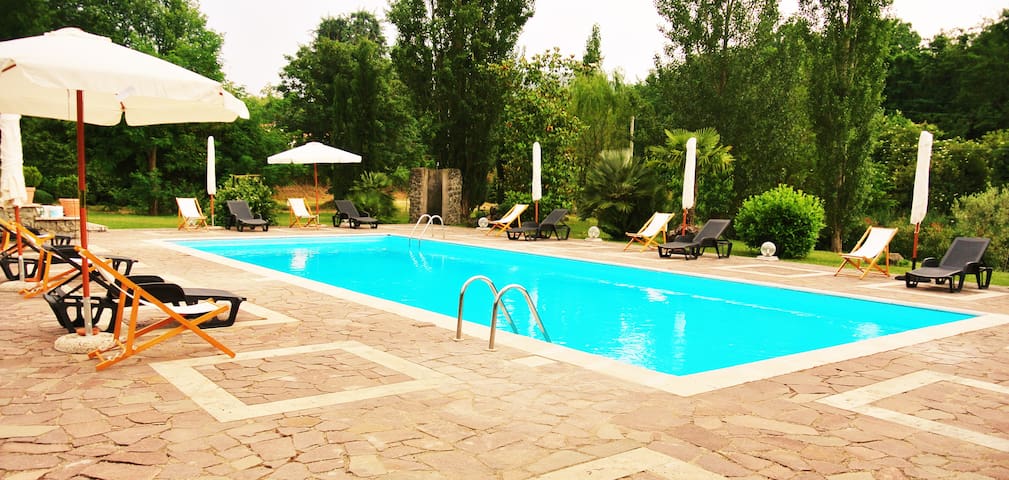 Stanza ad uso esclusivo in villa panoramica con vista su Roma,dotata di ogni comfort con possibilità di utilizzo di spazi comuni,grande giardino,zona esclusiva di Grottaferrata tranquilla adatta a lunghe passeggiate,negozi e luoghi di interesse raggiungibili a piedi,a dieci minuti di macchina da Roma
Tipo de habitación
Habitación privada
---
Tipo de propiedad
Villa
---
Capacidad
2
---
Dormitorios
Grottaferrata, Lazio, Italia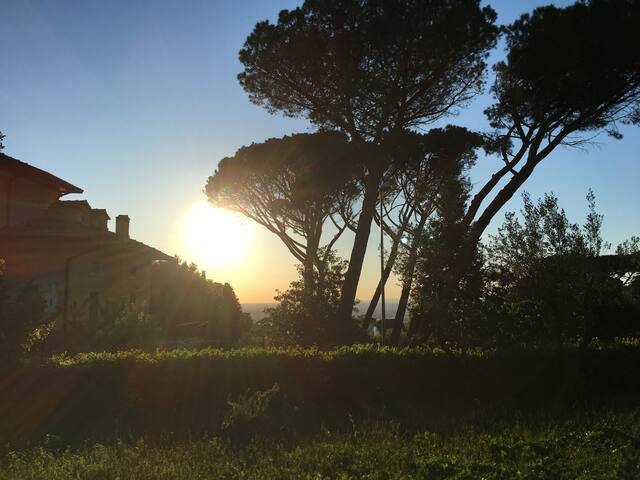 Un bed&breakfast da sogno, immerso in un bellissimo giardino, dove verrete accolti in un clima familiare con prodotti genuini coltivati direttamente da noi; ogni stanza è arredata con gusto e fornita di tutti comfort; a 5km dal capolinea della metroA
Tipo de habitación
Habitación privada
---
Tipo de propiedad
Bed & Breakfast
---
Capacidad
2
---
Dormitorios
Grottaferrata, Lazio, Italia
Very nice studio, between Frascati and Grottaferrata in the heart of the Roman Castles, perfect for a couple looking for privacy or a family visiting Rome, comfortable for two guests and also adaptable for four.
Delightful stay independent study and quiet, comfortable for two proper device for four guests. Furnished with two comfortable sofas ready bed for one and a half. It has a bathroom with a fantastic large shower and chromotherapy, a fully equipped kitchen with stainless steel sink, induction hob, fridge-freezer, microwave, toaster, kettle and the Nespresso coffee machine over all the dishes necessary for four guests. Definitely multifunctional with Wi-Fi, LED TV 40 "4K 3D BLURAY DVD player. It also has a mini air conditioner.
The area is one of the most picturesque and enchanting that can be found in the vicinity of the capital city perfect for a couple looking for privacy or a family visiting Rome. The villa is situated in the heart of the Castelli Romani area between Frascati and Grottaferrata, 500 meters above sea level. Nearby within walking distance you will find all kinds of local restaurants, cocktail bars, cafes, pubs, pizzerias, ice cream shops, pharmacies, supermarkets and typical small restaurants, multiplex cinemas and all means of transport needed to reach Rome and other tourist resorts.
Visited Grottaferrata for a wedding. Very nice stay and nice room. We appreciated the privacy as the studio flat has its own entrance. Kids enjoyed amazing walk in shower. Definitely would recommend for a short break.
Marek
2016-06-08T00:00:00Z
Petit studio au calme et au frais.
Lionel
2016-07-31T00:00:00Z
Tipo de habitación
Casa/apto. entero
---
Tipo de propiedad
Apartamento
---
Capacidad
2
---
Dormitorios
Grottaferrata, Lazio, Italia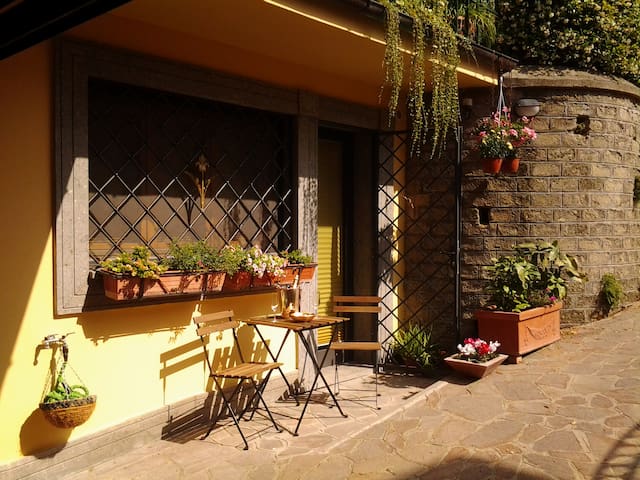 Our apartment is in a great area called Castelli Romani, the famous hills around Rome. The apartment is located in the center of Grottaferrata. Lovely place with enough space. The apartment has been recently renewed, 3 large bedrooms, 2 bathrooms, balcony, a large living room and equipped kitchen. I would love to welcome couples, families or business people. Not suitable for big groups or party people!
Tipo de habitación
Casa/apto. entero
---
Tipo de propiedad
Apartamento
---
Capacidad
6
---
Dormitorios
Grottaferrata, Lazio, Italia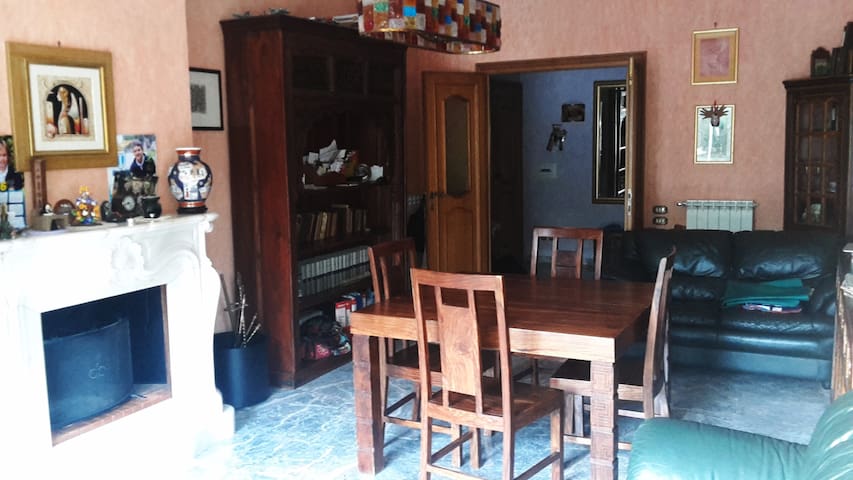 Suite Imperiale all'interno di una villa del 1890 sita in un contesto signorile e riservato, parco privato e alberi secolari. La Suite è composta da ingresso con cabina armadio, camera matrimoniale con letto matrimoniale, divano, tv e bagno privato.
Tipo de habitación
Habitación privada
---
Tipo de propiedad
Villa
---
Capacidad
2
---
Dormitorios
Grottaferrata, Roma, Italia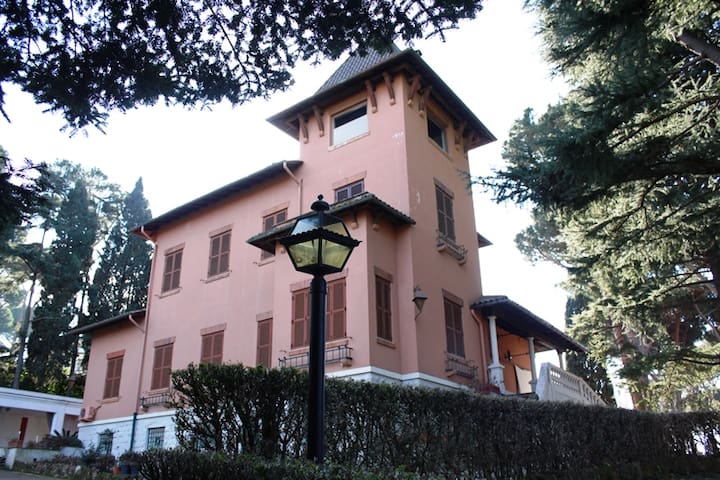 Lo splendido B&B si trova in una delle più belle posizioni dei Castelli Romani,vicino Villa Aldobrandini,nel verde a solo 5 minuti a piedi dal centro di Frascati. Offre 4 camere spaziose, con tv e bagni privati, cucina, giardino, parcheggio gratis
Quattro camere spettacolari in una splendida villa immersa nel verde ,in zona prestigiosa a 5 minuti dalla stazione dei treni direttamente collegata con la stazione termini di Roma e adiacente le famose ville tuscolane e a tutti i principali servizi. L'immediata vicinanza alla stazione dei treni , ai principali servizi comuni (bar,poste,banche,servizi pubblici, ristoranti,supermercati, ecc) e nel contempo la tranquillità del verde del giardino che circonda il B&B Princess ne fanno un posto davvero unico ed incantevole.
Tranquillità, privacy e vicinanza a tutti i principali servizi. Nella struttura è possibile trovare le principali guide turistiche dei Castelli Romani, delle Ville Tuscolane, dei musei e degli eventi del periodo, tutto gratuito.
Nice lady and her husband , good living and interesting place
Enjie
2015-06-02T00:00:00Z
I am very happy about this Airbnb experience. Tiziana stayed in touch which made check in super convenient. A very good location, close to the center of Frascati. The room was very tastefully decorated, in fact a lot better than in the pictures! They also have a very nice relaxing patio. The breakfast was really good as well: fruit, coffee, tea, yoghurt, juice and fresh pastries. I highly recommend. I thank the very kind hosts(URL HIDDEN)recommend this place
osvaldo
2015-09-25T00:00:00Z
Tipo de habitación
Habitación privada
---
Tipo de propiedad
Bed & Breakfast
---
Capacidad
2
---
Dormitorios
Grottaferrata, Lazio, Italia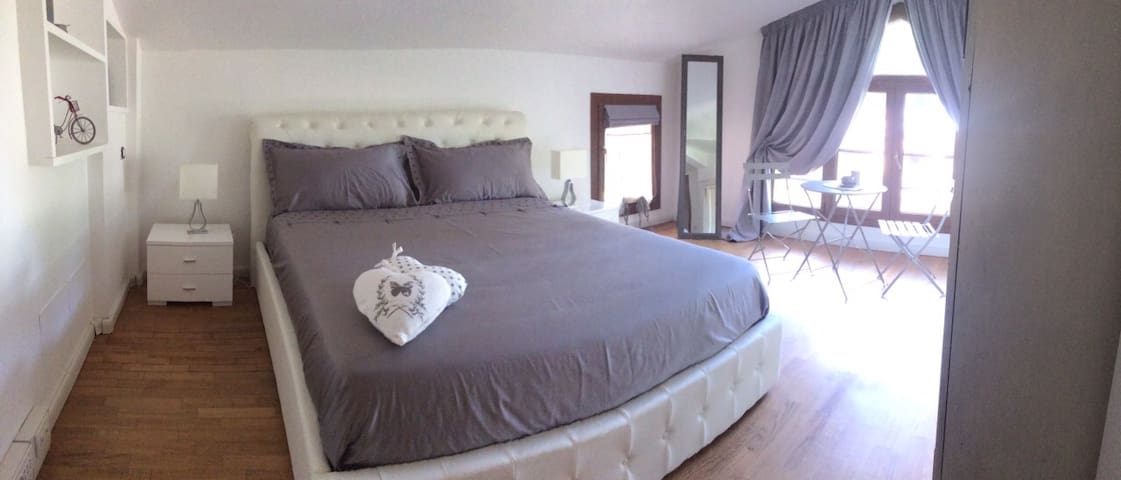 Grottaferrata - Airbnb
:
Una media de

4.22

estrellas de un total de

5

de

71

evaluaciones de huéspedes
1

–

18

de

Más de 300 alquileres
Introduce las fechas para ver el precio total. Ten en cuenta que se aplicarán tarifas adicionales y es posible que se añadan impuestos.