Introduce la fecha de llegada en el formato dd/mm/aaaa
Introduce la fecha de salida en el formato dd/mm/aaaa
Anuncios que no requieren que el anfitrión acepte la solicitud.
8 Alquileres de Villas
· Hakalau
8 Alquileres de Villas
· Hakalau
Introduce las fechas para ver el precio total. Ten en cuenta que se aplicarán tarifas adicionales y es posible que se añadan impuestos.
En julio y agosto, podrás disfrutar de 100 de los alojamientos con las mejores valoraciones de Sonoma a precios muy diferentes y disfrutar de la cara más auténtica de la ciudad. Relájate y disfruta de tu estancia sabiendo que puedes hacer una reserva inmediata, llegar a cualquier hora y disfrutar del vino de la zona y de otros tentempiés.
Aloha! Enjoy the beautiful greenery, take in the sweeping views of Hilo Bay or wake up to the sunrise over the ocean by staying at this in-law casita (near the main house.) Natural surroundings and the slight breeze makes this a relaxing getaway.
*The space is about 400ft with a small bathroom with shower. * Shared ocean view porch * There is a home next to the studio, but three sides of the studio are surrounded by acreage. This space is in a quiet location with queen size bed, couch, dining table, hot plate, and microwave, refrigerator, and coffee maker. Please note- the studio does not have a full kitchen. There are several other homes on the property with 7 acres of grassland surrounding. Horses and cows nearby, but not in yard. Guests will have a close parking spot near their studio. The studio is equipped with a microwave, hot plate, coffee maker, dishes, and a small refrigerator. There is not a kitchen sink- just the bathroom sink. Guests are welcome to sit on porch near the studio, enjoy the view, or walk the road in the neighborhood. Amy is the caretaker on property contacted for check ins. We intend for you to have an enjoyable stay so please feel free to ask for recommendations/questions/concerns you may have during reasonable hours. Amy is a member of Girls Love Travel and encourages other GLT members to book with us! Amy is also available for professional massage upon request.
This casita is off of the main house. Green hills, farms, and horses all around. We are located 10 minutes to Hilo, 10 minutes to the nearest beach (Honolii Beach Park), and 50 minutes to the Volcano National Park. No public transit, you will need a rental car. There is a kitchenette type area with hot plate, small refrigerator, microwave, and coffee maker although( there is not a kitchen sink). -We now have a Roku unit with flatscreen TV where you can watch Netflix, Amazon Prime, Youtube etc. The studio accommodates up to four if using fold out couch. Please let us know before arrival if you would like it set up. The studio is private- it doesn't share any walls with other buildings and has curtains-yet it is near the main house on the property.
The host was very responsive and reachable at all times. She made sure we had all the information we needed to get ourselves settled down. The property is a bit off road from the main highway, and its recommended that you get there before dark - since the dirt roads that you have to take up the hill are pretty dark and there are no visible signs in the darkness to help you with navigation. Other than this, rest of the stay was pretty good. In the end, it is a basic accommodation close to the waterfalls and other places of interest (Puna) on the east side of the island.
Vishrut
November 2016
Sharon and Mark's home was a wonderful, warm and welcoming place. Their house care taker Amy who was there to greet us was wonderfully helpful and very knowledgable about the city, region and what it is like living in Hawaii. The studio was clean, well appointed and a pleasure to stay in. Leave the windows open and let nature sing you to sleep. Wake up with the rising sun, spend your mornings on the porch soaking in the warmth and view of the ocean. We plan to stay here again on our next trip to Hawaii and highly recommend you stay here.
Nicholas
February 2016
Great room with nice view of the sunrise. The living room and the bathroom are nice. However, we missed a kitchen sink for doing the dishes and found it difficult to do much cooking.
kristoffer
January 2016
Sharon and Mark (and Amy and Miss Kitty Meow Meow) were wonderful hosts. They were very flexible and willing to accommodate a last minute booking. Sharon even had a plate with fruit and snacks waiting for us we arrived, which was so thoughtful and nice after our long drive. The location of their home is just incredible with 180 degree views out onto the ocean below. It's a wonderful spot to watch the sunrise and the boats coming into the harbor. The room is very cozy and comfortable, just a great little studio, and the actual structure that houses the studio is detached from their home so it offers quite a bit of privacy. However, Sharon always made herself available for a great chat! We found Sharon and Mark to be extremely friendly and accommodating, even letting us use their drier (since this area of the Big Island gets quite a bit of rain, we got soaked on our visit to Akaka falls, so the drier was thoroughly appreciated) and we really enjoyed their company. My fiance and I very much enjoyed our stay at their Sunrise studio and would absolutely stay there again the next time we are in Hilo.
Sussett
April 2016
We really liked our stay at the Sunrise studio. The setting is great, with fantastic views over the ocean and the green surroundings. The studio itself is convenient and Amy is a great host. We loved staying on the Hill side (east) of the island. True, there are more clouds, but for people who enjoy an active vacation it is perfect. Relatively close to for example volcano np, mauna kea, hill and some gorgeous beaches. These are not the white sand beaches found on the Kona side, but the green surroundings and steep cliffs around make them very special. Impressive nature and not touristic at all. After also have seen the Kona side, the Hilo side is much more relaxing. It is under 2 hours drive to south kohala, and the way up there through the coast north of Hilo is very pretty, including waipio. We recommend staying Hilo side, and this place is a very good base to explore.
Kees
September 2016
These were the 1st 3 nights that we spent on the Hilo side. We met Sharon and Amy upon arrival. Immediately we knew that Sharon ( the owner) is a warm and friendly person. Throughout the time we spent there…. every contact was an absolute pleasure. The cottage is set as a separate building but only 10 feet from the main house and didn't feel private. It is a single room with a walled toilet and shower. We expected more of a kitchen and food prep area than what is there. The very small refrigerator does neither make ice nor keep it frozen and it was necessary to ask for ice from the main house daily. If you want to prepare some of your own meals, the cottage is not supportive of that. Washing dishes and cooking items must be done in the bathroom sink without counterspace while standing on the wet shower floor. I think that our biggest issue was that the whole property wasn't very well maintained and there was much junk laying around that should have found a trash bin long ago.
Elizabeth
March 2016
Amy, Sharon & Mark were extremely friendly to us & we loved our time staying in the Sunrise Studio.  The hosts were generous & helpful when we asked about places to eat, surf & snorkel.  The studio is actually larger, brighter and nicer than what's implied in the photos they've posted, also.  The location is excellent, the view is just as promised and the surrounding landscape is very lush & peaceful.  Pretty plants and flowers surround the studio, also.
Coo
February 2016
amy is a great ambassador & caretaker for property. Amy was available & responded in a timely manner to our requests. Amy was generous in offering tips & sharing gifts of property. Quiet, comfortable, convenient base camp for us to explore nearby sites. Stunning ocean views from lookout.
Robin
October 2016
Tipo de habitación
Casa/apto. entero
---
Tipo de propiedad
---
Capacidad
4
---
Dormitorios
1
Hilo, Papaikou/Hilo hilo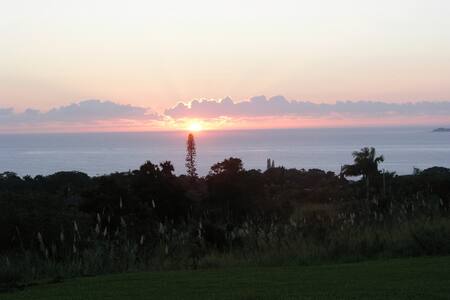 Kapoho Village Inn is the "Gateway to the Puna Coast", located on Highway 132. It's a five minute drive to snorkeling at Wai'opae, swimming in Champagne Pond, or soaking in Aha'lanui hot pond. Board a lava tour boat at Issac Hale Beach Park, and view the Kalapana lava flow entering the ocean. Our estate consists of six private rooms with separate, lockable entrances. It sleeps 10 in 4 queens and 2 full beds. Free Wi-Fi and coffee. For more information/options visit our website.
Rent just one private room, or the whole place for larger groups, depending on availabilty. Rate is based on 2 per queen bed. If a date is blocked, it just means the whole house isn't available. We most likely still have availability for smaller groups, please contact host. Large shared eat-in kitchen, 2.5 shared lockable baths. Large front verandah, inner patio area with outdoor dining set. Manager lives at adjacent property.
Private country setting. Safe, off-street parking. 10 minute drive to Issac Hale Park (Lava Tour boat ramp). Bring water shoes for beach activities.
Chris's place was great! The room was nice and so was the bathroom. It is a great place to just sit back and relax. It is kind of a drive to get to where you need to go, but only about 40 minutes.
Loree
November 2016
Chris was a great host. The facilities were clean and they had everything you need in the kitchen. Shared washroom but we were only 2 couples so a washroom each. We wouldn't have minded sharing either. The room layout was great , clean and loved the sounds at night of the forest. We slept like babies
Nick
November 2016
Great clean place felt like an old hotel room of yesteryear, like you are in the era of the African queen. You are in a forest. Kinda buggy on the outside at night, but I got no bites (and mosquitos love me), and the room never saw a bug. The restrooms are not attached, but that is no big deal. The place is a gem. I'd recommend if new to the area, the public hot tub beach, and uncle Roberts on Wed nights.
Sigi
December 2016
We had wonderful one night stay at Chris's place and we highly recommend it!
Nathan
November 2016
We had a great stay at Chris' place. It was definitely a quiet neighborhood - we felt like we were in the middle of the jungle with no one around. It was one of the most unique places we have ever stayed - would be a perfect spot for family's or a group of friends to stay. Stop for coffee at Cajun Paradise Farms right up the road - great spot.
Krista
November 2016
Chris was kind enough to accommodate us for one night with 2 beds. Beds were comfortable. If you are arriving after 7pm this neighborhood is dark with not much lights. We could not appreciate when we arrived but it was beautiful in the morning in the sunlight. Filled with trees, birds chirping, lovely place. We were lucky that no other people were staying. Our kids were loud. Bathrooms are very clean. Kitchen is okay. We had a good night stay overall. Definitely a good place to sleep after you are tired from day activities. Chris was kind enough to share information in around the place. Wish some lights were on and big sign of the Inn displayed to arrive. Don't forget the bug repellant.
Santhosh
November 2016
Great place to stay - clean, quiet, full shared kitchen and bath including laundry, Wifi, and an excellent value overall. Several miles out into the countryside - a minus for driving but a plus for peacefulness. Chris was very welcoming, available and flexible. Wholeheartedly recommended.
Mark
November 2016
We thoroughly loved Chris's place!! We ventured out during the days, did a lot of hiking & returned exhausted & a mess; coming back to Chris's place to clean up & rest was perfect! The location was easy to get to. The room we stayed in was similar to the inn, roomy & comfortable, yet charming. We were the only ones visiting at the time, so we got to peak into the other rooms & they too were all roomy, decorated thoughtfully & charming in their own way. The kitchen & baths were very clean. Everything functioned perfectly. The bed was very comfortable! The set up of the rooms, common spaces & lanais allow for either socializing with other guests or remaining private; we really liked the options, although we were the only guests this time! It's also a great space to rent as a group! Cajun Paradise Farms is only a few minutes down the road from Chris's place & it's a must visit for morning coffee & pastries or for interesting conversation & delicious delights! One more thought, we almost rented elsewhere simply because of the higher # of high ratings other places had. And, then after paying more attention to the fees that added up, being sure we had wifi (Big Island cell service is rough) & the details of the reviews, we gave Chris's place a chance. There wasn't a moment of our visit that we weren't glad we'd rented there! Chris was also a great host! Hooked us up with some ins & outs of the area & was quick to respond whenever we had a question! 5stars all around!
Nicky
November 2016
Tipo de habitación
Casa/apto. entero
---
Tipo de propiedad
---
Capacidad
5
---
Dormitorios
3
Isla de Hawái, Pāhoa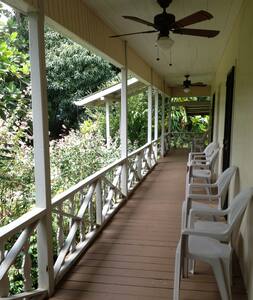 A cozy 2 bedroom cottage with privacy and romance in mind. A honey moon Sanctuary.
VOLCANO BIG TREE SANCTUARY, the ultimate Volcano Experience without leaving your vacation home. Volcano Big Tree Sanctuary is a high end cozy home located just outside Volcano Village, minutes from Hawaii Volcano National Park.The beautiful home has all the amenities you will need for a peaceful, romantic getaway, and is located on the front two acres of the property in a landscaped paradise. Complete with two outdoor hot showers, a large and luxurious jacuzzi, and a detached outdoor sauna house imported from Finland, there is even an Imu house where you can hire experienced locals to prepare a traditional Hawaiian luau. The house features 2 bedrooms 1 queen and 1 king deluxe beds., 3 bathrooms, four fireplaces, a great room with a fully supplied gourmet kitchen with granite counters and stainless steel appliances, and an upstairs den, all with abundant glass windows and doors, and wrap around upper and lower decks for maximum view and enjoyment of the rainforest. Perfect for one or two couples, or a family with older children, the Volcano Big Trees Sanctuary will provide you with unforgettable memories of one of the truly special rainforests of the world. Situated in a unique ecosystem at the 4000 foot elevation this private 30 acres estate has giant Koa trees, a green house with a tropical plant collection, Koi pond and a grove of perhaps the largest Ohia trees in the state of Hawaii Some of the Ohia trees may have even been saplings when the first Hawaiians arrived, and today stand over 110 feet high and have a circumference close to 30 feet. (Ohia is the State Tree with red flowers used in the original Hawaiian Leis). There are beautiful walking trails that winded through 1,000+ year old rainforest that shares a border with Hawaii Volcanoes National Park. If you enjoy birds, this is one of the few places you can stay in Hawaii where you can still see the rare and endangered native Hawaiian forest birds. There is a nesting pair of endangered Hawaiian Hawks on the property, as well as several species of honeycreepers (Apapane, Amakihi, and I'iwi, with occasional visits by a small flock of Akepa) to whose beautiful and mellow songs you will awaken each morning. Nene fly overhead daily, and the Hawaiian Thrush (Omao) sings each evening. The owner has willed the property to the San Diego Zoo's Institute for Conservation Research to preserve it in perpetuity. You will experience the magic of Hawaii's rare old growth rainforest in a very personal way while staying in an outstanding deluxe home. . The beautiful home has all the amenities you will need for a peaceful, romantic getaway, and is located on the front two acres of the property in a landscaped paradise. Complete with two outdoor hot showers, a large and luxurious jacuzzi, and a detached outdoor sauna house imported from Finland, there is even an Imu house where you can hire experienced locals to prepare a traditional Hawaiian luau. You are located on 30 acres of pristine rainforest. You have a outdoor hot tub ,sauna, walking trails and much much more. We are a vacation rental catering to the independent traveler. But we are only a phone call away for information or concerns.
This is a farming community with green rolling pastures with cattle ,horses, and farms within minutes of Volcano National Park. No!
We had the chance to stay at Volcano Big Tree for a week on our honeymoon in November 2015 and it was the best experience we could ever have hoped for. The house is basically a luxury adventure home. Where shall we begin? The total privacy? The amazingly well supplied kitchen? The incredibly comfortable bed and bathroom? The koi pond? The fact that this house is literally in a FERN FOREST?? Here's a general daily Itinerary: -Wake up and make a fire in the beautiful fireplace! -Drink coffee down by the beautiful Koi Pond and reflect on Hawaiian beauty/adventure! -Take a shower in the master bedroom and open the sliding glass door THAT'S IN -THE SHOWER to enjoy the great outdoors as you get clean! -Prepare a breakfast in the beautiful and well-supplied kitchen to build your strength for Hawaiian hikes and adventures! -Go on a Hawaiian hike/adventure! -Come home and change into the terry cloth robes that are provided and take a short walk to the very secluded hot tub and sauna to soothe your Hawaiian hike/adventure soreness (bring a cocktail for maximum results) -Make another fire (either in the house fireplace or the outdoor fire pit!) and cozy up to your significant other! -Sit out on one of the many magnificent lanais (aka decks) and look at the stars. -Fall asleep in the outrageously comfortable bed. Seriously, we loved our time and the hosts thought of everything. Any time we said to ourselves "I wish we had a__________" we took a quick look around and generally found what we were looking for. A hotel with these amenities would easily be three or four times the cost, and you would still have to share the hot tub with Dave from Ohio. Thanks for a wonderful stay. We will be back!
Robert
November 2015
Everything about our stay here was incredible. I had no idea that it was even possible to live in such seclusion and luxury at such a price tag. Volcano Sanctuary is the kind of place you dream about living in most of your life - a spacious house with private forest, hot tub, sauna, greenhouse, jetted bathtub, personal pond, fireplace, porches all around and windows everywhere. A shower that opens to the porch so you can dry yourself in fresh jungle air! They really did think of everything when designing it. The kitchen is fully equipped for cooking your own meals, the location is convenient to Volcanoes National Park, there was bug spray, flashlights, bathrobes, plentiful soft towels. If you haven't had the experience of living in luxury and are looking for a place to get away from it all, relax, have a romantic time with your partner, book this place immediately. You won't regret it.
David
September 2016
Exceeded expectations based on description and photos. Fits nicely into the ecology and history of the area. Convenient to Hawaii Volcanoes National Park.
John
December 2016
This house is even more wonderful than the pictures can show! Everything about our stay was perfect- the peaceful, serene environment, the lovely house, huge kitchen, and everything we needed was at our fingertips. Just a short drive to volcano national park and an easy drive from Hilo. We miss this rainforest sanctuary already and will most certainly will be back! Thank you for sharing your lovely home with us!!!
katelyn
November 2016
The volcano big tree sanctunary is a perfect place for reloading your batteries. Everything was perfectly arranged and the garden is awesome. Watching the stars at night from the terasse and enjoying BBQ was wonderful. I can highly recommend the Volcano Big Tree and again many thanks to Brenda
Matthias
August 2016
This was an amazing tropical mountain retreat. We loved everything about it. Attention to detail, everything we needed, including lots of towels, extra blankets, washer and dryer, beautiful grounds, just to scratch the surface. And, so close to the park we were able to catch the late evening lava flows and be back to the comforts of home in 15 minutes.
John
June 2016
This place is a gorgeous getaway that has everything you need. My wife and I spent 3 nights here during our honeymoon and we won't soon forget them. Great hot tub, sauna, and beautiful grounds. This place is an absolute gem, perfect for a retreat or honeymoon. We loved it!
Corey
September 2016
If you want a complete and utter hideaway that is spacious, luxurious, and unique. Then you'd have to be an idiot not to choose this perfect house! Sanctuary is the right word! We honeymoon'd here and didn't see a single person while on property. It has everything you need and more. Also - ridiculously close to a National Park that will make you turn into a four year old beaming with wonder and excitement as you watch new earth being formed! Can't overstate the professional nature this property is run and the sanctuary it truly is.
Ryan
August 2016
Tipo de habitación
Casa/apto. entero
---
Tipo de propiedad
---
Capacidad
4
---
Dormitorios
2
Isla de Hawái, Volcano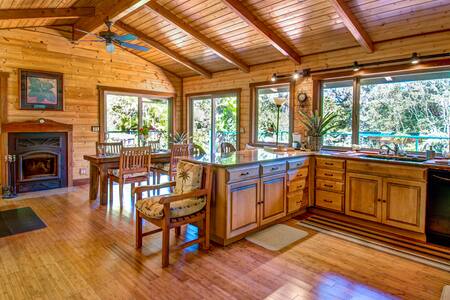 THIS FAMOUS WATERFRONT PROPERTY has been a Vacation Rental for over 12 years. Over 70 Five Star reviews are posted on other sites, but we are new to Airbnb. The property has appeared on many television shows, been featured in international publications, and leased by world-renown celebrities. Here is a retreat with a beauty and atmosphere unmatched anywhere on the island. Voted 9th in the World by Islands Magazine! Please do not request a discount.
HIDDEN ALONG THE SUNNY SHORES OF KAPOHO BEACH, Shangri-La's four enchanting Bali cottages rest on your own PRIVATE, CRYSTAL CLEAR BATHING LAGOON. Beneath lush coconut and tropical palms, THE HEALING WATERS AVERAGE 90º year-round and are perfect for swimming, snorkeling, or therapeutic bathing. There are also THOUSANDS OF TROPICAL FISH at your doorstep to entertain you and plenty of space to swim through the most magical 90º waters. JUST OUTSIDE THE VOLCANIC ROCK WALLS SURROUNDING THE ESTATE, you can SNORKEL WITH SEA TURTLES in one of the Pacific's richest and most protected wildlife preserves. Along the coast road, also known as "the red road" are numerous warm ponds, black sands beaches, local hawaii pohiki, mermaid ponds under mango canopies and hardened lava walks in Kaimu to the ocean. Or, take a 15-minute drive to historic old Pahoa and sample some of the island's most eclectic boutique shops and restaurants. This Vacation Rental is a Classic, Rustic example of the "Old Hawaii" tradition most of our guests are looking for. Since the average temperature day and night is 75º, air conditioning is unnecessary and MOSQUITOES ARE EXTREMELY RARE! However, if you are seeking a sterile, nature-free, less adventurous or ultra-luxurious environment, you might prefer the Four Seasons in Kona or one of the hi-rise hotels in Hilo. The Shangri-La Compound is a collection of unique Bali-Style Structures: ROUND HOUSE: A 700-square-foot Bali-style structure for yoga, meditation, exercise, massage, meetings, entertaining, or just relaxing in front of the TV. There is also a full-size sleeper-sofa bed, a massage chair and plenty of comfy sofa chairs as well as a desk with Wi-Fi for your laptop, (if you must). A wonderful "family" room. THE PAVILION: A fully stocked kitchen with all you need to cook a meal, blend a smoothie or start the morning off with coffee or tea. Microwave, gas stove, full size refrigerator/freezer with inside and outside dining tables. Two Estate Bedrooms with king size beds, sliding door mirror closets and 2 bathrooms. The larger bath is outdoor tropical-style with a sunken Japanese Jacuzzi tub for 2, Sauna for 2 and an amazing outdoor shower beneath the Orchids. The laundryroom comes fully equipped with detergent and softener, first-aid needs, extra lagoon towels, blankets, reef shoes in many sizes and snorkel gear. THE ISLAND BEDROOM: Open to the tropical breezes, this unique Bali Hut features a Full Bed and optional roll down blinds for more privacy. The Island Bedroom sits on its own separate island beneath the stars; an open-air structure with a Bali-style roof and side walls just high enough to lay in bed and take in the beautiful views. This Island bedroom is accessible across a foot-bridge over the lagoon. A breathtaking spot to fish gaze. THE GUEST HOUSE: A one-bedroom Guest House with a Queen size bed. Flat screen tv in case you feel the need to watch a DVD. Wifi as well. There is a walk in closet, a 4 person bamboo square table for poker games and a mini-refrigerator. The best part is an outdoor deck overlooking your private bathing Lagoon with plenty of lounging space. The guesthouse bathroom is right outside with a compost toilet and outdoor shower hidden away behind your own lava rock wall. There is an outdoor shower outside the pavilion that works well when you're straight off the beach and a bathroom with sink and toilet as well. Base rate of $625 per night for FOUR adults. $50.00 per additional person per night. 8 Guests Maximum. THIS PLACE IS YOUR OWN AMAZING, PRIVATE RETREAT IN PARADISE AND YOU WILL BE BLOWN AWAY! Guests have the Entire Compound to themselves. This Amazing Private Estate is rented to ONLY ONE GROUP OR FAMILY AT A TIME. MAXIMUM IS 8 GUESTS. The Caretaker is always available and resides in the neighborhood.
FAQ's 1.Why Shangri'La? Along with the uniqueness of this property, a one of a kind, Shangri'La offers "Old Hawaii" at its best with a Balinese flair. The privacy, the lagoons, the 4 separate pavilions, the waterfall, endless palm trees, and 90 degree volcanically heated ocean water, the friendly fish, with 2 private islands, lend itself to the description we most hear from guests: "It's Heaven on Earth!" The indoor/ outdoor design makes you feel like you're on a private island somewhere and completely one with the tropics. It's a magical place, as we continue to hear over and over again from our guests that it was "The vacation of their lifetimes." We also hear that the magic of Shangri'La brings families and couples closer, and they often credit Shangri'La for this bonding experience and how they wish they could stay there together forever. 2.Why is this area of Hawaii the only location that has 90-degree ocean water? This is the most unique place to swim in the island because of the 90-degree volcanically heated waters. Many arrive for its health benefits and use them as 'hot ponds' while the salt water seems to cleanse the skin and heal aching muscles. This is made possible because of our active volcano that has been flowing into the ocean for nearly 3 decades. While Kapoho and the gates of Shangri'La are about 25 miles from this active flow, because the lava rock is so pores, this creates natural steam vents, and these vents travel that far and heat only this area of Hawaii. For those of you used to the cold temperatures of the Pacific or Atlantic and rarely go swimming, you may find that in Kapoho, once you put on a snorkel, mask and fins, it's hard to want to get out! 3.Is it safe to visit the Lava? The county controls the viewing area between the hours of 2:00 and 10:00 p.m. everyday, unless we have a bad direction wind day and they have to close viewing because of high sulfur rates in the air. Otherwise, you can drive to the end of 130 (towards Kalapana), and follow the dirt road past the signs, and follow it for 2 miles until you begin to see a ton of cars parked. The green sand beach is the only one in the world, and over time, the green sand will become white sand after all of the Olivine is broken down. 8. Where is the best place to snorkel? If you're staying in Kapoho, you're there! You have your own private snorkel lagoons in the gates of Shangri'La, and down the street a short walk is Champagne Pond, where there is public access to swim with big sea turtles when they come in to rest from the tide. Also, just outside the gates of Shangri'La you take the 2nd left turn to Vacationland, and you will find enormous coral to view. The only other place on the island for great snorkeling is Kealakekua (Captain Cooks monument), and The Royal Grounds in Captain Cook. However, because of the warmer water on our side in Kapoho, most people prefer the snorkeling there. 9. Where are the best places to Hike/ Run? There are all kinds of little trails and parks in Kapoho, as well as ocean trails to the lava. But to view hiking beyond Kapoho/Kalapana, the following website is great: www.InstantHawaii.com and click on Hikes and Trails. Another one that includes more trails is: www.Alternative-Hawaii.com 10. Where is the nearest coffee shop to Shangri'La? You can find the Internet Café Coffee Shop in Pahoa (only 10 minutes drive) in the new Malama Shopping center on Hwy 130, or there are some small quaint coffee shops in downtown Pahoa. 11. Where are the best grocery stores? Safeway in Hilo (for best prices), or closer in Pahoa would be Malama Foods Market, or Island Naturals. There's also a Wal-Mart in Hilo near Safeway, but just a warning---it's always a zoo in there. To get to Pahoa from Shangri'La, just take the 137 to the 132 and follow this road past the light until you're in DT Pahoa. If you continue on that road to the end, you will see a left turn into the new shopping center where there's a gas station, Subway, Internet Café, Grocery Store, Hardware store, a Firestone, mailbox mailing place (UPS & Fed Ex), and some realty offices. There is also a Pharmacy (Puna Pharmacy) and a bank with ATM. 12. Where are the best restaurants? The best restaurants are actually in Pahoa (10 minutes from Shangri'La). There's Kaleo's (specialty food with full bar), Paolo's (authentic Italian), Ning's Thai Food (closed on Mondays), Laquin's Mexican (full bar), and a couple of great ones in Hilo… Hilo Bay Café, Coconut Grill, or Café Pesto. Note: for Ning's and Paolo's, bring your own wine or beer…they have no bar, and charge a small corking fee. 13. Where and when is the best Farmer's Market? Maku'u Farmers market every Sunday between 8 & 1:00. It's the biggest one in the entire island, and a few miles outside Pahoa on the 130 going towards Hilo. You'll get live entertainment, great food, and craft booths. There is also a small farmers market in downtown Pahoa on Sundays...
Shangri-La is an amazing place and hard to compare to other rentals. It is unique and an experience all its own. Steve and Shawn really represent the aloha spirit. Steve has done a great job in selecting a property manager that is above and beyond and it reflects in Steve's character as the owner of this amazing place.
Jamie
December 2016
Shangri'La is a great getaway from hectic everyday lives and typical busy tourist areas. It took a while for us to get acclimated to the heat and humidity, but we were dealing with it like champs by the last day. Beds were comfortable and the kitchen was great for cooking meals. Our favorite part was the master outdoor shower; it was fun to shower under the blue skies or stars, along with geckos and coqui frogs! We struggled a little bit with mosquitoes and gnats, but that's really just a part of being mostly outdoors. The round house was great for relaxing and working (yes, sometimes we had to). I liked sitting on the bridge in the mornings to drink my morning coffee with the fishes. We went on a lava boat tour which was unforgettable and highly recommended if you don't mind rough seas. We also enjoyed soaking in the pools at Ahalanui Beach, a short drive away. Thanks for the great stay!
Courtney
October 2016
Tipo de habitación
Casa/apto. entero
---
Tipo de propiedad
---
Capacidad
8
---
Dormitorios
4
Isla de Hawái, Pāhoa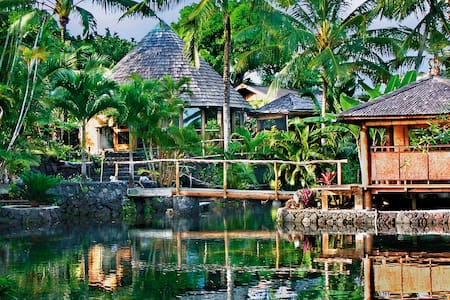 Ocean Mauna Studio is a quaint villa + one bathroom with a fully equipped kitchen, and two large sliding glass doors leading to the Lanai (porch) with amazing ocean view. Only 5 min from Waipio Valley, this is your perfect vacation retreat.
Perfect place to relax and breath in the pure air of the Hamakua coast (known for the cleanest air in the World). The unit has 1 new Queen size bed, dining area, lots of shelves with a nice kitchen that includes 4 burner stove, coffee maker, toaster, water purifier, refrigerator and is fully equipped with dining wear. Amenities include washer and dryer located on the backside of the lanai, free WIFI, and available farm to table meals prepared by the affiliated Big Island Farms and Big Island Table Experience (B.I.T.E.), located five minutes walk from the property (more details available below).
. The center garden square is ablaze with tropical colors, 80-100 ft palm trees, stone bordered gardens, and a soft lawn perfect for kiekis (children) to play on or to set up the lounge chairs and simply enjoy the tranquil view, songs of the birds, and kiss of the warm sun.
Tipo de habitación
Casa/apto. entero
---
Tipo de propiedad
---
Capacidad
2
---
Dormitorios
0
Costa de Hamakua, Honokaa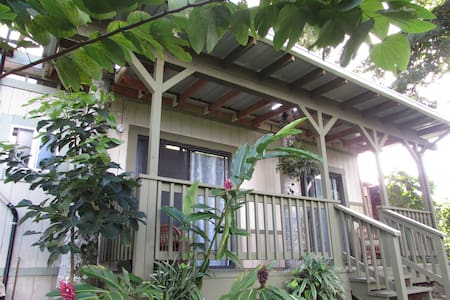 My place is close to Near Kalani famous yoga retreat center with restaurant offering breakfast, lunch, dinner, yoga classes etc. The warm ponds, McKenzie state park, Wai Opai tide pools, Kahena black sand beach, Uncle Roberts market featuring local cuisine and entertainment. Fitted with a Queen bed and surrounded by the Hawaiian jungle, the songs of birds & ocean! 3 private cabins share two showers/ two bathrooms/outdoor full kitchen. .
Beautiful park like grounds with expansive lawn, lava rock walls, numerous fruit trees and ponds on the east coast of the Island of Hawaii. Nestled in native jungle and surrounded by a zen style rock garden, you'll enjoy the ocean breeze, and the songs of birds and frogs... Massage available apon request, book in advance. Guests have access to One large, gorgeous fully furnished ocean-facing home, 3-acre property with three studio cabins, fully furnished, with queen-beds and a pavillion with extra full kitchen and extra furnished bedroom. There are 8 small ponds on the property as well as top-bar beehives and a myriad of tropical plants and fruit trees. We are located literally a 2-minute walk down the driveway across the road to the ocean.
We are very close to the ocean, close to the thermally-heated warmponds, Pohoiki, Kahena beach, Kalani retreat center, Uncle Roberts Market, Pahoa town, Kalapana lava flow.
The host canceled this reservation 43 days before arrival. This is an automated posting.
Gino
Tipo de habitación
Casa/apto. entero
---
Tipo de propiedad
---
Capacidad
12
---
Dormitorios
6
Isla de Hawái, Pāhoa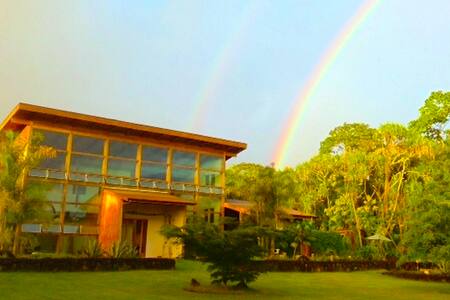 Vacation in style at this luxurious estate with amazing views and water falls. Play golf without leaving the property and tee off at your convenience. Justin Bieber recently stayed in this magnificent home . ***Special agreements and waivers will be required prior to any stay***
Just north of the quaint and unassuming town of Hilo, on the Big Island's breathtaking Hamakua Coast, lies a property unlike any other, an estate they call Waterfalling. Named for its most distinctive feature, two breathtaking waterfall. The Home itself is a comfortable 10,000 sq ft and features 5 suites; 4 suites on 3 levels plus a separate Guest House with a total of 7 full bathrooms and 3 half baths. Each suite offers spectacular 180 degree ocean views, in-suite bathroom and lanai access where the waterfall can be seen. Aside from its lavish accommodations, the entire 8-acre property is equipped with a staggering list of over-the-top amenities. From its private golf course, to its 2-story waterslide, to it's helipad… this luxury haven is equipped to keep even the most active and adventurous traveler entertained. Amenities: •Private 9-Tee Golf Course •Tennis & Basketball Court with Stadium Seating •Helipad •25-meter Olympic Swimming Pool with 3 Starting Blocks •2 Jacuzzis •32-ft High Dive and Spring Board •2-Story Waterslide •BBQ and Covered Lanai Area with Bar Seating •Game Room with Pool Table, Ping-Pong Table and Shuffleboard •Sauna •Gym •Elevator All Access 24/7 availability
Host is direct representative of owner with rights to negotiate rates Recent Guest, Justin Bieber , as shown on the TMZ article http://www.tmz.com/2016/08/03/jutin-bieber-hawaii-rental/
Tipo de habitación
Casa/apto. entero
---
Tipo de propiedad
---
Capacidad
10
---
Dormitorios
5
Costa de Hamakua, Nīnole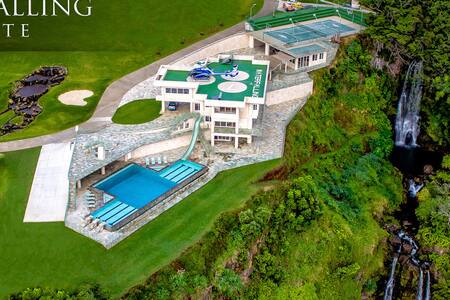 1

–

8

de

8 Alquileres de Villas