Beautiful cottage surrounded by breathtaking views & manicured gardens in rural Boone County. 1 bed/1bath, 1 sleeper sofa, kitchen, WiFi, Cable, grill, fire pit, professionally decorated, & perfectly maintained. Near Buffalo River and many other attractions.
Gorgeously appointed, stand alone cottage in a rural setting
Rural farm setting
The cottage was very nice, as described. We had no trouble finding it or getting access. Thanks for a nice experience!
Darryl
2015-10-12T00:00:00Z
The cottage is a lovely respite, featuring a wonderful garden, swing, and porch, from which it is perfect to sit, relax, and enjoy the sunsets. The back of the house also features a beautiful waterfall and firepit. This location is a perfect one to simply read and relax or a nice one from which to journey to nearby tourist attractions, such as Branson, which is only an hour away. The host provided everything we needed to make this visit a memorable one. We would certainly return to this gorgeous cottage and recommend it to anyone!
Elizabeth
2015-07-05T00:00:00Z
The cottage was amazing and exactly what we wanted during our vacation. The cottage itself is fantastic with everything you need and perfectly decorated with the theme of the place. The grounds have been done with meticulous care, provide a great atmosphere for relaxation. The location is perfect for day adventures into the Ozarks or on the buffalo. We can't wait to come back to stay again.
Jeremy
2016-09-08T00:00:00Z
This was our third visit to the cottage and each trip provides new delights in the gardens and the grounds. You could not ask for nicer or friendlier people than our hosts. The combination of the people, cottage, and grounds has made this one of our "happy places" in the Ozarks. Oh, and pastries. Don't forget the pastries. Five stars all the way!
John
2015-10-03T00:00:00Z
Christine was a great host. Christine gave detailed directions on finding the cottage prior to my check-in date. Once we arrived to the cottage, we were blown away by it. This trip was special to me since I proposed to my girlfriend and I cannot imagine doing it anywhere else. It was perfectly decorated and super clean. It was a very private and quiet setting. Woke up to cows grazing in the field next to the cottage which is something you won't see in the city. We didn't want to leave. We will definitely be back and have recommended the cottage to several friends.
Jose
2015-11-29T00:00:00Z
Lovely cottage. Well staged and appointed. Beautiful grounds. Patty was very helpful. Suggested great restaurants. Enjoyed grilling and using the fire pit. A totally enjoyable experience.
William
2016-11-26T00:00:00Z
My husband and I had the best time. It was so gorgeous! Thank you for everything.
Katie
2017-02-12T00:00:00Z
The cottage is an absolute gem! The scenery is breathtaking and the owners have put a lot of time and energy into this enchanting little guest home. It's a perfect couple's getaway, and even suited myself and two younger boys (although I felt nervous about them messing up the perfectly placed house and landscape details. The owner even left a special homemade dessert for our visit. Just perfect, in every way.
Michelle
2017-03-26T00:00:00Z
Tipo de habitación
Casa/apto. entero
---
Tipo de propiedad
Casa
---
Capacidad
4
---
Dormitorios
Harrison, Arkansas, Estados Unidos
My place is close to North Arkansas College (NAC), only 25 Minutes to Buffalo National River, and 30 minutes to Branson, MO. You'll love the quiet neighborhood, off street parking, close to shops & restaurants. My place is good for couples, solo adventurers, and business travelers. I couldn't find any where else to add this, so I'm adding it here: I do have a dog. Molly is a very sweet, very large Bullmastiff. She does not bark and can be confined to my bedroom or in the back yard.
You will enjoy your private bedroom and bath, with full use of the kitchen, living room, and back deck.
Great location in a nice neighborhood. Lovely and very clean home. Linda was accessible but gave us plenty of space. Plus she's a wealth of knowledge for local recreation. Great stay!
Francie
2017-02-26T00:00:00Z
Linda has experience hosting travelers in her home and it shows. Every room is clean and well appointed, and the floor plan seems designed for sharing. The entry door opens to a wide hallway that leads left to the guest bedroom and bath, right to the dining room, and forward to a living room furnished for comfort. The living room opens to a new kitchen, and her bedroom and bath are off the kitchen, as is the attached garage. Linda herself is a warm and welcoming host who has and is eager to share a wealth of local geographic knowledge. I recommend her home highly.
John
2017-03-19T00:00:00Z
Tipo de habitación
Habitación privada
---
Tipo de propiedad
Casa
---
Capacidad
2
---
Dormitorios
Harrison, Arkansas, Estados Unidos
The Queen Anne House is an elegantly restored two story Victorian Home nestled in the beautiful Ozark Mountains, only blocks from the historic town square of Harrison, Arkansas. Park Headquarters for The Buffalo National River.
Tipo de habitación
Casa/apto. entero
---
Tipo de propiedad
Casa
---
Capacidad
10
---
Dormitorios
Harrison, Arkansas, Estados Unidos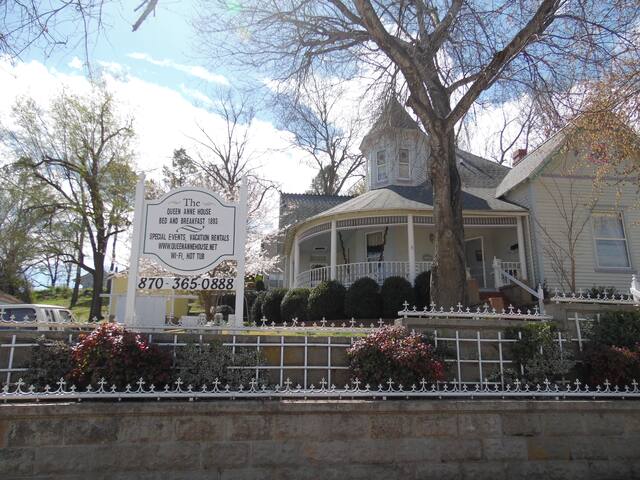 The home was perfect for our needs. Had everything we could want for our huge family. It rained quite a bit the weekend we visited and we had to leave because the road you must drive on was flooding. We also had to get one of my tires plugged because of sharp rocks. Not recommended for small cars, but trucks should be ok.
Sharleen
2015-05-11T00:00:00Z
The location and house were fairly as described. However, this location should not be used by motorcyclists. The last part of the access road is very rocky and difficult to maneuver even when dry. After a rain, it is more of an issue. The access road was under water after a rain during our stay. A pickup can make it through but its not advisable for a motorcycle. The hosts certainly told us that it would be under water if rainy. We thought we would try it anyway. I expected we would have to leave if the rain was persistent. It was and we felt we had to leave. We were surprised when the "flexible cancellation" policy turned out to be a you can cancel anytime but there are no refunds if you can't access the property as you expected. The other aspects of the place were fine. Certainly not fancy but the other reviews had indicated the drawbacks.
Steven
2015-06-16T00:00:00Z
Tipo de habitación
Casa/apto. entero
---
Tipo de propiedad
Casa
---
Capacidad
10
---
Dormitorios
Alpena, Arkansas, Estados Unidos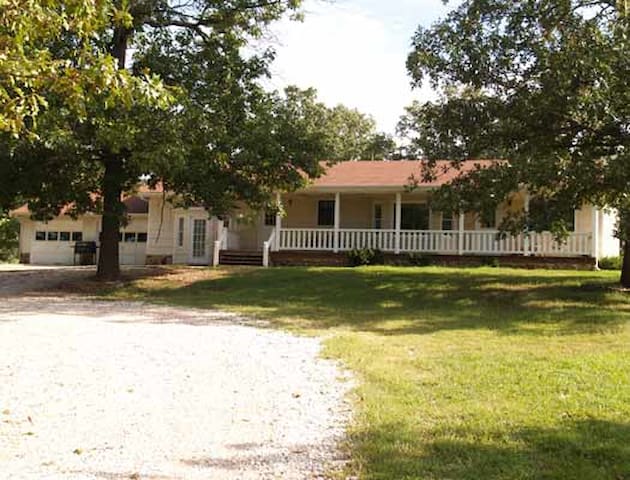 The pictures do the house justice. We stayed for five days with eight guests, three of them teens. The house was big enough for us to enjoy time together and to have room enough to get away from each other as well. The back porch was lovely, and we used the grill a couple of times for steaks and burgers. Really comfortable place to relax and enjoy family.
Robert
2017-03-24T00:00:00Z
Attractive, spacious and comfortable home in a nice community with amenities. Nicely furnished and decorated, well equipped and exceptionally clean! We would choose this location again for future visits!
Deborah
2017-04-02T00:00:00Z
This house was great for our whole family to stay in and spend quality time! The kids loved being able to swim in the hot tub and kept all of us close and together! Thanks for such a beautiful and clean home!
Taylor
2017-02-12T00:00:00Z
Great!
Patience
2017-01-15T00:00:00Z
Definitely recommend, Secluded from outsiders and fosters time to bond
Ross
2017-02-19T00:00:00Z
Tipo de habitación
Casa/apto. entero
---
Tipo de propiedad
Casa
---
Capacidad
16
---
Dormitorios
Hollister, Misuri, Estados Unidos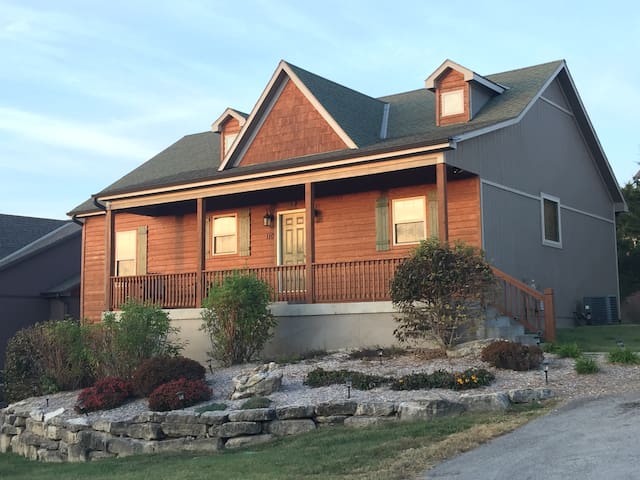 Tipo de habitación
Casa/apto. entero
---
Tipo de propiedad
Casa
---
Capacidad
12
---
Dormitorios
Hollister, Misuri, Estados Unidos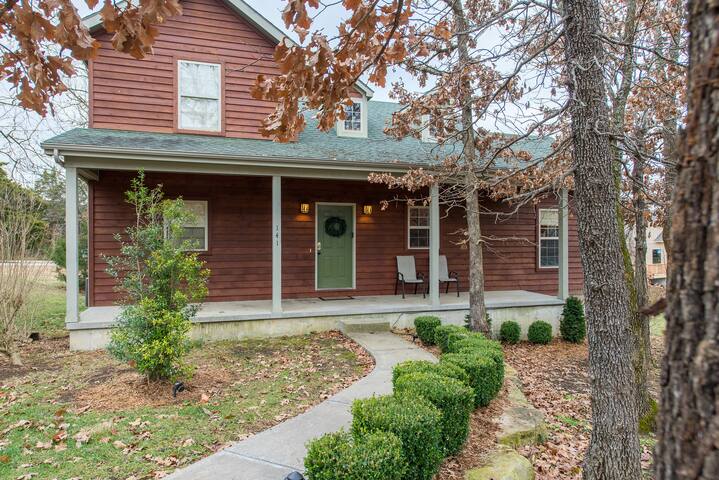 Tipo de habitación
Casa/apto. entero
---
Tipo de propiedad
Casa
---
Capacidad
14
---
Dormitorios
Hollister, Misuri, Estados Unidos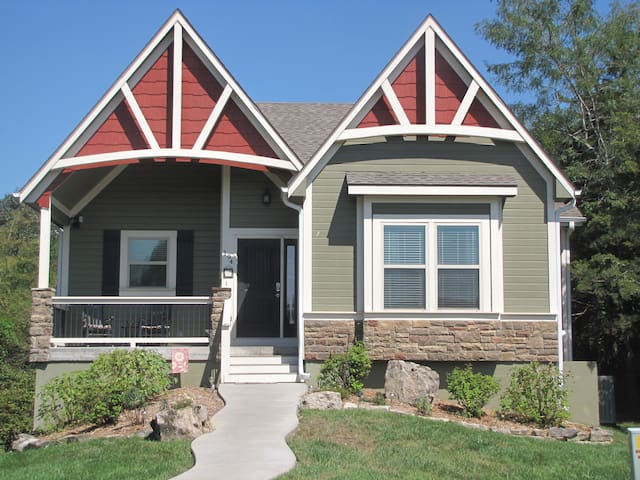 We have stayed at numerous homes we have found on VRBO and other sites, and The "Quiet Cottage" is by far the best home we have stayed in! Our whole family loved our stay there, and wish we could have stayed longer. Barbara was great to work with, she and the others thought of every single thing we could have needed while we were there. We hope to go back again!
Janet
2017-03-17T00:00:00Z
We enjoyed every minute of our stay at quiet cottage! It was so beautiful! Everything was clean, well kept and the decorations were very up to date! We will definitely be coming back and staying there again! Thank you for a lovely stay!
Kasey
2017-03-19T00:00:00Z
Tipo de habitación
Casa/apto. entero
---
Tipo de propiedad
Casa
---
Capacidad
10
---
Dormitorios
Hollister, Misuri, Estados Unidos
Jordan contacted me before my arrival to make sure I had all needed information. He responded very quickly to any questions I had. The home was exactly as promised. We were very pleased with the home, it was comfortable for our group of 8. The kitchen was well stocked with equipment, the bathrooms had plenty of towels...etc. My family members commented on the mattresses, how comfortable they were. The driveway is a U-shape, which was really helpful for our group because we had several cars to park there. We enjoyed swimming off the dock, and were able to keep our boat right there at the property for easy access! Branson was an quick drive from the house, so we loved the location. But the best part of this property is the beautiful view. We enjoyed sitting on the deck at sunset. I would certainly recommend this home and this host, we had a positive experience.
Pam
2016-07-27T00:00:00Z
My friends and I had a great time over our long weekend at the lake house! The location is great with easy access to activities on the lake. Jordan was great in helping us prepare for our trip and make sure we had all of our questions answered to make the most out of our stay. The house itself is just as pictured, clean, and was perfect for our group of 8 women for a getaway ladies weekend. I would highly recommend this place!
Melissa
2016-06-06T00:00:00Z
The place was very clean and there was a lot of space for guests to sleep! Would definitely return there for a vacation!
Courtney
2016-08-08T00:00:00Z
The house was amazing! The pictures do not do the house justice at all!! We had a family gathering there with a bunch of kiddos and things couldnt have worked better!! We are all ready to go back all ready!!
Nicole
2016-06-26T00:00:00Z
The house was just as advertised! We had a great time!
Jake
2016-08-12T00:00:00Z
Overall great experience. The location and house are as described. The house had everything we needed for a comfortable and functional stay.
Adam
2016-08-30T00:00:00Z
The home was clean, and had a great location for us as a family. We enjoyed our time there. The home had everything that we needed and more in the kitchen.
Lorrie
2016-07-31T00:00:00Z
The place was just how it was described. Very clean, convenient, and it offered everything our group could have asked for! We were able to fish into the lake right from the back yard, grill out for dinner, and enjoy the great view from the living room. We will definitely look to book with Jordan first on our next fishing trip!
Taylor
2016-10-31T00:00:00Z
Tipo de habitación
Casa/apto. entero
---
Tipo de propiedad
Casa
---
Capacidad
10
---
Dormitorios
Hollister, Misuri, Estados Unidos
Warm, friendly, cozy, make you feel at home atmosphere. Great location, close to many attractions. Loved the basement theatre...lol wish there was a dart board. Really liked that there was enough table space for everybody. Very clean and comfortable beds. Highly recommend and we will definitely be back next year.
Jenna
2016-11-13T00:00:00Z
Very nice, very clean, plenty of room for 11 adults to be comfortable. Host was very accommodating. Location was perfect, very easy drive, right off the main road. The only complaint I heard was the beds were a little stiff.
Stephanie
2016-10-19T00:00:00Z
Beautiful, spacious place! Very quiet. Well equipped for large groups. The kids/teens in our group loved the theater system and pool table. We plan to come back again!
Meagan
2017-02-26T00:00:00Z
Tipo de habitación
Casa/apto. entero
---
Tipo de propiedad
Casa
---
Capacidad
16
---
Dormitorios
Hollister, Misuri, Estados Unidos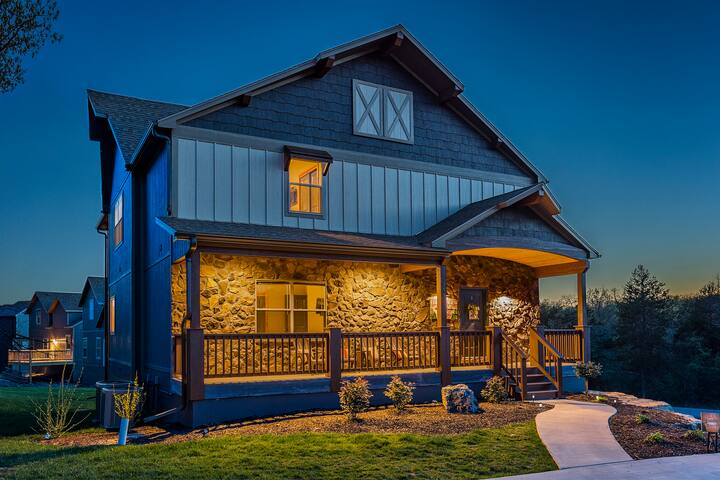 My 6 friends and I enjoyed a very fun, relaxing weekend away together! The house was very clean, so comfortable (especially the beds), and had everything we needed for the weekend (including shampoo in the bathrooms). The kitchen was really well stocked, which allowed us to easily prepare all meals from home. We enjoyed the nature trails around the home and loved spending time on the balcony overlooking the lake. Adam was kind enough to recommend some breakfast/brunch locations and fun indoor activities because the weekend was predicted to be rainy. Overall, we had a great first Airbnb experience!
Ashley
2016-05-02T00:00:00Z
Great location, great house. This is a perfect house for 3-4 couples or a large family and I have used the house for both situations. Adam is a very good host and is very knowledgeable about the area.
William
2016-09-06T00:00:00Z
Everything about our stay was great. The home was equipped with everything we needed, even a baby gate for the top of the stairs! We had an issue with the thermostat and once locked ourselves out of the house and Adam came over to help immediately. We loved the proximity to the pool and how close we were to everything we wanted to do, yet far enough that we were not in the hustle and bustle of everything. We will definitely remember this house for future trips and recommend it to friends.
Nickie
2016-07-24T00:00:00Z
Great house. Very spacious. We had 4 families with lots of room. View better than the pictures! The kids loved extra touches and their parents loved the highchair and crib! Very clean and well stocked kitchen for cooking!
Tara
2016-11-13T00:00:00Z
The Lake View house was everything that was described. It was very clean and just exactly what we expected for our family weekend at the lake. The neighborhood was great and we felt very safe. I contacted Adam with a couple questions and he responded quickly. There was a hiking trail that began just outside out door and ended at the bottom of our street which was an added bonus. I would highly recommend staying here. Thanks for the lovely weekend!!
Karen
2016-10-30T00:00:00Z
Excellent host. Genuine person to deal with. Very helpful and informative. Would definitely stay again.
Lisa
2016-08-06T00:00:00Z
Absolutely loved our stay here! We had excellent communication with Adam prior to our stay and during our time here. The house was thoroughly cleaned and had an open, welcoming feel. The setting is beautiful, and in a nice neighborhood. Our family is 7 adults and a baby, and there were spaces that we all could all be together, but with the family room in the basement, that also gave us space to spread out if we wanted to. The kitchen is well equipped, and the large dining room table is excellent for meal time or to play table games. All the rooms are tastefully decorated, and because it was Christmas time, there were even trees and other Christmas decorations. We hope to come back sometime and make use of the porches and deck! There were ample towels and linens, and we also appreciated that a crib and high chair were furnished. The weather was rather inclement, but with Wii, pin ball and air hockey, we were never bored! The Wii had an issue, but I contacted Adam and he had a new remote delivered the next day. The location of the house made it nice to have a getaway, but it was also close enough to the places that we wanted to go to, that we didn't spend a lot of driving time. A grocery store is located only a few miles away. We hope to stay here again sometime in the future! It was perfect for our family! Dave & Carolyn
Carolyn
2015-12-31T00:00:00Z
Adam is very responsive and even installed a baby gate before our stay. The bathrooms and all king sized beds make the house feel luxurious. The kids loved the pinball machine, air hockey & Wii. We really loved our stay here and would be very happy to return.
Liz
2016-09-27T00:00:00Z
Tipo de habitación
Casa/apto. entero
---
Tipo de propiedad
Casa
---
Capacidad
10
---
Dormitorios
Hollister, Misuri, Estados Unidos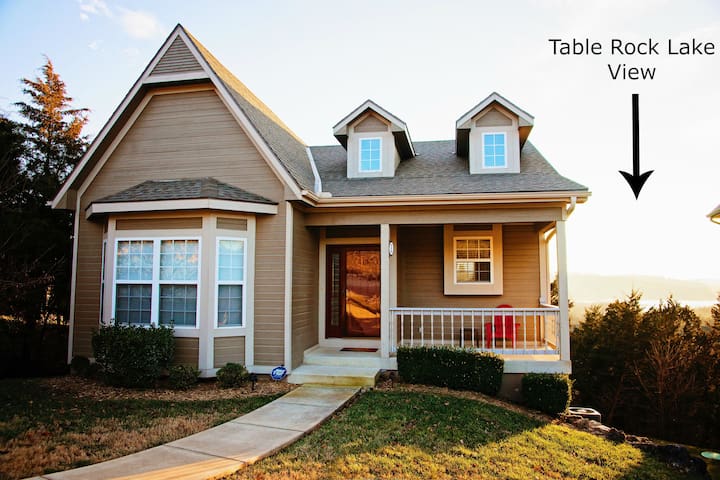 My friends and I had an amazing time in Branson, and having such a beautiful comfortable home to come back to every day was a huge part of it! The Modern Lodge had everything we needed to feel at home. The kitchen and bathrooms were well stocked and the furniture and beds were super comfy. We will definitely try to stay here again on our next girls' weekend. Thank you so much, Brad!
Stephanie
2016-04-11T00:00:00Z
This home was perfect for our short get away. Beautiful home with everything you need. Lots of space, no one felt crammed. Brad was very easy to work with and will absolutely keep this in mind for the future and would highly recommend.
Michael
2014-10-04T00:00:00Z
Brad's home was beautiful and met every expectation from the pictures and description online. The house setup, amount of space, and location was perfect for our group of 13. Close proximity to Branson Landing, Top of the Rock, and Silver Dollar City made for very easy commutes. Friendly neighborhood with a nice pool space for the 90+ degree weather. On top of that, Brad charges a very affordable rate for such a nice and large space. I would definitely look to Brad for future stays in Branson and would enjoy staying in his home again. Thanks Brad!!
Taylor
2016-06-13T00:00:00Z
Host available by phone. Home was supplied with soap and shampoo in each bathroom. Kitchen also had paper products, soaps, and trash bags. Items we may have forget to bring.
Kim
2016-08-09T00:00:00Z
We had a great time. Wonderful house and location. We had a small issue. Brad was super receptive and came to help us. The house has it all. Will recommend to any friend.
Alireza
2016-02-07T00:00:00Z
Brad was a great host. He is quick to respond to questions or needs. The house is in a great location and you can get to Branson quickly. The house had plenty of room for our party of 8 adults and 3 small children to spread out in. We would definitely recommend Brad and this house.
Nina
2016-07-28T00:00:00Z
This place was great for my family to get together. We are all adults, some married with a couple small kids, and it worked perfectly for our needs! We stayed there for two night the week before Christmas, we had our "Christmas morning" breakfast and presents while we were there, and went to Silver Dollar City one day. Everything you could want to do in the area is within about 30 minutes or less (drive time).
Sara
2016-12-23T00:00:00Z
We had a wonderful time! It was amazing to be able to have our entire family under one roof to celebrate an early Christmas together!
Kristy
2016-12-12T00:00:00Z
Tipo de habitación
Casa/apto. entero
---
Tipo de propiedad
Casa
---
Capacidad
12
---
Dormitorios
Hollister, Misuri, Estados Unidos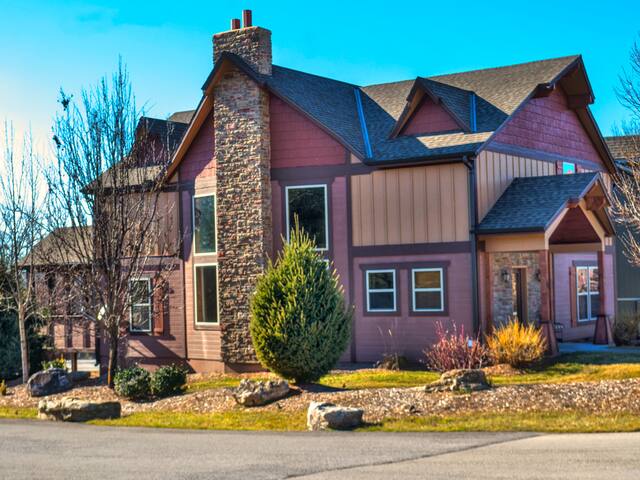 The house is lovely and tucked into a quiet neighborhood off the beaten path. It was clean and well-equipped. It is spacious and comfortable. The only negative thing I would prepare any guest for is that the plumbing makes a sound like that of a barge coming into port whenever used. You do get used to it, but the first night it can be a surprise.
Dyanna
2017-04-09T00:00:00Z
Tipo de habitación
Casa/apto. entero
---
Tipo de propiedad
Casa
---
Capacidad
16
---
Dormitorios
Hollister, Misuri, Estados Unidos
Nuestra casa de reciente construcción, cuenta con 6 habitaciones (3 camas de matrimonio y 3 camas de matrimonio, colchones de aire 3 Queen están disponibles para los huéspedes adicionales). Todas las habitaciones tienen televisores de pantalla plana con Netflix y de cable local. La planta principal tiene una cocina abierta concepto, comedor, gran sala y dos dormitorios con camas de matrimonio. El nivel superior tiene dos dormitorios con camas tamaño queen, que comparten un baño de tamaño completo. La planta baja tiene una sala de teatro, mesa de juegos y dos dormitorios y baños adicionales.
El albergue está situado en una zona tranquila del campo en el hermoso Cañón Branson pero lo suficientemente cerca de las zonas de entretenimiento Branson. Los huéspedes pueden utilizar el club de la comunidad que cuenta con una mesa de billar, sala de prensa, sala de ejercicios, al aire libre piscina de entrada (abierta de mayo a septiembre). La atracción llena de Gaza y 76 Branson Landing están a sólo 10 minutos de distancia. Tabla escénica del lago rock y el lanzamiento de un barco público está a menos de una milla de distancia. El aeropuerto de Branson está a sólo 8 minutos de distancia y varios campos de golf están cerca.
Great place. I would recommend it to anyone!!
Rosetta
2016-12-22T00:00:00Z
Tipo de habitación
Casa/apto. entero
---
Tipo de propiedad
Casa
---
Capacidad
16
---
Dormitorios
Hollister, Misuri, Estados Unidos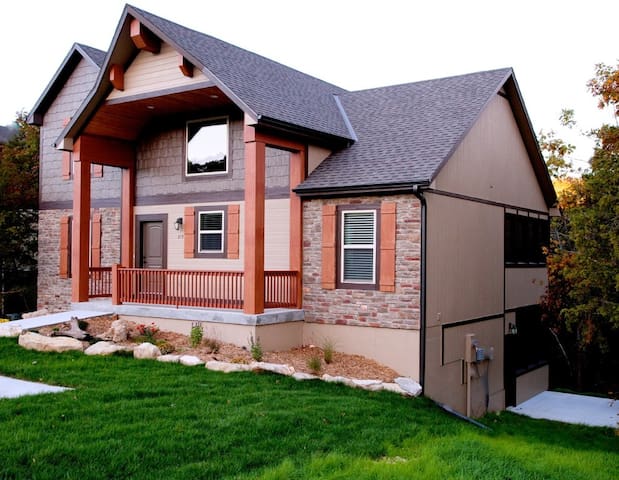 "You're Home Away from Home",nestled in the heart of Ozark Mountains,15 min.away from the Buffalo River,with all it's caves,hiking trails and waterfalls.
Wrap around covered deck.Fully equipped kitchen.Rock patio with picnic table,smoker BBQ charcoal grill,Porch swing,view of Horses
Centrally located to many of the area attractions,15 min. from Ponca where you can go in the evening to view the Elk,lots of wildlife,Turkey and Deer
AMAZING PLACE!
Spencer
2017-04-06T00:00:00Z
Tipo de habitación
Casa/apto. entero
---
Tipo de propiedad
Casa
---
Capacidad
6
---
Dormitorios
Jasper, Arkansas, Estados Unidos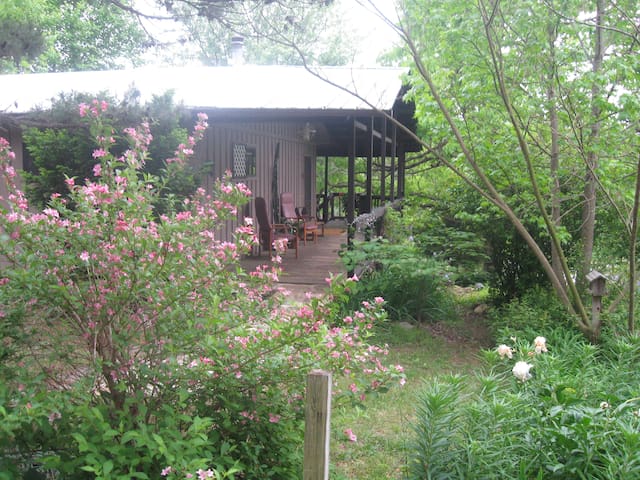 We stayed at Canyon Retreat for a family ladies weekend. We had 3 generations of ladies and the house was perfect for everyone. The house had plenty of space, was clean and the furnishings were great! We relaxed on the deck, played pool, walked to the lake and when we went to a show it was only a 10 minute drive to Branson. Tyann was very responsive and would answer texts and emails very quickly. Lot's of information was provided and check-in and check-out was super easy! We would definitely recommend this house to our friends and family!
Lisa
2016-10-03T00:00:00Z
Tyann was wonderful. She went above and beyond with her communication. The location is great. Overflow parking is close. The scenery is beautiful!
Alice
2017-01-29T00:00:00Z
Tipo de habitación
Casa/apto. entero
---
Tipo de propiedad
Casa
---
Capacidad
14
---
Dormitorios
Hollister, Misuri, Estados Unidos
Tipo de habitación
Casa/apto. entero
---
Tipo de propiedad
Casa
---
Capacidad
16
---
Dormitorios
Hollister, Misuri, Estados Unidos
Beautiful 4 Bedroom, 3 maison Bath, y compris une cuisine complète, Salon, Terrasse avec barbecue, laveuse et sécheuse, et plus .... minutes de Branson et moins d'un mile de Table Rock Lake. 11 personnes confortablement, en face de la maison est un zéro entrée piscine, club house, terrain de jeux, à quelques pas. Nous possédons également un 5 Chambre, 4 salles de bain, moderne Lodge dans la rue! Airbnb Ann(PHONE NUMBER HIDDEN)!
Un emplacement idéal, avec tout le confort de la maison et plus encore !! Notre charmante maison de 4 chambres est proche de tout ce que Branson a à offrir, mais est retiré assez pour fournir la relaxation et le plaisir. Juste en face de la rue est une piscine d'entrée zéro, terrain de jeux et un magnifique club-house de niveau 3, avec une table de billard, une vue imprenable, et cuisine en granit. Nous sommes à 10 minutes du Branson Landing et Hwy 76 Branson Strip. Pour ceux qui aiment Table Rock Lake comme nous le faisons, il y a une rampe de lancement public sous 1/4 mile away et State Park Marina est à 10 minutes. Bateau parking / remorque peut être organisé à proximité. Nous sommes également à 5 minutes du Branson Creek Golf Course. Ne pas se contenter d'une chambre ordinaire quand vous pouvez séjourner dans une belle maison, familiale avec beaucoup d'espace et d'intimité où vous pouvez sentir à l'aise dès le moment où vous arrivez. Laissez notre maison améliorer vos souvenirs de vacances spéciales à Branson !! Chambre 1: 1 lit king Aussi emballer et jouer. Chambre 2: 1 lit queen Chambre 3: 1 lit queen Chambre 4: 1 double, 1 twin / single Le matelas king à l'étage principal est un oreiller très agréable matelas, le matelas queen à l'étage principal est un matelas ferme avec un topper de mousse de mémoire !! Le canapé en cuir dans le salon se retire dans un lit queen size. Nous avons aussi un pack et le jeu dans le placard de la chambre principale. Le grand lit à l'étage a un matelas ferme avec un topper de plumes. Il y a une télévision dans chaque chambre, et deux de ces télévisions ont un lecteur de dvd. Salle de bains 1: bain - WC privé, jacuzzi, douche à l'italienne Chambre king Salle de bains 2: toilettes, douche Attaché à la Reine Chambre Salle de bains 3: WC, baignoire / douche à l'étage Avoir un grand rassemblement prévu? Nous possédons également Modern Lodge 5 Chambre, 4 salles de bain maison directement dans la rue, Airbnb Établissement # (PHONE NUMBER HIDDEN). YAY !!
Nouveau quartier à proximité de Table Rock Lake avec une entrée Piscine Zero, Story 3 Club House, Kids Playground, Salle de presse, espace de remise en forme, et plus encore ...
Clean and comfortable
Doug
2016-12-21T00:00:00Z
This beautiful home was great for an extended family get-together. It would be perfect for a holiday gathering, as opposed to a hotel, where everyone would be separated. It was well-stocked and thoughtfully decorated with a Christmas tree early in the season. The house and neighborhood are typical of newer suburban housing, except it is set in a rural area in the hills surrounding the lake. I would highly suggest using GPS navigation when finding the neighborhood, especially at night. The host responds promptly to email and phone calls.
Connie
2016-11-13T00:00:00Z
We had a great time at this home. There are 4 bedrooms and 3 full baths that are well appointed. Everything was as expected. Communication with owner was great.
Ashley
2017-03-16T00:00:00Z
This house was perfect for 6 adults and two kids. Everything is comfortable and works great. Just far enough from Brandon it feels like a get away, but close enough to experience all the fun Branson has to offer and close to the lake.
Matthew
2016-11-27T00:00:00Z
This was the perfect destination for our first get away since we've had our son. We enjoyed getting away with some close friends. The house was clean and cozy.
Heather
2016-10-02T00:00:00Z
Tipo de habitación
Casa/apto. entero
---
Tipo de propiedad
Casa
---
Capacidad
11
---
Dormitorios
Hollister, Misuri, Estados Unidos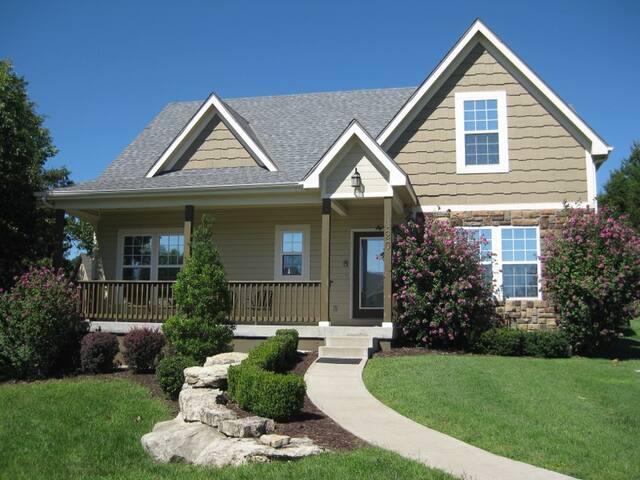 Harrison - Airbnb
:
Una media de

4.72

estrellas de un total de

5

de

178

evaluaciones de huéspedes
1

–

18

de

51 Alquileres de Casas
Introduce las fechas para ver el precio total. Ten en cuenta que se aplicarán tarifas adicionales y es posible que se añadan impuestos.