Introduce las fechas para ver el precio total. Ten en cuenta que se aplicarán tarifas adicionales y es posible que se añadan impuestos.
1 Alquiler de un Barco
· Highlands
1 Alquiler de un Barco
· Highlands
Stay in one of the most unique places in the south eastern United States! Share our off the grid, floating house, all inclusive getaway. Just show up, we take care of the rest. SEARCH "Floatfontana" on facbook for more pictures and details
Its floating! it may not rock but it does move around. the only way to access is by boat (no roads, no cars). the house has two bedrooms at opposite ends. the guest room includes storage space and a queen sized bed. lots of blankets and linens to keep you warm. the main living area includes our kitchen, seating, entertaining (all in one room). we have running water (lake water), heated water, a propane heater for cold nights. the house runs on solar. we have plenty of lighting, speakers for playing your favorite tunes, satellite radio, teathered hot spot (wifi), and plenty of places to charge your phone and tablet. if you need to plug anything else in, contact us and we will tell you if its possible. This is a unique opportunity to share a floating house with the owners and builders. the run of the place (except for our bedroom)! we will provide water toys (kayak, paddle board, sail boat), as well as lake adventures (boat rides to see the lake, skiing, tubing ($25 fee to rent a tube from the marina). we have a small climbing wall on the side of our place to get in and out of the water with. we also have a ladder. we will be staying in the same place. we provide transport, entertainment, food, drinks and more. this is all about the experience and will only entertain 3 to 5 guest (weekends) per year.
we came to Lake Fontana to float, build a floating house and experience life on the water. what we got was so much more. the people make the place, our neighbors are great. plenty of entertainment around the lake from rope swings to jumping rocks. we even have unique activities that people have put up such as zip lines... you never know what a weekend on fontana will bring! once you park (at the provided parking area), the rest of your stay will involve getting around by boat. We are pet friendly = meaning we go to shore often for dog walks, etc... you are welcome to venture out on the kayak or paddle board anytime. we provide transportation via speed boat for anything from runs to the marina or your car, to tours of the lake. All Inclusive - show up and we take it from there: -All food included (breakfast, lunch, dinner, snacks) -All drinks included (alcoholic and non) -Transportation to and from the parking area -Transportation around the lake (our lake tour) -Lake activities (paddle boarding, kayaking, etc...) -Skiing and Tubing
Tipo de habitación
Habitación privada
---
Tipo de propiedad
Barco
---
Capacidad
2
---
Dormitorios
1
Robbinsville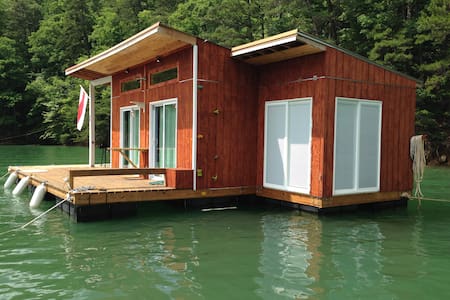 1

–

1

de

1 Alquiler de un Barco