Fully furnished, air con, wifi, self-contained studio with it's own entry in a quiet street in residential Canterbury, Sydney. Gay friendly, walk to station buses & shops. Kitchenette fridge microwave cooktop TV walk-in shower w/machine. No kids.
Beautiful, brand new, fully self contained with cathedral ceiling surrounded by quiet gardens with an abundance of native birds.
Great, quiet, suburban neighborhood with friendly neighbours in residential area 9 km from the Centre of Sydney. Plenty of free on-street parking. There are parks with walks and a river at the end of our street. The centre of Campsie with many interesting Asian shops and restaurants is nearby. A great cafe for coffee, breakfast and lunch is within 5 minute's walk. https://www.airbnb.com.au/rooms/5662033?previewcul-de-sac.
The accommodation was excellent - it had everything you could need for a comfortable stay. Good size, very quiet and private. The host readily provided extra fans for the 2 extremely hot (for Sydney) days we encountered.
Trevor
2016-01-25T00:00:00Z
The room out the back of Andrews place was lovely. A lot of effort had been put into turning it into a cute AirBnb property. The room is a converted garage at the back of the house. You need to go through a gate which has a lock on it. It needs to be unlocked and locked every time you go through. From the listing it looked like this was a stand alone unit but it is less then 1m from the house. Privacy did feel like an issue. Communications before moving in were very easy. Andrew did however ask if he could have somebody check out the property the same evening we checked in but because I had a (SENSITIVE CONTENTS HIDDEN) meeting at this time it wasn't suitable. Just after checking in we ordered menu log. We put on the notes of the food order to knock on the back gate. We could hear the driver arrive so we decided to meet him at the front of the property. The driver was at the front door of the house. Andrew's wife was very abrupt and said "make sure you tell us when you order food." She didn't say hello or try to introduce her self. This made us feel very unwelcome. The room didn't have air-con and the first night the place didn't cool down. We used all four fans in the room at had a rough night sleep. By the 3rd night it cooled down and become more comfortable. As there are no fly screens on doors and windows, bring mosquito repellent. In the room there was a coffee machine but it had only two pods the rest were decaf. I message Andrew and asked if there were more pods and he told me you get more from Aldi and then told us where the nearest one was. We ended up buying coffee bags. There were only two towels in the room and we booked for 7 nights. We looked everywhere for more towels and couldn't find them. I knocked on the door on the 5th night and asked Andrew if there were more towels and he looked confused. He said that there are two in the room. I told him that we have used them for five days and would love some fresh ones. Andrew then said you're only staying one more night. We said we are staying for two. He then went in his house and checked the booking and then said sorry as he thought we were checking out the next day not two days later. I then went back to ask if we could have more towels and he said, "Can't you use the ones you have for another couple of days?" I said "No". He said you might find some in the draw under the bed which we did, he wasn't happy at all. They also have a very beautiful Jack Russell dog called Sydney who made us feel very welcome :)
Shane
2016-02-04T00:00:00Z
My Father in Law enjoyed his stay - he thought his stay was excellent.
Louise
2016-02-24T00:00:00Z
Very good host
jennifer
2016-09-09T00:00:00Z
Andrew's place was excellent! Clean and cozy with lots of light and everything you need. He is a very respectful host who made sure I was comfortable and stopped for a chat each time we crossed paths. It was also lovely to be greeted at the gate by some gorgeous little dogs each night.
Louise
2016-11-29T00:00:00Z
very good
Emlyn
2016-10-24T00:00:00Z
A very comfortable and modern self contained unit in a beautiful garden setting. Good walks to most public transport but not an issue with private car. Highly recommended
Tricia
2015-09-30T00:00:00Z
Great place to stay very clean place to and great hosts. would recommend this place to anyone looking for a quiet and relaxing place to stay.
Scott
2015-09-01T00:00:00Z
Tipo de habitación
Casa/apto. entero
---
Tipo de propiedad
Cabaña
---
Capacidad
2
---
Dormitorios
Canterbury, Nueva Gales del Sur, Australia
Tenemos una acogedora cabaña estilo estudio recientemente renovado con patio propio en alquiler, separada de la casa principal de una familia australiana-italiano. Contiene una cama doble con ropa de cama, toallas, propio baño y ducha, televisión pequeña, nevera, fregadero, tostadora, barbacoa, hervidor de agua y microondas. aparcamiento en la calle gratuito.
Hay un montón de privacidad y que no va a ser molestado en su habitación sin embargo estamos a su disposición para ofrecer consejos de viaje. Tenemos 3 perros amistosos que no van dentro de la cabina. Hay una puerta que puede mantener a nuestros perros fuera del patio de la cabina. Es esencial que los invitados a mantener la puerta principal cerrada. Aceptamos huéspedes con los perros vacunados amistosos. Sin embargo, se cargará una tarifa de limpieza $ 50 para invitados perrito.
Vivimos en los suburbios de West Ryde, un barrio tranquilo y agradable. 2 minutos a pie de los autobuses o 15 minutos a pie de los trenes (West Ryde o estaciones Eastwood). Estamos a 30 minutos de la ciudad de Sydney, a 30 minutos en coche a la nueva Wet n' parque temático salvaje y a 90 minutos en coche de las hermosas montañas azules. Estamos a 10 minutos en coche de la Universidad de Macquarie, a 15 minutos en coche de Sydney Olympic Park, a 5 minutos en coche al hospital Ryde, 20 minutos de Westmead y hospitales de niños en Westmead. El transporte público, obviamente, necesita más tiempo para llegar a estos lugares y, a veces es más rápido en bicicleta. Si previamente acordados a veces nos podemos organizar un ascensor.
Good area; close to train, shops and laundromat. Quite close to my work so driving was also easy.
Dianne
2016-09-26T00:00:00Z
I stayed at Rachel's Cabin Style Room for 3 nights and was made to feel extremely welcome. The place is great. It is really clean and the area is nice and peaceful. Unfortunately, I was unable to meet Rachel but Mike was absolutely wonderful. He was really helpful and warm and I had a really comfortable stay. Would highly recommend this place. And the dogs were lovely too!
Grisha
2015-02-27T00:00:00Z
A great little cabin for my short stay in Sydney. I landed on a very hot day and the room was nice and cool. I was traveling alone so I had plenty of room but feel like it might have been a bit too cosy with a partner. Light sleepers might find the general noise of things dropping on the roof, dogs, and neighbours working difficult - although it didn't bother me. It was perfect location to get where I needed to go easily and plenty of street parking. Bring your own shampoo, shower wash (I forgot and had to go purchase some). Excellent hot shower. Great that there is kettle, mini fridge and microwave. I ate out with friends during my stay but could make a cuppa in the morning. Would be happy to stay again if traveling alone.
Teresa
2016-04-09T00:00:00Z
Positives: It's a very small but nice cabin with a double bed (not queen), a bar fridge, and a small ensuite. The price was reasonable for what it is, I think I have paid $57 a night. There is a nice outside area with chairs and given that the owner of the house (It's the owners Michael and Andrea, very nice people) is a gardening professional the garden is nice as well. I was provided with towels. Michael went out of his way to help me with some tools I needed to fix a few things, which gives him extra points :) The shower has great pressure and hot water. The kitchenette is tiny but you have a microwave (you'll be surprised how many don't have any!) and an electric pan. Negatives: Major: The one that really made it hard for me to leave a good review: ***no internet and no mobile reception***. I was basically 'in the dark', could barely make a conversation even when I was outside, and there was absolutely no mobile internet inside, and very sketchy outside. No wifi either.. By day three I actually managed to find a place in the yard where there was some reception, left the mobile there and tethered. I use Optus with a Note 4, my mum used Telstra and a Galaxy and there was very weak reception for her as well, but at least she got some internet. The owner also said he doesn't have reception inside his house, he needs to go out to make mobile calls. It's obviously not the owner's fault West Ryde is so crappy for reception, but if you need internet and connectivity... not your place. Minor: The dogs are sweet but they bark and yap EVERY TIME you get in or out of the place, and you have to go through the main residence yard. It can get pretty annoying, and I do love dogs. Also, because he has a gardening business, in the early morning guys are coming in and out from just next to the cabin (there is a big shed there for the tools etc), which can be noisy, and doesn't provide much privacy. There is no air con, which is not a big problem most days as it's Sydney and around 17-20 at night, and there's a fan, but I had a really hot few days there and it was unbearable (mind you it was unbearable anywhere without an aircon). I knew there was no air con so I am not going to give them less points for that. All in all, I was going to give it 2 stars, because the mobile reception problem is a big one for me, but given everything else was ok and as described and Michael was really nice, I will give it 3.
Guy
2015-11-23T00:00:00Z
Description was very accurate. The cleanest Air BnB Ive stayed in! The little cute studio, at the back of a family home, has it's own gated courtyard in a lovely (fruiting) garden. Warm welcome from hosts, who were there if needed but otherwise left you to go about your own business. Food tips: Fantastic Japanese locally (next to the station), and breakfast place (Once Upon A Time). I was working at Parramatta so very quick and easy to get to (less than 20 minutes drive).
Jules
2016-05-21T00:00:00Z
my stay at the cottage was fantastic. Mike and Andrea were so welcoming and accommodating. I was treated very well and welcomed as part of the family. The cottage was quiet, clean comfortable. Beautiful, tranquil a little place all to yourself. Will return.
ellen
2015-02-16T00:00:00Z
Made to feel very welcome, had a short chat most days when leaving and arriving, lovely small dogs always say hello! Description was accurate and location was great for my purpose. The cabin was very clean and neat. I certainly recommend this as a good stay.
Terry
2015-10-05T00:00:00Z
Did not have the opportunity to meet rachel as she was overseas but mike her dad was the warmest host ever. He made sure we felt at home and even bought a new bbq for our use. There were also 3 little dogs which always made us feel welcome :P The cabin is exactly as described, really clean and neat. There is private access to the cabin so we could enter and leave at anytime. The private garden was also great as we could keep our dog there during the day.
leon
2016-01-03T00:00:00Z
Tipo de habitación
Casa/apto. entero
---
Tipo de propiedad
Cabaña
---
Capacidad
2
---
Dormitorios
West Ryde, Nueva Gales del Sur, Australia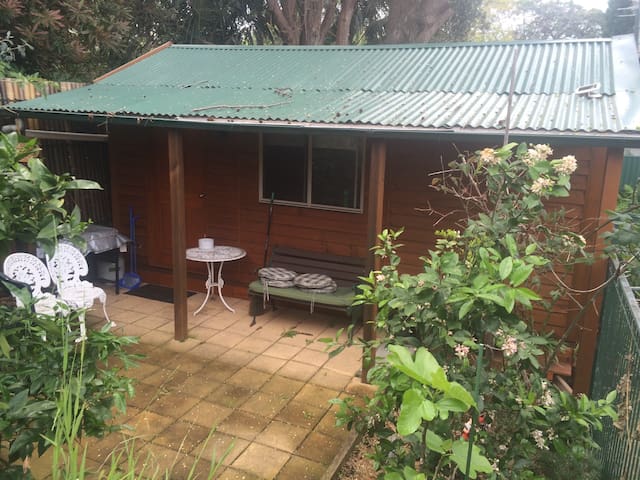 Homebush West - Airbnb
:
Una media de

4.78

estrellas de un total de

5

de

61

evaluaciones de huéspedes
1

–

2

de

2 Alquileres de Cabañas
Introduce las fechas para ver el precio total. Ten en cuenta que se aplicarán tarifas adicionales y es posible que se añadan impuestos.