Introduce la fecha de llegada en el formato dd/mm/aaaa
Introduce la fecha de salida en el formato dd/mm/aaaa
Anuncios que no requieren que el anfitrión acepte la solicitud.
1 Bed & Breakfast
· Jersey
1 Bed & Breakfast
· Jersey
Introduce las fechas para ver el precio total. Ten en cuenta que se aplicarán tarifas adicionales y es posible que se añadan impuestos.
En julio y agosto, podrás disfrutar de 100 de los alojamientos con las mejores valoraciones de Sonoma a precios muy diferentes y disfrutar de la cara más auténtica de la ciudad. Relájate y disfruta de tu estancia sabiendo que puedes hacer una reserva inmediata, llegar a cualquier hora y disfrutar del vino de la zona y de otros tentempiés.
Our comfortable twin bedded guest room overlooks rural countryside. You will find tea making facilities, TV & radio in your room. Our guest bathroom is solely for your use. It has a shower bath toilet & basin. We provide a continental breakfast.
My name is Debby & my husband is Peter. We have travelled quite a bit & are always keen to meet people from different walks of life. We are an active retired couple. I enjoy gardening, swimming, many crafts & walking with my dog on the cliff paths. This area is a walkers paradise & also great for cycling. We are 5 mins walk to the fabulous north coast cliff paths. The picturesque bay of Bonne Nuit is just 25 mins walk down the cliff path & approx the same down to Bouley Bay, where you can SCUBA dive or just soak up the amazing views. Both bays are perfect for swimming/kayaking during the summer. The Bonne Nuit Beach Cafe has lovely home made food (crab sandwiches are yummy) & offers tasty Thai cuisine in the evenings & you can take your own wine! Our local pub The Trinity Arms serves good tasty meals. This is the higher side of the island so inevitably, there are some hills! We are 10/15 mins walk to the nearest bus stops which will take you into the capital, St Helier & 5 mins drive to the world famous Durrell Wildife Park. We are also on one of the many pretty island cycle routes. We provide a continental breakfast. We have parking onsite. You have your own door key & can access Le Petit Coin at any time. Please make yourself at home in the lounge. We are happy to help you with local information of any kind. We are a busy, active couple & are usually out and about during the day.
This is a quiet rural area surrounded by farmland. Our farming neighbours have a herd of lovely Jersey milking cows, which are often grazing in the field at the other side of our garden hedge during the summer months! Please note there are no street lights in the country areas therefore we strongly recommend you bring a torch. We have parking on site and are placed on one of the many pretty island cycle routes. We are 10/15 mins walk from the bus stop which will take you into St Helier, the capital in 20/25 mins. Jersey is renowned for it's beautiful scenery and fabulous choice of eateries. We are happy to help you make your choices if required! The annual Tennerfest starts at the beginning of October until the first week of November. Check with Jersey Tourism for more details. For detailed bus route information please check online with the local bus company liberty bus. Please note we are on bus route numbers 4 and 5. The 5 is hourly and the 4 is two hourly to and from St Helier.
We had such a lovely time staying at Le Petit Coin. The room was very comfortable with tea and coffee, a TV, and a view over the field next door. Everything was spotlessly clean. Bathroom just next door. Breakfast was perfect for us, cereal, croissants, toast, fruit and yogurt. The house is tucked away in a country lane near the north coast but nowhere in Jersey is very far away and we soon got our bearings but you do need a map! The cliff walks are wonderful and local coves and beaches are beautiful. Debby and Peter are friendly and welcoming with lots of useful ideas and info. Thanks for having us!
Liz
June 2016
We had a wonderful time with Debby in her beautiful home and wish we could have stayed longer. Debby gave us a very warm, friendly welcome and has thought of everything to make her guests' stay a home from home experience . We enjoyed chatting with her each morning when she popped in at breakfast to check that everything was okay, offer any help with our plans for the day and check that we had everything we needed. Nothing seemed to much bother for her. Debby's house is spotlessly clean and she kept us well supplied with clean towels. Unfortunately the weather wasn't as good as Jersey weather usually is and so we did not take advantage of the beautiful garden. We plan to return next year!
Lesley
July 2016
Debby and Pete are very welcoming and accommodating hosts. Their home in Trinity is in a wonderful rural location on the Northern part of the island - the local Liberty bus has a few stops nearby. We enjoyed a great coastal cliff walk Bonne Nuit to Bouley bay. Our room had a lovely view of the neighbouring farm fields with Jersey cows. The continental breakfast was just what you need to get your day started.
Susan
May 2016
Lovely quiet setting, with a well informed enthusiastic host for whom nothing was too much trouble.
Mandy
September 2016
Debby and Peter were exceptional hosts, we highly recommend them! They live in a peaceful area surrounded by fields and cows, a heaven place to all who love nature and quietness. They help us a lot by picking us up at a bus stop and by driving us to the ferry terminal. They are very friendly, thoughtful and gave us some good advice to visit the island. Debby knows great places to walk, cycle and eat. They were so nice that they even lent us some bikes to go to some bays and coastal paths. Thanks to Debby's documentation (bus timetables, walking books and so on) we could see many interesting places on Jersey. The communication before arrival was great and we could easily find the right bus to go to the house (about 20 minutes by bus from the terminal) thanks to their information. The house is very tidy and welcoming. The bedroom is very comfortable and quiet, and the private bathroom is large with all the facilities you need. The breakfast is delicious with a variety of cereals, milk, fruits, yoghurts, croissants,… We have a gorgeous view from the dining room. This house is situated in the most beautiful part of the island, to me! The countryside is everywhere and you can easily go to the zoo, go walking on coastal paths and cycling in a quiet environment. Debby and Peter are very interesting and complete people, they do many activities dealing with art and nature especially. I only wish we could have stayed longer to speak more with them and to visit other parts of the island. Another trip to Jersey has definitely to be planed and it will be at Debby's without a doubt!
Marie
August 2015
When we first arrived at le petit coin we were greeted by Debby and Peter and were made to feel very welcome. We were shown around the accommodation which was as described on the website it was very clean and situated in a very quiet area of Jersey. We both enjoyed the freshly baked croissants as part of the breakfast. Debby was very helpful at guiding us on places of interest on the island and even places that were not on the tourist map. Would be more than happy to recommend this accommodation to anyone visiting Jersey
Paul and Alison
June 2016
Debby is a superhost. Very kind. She gave us very good ideas to enjoy the island: things to see, nice restaurant, helping us to tracvel on the island. She helped us in all ways.
Chris
August 2016
Debby was a very congenial, patient, informative host (patience especially with me as I worked out the bus schedule!) My plane was late but I was able to check in when I arrived. There are only five stars allowed for each aspect of my stay but in my opinion the experience was far and beyond a 5. The room was lovely - you wake up to birds singing and the freshest air you could imagine. The lounge looks out onto the garden and it is beautifully landscaped. Debby and Peter were kind, interesting and attentive hosts and I enjoyed getting to know them VERY much. Breakfast was always waiting and delicious. I've visited Jersey several times before because of family connections and plan to visit in the future. There's no need for me to fret about where to stay because if they'll have me, I'll be guesting there again!
Donna
July 2016
Tipo de habitación
Habitación privada
---
Tipo de propiedad
---
Capacidad
2
---
Dormitorios
1
Trinity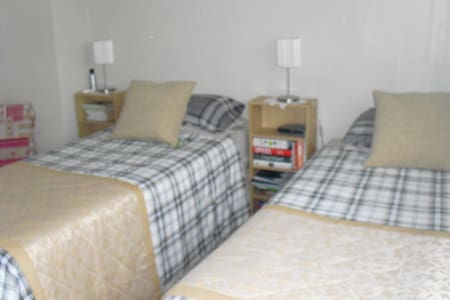 1

–

1

de

1 Bed & Breakfast