Introduce la fecha de llegada en el formato dd/mm/aaaa
Introduce la fecha de salida en el formato dd/mm/aaaa
Anuncios que no requieren que el anfitrión acepte la solicitud.
2 Alquileres de Cabañas
· Kamouraska
2 Alquileres de Cabañas
· Kamouraska
Introduce las fechas para ver el precio total. Ten en cuenta que se aplicarán tarifas adicionales y es posible que se añadan impuestos.
En julio y agosto, podrás disfrutar de 100 de los alojamientos con las mejores valoraciones de Sonoma a precios muy diferentes y disfrutar de la cara más auténtica de la ciudad. Relájate y disfruta de tu estancia sabiendo que puedes hacer una reserva inmediata, llegar a cualquier hora y disfrutar del vino de la zona y de otros tentempiés.
Modern cottage with a breath taking view on the St-Lawrence river and minutes from Le Massif de Charlevoix. Enjoy the roof deck, the fireplace or the private spa.
Feel free to contact me for any questions you may have.
Notre séjour a été impeccable! D'abord, la maison est magnifique, beau style moderne et d'une luminosité exceptionnelle! Coin très tranquille et intime. Et que dire de la terrasse et de la vue, nous aurions voulu y rester en tout temps! Nous étions 6 personnes et tout le monde était confortable pour dormir. La cuisine est fonctionnelle et il y a beaucoup d'accessoires pour cuisiner, ce qui était parfait. Éric s'est montré très disponible et ouvert à toutes nos questions; il est à l'écoute et veut que le séjour de ses invités se passe le plus parfaitement possible! Je recommande tout de cette location, expérience unique!
Frederique
June 2016
Très belle maison, très moderne, confortable et bon goût. Superbe vue sur le St Laurent. Nous avons eu un séjour très agréable. Au plaisir de revenir..!!!
Alejandro
April 2016
Nous avons passé une super semaine dans la région de charlevoix. Le chalet fut merveilleux et très bien équipé. Il est parfait pour une grande famille. Éric a été rapide à répondre aux questions. Je recommande ce chalet sans hésiter!
Sara
August 2016
Le Monrocher is a beautiful property with stunning views and a comfortable modern home. It's proximity to skiing at Le Massif was the reason for our stay. This was our 4th trip to ski in this region and the stay here was our best experience. The hot tub is excellent and house is very comfortable. The unobstructed views of the St. Lawrence are spectacular especially from the bedroom window. Eric was available via phone and text for questions during our stay. We are happy to give great reviews to this property!
John
December 2016
Our Host Eric was in touch with us prior to arrival and very detailed and accurate with his directions and advice. The neighborhood has a collection of great homes and chalets and you aren't disappointed when you reach your own destination. Our entire group (2 families) was quite pleased with our accommodations. The kitchen, eating and general family area allowed us to make meals and share a great holiday with family and friends. There is a reading area and the bedrooms are away and separate from this area for those that want to crash early.
mark
April 2016
This space was wonderful! Large spacious common space with tons of windows. The hot tub was a great feature after a day of skiing. The kitchen was well equipped to cook to your hearts content.
Arianne
March 2016
Tipo de habitación
Casa/apto. entero
---
Tipo de propiedad
---
Capacidad
8
---
Dormitorios
3
Petite-Rivière-Saint-François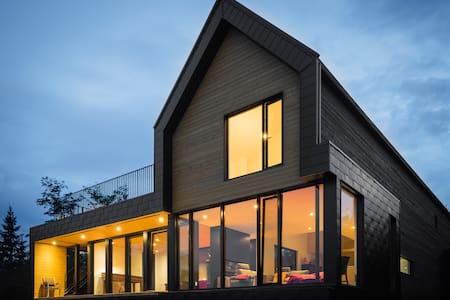 Rustic cottage nestled in the forest on a crystal-clear lake in beautiful Charlevoix, Québec. Your serene accommodation just 20 km from Tadoussac, the world-renowned whale watching destination. July and August weekly rental only (Friday-Friday)
The real wilderness with all the space you need. Although accessible, you are in a quiet area on a crystal-clear lake in an unspoiled natural forest. Spend your evening at the cottage watching the sun set over the lake. After nightfall, take in the brightness of the stars. At daybreak, the call of the loon will beckon you to the water. Enjoy the fresh air and beauty of the lake by launching one of the pleasure boats available to you. Take a dip in the clear water, or simply bring your fishing rod and take a chance at some of the lake trout. In the evening, pour yourself a glass of wine and curl up on the sofa with your favorite novel. In this region the possibilities are endless. 20km away, you will find the historic village of Tadoussac, renowned for it's whale-watching tours and beautiful white-sand beaches. Tadoussac, a popular summer tourist destination since the 16th century, is a hub of entertainment. Enjoy the bistros, restaurants and many festivities that take place all summer. Discover the region by canoe, kayak, hiking, trekking, or biking. Take a long drive through the Laurentian mountains, and stop at one of the many public beaches in the area. 10 minutes from Chalet du Bon Séjour, you will find the panoramic municipal marine park of Baie-des-Rochers, a well-kept secret from international travelers. Terrestrial and marine conservation parks are also situated near Tadoussac. On your way to Tadoussac, you will cross by ferry the beautiful Fjord du Saguenay.
Your stay at the chalet includes: bedding, towels, BBQ and propane, wood for the fire, pedal boat, electric-motor boat, canoe and more...all you need to bring is food and personal effects! On the 1st floor of the chalet you'll find a fully equipped kitchen and dining area, 2 closed double bedrooms, living room with television (there are no TV channels), CD and DVD player, bathroom with toilette and vanity and washroom with shower and vanity. Located on the 2nd floor is a double room with queen-sized bed, and the mezzanine area with 2 single beds. There is a screened veranda adjacent to the dining room with a BBQ. On the lakeshore, you'll find a covered gazebo equipped with table and chairs, as well as 2 adirondacks.
Le chalet était propre et un mot de bienvenue nous attendait! :) Le secteur était superbe, il faudrait seulement mentionner que le chemin est assez cahoteux car nous avons brisé notre voiture à cause des grosses roches qui parsèment le chemin. Sinon, nous avons bien aimé le fait que nous étions proches de Tadoussac et de La Malbaie. Nous avons pu rencontrer les concierges qui étaient fort sympathiques. Concernant les points à améliorer; les planchers sont vraiment croches et plusieurs travaux sont nécessaires (jours dans les fenêtres et portes, ce qui laisse entrer des insectes, élément à changer dans le chauffe-eau (nous avons manqué d'eau chaude pendant 24h), porte de la cuisine d'été qui nous est tombée dans les mains, pas assez de linges à vaisselle pour une semaine, etc...). Nous avons passé une belle semaine malgré tout!
Caro
July 2015
What an incredible place! We spent six idyllic days at Tara's lake cabin, and loved every minute of it. It's tucked away in a leafy, private location by the water. We had the whole lake to ourselves, and loved sitting out on the jetty watching the sunsets and stunning night skies. You can use the paddle boat, kayak and row boat, which are lots of fun. Inside the house is cosy and well equipped. The beds are great, and the access road is not too bumpy if you take it slow. Tadoussac is a fab town, and there's so much to see and do nearby. Tara was great to deal with- always available and really friendly. All in all a great experience - highly recommended!
Adrienne and Joe
September 2015
Si vous cherchez la vie typique canadienne alors c'est chez Tara qu'il faut aller !!! Son chalet est perdu au milieu des bois, avec un ponton privé pour accéder au lac. Barque, kayak, pédalo, tout y est pour passer un séjour parfait !!! Décor de carte postale assuré !!!
Fanny & Aramis
October 2015
Nous avons passé 3 jours exceptionnels, tout était parfait. Le chalet correspond parfaitement à sa description, c'est un havre de paix, à 15 minutes du traversier pour Tadoussac. Il est tout équipé, facile d'accès, et Tara nous a tout bien expliqué dans le "guide" du chalet. Rien à redire :)
Pierre & Clarice
September 2015
Chalet très bien placé pour faire un tour du côté du fjord du Saguenay et de Tadoussac tout en ayant un pied à terre nature. Alliant rustique et confort on s'y sent bien, belle vue sur le lac, le plus: l'embarcation ou le pédalo à dispo! Je n'ai pas eu l'occasion de croiser directement Tara Lynn, mais nos échanges ont été très sympathiques. Ses réponses sont très rapides et les infos complètes.
Sophie
September 2015
Logement exactement comme dans le descriptif. Environnement sauvage avec vue exceptionnelle sur le lac. Calme total !! Dommage que le temps n'ait pas été de la partie car s'il avait fait meilleur nous aurions plus profiter des aménagements extérieurs qui sont de bonne qualité. La région est vraiment sauvage ; randonnées sur des sentiers parfaitement entretenus et balisés, petits villages et baies magnifiques. Et évidemment, les croisières sur le fleuve à ne pas manquer. Tata à été très disponible et à répondu à nos appels sans délai. A recommander aux amoureux de la nature.
Corinne
July 2016
We were a large group and Tara's cottage was a perfect fit!! The detailed directions were very helpful and needed, as it so secluded and tucked away from the highway, which was just how we liked it. We loved the rustic charm of the cottage, and the location was just beautiful! The lake was so much fun to swim in, paddle in the boats provided, or just sit beside. Make sure you check out the two waterfalls on either side of the lake! The beds were all very comfortable, and everyone slept well. Tadoussac was only a short drive away. They did everything they could to make it an easy, relaxing stay. Thank-you
Jayna & Donovan
August 2016
Tipo de habitación
Casa/apto. entero
---
Tipo de propiedad
---
Capacidad
8
---
Dormitorios
4
Baie-Sainte-Catherine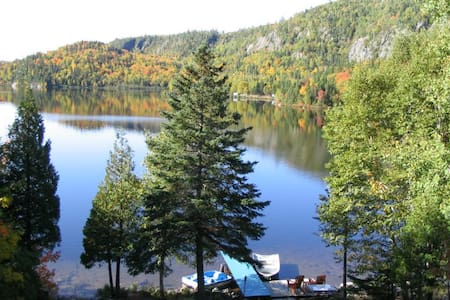 1

–

2

de

2 Alquileres de Cabañas