Είναι στο χώριό καρδαμυλη μεσα σε ελαιωνα με μεγάλο κήπο Μόλις 5 λεπτά από την θάλασσα
Tipo de habitación
Casa/apto. entero
---
Tipo de propiedad
Casa
---
Capacidad
3
---
Dormitorios
GR, Grecia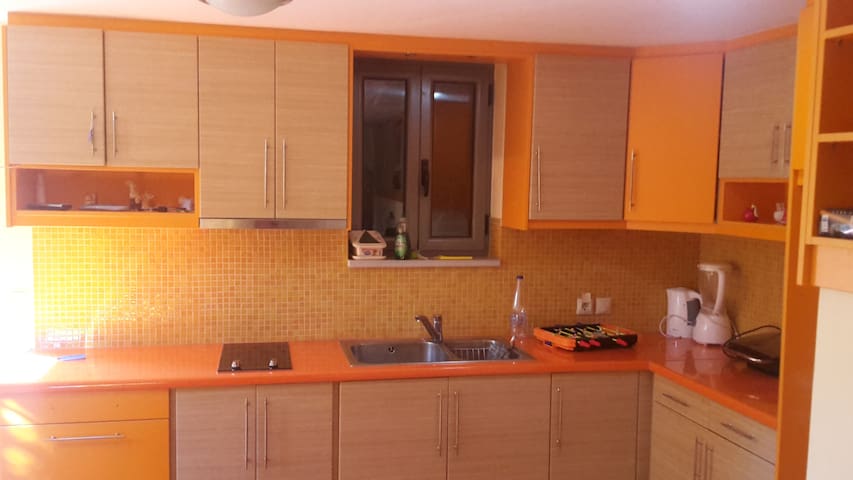 Παραδοσιακό σπίτι στο χωριό!! Ζήστε την vintage εμπειρία! Επιπλωμένο με αντίκες, 65 τ.μ., 50m από τη θάλασσα, με ανακαινισμένο μπάνιο και κουζίνα, πλήρως εξοπλισμένο, ιδανικό για διακοπές οικογενειών, ζευγαριών και παρεών,για πολυήμερη διαμονή. Βρίσκεται στην καρδιά της Καρδαμύλης,ελάχιστη απόσταση από όλα τα αξιοθέατα του χωριού. Το σπίτι έχει ιδιαίτερα θετική αύρα, με μια μικρή αυλή μπροστά και δύναται να αποτελέσει βάση σας για την εξερεύνηση της υπόλοιπης πανέμορφης Μάνης! Wi-fi παρέχεται
Παραδοσιακό σπίτι στο χωριό!! Επιπλωμένο με αντίκες, 65 τ.μ., 50μ από τη θάλασσα, με ανακαινισμένο μπάνιο και κουζίνα, πλήρως εξοπλισμένο, καινούριες συσκευές για το νοικοκυριό, ιδανικό για τις διακοπές οικογενειών, ζευγαριών και παρεών, για άνετη πολυήμερη διαμονή.Δωρεάν υπηρεσία Wi-fi παρέχεται. Βρίσκεται στην καρδιά της Καρδαμύλης, σε ελάχιστη απόσταση από όλα τα αξιοθέατα και τις παραλίες του χωριού. Το σπίτι έχει ιδιαίτερα θετική αύρα, φυσική δροσιά και μια μικρή αυλή μπροστά με θέα τον κεντρικό περίπατο στο χωριό!Δύναται να αποτελέσει τη βάση σας για την εξερεύνηση της υπόλοιπης πανέμορφης Μάνης!
Kardamili ist eine kleine Stadt am Meer 35 Kilometer südöstlich von Kalamata. In der Ilias (Buch 9) [2], zitiert Homer Kardamili als eine der sieben Städte von Agamemnon Achilles als Bedingung angeboten, den Kampf während des trojanischen Krieges wieder zu vereinigen. Das Dorf bewahrt seinen alten Namen. Das Gebiet ist mit Stränden gefüllt: Riza, Belogianni, Salio, Tikla, Amoni, Santava. Die ältere Stadt umfasst eine mittelalterliche Burg und Vorwerke und die imposante Kirche des Heiligen Spyridon. Viele der Gebäude des alten Kardamili, die auch als "Ober Kardamili" bekannt waren, von den Venezianern errichtet und bieten eine Mischung aus traditionellen griechischen und venezianisches Design. Die Skyline von Kardamyli, wie viele andere Mani Städte und Dörfer in Mani, wird durch die unterschiedlichen regionalen Architektur der verschiedenen Türme von Ablegern der Nikliani Clans, der mittelalterlichen Aristokratie der Mani gebaut dominiert. Kardamyli ist der Ausgangspunkt vieler Bergwege, von denen einige auf den Gipfel des Mount Taygetos führen. Kardamili ist in dem Bereich bekannt dafür, dass eine besonders gute Aussicht auf den Berg Taygetos, lokal bekannt als "Profitis Ilias", wörtlich "Prophet Elias" übersetzen. In der Nähe liegt die Viros-Schlucht, mit einer Gesamtlänge von 20 km. Die Viros Schlucht bleibt Knochen trocken im Sommer, aber es ist schwer im Winter zu fluten bekannt, wenn Schnee auf den Bergen schmilzt und regen fällt in strömendem Regen. Etwas weiter entfernt, kann man Oitylo, Areopoli und die Diros Höhlen besuchen. Das Dorf Kalamitsi, etwas außerhalb von Kardamili war, in seinen späteren Jahren, die Haupt Heimat von Patrick Leigh Fermor und seine Frau Joan. Patrick war ein englischer Schriftsteller, der zum Ehrenbürger des Dorfes für seine Teilnahme an der griechischen Widerstand während des Zweiten Weltkriegs, vor allem auf Kreta gemacht wurde. Er starb im Krankenhaus im Jahr 2011 am Tag nach der in Dumbleton in England zu seinen anderen nach Hause zurückkehrt. Sir Patrick Michael Leigh Fermor wurde in den 2004 New Years Honours geadelt. Im Jahr 2007 sagte er, dass, zum ersten Mal, hatte er beschlossen, mit der Schreibmaschine zu arbeiten, alle seine Bücher bis dahin geschrieben zu haben Langschrift. Das Haus Kardamyli war der Ort, wo er viele seiner späteren Typisierung tat, und sein Haus wurde in 2013 Hollywood-Film "Before Midnight 'gekennzeichnet. Offizielle Website von Kardamili: (URL HIDDEN) Video: (URL HIDDEN)
Todo muy bien. Euna casa sencilla pero adecuada. La situación muy buena. Sortiris y la mujer que nos recibieron muy simpaticos.
carolyn
2016-07-27T00:00:00Z
Imagine staying at your grandmother's apartment, if she was Greek. This place had that kind of charm, and also some old beds to match. The double bed was not too bad. We were frustrated by the malfunctioning clothes washer, which did not effectively clean our clothes or spin dry them. We had been counting on that machine working. But we enjoyed the charm of the place, the welcome and the central walk-to-everything location. We absolutely adored Kardamyli and appreciated the hosts recommendations of things to see and places to eat. He could make some significant improvements at low cost and effort by buying some basic utensils for the kitchen: a corkscrew, peeler, a plastic spatula and wooden spoon (so not to damage his teflon pans), plus a few more knives and forks(URL HIDDEN)
Stephen
2016-10-28T00:00:00Z
Sotiri's house is warm, clean and peaceful, fully equiped, suitable for families. It's located right in the center of the traditional village of Kardamyli. Sotiris was helpful, always on the phone, willing to help and to provide guidance!!!
Dimitris
2016-06-21T00:00:00Z
Wir haben uns in Sotiris Haus sehr, sehr wohlgefühlt. Alles war wie beschrieben und auf den Fotos zu sehen. Fr. Vasso, die Kontaktperson in Kardamili hat uns sehr nett empfangen und Sotiris hat mehrfach nachgefragt, ob alles in Ordnung ist. Das Haus liegt genau im Zentrum mit Tavernen und Bar`s, der Strand wäre zu Fuß erreichbar (ca. 5-10 min. Fußweg). Kardamili ist landschaftlich wunderschön gelegen, der Strand (obwohl Steinstrand) war für uns der schönste unseres Griechenlandaufenthaltes. Im Frühjahr und Herbst sind auch sehr schöne Wanderungen möglich, uns war es dafür im August zu heiß. Empfehlen würden wir einen Ausflug nach Stoupa zum Abendessen mit herrlichem Sonnenuntergang. Wir würden immer wieder Urlaub in Sotiris Haus machen, danke, dass wir dort so schöne Tage verbringen konnten!
Marietta
2016-09-01T00:00:00Z
Sotiris' house was soooo qute, with a traditional, warm atmosphere! The location is ideal and the house is fully equiped. Sotiris was a great host, he arranged everything for us and made us feel like home. Totally recommended!!!
Myrto
2016-05-24T00:00:00Z
The house was sooo beautiful better than pictures! Very traditional and modern ambient at the same time! Sotiris was extremely helpful, he had everything figured out! Great location, close to everything!
Ελένη
2016-06-10T00:00:00Z
Sotiris house is lovely and comfortable. He was very helpful and kind. Unfortunately due to the fact that was really hot in Kardamili, at night we it was extremely hot, since there is no AC in the house.
Lea
2016-07-29T00:00:00Z
Staying in Sotiris listing was fantastic. He was the most pleasant host we interacted with during our stay in Greece. It is located quite perfectly in the center of this amazing little town.
David & Rachel
2016-06-07T00:00:00Z
Tipo de habitación
Casa/apto. entero
---
Tipo de propiedad
Casa
---
Capacidad
6
---
Dormitorios
Kardamyli, Región del Peloponeso, Grecia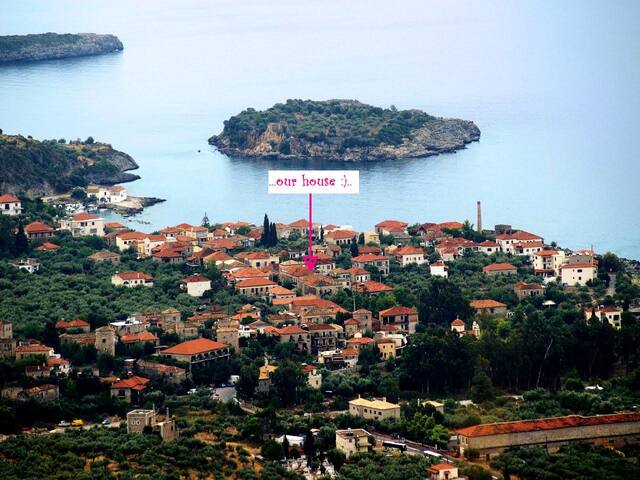 Liodentra 1, is a one-storey bungalow of 38sqm, with one bedroom (sleeps two) and bathroom, situated in a big garden with pool and private parking space.
The beach is just 50m away, where private umbrellas and sun beds can be found and the centre of Kardamyli, is only a 10 minutes' walk.
Tipo de habitación
Casa/apto. entero
---
Tipo de propiedad
Casa
---
Capacidad
2
---
Dormitorios
Kardamyli, Región del Peloponeso, Grecia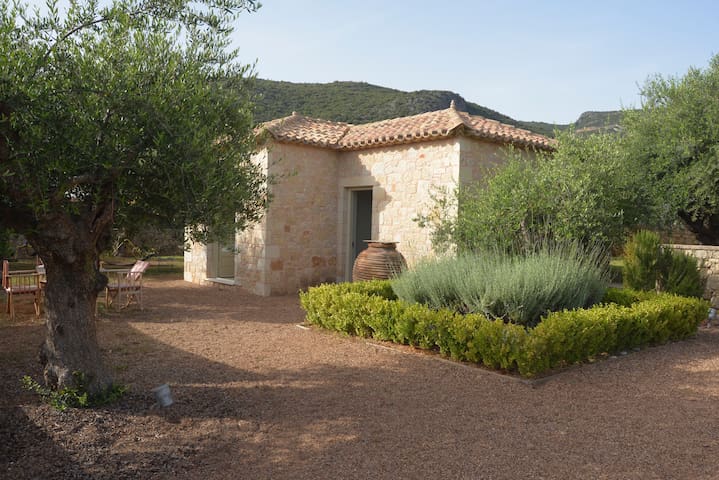 Προσφέρουμε σπίτι για ενοικίαση,στη Μεσσηνιακή Μάνη στην Ελλάδα.Είναι ανάμεσα στην Καρδαμύλη και τη Στούπα και απέχει 5' με αυτοκίνητο απο αυτές.Παραλία προσβάσιμη-απο ξηράς-μονο σε εσάς και σε ελάχιστους γύρω κατοίκους.Αυτοκίνητο απαραίτητο.
A traditional house, equipped and transformed into a unique summer lodging. Located in Messinian Mani, is our proposal to the original Greek hospitality; it can accommodate up to 4 persons and is located between Kardamyli and Stoupa within 5 minutes' drive. With direct access to a unique small beach, only accessible from a few nearby houses, the house is the ideal rest area for nature enthusiasts, couples or families seeking peaceful holidays. The house is landed in a big private garden full of olive trees. The unhindered view to the sea and the Messinian mountains, evokes a sense of tranquility, that seduces the resident and offers exquisite moments of relaxation. The house offers one cosy bedroom (1 double bed & 1 single bed)*, traditional living room (with one additional single bed)** combined with fully equipped kitchen and bathroom. *towels and sheets included ** Additional guests may be accommodated
Hemos pasado 6 días en casa de Ελεαννα, un lugar muy especial: situada entre olivos y al borde del acantilado, con un camino entre árboles que conduce a una cala de piedras blancas y agua transparente. La casa está situada entre dos pueblos preciosos, καρδαμυλη y Στούπα, con buenos restaurantes y supermercados. Toda la zona, la península del Μάνη, es muy interesante, con pueblos de piedra y casas torre en lo alto de la montaña, aunque la sensación de tranquilidad y contacto con la naturaleza es tan intenso que da mucha pereza salir de ella. Sin duda, el sitio perfecto para desconectar del mundo. La anfitriona, Ελεαννα, estuvo también en todo momento pendiente de nosotros e hizo que la estancia fuera aún más cómoda.
Iñaki
2015-07-13T00:00:00Z
Eleanna's place was amazing. Secluded in an olive grove with a great view of the sea and the hills it was very quiet and beautiful. Absolutely tranquil, a great place to get away from everything. The private beach is a short trek down a path behind the house and was a very relaxing place. We also went to the beaches in nearby Stoupa and Kardamili, both just a short drive away. A magical house in a magical part of Greece! Hope to get back there soon!
Josh
2016-05-15T00:00:00Z
We stayed here for 5 nights (a couple with an almost 2 years girl). We loved the house very very much, and had an amazing time here. Its not a luxurious or modern house, but its comfortable, cozy, has everything you need, perfectly located... and magical. The pictures and description is very accurate. Nothing can prepare you to the magical location and surrounding of this place. The house is quiet and feels isolated, and though the house itself is not very big, its surrounding are very spacious, big terrace at the front, a big porch on the side, a big back yard, and a huge garden of olive trees all around. The views are exceptional, with the sea view changes every day and time of day. The enchanting sounds of the ocean below, the smell of Olives, Jasmine, Mint, Basil and Oregano from the gardens surrounding the house... magical... and to top it all the little beach below the house is really a treat. About the beach, it really depends on the weather. The first day we went down the beach we were disappointed, it was a windy day and the waves covered most of the beach and made it unappealing... But the next few days when the weather changed, the little bay was quiet, the water calm crystal clear and then the beach was perfect, we didn't want to leave it and went down the beach in the morning and again in the afternoon (if you want some shade you need to bring your own though). We did get some sand flies bites on the beach, so if your sensitive for that, take appropriate caution... The trail down to the beach wasn't hard for us (we used a baby carrier for the child) but you have to be minimally fit to go down and back up, since its a short but steep trail with rocky steps. We would love to come back here again... very recommended.
Rony
2016-10-16T00:00:00Z
The listing was incrediably accurate, and we were made to feel most welcome. The situation was lovely, very quiet and peaceful.
Penelope
2015-08-08T00:00:00Z
We stayed there for a month with our daughter (9 month old) and we had an amazing time! The house and the location are wonderful and Eleanna was a very nice and friendly host! Everything went very smooth! The house has everything you need and the location is fantastic! The private beach is great (nice snorkeling) and sitting on the terrace watching the ocean and the sunset was unforgettable! Also the surrounding area is very nice. A lot to do and to explore! Eleanna was always reachable and very friendly! We would come back any time!
Kai
2015-10-11T00:00:00Z
We had a perfect stay at Eleanna's house in september. Situated in the olive orchard, away from the main road and on the edge of the sea, you just walk out of your bed onto the terrace without having to bother about neighbors or others. Same thing on the beach, although we went there only twice because the location is also a good base for discovering the Mani; Kardamyli, the mountains above, the most southern point, visit Sparta and Mitra. We can suggest the place to anyone that prefers staying away from the crowd.
Etien
2014-09-21T00:00:00Z
Eleanna was charming and very welcoming, the location was amazing with beautiful views of the sea across the bay to Stoupa and a small private beach. Having breakfast on the terrace next to the sea was most memorable. The accommodation was up to our expectations and the kitchen was well stocked. I thoroughly recommend this as a quiet place to stay, yet only about a mile away from Stoupa.
Christine
2016-05-21T00:00:00Z
Als je rust rust zoekt is dit is een geweldige plek: zowel de olijfboomgaard en de terrassen en ook het kleine baaitje zijn ongekend voor rust en privacy. Zeer sterke aanrader.
Erik
2015-06-05T00:00:00Z
Tipo de habitación
Casa/apto. entero
---
Tipo de propiedad
Casa
---
Capacidad
4
---
Dormitorios
ΝΕΟ ΠΡΟΑΣΤΙΟ, ΜΕΣΣΗΝΙΑ, ΜΑΝΗ, Grecia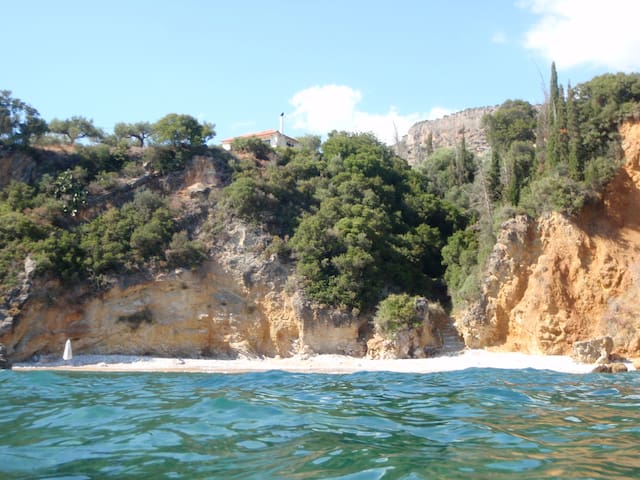 Our cottage offers unparalleled tranquility. Golden mornings. Playful butterflies. Ancient olive groves. Cerulean skies. Marvellous sunsets. Midnight stars. We hope you will enjoy staying here as much as we do. Our cottage is part of villa eleni.
The house is situated in the village Proastio next to local farms which makes the guests experience the real Greek village life. Our party was 2 adults and 4 young children between 2-5. The neighbours were extremely friendly bringing us fresh fruits (figs, grapes, pears and peaches) and eggs from their gardens. The host Apostolos was flexible as we had to change our dates on the last minute accommodating our requests. He made sure the fridge was full of Greek traditional fruits, eggs, juices and even treats for the children. He was also happy to add 2 extra beds for our toddlers. Local information around restaurants and beaches was given to us verbally but also in writing. The house is cleaned once a week including change of linen. The house space is large enough for a a party 6. Our neighbours in villa Eleni were also very friendly and we peacefully co existed. Kardamyli is a Greek picturesque village by the sea worth visiting.
Annika
2015-08-27T00:00:00Z
Our staying was excellent! The host, Apostolos, is a very nice, polite, attentive, responsible person. He was constantly in contact with us. His friend met us upon arrival and showed us to the cottage. Lovely house, cozy and comfortable, very clean, with everything we needed. Beautiful garden, marvelous view of the sea. Very quiet place, scenic nature, enchanting beaches and fascinating trails. Local sheeps, dogs, cats, chickens - we enjoyed their presence. The nearest village, Kardamili, has a couple of very good supermarkets.
 Zinaida
2016-06-18T00:00:00Z
the owners of the house were more than polite...the communication was excellent...thanks natasha for the beers...thanks apostolos for a great extended weekend!
Natalia
2016-06-21T00:00:00Z
Tipo de habitación
Casa/apto. entero
---
Tipo de propiedad
Casa
---
Capacidad
5
---
Dormitorios
Proastio, Región del Peloponeso, Grecia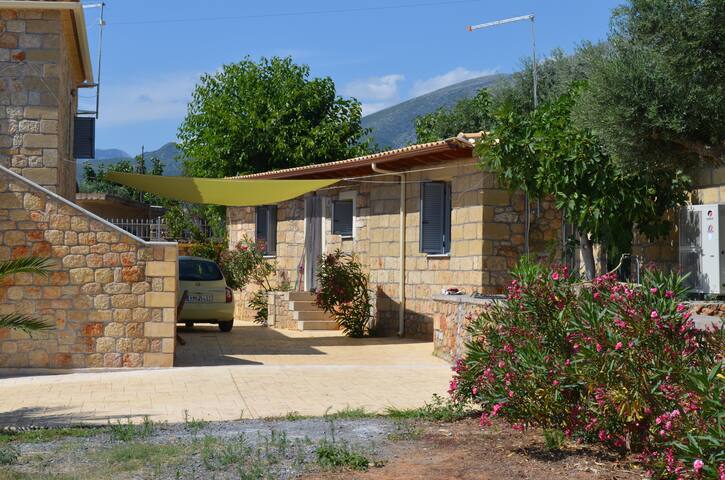 Our house is located in a valley of olive trees with a lot of flowers with a family environment
It is an area of 2 acres with many flowers Mr. olives, in a lush valley with very quiet
Tipo de habitación
Casa/apto. entero
---
Tipo de propiedad
Casa
---
Capacidad
3
---
Dormitorios
Kardamyli, Región del Peloponeso, Grecia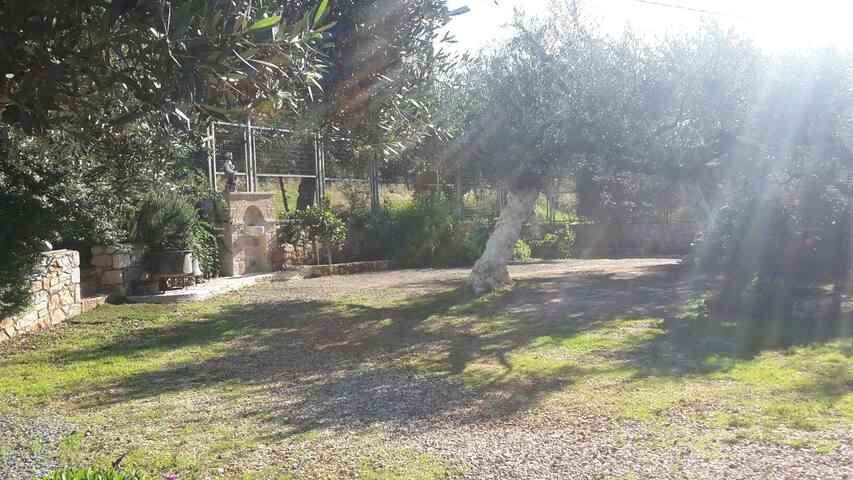 Επιθυμία μας ήταν να δημιουργήσουμε ένα όμορφο και άνετο χώρο, εκεί που η παράδοση, η φύση και η σύγχρονη άνεση αγκαλιάζονται αρμονικά. Έναν χώρο που ο επισκέπτης θα μπορεί να περάσει ξεκούραστες και ήσυχες διακοπές σε ένα τοπίο άκρος μαγευτικό.
Επιθυμία μας ήταν να δημιουργήσουμε ένα όμορφο και άνετο χώρο, εκεί που η παράδοση, η φύση και η σύγχρονη άνεση αγκαλιάζονται αρμονικά. Έναν χώρο που ο επισκέπτης θα μπορεί να περάσει ξεκούραστες διακοπές σε ένα τοπίο άκρος μαγευτικό. Κατά την εποχή του Ομήρου, Πολίσματα ονόμαζαν τα μικρά βασίλεια. Τέσσερα από αυτά ήταν το Λεύκτρο, η Ζαρνάτα, η Οριά και η Πασσαβά από όπου και πήραν τα ονόματα τους οι τρείς πέτρινες μεζονέτες του συγκροτήματος.
Очень красивое и тихое место на склоне горы в 10 минутах пешком от моря. Нас встретила доброжелательная английская пара, готовая помочь по всем вопросам. Мы занимали часть дома 1-2 этаж с открытыми террасами на обоих этажах. В доме чисто и со вкусом подобранный интерьер. Несмотря на январскую погоду (днем 8-11 градусов, ночью -1-+5), мы наслаждались теплой водой в джакузи на открытой террасе. Я думаю, что летом джакузи отлично спасает от жары, заменяя бассейн. На машине можно посетить интересные места в округе, такие как пещеры Диру, крепости Корони, Метони, старинный город на горе Монемвасию и другие.
ELENA
2015-01-09T00:00:00Z
George was very easy to get into contact with. The flat had amazing views. Do be wary though that not all of the flats are created equal. We decided to stay here half way through our trip with the intent of washing our laundry and this unit did not have a washer and dryer. George did offer for the couple below us to wash our laundry but that didn't seem like the correct response. If you do book this (and the view really is spectacular) be sure to ask about which flat you will be receiving and double check it has the amenities you want. We got what I can only guess was the "lower" version of the flats. Maybe this was because we had a child with us but it doesn't matter. We had no washer dryer, no fireplace, and no built in lounge bed next to the jacuzzi.
Alyson
2014-12-09T00:00:00Z
Beautiful, thoughtfully decorated home. Very clean and comfortable. Stable and fast internet connection. Location is excellent - walking distance from Kardamyli but far enough to enjoy the peace and quiet and views of olive groves and sea. Hosts - George, Nigel and Ruth - were extremely helpful and hospitable. This home is highly recommended. Eleni (UK, November 2016)
Eleni
2016-11-06T00:00:00Z
Tipo de habitación
Casa/apto. entero
---
Tipo de propiedad
Casa
---
Capacidad
5
---
Dormitorios
Καρδαμύλη, MESSINIA, Grecia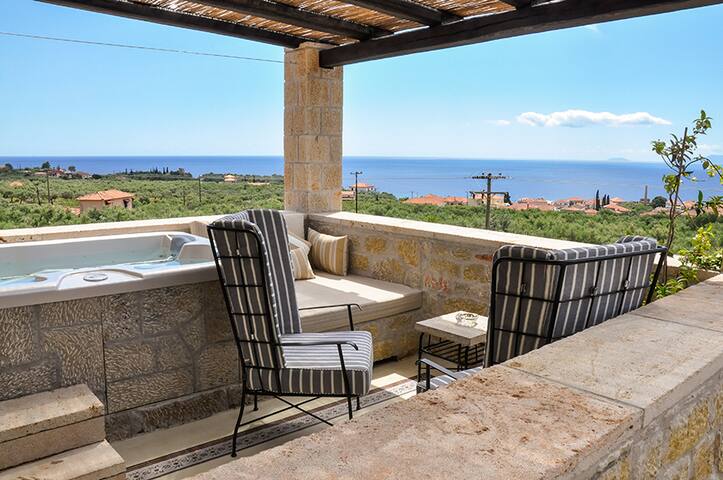 Το Εξωχώρι είναι ένα ήσυχο ορεινό χωριό. Γνωρίστε την παραδοσιακή ελληνική ζωή του χωριού. Εξερευνήστε το μαγευτικό τοπίο, υπέροχα μονοπάτια πεζοπορίας, παρθένα χωριά και όμορφες παραλίες της Μάνης. Στο πρώτο όροφο υπάρχει πλήρως εξοπλισμένη κουζίνα, ένα δωμάτιο με διπλό κρεβάτι και ένα με δύο μονά, ένα καθιστικό με τζάκι, έναν καναπέ κρεβάτι και τραπεζαρία. Έχει μια βεράντα με υπέροχη θέα και πλακόστρωτη αυλή. Στο ισόγειο έχει ένα δωμάτιο με ένα διπλό κρεββάτι μια μικρή κουζίνα και ένα μπάνιο
Το σπίτι έχει δυο οροφους. Στο ισογειο υπαρχει ενα δωματιο με διπλο κρεββατι μια κουζινα και ενα μεγαλο μπανιο. Στον πρωτο οροφο υπαρχουν δυο υπνοδωμάτια το ένα με διπλό κρεββάτι και το άλλο με δυο μονά, ένα καθιστικό με καναπέ κρεββάτι μαζί με τη πλήρως εξοπλισμένη κουζίνα και ένα μπάνιο. Μια βεράντα με καταπληκτική θέα και μια πλακόστρωτη αυλή.
Το Εξωχώρι είναι παραδοσιακό χωριό της Μάνης χτισμένο από πέτρα στους πρόποδες του Ταυγέτου. Θεωρείται η πύλη για τα ορειβατικά μονοπάτια εξερεύνησης του βουνού, ενώ στην άκρη του χωριού μπορεί κανείς να απολαύσει τη μοναδική θέα που προσφέρει το φαράγγι του Βυρού με την πλούσια ιστορία του. Παράλληλα με την εξερεύνηση του Ταυγέτου το χωριό απέχει μόλις 8-10 χλμ απο τις ομορφότερες παραλίες της Μεσσηνιακής Μάνης (Φονέα, Καλόγρια, Ριτσά, Καλαμίτσι, Τραχίλα). Στο χωριό μπορείτε να απολαύσετε πραδοσιακές λιχουδιές στις ταβέρνούλες "Το πεύκο" (δυο λεπτά απο το σπίτι), "Το φαράγγι" και "...Με θέα". Μην παραλείψετε να επισκεφθείτε τα κοντινά τουριστικά χωριά Στούπα, Καρδαμύλη και Νιοχώρι σε απόσταση μόλις δέκα λεπτών.
The house and surrounding area are absolutely beautiful and comfortabel and Christos is very kind. He picked us up to guide us to the house and we had a great time sharing some drinks.
Rolf
2015-08-21T00:00:00Z
The house is a real taste of rural Greek life and we loved every minute of our time there. Christos and his wife were great hosts throughout our stay, communication was good and they were eager to help us out and recommend us places to go and things to do. They are a lovely friendly couple and we had a nice time getting to know them over a couple of drinks in the local taverna (which I would also highly recommend). The house itself is clean, homely and well equipped with beautiful views from the balcony - I only wish we could have stayed longer but hope to be back!
Ashley
2015-10-05T00:00:00Z
Very charming, neat and beautifully renovated mountainhouse in a lovely, quiet village. We very much liked this place and really recommend this. Christos and his wife were very friendly and even left us local sweets, fruit and wood for the fire place. Next to the house we also loved the local tavernas in the village!
An
2016-04-13T00:00:00Z
Πανέμορφο σπίτι, άνετο και φροντισμένο, το τζάκι του ήταν ιδανικό για τις σύντομες διακοπές του Νοέμβρη. Το χωριό και η γύρω περιοχή ήταν εξαιρετικής ομορφιάς. Και η φιλοξενία πάρα πολύ καλή, ο Χρήστος και η οικογένειά του μας περιποιήθηκαν και μας βοήθησαν πολύ. Ελπίζουμε να ξανάρθουμε!
Χριστίνα
2015-11-19T00:00:00Z
Our stay at Christo's was exceptionally nice. He and his wife were there to meet us when we arrived at Exochori (a very pretty village high on a bluff) - They were very helpful during our stay. The house is beautiful recently renovated with traditional materials and new equipment. We loved the terrace and view from there is superb. We recommend this to everyone especially if they would like to see a bit of Greece away from the mass of tourists.
Jan
2016-06-25T00:00:00Z
We stay in this amazing stone house one (URL HIDDEN) a perfect,quite place. Great view from the terrace to the mountains and sea. There is everything you need in the house. The owners are very friendly and helpful.The road to the beach takes about 15min by car.Exochori village is very nice and picturesque. we hope to go there again. Thanks a lot to Christos and his wife!)
Avgustina
2016-10-18T00:00:00Z
We had a lovely time at Christos' house. Clean, comfortable and a nice fire place for cold nights. Unfortunately the heater did not work properly and we were quite cold at night time. I suggest you bring warm clothes if you come in May! Overall a great experience and Christos was kind enough to wait for us until we arrived around 11pm.
Emma
2016-05-09T00:00:00Z
Our stay in Exochori was such a joy. Christos was a terrific host and his accommodation was perfect for us. He and Mimi met us upon arrival and gave us an excellent overview of the lodging, hiking options and dining close to Exochori. The village of Exochori is very charming and peaceful, we met a few locals who were very friendly. Even though it was winter (early January) we had a great stay. Every day we had a cozy fire, plus very able to keep warmer in our bedroom with a space heater. The view from the balcony is amazing - all the way to the Mediterranean. The local church's hourly bell ringing was lovely and non intrusive. We thoroughly recommend Christos's Airbnb any time of year.
Nick and Lylie
2017-01-09T00:00:00Z
Tipo de habitación
Casa/apto. entero
---
Tipo de propiedad
Casa
---
Capacidad
7
---
Dormitorios
Exochori, Región del Peloponeso, Grecia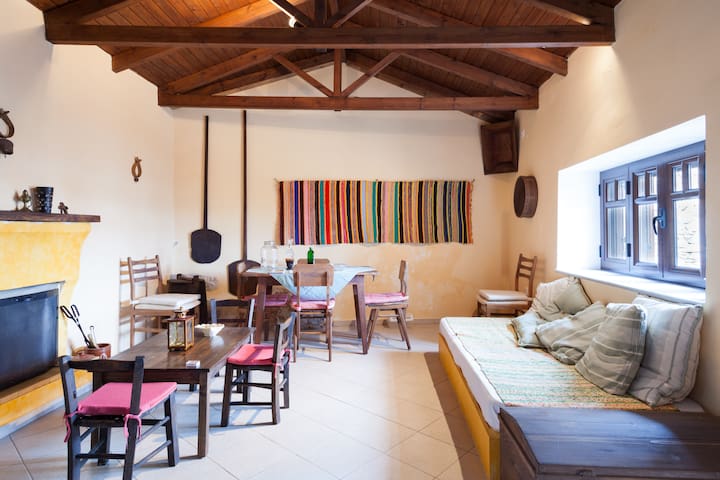 Welcome to Tzouzos-Kordopateika, a new, serene complex of villas (one of them open for renting), ideal for vacations in a tranquil, relaxing and natural style in Mani, Greece. Tzouzos is integrated with care and respect to the natural environment of Mani, combining materials such as stone and wood, making you feel it has always been part of the scenery. The house is surrounded by a large estate of olive trees, whilst it's within 300 metres from Prosilio's central square and 7km from Kardamyli.
Tzouzos-Kordopateika complex is 300m from Prosilio's village main square and 7km from Kardamyli and the nearby beach. Kardamyli is full of cafes, picturesque tavernas, bank, supermarkets and shops. Kardamyli's beach - Ritsa - is fantastic whereas nearby you can explore also many other beaches (e.g. Foneas, Delfinia, Kalogria).
Tipo de habitación
Casa/apto. entero
---
Tipo de propiedad
Casa
---
Capacidad
5
---
Dormitorios
GR, Grecia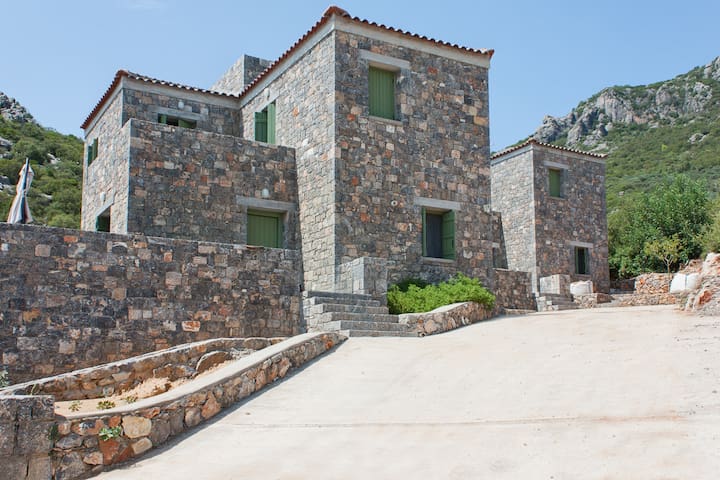 Named after Nikos Kazantzakis, the author of Zorba the Greek, Villa Kazantzakis, is a simple one-bedroom detached holiday home set in its own garden in a peaceful olive grove, 10 minutes walk to the fine sandy beaches, bars and tavernas of Stoupa. The location combines private seclusion with proximity of a small supermarket (100m), bus stop (200m), hypermarket (400m) and beautiful Kalogria beach (0.8 km). A full kitchen and outside dining space give further independence.
The property comprises: an air-conditioned living room (with ceiling fan, music system, sofa, pouffe, small desk and bookcase of English books), a double bedroom (with 1.6 x 2m double bed, ceiling fan, mosquito net, room safe, wardrobe and drawers), a fully-tiled shower room (with thermostatic shower valve, overhead and hand showers, washbasin and WC), and a well-equipped kitchen (with gas hob, fridge with freezer compartment, electric kettle, toaster, slow-cooker, pots, pans, utensils, crockery, glassware etc.). There is a taverna-style table and chairs on the terrace, two sun beds, an alternative shaded sitting area between the olive trees in the garden and a stock of candles for evenings outside. New for 2016, wi-fi is available with coverage in the house, terrace and throughout the garden via a 'mi-fi' unit (mobile data) at the cost price of €5/GB or €15 for 5 GB paid directly on the mobile operator's website. Alternatively almost all the local tavernas and bars now provide free wi-fi. For late night returns in the dark, there is a small LED torch hanging by the door and a large motion-sensitive floodlight covering the lane outside the entrance door. A large water tank provides back-up water to flush the loo during the inevitable summer water outages. + Rarely see another person from the house and terrace all day! + Just 100m from the a small supermarket and bus route up and down the coast + 10 minutes stroll to Caribbean-esque Kalogria beach backed by tavernas + Purist music system with Class-D amp and speaker holes cut through the walls! + Olive oil from the five trees in the garden provided in the kitchen + Wild herbs available in the garden + Full (Ikea) kitchen rather than just a basic kitchenette + Views of the sea through the olive grove + Decorated with souvenirs from our travels + Bookcase full of English books - a huge choice of holiday reading
The setting is a peaceful olive grove with very few neighbours. The 500 sq m garden has a border of shrubs meaning that if you don't want to, you never need see another person all day.
For us, Tim's place was an amazing experience. We loved the small house in every way: the house is extremely well decorated and very welcoming, it has big windows/doors so the evening/morning breeze can enter the house. We enjoyed a lot the quietness, the small olive trees garden and the fact that the location is a bit off the beaten path: however, it takes 10 minutes to reach the village center. In the evening you can sit on the porch and admire the sunset over the see. Pet lovers will also enjoy the company of the dog and the cats like we did, however you can always shoe them away. I could only wish to have stayed much longer. Tim also put effort in compiling a great user guide for guests with lots of information making it easy to settle in the house. Tip: if you need internet access, please follow Tim's instructions and top up the account before arriving using a computer, not a mobile phone: the mobile version of the greek website is broken and will not work, at least it didn't for me. However, who needs internet access in such a wonderful place?
Mihai
2016-08-02T00:00:00Z
We stayed for a month at Tim's house. Simple & lovely private house. Quite with a lot of privacy. Located in a great area in wonderful Mani
noa
2016-09-01T00:00:00Z
Tipo de habitación
Casa/apto. entero
---
Tipo de propiedad
Casa
---
Capacidad
2
---
Dormitorios
Stoupa, Región del Peloponeso, Grecia
Η θέα σε αυτό το δωμάτιο μοναδικη αλλά κ το δωμάτιό ξεχωριστό
Ανά ξεχωριστό δωματιο
Tipo de habitación
Casa/apto. entero
---
Tipo de propiedad
Casa
---
Capacidad
4
---
Dormitorios
Kardamyli, Región del Peloponeso, Grecia
Para ver Mani de paso por lo que necesita de 3 días, para caminar se necesita 3 meses, para ver el alma de Mani necesita 3 vidas, una para su mar, uno de sus montañas y uno para su gente.
Para ver Mani de paso por lo que necesita de 3 días, para caminar se necesita 3 meses, para ver el alma de Mani necesita 3 vidas, una para su mar, uno de sus montañas y uno para su gente. La costa sur del centro del Peloponeso entre las pendientes empinadas del monte Taigeto y el mar forma la tierra legendaria y antigua de Esparta y Mani. Kardamyli es uno de los lugares más bellos e históricos de la "verde" o de Messina Mani, olivos, cipreses, pinos y todos los antiguos griegos la flora está aquí. La zona está llena de playas: Kalamitsi, Ritsa, Chalikia, salios, y Neo Proastio. La ciudad más antigua incluye un castillo medieval y obras exteriores, y la imponente iglesia de San Spiridon. El horizonte de Kardamyli, al igual que muchas otras ciudades y pueblos Maniot, está dominada por el distintivo arquitectónico de la región de las diversas torres construidas por descendientes de los clanes Nikliani, la aristocracia medieval de la Mani. Kardamyli es el punto de partida de muchas rutas de montaña, algunas de las cuales llevan a la cima del monte Taigeto. Muy cerca se encuentra la Garganta de Viros, con una longitud total de 20 km. Un poco más lejos, se puede visitar Itilos, Areopoli y las cavernas de Diros. La torre se alquila para nuestros exclusivos huéspedes se encuentra en una colina sobre la ciudad Kardamyli y tienen excelentes vistas de la montaña SpartaTaygetus y el Mar Mediterráneo. La playa está a sólo 3 km de descenso ya la misma distancia se encuentra la ciudad de provisión agradables tabernas, etc. La casa de la torre todo-piedra tiene 7 dormitorios y muchos cuartos de baño y una gran piscina Una tierra de 1 acre rodea la propiedad.
We had an amazing week staying at Mr Tasos house! It is located away from other buildings and so it is very quiet and peaceful, the view over the mountains and the sea is outstanding and the nightsky had a million stars! The house itself is perfectly equipped, all the bedrooms and baths were nice and clean and each room had privacy. We definitely reccommend this place and hope to visit again, many thanks to the owners!
maria yuki
2016-08-07T00:00:00Z
Tipo de habitación
Casa/apto. entero
---
Tipo de propiedad
Casa
---
Capacidad
12
---
Dormitorios
Kardamyli, Messinia, Grecia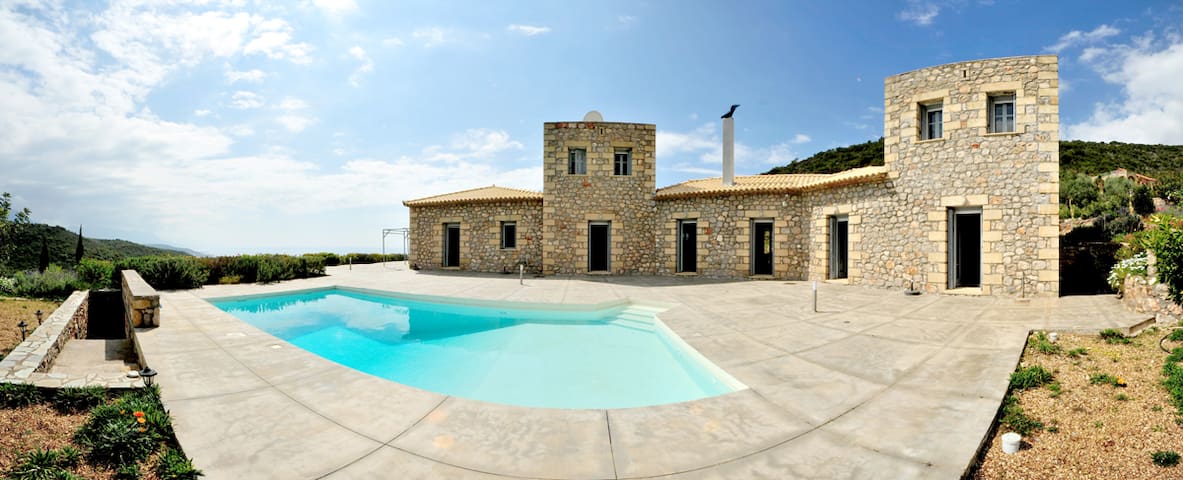 This three bedroom property is situated in the village of Proastio. The house has three bedrooms, one double bed ensuite, a double bed room and a bedroom with twin beds. There is a large airy loft with additional inflatable mattresses if required. Downstairs there is a large sitting/dining area, kitchen and another double bed with bathroom. There are three gardens with fruit trees and sea views from balcony and bedroom windows. This property is situated in Proastio,Mani, a village steeped in history. The village has a shop, two churches, two restaurants and one bar. There is also a photo gallery as several artists choose to live in this village. The area offers lots of walking trails for every type of walker with the Tageytos mountains as a backdrop. There are several beaches to choose from but the nearest is Kalamitzi. Kalogria, home place of Zorba the Greek, and Stoupa are also near by. Stoupa is a popular tourist resort with many restaurants, bars and cafes. Kardamili is 4 km from Proastio and is a traditional Greek village. We favour this place with its quaint artisan flavour by the sea. Getting to Proastio from Athens is a four hour drive or local bus will take you to Kalamata and you can get another bus to Proastio (there are several buses a day to village). Renting a car from either Athens airport or Kalamata airport is the better option and in high season its about 33 euro per day for rental or 25 euro in September , low season. We will negotiate price depending on length of time and if it is peak season or off season. Nov 1st - March 31st 150 euro per week April 1st - june 30th 190 euro per week July 1st - aug 31st 225 euro per week sept 1st - oct 31st 190 euro per week
Het dorp en de omgeving zijn bijzonder mooi. Het huis is groot en heeft alles wat je nodig hebt, er is een grote tuin en je hebt een prachtig uitzicht. Fijn om hier gebruik van te kunnen maken. Sandra laat per mail merken dat je welkom bent. Het huis is wel wat ingewikkeld, als je op de veranda met uitzicht zit en een kop koffie wilt moet je voor de keuken een gang door en twee trappen af. Daar staat veel ruimte tegenover. Je kunt in deze buurt en ook direct uit huis echt fantastische wandelingen maken! Er zijn veel bewegwijzerde routes, boekjes met routebeschrijvingen te koop in Kardamili, websites met veel info. Ook over de 40 (!) kerken en kapelletjes in Proastio. Tot slot, eind oktober, flinke regens gehad maar ook nog prachtig weer. De stranden bij Kardamili en Stoupa bijna leeg maar temperatuur van de zee nog heerlijk! Kortom, als je de kans hebt reis dan naar de Mani, het huis in Proastio is dan een goede plek.
Peter
2015-10-27T00:00:00Z
Das Haus hat eine ansprechende Größe und ist eigentlich auf einem guten technischen Stand. Leider ist die Waschmaschine defekt und das Kochen auf dem alten Gasherd ist keine Freude und dazu fehlt die Dunstabzugshaube in der Küche ! Gegen das tägliche Abschalten der Wasserversorgung (wir waren im August vor Ort) kann die Vermieterin nichts, hat das aber gut mit einem Hauswasserwerk in den Griff bekommen. Leider war die Sauberkeit des Hauses nicht perfekt ! Hier sollte nachgebessert werden. Der Ort Proastio ist ein gemütliches Dorf mit 2 Kneipen und einem Mini-Supermarkt. Die Einwohner sind sehr freundlich und hilfsbereit.
Rainer
2016-08-17T00:00:00Z
The house and the village are very nice, and we'd definitely recommend exploring this part of Greece. However, we had a couple of problems: the lady Sandra told us to get in touch with if we had any questions during our stay was rude and not at all helpful when we called her a simple question (how to turn the gas on). I informed Sandra of this but never received a response. The house was also quite hard to find (as we arrived at night). The instructions for finding the house need to be more detailed
Dav
2016-07-11T00:00:00Z
Une grande maison dans un petit village rupestre. Très calme, cet endroit offre une belle vue sur la mer qui se trouve a 10minutes en voiture. Un endroit idéal pour la marche et le VTT. Dans le village il n'y a pas de quoi acheter les aliments de bases. Nous sommes très content d avoir trouver cette grande maison, merci Sandra pour ton organisation.
Manon
2014-10-22T00:00:00Z
2 unvergesslich schöne Wochen in uriger Dorfidylle mit weiter Sicht über das Meer. Sehr gutes Preis/Leistungsverhältnis, traumhaft für alle, die nicht die Perfektion suchen.
Ursula
2015-09-14T00:00:00Z
Lovely, comfortable house in a beautiful location. We enjoyed our stay here very much and would recommend to friends. A manual would be helpful - we had a few minor problems initially.
Pat
2015-04-26T00:00:00Z
We spent the most wonderful week in the village of Proastio. The house is in the village of Proastio - a 5-7 minute drive from the main road up the hill. There were four of us, two adults and two children aged 7 and 5. The house is a split level house, nicely set back from the street. The main floor at the entrance has three bedrooms, main bedroom with ensuite bathroom. These all have A/C. The main bedroom also has a really nice terrace with a hammock - great for reading. Downstairs is a living room with brand new large screen TV - which we did not use - as we spent all day exploring. There is no DVD player - but there is a VCR. There is a great selection of books to read - pulp fiction titles include some by John Grisham and then literary books by Patrick Leigh Fermor- even Plato. The kitchen is a few steps down from the living room - perhaps a bit gloomy - but we cooked here every second night. Gas stove was an adventure - probably heralding from the late 80's?. We did not use the oven - only the gas stove top. The house being a loved holiday house for many years has an eclectic mix of pots and pans and cutlery in the kitchen - and anything and everything you need can be found. There is new electrolux washing machine as well - which we used on the second last day - but on the last spin cycle tripped the circuit. No dramas though. There is also gas BBQ outside - but we did not use this either. The village of Proastio is amazing. A true traditional Greek village. We spent the evenings wandering the many alleyways. No other tourist in site which is just as we like it. The kids enjoyed a small playground off the main square . Other highlights included seeing the sunset every night from the top terrace. Being given fresh eggs from the greek neighbor. Walking down on the old stone walkway or "Kalderimi" to watch the sunset again. The house itself was a great launchpad to explore the Mani. We went over the Taygetus range toward Gythio to get some sandy beaches. Traveling south of Areopoli was simple. The local beaches are fantastic around Kardamyli, and we enjoyed the more remote coves and clear water for snorkeling. The only lowlight was me hitting my head twice on the low door jams - self inflicted! In a nut shell, if you are after a WiFi, poolside resort, 5 star luxury - then do not stay here. If on the other hand you are like us enjoy a back to basics holiday and enjoy exploring a bit more off the beaten track - a house that is full of soul in a village that you won't see a single other tourist that has nice evening breezes, this is the place.
Charles
2014-07-11T00:00:00Z
The house as well as the garden in Proastio, Greece, is nicely hung between sea and mountain, solid and inspiring, clean and well entertained. I have spent lovely 4 days there, enjoying the quiet secluded atmosphere. Thank you Sandra for making this possible!
Alexander
2014-07-18T00:00:00Z
Tipo de habitación
Casa/apto. entero
---
Tipo de propiedad
Casa
---
Capacidad
6
---
Dormitorios
Messinia, Región del Peloponeso, Grecia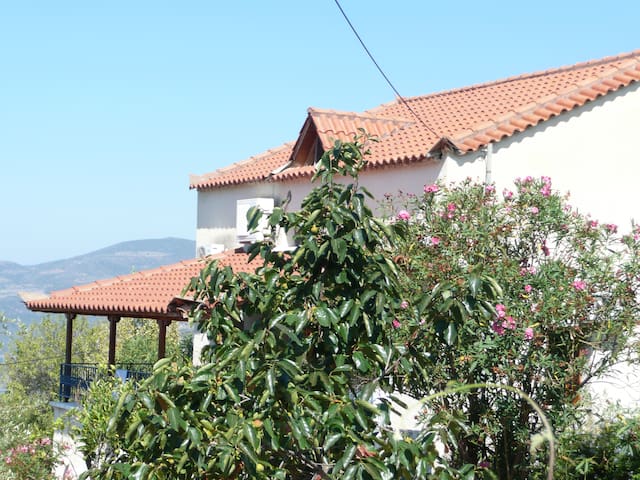 Επιθυμία μας ήταν να δημιουργήσουμε ένα όμορφο και άνετο χώρο, εκεί που η παράδοση, η φύση και η σύγχρονη άνεση αγκαλιάζονται αρμονικά. Έναν χώρο που ο επισκέπτης θα μπορεί να περάσει ξεκούραστες και ήσυχες διακοπές σε ένα τοπίο άκρος μαγευτικό.
Τα Πολίσματα βρίσκονται στην Καρδαμύλη, 350 μέτρα από τον κεντρικό δρόμο. Η τοποθεσία η οποία βρίσκονται χαρακτηρίζεται από την υπέροχη θέα του μεσσηνιακού κόλπου, τα μαγευτικά ηλιοβασιλέματα και την πλούσια ευωδιά των ελαιώνων. Επιθυμία μας ήταν να δημιουργήσουμε ένα όμορφο και άνετο χώρο, εκεί που η παράδοση, η φύση και η σύγχρονη άνεση αγκαλιάζονται αρμονικά. Έναν χώρο που ο επισκέπτης θα μπορεί να περάσει ξεκούραστες και ήσυχες διακοπές σε ένα τοπίο άκρος μαγευτικό.
We had an incredible stay at Polismata Maisonettes. The place is perfect, very tidy and with a classic and nice decoration. The views from the terrace perfect and in walking distance to the village centre. George was the perfect host and Ruth and Nigel (the housekeepers) are the loveliest people on earth! You have to go to the Stoupa beach and visit the ice cream shop in Kardamyli. All in all the perfect stay in a beautiful setting.
Sandra
2015-08-31T00:00:00Z
Polismata is a series of stone guest houses just above Kardamili in walking distance from the town. Its location is ideal to be away from any cars and is completely calm in an olive grove. We were welcomed in Polismata by Ruth and Nigel who were exceptionally helpful and gave us lots of advice on restaurants and places to visit. They take care of the guest houses and offered a change of bedding and fresh towels after two days. The very clean apartment was stocked with wine, juice and cool water and had a first-aid kit in the bathroom. The view from the porch and from the upstairs bedroom was stunning. We enjoyed the jacuzzi every night even though the weather was cool in the evenings. There is mosquito netting on all of the doors and windows which was needed even in April. All around a lovely spot where we hope to return.
stacey
2016-04-30T00:00:00Z
Tipo de habitación
Casa/apto. entero
---
Tipo de propiedad
Casa
---
Capacidad
5
---
Dormitorios
Καρδαμύλη, Πελοπόννησος Δυτική Ελλάδα και Ιόνιο, Grecia
A cosy two-story house of 130sqm, delicately decorated in soft colours and discreetly situated in an olive grove. It is only 50m away from the beach and 600m from the village centre. Ideal for quiet and relaxed holidays.
Tipo de habitación
Casa/apto. entero
---
Tipo de propiedad
Casa
---
Capacidad
5
---
Dormitorios
Kardamyli, Región del Peloponeso, Grecia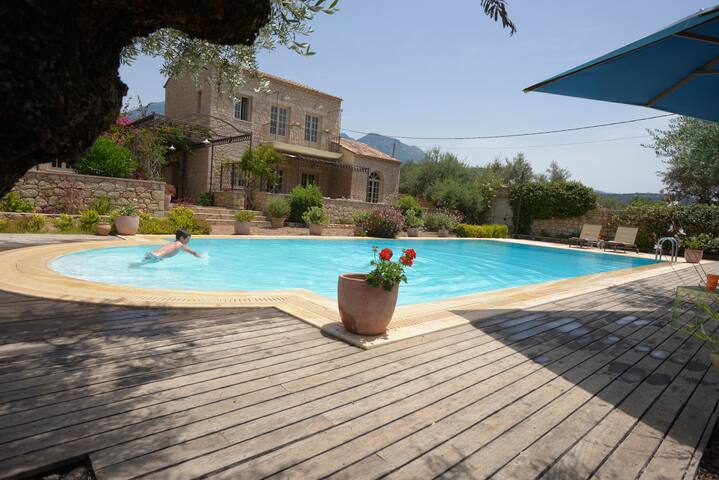 The "Grigoreas" Tower House (200 m2) was built in 1852 and completely renovated in 2016. Fully modernized while keeping its original character with its thick stone walls, its high wooden cealings and its marble arches. Next to the house, a recently renovated Byzantine family church of Agios Pandeleimonas is found, the oldest of Exochori. Located on the slopes of Taygetos mountain, in the village of Exochori, this three-storey residence combines the past with the present.
On the ground floor, there is a double bed, living room, kitchen, bathroom. An extra, private room with a single bed is also on the ground floor, which can accommodate up to 3 persons in full comfort. Fully furnished patio. Outside marble-stone stairs lead to the middle floor where there is a double bedroom, a dining table, kitchen, 2 bathrooms. Outside fully furnished veranda. Inside staircase and outside stairs lead to the third floor where the living and dining areas are. A comfortable furnished veranda provides magnificent mountain and sea view to Messinian Golf.
Exochori is at an altitude of 470 meters on the slope of Taygetos Mountain. It is set 6 klm away from Kardamili. It was the oldest village of the Byzantine build up area and a considerable economic and religious center. Today there are more than 200 old settlements and 40 small churches with Byzantine architecture. In Exochori, you can walk in VIROS CANYON and enjoy a rare variety of plants that turn this traditional village into a "Botanical Paradise". The beauty of Mani's wild, unspoilt landscape combined with the traditional architecture of the area create an idyllic scenery to visit any time of the year.
Tipo de habitación
Casa/apto. entero
---
Tipo de propiedad
Casa
---
Capacidad
6
---
Dormitorios
Exochori, Región del Peloponeso, Grecia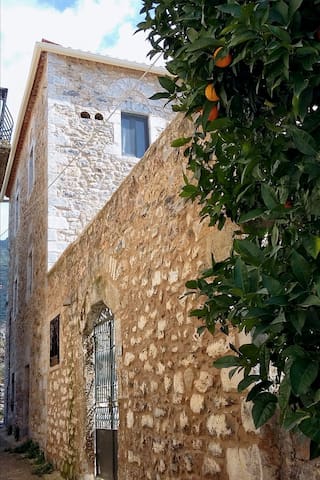 Arch
Tipo de habitación
Casa/apto. entero
---
Tipo de propiedad
Casa
---
Capacidad
3
---
Dormitorios
Kardamyli, Región del Peloponeso, Grecia
Right on the beach, next to the river! The sun rises behind the mountains, and the little Byzantine churches, which you can walk to. House is completely quiet, with garden beside the pebbled shore. Village cafes, bars and supermarket 1 minute walk.
It is on the beach! From November until April please feel free to help yourselves to oranges and lemons from the orchard... We often have our own olive oil. Just ask!
Kardamili is a beautiful Greek village with a small number of lovely cafes, bars, and a selection of shops selling local produce, including the most wonderful gifts for friends and family. The region is famed for its olive oil. And for its wealth in beautiful architecture and historical monuments to times gone by.
Tipo de habitación
Casa/apto. entero
---
Tipo de propiedad
Casa
---
Capacidad
2
---
Dormitorios
Messinia, Región del Peloponeso, Grecia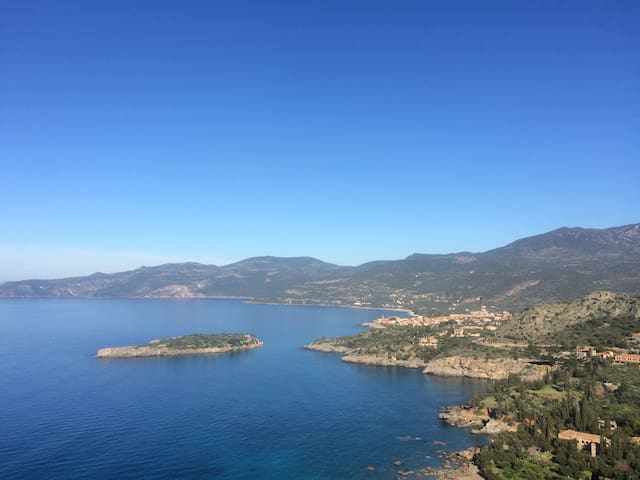 Kardamyli - Airbnb
:
Una media de

4.6

estrellas de un total de

5

de

104

evaluaciones de huéspedes