Mi lugar está en frente del mar, excelentes vistas. Mi espacio es adecuado para parejas y familias (con niños). Pocos coches pasan por delante de la casa de un espacio ilimitado para el juego.
Great place to stay ! very nice localisation, in front of the sea. Ioanna and her husband were great host, helpfull.
Sabine
2016-10-29T00:00:00Z
Excelent! The place is better than you can imagine. It's not only the house but the place. It's in a very quiet area, totally in front the beach, you can have breakfast outside under the sun listening the waves of the sea. The decoration is fresh and cozy, the atmosphere is great. The house has enough space for some people. Add that Ionna prepare the beds for us (we were a couple). She also recommend us many things and bring us the keys late in the night. The only "but" is the way to arrive, as far as I know it's not a very big residential area so you might need a car, but it's more than worth it the ride. I would repeat and I highly recommend it.
Javier Ismael
2017-03-23T00:00:00Z
Ce logement possède un très bon rapport qualité-prix. La vue sur la baie de Patras est fantastique et le logement est plus que confortable! Une adresse a retenir.
Jean-Philippe
2017-02-15T00:00:00Z
Ioanna was a very gracious hostess and was willing to accommodate our group of 4 adults on pretty short notice. The house was in a good location for our travel route, and the situation right by the water was lovely. All of the basics were provided at a great price. As a beach house, there was no central heat; there were two space heaters, which helped, but it was a bit chilly in the house in early March. Very fun sea-themed decor!
Gretchen
2017-03-09T00:00:00Z
amazing deal for oceanfront house south of Patras 20-30 minutes.
Larry
2017-03-13T00:00:00Z
The apartment was exactly as described and as shown in the photos. It was in very good condition and perfect for a family of four. The view of the sea was beautiful and exactly what we needed to relax on our holiday. The location is ideal easy to reach and parking. Ioanna was very helpful.
Mirosław
2016-11-16T00:00:00Z
Nos hôtes ont été très accueillants et conviviaux, la maison est très confortable et décorée avec gout. la vue est magnifique. Le quartier du bord de mer est calme (hors saison / novembre) une ville se trouve a 4km vers le sud avec toutes commodités.
Mateo
2016-11-01T00:00:00Z
Nice place next to the sea.
Gunther
2017-03-14T00:00:00Z
Tipo de habitación
Casa/apto. entero
---
Tipo de propiedad
Casa
---
Capacidad
5
---
Dormitorios
Alissos, Región del Peloponeso, Grecia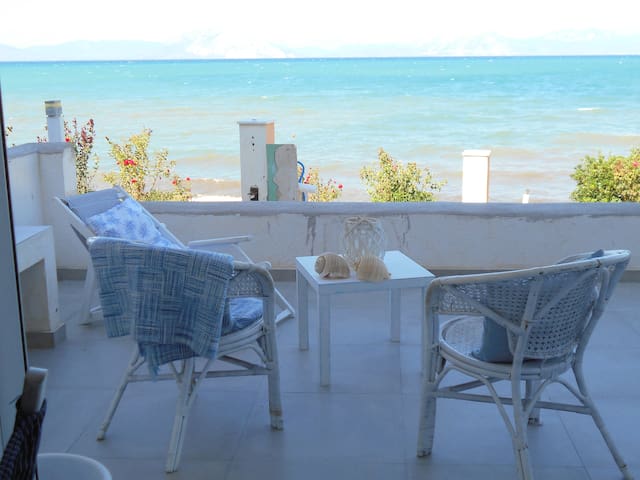 beautiful and comfortable cottage with three bedrooms ομορφη και ανετη εξοχικη κατοικια με κεραμιδια τζακι καλοριφερ και δενδρα και γκαζον με συρομενη εξωτερικη πορτα διαθετει κουζινα μπανιο ηλιακο και εξωτερικο ντους ΓΚΑΡΑΖ ΤΡΙΑ ΥΠΝΟΔΩΜΑΤΙΑ..
Η ΦΥΣΗ ΚΑΙ ΤΟ ΓΕΓΟΝΟΣ ΟΤΙ ΣΕ ΛΙΓΗ ΑΠΟΣΤΑΣΗ ΕΧΕΙΣ ΠΡΟΣΒΑΣΗ ΣΤΗ ΠΟΛΗ ΣΤΗ ΘΑΛΑΣΣΑ ΚΑΙ ΟΠΟΥ ΑΛΛΟΥ ΘΕΛΕΙΣ ΠΟΛΥ ΠΡΑΣΙΝΟ.. English. A charming and comfortable holiday home with radiators and fireplace tiling trees and lawn with external sliding garage door. It has a three bedrooms, a kitchen,a bathroom,with solar water heater and a shower on the back garden. There is also a sheltered garage for your car. You can enjoy the nature and also you will have access to the sea and the city (kato achaia) at a pretty close distance. From Kato Achaia 4km From Patras 23 KM From ANCIENT OLYMPIA 80KM (website hidden) THIS VIDEO IS THE ROAD TO THE HOUSE STARTING FROM THE INTERSECTION OF HIGHWAY Patras Pyrgos THE HEIGHT OF THE LOWER AHAIAS WITH DIRECTION TOWARDS Petrochori. It is absolutely quiet and there are two mini markets at a distance of a 150m There is a Super Market in 4Km in Kato Achaia. The first Mini market is also a grill where you can eat souvlaki etc.AT 500M in adjoining VILLAGE WITH SQUARE WITH BIG TREES There is a village in 500m with a square with big trees. There is a bus three times a day for Kato Achaia and Partas Araxos Airport is approximately 45 minutes' And can reach it by bus or taxi. I am always available for your needs. Any informations I have, I am glad to share them with you. My main goal is that my guests will have the best possible time during their stay. I live in a small town in a nice safe gated house. I have a garden, kitchen and three bedrooms. Mixture of double beds and single beds.
ΕΧΕΙ ΑΠΟΛΥΤΗ ΗΣΥΧΙΑ ΥΠΑΡΧΟΥΝ ΔΥΟ ΜΙΝΙ ΜΑΡΚΕΤ ΣΤΑ 150Μ, Σ/Μ ΣΤΑ 4 ΚΜ ΣΤΗΝ ΚΑΤΩ ΑΧΑΙΑ ΨΗΣΤΑΡΙΑ ΣΤΑ 150 Μ ΚΑΙ ΣΤΑ 500Μ ΣΕ ΔΙΠΛΑΝΟ ΧΩΡΙΟ ΜΕ ΠΛΑΤΕΙΑ ΜΕ ΜΕΓΑΛΑ ΔΕΝΔΡΑ
Me and my family (5 persons) stay 5 days at Nikos house From the first moment, Nikos give to us the feeling that he our friend, help to us in any case even things that he don't need to do. We land in Zankinthos, take a Ferry to Killiny (about 1 hour) I recommend to rent a car in Zankinthos we arrived to Nikos House, the house locate in Village, have a big house, beautiful garden, place to make grill etc about 150 Metres there are 2 mini markets, and about 4 KM there is a big supermarket. we was there in August, when you sitting in the balcony, it's very good air, not hot at all. we and ours Children very liked the place, it's silence, close to very beautiful places (you need a car) Nikos recommends to us (Like a tourist guy) all the beautiful places like Rio Bridge (Like San Francisco Bridge), about 5 Km from there, there is a beautiful place ,the second place, 5 star beach (like Paradise) I never see that kind of beach before, very very recommends, etc. My and our family very recommend on Nikos House Yoni family
Yoni
2015-08-07T00:00:00Z
Nikos came to us to the port and tald us how to find his house, really great!
Maja
2016-04-02T00:00:00Z
Staying in Nikos' country home south of Patras was a perfect peaceful, country experience, a nice respite from our travels. The birds, sheep with their bells and their shepherd, peace and quiet of the Grecian countryside, was wonderful. Knowing that this was the home that Nikos grew up in was special as well. The home was spacious and clean. The wifi was nice to have. There was closeby local Greek food (the fries were especially seasoned tasty!). We had all the room we needed and more for our family of six (parents and four teenagers. Nikos was helpful and responsive to our needs. The price was good. Nikos, thank you for the wine, water, and such that you left for us as well. Thank you, Nikos! David & Rachel & family
David & Rachel
2016-06-03T00:00:00Z
Nikos a été charmant. Il a été patient lorsque nous ne trouvions pas le logement. Il nous a très bien accueilli. la maison est agréable et propre. Le jardin et la terrasse ont été fort appréciés.
muriel
2016-08-05T00:00:00Z
Nikos is an amazing host and helps you out with whatever you need. He is available for communication pretty much 24/7. I would suggest having your own car if you plan on going to Patras.
joseph
2017-02-27T00:00:00Z
La maison est dans un petit village sans indication de rues. Il est donc nécessaire de bien prendre les coordonnées GPS pour s'y rendre, à moins de parler grec et de croiser des personnes du village à qui demander le chemin. Pour notre part, nous avons cherché pendant un bon moment et le peu de personnes que nous avons rencontrées ne parlait pas anglais. L'arrivée a donc été un peu compliquée et même rocambolesque mais Nikos, très sympathique, a toujours été en contact téléphonique avec nous. La maison est grande avec un jardin spacieux. C'est une vieille maison avec la marque de celle-ci (des volets ou des fenêtres qui n'ouvrent et ne ferment pas forcément aisément, le froid qui s'y installe plus facilement). Elle est bien pourvue en équipement. La maison comporte trois chambres et nous l'avions loué pour cela (nous étions trois et voulions chacun notre chambre) mais une chambre était fermée sans que nous comprenions pourquoi. Il est donc recommandé de bien préciser que l'on souhaite l'accès à toutes les chambres même si cela paraît s'imposer de soi. Sinon, nous n'avons à souligner que deux points négatifs : des toilettes qui n'ont pas d'abattant et des serviettes mises à disposition en nombre insuffisant (seulement une grande et une petite pour trois personnes). Le contact avec Nikos était très agréable et nous le remercions encore pour sa convivialité.
Jean Jacques
2015-10-26T00:00:00Z
Nikos is very kind and smiling person. We met him personally and we had a very good time together. The house is lovely, just 30km from Patra, 3 km from the beach. It is very close to the highway. The village is very qiet. The house has a very big and lovely garden and is fully equipped and furnished. We will stay in Nikos house again in the future!
Yorgo
2015-08-19T00:00:00Z
Nice traditional house in the village. Area is quite and green. The garden is big for the kids to play. Also there is a big private space for the car to park, inside the plot. Nice fire place with plenty of wood available for burning. Many regular beds in the house. Not sofa-beds like many others offer. The owner is very friendly and available to arrange everything. He is like a mother who will call you 100 times to make sure there is not any problems! (to make a small joke) The time we stay, there was a small problem with the water in the bath, (slow flow) but the owner said he would repair immediately. Hot water is not a problem in the house. It is plenty, whenever you want it. It is important when the weather is cold, to be working the central heating system of the house. The fire place is very good, but it can heat only the leaving room. In general, it is a house that I would recommend and we would try to rent again, if we travel in the same area.
Damon
2016-10-30T00:00:00Z
Tipo de habitación
Casa/apto. entero
---
Tipo de propiedad
Casa
---
Capacidad
6
---
Dormitorios
Καρυά, Πελοπόννησος Δυτική Ελλάδα και Ιόνιο, Grecia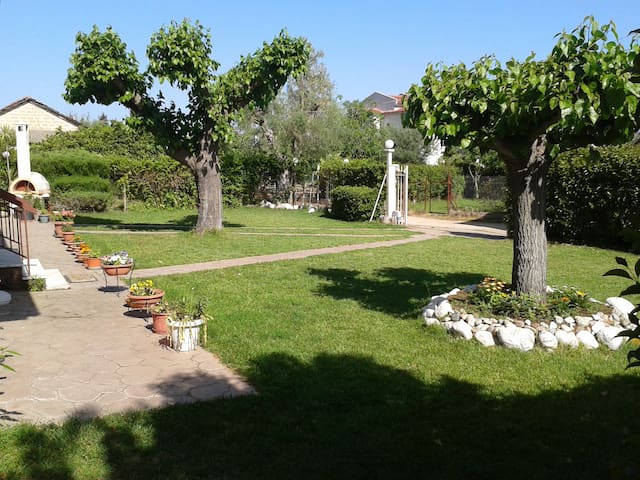 It is a ground floor house, modern in decor, with a garden of three acres.
Tipo de habitación
Habitación privada
---
Tipo de propiedad
Casa
---
Capacidad
2
---
Dormitorios
Lakkopetra, Región del Peloponeso, Grecia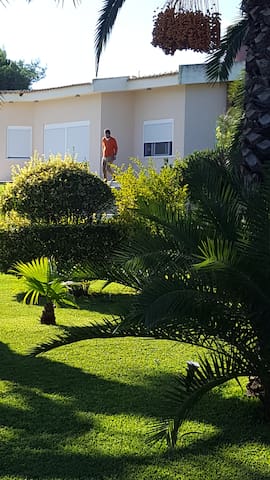 Das Gebiet ist für den Kiefernwald gut bekannt, die 6 km vom Haus entfernt ist. Ein See in der Nähe des Hauses, das von der Ramsar-Konvention für die Erhaltung geschützt ist, ist ein Naturschutzgebiet, wo Sie alle Arten von schönen Vögel und Wildtiere zu sehen. Der Strand ist so groß (14 km lang), dass ein in der Nähe der Hektik der touristischen Bereich bleiben kann oder von der Zivilisation komplett auf eigene Faust Meilen entfernt entspannen.
Die ganze Gegend ist frei von Kriminalität und die Nachbarn sehr freundlich; Dies ist eine ruhige und sichere Bereich für Kinder und Familie. Entfernungen: Es gibt Supermärkte im Dorf Lappa. Es gibt eine Auswahl von drei Tavernen. Meilen von goldenen Sandstränden sind 9 Km
Tipo de habitación
Casa/apto. entero
---
Tipo de propiedad
Casa
---
Capacidad
6
---
Dormitorios
Lapas, Región del Peloponeso, Grecia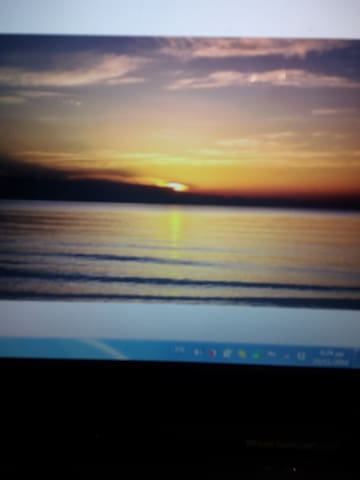 Lavender Kalamaki Lakkopetra Achaia, on the beach. Country house with two bedrooms with sofitoules, bathroom, large lounge - kitchen fully equipped and with a great summer decoration. Made with care and with excellent quality.
Lavender Sea side Resort is one-storey resident with a surface area of 85 m2 surrounded by spacious verandas. It is built in the middle of a yard of 4.500 m2 just beside the sea side of Kalamaki-Lakopetra Beach. Lavender Sea side Resort includes 2 bedrooms with a cosy wooden attic inside each of them, a sunny living room, a fully equipped kitchen (with dishwasher, full cooker, fridge, Filter Coffee Machine, dining table if you are eating inside) and a bathroom. It can accommodate 7 to 8 people. Lavender Sea side Resort is next to CRECOTEL LAKOPETRA BEACH (200m away) Essential Information Sleeps (Max)8 Bedrooms2 Shower Rooms1 Maid ServiceIncluded (every three days) Car is suggested – car rental Booking Information Check-In Any day (after 14:00) Check-Out Any day (before 11:00) Local Facilities Beach 50m Tavernas 250m. Mini Market 2km Distances from Airport/Port Araxos Airport 15 km, Port of Patras 35 km, 277 Km from Eleftherios Venizelos Distances from Destinations you deserve to visit 15 km from Kalogria beach 20 km of Strofylia forest 20 km from Gianniskari Beach , 60 km from Nafpaktos 90 km from Ancient Olympia 161 km from Delphi 247 Km from Athens Villa Equipment DVD TV Dish Washer Washing Machine Hair Dryer Iron Toaster Kettle WiFi Connection Filter Coffee Machine Iron & Board Fridge Hob Cooking Utensils Oven The House is having private parking place
Host made us feel very welcome. Everything was as expected. The house is beautiful inside and has everything you could need. We hope we will be able to visit again sometime.
felicity
2016-07-23T00:00:00Z
Tipo de habitación
Casa/apto. entero
---
Tipo de propiedad
Casa
---
Capacidad
6
---
Dormitorios
Lakkopetra, Región del Peloponeso, Grecia
This lovely two storey house has a huge garden and it's right one the seaside. It's in a walking distance from mini market, taverns and bars. It includes a private parking space big enough for at least 3 cars. It has safety doors and windows.
Its location. This magnificent two storey house fully equiped is almost inside the sea and it has an amazing huge garden full of flowers and trees. It's ideal for families and big group of friends as it can easily hold up to 9 people in beds.
It is a quiet neighborhood, ideal for young children who can ride their bikes and engage in sea sports. The sound of the sea waves combined with the dreamy garden will make you think you're in paradise and you'll never want to leave.
Directly on water and simple house. Hosts were very nice upon arrival. Older home that was difficult to open washing machine and upstairs tub struggled to drain if doing laundry at the same time. Great patios on first and 2nd levels for watching sunsets. Safe area with small market nearby to grab essentials and wine. Overall a nice stay.
Michelle
2015-07-01T00:00:00Z
Tipo de habitación
Casa/apto. entero
---
Tipo de propiedad
Casa
---
Capacidad
8
---
Dormitorios
Kaminia, Achaea, Región del Peloponeso, Grecia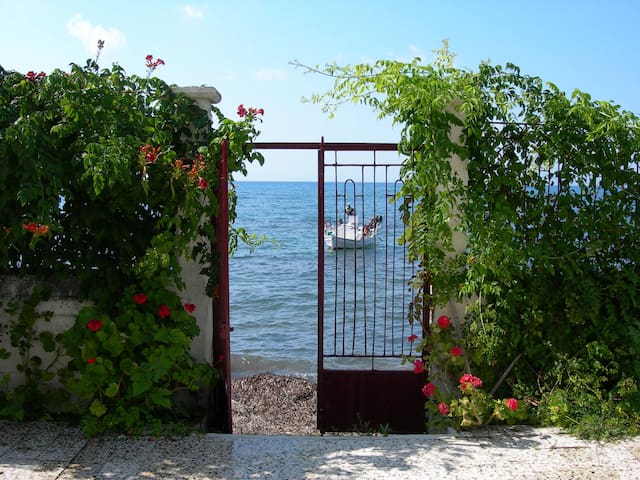 This modern House is the autonomous ground floor of a private villa located on top of a hill. It is surrounded by 4 acres of beautiful garden with green grass and bushes available for leisure and playing. The sea is just a few minutes away by car. The 3 BRs comfortably accommodate 5 people. An ideal place for relaxation and sightseeing. Families and kids and families will love it
The Villa is set up on top of a small hill with an exceptional sea view of the entire Bay of Patra and is approximately 2 Km away from the beach. The house is surrounded by a private 4000 sq.m. space full of olive trees, and a beautiful garden with Mediterranean trees and bushes. The location is very peaceful and appropriate for leisure and relaxation. A private parking is available within the Property. The ground floor House is completely autonomous from the 1st floor and has its own separate entrance. There are 3 large BR's: 1 with a double bed, 1 and 2 single beds and a 3nd one with a single bed. There is a living room with a dining space and a fully equipped Kitchen in the same area. Five people can comfortably sleep in the BRs and 1 more person can sleep in a sofabed in the LR. The House is an ideal vacation choice for big families or groups of people. It can become the setting for relaxing times next to crystal water beaches or the home center for trips to many interesting locations and archaeological places of interest in the area.
We love this place dearly as we there grew up our children and it was our beloved vacation spot. The villa is approximately 1,5 Km away from the nearby village of Kalamaki so that peace and relaxation amidst gardens and flowers is the foremost characteristic feature of the villa. The villa is located approximately 1,5 km or a 3 minute driving distance from the Kalamaki village where one can find cafes, taverns, minimarkets and a pharmacy. Within a 10 Km radius one can find additional taverns, restaurants, clubs and night life places. Within very short distance from the villa one can find crystal clear sea beaches and enjoy swimming or sunbathing. Most beaches have free access but one can also find organized beaches that offer water sport facilities, food, coffee etc. Farther ahead is the town of Kato Achaia with the local Health Center and the city of Patra with its significant tourist sightseeing spots. The University Hospital of Patra is also located there. If one decides to travel greater distances he can visit the archeological sites of Olympia or Delphi.
The hospitality of the owners is one of the best experiences during our travel. It helps, of course, that they speak excellent English. The house and its garden is a green oasis close to the sea. The whole accommodation is very clean, cosy and spacious. By far the best deal we had during our stay in Greece.
Koen
2015-08-10T00:00:00Z
Wyjątkowe miejsce na Peloponezie. Dom położony jest na niewielkim wzgórzu, z którego podziwiać można całą okolicę. Miejsce jest nieco wietrzne, ale dzięki temu upały były praktycznie nieodczuwalne. Ogród jest bardzo ładny i zadbany, oświetlony wieczorem, z przepięknym widokiem na okolice. Z wielką przyjemnością jedliśmy z całą rodziną kolacje na dworze. Spokój i sielanka - tak to mogę podsumować. W okolicy znajduje się kilka ładnych i dobrze wyposażonych plaż. Nam najlepiej się podobała Kalogria (Sandhill Beach). Około 1,5 godziny drogi jest do Olimpii, którą warto odwiedzić. Gospodarze to wyjątkowo miłe, gościnne osoby i komunikatywne osoby. W pełni polecamy to miejsce. W przypadku wynajmu mieszkania wymagane jest jednak dysponowanie samochodem.
Adrian
2016-07-19T00:00:00Z
Nikolaos et sa femme nous ont très bien reçus d'autant plus que nous sommes arrivés un peu tard. Tout était prêt pour nous recevoir. Ils ont pris du temps pour nous conseiller quelques jolies plages et jolis villages à visiter. Très bon accueil. La maison et le jardin sont très agréables et la vue est superbe.
cathie
2016-04-16T00:00:00Z
Nous avons été trés bien accueilli , le logement est vaste et conforme à la description. La vue sur mer est extraordinaire. Je recommande vivement cette maison pour des vacances au calme.
jean jacques
2015-10-30T00:00:00Z
Nikolaos und Linda waren wundervolle Gastgeber, stets bemüht und sehr hilfsbereit. Die Unterkunft ist etwas abgelegen auf einem Hügel mit einer wunderschönen Sicht auf das Meer, die Berge und die Umgebung. Wer seine Ruhe sucht ist hier genau richtig. Der wunderschöne und gepflegte Garten lädt zum grillen, frühstücken und zum entspannen ein. Es gibt Strände in der unmittelbaren Nähe (Sand und Kies) und wenn man nach Westen fährt traumhafte Sandstrände. Einkaufsmöglichkeiten gibt es auch zu Genüge. Wir haben einen schönen Urlaub zu dritt gehabt.
Iulia
2016-07-04T00:00:00Z
Nikolaos and his wife are the perfect hosts! They are really very welcoming, friendly and they make any possible effort to make you feel at home. The house is absolutely fantastic! It has everything you need or wish, it is very clean and spacious. The kitchen is well equipped and the beds are very comfortable. It's nicely decorated. It has a superb garden and an amazing view! The house is detached, no need to worry about neighbors. Children can play in the big garden which is totally fenced. The garden is lovely with beautiful flowers and a pergola to sit and relax. The surroundings are beautiful with farmlands, olive groves (even in the backyard owned by Nikolaos) and even a modern castle! The beach is nearby, you can swim quite near or if you prefer a bigger beach you drive for 15 minutes to a nice sandy beach with a taverna. I would absolutely recommend this place to anyone who loves beautiful surroundings, relaxed atmosphere and a great house. It's a great place to discover the Peloponnesos and ancient Olympia.
Wilma
2015-05-03T00:00:00Z
Nikolaos and his wife gave us a warm welcome. We were very pleased with the apartment and enjoyed breakfast in their wonderful garden.
André
2015-09-24T00:00:00Z
Friendly welcome at this relaxing spot. To get even a better view, we could easily/spontaneously change to the upper floor apartment of the house. The comfy place provides everything you need (incl. kitchen + chimney). Thanks! The upper apartment is also listed separately at Air BnB.
Steffen
2016-02-05T00:00:00Z
Tipo de habitación
Casa/apto. entero
---
Tipo de propiedad
Casa
---
Capacidad
5
---
Dormitorios
Kalamaki, Achaia, West Greece, Región del Peloponeso, Grecia
Comfortable and spacious house.Fully equipped,perfect for families.Two bedrooms which can accommodate 3 people (a dubble bed and a single bed).Quiet place in the nature,only a some minutes away from the beaches.Free wifi,fridge,oven and air conditioning are available.
A large living room with a fire place,fully equipped kitchen(fridge,oven).Big (URL HIDDEN) comfortable bedrooms for 3 people,a double bed and a single.There is the possibility to accomodate an extra person who can sleep on the sofa.There is also parking for 2 cars at least and a colourful garden.
Tipo de habitación
Casa/apto. entero
---
Tipo de propiedad
Casa
---
Capacidad
3
---
Dormitorios
Alissos, Región del Peloponeso, Grecia
The GRECORAMA villa is located in a green farm filled with olive trees and cypresses on the hill of Monodendri in the region of Patras. In an area of 5 acres, the GRECORAMA villa of 180 sq.m., consists of 3 bedrooms and an attic with 3 private bathrooms, equipped with the necessary linen and towels. In the Grecorama there is a lounge with fireplace and a kitchen equipped with all necessary utensils, biological products and other goods where visitors can prepare meals.
The GRECORAMA villa is located in a green farm filled with olive trees and cypresses on the hill of Monodendri in the region of Patras. Overlooking the Gulf of Patras offers to the visitors peace and tranquillity. In an area of 5 acres, the GRECORAMA villa of 180 sq.m., consists of 3 bedrooms and an attic with 3 private bathrooms, equipped with the necessary linen and towels. Of course there is a heating and cooling throughout the home. There is available wifi in all areas free of charge. In the Grecorama there is a lounge with fireplace and a kitchen equipped with all necessary utensils, biological products and other goods where visitors can prepare meals. You will find fresh local eggs, collection of wild mushrooms, handmade cheese, homemade jams, collections of wild asparagus, mountain tea, thyme, oregano. Next to the house there is a seasonal garden for free use of guests. The terrace of Grecorama offers you a magnificent view to enjoy your breakfast accompanied by the deep blue of the sea and your afternoon drinks overlooking the sun set. At the site of the villa there are barbeque facilities, free parking, house for your dog. There is also cooperation with a veterinarian. We are delighted to host your pets. The capital of Achaia, Patras, is located 9 km from GRECORAMA in order to enjoy your evening strolls and exploring the nightlife. Nearby there are many traditional taverns, cafes, and other businesses. Also within a short distance there are beaches with clear water as Kalogria and Gianiskari. The Monodendri beach is 800 meters from the residence. The Araxos airport is in a distance of 35 minutes.
Η εντυπωσιακή θέα από τα μπαλκόνια του σπιτιού οφείλεται στο ότι είναι χτισμένο στην κορυφή του Λόφου Μονοδενδρίου. Το μάτι του επισκέπτη αγκαλιάζει όλο το δυτικό κομμάτι του Πατραϊκού κόλπου και φθάνει μέχρι την Κεφαλονιά και την Ιθάκη.
非常热情的房东,房子有很大的花园,非常整洁干净,而且有很食物和水果,非常不错的体验。房东服务无微不至,让人感到宾至如归。
liqun
2016-10-07T00:00:00Z
Tipo de habitación
Casa/apto. entero
---
Tipo de propiedad
Casa
---
Capacidad
8
---
Dormitorios
Vrachnaiika, Achaea, Greece, Grecia
Το σπίτι μας είναι φτιαγμένο στο λόφο Μιντιλογλίου 500 μέτρα από τη θάλασσα. Έχει πανοραμική θέα στο Πατραϊκό κόλπο και είναι ηλιόλουστο και φωτεινό. Από τις βεράντες μας μπορεί κανείς να απολαύσει το ηλιοβασίλεμα πίνοντας το καφέ του! Σε μια από τις πιο ήσυχες γειτονιές της Πάτρας, με εύκολη πρόσβαση στην πόλη (4 km) και πολύ κοντά στη θάλασσα για μπάνιο το καλοκαίρι.
We were a group of 7 people spending Carnival in Patras. Maria's house is much better than in the pictures! She has a great fireplace and a big balcony in a very quiet area. She was very nice and flexible with us and she even made a cake for us. I would recommend her house to everybody.
Maria Angeles
2017-02-27T00:00:00Z
Tipo de habitación
Casa/apto. entero
---
Tipo de propiedad
Casa
---
Capacidad
8
---
Dormitorios
Mintilogli, Región del Peloponeso, Grecia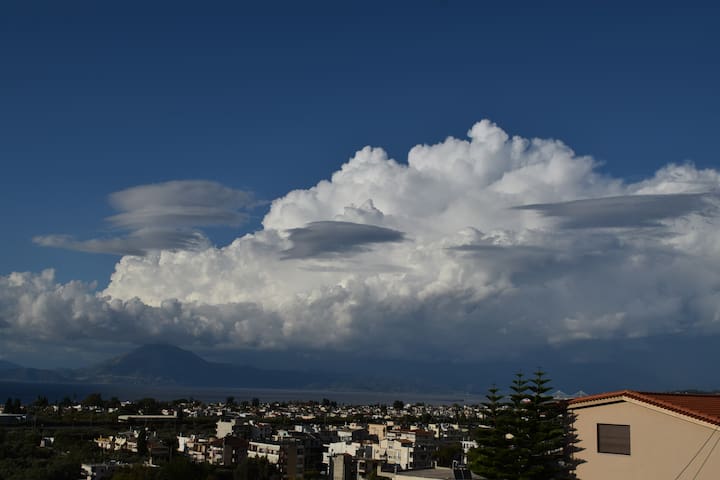 Merely 300 metres from the beach, this well-appointed, 4-bedroom house features a furnished terrace and a refreshing swimming pool, creating an ideal getaway in Roitika for 8 holidaymakers.
Conveniently located 300 metres from the organised beach, and 15 metres from the sea, this well-appointed house is the perfect seaside retreat for 8 holidaymakers in the Peloponnese region of Greece. The spacious lounge is ideal for relaxing after a day in the sun. Curl up on the comfortable sofa and enjoy a good book in front of the cozy fireplace. Alternatively, take advantage of the wonderful amenities on offer, including a flat-screen TV with satellite channels, Hi-Fi, a DVD-player, a CD-player, WiFi and a radio. The modern kitchen is well-equipped for cooking up your favorite dishes. Share your meals around the classic dining table which seats 8 or outside on the furnished terrace. Furthermore, the four comfortable bedrooms promise a restful night's sleep. The master bedroom features a double bed and an en suite bathroom with a shower and bathtub. Bedrooms two and three boast one double bed each while bedroom four has two single beds. One baby cot is available upon request. The two shared bathrooms are perfect for freshening up in. One sports a bathtub and WC while the other has a shower. In addition to these wonderful amenities, this gorgeous house also boasts a refreshing 14x8m swimming pool, a spacious garden, a barbecue and a furnished terrace, perfect for taking in the enchanting sea views. Central heating and air conditioning will keep you comfortable year-round. A washing machine, dryer and ironing centre are provided for your convenience. Towels, linen, cleaning and the local tourist tax are included in the rental price. Private parking is available onsite. Smoking is permitted outside only, and pets are welcome. The pool is operational all year but is emptied and serviced around March for a month.
With its position just 300 metres from the organized beach in sunny Roitika, this modern house is well-located for enjoying everything the Peloponnese region has to offer. Guests can take advantage of a wide array of local activities, including caving, cycling and watersports. While leaving the sunny surroundings of your holiday home is sure to be a challenge, there is much to explore in the area. Great day trips around the Peloponnese region include visiting the ancient ruins of Corinth and Sikion, checking out the Epidaurus Theater in Epidavros, relaxing at the spa in the Alcyon Hotel, discovering the Diros Cave in Areopoli and exploring the towns of Kiato and Xilokastro.
Tipo de habitación
Casa/apto. entero
---
Tipo de propiedad
Casa
---
Capacidad
8
---
Dormitorios
Roitika, Grecia
Ο χώρος μου είναι κοντά σε παραλία. Λόγοι που θα σας αρέσει ο χώρος μου: το περιβάλλον, ο εξωτερικός χώρος, . Ο χώρος μου είναι κατάλληλος για ζευγάρια, οικογένειες (με παιδιά) και μεγάλες ομάδες.
Παραθαλάσσια εξοχική κατοικία με θέα στη θαλασσα
Tipo de habitación
Casa/apto. entero
---
Tipo de propiedad
Casa
---
Capacidad
8
---
Dormitorios
Paralia Kalamakiou, Región del Peloponeso, Grecia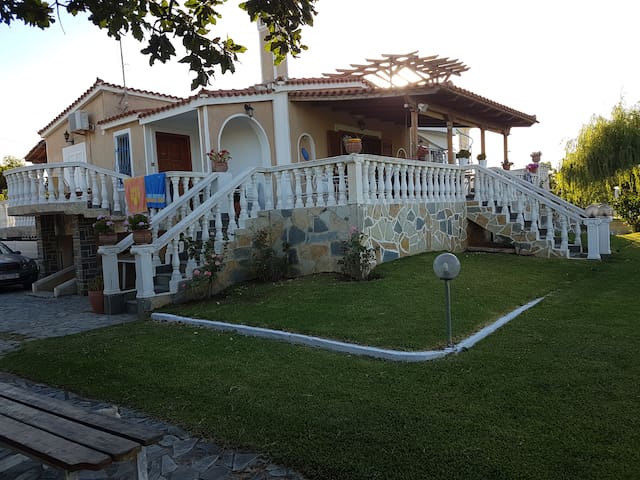 The house is an ideal refuge for families or friends, looking for relaxing vacations. It is located near to the fantastic Ionian Sea side, surrounded by orange, lemon and olive trees. Into the garden area an open piscine with Jacuzzi and solar shower is available. Inside it is stylish and fully equipped with all needed appliances and furniture. Walking up 12 steps, you enter the main living room with kitchen, fireplace, two built corner sofas (beds made ), an additional corner sofa and dining room for eight people. There is also access to a large terrace with bamboo lounge. Further to main lounge, there are two bedrooms with private balconies, two bathrooms, one with whirlpool tub and the other with shower. An internal staircase, leads to a site that communicates with the main living room and has two single beds and a mini lounge. Central heating and a / c is available.
The house is located in a fantastic landscape, near to a blue flagged beach. It's a stylish place with many areas to relax or play. You can spend the whole day under the trees shadow and use the refreshing piscine. When the night will come, you can gather and have fun at the BBQ, enjoying family's or friend's company.
La maison de John et sa femme est tout à fait confortable avec ses deux chambres et la mezzanine avec deux lits. Le coin piscine est fabuleux, avec plein de mobilier et d'accessoires pour agrémenter l'espace. John et sa femme sont adorables constamment aux petits soins. Comme ils restent à proximité, ils peuvent améliorer encore le séjour, avec le barbecue ou encore des bougies la nuit autour de la piscine. Ils nous ont royalement accueillis le premier midi avec des mezze délicieux faits maison.
Frederique
2016-08-14T00:00:00Z
La maison a répondu à toutes nos attentes. Les descriptions et photos sont toutes conformes à la réalité. Il n'y a pas de vis-à-vis. La plage est à 600m à pied mais nous avons profité quasi exclusivement de la piscine. L'accueil, l'hospitalité et toutes les attentions de Giannis et Litsa au cours du séjour nous ont permis de profiter pleinement de tous les avantages de la villa. Calme, tranquilité, sérénité font que nous renouvelerons notre séjour à la Villa Dimeon.
laetitia
2015-07-28T00:00:00Z
This was really paradise! Not just because of the house, which is spacious (enough room for 5 persons), luxurious, comfortable, fully equipped (the kitchen is better than we have at home!), cosy and clean. Not just because of the pool: private, big enough for an entire family, with sunbeds, umbrella's and surrounded by a beautiful garden. But especially because of John and his wife Liza: the best hosts you could ever ask for. The day we arrived (when John pikced us up form the KTEL-busstation in Patra) they had cooked a traditional Greek meal for us. And almost every day there was a gift: fresh eggs from their own chickens, self made marmelade, lemonade etcetera. Add to that that the house is near the beach and a perfect location to visit the attractions of the Peloponnese, and you have your perfect holiday! The only problem we had was the lack of airconditioning, but since we were the first guests and John is still upgrading his house, I am sure this will be ok in the near future. Thanks John and Liza (and their niece Ellerina, who speaks English very well)! Hope to see you again some time! Anne, Ronald and kids
Anne
2014-08-06T00:00:00Z
Tipo de habitación
Casa/apto. entero
---
Tipo de propiedad
Casa
---
Capacidad
6
---
Dormitorios
Paralia Kalamakiou, Región del Peloponeso, Grecia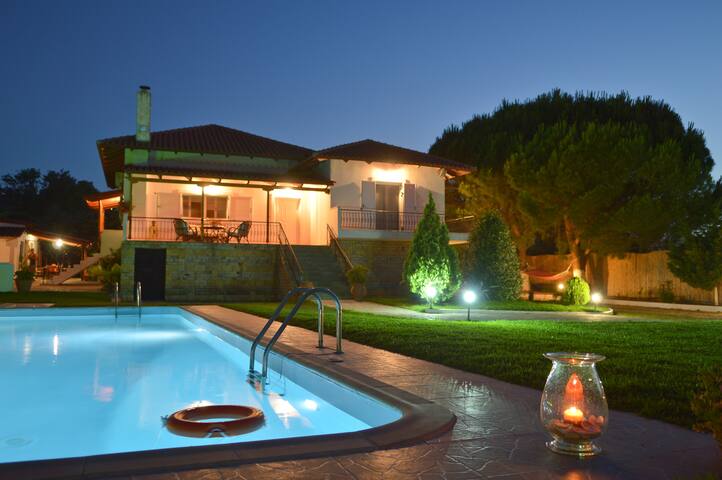 This vacation rental is a beautiful two floors villa in West Peloponnese, 10 km from Patras port, in the nice village of Roitika. The villa is only 5m from the sea and is ideal to visit Olympia, Delpi , the Byzantine town of Mystras, and Mycene ..
You will enjoy a large garden, a private pool and the BBQ area. The garden is full with flowers and many orange, citrus, mandarin and pine trees all at your disposal during your stay. The house is spacious and well equipped and you can enjoy a piano. Within 5 to 15 minutes' walk you will find beautiful beaches and restaurants in the villages of Roitika, Monodendri and Vrachneika.
In Roitika Village you will find souvlaki taverns in the main square. Smaller grocery, bakery, butcher shops you will find in the village of Vrachneika (ΒΡΑΧΝΕΙΚΑ), is on your left about 3km (you can find on the map) On your left, about 10min. walk you will find a lot of taverns, bars, & coffee shops in Monodendri (Μονοδενδρι) .
Tipo de habitación
Casa/apto. entero
---
Tipo de propiedad
Casa
---
Capacidad
10
---
Dormitorios
Paralia, Grecia
Situado en lo alto de una pequeña colina este apartamento de nivel superior de una villa moderna ofrece una fantástica vista de toda la bahía de Patra. Rodeado de un enorme jardín con la hierba verde, olivos y otros arbustos mediterráneos y flores, a pocos minutos de las magníficas playas de cristalinas aguas del mar de cristal, esta casa puede ser el lugar ideal para el ocio y el descanso o de turismo. Los niños y las familias sin duda encantará este lugar.
Casa 1 es el nivel superior totalmente autónomo de dos - Villa nivel establecido en la parte superior de una pequeña colina con una vista excepcional al mar de toda la bahía de Patra. La casa está ubicada en el pueblo de Kalamaki, aproximadamente 40 minutos de la ciudad de Patra, a unos 2 km de la playa más cercana al mar. Otras playas excepcionalmente agradable se pueden encontrar a lo largo de 10 -15 min. conducir distancia. Casa 1 es completamente autónomo y tiene su propia entrada independiente. Hay un gran dormitorio con una cama de matrimonio y un baño grande. También hay una sala de estar muy grande con una zona de comedor y una cocina totalmente equipada en la misma zona. Un sofá cama en la LR puede dormir cómodamente un adulto o dos niños. La casa cuenta con amplios balcones y terrazas que ofrecen una magnífica vista del mar. La casa está rodeada por 4000 metros cuadrados privada espacio lleno de olivos, y un hermoso jardín con césped, árboles y arbustos mediterráneos. Pasar el tiempo y jugando en el jardín es quizás el activo más fuerte de esta Cámara. Los niños y las familias les encantará este lugar. Un aparcamiento privado está disponible al lado o dentro de la propiedad. La casa es una opción ideal de vacaciones. Puede convertirse en el escenario de momentos de relax junto a las playas de aguas cristalinas o el centro para excursiones a muchos lugares interesantes y lugares arqueológicos de interés en la zona.
Nos encanta este lugar muy caro, ya que no crecimos nuestros hijos y fue nuestro lugar de vacaciones amada. La villa es de aproximadamente 1,5 km de distancia de la cercana población de Kalamaki para que la paz y la relajación en medio de jardines y flores es el rasgo característico más importante de la villa. La villa se encuentra a unos 1,5 km, o de una distancia 3 minutos desde el pueblo Kalamaki donde uno puede encontrar cafés, tabernas, mini mercados y una farmacia. Dentro de un radio de 10 km se pueden encontrar adicional tabernas, restaurantes, discotecas y lugares de vida nocturna. Dentro de muy corta distancia de la villa de uno puede encontrar playas de aguas cristalinas y disfrutar de nadar o tomar el sol. La mayoría de las playas son de libre acceso, pero también se pueden encontrar playas organizadas que cuentan con unas instalaciones deportivas de agua, alimentos, café, etc. Más adelante se encuentra el pueblo de Kato Acaya con el Centro de Salud local y la ciudad de Patra con sus puntos importantes de turismo de turismo. El Hospital de la Universidad de Patras también se encuentra allí. Si uno decide viajar mayores distancias que puede visitar las zonas arqueológicas de Olimpia o Delphi.
Πολύ όμορφο, φωτεινό και άνετο σπίτι με έναν υπέροχο περιβάλλοντα χώρο. Βρίσκεται σε μια ήσυχη τοποθεσία και η θέα είναι πραγματικά καταπληκτική. Η Πάτρα αλλά και η θάλασσα με το αμάξι είναι πολύ κοντά. Ιδανικό για οικογένεια ή για παρέα που αναζητά χαλάρωση και ησυχία. Ιδανικό επίσης για κέντρο εξορμήσεων στις γύρω περιοχές και παραλίες. Πολύ ευγενικοί και φιλικοί οικοδεσπότες, είχαμε άψογη συνεργασία.
Nasos
2016-03-14T00:00:00Z
Un lieu remarquable avec une vue exceptionnelle dans une demeure splendide et partager avec confiance par Nikolaos et son épouse.
Bruno
2016-08-11T00:00:00Z
Tipo de habitación
Casa/apto. entero
---
Tipo de propiedad
Casa
---
Capacidad
3
---
Dormitorios
Kalamaki, Región del Peloponeso, Grecia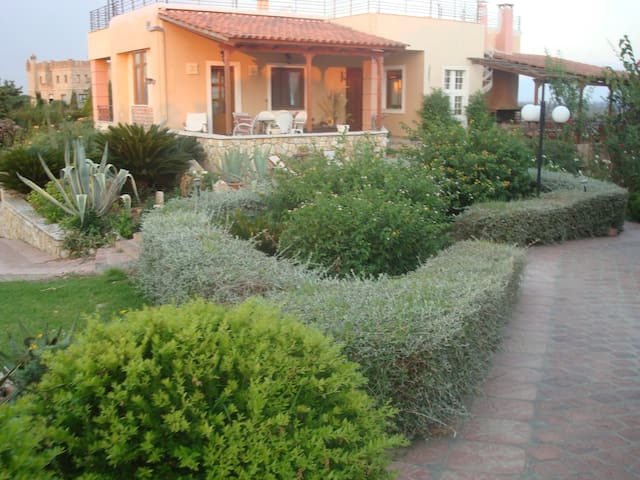 Spacious house of 200 square meters "on the wave". Ideal for families and small gkroup.Comfortable villa by the sea. Ideal for a family and groups.
Dream house just meters from the beach with comfortable and spacious rooms. Quiet neighborhood with easy access to restaurants, cafes, supermarkets and other shopping.
Quite region by the sea.
Tipo de habitación
Casa/apto. entero
---
Tipo de propiedad
Casa
---
Capacidad
9
---
Dormitorios
Roitika, Región del Peloponeso, Grecia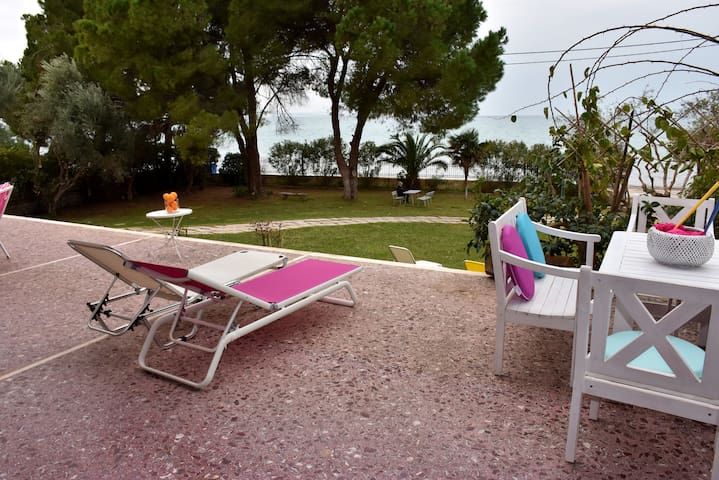 Located in the heart of Lefkada, in one of the most picturesque villages, Karya, this houses ideally combines the mountain and the sea.
Tipo de habitación
Casa/apto. entero
---
Tipo de propiedad
Casa
---
Capacidad
4
---
Dormitorios
Καρυά, Πελοπόννησος Δυτική Ελλάδα και Ιόνιο, Grecia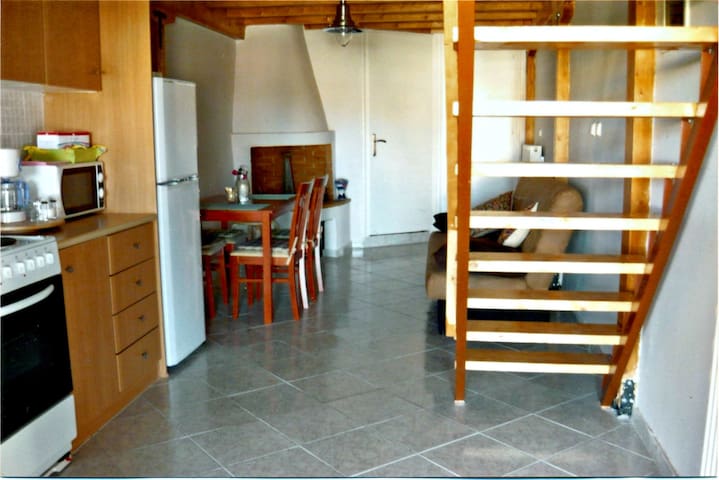 This beautiful, spacious, stylish and comfortable home is the perfect getaway for 2 adventurous travellers. The space is on the ground floor of a two story villa which is located on a private beach at Niforeika-Kalamaki Achaia – Peloponessos.
The house features 1 bedroom with a queen size bed, 1 bathroom, a living room, dining room, a gym, laundry room and a fully equipped kitchen. The villa is furnished with modern and contemporary furniture creating an incredibly cozy and comfortable atmosphere.
The home is located only 9 km from Araxos airport and 25 km from Patras port and is close to many important sightseeing locations such as Ancient Olympia, Strofilia pine forest and Kalogria beach, the downtown area of Kato Achaia (5.5 km), the beautiful city of Patras with its ancient museum and Rio - Antirio bridge and many other beautiful places to visit. In addition, we can organize a trip for our guests to any sightseeing location they would like visit. We look forward to hosting you in our lovely home and cannot wait to show you the beauty of this incredible place.
Tipo de habitación
Casa/apto. entero
---
Tipo de propiedad
Casa
---
Capacidad
2
---
Dormitorios
Niforeika, Región del Peloponeso, Grecia
1

–

18

de

24 Alquileres de Casas
Introduce las fechas para ver el precio total. Ten en cuenta que se aplicarán tarifas adicionales y es posible que se añadan impuestos.