servicios de hotel, cocina, refrigerador, minibar, cafetera, tetera, reproductor de DVD, equipo de música, aseo, pequeña. Lavabo, ducha para un máximo de 3 personas, sofá, terraza, adecuado para excursionistas, ciclistas, peregrinos, lavandería, limpieza incl.
un alojamiento cómodo y asequible para los aventureros en la cabina que quieren un tiempo de descanso de lujo. Para max. 3 personas, un equipo sencillo. Bueno para peregrinos, excursionistas, ciclistas, motociclistas, retrete, lavabo, ducha sencilla, pequeña cocina, frigorífico-congelador (Minibar), fregadero, microondas, hervidor, cafetera, vajilla, reproductor de DVD, equipo de música cocina de huevo, cacerola de la parrilla, terraza, Sábanas, toallas, limpieza incluido
Beate es una gran anfitriona. Nos dio un apartamento más grande, cómodo y completo que el que habíamos pagado. Todo funcionaba perfectamente. Nos sentimos muy a gusto.
Maria
2014-09-25T00:00:00Z
Una experiencia excelente!!! Muchas gracias por todo. Una cabaña hermosa y la atención espectacular!!! Muy recomendable para la gente que quiere visitar Koblenz
Rodolfo
2016-04-22T00:00:00Z
The Pilgerhütte is a very nice, cozy and clean hut located at the village 'Rhens' in the beautiful surroundings of the Rhijnlands. We had a very pleasant stay and felt really welcome, but also had the privacy we wanted. Thank you Beate for the lovely stay.
Marit
2016-05-17T00:00:00Z
Wir haben eine schöne Nacht in der wundervollen Pilgerhütte von Beate verbracht. Die Hütte Sehr stilvoll und mit Allem, was man so brauch eingerichtet. Der Pool im Garten war das Highlight. Sehr empfehlenswert! Alice
Alice
2015-07-22T00:00:00Z
I found this place to exceed my expectations. After a few hours here on my first night I decided to extend my stay. It was in a quiet location, only a few minutes walk from the banholf, had a large comfortable bed, nice little kitchen with large fridge. As noted in the information it does not have a shower, but for 1-2 days a basin wash is fine. My host Beate was very generous and hospitable. I felt like I was staying at my house. When I return to this region of Germany I would certainly stay here again, but for a longer time period next time.
Darren
2014-06-19T00:00:00Z
The night we spent at Beate's was wonderful. We enjoyed a clean room with a nice garden. The walk into town was beautiful and the food that was recommended was wonderful. My wife and I went for a run in the morning along the Rhine and upon returning Beate was kind enough to uncover the pool for a quick dip, even thought it was cold it felt refreshing. I would recommend this room to anyone looking for a beautiful town to stay in along the river.
Stephen
2016-05-14T00:00:00Z
Beate ist sehr unkompliziert und entgegen kommend! Wir haben uns sehr wohl gefühlt! Danke für alles!
Silke
2016-04-17T00:00:00Z
Wonderful village. Very cute & clean house.
Melinda
2015-04-28T00:00:00Z
Tipo de habitación
Casa/apto. entero
---
Tipo de propiedad
Cabaña
---
Capacidad
3
---
Dormitorios
Rhens, Renania-Palatinado, Alemania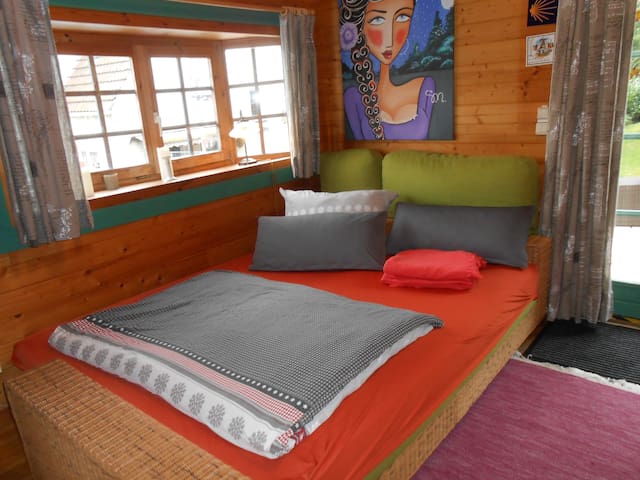 Meine Unterkunft ist in der Nähe von Wanderwegen, dem schönen Bad Ems. Ein Radweg an der Lahn grenzt an den Camping-Park. Auf der Lahn kann man auch Kanu fahren. Du wirst meine Unterkunft lieben wegen Gemütlichkeit, der Ausblick und die Lage. -Wlan gegen Gebühr erhältlich -Handtuch-, und Bettwäscheset für 15€ pro Person ausleihbar -Wifi is available for a Charge -you can borrow a set of towels and bed linen for 15€ per person
Nice cabin and beautiful scenary!
Laura
2016-11-06T00:00:00Z
Stefan is a friendly and cheerful host. The cabin is cozy and comfortable. We would definitely to visit again.
Jing
2016-07-24T00:00:00Z
Schönes kleines Häuschen ! Mit dem Auto ist man in 15min direkt in Koblenz. Super Ausgangspunkt für viele Ausflugsziele in der Umgebung !
Marcus
2016-09-20T00:00:00Z
Tipo de habitación
Casa/apto. entero
---
Tipo de propiedad
Cabaña
---
Capacidad
4
---
Dormitorios
Lahnstein, Rheinland-Pfalz, Alemania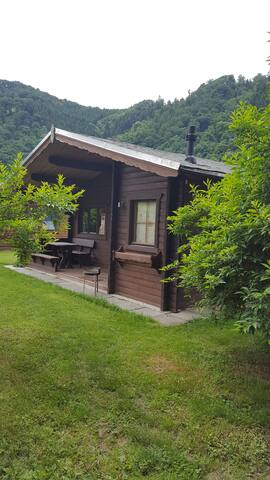 Pacífica experiencia de la naturaleza: Pequeño y acogedor cabaña de troncos en Hennef (Sieg), rodeado de naturaleza justo al lado de mi granja de caballos "perno Halberg". Bueno para parejas amantes de la naturaleza, familias con niños, amantes del deporte, excursionistas, amantes de los animales. Cerca: Ubicación "Stadt Blankenberg" (4 km), la ciudad "Hennef" (4 km), Bonn (25 km), Colonia (35 km). Radio: espléndidas bicicleta / caminar / rutas a caballo, nadar en la victoria y Allner ver. Se aceptan mascotas! Ropa de cama y toallas disponibles bajo petición. Estación 2 km
Cerca de la ciudad en un entorno natural único, pero
Estoy tratando de hacer frente a los valores de la naturaleza y los animales con cuidado
Eine gemütliche, kleine Hütte, wo man gut abschalten kann und seine Ruhe hat. Der nahegelegenen Wald ist für Reisende mit Hund perfekt. Wir haben das Wochenende sehr genossen
Tansel
2017-01-01T00:00:00Z
Es war richtig toll. Die Hütte ist so gemütlich und wir hatten einen wunderbaren Aufenthalt!!! Kann ich allen Naturliebhabern empfehlen.
Isa
2017-02-27T00:00:00Z
Sehr gemütlich, sehr ruhig, alles nötige vorhanden, sehr schöne Umgebung und ausreichende Einkaufsmöglichkeiten in 10 min mit dem KFZ erreichbar.
Christian
2016-11-10T00:00:00Z
Die Unterkunft liegt wie beschrieben sehr ländlich mit einem tollen Ausblick. Wir waren im Oktober zu etwas kälteren Temperaturen da und da war es für uns doch nicht mehr so ideal, da die Hütte sehr schnell auskühlte. Die Hütte ist aus meiner Sicht mehr etwas für die Sommertage bzw. für die kältere Jahreszeit wenn man tagsüber dort bleibt und durchheizt. Wenn nicht regelmäßig geheizt wird, wird es schnell klamm und riecht etwas. Vielleicht sind wir aber auch ein bisschen verwöhnt. Es war im Inserat ja angekündigt. Eva war sehr nett und hilfsbereit, hat Tipps gegeben, was man noch unternehmen könnte und stand mit Rat und Tat zur Seite.
Daniela
2016-10-14T00:00:00Z
Heel relaxed huisje waarbij je alles wat je nodig hebt binnen handbereik is. En: alles wat je niet nodig hebt er niet is. Prachtige omgeving niet ver van Nederland, goeie kachel, lekker bad, goede bedden en een fijn keukentje. Supermarkten op vijf minuten rijden. Voor ons een heerlijke periode even van alles ver weg.
Gerjob
2016-10-19T00:00:00Z
At our arrival we had Kaffee und Kuchen first which was delicious and cozy. So is the Blockhaus - cozy and exactly as on the pictures/description. It is perfect if you want some peace and quiet and love having nature and animals around you - and it is a great spot for nice walks in the lovely surroundings. We hit a bit of a cold spot, but once we got the fireplace running, it warmed up pretty fast and stayed warm. There is a central heating in the bathroom which heats up very quickly too. Eva is very welcoming and can provide you some great tips for activities in the area (the cabin also contains a lot of maps and guides about the area). Don't forget to take towels and bed sheets.
Caren
2016-10-06T00:00:00Z
We received a warm welcome and very much at home. the Blockhaus is perfect and exactly how it is represented. beautiful countryside and very cozy. we shall def stay again so please dont too many people read this ;-)
will
2016-08-08T00:00:00Z
Es hat uns super gefallen. Ein wundervoller stiller Ort in der Natur, perfekt für ein Wochenende Landurlaub:-)
Johanna
2016-08-23T00:00:00Z
Tipo de habitación
Casa/apto. entero
---
Tipo de propiedad
Cabaña
---
Capacidad
3
---
Dormitorios
Hennef (Sieg), Nordrhein-Westfalen, Alemania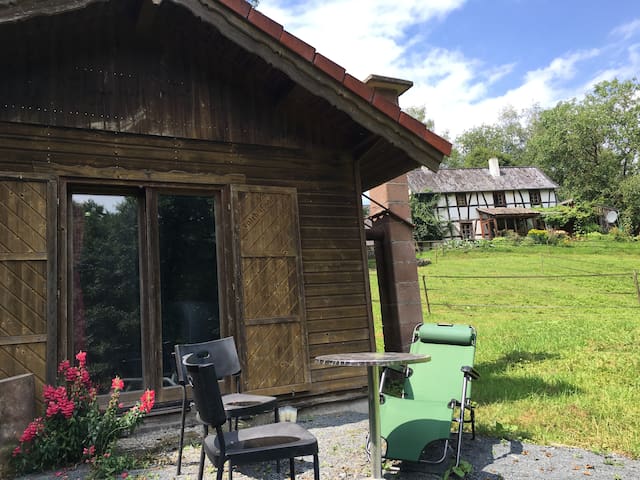 Nuestro muy bien amueblada individual Jägerhütte-House está convenientemente situado en medio de las siete montañas. Lugares de interés en el Rin, la Ciudad Bunde con los museos y agencias de la ONU son rápidamente accesibles. Seminatural ubicación, muchas oportunidades deportivas, la terraza con zona de barbacoa para todos los gustos. Nuestro alojamiento es bueno para parejas, aventureros solitarios, viajeros de negocios y familias (con niños). peludos amigos son bienvenidos a petición.
Nuestro amor por la naturaleza se refleja en muchos aspectos más. Esto hace que nuestra casa un refugio acogedor, ya sea para hacer unas vacaciones o dejar después de un día ajetreado de desenrollado.
Hay muy pocos vecinos mayoría de los cuales están trabajando durante el día de todos modos.
Nos alojamos aquí solamente una noche porque empezábamos una ruta por Alemania. Nos hubiera gustado quedarnos más. La cabañita es encantadora e independiente de la casa. La anfitriona fue muy amable y servicial, incluso nos dejó unas cervezas en la nevera!!! Además, el pueblo, aunque pequeño, tiene una gran oferta de restaurantes (nosotras nos decantamos por el griego y fue una muy buena experiencia).
Rocío
2016-08-21T00:00:00Z
The photo's don't do justice, the cabin was much nicer than expected! Everything is perfect, nice cosy beds, complete kitchen, great garden with terrace and play area for the kids. Nice area with woods and restaurants nearby. Lovely friendly hosts, who even left cold drinks in the fridge to welcome us! Couldn't be better!
Babat
2016-08-09T00:00:00Z
Der Aufenthalt war sehr angenehm und entspannend. Die lage nahe dem Wald ermöglichte es uns sofort mit unseren Mountainbike Touren zu starten. Michaela ist eine nette und freundliche Gastgeberin und auch die Nachbarschaft ist ruhig und immer freundlich. Würden die Hütte jeder zeit wieder nehmen.
Patrick
2016-09-13T00:00:00Z
Kleines gemütliches Häuschen in Ruhiger Lage, die Nähe zum Siebengebirge ist ideal zum Wandern oder Mountainbiken. Gute Einkaufsmöglichkeiten sind gegeben, das Inventar ist neuwertig rustikal eingerichtet. (Jägerhütte) Die Gastgeber sind freundlich und wir haben uns dort wohl gefühlt.
Mar
2016-07-15T00:00:00Z
Wir wurden freundlich am Bahnhof empfangen und abgeholt. Auf dem Weg hat Michaela uns direkt gesagt, wo in der Nähe die örtlichen Supermärkte etc. zu finden sind und auch auf die vielen Einstiege zu den Wanderruten aufmerksam gemacht. In der Hütte selbst hatten wir direkt eine Flasche Wasser auf dem Tisch stehen und viele andere Aufmerksamkeiten wurden für uns hinterlassen. Wir konnten uns jederzeit bei Problemen melden und bei Fragen oder Anregungen wurde sich sofort darum gekümmert. Die Nachbarschaft ist sehr ruhig. Zu einer Seite hat man die Ortschaft selbst (Supermärkte, Apotheken, Gaststätten sind in weniger als 10 Minuten fußläufig erreichbar) und zur anderen Seite das Siebengebirge, das sich selbstverständlich hervorragend zum Wandern eignet. Die Unterkunft war mit allen essentiellen Haushaltsgegenständen ausgestattet und sehr sauber. Wir kommen gerne wieder!
Lukas
2016-07-30T00:00:00Z
Michaela und ihr Mann sind die perfekten Gastgeber - sehr aufmerksam und hilfsbereit. Das Haus hat eine perfekte Lage - man ist schnell im Siebengebirge, Bad Honnef sowie Bonn. Gerne jederzeit wieder.....!! Peter
Peter
2017-03-02T00:00:00Z
Leuk huisje, erg schoon, welkom met biertjes en water in de koelkast, honing en snoep op tafel. Wij mochten gebruik maken van de groentes uit de moestuin. Erg vriendelijke ontvangst. Goed ingerichte keuken. Mooie functionele badkamer. omgeving: binnen twee minuten lopen zit je in het bos net voorbij een hele grote manege waar een heel leuk cafeetje is met heerlijke koffie en zelfgebakken taart Geen bank maar was voor ons geen probleem Aanrader!
Jan
2016-08-06T00:00:00Z
Wir wurden von Michaela sehr herzlich empfangen und haben uns von der ersten Minute an sehr wohl gefühlt. Meine Tochter durfte den Garten und die Spielgeräte mitbenutzen .Unser Hund war im Haus und Garten auch ein gern gesehener Gast. Das Häuschen ist sehr gemütlich eingerichtet und es ist alles vorhanden was man braucht. Es ist sauber und gepflegt. Wir kommen gerne wieder und werden es weiter empfehlen.
Melanie
2016-09-04T00:00:00Z
Tipo de habitación
Casa/apto. entero
---
Tipo de propiedad
Cabaña
---
Capacidad
4
---
Dormitorios
Bad Honnef, Nordrhein-Westfalen, Alemania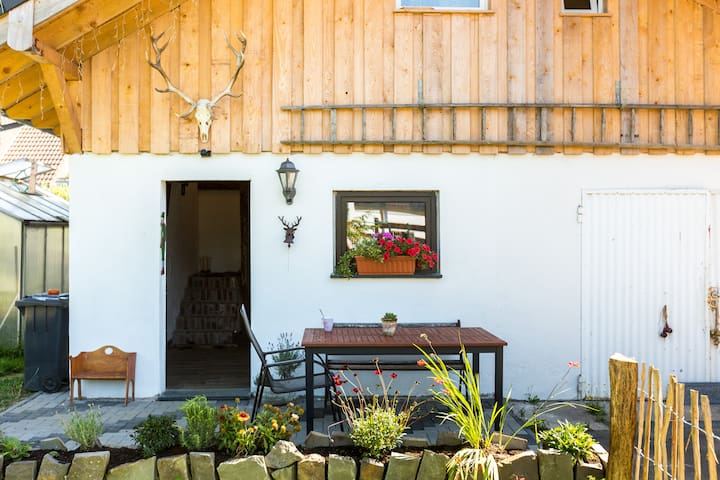 Our cozy log cabin is the ideal place to relax. Surrounded by trees, it is near our private house. We offer room for 2 people with a Schlaf.- or living room, Kitchen and bathroom with shower. In the summer months you have the possibility, in our to cool the pool.
Thomas en zijn familie hebben ons een warm welkom gegeven in hun fantastische blokhuis. Ze hebben alles perfect voor elkaar, alles wat je nodig hebt is aanwezig in het huisje en wanneer je toch nog iets nodig hebt dan wordt het voor je geregeld. In het huisje staat een comfortabel bed, een ruime zithoek en een haard. Vooral als je in de winter gaat, zoals wij, dan is de haard heel erg knus en warm. De omgeving is rustgevend en je kunt er goed wandelen. Op loopafstand vind je een supermarkt, bakker, apotheek, twee restaurants en bankautomaat. Keulen ligt op 45 minuten rijden van het huisje en ook Dusseldorf en Winterberg zijn prima te bereiken. Thomas en familie, bedankt voor het geweldige verblijf en we komen zeker een keer terug!
Dan
2014-12-30T00:00:00Z
Der Aufenthalt im Holzhaus von Familie Lutz war wunderbar. Es hat an nichts gefehlt. Die Begrüßung war herzlich, das Holzhaus wie auf den Fotos dargestellt. Es ist einfach perfekt für Abende vor dem Kamin, mit gutem Essen (denn die Küche ist mit allen notwendigen Utensilien ausgestattet) und einem tollen Film! Die Umgebung lädt auf tolle Spaziergänge ein und es ist generell sehr ruhig (wenn nicht sogar malerisch) - Entspannung pur und wie gemacht, um dem Alltag zu entfliehen. Für Fragen stand Familie Lutz immer zur Verfügung und hat uns tolle Tipps zur Umgebung gegeben. Insgesamt haben wir uns 2 Tage lang pudelwohl gefühlt und werden sicherlich nochmal wiederkommen!
Katharina
2016-11-20T00:00:00Z
You want a restfull, quiet holiday? Then you're good here. Our say with the family was very nice and good. The facilities are good and all you need. There where even fireflies next to the cabin and we were amazed by them. The pool was a little to cold for the weather, but big enough if you want to take a dip in it. The nature around the cabin is beautifull and there is a lot to see.. so enjoy!
Esther
2016-07-05T00:00:00Z
This place is just perfect!! A quiet place in the nature (possibilities to go for a Walk, we saw some deers), the place is near all facilities (bakery, Aldi, grocery stores,...). Thomas hosted us perfectly (the fire was on, a Bottle of cava)! The place is very clean and you have everything you need (for cooking, to play some music, dry your hair...) Thanks again, we had a wonderful time!
Caro
2016-12-29T00:00:00Z
We had a wonderful stay over the weekend, Thomas and his family were very kind and inviting; The cabin was very warm and cozy even though it was pretty cold outside during our visit. It is surrounded by beautiful villages and there are areas where you can hike and visit. It's an idyllic spot for relaxation, i would highly recommend this to anyone else! Thanks again Thomas and his family!
snowy
2016-03-06T00:00:00Z
Thomas was een fijne gastheer. Hij heeft ons bij aankomst de hele verblijfsruimte uitgebreid laten zien. Knusse blokhut.
grietje
2016-08-04T00:00:00Z
We had a great time staying at Thomas' place. The cabin was really comfortable and clean. The surroundings were quiet and good for a walk. We especially enjoyed the warmth of the cozy fireplace. Thomas and his wife were really helpful and friendly and provided us with everything we needed. We can recommend staying at Thomas' place if you're looking for a quiet getaway.
Laurie
2016-10-22T00:00:00Z
Thomas and his family were fantastic hosts. We felt very welcome in the cabin. Thomas showed us around when we arrived. Everything was perfect for us. The cabin is so cozy. A nice wood stove inside and a very big deck outsider to BBQ. There's more than enough space in this cabin. Clean bathroom and Kitchen. The area is very Nice. Loads of things to do. Bohn and Koln are not to far away. There's a climbing park and a Wisent ranch nearby. More than enough food shops to chose from,.. We would definitely visit again Thank you so much Thomas and Lutz!
Joke
2016-07-27T00:00:00Z
Tipo de habitación
Casa/apto. entero
---
Tipo de propiedad
Cabaña
---
Capacidad
2
---
Dormitorios
Reichshof, Renania del Norte-Westfalia, Alemania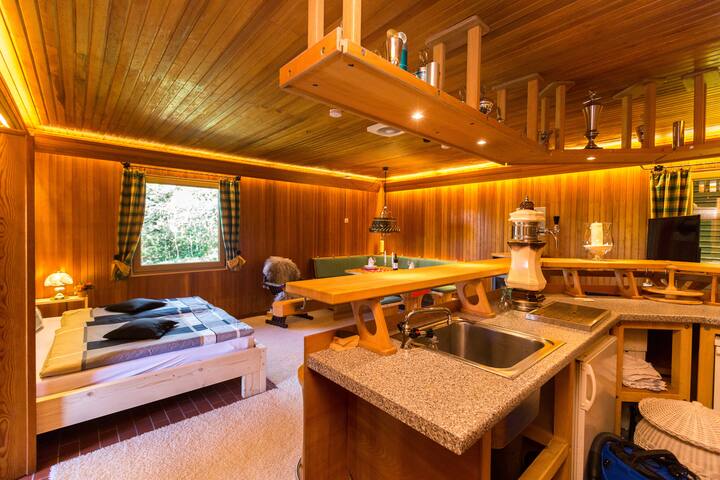 Gartenhause / Lodge auf dem Land. Endlich mal entspannen? Sommergartenhaus mit Schlafcouch, Küche und kleinem Bad.
auf dem Land
auf dem Land
Tipo de habitación
Habitación privada
---
Tipo de propiedad
Cabaña
---
Capacidad
1
---
Dormitorios
Mutterschied, Renania-Palatinado, Alemania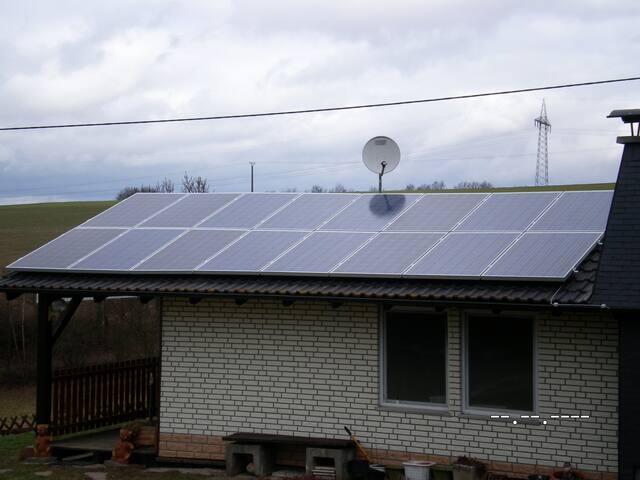 Coblenza - Airbnb
:
Una media de

4.9

estrellas de un total de

5

de

246

evaluaciones de huéspedes
1

–

6

de

6 Alquileres de Cabañas
Introduce las fechas para ver el precio total. Ten en cuenta que se aplicarán tarifas adicionales y es posible que se añadan impuestos.