Quiet, Private, Serene Cabin that reflects country living. 15 Minutes away from the world famous Kiawah Island beach, fishing and golf course. 20 minutes away from downtown historic Charleston. Private tours of the low country are available. Pets are welcome,: $25 daily total pets. Maximum fee $50. (2) pets only!!
Close to the beach, fishing, shrimping and a golf course. Steps away from water inland. Enjoy the comforts and privacy of the entire house. Pets are welcome, additional daily pet fee of $25.00 per per. Limited to 2 pets only.
Quiet, private, reflects country living! The cabin sits on family owned property. The neighbors are all family!!!!!!
Our stay was absolutely wonderful. Before coming out, Carol was exceptionally responsive. Gloria greeted us with a warm welcome and was easily accessible and nearby the entire time. The land and cabin were beautiful, serene and just what we needed. The neighborhood was quiet, the beaches were just 10 minutes away and very nice! This will be my new place to go to get away.
Makisha
2016-08-09T00:00:00Z
Carol and her mother Gloria were SO welcoming! Gloria met us at the cabin and ensured we had everything we needed for our stay. The cabin was clean and ready for us upon our arrival. Carol contacted us throughout our stay to make sure we were getting along well. Overall, it was such a nice weekend with great hosts.
carly
2016-04-17T00:00:00Z
Carol was extremely responsive and so great to check up on us to make sure we arrived safely as it was later in the evening when we got in. She has a great spot, I really wish we could have stayed longer. Will definitely contact her sooner next time.
Devon
2016-06-11T00:00:00Z
Carol and her mother Gloria are incredibly hospitable and welcoming. The sweet, small cabin was a great landing place for my husband and I as we were trying to escape the hustle and bustle of daily life. And we were so grateful to be able to bring our dog. The house was the right size for all of us to relax in between sight seeing, beach trips, and adventures to some amazing food nearby. The large yard space was perfect for our big dog to run around and have space to play and roam. We had a great stay!
Kat
2016-07-06T00:00:00Z
Cabin was nice and hosts were helpful, accommodating and easy to contact. Gloria even point us to a great little dinner for breakfast. Claire was a very kind and understanding host who checked on us and made sure everything was fine.
Gerald
2015-10-04T00:00:00Z
My girlfriend and I had the best time at this cottage. Carol and her mom Gloria were so accommodating in the lead up to our arrival and super hospitable upon our arrival. The lodging was wonderful but the surroundings were just beautiful and felt very secluded which was just what we wanted. However, the location was very centrally located between Kiawah/Seabrook and Charleston. I would definitely recommend this cottage to others as well as stay again.
Luke
2016-03-19T00:00:00Z
The host made me feel welcome, and was very accommodating with anything I might need! The neighborhood was private and I felt was safe, peaceful, and quiet. I appreciated that there were water bottles and coffee provided and that the host made herself available for anything I might need during my stay. Thanks again Carol and Gloria!
Bailey
2015-11-15T00:00:00Z
Gloria was very welcoming & made sure I was familiar with the cottage. She lives on the property & was very easy to get in touch with. The house was very clean. Lighting throughout was quite dim, the shower water pressure was pretty low, but hot. The bed was comfortable. Full size stove & fridge, with everything you need in kitchen & bathroom. No wifi, but strong signal on phone.
Mary Jo (MJ)
2016-01-01T00:00:00Z
Tipo de habitación
Casa/apto. entero
---
Tipo de propiedad
Cabaña
---
Capacidad
3
---
Dormitorios
Wadmalaw Island, Carolina del Sur, Estados Unidos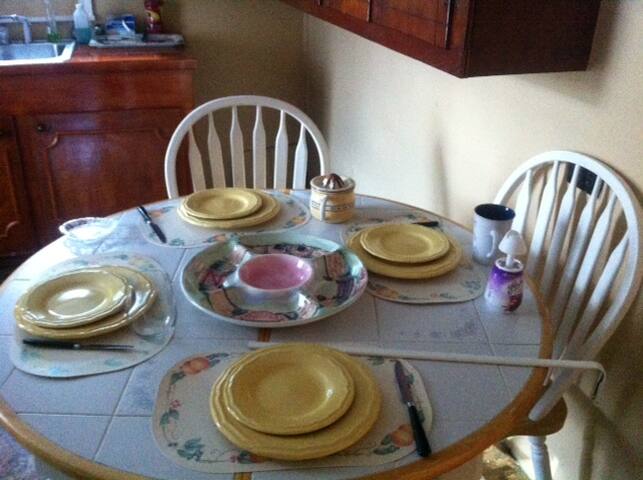 Gorgeous equestrian property on Johns Island. Spend your Charleston stay in a quiet, beautiful setting amongst ancient oak trees and star-filled skies. 20 minutes to Charleston, Kiawah, and Seabrook. Comfortably accommodates 2 adults.
Historic cottage on equestrian property
A true Southern stay. Enjoy oak tree canopies along Johns Island roads. Relax in the hammock between the majestic oak trees on this 13 acre active horse property.
El lugar era magnifico, muy tranquilo, y con una terraza estupenda para relajarse, contemplar los robles que hay delante de la fachada de la casa y los caballos. Sin embargo, la limpieza, en especial de la cocina. A la llegada y por un problema quisimos contactar por telefono con el anfitrion y a pesar de llamarle tres veces ni contesto ni devolvio la llamada en los tres dias que estuvimos alli. Tampoco le vimos personalmente ni nos contacto en ningun momento para saber si todo iba bien.
natalia
2016-09-27T00:00:00Z
The setting of Three Oaks Plantation was beautiful. Perfectly situated between Charleston and Kiawah or Seabrook. I had one question for Colleen and she answered right away. The instructions for entering cottage and all information needed was provided before arrival. Be sure and try the hammock.
Gayle
2016-04-09T00:00:00Z
The pictures don't do this amazing property and house justice! The elegant horses and beautiful landscapes were picturesque and very peaceful. We had a wonderful stay and every need was met! The house was stocked with ample towels, blankets, shampoo, conditioner, soap, books, plenty of fans and A/C units. The bed was very comfortable and the shower was excellent (hot water good pressure). The cottage was incredibly clean and artfully decorated making it a great escape from the city. John was a very accommodating host and provided us with several good suggestions for places to eat and things to do in the area. I would highly recommend anyone to stay here!
Katherine
2016-05-16T00:00:00Z
The cottage was just as described and we arrived to an amazing sunset,which sadly didn't appear again,take photos when you see it. The setting was quiet and idyllic,Colleen and her horses were delightful. We had a great time there and would recommend a stay here if you are in the location.
Nigel
2016-08-31T00:00:00Z
We loved staying at Cottage at Three Oaks. It was a beautiful location and a lovely cottage perfect for the two of us. The location was relaxing and the cottage was comfortable. John and Colleen were helpful and kind. It was a great experience.
Shirlene
2016-06-12T00:00:00Z
This was an amazing property and John was a great host. The listing was completely accurate and as beautiful as described. Our stay here was wonderful and seamless. The instructions for accessing the property were easy to follow. The bed was very comfortable, the place was clean, and we had no problems whatsoever. I will likely stay here again when I'm in the area.
Michael
2015-10-13T00:00:00Z
We were greeted by Colleen who was extremely nice and friendly. The cottage was clean, comfortable, and had a very homey feel. The land was beautiful and surrounding area are beautiful. Couldn't have had a better stay.
Jon
2016-04-05T00:00:00Z
The stay was wonderful. We were looking for a quiet, relaxing place to stay in Charleston and we certainly found one. The host made the check-in and check-out process very easy. We even got to meet the horses! We hope to stay there again.
Thomas
2016-10-22T00:00:00Z
Tipo de habitación
Casa/apto. entero
---
Tipo de propiedad
Cabaña
---
Capacidad
2
---
Dormitorios
Johns Island, Carolina del Sur, Estados Unidos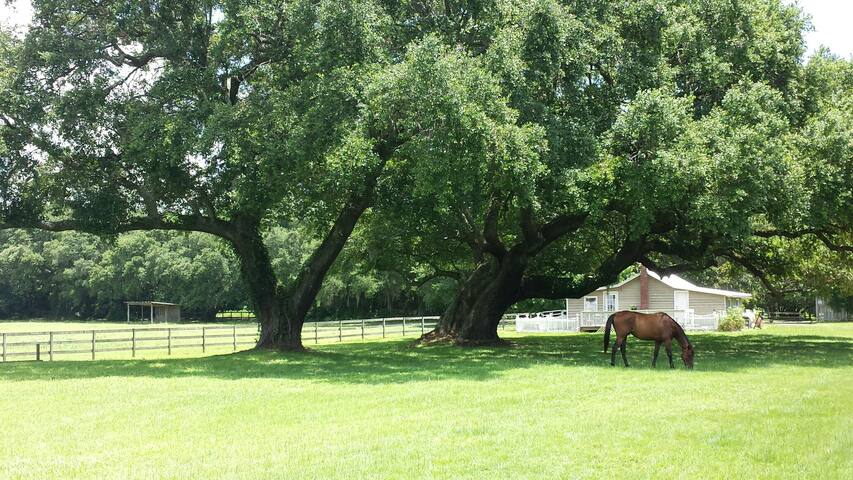 New cozy wood cabin tastefully decorated, situated among the live oak trees on the Stono River (ICW). Cabin is convenient to downtown Charleston, the white sand beaches of Kiawah Island and Folly Beach. Enjoy nearby sights and fabulous local food. End your day relaxing on the screened porch and deck overlooking the serene Stono River.
Beds include one Queen bed and bunk beds. DirecTv and dvd player are available. There is a loft.
Charleston. Located 15 minutes from downtown Charleston on John's island.
Tipo de habitación
Casa/apto. entero
---
Tipo de propiedad
Cabaña
---
Capacidad
4
---
Dormitorios
Johns Island, Carolina del Sur, Estados Unidos
Newly constructed cottage near Edisto River & Givhans Ferry Park. Just off the beaten path to Summerville, South Carolina. We are close enough to shops, dining & cultural events, but far enough to forget the hustle & bustle of city life!
Located near the longest black river in North America with opportunities to fish, kayak, inner tube, relax and listen to the birds and crickets chirp! Just 15 miles outside Summerville, South Carolina and 35 miles outside Charleston. Very close drive to the new Volvo plant being constructed.
Near 3 boat landings that access the Edisto River and 1/2 mile from the Givhans Ferry State Park.
Our stay at Shelly's cottage was absolutely amazing! Relaxing, comfortable, and such great personal touches throughout. I will be recommending her property to my parents who visit the area often. Can't wait to stay again!
Sarah
2015-04-17T00:00:00Z
This was by far one of the best Airbnb experiences that we had. There is so much thought put into the design and the layout of the cabin, as well as into the details. Shelly, you are so talented! Every need is foreseen by the owners (including makeup removing wipes!). And the kitchen left me speechless... and I loved cooking in it! Thank you for allowing us to stay at this wonderful piece of heaven.
Albina
2015-08-30T00:00:00Z
I feel so lucky to have found this place. An absolutely charming house on gorgeous property. Every room is decorated in a chic way that at once makes you feel at home; its clean, and has all the amenities you need to live normal life in your home away from home. I sincerely hope I get a chance to return to this cozy cottage.
Michelle
2016-02-02T00:00:00Z
Shelly and her husband made our stay beyond what we expected. She worked with our little hickups in our plans and made sure we had everything needed to have a fabulous stay in this adorable, well decorated, and well-equipt cottage.
Michelle
2016-05-14T00:00:00Z
Shelly was nothing short of amazing! She was helpful from beginning to end and offered great tips on where to eat and places to see! Her cottage was lovely and well equipped. The water was well water and had a slight sulfuric smell to it so I would suggest drinking water and water to brush your teeth with. It is very common in that part of the country and when you are not connected to city water. Her place was clean and decorated lovely. I would definitely recommend staying here!
Kym
2017-02-19T00:00:00Z
The cottage itself was beautiful, well-equipped, and clean, and all the thoughtful details and amenities made it feel perfectly cozy for our weekend trip. Shelly was a great host and easy to get in touch with. Highly recommended!
Kari
2016-05-02T00:00:00Z
Our stay at the Cozy Cottage was nothing short of delightful. It's a hidden gem just 15 minutes outside of downtown Summerville, and is conveniently located near the Edisto River and a beautifully-maintained state park; a perfect spot if you're up for a swim or enjoy floating down a lazy river. We half expected there to be bugs since it's so close to a river and really out there in the woods, but we were very happy to find that wasn't the case at all. The cottage itself looks and feels brand new. It's been very tastefully decorated with modern amenities, even a washer and dryer! The hosts were warm and welcoming and even sat with us for an hour to shoot the breeze. They were very laid back and easy going. If you're looking for a quiet getaway, this is the place to stay. We'd recommend booking for a week or more. It's likely that you won't want to leave. :)
Lee
2015-06-17T00:00:00Z
I had a wonderful experience at Shelly's cottage. Every aspect of the cabin and location matched the description. It truly is a 'cozy' place and with all of the amenities, it felt like 'home.' Whenever I had a question, Shelly was understanding and quick to help.
Lakeshia
2015-11-15T00:00:00Z
Tipo de habitación
Casa/apto. entero
---
Tipo de propiedad
Cabaña
---
Capacidad
4
---
Dormitorios
Ridgeville, Carolina del Sur, Estados Unidos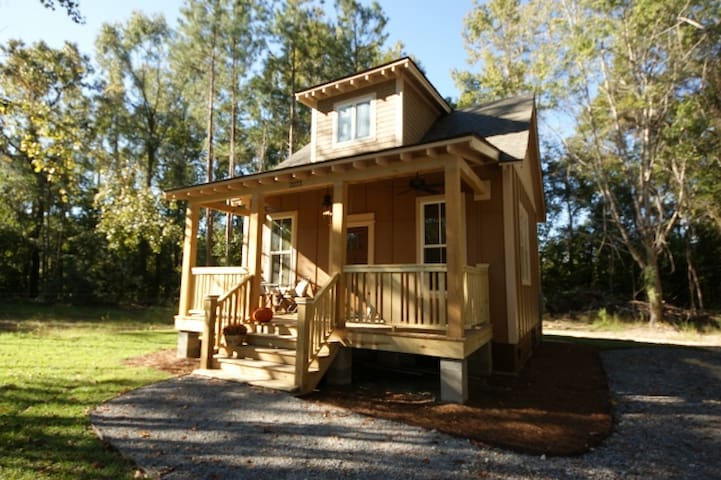 Unique, Tiny House tucked away in a private corner of Eden Wind Farm. You can fish, paddle board, canoe, hike trails, have horse adventure, bird watch, or just have a quiet rest in our cozy cabin with a full kitchen and double bed. Pets welcome!
Enjoy picking your own fresh food from the farm....eggs, lettuce, tomatoes, peppers and okra are just some of the seasonal things we grow. You can even fish for your dinner in our 5 acre private lake if you wish. Enjoy herbs in your own window box garden. If you have pets then you can bring them. You can also sign up for Riding lessons, Horsemanship class and Trail Riding once you arrive. There is no charge for the self propelled water activity or fishing. Fishing gear is on site.
Get back to nature and recharge with the country quiet of our farm located on the second largest island on the East coast, beautiful Johns Island. We own 44 acres with hundreds of acres of adjoining land to explore on horseback or by foot. The cabin is small and rustic but your outdoors seem to come in with a large deck and screened in porch, and Corn Hole equipped fenced yard. The bathroom has an industrial style shower, treated wood floor, sink and boat type toilet. A/C equipped in both rooms, fully equipped kitchen, TV, stereo and extensive movie collection.
Absolutely love this place! The cabin is the perfect place to relax after spending the day downtown. Our hosts were very welcoming and accommodating.
Brianna
2016-05-10T00:00:00Z
We will definitely be staying here again the next time we come to Charleston!
Walt
2015-07-28T00:00:00Z
The cabin at the farm was just lovely! Our kitty cat & cockapoo were in heaven, the porch & fenced in yard were where they wanted to be. The setting is relaxing & pretty. We had some fun around the fire pit a couple nights & sipped our coffee on the porch. We highly recommend the Southern General, Blackbird Market & the park right before entering Kiawah. Denise & Tanya were right there when we needed them & were awesome hosts.
Elizabeth
2015-11-29T00:00:00Z
This cozy retreat was just what the doctor ordered. Woke up every morning to a beautiful sunrise over the barn and lake, the start of the day when they let the horses out to graze. Make sure you bring a few things for the fridge ( food and bevs ) as you will probably not want to leave! The screened in porch just off the kitchen made for a great coffee and conversation spot. Tanya was so nice to give me a guided tour of the property one afternoon......very peaceful. This farm is a gem, just far enough off the beaten path( dark and so quiet at night for star gazing) and close enough to Charleston if your feeling that urge. It was hard to depart and check back in to the real world....this lets me know I will be back!
Michael
2015-10-26T00:00:00Z
We had a relaxing stay in the cabin. Denise gave great recommendations for places to see and eat during our stay. It was fun seeing all of the horses out on the trails. It was like a world away from the hustle and bustle of the city, but close enough to have a nice dinner in Charleston.
Lauren
2016-11-21T00:00:00Z
Great little rustic cabin with everything you need. Beautiful setting and easy drive to Charleston. It took us 20 minutes to get to Bay Street/Waterfront Park area. Make sure to walk the property/trails!
David
2016-10-18T00:00:00Z
What a little gem!! The cabin is tiny, but very cozy and comfortable. And the view of the pastures is breath taking beautiful! We got in pretty late, but the cabin was lit up and very welcoming after a long road trip. We brought our dog, which is a big mastiff, and she loved it. She even got a little surprise treat package that was on the bed. Tanya was very friendly and gave us a tour of the farm, and introduced us to all the horses, which came right up to us for their carrot snacks. After that we enjoyed the farm with all of trails, my girl also enjoyed the lake, and jumped in there a few times. This is definitely one place that we would like to return one day.
Irene
2015-09-07T00:00:00Z
Denise and Tanya were great hosts! They gave us time to get settled and took us on a tour of their property after we got there. The cabin was wonderful and very clean. We will definitely stay there again when we visit the area!
Sherri
2016-08-21T00:00:00Z
Tipo de habitación
Casa/apto. entero
---
Tipo de propiedad
Cabaña
---
Capacidad
2
---
Dormitorios
Johns Island, Carolina del Sur, Estados Unidos
The Little Cabin is a 250sq Ft. freestanding building in the backyard of the Big House. It is a well accommodated guest house with a queen bed, full kitchenette and full bathroom with access to the Big House laundry room and full kitchen.
The Little Cabin is a 250sq Ft. freestanding building in the backyard of the Big House. It is a well accommodated guest house with a queen bed, full kitchenette and full bathroom with access to the Big House laundry room and full kitchen. The queen size bed comforable sleeps two adults. There is nook where the TV is located for eating and using as a comfortable work space. On the other end of the space is a full equipped kitchenette with a sink, microwave, refrigerator, silverware and dishes. The crown jewel of the Little Cabin is the full bathroom. A very spacious bathroom with a large stand up shower and a great shower head. And remember, you will be given a key and will have access to the big house if you want to use the oven or do laundry. The backdoor to the big house brings you into the laundry room and the kitchen and please feel free to use if if you feel like baking! Remember, the Little Cabin is just a 15 minute WALK to everything that is great in Charleston. We are located downtown in canonburough. Please take time to read through the entire house rules and the description before requesting to book.
The neighbors nearest to the cabin, they are close friends of mine and are all military vets and extremely friendly. They won't bother you one bit. On the other side of property, blocked by the big house, there is a state owned piece of property that has been temporarily reused as a makeshift church that has been helping the homeless. It must be noted that due to this help, from time to time, there are homeless people in the field across the street. I can assure you that these people are perfectly safe and not dangerous at all. I have personally met with and helped them out over the holidays. They are simply being helped by the church temporarily.
Enjoyed our stay here, location was within walking distance to where we wanted to be. The little cabin was exactly what we needed it to be.
Calvin
2016-07-12T00:00:00Z
This was a great spot close to downtown. I would recommend this to couples who want easy access to everything downtown, but do not want to be directly in the middle of the action. The only con from our trip involved the location to a motorcycle bar/club. It was extremely noisy and you could hear the revving of the engines on Saturday night until very early Sunday morning. Justin was an awesome host and responded almost immediately to any inquiries! He provided great recommendations for restaurants, nightlife and sites to see.
Amanda
2016-07-05T00:00:00Z
The little cabin was great. It was certainly a no frills place to stay, but if you're looking to stay in downtown charleston for a few nights and dont want to break the bank, this is a great option. It is fairly close to all the nightlife on upper king. We took an quick Uber ride to the lower parts of the peninsula. There is street parking right in front of the house, and it's right beside the cooper river bridge, making a drive to IOP or Mt. pleasant super easy. Justin was great, made himself available right when we got into town even though we were running late, then left us to enjoy our trip. Great stay, would definitely book this room again.
Dustin
2016-08-22T00:00:00Z
We really enjoyed our stay in the little cabin. It was just as described and had everything we needed for a quick getaway to Charleston. It is also well situated---just a short walk or drive to the downtown area. Upon arriving, we were greeted with a bottle of wine and an excellent list of things to do/attractions to check out. Justin was a great host. He was very accommodating and quick to respond to any questions that we had. Overall, we enjoyed our stay.
Tiff
2016-04-05T00:00:00Z
This place was really great for what we needed - which was just a dog-friendly place to stay in Charleston that was close to downtown. It was really clean and exactly what you expect to get from the pictures. We loved the convenience of this place and Justin was available for us to check in right at 3. Would definitely recommend stay here.
Chelsey
2016-05-31T00:00:00Z
Justin was a great host. He checked in with us the day we were supposed to arrive, was very quick to respond to texts and very friendly. The Little Cabin was really great as my husband and I could freely come in and out throughout the day. It's also pretty quick drive to the downtown area. Would definitely stay at the Little Cabin again.
Linda
2016-05-20T00:00:00Z
The space is perfect! Has everything you need and is in a great location. Justin was hospitable and was extremely responsive. Will definitely be staying there again.
Heather
2016-02-08T00:00:00Z
Great host, cozy place, good location only a few miles from market downtown. Host gave great suggestions on places to go and things to do. The bathroom is very nice and modern. I would highly recommend this cozy cottage
Desiree
2016-05-09T00:00:00Z
Tipo de habitación
Habitación privada
---
Tipo de propiedad
Cabaña
---
Capacidad
3
---
Dormitorios
Charleston, Carolina del Sur, Estados Unidos
Ladson - Airbnb
:
Una media de

4.78

estrellas de un total de

5

de

268

evaluaciones de huéspedes
1

–

6

de

6 Alquileres de Cabañas
Introduce las fechas para ver el precio total. Ten en cuenta que se aplicarán tarifas adicionales y es posible que se añadan impuestos.