Loft de arriba características impresionantes paredes de ladrillo visto, arte local, y un ambiente moderno y acogedor en el centro de Benton Harbor. 1 BR, 1.5 baños, cuenta con electrodomésticos KitchenAid hermosas, ducha de doble cabeza con piedra de río, y tragaluces en toda la unidad.
Se trata de un loft urbano único en el distrito artístico de Benton Harbor. El edificio es una antigua fábrica de candymaking que es de unos 100 años de edad y mi unidad tiene incluso un ascensor en el mismo que solía ser utilizado para traer la harina y el azúcar hacia arriba y hacia abajo para hacer el caramelo. CAT: Gato de mi compañero Nomi es aquí la mayor parte del tiempo también. Ella es muy suave y dejar los alimentos en porciones pre exponer. Ella no va en el dormitorio.
Benton Harbor ha sido a través de una revitalización en los últimos años por lo que esta es una nueva sensación emergente en la comunidad. Es cierto que hay edificios abandonados y algunas áreas difíciles a pocas cuadras de distancia, pero la zona del centro es galerías de arte, tiendas de café, un centro de recursos LGBT, tiendas de segunda mano, y restaurantes únicos.
Brad's home was stunning! It was so modern and just simply beautiful. We enjoyed every bit of the stay. We will definitely stay again if we're ever in the area.
Allen
2016-06-27T00:00:00Z
Amazing beautiful loft in the arts district. The loft was very clean and spacious. Brad was a great host. He left detailed instructions on how to use the wifi, Netflix, Hulu and music. He left out k cups, disposable coffee cups as well as regular coffee mugs. He recommended local places to try and also left local magazines to read. The loft was beautiful and I did not want to leave! It is walking distance to a few bars and restaurants. It is a very short drive to St.Joseph. I came from Florida for my brothers wedding and it was nice to have a spacious place to spend my time. Hope to visit again soon. Great experience!
Sarah
2015-05-24T00:00:00Z
The pictures don't do it justice, the decor is great. Loved the well-equipped kitchen and character of the place. Very clean. Brad was great with answering questions and even left beer for us to enjoy! Wifi was a tad slow but other than that would definitely stay here again.
Liz
2016-11-06T00:00:00Z
Lovely apartment, very unique and well located close to restaurants and art galleries. Host was very friendly.
Christian
2015-08-10T00:00:00Z
Brad made us feel very welcome. The condo was clean and quite in a unique space with one of a kind decorations. He had helpful post-it notes placed strategically that kept us on the right track. The Michigan guides he left on the counter were very helpful in planning our day. There are a couple of convenient restaurants close by serving up delicious food and microbrews. We'll stay here again when visiting St. Joseph.
Carl
2014-09-01T00:00:00Z
We had a wonderful time in Brad's loft! It was such a nice relaxing "home away from home" and Nomi made it even more welcoming. Brad was super helpful and responsive to anything we needed! We had a great time and hope to get back again!
brandon
2016-07-22T00:00:00Z
Great upscale modern loft. Wonderful retreat weekend with my wife. Several interesting bars and restaurants within walking distance. Brad was very accommodating and easy to work with.
Mike
2015-02-16T00:00:00Z
We had a wonderful time staying at Brad's place. His home is very clean and extremely eclectic with the exposed brick walls and urban decor. Very close to The Livery (bar with live music), The Mason Jar Cafe (very good brunch spot) and a gelato shop! We also ventured to St Joseph (about a 5 min drive) and went to Silver Beach, Shu's, Czar's (great for live music!) and The Food Depot. Round Barn Winery was also one of our favorites. We had a wonderful weekend getaway! Definitely would recommend this to others.
Julie
2016-09-06T00:00:00Z
Tipo de habitación
Casa/apto. entero
---
Tipo de propiedad
Loft
---
Capacidad
2
---
Dormitorios
Benton Harbor, Michigan, Estados Unidos
Centrally located to what all of Southwest Michigan has to offer. Located in the beer, wine and agri tourism epicenter Village of Baroda. Only minutes from the best beaches and State parks in Michigan!
Located 90 miles from Chicago, Skyway provides a unique vacation experience. Mid-Century Industrial Farm Chic style, located in a turn of the century tin ceiling clad bakery, turned candy store, turned creative live / work space with a recording studio - Skyway offers a stay like no other. Bicycling, Beaches, Wineries, Breweries, Distilleries and fantastic restaurants all within close proximity - or stay in for the night, and prepare your own meal from one of the many roadside produce stands or grass fed farms in the area. Skyway isn't for everyone. You either want a traditional vacation home in Harbor Country, or you're looking for something a little out of the ordinary and off the beaten path. Located on a dead end main street, cars drive by on the vintage brick pavers. Residents and visitors walk by on evening strolls. Curious passersby stare down the modern facade with inquisitive looks. Secluded on acres of land it is not, but hey - we love it, and think you will too. Did we mention it's only 30 miles to the Notre Dame Campus? You'll find inspiration amongst Skyway's large open floor plan living space with original maple flooring. The sunlight obtained from floor to ceiling windows truly inspires, while the acid etched glass provides complete privacy. Bring your creative projects that never seem to get done. Do something for yourself - something you love. Also available at Skyway is the recording studio space (Extra charges apply). Bring your own digital audio workstation, and rent a few microphones, or have an experienced engineer take care of duties on our Pro Tools HD system. The choice is yours. Finish that record you never started. Skyway has been home to many diverse businesses over the years. At the turn of the century, after a devastating fire to the Village of Baroda, Ray Stover built the existing building, which was the general store of the era - farm implements were sold out of the back room. After Stover's demise, Ess Swope ran Ziegert's Bakery in the space through the 20's. The building then changed hands many times - Gus Nelson had the store for a short period. It's rumored the pot belly stove was the unofficial village hall - where men discussed politics and more than likely dreamed up the secession from Lake Township. The last great business was Emil Tollas's Red and White store - aka Tollas Brothers Grocery. Movies were played on the side of the building for the village's citizens until an addition to the store was erected out of bricks salvaged from the school explosion of 1946. After the economic collapse of Southwest Michigan, the space was occupied by an antique collector, until the current owner's purchase in 2004. 8 years of blood, sweat, tears and elbow grease has turned this vintage building into what it is today. Skyway is ideal for a couple, but can accommodate up to four people. Six can comfortably dine in the living space. The main bedroom, which is located inside the drum recording room of the studio, contains a queen size murphy bed (don't worry, it's a real mattress / bed) with high quality linens and pillows. Being that it's a recording studio space, it's quiet. Very quiet. The kitchen contains a medium size refrigerator and freezer for your convenience, along with ample counter space and an apartment-size electric range.
So much to love... The brick street, breweries, wineries, classic country farm supply store, classic old school bar and the deli!
The listing was absolutely as described. We couldn't have asked for a better and more charming experience. The studio is just a few miles from the beach (don't quote me on the mileage), but very close. And you are just a short drive from Three Oaks, Michigan and St. Joseph, Michigan. We highly recommend the Journeymen Distillery in Three Oaks and Woody's BBQ in Baroda. Enjoy yourself!
Alaina
2014-07-22T00:00:00Z
Okay - this place is so cool... I literally can't even. The pictures are beautiful, but they don't even do it justice. Every nook and every cranny are thoughtfully decorated and situated. Every light fixture is amazing. The wood floors are warm and beautiful. The kitchen is overflowing with any implement you could want. The reclaimed wood wall in the bedroom is SO beautiful. The bed is insanely cozy! I could go on and on. The area, in my opinion, is amazing as well. Definitely rural, but also close a million amazing things, which for me is the best of both worlds when planning a getaway. I had a great time driving around all the local farms, exploring vineyards, cornfields and wildflowers, and just soaking in all the beauty. But, also, picking up Oreos and Diet Coke at Target. I crave the magic of rural countryside, but I'm a city girl to the core so it's amazing to have access to all of the above. This little corner of MI is just so special - it's one of my favorite places on earth. There is so much to see and do, it's crazy. So many eclectic shops, garden centers, eateries, grocers, fruit stands, and on and on. Not to mention easy access to many beautiful beaches. Brian and Melissa were super responsive, very gracious and warmly welcoming. They have left so much information at Skyway that you are completely prepared for a wonderful stay. I will definitely be back! In fact, I already can't wait to plan my next visit.
Bethany
2015-07-20T00:00:00Z
Melissa & Brian sent me perfect instructions and details before my arrival. The place is very cool and very close to wineries and breweries.
Kelly
2016-09-06T00:00:00Z
Love! Love! Love! This was my first time using Airbnb and I have to say I am very pleased. The accommodations were not as described---they were BETTER than described. It felt like a home away from home. My husband and I were in town for a triathlon, so comfort was important. I slept as soundly as I would at my own home and was not bothered by other guests as I would be at a hotel. Very impressed! I would stay here again if I found my way back to the area.
Sharon
2015-08-10T00:00:00Z
Awesome and truly creative spot in Wine Country! Easily accessible to wine, beach and a quick drive from Chicago. Brian and Melissa were awesome with tons of cool suggestions. The space is much bigger than it looks in pictures - we'll definitely be backk!
Brad
2014-09-02T00:00:00Z
This place was fantastic! I couldn't have been happier with the whole experience. Thanks
Casey
2015-08-12T00:00:00Z
Skyway was a great place for a relaxing and quiet getaway. Baroda is right in the middle of local wineries, breweries, and distilleries … and it's five minutes from the beach! We had a wonderful time exploring and it was nice to come back to a place that felt like home. Brian and Melissa communicated very well and everything was as we expected. Thank you for your kind hospitality!
Rob
2015-06-23T00:00:00Z
We really enjoyed our stay in Baroda at Skyway! Melissa and Brian were wonderfully responsive to any questions we had prior to arrival, and gave great, detailed information about check in and building access, as well as comprehensive information about the surrounding area. Skyway is an impeccably clean, uniquely and beautifully decorated location with a lot of natural light and plenty of space. Though the surrounding town of Baroda is small, we enjoyed a fantastic pizza at the Public House and a wine tasting, all within walking distance of the property. This place is great if you are interested in a unique, fun, interesting place to stay that is a bit off the beaten tourist path; we loved it!
Christine
2014-08-04T00:00:00Z
Tipo de habitación
Casa/apto. entero
---
Tipo de propiedad
Loft
---
Capacidad
2
---
Dormitorios
Baroda, Michigan, Estados Unidos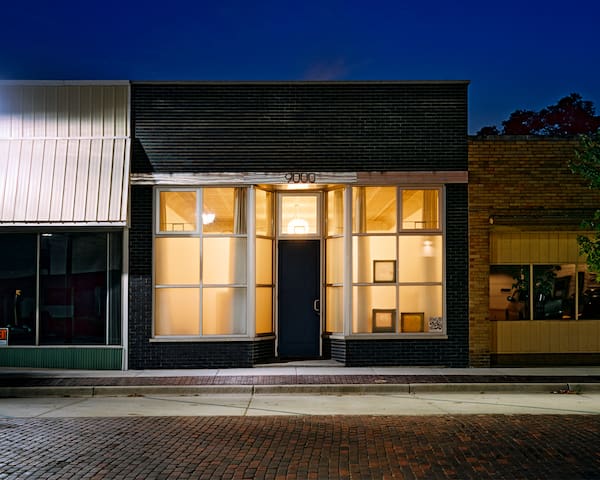 Stay at a unique property! Artistically furnished with original art large studio loft located in the heart of Harbor Country, walk to Lake MI. Close to restaurants, galleries, wineries, breweries, fruit markets, beaches, kayaking, hiking & biking.
The "Artful Retreat" is a large 800 sq. ft. studio loft furnished with paintings & handcrafted reclaimed wood tables and lamps designed by the owner/artist. This unique space sleeps two and is open, airy & comfortable. A great alternative to a luxury hotel, it offers space, privacy & convenience. It is located on Red Arrow Hwy, the main road to access all Harbor Country has to offer, in a retro landmark building.
Conveniently located in Harbor Country close to everything Harbor Country has to offer, this unique loft style apartment is tucked away at the end of the building with private entrance. it provides comfortable, attractive amenities in a gallery like environment. Enjoy our beautiful township beaches as well as public beaches in Bridgman & New Buffalo and Warren Dunes State Park in Sawyer. Rent kayaks or canoes on the Galien River 4 miles south on Red Arrow Hwy just past Union Pier. Just down Red Arrow from there is Galien River District Walk, a beautiful walkway high over the river & wetlands. Biking is popular all over with our many wooded lanes & the "Apple Cider" ride in September from Three Oaks. (Check this out at Bicycle Museum in Three Oaks). Tour the many shops, galleries & antique malls dotted along Red Arrow Hwy all the way to New Buffalo. The Four Winds Casino is located is just 15 minutes away outside New Buffalo.
I experienced an extended stay in the spacious Artful Retreat in January. The accommodations were satisfying and met my needs with comfortable furnishings and bed. The hosts were attentive, and the location is central to the SW Michigan Harbor Country region, while Luisa's Cafe just up the road is perfect for breakfast or lunch. Guests should be aware the unit sits along the Red Arrow Highway, making it less than tranquil at certain hours of the day.
Craig
2015-01-16T00:00:00Z
The artful retreat was just lovely. It's less of a cabin and more of a room but is full of charm and personality. All details were accounted for and hosts gracious. They were prepared w/ great suggestions for restaurants & the location was perfect for what we were looking for in our weekend getaway.
Michelle
2015-07-19T00:00:00Z
Jan and her husband were very welcoming. They did a lovely job furnishing the studio with artistic touches. We felt very comfortable and the location was convenient.
Holly
2016-07-05T00:00:00Z
I really don't understand all the glowing five-star reviews. This place was an unacceptable motel room. Good concept, lousy execution. Best thing: the photograph on AirBnB. Re welcome. Address supplied didn't match up w/ my GPS. Had to call.And then the Wifi info was out of date. Had to call. Comp wine promised not a big deal ... but wasn't there. Welcome? no. Biggest drawback for "Artful Retreat," is it's not in a sleepy, funky Lake Michigan harbor town. It's 20 feet off a loud four-lane highway. Plus trains all night. Noise suppression? No. Bring your earplugs. Kitchen? I guess i missed something. It's a mini refrig, microwave, coffee maker. no stove. Unpaired leak bath sink w/ 5-gal. bucket that overflowed. Called. Bob came and emptied bucket. Turned off hot water. Said we could manually turn on at cutoff underneath. Paradise, n'est-ce-pas? Cheap two-foot by two-foot square shower.
john michael
2015-11-29T00:00:00Z
My girlfriend and I had a great time in the Harbert area for Memorial Day weekend. The location is perfectly located near the Warren Dunes State Park, distilleries, wineries, beaches, and fine places to eat. The room we rented was accurate according to the description and we were pleased. Bob greeted us when we arrived and showed us the room. He even said to give him a call if we had any questions or needed something. That made us feel very comfortable. At the end of out trip, we bumped into Jan and Bob at a local breakfast spot and Bob offered to give us a tour of his art gallery. Truly great people! I give this space a thumbs up for sure!
Gabriel
2015-05-24T00:00:00Z
Janice was a very pleasant and communicative host. She even left us a bottle of champagne to ring in the new year with. The Artful Retreat was lovely and just as described. Despite being on a main road, we had no issues with outside noise. We would gladly stay here again.
Nathaniel
2016-01-03T00:00:00Z
The Artful Retreat was exactly as described and shown in the pictures. It is in a great location for dining and proximity to wineries. The space was clean and was furnished with many pieces from a local artist. I had concerns there would be traffic noise from being on Red Arrow Highway but there was not. Thank you Jan for a cozy nights stay.
Brittany
2015-08-30T00:00:00Z
Sent to owner, never heard back: I wanted to reach out to you regarding my recent stay at your rental this past weekend. Thank you for your attentiveness to my queries. My wife and I also enjoyed the artistic furnishing decorating the space. Despite those two positives, in a word, I would describe the night as disappointing. The listing for the rental publicizes words like "quiet" and "luxury" to describe a guest's stay, but we found that was opposite of the case. To begin, the transition from this space from its former life as an office was clearly done by someone without professional experience. The use of cheap materials and low-quality work is clear from the windows to the bathroom. The tiny shower produced highly fluctuating water temperatures and poor water pressure – I've had a better shower at a campsite. The window nearest to the bed doesn't even have blinds or a window covering, exposing it directly to the neighbors across the yard. Even the cleaning seemed to be amateur; there were cobwebs in the doorways and on the ceiling rafters and sticky spots on the floor. The materials used to furnish the unit are also of the lowest possible quality. The sheets of the bed were so thin, they were nearly see-through. The pillows might as well have been non-existent as they were so thin. When a rental advertises that it's a great alternative to a luxury hotel, I expect the bed to at least be comfortable. We hardly slept on this cheap, poorly appointed bed. That isn't even to mention that the rental is 10 feet from a loud, busy highway. The sound of traffic throughout the night was another major downfall. In addition, I was shocked that the unit had none of the typical amenities available at most rentals. There is nothing to make the stay comfortable and convenient for the guest: no ironing board, hair dryer, or anything else. Finally, I was distraught that the unit was connected to another unit with no security between the two spaces. Next to the bathroom there was a doorway that locked from the opposite side. We saw the lights go on and off underneath this door, so clearly an occupant was in that space. However, we had no way to lock our side of the door and be confident that another person wasn't going to unexpectedly enter the room. We didn't know if the doorway lead to the rental next door or another space. Without knowing, it's a major security concern. I'm a believer that you get what you pay for. To celebrate our wedding anniversary, I sprung for a rental I expected to be nicer than some of the less expensive alternatives in the area. However, I did not feel that I got my monies worth on this purchase. I do not feel it's unreasonable to ask that part of our rental fee be refunded as the quality of the rental was far below what was expected(URL HIDDEN)
Trey
2015-06-21T00:00:00Z
Tipo de habitación
Casa/apto. entero
---
Tipo de propiedad
Loft
---
Capacidad
2
---
Dormitorios
Harbor Country, Harbert, Michigan, Estados Unidos
WANDERLUST LOFT位于密歇根城艺术区,美丽的密歇根湖和华盛顿公园步行距离之内。在路上,是华盛顿公园码头,Lubeznik艺术中心。你一定会喜欢的位置,色彩丰富的内饰,以及WANDERLUST LOFT的开放式生活空间。这是探索你内心的流浪者,并发现美好生活的好地方。完美的夫妇,独奏冒险家,商务旅客和毛茸茸的朋友(宠物)。
1200呎阁楼开放式客厅,餐厅和厨房区。独立的卧室有一张特大号床。浴室配有充足的存储空间和一个超大淋浴。 客厅里有招待6-8和特大墨菲床舒适的座位。该餐厅可容纳6-8。
My husband and I spent four nights at Wunderlust Loft on Lake Michigan and we can't wait to go back ! Great location - within easy walking distance of a variety of good restaurants, unique shops, art galleries, and, of course, Lake Michigan. The hosts have decorated the loft with artistic flair and it was stocked with everything we needed. Five stars!!!!
Evie
2016-11-17T00:00:00Z
We have traveled many states and have stayed in a lot of B&Bs over the years...This air B&B was by far the most spacious, comfortable, & well equipped we've ever stayed in!! Lisa's eclectic decorating style and her collection of art work was so refreshing. Even on day 5 I continued to find something new that I had not noticed the day before!! We really did appreciate that the loft was decorated for Christmas as this was our home away from home for 5 days. We WILL be back! Thank you Lisa and John you truly BLESSED us this's Christmas! Bill and Carole
Carole
2016-12-25T00:00:00Z
We very much enjoyed our stay at the Wanderlust Loft! The size of the Loft is great and the decor is amazing. Enjoyed being so close to the shopping outlets and a couple cute local restaurants. However, Michigan City is very run down. If you're looking for a great city to visit, this would not be the place. You also hear a lot of street noise during the night. Besides those 2 things, owners have done an excellent job and have made the Loft very accommodating.
Ryan and Lori
2017-03-22T00:00:00Z
Tipo de habitación
Casa/apto. entero
---
Tipo de propiedad
Loft
---
Capacidad
4
---
Dormitorios
Michigan City, Indiana, Estados Unidos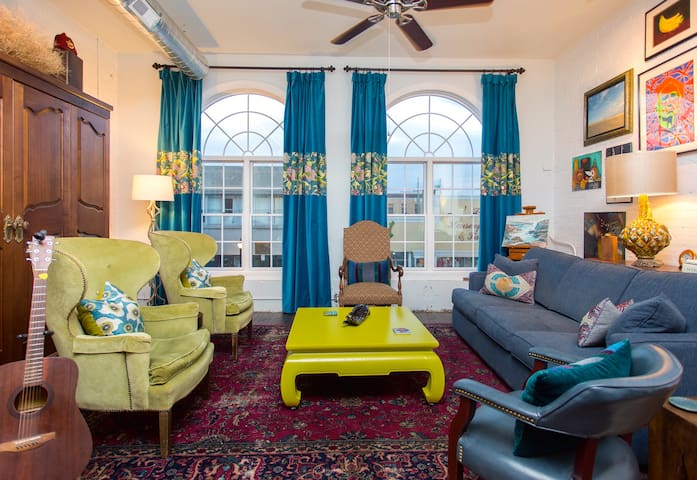 Tipo de habitación
Casa/apto. entero
---
Tipo de propiedad
Loft
---
Capacidad
10
---
Dormitorios
Michigan City, Indiana, Estados Unidos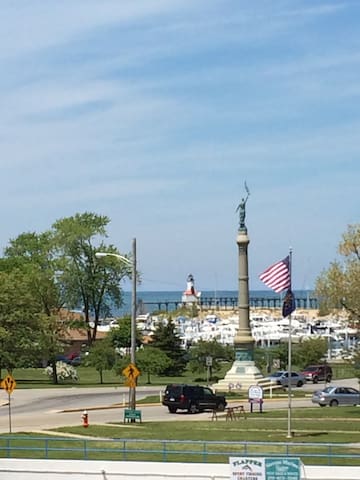 Lake Charter Township - Airbnb
:
Una media de

4.75

estrellas de un total de

5

de

134

evaluaciones de huéspedes
Introduce las fechas para ver el precio total. Ten en cuenta que se aplicarán tarifas adicionales y es posible que se añadan impuestos.