Este es el hogar hermoso de mi madre en Visalia. Tiene capacidad para 4 con 2 amplios dormitorios y baño principal. El lugar perfecto para pasar la noche! Mi mamá está aquí cerca de mi padre en Lemon Cove como otra alternativa para alojarse por el Parque Nacional Sequoia.
belle de ma mère maison est située à Visalia, situé près de l'entrée du parc Sequoia! Vous apprécierez de rester chez ma mère. Elle a toujours aime avoir des invités dans sa maison et tout le monde est le bienvenu, des étudiants internationaux, les couples et les familles. Le check-in est 18:30-23:30. Commander 9h30. Maman est bonne avec plusieurs séjours d'une nuit si vous êtes pendant la journée 9h30 et retour le soir après 18h30. Les enfants doivent être d'au moins 8 ans et pas d'animaux. demandes maman à manger avant d'arriver car aucune nourriture est autorisée dans la maison. En fonction du nombre d'invités, vous aurez 1 ou 2 chambres. Pour 1 ou 2 personnes, vous aurez 1 chambre à coucher. Pour 3 ou 4 personnes, 2 chambres à coucher sont disponibles. Pour 2 personnes souhaitant 2 chambres séparées, s'il vous plaît sélectionner 3 personnes lors de la réservation. Vous pouvez réserver ici de ma mère maison ou visiter mon profil pour « Chambre privée à Visalia » et réservez là. Si vous réservez la maison de ma mère ici, je te texte de son discours à Visalia. Si ma mère est réservé ou vous voulez rester à Lemon Cove, consultez mon lieu de papa via mon profil sous « Tout à Lemon Cove. »
Visalia es un gran lugar para alojarse y la ciudad más grande antes de entrar en los Sequoia y Kings Canyon Parques. Tiene todo lo que necesita de compras para el gas barato! Además, si usted no desea conducir al Parque, se puede tomar los autobuses lanzaderas Sequoia Parque. Los transbordadores son sólo unas cuadras de distancia.
Dottie is a very sweet lady and loves to have the company in her home to talk to and tell stories. Her home is located in a nice neighborhood that isn't too far from downtown. She treats you like family and has great experience as a host. The bed was comfortable and you get a bathroom to yourself. Overall, a very nice stay!
Dana
2017-03-05T00:00:00Z
She was super nice:) enjoyed her company a lot.
Hiromi
2017-03-25T00:00:00Z
Dottie was an amazing host. The house was very clean and cozy and we truly felt welcomed there. She made sure we had everything we needed for a perfect stay although it was only one night. Hope to come back again!
Nathan
2017-03-12T00:00:00Z
Jeff and his mom are wonderful hosts. Very enthusiastic and caring towards their guests. We arrived late and went out for dinner, but Dottie accommodated for our late arrival, gave us a tour of the house, and good tips on how to get to the park. We had a restful stay. Thank you for everything!
Sunny
2017-03-24T00:00:00Z
Like in your granny's home. A lot of conversation, Dottie is friendly and she loves to share her life and telling you stories. She will recommend you where to have dinner and have a drink.
Alicia
2017-03-16T00:00:00Z
We look forward for another stay with Molli! Great host!
Juan
2017-03-17T00:00:00Z
Had a great time talking to Dottie. We enjoyed staying at her place, the beds were comfortable and the master bathroom is large. Her house is close by to Sequoia National Park, it was awesome! definitely recommend staying here.
Stephanie
2017-03-27T00:00:00Z
Great place and fantastic person. This is the true meaning of airbnb. Thanks again!
David
2017-04-09T00:00:00Z
Tipo de habitación
Habitación privada
---
Tipo de propiedad
Casa
---
Capacidad
4
---
Dormitorios
Lemon Cove, California, Estados Unidos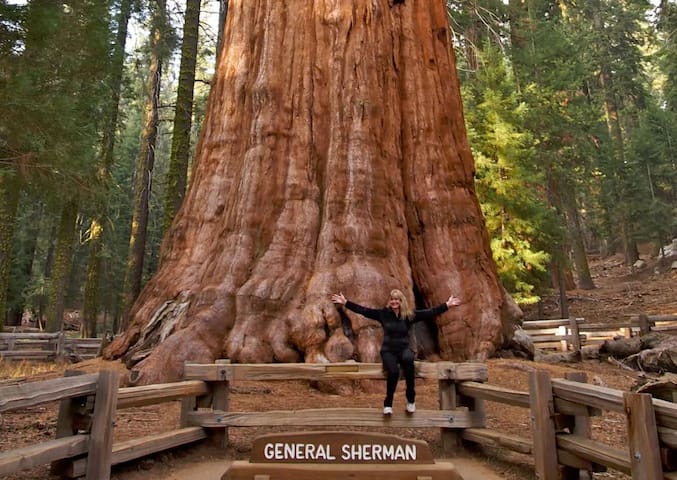 Esta es la casa de mi padre en las estribaciones de las Sequoias. A pocos minutos de la entrada al parque. De dos pisos unidad adjunto que incluye arriba y abajo unidades con entrada privada incluyendo rey, la reina y camas individuales. Capacidad para 1 a 5 personas.
Lemoncove ist eine alte in den Ausläufern des Sequoias befand Bergbaustadt und ist nur wenige Minuten vom Eingang zu den Sequoia & King Canyon Nationalparks. Der Platz ist eine separate 2-Geschichte Einheit, die an meinem Vater Haus angebracht ist. Das Erdgeschoss Gerät verfügt über einen eigenen Eingang, sehr große kombiniertes Schlaf- und Wohnzimmer mit einem Kingsize-Bett, extra Doppelbett in einem angeschlossenen Raum, Doppelkochplatte, ein kleinen Kühlschrank, Mikrowelle, Kaffeemaschine, Tiefkühltruhe, ein eigenes Bad und Sat-TV . Platz für 3 Personen. Die Couch kann eine zusätzliche Person schlafen, wenn Sie 4 in das Gerät drücken wollen. Das Obergeschoss sehr große Schlafzimmer ist verfügbar, wenn 4 Personen Buchung oder separat, falls verfügbar. Es enthält ein französisches Bett, Bad, eigenen Eingang, Mikrowelle und Kaffeemaschine. Schlafen 2. Außerhalb der Einheit ist eine große Terrasse, Gartenmöbeln und Grill die Sommerabende zu genießen! Mein Vater fordert, dass Kinder mindestens 8 Jahre alt sein und keine Haustiere sind in den Einheiten erlaubt. Empfohlene Check-in ist jederzeit nach 18.00 Uhr bis Mitternacht. Empfohlene Check-out ist 11 Uhr. Bitte rufen Sie meinen Vater in koordinieren zu überprüfen. WENN mein Vater ausgebucht ist, Check-out DANN schönes Zuhause in VISALIA meiner Mutter! Meine Mutter ist schönes 3-Zimmer-Haus verfügt über zwei private Schlafzimmer und ein Master-Bad, dass es nur wenige Minuten von meinem Dad bis 4 schlafen kann und ist ideal, um die Nacht zu verbringen! Sie können ihren Platz von meinem Profil aufgeführt wie finden "Privatzimmer in Visalia."
Bob excelente persona. El lugar muy pintoresco y el estudio muy confortable. Volveríamos
Ines Aida
2017-02-27T00:00:00Z
it's very comfortable hause right outside the sequoia national park in the quietly neighborhood.
Tine
2016-09-19T00:00:00Z
We were roadtripping and bad weather made camping impossible. At the last minute we contacted Jeff and were able to quickly secure a stay at his dad's. It was exactly what we needed. The house is in the scenic foothills of the Sierra's and close to the South entrance of Sequoia. His dad is very sweet - met us when we arrived and gave us a tour of the place. Thanks again for helping us out and for the quick and consistent communication.
Lisa
2017-01-23T00:00:00Z
Jeff's dad was very nice and accommodating by giving directions to places to eat and buy food!
Jack
2016-11-06T00:00:00Z
I enjoyed at this house Householder is nice House is close at entrance of Sequoia park
Joshua
2016-10-14T00:00:00Z
Jeff's place was great. His dad, Bob, was also a fantastic host - despite our late check-in (nearly midnight), Bob stayed up to wait for us in order to give us a tour of the house.
Ayden
2017-03-12T00:00:00Z
Our stay was very comfortable and nice. Bob was wonderful, he communicated with us and helped us find the place in pouring rain, check- in was simple, we had a short tour and the place was clean and well maintained. The accommodations are comfortable and I would highly recommend this to future travelers.
Stella
2017-01-08T00:00:00Z
Jeff was a very communicative host. His father, Bob, the owner of the unit, made sure we arrived safely late at night (it is a little tricky to find in the dark). While retro, it is comfortable and well equipped, especially if you wanted to stay multiple days and cook. My mom and I used this location to explore the Sequoias in the morning; the park entrance was about 20minutes from the house. I recommend going to Ol Buckaroo for dinner and breakfast-- great fresh food in Three Rivers. One BIG con was the earwig infestation. They were everywhere, especially near the bathroom and came out during the night. The place was crawling with them when we woke in the morning. Earwigs arent dangerous or 'bitey' but is was pretty gross to wake up to.
Sarah
2016-10-30T00:00:00Z
Tipo de habitación
Casa/apto. entero
---
Tipo de propiedad
Casa
---
Capacidad
6
---
Dormitorios
Lemon Cove, California, Estados Unidos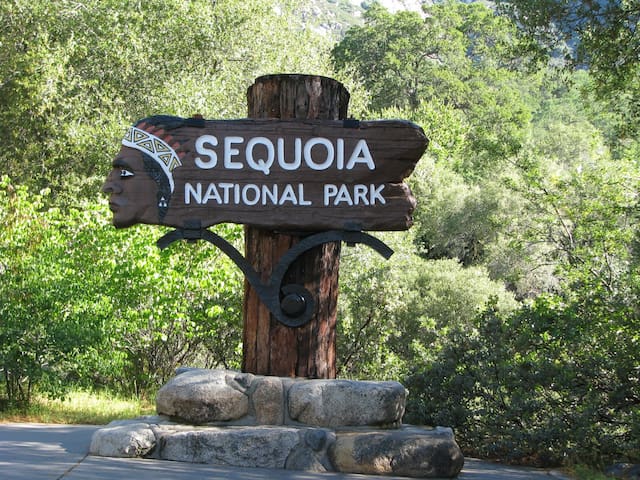 Este es el listado para dormitorio principal muy grande de mi padre en las estribaciones de las Sequoias. A pocos minutos de la entrada al parque. El dormitorio principal se encuentra arriba en la unidad adscrita de dos pisos de mi padre con una entrada privada, cama grande, y baño completo.
El dormitorio principal muy grande se utiliza sobre todo para los huéspedes adicionales de la unidad de la planta baja grande pero se puede alquilar por separado cuando esté disponible. Tiene una cama de matrimonio, baño completo, entrada independiente, microondas, cafetera, y televisión por cable. La unidad de abajo también está disponible para su reserva. Tiene su propia entrada privada, gran dormitorio y sala de estar combinada con una cama extra grande, cama extra doble en una sala anexa, cocina con nevera pequeña y baño privado. Capacidad 3 cómodamente. Lo puede encontrar a través de perfil bajo "Toda la casa en Lemon Cove". Mi padre solicita que los niños deben tener al menos 8 años de edad y no se permiten mascotas en las unidades. Sugerido el registro de entrada es cualquier momento después de 18:00 hasta la medianoche. Sugerido el registro de salida es las 11 am. Por favor llamar a mi padre para coordinar el registro.
Very good housing
Oussama
2016-06-27T00:00:00Z
Great quiet place, great communication from the host. Loved the rural vibe. The bed room was very comfy.
Barnali
2016-11-24T00:00:00Z
We had a nice stay. The room is relatively close to the sequoia national park and close to visalia for dinner. Very large room and Bob took the time to show us the room.
Cleo
2016-08-20T00:00:00Z
Bob was a great host. The room was large, if a bit musty, and the bed was comfortable. I suggest arrival before dark.
David
2017-02-14T00:00:00Z
Jeff hat uns die genauen Anreiseinformationen gegeben und somit war die Unterkunft leicht zu finden. Vor Ort wurden wir von seinem Vater sehr nett empfangen und er hat uns das Zimmer im Obergeschoss gezeigt. Dieses war sehr geräumig und das Bett sehr bequem. Insgesamt bot das Quartier alles, was man für einen angenehmen Aufenthalt benötigt.
Thilo
2016-06-07T00:00:00Z
i don't feel comfortable with this place. i would not recommend to any one .
fiona
2016-07-06T00:00:00Z
The house is set back from the street so it was hard to find in the dark. We only stayed 1 night and it was ok for that but would not have liked to stay for longer. I found the master bedroom to be a great size but the bed was small for two people. I did not like the carpet in the room and the bathroom.
Josie
2016-11-20T00:00:00Z
n/a
John
2016-11-01T00:00:00Z
Tipo de habitación
Habitación privada
---
Tipo de propiedad
Casa
---
Capacidad
2
---
Dormitorios
Lemon Cove, California, Estados Unidos
Tipo de habitación
Habitación privada
---
Tipo de propiedad
Casa
---
Capacidad
2
---
Dormitorios
Lemon Cove, California, Estados Unidos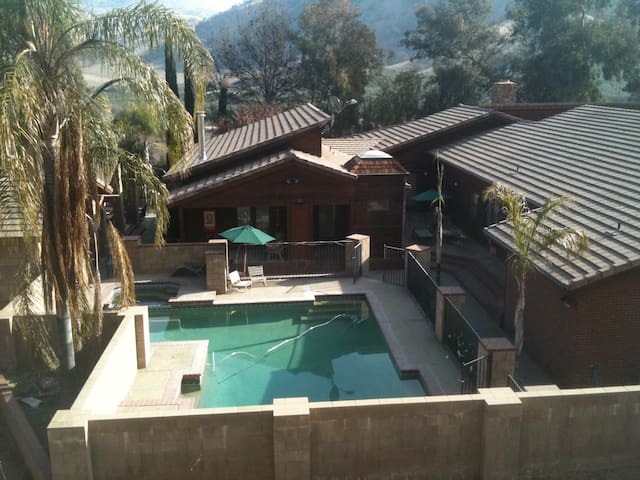 Monica was so helpful in all the recommendations she gave and even set up dinner reservations. The breakfast was thoughtfully prepared and so tasty. She and Jack were so generous with their time and stories. I couldn't have been happier with the stay.
Veronica
2017-04-02T00:00:00Z
Our stay at Monica's place was great! Everything about her place exceeded my expectations, the bedroom was nice and cozy and beautifully decorated. The living room was awesome. The breakfast served was one of the best ones I have ever had. Location is great since its only a 30 minute drive to Sequoia. Monica and Jack are great hosts and we had a great weekend! I totally recommend this place!
Dinesh
2017-02-20T00:00:00Z
Monica's place is in every bit as lovely as it is shown on the picture! It is an ideal picturesque setting for a get away trip near the Sequoia and Kings Canyon National Park. Monica and Jack are wonderful hosts who really do make their guests feel like home. Monica gave us a tour of the home upon arrival. The living room is a mini-museum itself, filled with many beautiful items that amaze me. Monica also provided guidance on sightseeing. It was such as pleasure to stay at this lovely home ! I would love to come another time to this very special place!
Chiao
2016-06-27T00:00:00Z
The room is at a Bed and Breakfast called Wicky-Up Ranch. Monica, the host, and her husband live on-site. The home is a beautifully-maintained historic bungalow house. Our bedroom had an attached bathroom, which was very nice for a 100+ year old house. The property is on acres of orange groves with mountains in the background and we enjoyed exploring outside. Monica prepared fantastic breakfasts for us both days we stayed. All the ingredients were so fresh and presented beautifully. She gave us good suggestions on local restaurants and things to do at Sequoia National Park. We would definitely recommend staying here.
Michael
2016-09-08T00:00:00Z
From the very beginning of communication - Monica was extremely willing and generous in answering all my questions, as well as with help in getting to Sequoia National Park! Her home is exactly what was described in her profile. So Lovely! and with a LOT of history! She told us so much about the area, her home, her ancestors, etc.! The room was very comfortable! And the home was nicely air conditioned (especially in the 100+ heat). And the continental breakfast - DIVINE! Yummy! The location is a little out of the way - but that makes it more special - as it is quiet, and totally accessible to different places to eat, or visit - Her recommendations for dinner have been FANTASTIC! Would love to come back again!
Ruby
2016-07-31T00:00:00Z
If you are visiting The National Parks in the area this is a must. The house is beautiful, quaint and really takes you back to a different, charming era. Monica is a very attentive and informative and it's obvious that she loves what she does. They serve a light breakfast in the morning (which is amazing) that's perfect if you plan on a long day of hiking. 5 stars - would definitely come again.
Emilio
2017-03-19T00:00:00Z
Monica and Jack's place is a beautiful ranch surrounded by orange groves at the foothills. The clean room is warm and cozy in the chilly November weather when we arrived. Monica also set up the fireplace for us to enjoy the uniquely decorated living room. The attached bathroom in the room itself proved to be very convenient as well. We loved the breakfast provided which was light yet fulfilling enough for us to start our day in Sequoia National Park. We hope to be back again, and will definitely recommend this place to our friends!
Kevin & Nelly
2016-11-27T00:00:00Z
We had a brilliant stay with Monica, lovely room within an historical ranch. Monica is welcoming and gave us recommendations for dinner which were great, the best food we had on our trip. Breakfast was a real treat and perfect for what we like, healthy and a good-size including freshly squeezed orange juice from their ranch. The bathroom is bigger than it looks in pictures including a small sized bath. We explored both sequoia and Kings canyon National Park from here, would definitely stay again if we ever in California again.
holly
2016-05-24T00:00:00Z
Tipo de habitación
Habitación privada
---
Tipo de propiedad
Casa
---
Capacidad
2
---
Dormitorios
Woodlake, California, Estados Unidos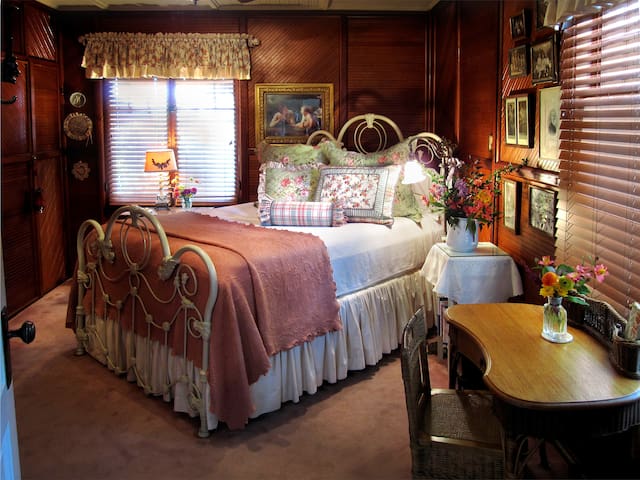 Kaweah Lake House overlooks beautiful Lake Kaweah. We are at the entrance to Three Rivers. Breathtaking views of the lake and the Sequoia's above. Property is located 8 miles from the Sequoia National Park entrance. Occupancy tax of 10% included.
This home has plenty of room inside for families to enjoy as well as a spacious deck almost 2000' to accommodate everyone as well! The views are spectacular; especially in the evening to sit and watch the sunset or enjoy the stars.
Locally we have several dining choices in Three Rivers. You will not be disappointed! You can also visit the Library or Historical Museum to learn more about Three Rivers and the National Park.
Luxury in the wilderness. The views, the place among the steep cliffs, and the active sounds of nature make this a unique "destination" home. It's tucked away from the road and the view from the deck really is breathtaking. Add to that the hot tub, the well stocked kitchen, the comfy / roomy beds and common space (with a cool armchair!) and it really ranks up there as a memorable stay. Dena was very responsive and helpful, the house has everything you need - good heat / cooling, good water, gas stove, nice grill. It has 1 bathtub which our kids used, and another shower upstairs. Really spacious for 3 generations - grandparents to kids. The kids enjoyed running around outside - the house is far enough away from the road to provide safety and privacy. Beware, if you're looking for total silence you do hear cars from the road - didn't bother us. We left our long weekend rested and relaxed.
Peter
2017-04-10T00:00:00Z
Amazing place, the Deck is huge - the size of another house, and the view of the lake is incredible. Had a great time staying here, Dena- the host was very responsive even during night time when we were looking for where to turn Deck lights on. had 12 people stay very comfortably here, will definitely come back. - Sequoia hikes are very close and boat rentals are also very close, right around the river, and very cheap $150 for 4h for 15 people boat.
Alex
2016-05-02T00:00:00Z
We had so much fun. It is a beautiful property situated in a beautiful place overlooking the valley and the river.
Lany
2016-08-28T00:00:00Z
It was an easy transaction and stay. Dena was easy to get in touch with and super accommodating. When we arrived, the internet was very slow, due to services in this area. Dena responded within minutes when we asked for a temporary upgrade in internet speed so my dad could keep working for the week. The internet speed improved within 20 minutes. The only thing I would keep in mind is if staying in Kaweah for the lake and river rafting, this is the perfect location. However, we came to visit Sequioa park primarily. It's about a 40-60 minute drive to get to a good place within the park to start walking and the drive up and down the mountain is scary - winding, slow-going, right at the edge of the mountain and half of us got car-sick. But the location is also good to visit town - Visalia - which is where we got supplies from grocery stores/Wal-mart and even went to the movie theater about 30 minutes away. The house was great and accommodated 3 generations in our family. The outside deck was phenomenal to watch the sunset with lots of outdoor seating and space. It was nice to use the kitchen and the BBQ grill on the deck to cook for everyone in the family. The kitchen was well stocked for cooking and utensils/plates/glasses. There were only 2 showers so you did have to assign times for everyone. There were 2 fridges available so plenty of room for storage.
Lausanne
2016-06-25T00:00:00Z
The location was very private and had great views of the lake. The house exceeded our expectations. Dena was very accessible and responded to any questions we had very promptly. Overall, a great stay and lovely house. Thanks!
Melissa
2016-12-30T00:00:00Z
Tipo de habitación
Casa/apto. entero
---
Tipo de propiedad
Casa
---
Capacidad
12
---
Dormitorios
Three Rivers, California, Estados Unidos
1

–

6

de

6 Alquileres de Casas
Introduce las fechas para ver el precio total. Ten en cuenta que se aplicarán tarifas adicionales y es posible que se añadan impuestos.