Laissez parler vos envies dans ce cadre vintage et atypique! Un endroit idéal pour les couples qui désirent un moment d'évasion, avec un jacuzzi 6 places vous attend dans la véranda.
Le lieu est idéal pour se détendre entre amis ou se retrouver en couple. Egalement proche du Salon des Expositions (Ville Pinte) Il s'agit d'une location à la nuitée et pas d'une location de villa 24h/24h. Dès lors, pour les locataires qui souhaitent réserver plusieurs nuits, veuillez prévoir des sorties pour vos après-midi. Description : Une chambres de 10m2 avec lit double, décoration baroque. Cuisine équipée, salle à manger, véranda avec coin détente (jacuzzi) et coin cinéma. 2 toilettes, une salle de bain avec douche, baignoire d'angle et double lavabos.
Maison 150m2 en Quartier pavillonnaire, très calme, centre commerciale O'parinord à proximité, restaurants, MacDo, pizzeria etc... Idéalement situé, proche de Paris, 15 min du stade de France, du Parc des Expo (Ville Pinte), 10 min des aéroports CDG et Bourget.
Très bon accueil et bonne communication avec l'hôte. Attentive, discrète et sympa. Quartier calme et logement situé à moins de 10 min de la gare. Très belle maison, bien entretenue et bien décorée. Correspond parfaitement aux photos. Le seul bémol et que la réservation concerne uniquement l'une des chambres et tous les autres équipements, y compris le jacuzzi sont à partager soit avec l'hôte(qui reste sur place) soit avec d'autres locataires s'ils sont présents. Toutes les chambres sont à l'étage et côte à côte.
Inès Brigitte
2016-04-14T00:00:00Z
Even though we were held up and arrived very late we were made to feel relaxed and welcome. very comfortable bed. Thanks
Sarah and Sergio
2016-10-18T00:00:00Z
とても優しく丁寧なホストさんでした☺︎
MIHO
2016-10-16T00:00:00Z
Endroit parfait pour un weekend ensoleillé. La maison est bien décorée et les hôtes très sympathique.
Fabien
2016-08-15T00:00:00Z
Hosts were excellent very responsive and informative, house was a dream and had the best experience staying there in a life of luxury. House in an excellent location- a 10 minute walk from the train station to the house, 20 minutes from airport and a short journey into Paris! great neighbourhood and perfect for a couple getaway!
Matt
2016-09-15T00:00:00Z
Superbe Maison ! Nous avons pu apprécier la piscine en ce dimanche ensoleillé à plus de 30 degrés. Eva est une personne sympathique et l'expérience a été top. Je recommande l'annonce fortement. Nous espérons renouveler l'expérience avec Eva dans le cadre de nos barbecues TakeABref !
Ouss
2016-07-12T00:00:00Z
Tipo de habitación
Habitación privada
---
Tipo de propiedad
Villa
---
Capacidad
2
---
Dormitorios
Le Blanc-Mesnil, Isla de Francia, Francia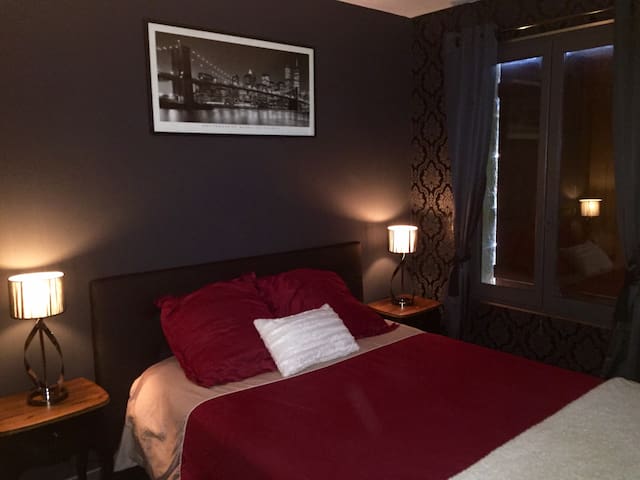 This is a private villa newly furnished with one bedroom, lounge, kitchen is fully equipped, shower room with toilet, bedroom with a king size bed. The villa can accommodate up to 4 people as the lounge comprise of one sofa bed, double size. It can be suitable for a couple with 2 children. You could stay one day, more than one day or even a long time. It's really a holiday home because it contains everything a family and guests needs to have a nice holiday. It is beautifully decorated and can suit a family or friends that want to share. There is a garden with flowers and a terrace for our guests. Wifi and parking car free. The place is very central. By train, It is only around 12 to 15 minutes to Paris, Gare du Nord, 10 minutes to Charles De Gaules Airport, 5 minutes to Parc des exposition, 5 minutes to stade de France, and 5 minutes to Bourget Airport. Autoroute A3 one minute from our place, A1 and A86 five minutes from our flat. Every RERB train stops at Aulnay train station and we get a train every 2 to 3 minutes. Aulnay Sous Bois train station is a central place where we could make several jonctions The price is 52 euros per person per night and 11 euro for each extra guest. The price include breakfast with tea, coffee, orange juice, bread, cereal and fresh fruits. Freshly laundered towels and linens are provided. Around, it has a mini market, pharmacy, bakery, grocery, shoemaker, pizzerias, hair dresser. Shops, restaurants, outside markets are near and accessible in the city. The Aulnay Sous bois RER B train station is about 8 mns walks from the villa. Hope to see you very soon, you will be warmly welcomed.
Alojamiento impecable, entre amigos y como en casa.
Marisa
2017-03-17T00:00:00Z
Nous sommes très satisfaits de notre court séjour chez Santa et Ram : l'appartement est impeccable et nous nous sommes tout de suite sentis à l'aise. Confort, pratique, joliment décoré,quartier calme et agréable etc, vous serez totalement séduits par tous ces atouts et l'accueil très chaleureux de Santa et Ram. Merci encore et à bientôt.
Mohamed
2016-05-23T00:00:00Z
I am rating this host on behalf of my mother-in-law, who was rerouted via Frankfurt on her way from Stockholm and missed her chance to reach the stay in Paris before closing. Thanks to Santa and Ram, my mother-in-law, her daughter and her little grandson got a safe meeting point, just a few kilometers from Charles de Gaulle airport. They were treated with a nice apartment, good food and huge hospitality. Thank you Santa and Ray for your great support - with super short notice! World class!
Anna
2013-06-17T00:00:00Z
We really liked the hosts, Santa and Ram, who did everything to make us feel comfortable. The place was very clean, we had bread, butter, jam, fresh fruit, etc. They even gave their own fan, when our second one didn't work. Ram was doing barbecue on Saturday and shared grilled sausages with us. Public transport connection is good, even returning from Paris center around midnight was not a problem. The neighboorhood behind the station (where the place is located) is nice, but closer to the station is not the best one, which is typical to Paris area. We could leave our car safely inside, without any charges. The place is easy to reach from the highway. Once again, the villa didn't fail our expectations, everything is exactly as on photos, plus such welcoming hosts are rare to find! So we advise you to stay at Santa and Rem's house.
Madina
2015-07-20T00:00:00Z
Great place and wonderful hosts. The town is the fourth stop from CdG; about ten minutes by ReR B. The very nice, modern, well-furnished, and detached apartment is an easy ten minute walk from the train platform. Ram picked me up at the station when I arrived and departed. He also frequently offered rides in the morning or when it rained! The immaculate apartment has a kitchen, bathroom, living room, and bedroom. The convention center is just three stops from the town - less than ten minutes by ReR. Getting into Paris was easy - walk to the station and in a few minutes you're on your way to central Paris or any number of connecting stations. I could get to a nice restaurant near Notre Dame in 30 minutes. You could not ask for nicer hosts and a pleasant, relaxing, private, and comfortable flat. Overall, a great experience that I will repeat the next time I am in Paris on business.
Tom
2013-11-23T00:00:00Z
Pour une première tentative ce fut une superbe expérience: des gens charmants, disponibles, attentionnés et accueillants qui tentent de vous faciliter au mieux votre séjour. L'appartement est conforme à la descriptions : rien à dire c'est super. Nathalie
Nathalie
2015-03-21T00:00:00Z
We would really like to thank Santa and Ram for their hospitality. We just stayed for 1 night on the 16th of nov. We could park the car on the premises and we we're even taken to the train station and we're helped to purchase the tickets. The stay was in a very new seperate building including a kitchen to make our own breakfast with their supplies. Very clean and efficient. They've given us much attention so you feel right at home and comfortable. Thank you so much and next time we have to stay longer, but in warmer time of year. Greetings from Holland, Donna, Wouter and Inna.
Wouter
2013-11-18T00:00:00Z
Accueil très chaleureux dans un logement ou l'on se sent à l'aise très rapidement, tout cela dans un quartier très tranquille. Santa et Ram sont des hôtes très prévenant et attentionné. Très bon séjour à renouveler
anne-laure
2014-10-02T00:00:00Z
Tipo de habitación
Casa/apto. entero
---
Tipo de propiedad
Villa
---
Capacidad
4
---
Dormitorios
Aulnay-sous-Bois, Isla de Francia, Francia
Discover the countryside in Paris! I propose you a beautiful bright, very quiet and clean room in a magnificent house with a beautiful garden and a lovely sunny terrace, a large living room, TV , wifi internet, fully equipped kitch
Hello, come to discover the countryside in Paris!! I propose you a beautiful bright and quiet room in a magnificent house. The house is situated in 2min by feet to the subway. It is a modern house of 80m2. Accommodation facilities: 2
Subway ligne5 in 2minutes by feet from my home to the center of Paris! 2 Supermarkets in 2minutes from my home! Airport Charles de Gaulle ( CDG) in 20min by car from my home! Greenery, calms down, cleanliness in 5min of Paris
J'ai passé une nuit chez Céline, dans sa très jolie petite maison. Céline est une personne très créative, ouverte d'esprit et généreuse. Elle m'a accordé un peu de son temps alors qu'elle devait travailler tôt le lendemain. Je recommande son petit chez elle très douillet et cosy. Merci Céline pour ce bon moment
Alison
2015-03-20T00:00:00Z
Great apartment just out of the centre of Paris. Very clean and the terraced garden area is beautiful! :) Celine and Marcel were very welcoming and offered really good suggestions for things to do and see in Paris. It was just like hanging out with friends. I wouldn't hesitate to stay again!
Kurt
2015-07-15T00:00:00Z
Céline's place is perfect! The house is impeccable, well decorated and really cozy. The metro station is just two minutes away so you'll be able to easily reach any of the big metro/train stations in a matter of minutes. Celine was an incredible hostess, we had amazing conversations. I look forward to going back to her cool house and cat. I highly recommend you this perfect little corner in the city of lights. See you soon Céline and Jasmin!
Ruben
2015-09-18T00:00:00Z
The reservation was canceled 14 days before arrival. This is an automated posting.
Maryline
2015-05-03T00:00:00Z
lovely host and a nice quiet place
Tommy
2015-09-02T00:00:00Z
Celine was very an extremely welcoming and accommodating host. Everything was great. It would be a pleasure to stay with Celine again. Thanks!
Emmanuel
2015-06-16T00:00:00Z
The reservation was canceled 39 days before arrival. This is an automated posting.
Luca
2014-07-26T00:00:00Z
Gentiment accueillie, Céline est très aimable, j'ai reçu toutes les infos dont j'avais besoin. (+ un parapluie car il drachait)
laure
2016-09-17T00:00:00Z
Tipo de habitación
Habitación privada
---
Tipo de propiedad
Villa
---
Capacidad
1
---
Dormitorios
Pantin, Isla de Francia, Francia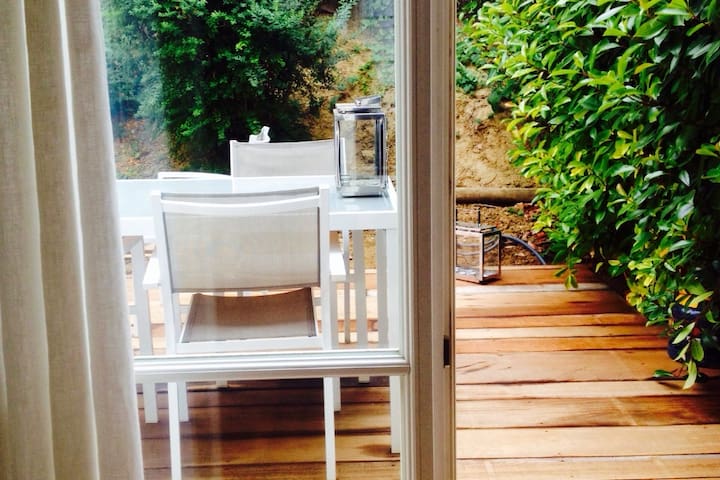 At 6 min walk from the RER A and 15 minutes from Paris and 20 minutes from Eurodisney. Stroll in River Marne with this suite (bedroom, shower, separate wc, lounge, wifi) in a quiet villa. INDEPENDENCE access
Residential area, the river Marne. To make your stay enjoyable, you have access to the RER A 6-minute walk, a bakery, a pharmacy, a grocery store, a newsagent, a hairdresser, a bar, all within walking distance. There is no kitchen, but what you make coffee (espresso machines), tea and herbal teas. Microwave Private room 34 m2 with large flat screen television, a sofa BZ with a comfortable mattress bultex 2 peoples. Room with a comfortable double bed , shower and separate toilet. Your suite is private, it is located on the ground floor, my family lived in the 1st floor. Access is independent and is done by the garden. I wish you a pleasant stay in Paris!
Vous pouvez garer votre véhicule facilement dans la rue.
L'appartement de Céline est très propre, agréable et avec tout le confort nécessaire. Les deux lits sont confortables. Ce logement est idéal pour un séjour en région Parisienne. La communication avec Céline est très facile, elle est à l'écoute et très attentionnée. Nous avons passé un agréable moment en famille!
Nawal
2017-01-02T00:00:00Z
Très agréable séjour chez Céline! Nous nous sommes tout de suite sentis les bienvenus avec même un petit mot personnalisé dans la chambre! Le salon, la chambre et la salle d'eau sont totalement indépendant, ce qui fait qu'on se sent comme dans une petite maison. La salon est très spacieux et agréable. Il y avait tout ce qu'il faut pour le petit dejeuner et même assiette et couverts ainsi qu'un micro-onde à disposition. Nous serions bien rester plus longtemps. Nous reviendrons avec plaisir, d'autant que le prix est plus que raisonnable pour une telle prestation!
emilie
2014-10-04T00:00:00Z
La chambre correspondait bien à la description, attenant à un salon avec espace rameur et vélo d'appartement pour ceux qui souhaites se remettre en forme ! Proche du RER-A, pratique, dans un quartier calme et résidentiel. Merci à Céline pour son accueil chaleureux !
Eric
2014-09-06T00:00:00Z
Ms. Celine was very kind and helpful. She welcomed me though I arrived late at her house. She explained very kindly about how to travel at Pairs. And the place is so tidy and cozy. It has a independent access and convenient public transportation(RER) for center of Pairs. The place was very nice and I hope to stay again there if possible. Thank you Ceine!! See ya!
Jeong-joong
2015-07-02T00:00:00Z
Celine's apartment is very nice and comfortable. It is located in the ground floor of Celine's house but it is totally independent and we had completely freedom and autonomy to enter/exit it. The apartment is very nice decorated and there is all you need to spend some days visiting Paris and the area. The neighbourhood is very calm and there is a RER station very close (train lasts only 20 min to Paris). Celine was very kind, she was waiting for us even we arrived late evening. She also gave us some tips and there were some sweets for breakfast. I totally recommend her apartment.
Irene
2014-11-12T00:00:00Z
Über den sehr freundlichen Empfang von Celine haben wir uns gefreut. Ein sehr schönes und vor allem großzügiges Gästeappartment. Die Verbindung nach Paris ist sehr gut. Alles war prima. Besonders schön war der Garten vor unserem Appartment. Sehr gerne würde ich bei meinem nächsten Paris Besuch wieder bei Celine wohnen. Vielen Dank Celine.
Renata
2015-09-28T00:00:00Z
I really appreciate Celine and her hospitality. Celine is one of the most sweetest and caring hosts. I made instant booking for her place, but I missed to look at the check in time. I was there 6 hour earlier, but Celine was so kind to leave her work to come home and welcome me. Her house is set like, I can rate 7 stars for it. Even you could see it as private room. There are much more better than the pictures tell. But the actual place is more like a suite room in the hotel. Plus there are evrything the travellers need. Celine prepare more than enough of coffee, tea, water, juice and with 4 different kinds of snacks, not only for your arrival, they are enough for your entire stay. The house is very clean, well organized in design. Huge screen TV, Microwave, coffee maker, heater. The shower room is very very clean, it is the thing that reminds me of the Good Hotel facility. One very strong reason that made me feel in love with the house is from Celine's place to the Neuilly Plaisance RER A station, we cane walk along the river Marne, it was a pleasant walk for me through the whole stay. Thank you so much for Celine, to put your place on Airbnb website. To let me have a wonderful stay in Paris, even though, I feel like staying longer.
Kul
2014-09-26T00:00:00Z
Logement très agréable et très propre. Céline est pleine de petites attentions qui fait que l'on se sent comme chez nous. Lit très confortable. Et quartier très calme. Merci pour se séjour.
beaulande
2014-10-14T00:00:00Z
Tipo de habitación
Habitación privada
---
Tipo de propiedad
Villa
---
Capacidad
4
---
Dormitorios
Bry-sur-Marne, Isla de Francia, Francia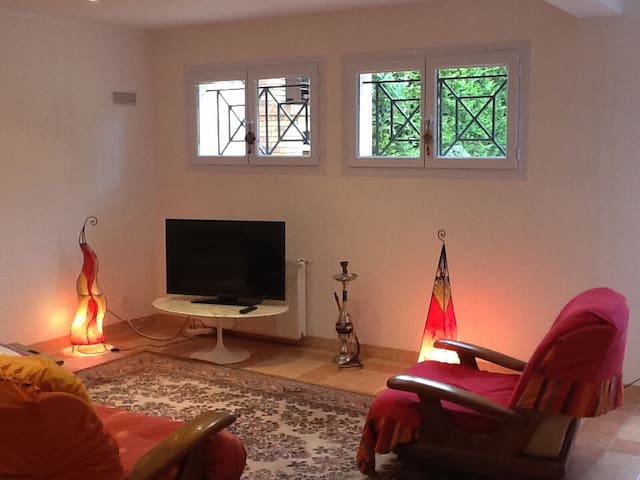 Le pavillon est un 5 pièces de 210 m2 totalement équipés (5 belles chambres et un grand salon + 2 Salles de Bain avec WC + 1 place de parking et cave). Propre et lumineux situé à Fontenay sous-bois (ville verdoyante et calme).
Espacé, propre et lumineux.
Quartier calme, verdoyant et propre. Les voisins sont super sympas et respectueux.
Tipo de habitación
Habitación privada
---
Tipo de propiedad
Villa
---
Capacidad
2
---
Dormitorios
Fontenay-sous-Bois, Isla de Francia, Francia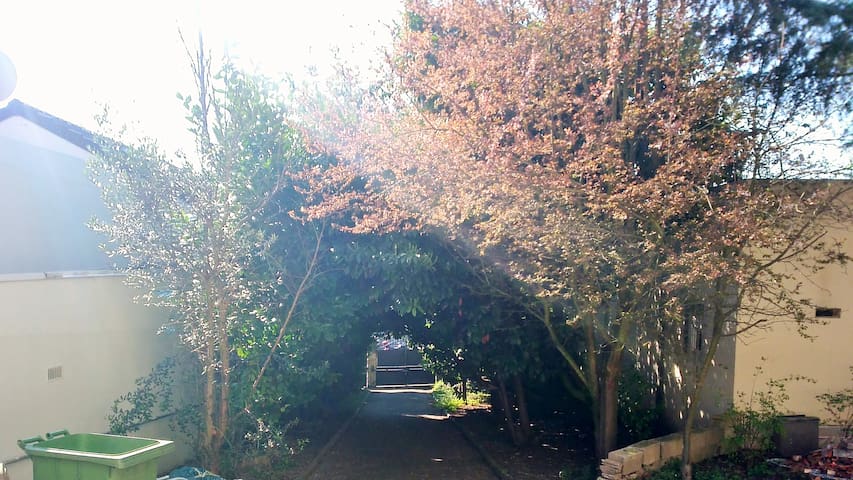 Tranquille tout confort, internet. Idéalement située à 2 pas d'un parc de 31 Hectares. A seulement 25km d'Eurodisney et 20km du Roissy Charles de Gaulle, 15km du chateau de vincennes et 10 de porte de Bagnolet. Bus et Station Autolib à 5 mn.
Une des premières maison à l'architecture typique, chargée d'histoire datant du 18éme siècle. Histoire du plateau les Seigneurs et Châteaux d'avron Lorsqu' arrivèrent les premiers habitants des lotissements de Beauséjour et du Bois d'Avron, dans la seconde partie du XIXème siècle, ils découvrirent des vestiges de fondations et de murs de ce qui avait été un château. Ces découvertes étaient d'ailleurs confirmées par la tradition orale des communes avoisinantes, les derniers édifices n'ayant fini d'être démolis que deux décennies auparavant. Il y avait donc eu un château au Plateau d'Avron, plusieurs peut-être, car ceux-ci étaient souvent reconstruits sur les bases des précédents. La rumeur à cette époque était que c'étaient les ruines du ''Château de la Reine Blanche''. Le fief de la Montagne : Aux XVème et XVIème siècles, il n'y avait pas qu'un château sur le Plateau d'Avron : on y trouve la trace également ''du fief de la Montagne'', probablement une ferme fortifiée, mais qui était également demeure seigneuriale comme l'indique Hector Espaullard : « Des appartements de maîtres devaient y être annexés car les seigneurs du fief y faisaient de longs et fréquents séjours ». La (re)construction du château d'Avron est estimée entre 1635 et 1650. Plusieurs deniers datant de 1649 ont été retrouvés dans la maçonnerie de la terrasse, actuellement rue du Bois-Châtel, à la fin du XIXème siècle.
The host canceled this reservation 24 days before arrival. This is an automated posting.
Farshid
2016-12-04T00:00:00Z
Tipo de habitación
Casa/apto. entero
---
Tipo de propiedad
Villa
---
Capacidad
5
---
Dormitorios
Neuilly-Plaisance, Isla de Francia, Francia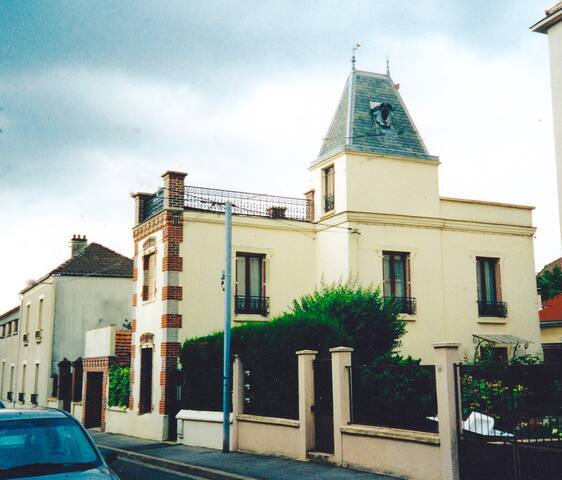 Appartment on top roof of loft villa with direct access to terrasse with garden. Appartment equiped with kitchen, independant bathroom, free wifi access, 6 mn from tube station Mairie des LIlas, 10 mn from center of Paris;
Original Loft villa with Penthouse direct access to lovely terrasse with garden. Appartment equip with kitchen, independant and private bathroom, free wifi access
La ville des Lilas est surnommé "campagne à Paris" de par son point culminant parisien et ses nombreux parcs. La ville est en périphérie de Paris 20ème, on peut accéder à pied à Paris. De nombreux restaurants charmants à petit budget, nombreux commerces ainsi qu un marché 3 fois par semaine en font un quartier d exception proche de Paris.
We spent a very pleasant longer weekend at Paris. The apartment was very nice and clean exactly as at the pictures. House itselves is a piece of art. Owners are very nice people ready to help with anything. Location was convenient 5 minutes from metro. We can definitely recomend it to other travelers.
Milan
2015-09-07T00:00:00Z
Les Lilas is a charming little area just outside of Paris- an easy walk or metro ride away. We very much liked the location and spent much of our time in and around the area. Lots of cafes, restuarants, charming shops nearby. We loved the house in general and our loft in particular with it's rooftop garden, abundance of light and it's artsy vibe. The hosts, Nathalie and Patrick, were warm, helpful and fun to spend time with (though discrete as well). We definitely hope to stay there again the next time we're in the area. One cautionary note: because of the winding stairwell, Villalb would not be ideal for someone with physical disabilities. Otherwise- go for it!
Tim
2016-09-10T00:00:00Z
Tipo de habitación
Habitación privada
---
Tipo de propiedad
Villa
---
Capacidad
2
---
Dormitorios
Les Lilas, Isla de Francia, Francia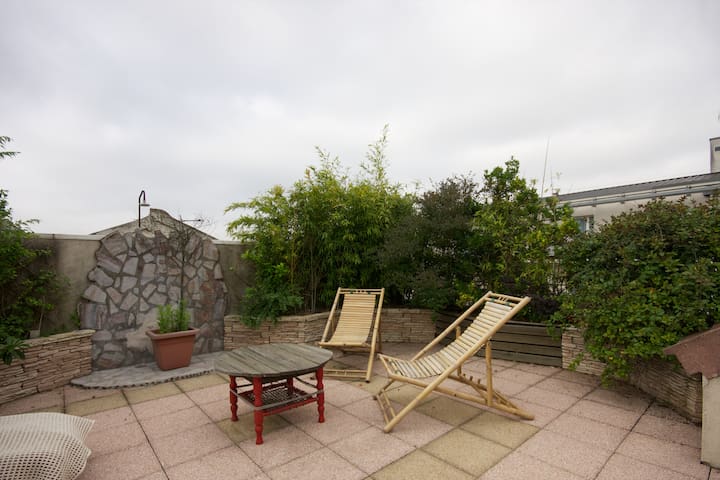 This room is located in a big villa 15 min from the big center Paris. You
My house mates are very polite and they can show you around Paris as you like. There is also a big garden with an open kitchen for some barbecue.
There is a big shopping mall in the neighbor with a lot of shops and restaurants. The villa is located in a quiet neighbor with a park close to the station.
Tipo de habitación
Habitación privada
---
Tipo de propiedad
Villa
---
Capacidad
2
---
Dormitorios
Rosny-sous-Bois, Isla de Francia, Francia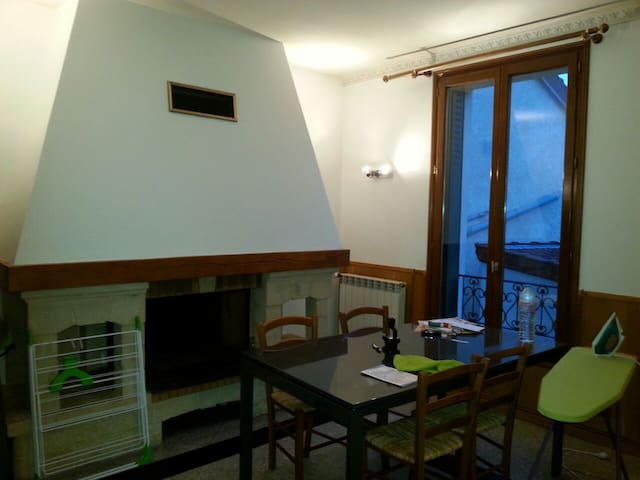 1

–

8

de

8 Alquileres de Villas
Introduce las fechas para ver el precio total. Ten en cuenta que se aplicarán tarifas adicionales y es posible que se añadan impuestos.