Farmhouse situated in 1,5 h of gardens and lakes. The gite is set within spacious gardens, offering a regenerative space for mind and spirit in natural surroundings with peaceful sounds of the countryside. As well as the two small lakes there is a dell and bog garden.
The gite is the converted cider press and it is completely self contained. It has two rooms and a shower room and toilet in the entrance hall. The downstairs kitchen / living room has french windows opening out onto a breakfast terrace, facing east, in front of a herb and lavender garden and views of the countryside. There is a table and chairs on the terrace for breakfast in the outdoors and a double size swing. Below the terrace there is a gas barbecue and a chiminea if you feel like using the swing, balançoire, for star gazing in the evening. The kitchen is fully equiped and has a gas cooker, microwave, mini electric oven, toaster, kettle and fridge, crockery and utensils are provided. There is a large dining table, benches, seats and a sofa-bed. The bedroom is low beamed with a full sized double bed. There is a travel cot suitable for a child up to 3 years. In the floor length window there is a desk overlooking the lake. Period oak furniture and flooring and a small seating area make this attic bedroom a charming space to relax. Bed linen and towels are provided. It will accommodate up to 2 adults and a small child. Pets are welcome.
We are surrounded by countryside, fields and low hills and are 10 minutes by car from the nearest small towns: Villaines la Juhel has 4 bars, 3 restaurants, 3 boulangeries, pôle santé, chemist, banks, tourist info. office, outdoor swimming pool, launderette, Many small shops and supermarkets. Outdoor market Monday mornings. Bais has much the same.
Victor and Jackie made us feel exceptionally welcome. Rather than just a place to sleep and eat, it was the whole package which made this stay so outstandingly special.
Robin
2016-06-16T00:00:00Z
The place was Amazing. If you're looking for calm and serenity, there it is. It's absolutely peaceful, it's an english Cottage right in the Mayenne ! And Victor and his wife are great hosts.
Amaury
2016-10-08T00:00:00Z
So good the first time we just had to go back again! Victor's place is amazing as is Victor..........a beautiful gite in a beautiful corner of the world. If you are looking to enjoy nature and the outdoors this is perfect. Victor has a host of local knowledge and will go the extra mile without giving it a second thought. We are getting ready for our 3rd visit!! A place that will always remain special to us.
Sam
2016-09-16T00:00:00Z
Un charmant petit logement dans une superbe propriété. Nos hôtes ont été très à l'écoute et ont fait en sorte qu'on se sente chez nous dès notre arrivée. Le paysage est superbe. Très calme et reposant.
Jean-Christophe
2016-08-03T00:00:00Z
This is a charming little place for a overnight/short break. Victor and Jackie are great hosts who really welcome guests into their home. I enjoyed a guided tour of the smallholding which was fascinating. We enjoyed a lovely home cooked evening meal, the homemade pates and chutneys were followed by proper coq au vin and raspberry and blackcurrant sorbets, all sourced from the smallholding. We left feeling like we'd made 2 new friends and we'll be back next time we're in the area.
Michael
2016-08-02T00:00:00Z
nous avons passé un séjour très agréable en pleine campagne. nous avons particulièrement apprécié la gentillesse, l'accueil et la disponibilité de Victor et (URL HIDDEN) aussi les délicieuses confitures et lemon curd fait maison !
Véronique
2017-03-05T00:00:00Z
Just on our way back from a 2 day stay. Lovely place, lovely hosts. Upon our arrival we were greeted with freshly baked bread, talk about a great welcome! The gite is a very cozy 2 story affair and comes exactly as advertised. The place is just outside of the nearby village. Ourselves, as well as our dog, really enjoyed the calmness of the surrounding vegetable gardens. All in all, a truly great weekend, highly recommend.
Julika
2016-09-26T00:00:00Z
Victor and Jacky were incredibly kind, friendly and generous. We arrived to find a fridge stocked with eggs from their chickens, homemade jams and milk and orange juice. Vic then produced the first of several warm freshly made loaves of bread - and even came up trumps with some beers when we were caught short. Swimming and canoeing in the lake (30 seconds walk from our door), cycling the disused railway path on bikes provided (and happily adjusted), and stargazing from the swing chair in the delightful garden were all a joy. We fully intend to return! And we mustn't forget the lovely Amber - who was a frequent and friendly presence, especially if she sensed a treat in the offing. Thank you to all three for making our stay so enjoyable...
Tulin
2016-08-26T00:00:00Z
Tipo de habitación
Casa/apto. entero
---
Tipo de propiedad
Casa
---
Capacidad
2
---
Dormitorios
Hardanges, Países del Loira, Francia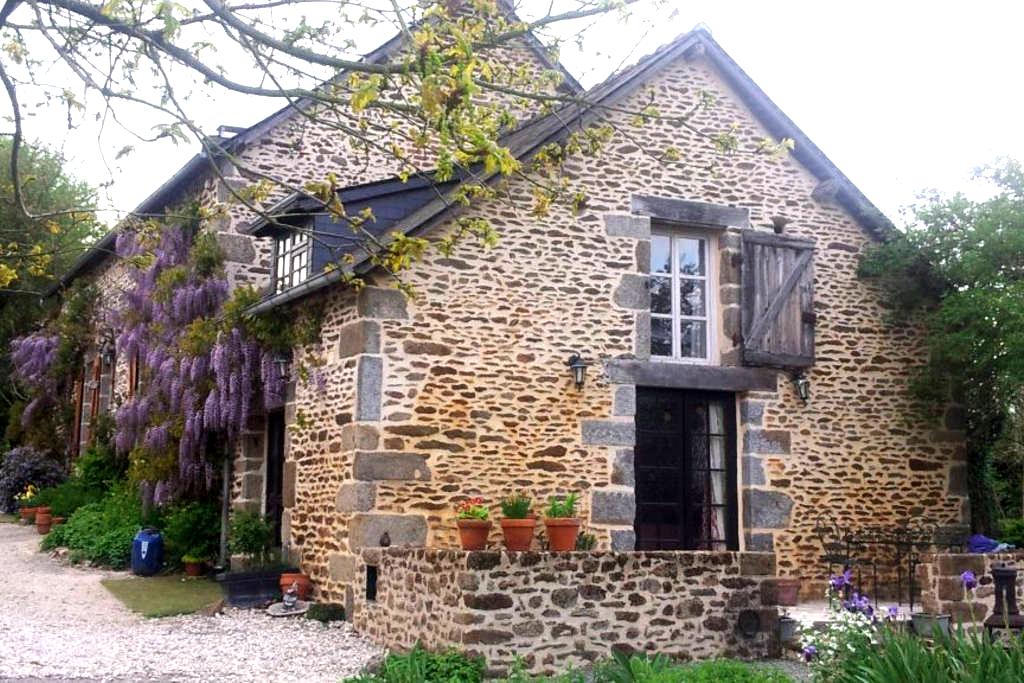 Mi alojamiento está cerca de Villaines-la-Juhel. Va a encontrar serenidad y calma, con hermosas vistas al campo, un jardín enorme. Mi alojamiento es ideal para parejas, viajeros individuales y familias (con niños).
Tout est ok, Tout est conforme à la description. Nous avons passé une semaine géniale, au calme et reposante. Nous allons pouvoir reprendre cette année 2017 dans de bonne condition.
sebastien
2017-01-02T00:00:00Z
Tipo de habitación
Casa/apto. entero
---
Tipo de propiedad
Casa
---
Capacidad
4
---
Dormitorios
Loupfougères, Países del Loira, Francia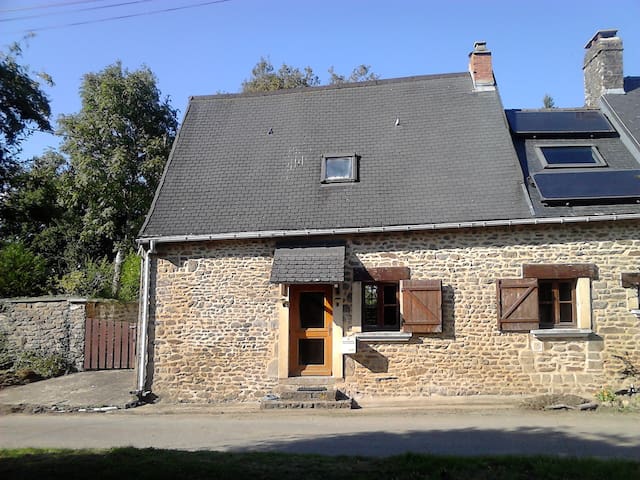 Une chambre vous attend pour un séjour inoubliable. Au cœur de la Mayenne, dans un lieu d'exception, ce château rénové vous séduira par son charme et son authenticité. Une table d'hôte est possible sur demande pour le plaisir d'être ensemble.
Within the Château de la Chasse-Guerre, originally built during the XIIIth century, a very quiet and recently renoved bedroom is available. It includes a double canopy bed (a baby bed can be added if needed). A private shower room, including toilets, adjoining the bedroom is reserved to you. You will enjoy our inner 2500 square meter garden to sunbathe or take an outside meal, but also appreciate a walk around the castle's moat on a 3 hectare land. The vegetable garden and the henhouse allow us to offer you, for breakfast, products or our rich and fertile soil. The quiet and soothing environment will assure you a trip out of time and an immersion in full nature. Many activities can be done in the surroundings, such as several hiking trails in the hills (Angers-Alençon, Mayenne-Caen), walks or bike rides (we can lend you bicycles), or the visit of a local modern art museum (Musée Bernard Chardon). The Château de la Chasse-Guerre's geographic location allows multiple trips : - Bagnoles de l'Orne thermal center (30 km) - Fougères, a town sheltering the largest European middle-age castle (65 km) - the famous Mont Saint-Michel (110 km) Ideal for those looking for a moment of serenity in a unique place, this historical site will charm you and take you on a trip through space and time.
Immersion totale dans la campagne mayennaise. Le Château de la Chasse-Guerre se trouve aussi à une place stratégique pour qui veut visiter le Mont Saint Michel sans être dans la cohue touristique mais déjà sur le chemin de la méditation intérieure.
Very warm friendly welcome on arrival. The accommodation exceeded our expectations. This historic property has been restored to a very high standard with a modern design approach to the furnishings. A beautiful quiet location in the countryside. Highly recommended.
Nick
2015-09-09T00:00:00Z
This was a unique place to stay with very fine architecture and most welcoming and interesting hosts. We found it a little difficult to find in spite of using the map as it was not exactly in Hardanges but even so the final arrival was worth it.
Jeremy
2015-09-26T00:00:00Z
Soirée mémorable dans un cadre somptueux!! Arriver dans la nuit et trouver un bon feu de cheminée, deux visages souriants, et un petit verre de vin c'est un vrai plaisir! Le diner était un régal et la chambre très confortable. Merci à nos hôtes de nous avoir si bien reçus et bravo pour tout le travail que vous réalisez pour sauver le patrimoine. Nous reviendrons vous voir, c'est sûre!!
Maud
2015-11-06T00:00:00Z
Endroit magnifique ,le site, la chambre avec des hôtes exceptionnels ,accueillants attentionnés et chaleureux! De la beauté je recommande vivement ce lieu chasse guerre Pour retrouver de la quiétude se balader et faire du vélo circuits aux alentours
gilda
2015-08-15T00:00:00Z
Cette 2 jour et nuits ete juste perfect! La chasse guerre est une place on reve de trouver comme on voyages en france!! Blandine et Daniel faire tous pour faire quelqu' un a la maison. Le diner en soir avec du bon vin, le pain fait de Blandine... Cette place est absolument recommendable! La chasse guerre is what you dream of when traveling la france! Perfect!
Stephanie
2015-08-19T00:00:00Z
Nous avons passé une nuit chez Blandine & Daniel et avons eu un accueil très chaleureux ! Le lieux est comme la description l'indique, idéal pour venir se reposer, découvrir un patrimoine culturel décrit par des hôtes passionnés, partager un très bon repas en toute convivialité! La chambre est idéal pour passer une très bonne nuit, nous reviendrons accompagné pour faire découvrir ce lieu magique ! Nous recommandons : +++++++
Camille
2015-08-14T00:00:00Z
Noi abbiamo ricevuto da Blandine l'accoglienza piu' confortevole che sia dato immaginare, arrivando peraltro a sera inoltrata. Ci e' stato consentito di cenare sebbene non avessimo preso precenti accordi e di scoprire cosi' da subito la cucina strepitosa di Blandine, della quale siamo diventati "dipendenti". La Chasse-Guerre e' divenuto la nostra ideale residenza di Francia, superando di gran lunga ogni aspettativa. Il fascino della atmosfera che si respira dentro e fuori, con i pavoni che si aggirano nel giardino, e' difficile da descrivere. La gentilezza autentica e amichevole di Blandine rendono unico un soggiorno che appare speciale fin dall'ingresso tra le rovine dell'antico castello magistralmente restaurato. Solo andandoci potrete capire!
Eva
2015-08-18T00:00:00Z
Inoubliable ! Nous avons été reçus comme des rois, le lieu est incroyable et Blandine est quelqu'un de très conviviale. L'annonce laissait paraître tout cela, mais on est vraiment resté scotchés par cette sensation de bien être, de calme et de nature qu'on peut ressentir. Blandine nous a offert un petit déjeuner avec du pain frais maison et des confitures du jardin, après une bonne nuit dans une chambre reposante (grasse matinée assuré avec le lit à baldaquin!) et jolie. Ce n'est pas écrit dans l'annonce mais Blandine fait table d'hôte également, et c'est à l'image du reste : pas cher et délicieux. Merci Blandine pour cette journée nous reviendrons un week-end entier ! Ne pas hésiter si vous voulez vous déconnecter du monde le temps d'un week-end ! Je recommande ++++++++++
PC
2015-08-08T00:00:00Z
Tipo de habitación
Habitación privada
---
Tipo de propiedad
Casa
---
Capacidad
2
---
Dormitorios
Hardanges, Países del Loira, Francia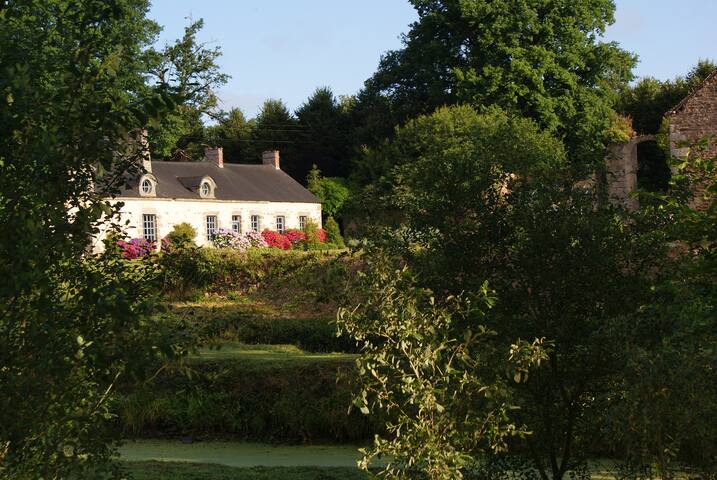 Lovely, gîte confortable disponible pour la location de vacances, pouvant accueillir jusqu'à 8 personnes. Situé au coeur de la campagne la Loire Pays de et entouré de fermes et de forêts, est Jouët un havre de tranquillité.
Autonome gite avec 4 chambres, 2 au premier étage et 2 plus accessibles par une porte du salon. Egalement disponible avec seulement 2 ou 3 chambres à coucher à un coût moindre pour les petits groupes - voir les annonces: https://www.airbnb.com/rooms/6242388 et https://www.airbnb.com/rooms/6243315). Récemment rénové à un niveau élevé, avec cuisine, salle à manger et un salon au rez-de-chaussée, salle de bains à l'étage. Hôtel linge standard et serviettes sont fournis.
Jouët se trouve à proximité des forêts et des paysages vallonnés, l'équitation et des parcours de golf à proximité, et un choix abondant de châteaux et autres attractions touristiques. Une sélection de parcs d'aventure pour enfants sont à une courte distance en voiture.
Meeting Deborah and her husband were actually one of the highlights of our trip. They were such fantastic people and so welcoming and warm. The Gite was clean and nicely done, and the property itself was stunning with a real country feel. Deborah surprised us with a little basket of fresh eggs for our breakfast before we left, which made our day. I recommend 100%.
Linda-Lisa
2015-06-05T00:00:00Z
Nous avons passé un excellent week-end prolongé dans le gite de Deborah et son mari. Barbecue midi et soir, balade en forêt, après-midi dans le jardin aménagé pour les invités… tout était parfait. Mais c'est surtout notre fils du 18 mois qui en a le plus profité : moutons, agneaux, poules, canard, chats et chien, des tracteurs sur lesquels monter… Le paradis ! Le Gite correspond tout à fait aux photos. Il est très fonctionnel, très propres et les chambres sont très agréables. Accueil très chaleureux tout en étant discret de nos hôtes. Merci pour ce très bon moment en famille --------------------------------------------------------------- A very charming place to stay, hosted by a welcoming English couple. The house is clean, functional, and calm. If you want to have a break from the loudy city, this is the perfect place to go, especially with children who can play with the farm animals (sheeps, chickens & ducks, cats & dogs...) or in the big fenced private garden (with swings). We really enjoyed our stay, thanks to Deborah and her husband.
Nicolas
2015-05-25T00:00:00Z
Une année qui commence très bien ! merci aux hôtes et à leurs animaux au top !
Thomas
2017-01-01T00:00:00Z
Le gite est charmant, conforme aux photos, et propre. La région est très calme et verdoyante. L'accueil de Déborah et Dave a été agréable, ils ont tout fait pour nous rendre le séjour agréable.
Ghislain
2016-01-02T00:00:00Z
Tipo de habitación
Casa/apto. entero
---
Tipo de propiedad
Casa
---
Capacidad
8
---
Dormitorios
Loupfougères, Países del Loira, Francia
Le charmant stable se compose d'un salon salle à manger au rez-de-chaussée avec un coin cuisine, une salle d'eau avec wc. La chambre à l'étage, qui dispose d'un lit double, placards et commode, a un petit balcon qui donne sur des vergers et des champs.
L'espace de vie est dans un intime de deux étages convertie grange en pierre. Le rez de chaussée est complet avec une cuisine et un salon entièrement équipée, par le biais d'une salle de douche supplémentaire. L'escalier mène à la chambre à coucher avec lit double et beaucoup d'espace de stockage. Le balcon donne sur les champs, généralement occupés par nos vaches laitières voisins.
Notre cadre est rural. Il est très calme et paisible. Nous sommes entourés de champs et les fermes de travail. Nous sommes à moins de 2 miles de la ville de Bais, qui a beaucoup de magasins, 2 bars et deux banques Tabac avec distributeurs automatiques de billets. Environ 20 minutes dans les deux sens sont les plus grandes villes. Notre préféré est Mayenne. Il a de nombreux bars et restaurants, deux musées et une cathédrale. Vous pouvez également faire des promenades douces le long de la rivière Mayenne avec son système de portes d'écluses.
A lovely countryside farm building, converted by Dean & Trish. The building is perfect for a break, in the middle of rolling hills and with absolute silence at night. Dean and Trish are lovely and we enjoyed a coffee with them in the morning. Thanks!
George
2016-08-13T00:00:00Z
My girlfriend and I booked for 1 night to break up a camping trip we were doing through France. Booking was easy and we received and email from Dean the host that contained lots of really useful information; nearest shop, driving directions etc. On arrival we were met by Dean and Trish, who showed us around the property that we have affectionately nicknamed 'La Petite Maison'! The property itself is GREAT! It is a cute 2 story little house that looks perfect in the rural setting. Inside the entire place was well equipped with all mod cons in the kitchen (including utensils and pans), as well as fresh milk in the fridge and tea and coffee provided by Dean and Trish, an amazing Power Shower with no shortage of steaming hot water and upstairs the large bedroom with balcony that overlooks the neighbouring farm fields to give stunning views of the countryside. Dean and Trish were great hosts (there when you needed them but not intrusive) and we would definitely recommend a short stay if you are looking to get away from it all.
Jay
2016-08-12T00:00:00Z
charmante petite maison, dans un endroit calme.
Aurél
2016-09-25T00:00:00Z
Dean and Trish are great hosts and they made our stay very enjoyable from the moment we arrived through to the last day. Even though we had arrived with a schedule of where we wanted to visit each day, they provided us with more local information (farmers markets, churches, secret walks) that filled the gaps in our plan. We are really grateful for this because we prefer to be active while on holiday. They were on hand to handle any requests and fixed any problems very quickly. It felt like they really cared about how comfortable we were each day. The converted barn is set in private, stunning countryside - the perfect place to unwind and get away. We have a one year old boy and they accomodated us all very well and made us feel very welcome and free to come and go as we pleased. A little gem with two enthusiastic hosts who couldn't do enough to enhance our stay!
SUSANA
2016-07-13T00:00:00Z
Tipo de habitación
Casa/apto. entero
---
Tipo de propiedad
Casa
---
Capacidad
2
---
Dormitorios
Bais, Países del Loira, Francia
Lovely, comfortable gite available for holiday rental, sleeping up to 4 people. Jouet is a haven of tranquillity, situated in the heart of the Pays de la Loire countryside and surrounded by farms and forest.
Self-contained gite with 2 bedrooms, on the first floor. Also available with 3 or 4 bedrooms for larger groups - see listings: https://www.airbnb.com/rooms/6242388 and https://www.airbnb.com/rooms/5063695). Recently refurbished to a high standard, with kitchen, dining room and lounge on the ground floor, bathroom upstairs. Hotel standard linen and towels are provided.
Jouet is in close proximity to forests and rolling countryside, riding and golfing facilities within easy reach, and an abundant choice of castles and other tourist attractions. A selection of children's adventure parks are a short drive away.
Tipo de habitación
Casa/apto. entero
---
Tipo de propiedad
Casa
---
Capacidad
4
---
Dormitorios
loupfougeres, Países del Loira, Francia
Gite Chapelle est situé dans un petit hameau à la périphérie de la Chapelle au Riboul, en plein cœur de la campagne mayennaise. Vous serez logés dans un (semi-détaché) converti ferme datant de 1870. Vos hôtes vivent dans la voisine converti grange.
....Tres belle maison avec beaucoup d espaces et calme...Mes enfants ont adoree.. Les propietere sont Tres sympa et (URL HIDDEN) vous allez dans le coin da ne veut vraiment la peine...
Emanuele
2017-01-01T00:00:00Z
Tipo de habitación
Casa/apto. entero
---
Tipo de propiedad
Casa
---
Capacidad
6
---
Dormitorios
La Chapelle-au-Riboul, Países del Loira, Francia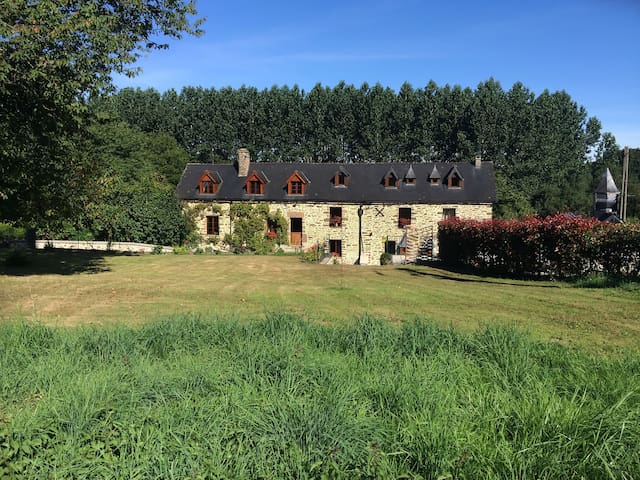 Tipo de habitación
Casa/apto. entero
---
Tipo de propiedad
Casa
---
Capacidad
8
---
Dormitorios
Champgenéteux, Países del Loira, Francia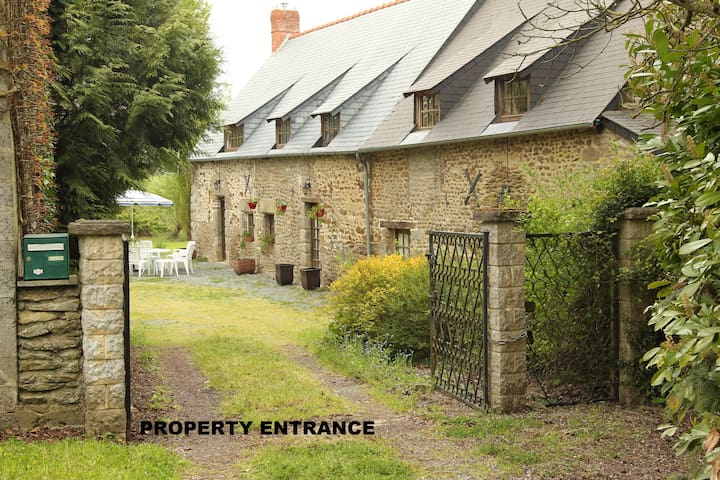 This part of our home is a newly converted large bedroom with a double bed and a single bed. We also have a travel cot available. Downstairs there is your own small private lounge with a bed settee leading to your own private shower room.
We are set in a rural Hamlet, 3 km from Javron Les Chapelles where you can buy all your amenities. It's very relaxing here but you will need transport to get around. We have some beautiful surroundings close by. It's excellent for the keen cyclists.
If you want a rural, peaceful night. then ours it the right place for you. We do have some local restaurants nearby which we can recommend if necessary in Javron Les Chapelles, Lassay Les Chateaux, Villaines Le Juhel or Bagnoles de L'orne. We have a old railway track just down the road which takes you to Mayenne if you feel up to the walk or to cycle there.
Susan and her husband welcomed us into their home on the same day that we booked. They were very accomodating and super friendly! Their home is gorgeous, neat and clean - we felt right at home! They stay in a quiet little town that was the perfect stop over for us!! It was also a bonus finding an English couple in France!
Alexandra
2016-06-01T00:00:00Z
Un très beau gîte en devenir. Nous sommes restés une nuit et avons été très bien accueilli par Susan et Collin. La chambre est cosy et agréable. La décoration est simple mais soigné et la literie confortable. Susan avait prévu du thé, café, sucre solubles, un micro ondes et une bouilloire pour le petit déjeuner et même du lait . Notre fils a adoré jouer avec Stamford, le chien de la famille. Nous y retournerons dès qu'un prochain évènement familial dans la région se produira car on se sent aussi bien que chez soi. So Susan and Colin see you next time...
FRAN
2015-10-19T00:00:00Z
Susan and her husband were great hosts and the bedroom, living room and amenities were fantastic, everything was almost new! Upon arrival we found a kettle, tea, coffee and snacks waiting and we were also offered some lovely red wine in the evening! Their dalmatian and 2 cats are beautiful and so is the garden and view from the bedroom window. We will certainly be staying there again!!!
Michael
2016-03-31T00:00:00Z
Susan et Colin sont très chaleureux. Le logement est très agréable.
Karen
2016-08-11T00:00:00Z
L'accueil au Cottage des Glycines a été très chaleureux aussi bien de la part de Susan que de son mari (sans oublier le chien). Quand Susan nous a fait visiter le logement, nous avons été très agréablement surprises de voir sur la table tout ce qu'il fallait pour un premier petit déjeuner : thé, café, sucre, petits gâteaux et même du lait. Le logement, même s'il est petit, est très confortable, rien ne manque pour faciliter le séjour, tout y est impeccablement propre et bien décoré et la terrasse de jardin que nous pouvions occuper couronnait le tout. Chattemoue est un petit village, donc la tranquillité est assurée et les nuits y sont vraiment réparatrices. En résumé, un logement que je recommande à tous ceux qui aiment la tranquillité et surtout qui apprécient un accueil chaleureux mais une présence qui reste très discrète. Merci Susan
Chrislaine
2016-08-15T00:00:00Z
Susan and her husband Colin were great hosts, and the welcome they gave me was everything you could want. I arrived after about 18 hours of travel time and along with the 12 hour time difference from Hawaii, (where I live), was no doubt almost incoherent, but they got me settled and as the stay progressed, I began to feel like I was staying with some nice friends. Susan is a doll and was very helpful with a few glitches (my credit card had not worked at first at toll booths or gas stations and in rural France, do not just think you are going to find atms everywhere-- they are often inside banks that are locked if it's lunchtime or after hours!) She took me by the hand practically to the bank and grocery store and then gave me lots of helpful advice and made my entry into the life there very easy. The little unit is actually very private-- you have your own entrance, sitting area and private bathroom (she has the washing machine there, but that is no problem at all-- it's essentially a private bath.) The bed was comfortable, and the house cozy and the only thing I found challenging at the house is something I encounter everywhere in France; I'm 6'5" so I have to duck when going up and down stairs in all these darling little OLD French houses, but you just get used to it and I never banged my head once, so that is good. I would absolutely love to come back and stay and can recommend Sue's place very highly (and, if you have a cat you need housed, she has a cattery, too! :)
Robert
2015-10-26T00:00:00Z
Séjour très agréable chez Susan ! La chambre est de bon goût, propre et le lit très confortable. Susan nous a accueilli chaleureusement et a été aux petits soins avec nous (en plus on a révisé notre anglais). La salle de bain est spacieuse avec une belle douche. Notre hôte nous a même laissé des petits gâteaux, une bouteille de lait et de quoi se faire un café pour le lendemain matin car nous devions partir tôt. En bref c'est un 10/10 avec un bon rapport qualité/prix !!!
camille
2015-09-28T00:00:00Z
Tipo de habitación
Habitación privada
---
Tipo de propiedad
Casa
---
Capacidad
5
---
Dormitorios
Javron-les-Chapelles, Países del Loira, Francia
Un petite maison de 3 chambres. Il y une piscine chauffée sur place en été.
Tipo de habitación
Casa/apto. entero
---
Tipo de propiedad
Casa
---
Capacidad
6
---
Dormitorios
Le Ham, Mayenne, Francia

House completely renovated in quiet hamlet. Garden. You have a bedroom and a bathroom, we share living kitchen terrace lawn. Barbecue available. At the foot of the site Montaigu hiking fishing tourism.
Welcome to this house walk-comfortable, warm and welcoming, located halfway between Hambers and Bais (shops 2 kms). According to the weather, enjoy the terrace and lawn or a fire. You have a bedroom with double bed (comfortable bedding) and a private bathroom.
Hamlet located in the countryside, surrounded by nature. Many paths to explore on foot, by bicycle, on horseback. picturesque villages.
J'ai été très bien accueilli par Gabrielle,la chambre était prête,le logement propre. Le lieu est très calme et agréable,la maison est joliment décorée. Je me suis sentie très à l'aise chez Gabrielle et nous avons eu de bons échanges. C'est pour toutes ses raisons que je suis retournée.
Nicole
2015-09-26T00:00:00Z
J ai eu des bons echanges avec Gabrielle.
Nicole
2015-09-12T00:00:00Z
Nous avons passé chez Gabrielle quatre jours extrêmement agréables. La fermette, rénovée récemment, allie rusticité, confort (literie excellente) et chaleur. Gabrielle participe à la chaleur de ce lieu et a su, rapidement, nous intégrer à son domicile tout en s'inventant guide touristique pour ceux qui seraient à la recherche d'idées. Idéal pour une bonne pause, repos assuré.
Marine
2014-08-25T00:00:00Z
Fantastic what a lovely home Gabrielle has and how welcoming and easy going she was. Took my wife for the morning to Evron Market. She speaks a little English but is patient and speaks slowly and clearly helping us to understand.
Colin
2016-03-05T00:00:00Z
Tipo de habitación
Habitación privada
---
Tipo de propiedad
Casa
---
Capacidad
2
---
Dormitorios
Hambers, Países del Loira, Francia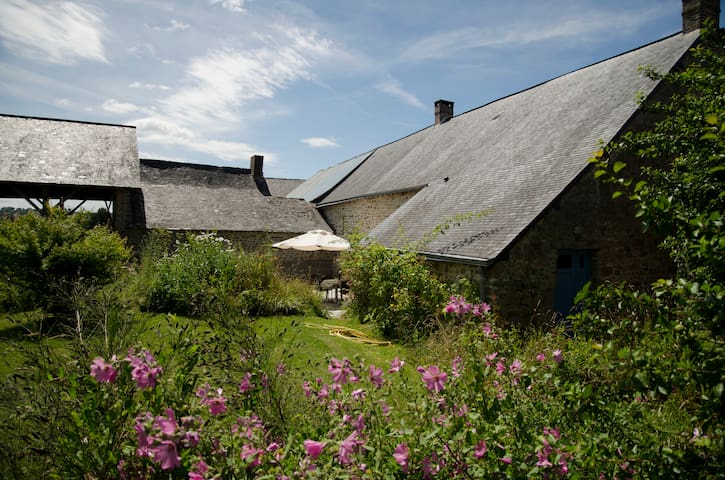 Mi alojamiento está cerca de 40 minutos de Laval y 50 minutos de Le Mans, Las oportunidades para practicar senderismo y montar Montaigu sitio. Mi alojamiento es perfecto para parejas y personas que viajan solas.
J'ai passe un tres agreable sejour chez Gaetan dans sa belle maison. Gaetan est un hote tres ageable et convivial je recommade vivement.
Gael
2016-12-22T00:00:00Z
très bon accueil
Yves
2017-01-26T00:00:00Z
Excellent : Le lieu est un vrai havre de paix avec un propriétaire très accueillant et prévenant. Une grande chambre très propre. Nous conseillons grandement ce lieu. Merci à Gaëtan pour son accueil
Christophe
2016-11-12T00:00:00Z
De passage à Mayenne, Gaëtan nous a accueilli avec gentillesse et sourire ! Très accessible pour préparer notre venue (même organisée "à l'arrache"). Nous avons passé une très bonne nuit, dans un très bel endroit.
Valentin
2016-12-18T00:00:00Z
The host canceled this reservation 5 days before arrival. This is an automated posting.
Nicolas
2017-02-27T00:00:00Z
Tipo de habitación
Habitación privada
---
Tipo de propiedad
Casa
---
Capacidad
4
---
Dormitorios
Bais, Países del Loira, Francia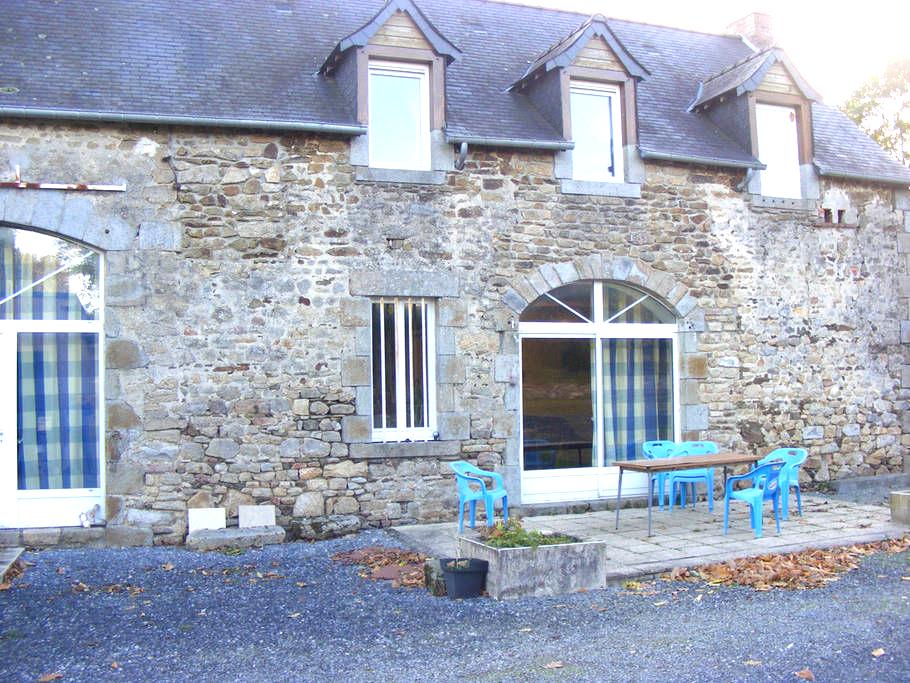 Gite tout confort parfaitement aménagée dans Tour du 17ème, dans propriété fortifiée. Etang de pêche 2 ha avec barque à disposition, parc avec arbres centenaires, ruine de donjon, chapelle. Le tout au sein du bocage Mayennais. Dépaysement assuré...
Petite tour a ménagé comme sur un bateau, congelateur, machine a laver linge et vaisselle, TV ecran plat satellite internationnal, HI fi, salon de jardin , BBQ, 2 VTT. sur 4 niveaux. Etang, ruines de donjon, le tout dans propriété fortifiée surplombant la rivière. Bocage Mayennais relativement préservé....
Calme et beauté des paysages du bocage *mayennais, nombreux sites historique à visiter grottes préhistorique (Saulges), Sainte Suzanne et Lassay (médiéval) etc
Tipo de habitación
Casa/apto. entero
---
Tipo de propiedad
Casa
---
Capacidad
3
---
Dormitorios
Saint-Thomas-de-Courceriers, Países del Loira, Francia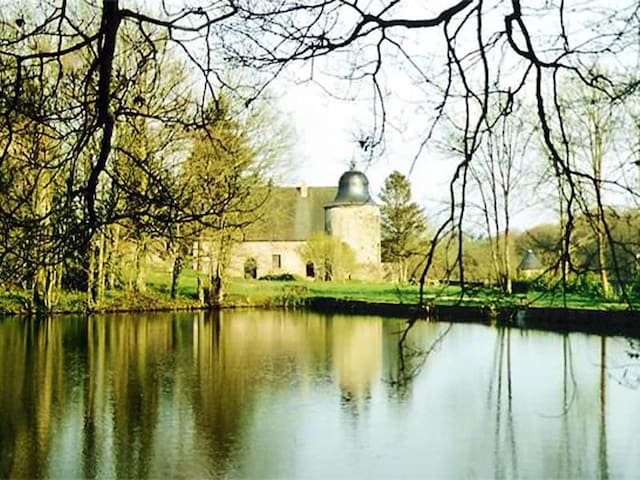 Charme Gite rural fermette de caractère à la périphérie du village de Bais près de Evron, Mayenne et Le Mans. Idéal pour la marche, la pêche, le vélo de montagne et de détente. Près de forêts et de lacs favorables à la famille avec des plages intérieures à Sillé Plage ou Gue de Selle.
Ancienne maison de ferme, pas de circulation en dehors du tracteur impair. Sentiers de randonnée passent par le jardin à l'arrière. Vraiment confortable avec poêle à bois, un poêle à pétrole ou des radiateurs électriques pour le chauffage. S'il vous plaît noter qu'il ya un étroit escalier en colimaçon entre deux étages. Beaucoup d'activités locales pour les familles, en particulier en été.
Bais est une petite ville animée avec des supermarchés, boulangeries, pharmacie, café, barbiers, camping, piscine et plus. Pour plus bars, restaurants et boutiques Je recommande 15 min en voiture Evron ou 20 minutes impaires en voiture de la ville de Mayenne.
Maison spacieuse, familiale et bien équipée. Hôte disponible. Endroit très sypma, nombreux chemins de randonnées et lieux à visiter à proximité.
Aurélie
2016-11-27T00:00:00Z
un havre de paix ! charmante petite maison de caractère, la maison est rustique, les chambres confortables, pas de route donc pas de bruits, la nature, sentiers de randonnées très proches, nous avons passé un agréable séjour . a recommander vivement.
christine
2016-08-15T00:00:00Z
Rustic French house with all the comforts of home, a large kitchen well equipped and a cozy living room both with wood burners that threw out lots of heat it was the end of October we thought we may be cold but were pleasantly surprised. Tranquil with great walks yet Bais 5 minutes away with a small Carrefour with petrol and a good range of provisions in the town some restaurants.
Colin
2015-11-01T00:00:00Z
Super séjour dans le gîte de Daniel! Endroit idéal si vous souhaitez passer un weekend au calme et profiter de la nature! Le gîte est cosy et agréable. 2 cheminées (cuisine et salon) permettent de passer des repas/soirées très agréables!!
camille
2015-12-14T00:00:00Z
We enjoyed a lot our stay at Daniel s place, it is lovely, peaceful and the inside is really well designed. We didn't miss anything and in case we did the neighbour were really friendly and ready to help. We ll probably come back!
Adélaide
2015-12-27T00:00:00Z
Séjour très agréable et reposant (c'est ce que nous cherchions !). Maison fidèle à la description, rustique et chaleureuse. Pratique (cuisine équipée et spacieuse pour faire de bons repas) et confortable (chambre et salle de bains). Ce séjour à 2 nous a donné envie de revenir plus nombreux pour partager les joies de la campagne Mayennaise lors des beaux jours.
Christine
2015-10-19T00:00:00Z
Nous avons passé un très bon séjour au calme dans ce charmant gîte rural. L'accueil y est bien organisé. Beaucoup de possibilités d'activités dans les environs.
Vero
2016-10-30T00:00:00Z
A beautiful and quaint little cottage, the setting is idyllic and quiet but for the singing of birds and odd moo of a cow. Perfect. The cottage is well equipped and comfortable. Daniel is very helpful and his contact throughout is very good.
sarah
2016-05-10T00:00:00Z
Tipo de habitación
Casa/apto. entero
---
Tipo de propiedad
Casa
---
Capacidad
7
---
Dormitorios
Bais, Países del Loira, Francia
Una casa de campo "A Bisto desde NAS" 55 m2 para 2 a 6 personas, mientras que la piedra independiente con chimenea, jardín y terraza a 250 metros sobre el nivel del mar en el alto arboleda Mayennais.Venez relajarse y pasar un buen rato.
se puede descubrir el Pico de Montaigu, el Mont Rochard y todas las riquezas de la naturaleza y el patrimonio Mayenne. Situado a 14 km de Mayenne 25 minutos de Mont Avaloirs (la montaña más alta Armoricano 417 metros), a 15 km de Lassay castillos, a 25 km de Evron, a 39 km de Ste Suzanne uno y treinta Mont Saint-Michel. -Para 2 a 6 personas esta casa se encuentra en una propiedad arbolada de 1,7 hectáreas con flores y animales burro, gallinas, perros, biquette y abejas. Tendrá la oportunidad de disfrutar de una extensión de agua en un lugar tranquilo y rejuvenecedor para pescar o jugar a las fuentes de sonido que fluyen. Nuevo en 2017: El jacuzzi está finalmente listo, ver fotos. Se encuentra en el jardín de un chalet de madera. Planta baja: cocina con vajilla completa, microondas, lavavajillas, horno, encimera de gas, nevera, baño, mesas sala de estar. -El acceso a WIFI-barbacoa, horno de pizza exterior -Primera planta: 1 habitación (ciruela) con una cama doble, 1 dormitorio (marrón) con una cama doble, 1 aseo, un baño
Tout simplement parfait ! Un grand merci à nos hôtes ! Nous recommandons et nous reviendrons ! Le gîte est chaleureux et accueillant, l'endroit est reposant et agréable.
Benoît
2016-06-15T00:00:00Z
Très jolie maison, confortable, cosy et joliment décorée dans un environnement magnifique et calme. Belle vue depuis la maison et la terrasse entourée de verdure et idéale pour les couchers de soleil. Un grand merci pour l'accueil et la prévenance des hôtes !
Odile
2016-12-07T00:00:00Z
Nous avons passé un agréable séjour en famille, reposant et ressourçant. Le gîte est très confortable, avec un aménagement moderne qui n'enlève rien aux vieilles pierres de la maison. Le beau temps nous a permis de manger dehors et de profiter d'un magnifique point de vue sur la campagne vallonnée. Les enfants ont été ravies de découvrir la présence d'un âne, d'une ruche et d'un petit étang. La région offre aussi un patrimoine culturel intéressant : village médiéval et musée gallo-romain que les propriétaires nous ont indiqué.
Nicolas
2016-05-08T00:00:00Z
Un endroit ressourçant , calme , beau , accueillant , tout confort . nous y retournerons avec grand plaisir l'année prochaine pour la Foire de la Madeleine ! à voir aussi car très typique de la région , très rares sont pour nous professionnels de salons dans toute la France , les maisons où nous nous sentons si bien .... cette douceur de vivre dans cet endroit presque isolés du monde .... Propriétaires très gentils et accueillants , simples , et quel bonheur ça fait du bien !!! merciiiiii Bien à vous .
brigitte
2016-07-24T00:00:00Z
Très bonne adresse, les propriétaires sont très sympa. La maison est très bien, au calme et avec un jolie point de vue. A y aller les yeux fermés!
francois
2016-06-05T00:00:00Z
Tipo de habitación
Casa/apto. entero
---
Tipo de propiedad
Casa
---
Capacidad
6
---
Dormitorios
Champéon, Países del Loira, Francia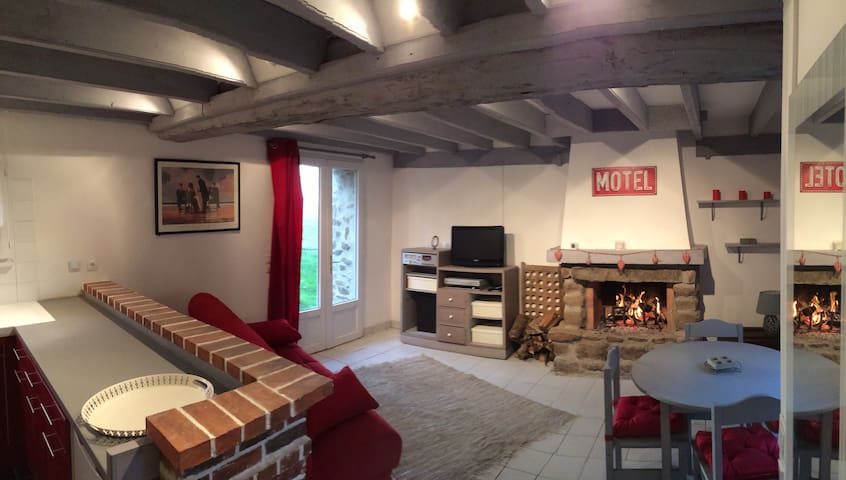 My place is close to family-friendly activities and great views. My place is good for couples, solo adventurers, families (with kids), and furry friends (pets). Our cottage is situated on the edge of a village in the lovely Mayenne countryside. There is a garden area and the cottage has many original features such as beams, stone walls and a lovely log burner. The village of Le Horps where the house is situated has its own bar, shop and patisserie.
We spent 3 nights at Simone's house. It is a very beautiful stone house tastefully decorated with the English touch, spacious enough for 6 persons. We actually appreciated the beds done and the heating on before our arrival. 2 cars can be parked in front of the house. Don't forget an adaptor because plug sockets are British.
Isabelle
2016-10-31T00:00:00Z
My 5 colleagues spent 1 week, everything was fine, just the plugs were not european but english.
Lucia
2017-01-30T00:00:00Z
Tipo de habitación
Casa/apto. entero
---
Tipo de propiedad
Casa
---
Capacidad
8
---
Dormitorios
Le Horps, Países del Loira, Francia
V krásném prostředí uprostřed polí a koní, nabízíme k pronájmu, na dovolenou či delší dobu, dům 120m² s původním zařízením a starožitností. Toto místo je ideální pro vychutnat přírodu a odpočinek ve společnosti rodiny či přátel.
V krásném prostředí uprostřed polí a koní, nabízíme k pronájmu, na dovolenou či delší dobu, dům 120m² s původním zařízením a starožitností. Toto místo je ideální pro vychutnat přírodu a odpočinek ve společnosti rodiny či přátel. Pro rybáře, velký rybník je k dispozici.
Perfektní objevit Mayenne a sousedních departementů, jsme 15 km od Gallo-římské pozůstatky a Archeologické muzeum Jublains, 25 km od známého lázeňského města Bagnoles de l'Orne s jeho kasina a jeho lesy a 35 km od krásné vesnici Ste Suzanne, patří mezi nejkrásnější vesnice ve Francii. Světově proslulé destinací, jako je Mont-Saint-Michel, Saint-Malo a D-Day pláží přistání jsou asi dvě hodiny jízdy autem. Pro sportovce je Mayenne nabízí mnoho aktivit, jako je kanoistika-kajak, jízda na koni, golf nebo jízda na kole. Pro rybáře, velký rybník je k dispozici.
Tipo de habitación
Casa/apto. entero
---
Tipo de propiedad
Casa
---
Capacidad
4
---
Dormitorios
Champéon, Países del Loira, Francia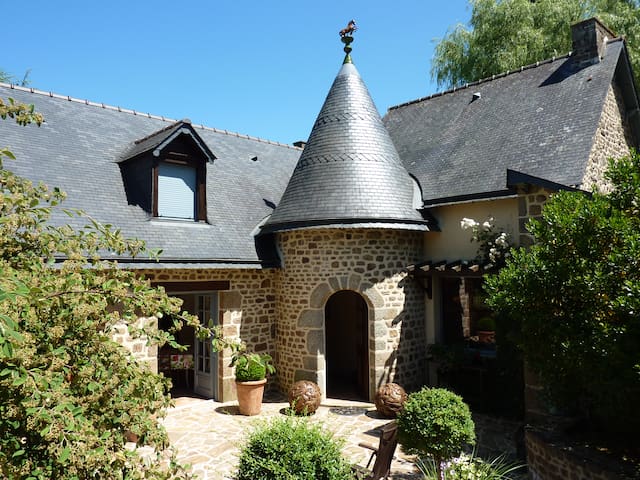 Dos dormitorios en suite. Uno con 2 camas individuales y el otro con una cama grande para 2 personas. Opción de 2 habitaciones, dobles / dobles, ambos, en el baño. Aparcamiento privado (cubierto para motocicletas / ciclos). wifi gratuito. única habitación o el desayuno / cena, si es necesario
Muy cómodo y acogedor alojamiento. Todas las habitaciones están bien amuebladas y equipadas con calefacción central. También tenemos una habitación doble planta baja con baño ideal junto a personas que no puedan subir escaleras (hay 2 pasos en la casa y 1 a la habitación).
pueblo tranquilo, bien situado para visitar el principal Normandía y Pays de la Loire atracciones turísticas.
Helen et Paul nous ont accueillis comme de la famille... Ils ont été aux petits soins pour nous. Nous avons eu la possibilité d'une arrivée tardive (23h30). Nous étions là pour le triathlon de La Ferté Macé, et Helen avait préparé le petit déjeuner (en option) en fonction de nos besoins, sans en augmenter le coût. Sans compter la possibilité de laver la tenue en rentrant le soir. Le vélo a été rangé à l'abri. La chambre est comfortable et très propre. Et comme pour le reste pleine de petites attentions (bouteille d'eau, serviettes...). Le quartier est très calme, on y dort comme un bébé. Nous recommandons chaudement cette adresse, et y retournerons avec plaisir si nous avons à nouveau à nous loger dans le coin. Merci encore à vous Helen et Paul, pour votre accueil.
Sophie
2016-07-05T00:00:00Z
I cannot praise Helen and Paul highly enough, they welcomed me with true Yorkshire warmth and made me feel at home the minute I stepped inside their lovely village house. The room was spacious and comfortable with en suite facilities. I took a delicious meal with them in the evening where the company and the conversation was stimulating. I would recommend them to anyone.
michael
2016-06-03T00:00:00Z
Un couple adorable et disponible. De très bons moments passés ensemble. Allez-y les yeux fermés !
Marine
2016-08-04T00:00:00Z
Nous avons été très chaleureusement accueillis. Beaucoup d'attentions. Quartier très calme et bien situé pour randonner et découvrir la région.
laurence
2016-06-20T00:00:00Z
Nous sommes arrivés vers 20h, sur le chemin de la soirée où nous nous rendions. Paul et Helen se sont montrés disponibles de suite, pour nous indiquer comment atteindre la chambre et nous laisser les clés. Nous les avons retrouvés le lendemain matin, où tous deux nous ont servi un super petit English breakfast, tout en discutant avec nous.
Antoine
2016-06-06T00:00:00Z
Couple très sympathique et accueillant, à recommander
dominique
2016-08-13T00:00:00Z
Tipo de habitación
Habitación privada
---
Tipo de propiedad
Casa
---
Capacidad
2
---
Dormitorios
Chevaigné-du-Maine, Países del Loira, Francia
Loupfougères - Airbnb
:
Una media de

4.63

estrellas de un total de

5

de

121

evaluaciones de huéspedes
1

–

18

de

33 Alquileres de Casas
Introduce las fechas para ver el precio total. Ten en cuenta que se aplicarán tarifas adicionales y es posible que se añadan impuestos.