Centrally located at Theresienwiese, near Hauptbahnhof and Goetheplatz. Central but quiet on the 4th floor with a view above the roofs of Munich.
The Room has 21 m² and is furbished with a king size bed (180x200), HD flat-screen TV with international channels (de, en), a Blue-ray player, high-speed internet (cable or Wifi), Phone with free Germany-wide calls, Relax chair to connect to your phone/ipad for music. A table and 2 chairs are in the room. You can store your stuff in the sideboard. 2 Minutes walk to the Oktoberfest. 10 Minutes walk to main station, Stachus or Sendlinger Tor. 5 Minutes walk to the underground station U4/U5 Theresienwiese. Kitchen and Bathroom is shared with the host. The kitchen has a cooker, oven, microwave, fridge, egg cooker, toaster, water heater, espresso machine, dishwasher and washing machine. To prepare for yourself: Coffee and tea available... The bathroom has sink, tub, shower, toilet, hairdryer, soap, shampoo. The apartment is on the 4th floor, no elevator. You can watch the freefall-tower of the Oktoberfest from your room :) You can benefit from the very good location for Oktoberfest.
Everything is super centrally located and within walking distance. Shopping even late at night at the main station or surrounding stores possible.
Out stay in Munich with Florian and as exceptional. The apartment was very clean and neat. Was close to everything we wanted to do.
Jamie
2016-09-24T00:00:00Z
房间很舒适,宽敞明亮,非常推荐。旁边是公交站台,值得推荐。
Qingtao
2016-12-31T00:00:00Z
Florien's place was perfect! Great location for Oktoberfest and visiting the city center, close to bus stops and central station. The room was spacious and comfortable, also very quiet at night despite being so close to the festivities. Please note there are a lot of stairs with no elevator. Florian and Allen were very kind and showed us where to visit during our stay. I would highly recommend this place to any one visiting Munich, especially during Oktoberfest!
Heidi
2015-10-02T00:00:00Z
Florian was a very accommodating host! His place is literally a stones throw away from Oktoberfest which makes things easy and safe! The flat was very clean and the towels provided were plush and safe!
Caelie
2015-10-05T00:00:00Z
Excellent location, close to Station. Comfortable stay and very clean rooms. Highly recommend!!
Stephanie
2016-11-29T00:00:00Z
Florian's place was very clean and comfortable. The bathroom had all the amenities you would need and he was very welcoming. It was also very near Oktoberfest, I mean like 2 blocks from the festivities. It is on the fifth floor without a lift, so take that into account.
Chris
2016-09-26T00:00:00Z
Florian was very kind to wait for us in the flat (we arrived at 22:00). The flat was very close to the city center (15 min by feet) and just 5 minutes form the Oktoberfest. The room was big and clean and we found very well there.
Francesco
2014-09-28T00:00:00Z
Florian was a great host. The place was clean and very convenient to Octobertfest.
Greg
2015-09-21T00:00:00Z
Tipo de habitación
Habitación privada
---
Tipo de propiedad
Bed & Breakfast
---
Capacidad
2
---
Dormitorios
Munich, Baviera, Alemania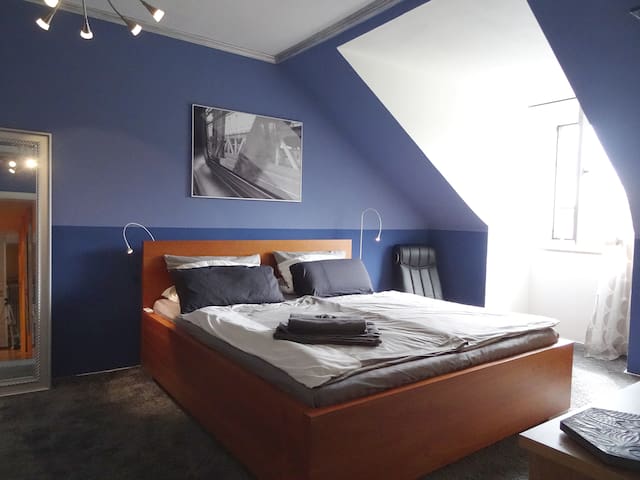 Hello, I am subletting one cosy room (20 sm) of our apartment in the heart of Munich. It's a 100 sm flat including two balconies and two bathrooms. Oktoberfest is just a two minute walk away, just around the corner! Up to 4 ppls can stay in the room.
Wir waren zu dritt für eine Nacht in der Wohnung. Das Zimmer war geräumig und sauber, wie es auch die Wohnung war. Julius wohnt in einer WG und wir wurden von den Jungs herzlich aufgenommen. Grossartige Gastgeber!
Adrian
2015-10-05T00:00:00Z
He was incredibly friendly upon arrival and did whatever he could to accommodate to our arrival and departure needs.
Raj
2016-08-16T00:00:00Z
Wow what an experience Munich and the Oktoberfest ended up being. We were greeted by to of Julius best friends who made us feel welcome within a minute or two. They carried our bags up the stairs where they showed us around this beautiful house. We felt so comfortable and relaxed and even went to the Oktoberfest with his Mates. What an awsome experience in an awsome place. Thank you so much Julius for letting us stay, so clean and comfy. Next time we are in munich. I hope we can meet you:) The venue was absolutely exquisite and was such an awesome place. Julius if you or your Mates are ever in Australia. Please let us know !!!!
Emma
2015-09-25T00:00:00Z
Julius has been the perfect host, guiding us from the ariport to his house, welcoming us, suggesting places to go and tips for Munich and very available at all times! We had a lovely stay at Julius' apartment which is super cool and decorated with great tastes, the flat is very very close to the center and is 2 steps from the subway, with places for breakfast and more if need be. We were 3 girls and all of us most definitely recommend both the city and this stay, you won't regret it :)
Caroline
2016-05-23T00:00:00Z
Julius was an excellent host. I honestly have no complaints whatsoever. From the moment we stepped in the door he was extremely friendly and welcoming. Julius went that extra mile to make sure our stay was comfortable and enjoyable. He was extremely helpful in pointing out where everything was in Munich, and his English is perfect which also helped! For any English speaking people wanting to book for Oktoberfest who are unsure of any language barriers.... dont worry, Julius has you sorted! Overall, I would say it was a great stay, great host, great location....anyone booking for a central location for Oktoberfest would be silly to miss this one. Thanks Julius!
Joshua
2016-09-30T00:00:00Z
Julius was a welcoming host and gave some good tips around Munich. The room is a good size and the apartment was clean. The location is great, we walked everywhere and did not need to use the subway. I would highly recommend the place for the relaxed environment and convenient location. Thanks for having us !
Salma
2016-11-21T00:00:00Z
Great place, good location. Hosts are friendly and response quickly to queries.
Sophie
2016-09-26T00:00:00Z
Location was great for seeing Munich and the sites. Recommended for anybody looking for a great place.
Jay
2015-10-03T00:00:00Z
Tipo de habitación
Habitación privada
---
Tipo de propiedad
Bed & Breakfast
---
Capacidad
4
---
Dormitorios
Múnich, Bayern, Alemania
Up for renting is a private room inside an awsome, fully equeped flat, which is located 250m (!) away for the Oktoberfest. To make it clear: Step out of the door, turn right, walk 250m straight on - there you go! I will provide coffee and stuff
top notch house, fully equiped flat washing machine, dryer, benchmark coffee maker, etc.
Tipo de habitación
Habitación privada
---
Tipo de propiedad
Bed & Breakfast
---
Capacidad
2
---
Dormitorios
Munich, Baviera, Alemania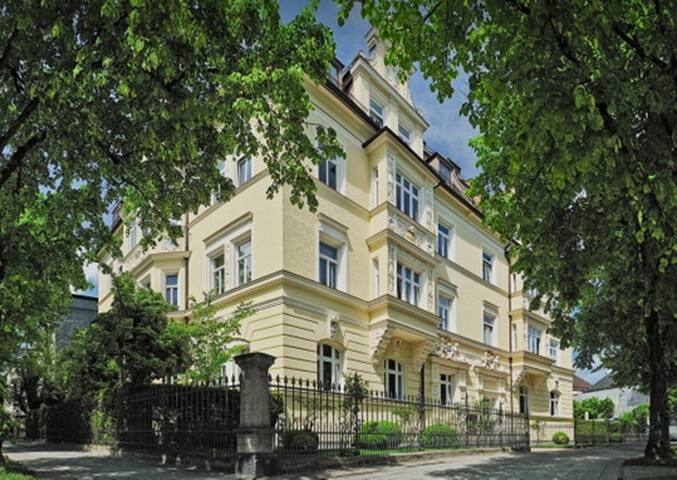 Central apartment right in the heart of Munich. 5 minute walk to the Viktualienmarkt. 10 minute walk to Marienplatz. 10 minutes to Oktoberfest. Very quiet, modern apartment. Pool, sauna and fitness room can be shared. Pool and entrance currently under construction work. Great access to subway (U1, U2 and U7), bus and tram.
Luxurious air bed (1,50 x 2 m) with comfort height 60 cm in a bright modern apartment on the Gartnerplatz. Ideal for 1-2 people. Balcony and kitchen with Nespresso machine can also be based. Breakfast is prepared. Tv available. Wifi access for free.
Never heard of that before.
Tim war ein super Gastgeber - unkompliziert, jederzeit hilfsbereit und hat uns direkt herzlich in seiner Wohnung empfangen. Wir konnten uns bei ihm in den 2 Tagen wie zu Hause fühlen. Die Wohnung liegt super zentral, mitten am Gärtnerplatz und ist ein idealer Ausgangspunkt für Erkundungstouren in München. Ich würde jederzeit wieder bei Tim übernachhten, wenn ich München bin.
Kristina
2016-10-02T00:00:00Z
Tipo de habitación
Habitación compartida
---
Tipo de propiedad
Bed & Breakfast
---
Capacidad
2
---
Dormitorios
Múnich, Bayern, Alemania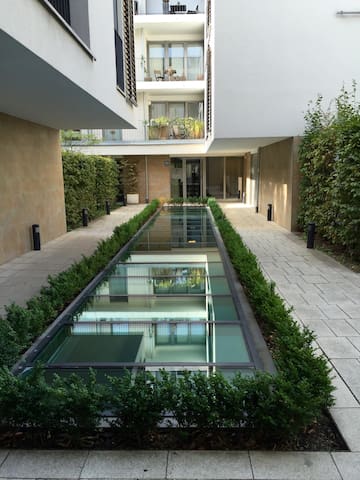 I offer one 19 sm room in my apartment (100 sm). To Oktoberfest it is just a 2 minutes walk. A friend of mine will stay in the third room of the apartment during Oktoberfest. He is also from Munich and will help you guys out with all your needs.
Wir sind sehr herzlich empfangen worden und wir haben uns sofort wohl und wie zu Hause gefühlt. Sehr sehr nette und aufmerksame Gastgeber! Das Zimmer, welches wir zu viert hatten, war sehr gross. Ausserdem hatten wir 2 Badezimmer zur Verfügung. Wirklich sehr nahe am Oktoberfest! Fazit: Wir würden nächstes Jahr sofort wieder kommen! :-)
eveline
2016-09-26T00:00:00Z
He never met Julius in person, but we had clear communication and one of his flatmate gave us a warm welcome. We could also have an extra key for the flat. The location is really excellent for oktoberfest and may explain the really high price. But if you look around, the whole city becomes crazy at this time of the year. The flat is rally clean and (SENSITIVE CONTENTS HIDDEN) really kind. Thank you.
Éole
2016-09-20T00:00:00Z
Julius was a great host! As soon as we checked in he was nothing but accommodating. In addition to recommending several restaurants and locations to visit he was a wealth of knowledge and advice for Oktoberfest. I you are staying in Munich for Oktoberfest or just visiting I would highly recommend staying here!
Harrison
2016-09-28T00:00:00Z
Was amazing! Julius is a very good person and helped us a lot with everything we needed. I recommend this place to everyone who want to stay near Oktoberfest. Is very worthwhile.
Fernando
2016-10-02T00:00:00Z
The place was at the perfect location for Oktoberfest! The price was good, considering how expensive that time period in Munich can be. Julius' friend, who welcomed us in the apartment and stayed for the 2 nights we were there, was very friendly and made us feel welcome the moment we arrived. Definitely recommend it to stay at his place.
Andrea
2015-09-28T00:00:00Z
We had a wonderful stay here during Oktoberfest! It was clean with comfortable beds, and the host (Julius was out of town, so it was his flat mate) was very welcoming, generous and helpful. He gave us a good recommendation for dinner and helped us with directions to walk to Oktoberfest and tips for tents to visit. It was nearly as close as you could be to Oktoberfest (only a 2-3 minute walk), and it was also right next to a train station which was very convenient to get to other areas of the city. I would definitely recommend this to friends traveling to Munich!
Abigail
2016-09-24T00:00:00Z
Tipo de habitación
Habitación privada
---
Tipo de propiedad
Bed & Breakfast
---
Capacidad
4
---
Dormitorios
Múnich, Bayern, Alemania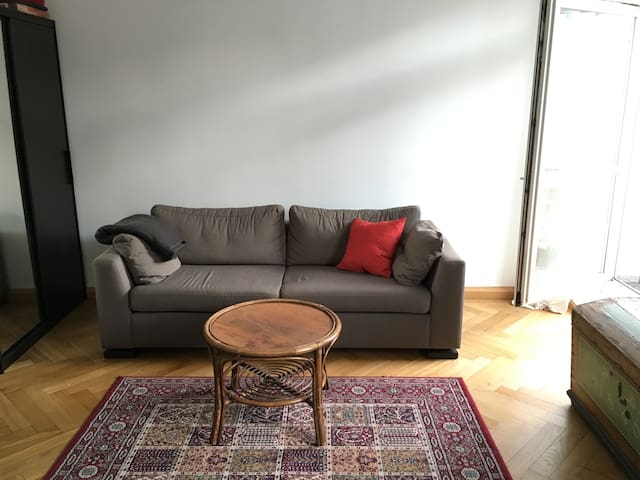 Ludwigsvorstadt-Isarvorstadt - Airbnb
:
Una media de

4.85

estrellas de un total de

5

de

52

evaluaciones de huéspedes