This nice and cozy loft is located only one block away from Green Lake. There are many restaurants, cafes, and bars in walking distance as well as the bus stop just around the corner.
The loft has its own kitchenette, bathroom and entrance. Our loft is located on the second floor of the house and has a lovely view of Space Needle and Seattle skyline. It comfortably fits two, however there is a futon couch that can provide extra bedding. The space has hardwood floors, A/C, heating system, fridge, stove and kitchen supplies in case you feel like preparing meals yourself.
If you have the opportunity to stay in this Greenlake loft be sure you seize it. Rarely is anywhere we stay nicer than advertised but this quaint & convenient loft was everything we could hope for and more. Daria was in contact with us during our entire stay and was available for any of our queries. Located within walking distance of several bus stops that got us anywhere we wanted to get in Seattle, and many quick eateries along Greenlake itself, this gorgeous and clean space was the cherry on top of the sundae that was our first trip to the Emerald City.
Timothy
2016-11-13T00:00:00Z
Very nice loft. Easy to communicate with host. Nice location. If you can't manage stairs, this might not be the place for you.
Sara
2016-12-23T00:00:00Z
We truly enjoyed this lovely loft.
Margie
2016-08-07T00:00:00Z
Great place close to Green Lake, check it out!
Dan
2016-12-28T00:00:00Z
One of the best Airbnb's in the Seattle area for the price. Clean, neat, new, great neighborhood, spacious, easy access and communication, parking is plentiful in the area, a block from the lake....not much else to ask for!
David
2017-02-26T00:00:00Z
Daria was a great host and the loft was a perfect place to stay for my trip to Seattle. Super clean and comfortable loft with easy access at an affordable price. I liked how close it was to Green lake as well as highway 5 so I could get on the road quickly. Would definitely stay here again.
Derek
2017-03-02T00:00:00Z
This place was amazing! Very cute and pristine soft space in their beautiful home just steps from Green Lake. There were tons of windows here giving lots of sunlight during our stay, as well as fantastic views of the lake and Space Needle. The location was great, as Greenwood bars and restaurants were just a short walk away, and it was super easy to get downtown. I'm also very picky about cleanliness, and this place was spotless. I would definitely stay here again.
Adam
2017-04-02T00:00:00Z
Perfect, easy.
Christine
2017-03-19T00:00:00Z
Tipo de habitación
Casa/apto. entero
---
Tipo de propiedad
Loft
---
Capacidad
2
---
Dormitorios
Seattle, Washington, Estados Unidos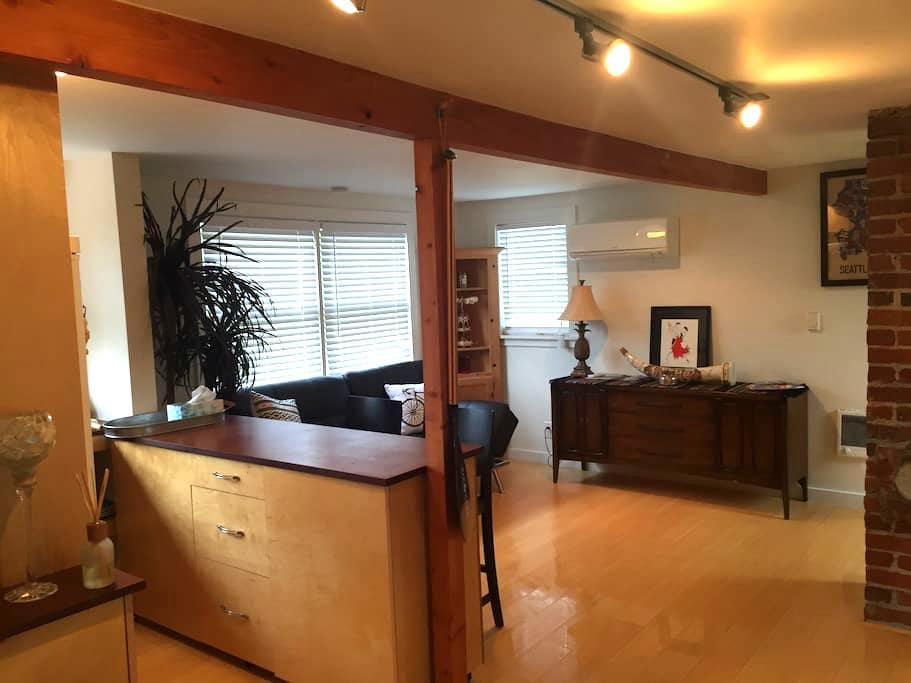 Guest suite w/ loft, brand new construction! Located in the Beautiful Ballard Neighborhood, Steps From Dining, Shopping, Beaches, Nightlife, RapidRide Access Downtown, and so much more!
Guest suite includes a queen-sized bed, a kitchenette featuring a large counter-top bar with four bar stools, coffee machine, and toaster oven, a TV, and a loft with pull-out couch! Space is open with 13 ft ceilings, and very large windows.
Ballard is an amazing neighborhood + a hip foodie hotspot. Very pet friendly, walkable to many bars, shops, restaurants, and nightlife. Golden Gardens Park is down the street which overlooks the majestic Olympic Mountains - offering walking/running trails, picnic areas, as well as bonfire pits on the beach. The Ballard Locks are nearby to gaze at the variety of boats passing through, and July-Sept, the salmon navigating the fish ladder. The shops along Ballard Avenue and Market Street are eclectic and diverse with a charming downtown feel. There are a ton of restaurants that offer trendy atmospheres and crafted dishes + cocktails. Sunset Tavern and Tractor Tavern both book great musicians for live entertainment. Multiple breweries and BBQ joints are also in the area. The Ballard Farmers Market on Sundays is a great place to sample all that the pacific northwest has to offer!
Gran loft para 3 personas, muy cerca del corazón de Ballard, y a una cuadra de los mejores pancakes de Ballard.
Mariano
2016-09-13T00:00:00Z
Everything was modern, clean, neat, as described, and Valerie was easily accessible by phone. There was even a machine with coffee, small refrigerator and toaster-oven available for use. NB: You cannot stand up in the loft .
FRED
2016-07-23T00:00:00Z
Valerie's place was very modern, clean, and was just like the photos. We had 4 people in our group, 2 couples, so one couple was able to use the sofa bed up on the loft and the other couple was able to use the bed on the main floor. We also greatly appreciated how she accommodates pets as our cat came on the trip with us! She gave very clear check in and check out instructions and accommodated our request for a later checkout! Very responsive and gave very detailed suggestions/recommendations for things to do and where to eat in the city. Not too far of a drive to downtown Seattle. We would recommend this place for sure!
Noelle
2016-11-16T00:00:00Z
Great parking right in front. Loft was spacious and good for having friends over to meet up before going out. Building is modern and sleek.
Emily
2016-05-31T00:00:00Z
This is a clean and well kept space. I would recommend for anyone to stay here.
Marc
2016-11-27T00:00:00Z
The loft was very spacious and comfortable and Valerie provided all the necessary ammenities including toiletries, towels, and linens. It was a beautiful place and not to far from the city. Just about 15 minutes from Seattle. Overall a great stay for our night there.
Carolina
2015-08-13T00:00:00Z
We loved Valerie's space and the value is unmatched. There were three of us and we fit comfortably for our two nights stay. The bed was comfortable, clean towels and toiletries were provided, and we walking distance to several restaurants in Ballard. We took an uber to all of the touristy places (Space Needle, Pike Place Market) which was about $15 one way. Valerie made check in and check out seamless and even accommodated an early arrival for us. We would definitely stay here again!
Kimberly
2017-03-08T00:00:00Z
Valerie made our stay so easy! The communication was fantastic and any time I had a question, she responded pretty quickly. We had a group of four and weren't staying in the city for very long, so it was great for what we needed. The place is exactly as advertised, it's a big room with a bed, a loft (with a sleeper), and a bathroom. If you're a light sleeper, I don't suggest sleeping next to the loft stairs. Otherwise, it's great for people popping into town for a short visit. There was always parking out front and it was easy to get to. Check-in and check-out were a breeze and she included detailed instructions on exactly what was what, so we didn't have any issues during our stay.
G. Angela
2017-03-10T00:00:00Z
Tipo de habitación
Casa/apto. entero
---
Tipo de propiedad
Loft
---
Capacidad
4
---
Dormitorios
Seattle, Washington, Estados Unidos
This Seattle "tiny house" has it all. Brand new construction, perfect location, and all modern amenities and luxuries. Situated at the foot of Phinney Ridge two blocks from Green Lake, this is Seattle at it's finest. Enjoy a famous Red Mill burger, burn that burger off by taking a stroll around famed Green Lake, and put those calories back on with a pint from Prost or 74th St. Ale House. So close to many of Seattle's finest bars and restaurants. This is a perfect urban "oasis!"
Brand new construction highlight this awesome "tiny house." There is a queen size bed in the upstairs loft and a sleeper sofa on the lower level that can sleep two more. Full kitchenette with a 24 inch range, mini fridge/freezer, Kuerig coffee machine, and utensils. 1 gig Wifi is included as well as Apple TV! There is also a gas grill outside of the unit as well as a heat lamp with a bistro table. Cook up some of that delicious Seattle salmon!
Phinney Ridge is one of Seattle's hottest and classic neighborhoods. There are tons of great bars and restaurants such as world famous Red Mill Burgers, Stumbling Goat Bistro, El Chupacabra, Cornuto Pizzeria, Thaiku, 74th St. Alehouse, and Prost! You are also close to some of Seattle's best coffee shops such as Herkimer and Cafe Vita. You are also only two blocks away to Green Lake and in the same neighborhood as the Woodland Park Zoo! This is simply one of Seattle's best locations!
Awesome experience in a tiny home! Beautiful, quiet neighborhood that our dog loved.
Phoebe
2017-03-29T00:00:00Z
The place was well equipped. It was a nice walk to Green Lake, restaurants and the bus stop to downtown. the ladder to the sleeping loft was a bit challenging for night bathroom trips. The couch was not the most comfortable I've slept on. The house is super cute and tiny!
Julie
2017-03-18T00:00:00Z
Tipo de habitación
Casa/apto. entero
---
Tipo de propiedad
Loft
---
Capacidad
4
---
Dormitorios
Seattle, Washington, Estados Unidos
Be our special guest in our cozy, newly built, energy efficient, furnished loft space located in NE Seattle near Lake Washington, the Burke Gilman trail, University District, and Seattle Children's Hospital.
Loft space built in 2014. Come enjoy and experience living in a green home! Our cottage is a quiet, cheerful, and dog friendly home near U.W., Seattle Children's Hospital, Lake Washington and the Burke Gilman urban trail. The loft is above the ground floor surrounded by trees lending a bit of a treehouse feel.
Quiet tree filled neighborhood with lots of families and children.
Alissa & Arthur were great hosts and neighbors! We stayed here for a few months while our house was under construction and it couldn't have worked out better. The neighborhood is super close to the Burke Gilman trail which is perfect for bike rides, jogs or walking the dog. Super safe and all the neighbors are nice as well!
Jennifer
2016-09-03T00:00:00Z
Alissa's place is gorgeous. Tons of light, a full kitchen, cozy bathroom and very comfortable bed! She was very flexible with our needs and communication was a cinch! We will be in Seattle a lot in the future and hope to stay here again! Oh, and it is great for guests with dogs as the Burke Gilman trail is just a few blocks away.
Carrie & David
2017-03-10T00:00:00Z
Loved staying at Alissa's loft, very quiet and peaceful. The location is great for someone who wants to be close to the city but not in the thick of downtown. Hosts helped this Seattle newcomer feel right at home. I stayed at this location for a month and I wish I could have stayed longer.
Kara
2016-05-22T00:00:00Z
I had two dogs with me and we stayed for 2 months while we had work done our house. The apartment is very cute and homey and has everything one would need for a long term stay. Both Alissa and Arthur are very responsive that same day to any need you may have. They live in the house next door and are super friendly, but give you lots of space and privacy. They have a dog themselves and will really appreciate your dog. The apartment has a small attached fenced in kennel that makes this the ideal place to stay with dogs. The lighting is great and makes the small apartment feel more spacious. The kitchen is tight but you can definitely cook a full meal. The neighborhood is great - lots of areas to walk the dogs, stores and restaurants nearby, and easy access to the highway and downtown. But this is also the neighborhood that I live in so I may be biased.
Marni
2016-10-31T00:00:00Z
Amazing loft, loved the light and big windows. Felt like a tiny home trial experience, we already miss the place... It felt like home.
Jasmine
2017-02-15T00:00:00Z
Tipo de habitación
Casa/apto. entero
---
Tipo de propiedad
Loft
---
Capacidad
2
---
Dormitorios
Seattle, Washington, Estados Unidos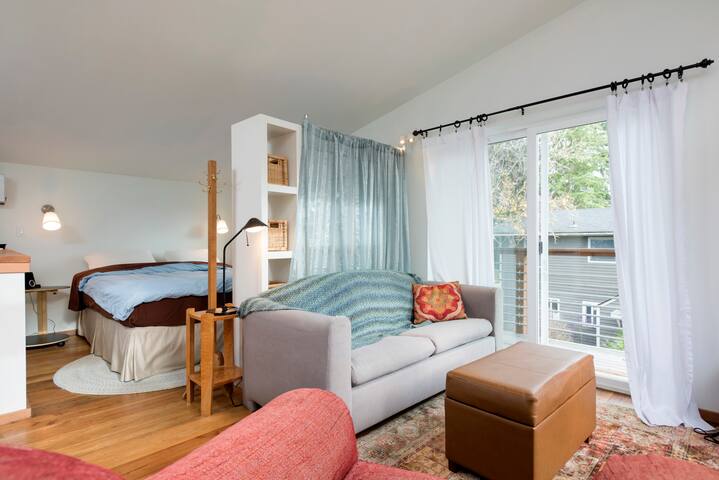 Enjoy a relaxing private bedroom and bathroom in a conveniently located neighborhood.
The bedroom and bathroom are located on a private level which is conveniently next to the front door. Our over-sized, cozy bedroom comes with two ultra comfortable, memory foam queen size beds that can easily accommodate friends or family that might be joining you. Easy access to bus lines and 24 hour convenient store (7-11) next door.
The neighborhood is safe and welcoming with beautiful views of Lake Washington and right along the Burke Gilman bike trail. It is also nice to note that Magnuson Park has a very large dog park if you are bringing your furry friends.
The two big dogs that live here are simply the sweetest! The house is a little far away from downtown but with the money you save on the rate, you can put it towards Lyft/Uber or even take the bus. Bus stop is located just 20 seconds outside of the building. The memory foam bed is SO comfortable. You never wanna get up. The bedroom and bathroom and downstairs so there's plenty of privacy. We only met David once to ask him if we could stay for an extra day but other than that, no interaction. If you like privacy, this is a good option. He is always reachable by text or email. And be sure to ask for the WiFi password! Finding the actual condo in the was a little tricky. Ask the neighbours/mailman or even call David himself.
Amanda
2014-09-01T00:00:00Z
The room was lovely, with a private bathroom. Good location, not far from downtown. David wasn't there when we arrived, but he left us a key and we were greeted by the worlds sweetest dog! David was easy to communicate with and responded quickly to any questions we had. Very accommodating. I would definitely recommend staying here if you are in Seattle.
Carly
2016-01-01T00:00:00Z
David was very responsive and the room was clean and perfect for my situation. large bedroom, good size bathroom. I work all day then went back to sleep and shower. close to university village if you want to walk around and shop. I would reach out again if I need to stay in the area.
Aimee
2016-04-25T00:00:00Z
David was a very friendly host. lots of easy parking, great location re: central to Seattle, north, south and down town. The rooms and bath was very large and clean. fast internet. Great value
Wayde
2016-05-21T00:00:00Z
Very spacious room and private bathroom as described and shown in the pictures. Nice neigbourhood and the parking spot right next to the apartment was a big plus for us. We had everything we needed for our short stay in Seattle. As mentioned in other reviews, the ongoing remodel of the building is a bit of a nuisance, but hopefully soon finished.
Doris
2015-08-22T00:00:00Z
David was a nice guy and had a beautiful home. However, my boyfriend and I experienced some issues with our stay. There was a lot of construction going on in the building which was very loud in the morning. Painters came into the apartment without a warning when we were home alone. The bed broke and we had to fix it many times a day. David did try to fix it but it still had issues. My boyfriend also woke up with what we think were flea bites (he has two dogs). After telling David, he did change the sheets and clean the room. I appreciated his attempt to fix the problems we ran into; however, it did not change the fact that many problems occurred. This was my first experience with airbnb and I was disappointed.
Kelly
2015-08-19T00:00:00Z
Staying at David's was a great experience. Being really close to bus lines made it a convenient spot, and the room was comfortable and clean. David himself was a wonderful host, a great communicator, and he really went above and beyond to help me out of a jam while I was staying with him. I would recommend David's place to anyone.
Sean
2015-05-14T00:00:00Z
Great and friendly host.
Binh
2015-01-04T00:00:00Z
Tipo de habitación
Habitación privada
---
Tipo de propiedad
Loft
---
Capacidad
4
---
Dormitorios
Seattle, Washington, Estados Unidos
Beautiful new house built as a loft in the backyard situated on the highest hill in Seattle. The neighborhood is nice with nice views of the Cascade. You will feel the city like you live here in luxury. You are close to everything. The house is built to the best 800sf living space regardless of cost. You already know form the pictures that you will love it here.
The house is great. My family loves here:D Vedad is very friendly and helpful!
xihao
2016-08-19T00:00:00Z
Tipo de habitación
Casa/apto. entero
---
Tipo de propiedad
Loft
---
Capacidad
4
---
Dormitorios
Seattle, Washington, Estados Unidos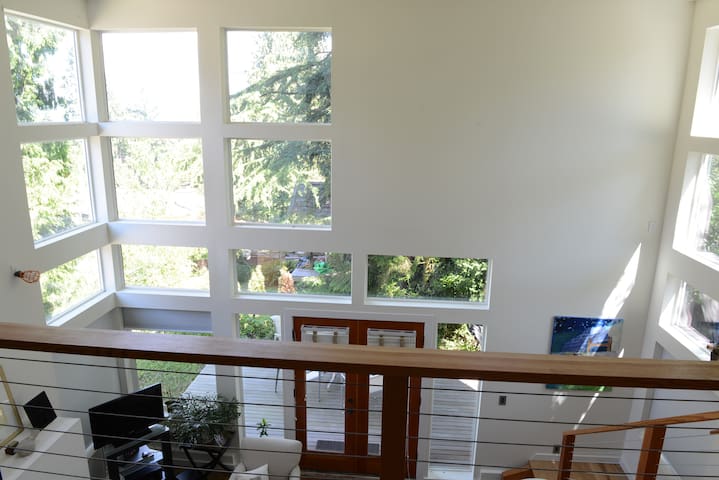 Lynnwood - Airbnb
:
Una media de

4.51

estrellas de un total de

5

de

271

evaluaciones de huéspedes
Introduce las fechas para ver el precio total. Ten en cuenta que se aplicarán tarifas adicionales y es posible que se añadan impuestos.