Handsomely Furnished Loft - Business or Vacation ..Perfect ! Quaint village life in this charming seaside sailing community off the warm waters of Buzzards Bay. Provincetown-Martha's Vineyard-Nantucket-Newport RI -Boston-Plymouth - Day Trips !
Neutral Colors -Relaxing Unscented Calm Ambience Loft Comes Complete With All You Need To Feel At Home. Contemporary Cathedral Ceiling Open Floor Plan Fully Outfitted Kitchen Refrigerator/freezer drawers with complimentary welcome refreshments Bedroom w/ Skylight and Cathedral Ceiling - Queen bed / linens Couch folds out to a single bed if needed too Full bath w / toiletries/towels Outdoor table and chairs on private balcony overlooking the pool Just unpack your suitcase and make yourself at home!
Walk to the harbor, the yacht club or take a short walk to Silvershell Beach . Stroll through the village and stop in at the General Store or Harriett's Catering around the corner on Cottage Street and pick up some of her award winning soups and entrees to enjoy back at the loft! Visit the book, gift and wine shop in town.
Had a perfect stay at this beautiful apartment. It was more than perfect for my short stay. The pictures and details are very accurate and professional. I especially appreciated the coffee pot and cookies that were left for me. Would strongly recommend a stay here. The grounds are quite beautiful, secluded and the in/out process was very efficient. Thank so much to Franca!
Benjamin
2015-10-19T00:00:00Z
My wife and I had a wonderful time during our stay. The pictures and descriptions of the property are accurate. The loft is finished nicely and kept very clean. It took me a few extra minutes to find the location at night after the GPS told me I had arrived. Franca was very helpful with updated instructions and checked in via text a couple of times to make sure we were doing well. The pool area was very nice and inviting although the water was a bit cool for us to take advantage of it. I would recommend this location to anyone who is looking for a quiet get away, but still convenient to local attractions.
Ty
2016-07-16T00:00:00Z
Franca was great. She was very welcoming. Communication was excellent. It was a pleasure staying with Franca.
bruce
2016-07-11T00:00:00Z
Our host was excellent...! She was always available, she accommodated to our request of checking-in early and was very helpful in giving us directions of where to go and what to do in the area. Will definitely recommend her loft to others.
Jose
2016-06-24T00:00:00Z
Franca's village loft was absolutely gorgeous. Franca was welcoming and patient with us, as our plans changed a little last minute. The property was easy to find, minutes to both a charming downtown and to the water. Great light and very well decorated- highly recommended.
Claire
2015-12-21T00:00:00Z
Franca made my stay very enjoyable and the listing was absolutely accurate. My boyfriend and I honestly felt like we were at a 5 star hotel. The loft was equipped with refreshments, games, dishes, the whole nine yards. The bed was SO comfortable and all the linens and blankets were awesome. Perfect for a romantic weekend getaway. We felt right at home. Franca was very easy to reach and her instructions were easy to follow. Would LOVE to come back again.
Danielle
2016-04-25T00:00:00Z
The listing was perfectly accurate, hosts very accomodating and the place was very spacious and comfortable. We would not hesitate to stay there again should we be back in the area. The pool was a plus and they supplied us with beach towels for it and the beach (we didn't get to the beach but our hosts had a beach pass ready in case we decided to go). The Brewfish restaurant, a few blocks away, offered very good food as well. Marion is a great place to stay if you want to explore Cape Cod as it is a very peaceful retreat after a day of exploring the area. Highly recommended!
Buck & Rachel
2016-08-13T00:00:00Z
Quiet, spacious and clean. Plus a very convenient location. About five minutes from I195, but on a quiet street--we only heard birds! 1 hour from Newport. 15 minutes from New Bedford and the ferry to Martha's Vineyard. About 1 hour and 45 minutes from Provincetown. About 1 hour and 15 minutes from Boston. For someone coming from the south (we came from NYC), this is the right place to be for a several day Cape Cod excursion. We appreciated the coffee and drinks Franca and Chris left for us. They were very flexible on our arrival and departure times, which was also helpful.
Bahar
2016-09-01T00:00:00Z
Tipo de habitación
Casa/apto. entero
---
Tipo de propiedad
Loft
---
Capacidad
2
---
Dormitorios
Marion, Massachusetts, Estados Unidos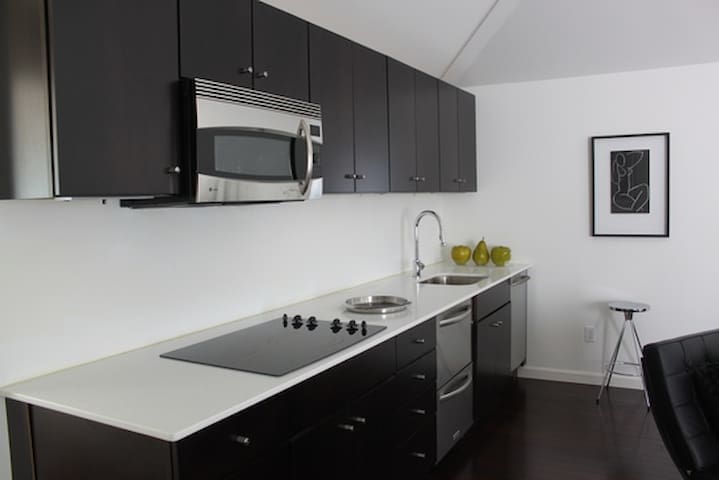 The Loft is in a historic building that was a 19th C french club, and a showroom for Dyer Dinghies . Perfect for lovers of art, located on an historic waterfront with an abutting marina and near the town wharf. Warren is famous for its numerous restaurants, theater, live music,bike path and unique shops and artistic community. It is a short drive to Newport, Providence and RI's many beaches. Boston Globe review (URL HIDDEN)
Tipo de habitación
Casa/apto. entero
---
Tipo de propiedad
Loft
---
Capacidad
3
---
Dormitorios
Warren, Rhode Island, Estados Unidos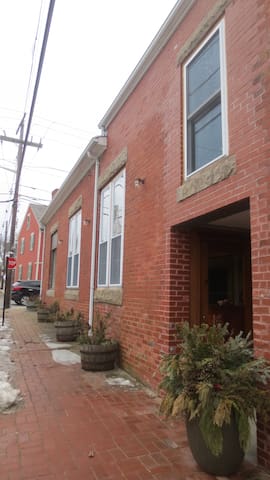 3rd fl Waterfront Penthouse 3 nightly-weekly vacation/entire summer in Oak Bluffs. Queen bed & a pull out twin sleeper recently remodeled,new carpet, new kitchenette & (URL HIDDEN) harbor views, you cannot get closer to harbor,unless you fell in.
Incredible waterfront Penthouse (sleeps 3) on the Oak Bluffs Harbor. This furnished 3rd floor penthouse w/ Queen bed, a pull out twin sleeper sofa has been completely remodeled, with new paint on walls and trim, new carpet, new tiled kitchenette and bathroom. Beautiful views from every window, amazing harbor views, you cannot get closer to the Harbor unless you fell in. Excellent location, and would be great for a boater looking to have a place on dry land to get away to. Walk to all the ferries, no need for a car. Please email today to reserve your summer getaway. (Lobsterville Bar & Grille) below that will deliver to your room. This could be your most incredible summer vacation on the Vineyard if you stayed here. Great for sneak away retreat.
watching the boats and the people coming and going. You don't need a car, the ferry is close enough to walk to everything.
Leslie was easy to communicate with, and answered all questions promptly and accurately. The location was super convenient, with phenomenal views. It was fairly quiet at night in the off-season when we stayed here, and would be perfect for those that like being close to a lot of fun and activity in the summer season! Thanks Leslie!
Jackie
2016-10-09T00:00:00Z
Awesome stay! Perfect location. Really cute place to stay the a few nights in the vineyard. 10 of 10 would do again!
Paul
2016-09-25T00:00:00Z
Our stay at Leslie's Airbnb was great, even though we were visiting Martha's Vineyard during the off season. Location in Oak Bluffs is perfect - easy walking distance from all the restaurants and bars! Leslie welcomed us to our place for the weekend - showed us around the apt and also gave us suggestions of places to go during the off season. She was easy to get ahold of and very responsive when we needed to reach her. I definitely recommend this place for a nice weekend getaway to MV!
Karl
2016-10-03T00:00:00Z
Leslie was very friendly, accommodating and available when we needed her. The 'penthouse' was perfect for us; close to center of town and all the action. We could walk to all the great shops and restaurants. The view from the deck was phenomenal, from sunrise to sunset. We would definitely go back. Note we were there during off season and during the week therefore noise from the outdoor restaurants was not an issue and quiet by 9 PM.
Thomas
2016-09-16T00:00:00Z
Absolutely loved this place. Perfect size for 2 people, even a little spacious. The balcony atmosphere is awesome - spent a ton of time just people watching and enjoying the view with a drink in hand. It's a busy area, but we loved that element. Wouldn't recommend if you're sensative to a little noise. Ideal for couples looking to eat, drink, and have a lively time. Can't beat the balcony at sunset. Thanks Lesley!
Matthew
2016-08-30T00:00:00Z
Stayed in the "penthouse" the week of Illumination. We could not have asked for a more perfect location! Leslie was a wonderful and very congenial host and her restaurant to die for! Enjoyed three meals there - my husband was particularly fond of the calamari steak appetizer. looking forward to our return next year!
Deborah
2016-08-20T00:00:00Z
When we had questions, prior to our arrival and during our stay, she responded very quickly and she was very helpful. This is a great location. The majority of restaurants and vehicle/bike rentals are within 2 blocks. The ferry is only a few more blocks away.
Patrick
2016-08-07T00:00:00Z
oak bluffs is a touristic busy part of the island. this apt is on the 3rd floor of a restaurant bar, over looking the bay. the views out of all sides are spectacular. we really enjoyed staying here. very well positioned to see the island and the sights easily. just 10 mins drive to both edgartown and vineyard haven. we really enjoyed staying here!
vanessa
2015-07-17T00:00:00Z
Tipo de habitación
Casa/apto. entero
---
Tipo de propiedad
Loft
---
Capacidad
3
---
Dormitorios
Oak Bluffs, Massachusetts, Estados Unidos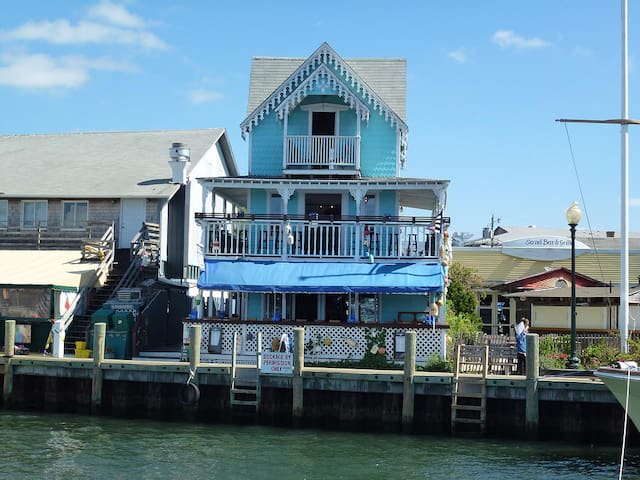 Charming urban & tranquil extended stay townhouse rental- located on a peninsula in Buzzards Bay. Welcome to your Urban Oasis, the South End neighborhood of New Bedford. This is a mixed use (commercial&residential) building. Energy Star certified with an array of sustainable practices including container gardens, composting, and rainwater harvesting.
$125/night for a single room 1 person - queen size bed $125/night for a single room 2 people - king size bed $175/night for two bedrooms (up to four people). Additional $50/night for up to six people. Air mattresses available for groups greater than 4 people. eco New Bedford is an extended-stay establishment. eco New Bedford provides high quality accommodation in a townhouse within a sustainable mixed-use development. In 2010 two townhouses were added above an existing commercial block. Experience an amazingly tranquil environment that is Energy Star certified with an array of sustainable practices including container gardens, composting, and rainwater harvesting. Preferred minimum stay is two nights for a visitor who wants to experience this unique urban village 1 1/2 miles South of Historic Downtown New Bedford. Our location combined with the ambiance of a beach retreat is ideal for professionals associated with UMass Dartmouth, School for Marine Science & Technology (SMAST), St. Luke's Hospital and the emerging Energy Economy of New Bedford. Accommodation at eco New Bedford consists of 4 comfortably furnished rooms, one bedroom has a queen-sized bed and the other has a king-size. Each bedroom has its own bathroom. It is possible for a single to comfortably stay in entire first floor (with the rest of the townhouse unrented of course). A third bedroom is furnished with full size bed and is primarily used for families traveling with children or extra guests. Amenities: Fully furnished Full sized kitchen (stove, refrigerator, microwave, coffee pot) Dining area Bath linens Free wifi Weekly housekeeping
The City that Lit the World: "The town itself is perhaps the dearest place to live in, in all New England…nowhere in all America will you find more patrician-like houses, parks and gardens more opulent, than in New Bedford…all these brave houses and flowery gardens came from the Atlantic, Pacific, and Indian oceans. One and all, they were harpooned and dragged up hither from the bottom of the sea."H. Melville, "Moby-Dick"
Very roomy, and clean- everything needed like towels and toiletries were easily found. Communicated quickly and very helpful!
Laura
2016-11-03T00:00:00Z
Carol was incredibly responsive and accommodating, and the apartment was well-appointed and comfortable. The private deck was especially nice to enjoy the good weather in the afternoon.
Lauren
2016-06-06T00:00:00Z
The apartment is huge and has lots of space. I was alone so I had plenty of room. Unfortunately my activities for the area were weather dependent so I didn't get to enjoy the area as much as I would have liked. But the accommodation was a great space! Perfect for groups or families!
Katie
2016-10-03T00:00:00Z
Accommodation was clean and spacious and suitable for a our 1 night stay. However instructions didn't advice that the apartment was above an shop .
Janet
2016-06-10T00:00:00Z
The host was in touch with us, by phone, and explained where the key was and how to get in. The apt. was clean and spacious, and had three bedrooms and 2 baths. The kitchen was well set up and the beds were very comfortable. Unfortunately, you have to go up a steep set of steps to access the apt. We were surprised at the location, above a store on a city street. However, it was very convenient to visiting Old New Bedford, including the Whaling Museum. We highly recommend the harbor tour boat ride. Also found a great beach on West island, in Fairhaven.
Jackie
2015-08-14T00:00:00Z
Nous étions une famille formé d'un couple et deux grands enfants. L'accueil est excellent. Carol était au rendez-vous. Elle a pensée à tout les détails même à des médicaments d'urgence. Le cottage est propres, assez grand. Une cuisine propre. Deux douches bien équipées de serviettes. Un parking en bas pour la voiture. Un balcon assez grand équipé d'une table. Le quartier est calme pour se reposer faire la marche ou pratiquer la bicyclette. Deux plages accessibles à la marche où il n'y a pas beaucoup de monde. Le parking des plages est gratuit. J ai aimé cette ville qui se trouve entre Cap-cod et Newport. J aurais aimé manger du poisson frais péché à la main. Il faut un permis local. Ma prochaine visite pourrait s'étendre à plus d'une semaine au lieu de trois nuits seulement.
mohammed
2014-08-15T00:00:00Z
Carol's place was spacious, had comfortable beds, and a wrap around balcony. There's a nice park across the way with beach views and Libads Tavern has awesome food (specialty pizza) just down the road. The beds were super comfortable and could have stayed much longer! Very pleasant stay!
Michael and Laura
2015-05-21T00:00:00Z
My wife's family came to town last week and we had to find a nice spacious place to stay in a hurry. Her family has not used Airbnb before and had some misgivings about it. However, after contacting Carol and making our way to New Bedford I am sure that they will be using Airbnd in the future. Carol was willing to let us rent her space with very little notice. She gave us some good advice about what to do in the surrounding area. The apartment itself is huge and very clean. It has fantastic furniture and we will definitely be trying to stay there next time we are down in Mass. The location of the apartment is great too, it is situated above a café that has good coffee and it features extensive parking opportunities. Not only that but it is only about ten minutes from New Bedford's charming downtown and five minutes from beach access.
Kenny
2014-06-08T00:00:00Z
Tipo de habitación
Casa/apto. entero
---
Tipo de propiedad
Loft
---
Capacidad
6
---
Dormitorios
New Bedford, Massachusetts, Estados Unidos
Studio has it all. Private, open studio with lofted queen bed or daybed with trundle. Kitchenette (microwave, fridge, stove), balcony, deck, gas grille. Includes linens, towels, beach chairs and towels, coolers. One mile to town, 2 to beach.
This Studio will give you everything you need including peace and quiet.
Quiet neighborhood, great for walking, bicycling and moonlight strolls.
My boyfriend and I stayed at Ellen's studio for three nights and had a wonderful time! We especially loved the outdoor space and screened in porch which are not included in the photos. We didn't get the chance to meet Ellen, but she was very helpful and the place was well kept. If you are looking for a private and convenient place to stay, Ellen's studio is perfect! We would absolutely return :)
Brittany
2016-07-19T00:00:00Z
Ellen's apartment in Edgarstown was perfect for our getaway to Martha's Vineyard. Cozy, charming, and close to the beach, restaurants and downtown. Attention to all the little details made this stay more than what we expected, and we hope to be able to visit again soon. Thank you!
Brad
2016-08-24T00:00:00Z
This is a lovely place perfect for a couple and/or small family. Wonderful layout with an easy 10-15 min bike ride into town. Awesome outdoor shower!
Benjamin
2016-09-25T00:00:00Z
This was our first Aibnb experience on Martha's Vineyard and we were so pleased! The space was bigger than we expected and included an outdoor seating area, a grill, an outdoor shower, and a little screened in porch (perfect for breakfast/ morning coffee!). The studio was clean, airy, and light. Ellen was an extremely generous host and we were so appreciative of the "extras" (beach supplies, bathroom amenities, and snacks). The location is quiet and extremely convenient – minutes away from South Beach and Edgartown Harbor. Perfect for morning runs down to the beach! We were not able to meet Ellen in person but she was extremely responsive and helpful over text. My husband and I go to Martha's Vineyard every year and we would absolutely try and stay here again! Meagan September 2016
Meagan
2016-09-19T00:00:00Z
Our stay was beyond what I had hoped. The apartment was perfect & the location beyond perfect. I plan staying there again. Thank you Ellen.
sandra
2016-07-16T00:00:00Z
This was our first Airbnb experience, and we could not have been more pleased. The studio was immaculate, cheery, well-appointed, and -- for a relatively small studio space - surprisingly airy and roomy. It was just lovely. Our hosts were extremely generous, providing many unexpected extras -- snacks, towels, bathroom amenities, bottles of water, etc. As others have mentioned, there is a great little screened-in porch, an outdoor shower, and a little yard with lots of privacy. The studio is located above the detached garage of a home set in a quiet residential area just outside of Edgartown -- about a 2-minute bike ride from a flat bike path that offered a very easy 10-minute ride into town or, in the other direction, to South Beach. It would be about a 20-minute walk along that same path. Or, you could catch one of the Vineyard's super-reliable buses, either to the beach or into town. We did not bring our car to the island, and although car-free requires a bit of planning when it comes to meals or late nights, it was totally doable. (Although our hosts had thoughtfully provided English muffins and juice for breakfast, we got into the habit of popping over to the Katama General Store, a great little spot a few minutes up the bike path, for our morning fuel, and we enjoyed feeling that we had a "local" destination even amid the quieter out-of-town neighborhood!) We had a great time and would be delighted to rent this studio again -- the island itself is so magical that a return visit is a must!
Bari
2016-08-28T00:00:00Z
The apartment was beautiful and the amenities were great
Barbara
2016-07-05T00:00:00Z
So, so glad we found Ellen's listing - this really made our MV vacation work. Where to start - perfect, quiet location, away from the craziness of Oak Bluffs. The studio itself was professionally cleaned (so important and becoming rarer with ABnB) and well appointed with all the essentials and more. Bed is super comfy. Outdoor shower is just delightful after a long day at the beach. Outdoor sitting area, grill, and screened in porch for star gazing. Decent wifi if you need it. Most of all, Ellen was a delightful host who is very welcoming and communicative. Her listing would be my first choice when I return to MV.
Adam
2016-06-28T00:00:00Z
Tipo de habitación
Casa/apto. entero
---
Tipo de propiedad
Loft
---
Capacidad
2
---
Dormitorios
Edgartown, Massachusetts, Estados Unidos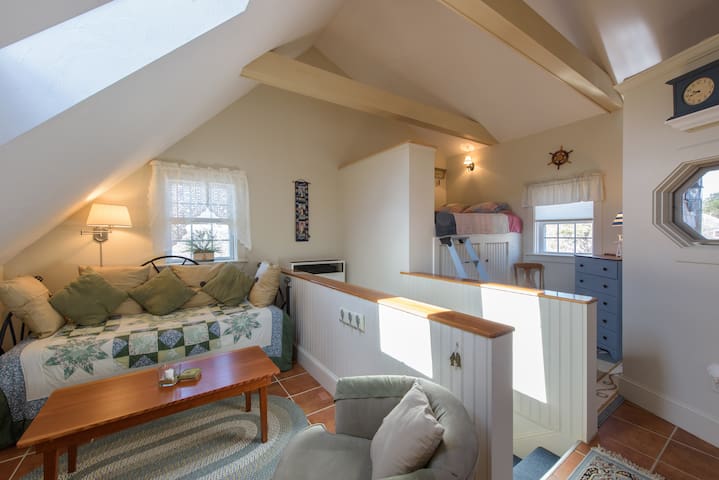 FROG-Finished Room Over Garage for maximum, TWO(2) ADULTS ONLY. Not suitable for children. Located in a quiet residential neighborhood that is walking distance from the Vineyard Haven ferry, town, restaurants, shopping and beach. 2 night minimum. No Smoking, No Pets. OPEN MAY-OCTOBER ONLY.
The FROG is located in a separate building than the main house. Access is by a STEEP staircase. There is a small deck with a table and two chairs for your use. Newly built, completed 6/2015. Overnight bike storage. 1/2 block from bike path. Frog includes, sink, mini fridge, microwave, toaster oven, coffee maker and TV. NO STOVE. Private bathroom with shower stall, hair dryer. Plates, flatware, glasses, cups, placemats, coffee, tea bags, sugar, salt/pepper, etc., are included. Iron/board. Speaker to plug your MP3 player or phone/tablet in for music. Beach towels. Beach chairs. Ceiling fan and air conditioning. Breakfast is NOT included. There is no interim cleaning. Extra towels are provided. Located in the town of Tisbury/Vineyard Haven, on the Island of Martha's Vineyard.
We had a really wonderful stay at the FROG
Dirk
2016-10-16T00:00:00Z
The place was absolutely adorable and immaculate. Doris was there to greet us and let us in and she had a sheet in the kitchen which gave us everything we needed to know for our stay. She had every amenity we could possibly need including coffee and creamer, an iron, a charging station for our phones and even maps and brochures with the activities on the island. She also texted me with little updates on ideas of things to do and look at. This property is also located in a perfect spot, very close to all of the wonderful restaurants and the gingerbread houses in Oak Bluffs. We loved it and highly recommend staying here.
Kathy
2016-07-08T00:00:00Z
FROG was a perfect stay on Martha's Vineyard! Located about a mile away from the Vineyard Haven Terminal, the place was in a quiet neighborhood in Vineyard Haven. The apartment over the garage worked out perfectly! The whole place looked brand new, and the hosts did an amazing job as her husband built it himself! The garage was in front of the main home, therefore we never felt as if we were disturbing anyone. There is a bus terminal located around the corner from the apartment making it easy to get to all of the towns on the island. All in all, we had an AMAZING stay at the FROG and hope to visit again soon!
Justine
2016-06-27T00:00:00Z
Everything was perfect, exactly what we need, a lovely place in a nice place
Nathalie
2016-07-23T00:00:00Z
Great place for a great price in Vineyard Haven. It was clean, private and cozy. Looks just like the pictures. Thanks, Doris!
Vanessa
2016-09-13T00:00:00Z
You MUST stay here! Fresh, immaculate room with everything you might only think about. Very quiet neighbourhood. And, FROG is only five minutes away from Vineyard Haven, how can you beat that? By the way, staircase is not that steep at all:) Doris is a very caring, thoughtful lady who can advise you multiple places to visit and provide a lot of options on how to get there. We really enjoyed her as a host and definitely recommend. In summary, if you like privacy and going to Martha's Vineyard, make sure you book FROG.
Oleksandr
2016-06-14T00:00:00Z
FROG was perferct for us ! It was very close to vineyard haven and the room was brand new and nicely furnished. Doris and Jay were very hospitable and we will definitely be back next trip to Martha's Vineyard. We have already recommended them to friends.
Chrisanne
2016-07-29T00:00:00Z
Doris and Jay were wonderful hosts. We LOVED this charming, warm, and fun spot. What a nice place to spend a few days away from reality. We truly hope to be back again this season.
Justin
2016-05-30T00:00:00Z
Tipo de habitación
Casa/apto. entero
---
Tipo de propiedad
Loft
---
Capacidad
2
---
Dormitorios
Tisbury, Massachusetts, Estados Unidos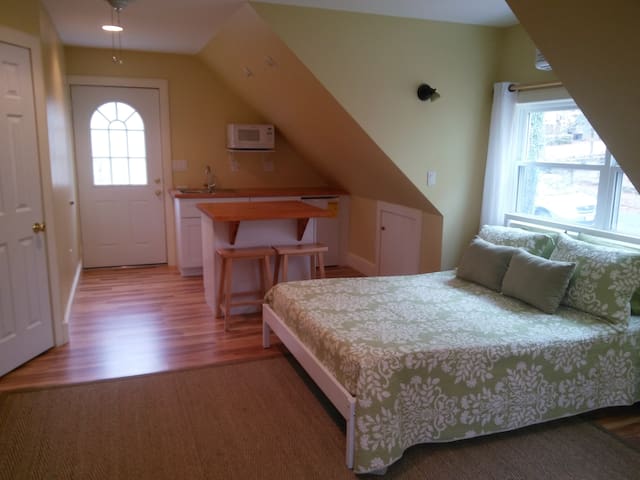 Introduce las fechas para ver el precio total. Ten en cuenta que se aplicarán tarifas adicionales y es posible que se añadan impuestos.