Fabulous chalet dating from 1925 on winery property in heart of Lujan de Cuyo. Huge private living areas, close to wine country and Chacras de Coria. Friendly staff and two free bottles of our wine with your stay.
Bodega Calle is located in Lujan de Cuyo, Mendoza, Argentina. The main house and winery were built in 1925 by Claudio Erice and sit together on the same property. The house is marvelous with huge vaulted ceilings, original antique tile and hardwood floors. It has a living room, a large parlor, a huge ballroom, a full kitchen, one fireplace, one wood stove and an outside wood fired "asado" grill. There are 2 private suites in the house and up to one bedroom more in the guest house. The main house includes 3 full private bathrooms and up to 1 private bathroom more attached to the guesthouse. Bodega Calle was brought back into production in 2001 and is just adjacent to the main house. The winery's award winning brands are Alberti 154 and Ca' de Calle. The house is located in Drummond, Lujan de Cuyo, Mendoza and is the best possible proximity to wine country as you will save about a half hour each way to the wine tasting destinations you choose each day. You will be in the heart of the "wine area". Also, for an extra fee, we can prepare certain meals you might like to have ready after a long day out and about. Bring your family or friends for an wonderful experience you will not soon forget.
The neighborhood is residential and is located in Drummond.
Disfrutamos de una casa muy cómoda y espaciosa, bien mantenida. Nos sorprendieron algunas comodidades que no esperábamos como ser un lavarropas, juegos y mesa de ping pong. Siempre atentos a nuestras necesidades, muchas gracias Romina y Kirk.
Jessica
2016-07-29T00:00:00Z
Nuestra estadía fue excelente!!!!. Nos recibieron y ofrecieron tal cual lo publicado en la página de Airbnb. Super conforme con el lugar, el barrio y las personas que nos atendieron. Romina, Alberto y Abraham muy bien predispuestos para satisfacer nuestras necesidades.
Mónica
2016-01-19T00:00:00Z
Si mas que correcta y me encontré con mas detalles de confort y equipamiento.
esteban claudio
2015-03-10T00:00:00Z
Muy buena experiencia!! Kirk y Romina muy amables y a disposición. La casa está impecable (salvo algunas lamparitas quemadas). Eramos 4 parejas y aunque no había habitaciones para todos, pudimos distribuirnos perfectamente en las distintas salas y pasillos. Nos quedamos con ganas de conocer la bodega que como fuimos en fin de semana largo no estaba abierta para visitar.
Paula
2016-01-05T00:00:00Z
La experiencia fue muy satisfactoria. La casa es tal cual se aprecia en las fotos y nos resultó muy comoda tanto por la amplitud de sus espacios como por la ubicación en que se encuentra como para salir a recorrer muchos de los hermosos lugares que hay en mendoza. Romina estuvo siempre a disposición para lo que necesitamos y fue muy amable. Recomiendo la casa si la idea es recorrer bodegas o lugares turísticos de mendoza. Volveremos!!!!
Bruno
2016-09-02T00:00:00Z
La casa era tal como la describía l publicación. Tuvimos un inconveniente con el suministro eléctrico el cual fue intentado de solucionar sin éxito. Por lo que Kirk nos hizo un descuento por este problema. Romina, su asistente, muy atenta a nuestras necesidades. Muy predispuesta.
Cristina
2016-07-11T00:00:00Z
Hermosa la casa, la pasamos muy bien! Felicitaciones por la bodega, tuvimos la oportunidad de hacer una visita acompañados por Pablo y quedamos muy bien impresionados por las instalaciones. Pero sobre todo felicitaciones por las personas que integran Bodega Calle! Pablo, Romina, Richard..... Excelentes y muy atentos. Ojalá tengamos la oportunidad de volver....
Mariangela
2015-07-23T00:00:00Z
TODO, hasta el más mínimo detalle fue tenido en cuenta: direcciones de cómo llegar, comunicación constante durante el trayecto hasta recomendaciones de qué hacer durante la estadía! Gracias a Dolores Jardel, nuestra anfitriona, por su gentileza, amabilidad y carisma, disfrutamos de 5 días preciosos.Una experiencia maravillosa y muy recomendable para parejas y familias . La casa es muy amplia, con áreas de esparcimiento y muy bien equipada. La mesa de ping pong: genial! Hay 3 perros grandes, amigables y juguetones que nuestros niños adoraron. La verdad que no molestan para nada, excepto por algún que otro ladrido de noche. La parrilla: excelente y los vinos diarios un detalle que agradecer . La cocina está muy bien surtida bien con lo que uno necesita y más. El acceso a la casa es fácil y cerca de todo.
Andrea
2013-09-23T00:00:00Z
Tipo de habitación
Casa/apto. entero
---
Tipo de propiedad
Villa
---
Capacidad
8
---
Dormitorios
Luján de Cuyo, Mendoza, Argentina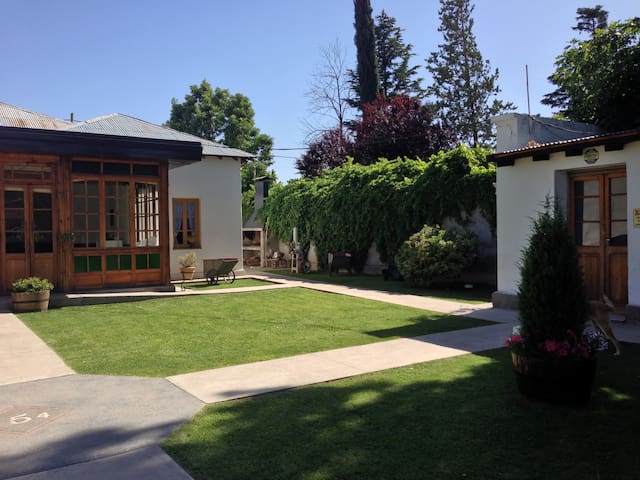 Mi alojamiento es bueno para parejas, aventureros, familias (con hijos) y grupos grandes.
Tipo de habitación
Casa/apto. entero
---
Tipo de propiedad
Villa
---
Capacidad
8
---
Dormitorios
San Rafael, Mendoza, Argentina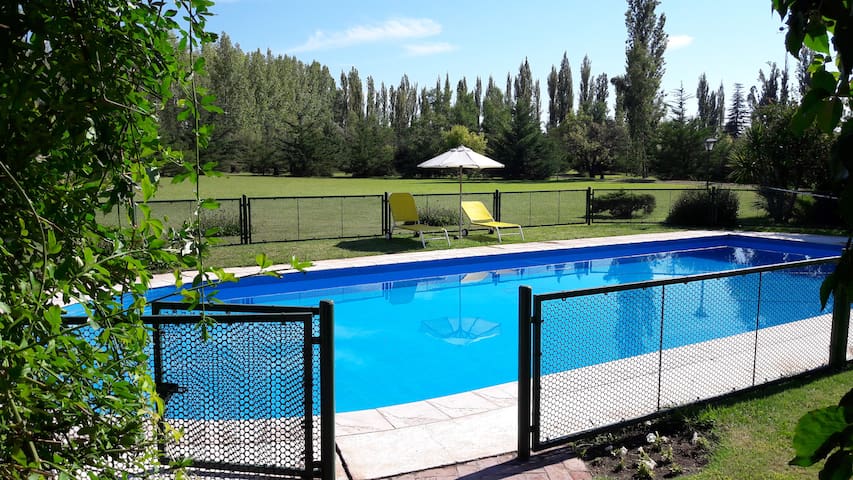 Este gran ubicación de la finca está a minutos de una pequeña ciudad bulliciosa, San Rafael. San Rafael está llena de excelentes restaurantes y de aventura, tales como rafting.
Hermoso lugar, ideal para el descanso. A una cómoda distancia en vehículo al centro de San Rafael. Privacidad y cordial atención de los administradores ante cualquier petición. Muy recomendable.
Gonzalo
2017-02-13T00:00:00Z
Un paraiso! El lugar ideal para relajarse y pasarla bien en grupo. Las indicaciones para llegar no son precisas. Se encuentra a 15' aproximadamente del centro de San Rafael. La finca esta situada en un predio rodeada de viñedos y frutales. La casa esta rodeada de grandes arboles, solamente estar alli es un gran disfrute  Es muy espaciosa y comoda hasta para 12 personas. De las habitaciones con cama de dos plazas, dos son comodas y grandes como asi los baños. La tercera es pequeña. Y la cuarta habitacion es muy pequeña con dos camas de una plaza. Si hay mas de 8 huespedes deben usar un par de cuchetas que estan ubicadas en una amplia sala con tv satelital. La cocina es preciosa! Grande, moderna, de buen gusto y acogedora, tiene una galeria excelente para reunirse a comer mientras se prepara un buen asado. Seria muy bueno agregar alguna fuente mas como ensaladera y una pava. El desayuno que nos sirvieron fue muy bueno, cafe, leche, jugo de naranja exprimido, tostadas, facturas, manteca, dulce, queso untable Hay cochera cubierta para 4 autos. La pileta es excelente, tiene un quincho con muebles muy comodos. Con Renzo coordinamos todo muy bien y Mario estuvo siempre atento a nuestras consultas. Se nos permitio retirarnos mas tarde y se lo agradecemos mucho. En definitiva un lugar hermoso para disfrutar en grupo.
Gabi
2017-02-28T00:00:00Z
Muy recomendable!! Instalación impecable, gran atención, un lugar relajante, BÁRBARO!!!
Graciela
2017-01-18T00:00:00Z
Este lugar es un paraiso, vinimos con mi familia y no nos queremos regresar, gracias a todos por esta maravillosa estadia, sin dudas algun dia volveremos!! Gracias
Natalia
2017-01-26T00:00:00Z
Tipo de habitación
Casa/apto. entero
---
Tipo de propiedad
Villa
---
Capacidad
12
---
Dormitorios
San Rafael, Mendoza, Argentina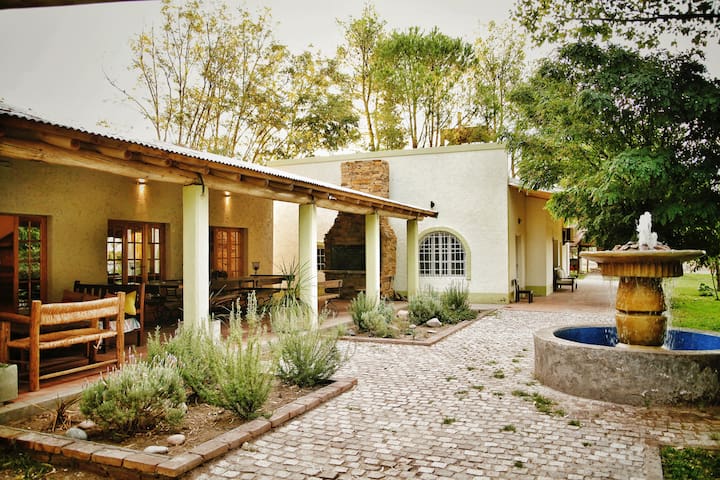 Finca Terrada is a beautiful house built in 1920 and remodeled 2 years ago. Five rooms with views to the mountains, between 27 to 30 m2., were built next to the house. The house is located near the most important wineries, and it is perfect for a wine-oriented trip. It is 7 minutes by car away from the nearest town, Chacras de Coria. Daily cleaning and concierge service is included.
Finca Terrada is located in the town of Carrodilla. Carrodilla is a town and a district in the province of Mendoza, in the northern area of Luján de Cuyo Department. The place is famous for its wineries.
Buena experiencia alojar aquí, uno debe con antelación estudiar la dirección , sobre todo si no vas a tener internet en el momento. Luz contestó inmediatamente el teléfono para ubicarnos. Vicky muchas gracias por las atenciones.
Solange
2017-02-14T00:00:00Z
Excelente y hermoso lugar. Muy buena atención y preocupación por parte de los anfitriones. Lo recomiendo a ojos cerrados, perfecto para un viaje tranquilo con la familia o descansar un fin de semana rodeado de un maravilloso paisaje.
Patricio
2016-12-18T00:00:00Z
Excelente para vacaciones familiares, cumple con las espectativas, las anfitrionas son muy amables! El lugar es hermoso y se disfruta al 100%
Jaime
2016-12-05T00:00:00Z
A really lovely and relaxing stay on the old vineyard. Finca Terrada is a beautiful old wine farm in the middle of one of the three main wine areas of Mendoza. The place is very much like the photos and then better. The rooms are simple but comfortable and there are only 5 so it is not crowded. The beautiful yard with a nice pool surrounded by lavender is a great place to relax on a hot afternoon or to take a swim before breakfast. There is a very comfortable common room with tv and a huge fireplace which would make it a nice place on a chill winter evening probably. Great views over the property vineyards from the upstairs terrace, nice place to sit with a glass of local wine and watch the sunset. A car would be useful since the place is some 7 min drive from the bigger but charming Chacras de Coria and 15 min from Mendoza town. But given all the wine tasting, we simply relied on local cabs and it worked out rather well. Just make sure you call them well in advance as it takes sometimes 30 min for them to turn up. All the amenities are on site, including shampoo, etc. and the cleaning lady had our laundry done which was a great help. The wifi is good in the courtyard and the common area but patchy in the rooms. The breakfast is simple but tasty, with a couple of local specialities like the delicious tortitas. And it is available late into the morning, which is a great bonus. There is a fully equipped kitchen which guests are welcome to use to prepare own meals. Bottled water and soft drinks are always in the fridge. The place belongs to a couple from Europe who spend a few month a year In a house on the property. The farm owns wine yards but does not produce own wine anymore, I think. It is run by a team of young locals who were absolutely great in helping with everything from an airport pick-up to the many suggestions on what to do in the area and booking restaurants. They truly were fantastic and a lot of fun to chat with. All in all, it reminded us of agroturismi places in Toscany. Definitely highly recommended. For other things to do while in the area: book one of the Uco valley wine trips with a local company - it is a long drive and it is useful to have it organized by someone. The hotel suggested a wine tasting and winery toor and lunch at Clos de Coria in 5 min drive from the property and the food, staff and the old cellars were absolutely delightful. We also had a wine tasting and dinner booked at a small winery some 4 km from Finca Terrada, called Conalbi and Greenberg. The wine yard owners were fantastic hosts and their wines were really great quality. A bit like having...
Marianna
2015-02-16T00:00:00Z
English y después en español! Sensational setting and extra-mile staff! Really impacting quality and location that is hard to believe until you see it from the balcony. Breakfast is well served with good options and is a nice plus. There is a supermarket, meat market, coffee shop, and small town to visit within 5 to 7 minutes by car and if you don't rent a car (spendy) the staff will give you the number for a remis service that's very affordable. They can also recommended a van/chofer service to take you to other more distant destinations. The beds were very firm and we suggested a solution to the hosts for those with softer preferences (mattress toppers). The night noises are birds and insects only with a very distant highway sound and you can sleep with the door open and just a screen door to let in fresh air. It's also a very secure location and there are never any concerns of crime or missing items when you're out. The owners are Swedish and the attention to detail reflects their heritage. High quality everything and little details in design are well thought out. Overall an excellent experience and very highly recommended. ----------------- Ubicación sensacional con anfitriones que van mucho más allá de lo esperado! Calidad de lugar y ubicación impactante que realmente hay que ver para creer desde el balcón. El desayuno está muy bien servido con varias opciones para comer y tomar y es un plus muy bueno. Hay un supermercado, carnicería, y cafetería (Bonafide), y pueblito (Chacras(URL HIDDEN)minutos de la finca en auto. Si eligen no alquilar un vehículo (carito) los anfitriones pueden recomendar un servicio de remises que no cobran un hijo primogénito y un riñón. También pueden recomendar a un servicio de transporte con chofer par viajes o paseos más lejanos. Las camas son muy firmes y recomendamos una solución a los anfitriones de tener unos colchones adicionales de viscoelastica de 8 a 10cm para poner arriba de los colchones para los que prefieren una experiencia más suave. El ruido ambiental es de pájaros y bichos del lugar y también un susurrido de vehículos de la ruta a un km de distancia. Se puede dormir con la puerta abierta y puerta de malla anti mosquito cerrada para disfrutar el aire fresco a la noche. Es una ubicación muy segura y ni hay que preocuparse por temas de inseguridad o cosas perdidas cuando uno no está. Todos son de confianza total. Los dueños son suecos y se nota en la atención a detalle que se ve en todo el lugar. Una excelente experiencia y altamente recomendable.
Jeremy
2017-04-07T00:00:00Z
We had a wonderful long weekend at Finca Terrada! I couldn't recommend this house enough. Gorgeous views and very accommodating hosts (Luz & Vicky). This is a great place to stay if you need an escape, but would still like to visit wineries or town. It is not walkable to anything, so I would recommend renting a car or hiring transportation. We used taxis, which were inconvenient at times, but still effective! The house made you not want to leave at all though! The five private rooms opened to a secluded pool, bordered by large lavender bushes. The living space and kitchen was also very well decorated and live-able. I wish we could have stayed longer!!
Abby
2017-01-22T00:00:00Z
Ignacio and Maria was great hosts. Very helpful in making appointments for us and offering advice. The home is lovely and comfortable and the view is idyllic. Overall, a lovely stay!
Sapna
2016-11-02T00:00:00Z
Tipo de habitación
Casa/apto. entero
---
Tipo de propiedad
Villa
---
Capacidad
12
---
Dormitorios
Luján de Cuyo, Mendoza, Argentina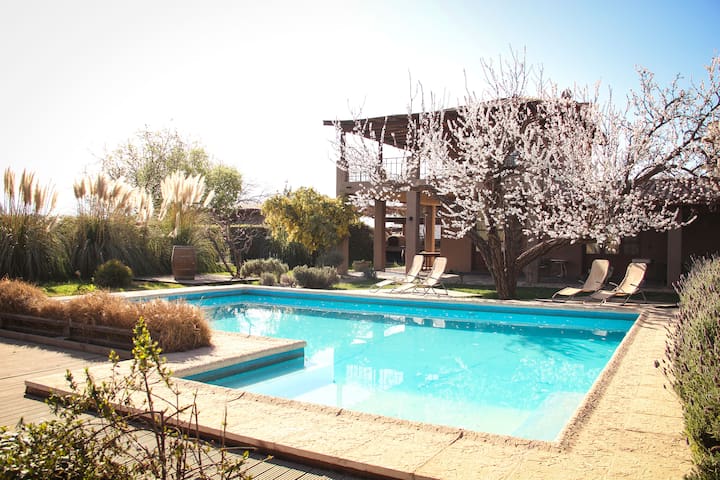 En Chacras de Coria, en la tierra del Malbec (Camino del vino). a 18 km del centro de Mendoza city, ofrecemos privacidad, paz y comfort en medio de un paraíso verde (árboles de 15 m), piscina y quincho. (SEE ENGLISH VERSION IN DETAILS: EL VECINDARIO)
En casi 2000 metros cuadrados de parque verde, rodeada de árboles, se ubica la casa totalmente renovada y plena de comodidades. Totalmente circundada por un alto cerco que asegura la mayor privacidad, la casa cuenta con sistema de alarma, cochera, piscina, parrilla, y todo lo que necesita para estar afuera o adentro, solamente disfrutando. La casa cuenta con una sola habitación con aire acondicionado. Debido a la presencia de árboles circundantes y ubicación de la casa en el terreno, sólo consideramos necesario su uso en una sola habitación.
In an almost 2,000-square-meter park sits a fully renovated charming house surrounded by pine trees, and 20-foot-tall poplars in a beautiful section of Chacras de Coria. This amazing property is strategically located a short 1.5 km away from the cute commercial center of Chacras and 18km from the city of Mendoza. Near all the vineyards and the most important wine producers in Argentina on the "camino del vino" and with fabulous mountain vistas, the house offers a lot of comfort and amenities in a gracious neighborhood. Beautiful weather all year long, with four well-defined seasons, ideal for mountain bike, trekking, rafting, skiing, horse riding, and fabulous restaurants, the area offers it all, and more! 3 comfortable bedrooms w/double beds and closets, 2 and 1/2 bathrooms, balcony, spacious living and dining area, hallways, all renovated with taste and style. Air conditioner is only in one bedroom. Because of the surrounding trees and its location within the yard, we don't consider necessary its use in the other two. Luminous house, with lots of windows and doors with a view to the park. Private swimming pool with a fence (security for children), remote controlled gate, security alarm, security cameras, and access to a second glassed house (quincho) for barbecues and playroom. Parking inside the property.
Muy buena disposición de Andrés. Todo muy bien con la casa en un entorno de jardín muy hermoso y bien cuidado
Jaime
2014-11-18T00:00:00Z
La casa es muy linda y muy boen equipado. Nos permitio pasar unos dias preciosos en familia.
Lorena
2015-04-07T00:00:00Z
The host canceled this reservation 68 days before arrival. This is an automated posting.
Antoine
2015-10-14T00:00:00Z
Good location outside the city great accesses to main roads so it makes it easy to move around to the different vineyards. House is well equiped and safe. Andres gave us a call before our arrival and his wife welcomed us persinally, which gave it a very personal touch.
Pablo
2016-02-16T00:00:00Z
Our stay at Andres' house was amazing. He and his whole family welcomed us like we were their own. From arranging transportation to coordinating a Thanksgiving asado and a lunch for the group, Andres and his home created a truly unique Mendoza experience...plus the wineries are just down the road.
Iris
2015-11-28T00:00:00Z
Incredible is the best word to describe our experience staying in Andrés's airbnb! He is an absolutely fantastic host - extremely helpful, patient and simply nice which made our time there even better. The house met all of our needs - 3 bedrooms, 3 bathrooms and ample space to do everything we needed. The large garden and pool were a very nice addition to the house. The house is located in a quiet area which is exactly what we wanted, although we were still close to all of the hotspots around Mendoza. I highly recommend staying here if you have the opportunity!
Adrian
2017-03-01T00:00:00Z
5 of us stayed comfortably in the house. The pool is great and has excellent access to the bodegas. Andrés was on site to solve any issues or problems that we had
Daniel
2016-12-31T00:00:00Z
We had a wonderful stay at Andres'. The house and grounds are meticulously kept. We met up with 2 other couples, and it was perfect for the 6 of us. Andres allowed us to use his parilla (grill) for an asado, and he and his family joined us. It was wonderful to spend some time with them. The location is right in the middle of many bodegas. I recommend renting a car, although we did not. Andres graciously drove 2 of us to the market when we arrived to get basic food (there are a couple of little markets within walking distance). We called 2 taxis to take us to the vineyards, and that worked well. Andres also had a friend who was available to take us around, and we relied on him a couple of times. He was less expensive than the taxis which had to come from Santiago. Over all it was a wonderful place to stay, and I hope we can get back there to stay in the near future!
Gena
2014-11-23T00:00:00Z
Tipo de habitación
Casa/apto. entero
---
Tipo de propiedad
Villa
---
Capacidad
6
---
Dormitorios
Luján de Cuyo, Mendoza Province, Argentina
1

–

5

de

5 Alquileres de Villas
Introduce las fechas para ver el precio total. Ten en cuenta que se aplicarán tarifas adicionales y es posible que se añadan impuestos.