My place is good for couples, business travelers, families (with kids), and big groups. The common areas (family room, kitchen, dining room) are in the center of the house and the two wings with the bedrooms flank this area. As you enter the house, you have 3 bedrooms and on the other side of the common area, you have 4 bedrooms and a small den with a sofa bed. In the family room, I have a desk for that can be used for working.
This 7 bedroom house has two bathrooms and 3 bedrooms in the front with gas burning fireplaces. Although 10 beds are in these 3 rooms, they can sleep 6-8 people comfortably. In the center of the house, you have the family room, kitchen,and dining room. In the back, you have 4 bedrooms, two bathrooms, and a small den with a sofa bed and TV. Three of the bedrooms have 2 beds, and l has one double bed. The house has two wings with the major common areas in the center.
This is a quiet farming town with no major retail or grocery stores. Almost everyone in the town knows everybody. This charming town is nestled on the banks of the Ogeechee River in Southwest Burke County. Midville's boat ramp, recently rebuilt and improved, is one of the most popular entry points for boater and fishermen on the Ogeechee River. Burke County may be best known for one of its oldest traditions, hosting some of the largest field trials for bird dogs in the world. This pastime has earned Waynesboro, the county seat, the title of Bird Dog Capital of the World. Since 1903, enthusiasts have flocked to Burke County with their very best pointers and setters to enter them in competitions. Burke County is also known for hunting. Hundreds come each year to hunt quail, dove, deer, and turkey. Burke County is home to four wildlife management areas operation by the Georgia Department of Natural Resources. The public lands offer thousands of areas to sportsmen and nature enthusiasts for their enjoyment. There are no major grocery or retail stores in Midville. Most people go to Waynesboro (23 miles) or Swainsboro (17 miles). Both of these towns are easily accessible by Highway 56 which runs through Midville. Smaller closer towns are Wadley (11 miles) and Millen (14 miles); these are easily accessible by Highway 17 which also runs through Midville. People travel to Augusta (56 miles on Highway 56 or 25). There you have many restaurants and points of interest.
Dorothy is a wonderful host! We kept in communication and met when we arrived. The house is huge. I lost count of how many beds. It is very clean and well kept. It is, as advertised, in rural Georgia. The town is small and simple so bring your groceries. It was a perfect getaway and I highly recommend staying here! We will be going back!
Mark
2017-04-04T00:00:00Z
We stayed here with a group of 9 and the house was very accommodating with plenty of rooms and a spacious gathering room to all be together. Dorothy was very kind and hospitable and had some pastry and drinks there for us. Kitchen had essentials. Would recommend for a larger group. Very good value for the price!
Derrick
2016-10-03T00:00:00Z
Excellent host! Beautiful home with all the amenities needed for a relaxing stay. This home is clean, spacious and gets wonderful light. We had full access to the entire home which had ample room for the 10 girls in our sorority retreat group. Quiet and safe neighborhood with lots of parking. I would recommend this rebtal to anyone who wants the comforts of home away from home. The host was so kind to us, she showed us around and was very welcoming even though we got lost and arrived well after our anticipated time of arrival. If you are looking for a large, clean safe rental with a gracious host...book this rental now:)
Sidney
2016-10-17T00:00:00Z
We had a very good time here. Our host was so friendly and caring. She welcomed us with snacks. She waited in her house till we arrive there. I appreciate your warm welcome Dorothy.
ajith
2016-10-09T00:00:00Z
We really enjoyed our stay. The house has a huge family room and dining room. As well as many bathrooms and bedrooms, it was perfect.
Rebecca
2016-11-26T00:00:00Z
We really enjoyed our stay. Dorothy and her husband are very kind. They were flexible with our arrival time as we were coming from Texas. We ended up having car trouble in Mississippi which delayed us and my GPS ended up taking us to the wrong place(completely different address) but luckily my brother had also put the address in his phone and we arrived no problem. Dorothy's husband welcomed us and gave us a tour even though we arrived in the early, early AM. The home is perfect for large groups and you get the whole home to yourself. We were a group of 10 plus 2 children and we still had a couple rooms and beds available. It has a large living room area and a large dining room so we could all enjoy time together. There were 4 full bathrooms which was perfect when we were all trying to get ready at the same time. They provided a notebook with restaurants and attractions that were nearby. The house is in a quiet location. The kitchen is well equipped in case you wanted to cook there you had that option as well. I can't say enough how much we enjoyed our stay. I would honestly recommend staying here; in fact, we are already planning another trip to visit our family again hopefully sometime next year and plan on booking this house again if it is available.
Erika
2016-12-12T00:00:00Z
Ms. Dorothy was a very nice host. She provdied drinks and snacks upon our arrival.
Lynn
2016-11-20T00:00:00Z
Dorothy was a great host and we enjoyed our stay at her house. Great space for our big family at a great price.
Frances
2016-12-30T00:00:00Z
Tipo de habitación
Casa/apto. entero
---
Tipo de propiedad
Casa
---
Capacidad
16
---
Dormitorios
Midville, Georgia, Estados Unidos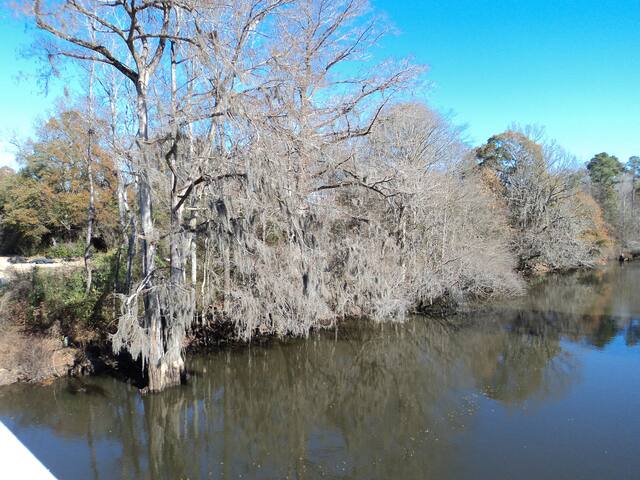 This home is beautiful. The pictures are gorgeous and represent everything the house is and more. It has just enough modern touches to be comfortable but it still has a relaxing country feel. Will definitely be back!
Sara
2017-04-02T00:00:00Z
Another great stay! The lake view can't be beat.
Allen
2015-12-07T00:00:00Z
The house was spacious and beautiful, we loved our stay! We may look into returning in six months!
Victoria
2016-04-04T00:00:00Z
This was our second visit to the Pond House, we feel like family now. Rebecca is very accommodating and pleasant to work with.
Allen
2015-09-21T00:00:00Z
Rebecca sent out all required information ahead of time and was very polite. Also the place was an awesome location where all my family enjoyed the paddle boats, fishing, and dock. It was a peaceful location with plenty of room for the entire family. My mother thoroughly enjoyed the venue and there was plenty of space to cook and set up. Rebecca also was understanding when issues arose and provided detailed directions for everything .
Fallon
2015-04-20T00:00:00Z
The host made the property easily accessible. Everything was in fine working order. Nice relaxing place to stay. Well equipped kitchen.
Kurt
2016-10-02T00:00:00Z
We thoroughly enjoyed the house. Plenty of room, peaceful, and Great Ambiance. Had a great time. Will definitely book again for next year.
Candice
2015-10-19T00:00:00Z
Rebecca was very accommodating for our group. The house was just as described, with plenty of room for everyone. It's a beautiful setting! Our group enjoyed spending time on the dock fishing, and it makes for a beautiful morning coffee spot. The new neighbors are fantastic by the way. Already looking forward to returning. Go Eagles!
Allen
2015-09-14T00:00:00Z
Tipo de habitación
Casa/apto. entero
---
Tipo de propiedad
Casa
---
Capacidad
13
---
Dormitorios
Statesboro, Georgia, Estados Unidos
1 small room
Tipo de habitación
Habitación privada
---
Tipo de propiedad
Casa
---
Capacidad
2
---
Dormitorios
Waynesboro, Georgia, Estados Unidos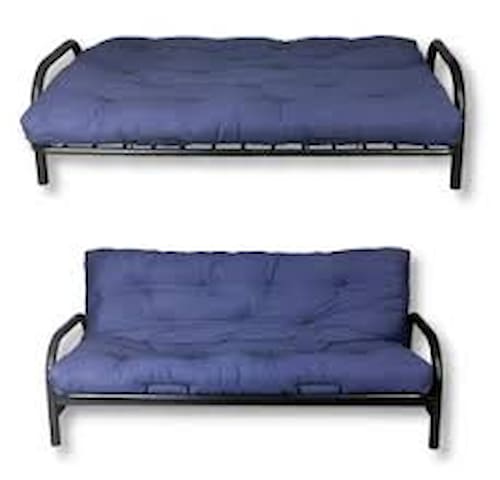 Tipo de habitación
Habitación privada
---
Tipo de propiedad
Casa
---
Capacidad
2
---
Dormitorios
Statesboro, Georgia, Estados Unidos
Tipo de habitación
Casa/apto. entero
---
Tipo de propiedad
Casa
---
Capacidad
8
---
Dormitorios
Statesboro, Georgia, Estados Unidos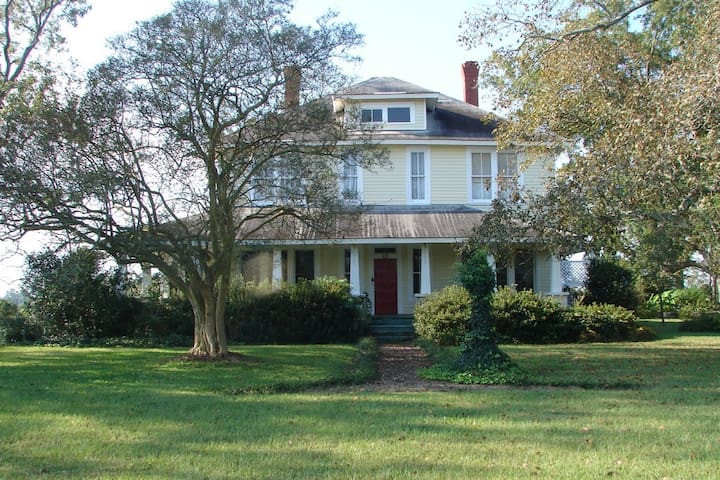 Tipo de habitación
Habitación privada
---
Tipo de propiedad
Casa
---
Capacidad
2
---
Dormitorios
Statesboro, Georgia, Estados Unidos
1

–

6

de

6 Alquileres de Casas
Introduce las fechas para ver el precio total. Ten en cuenta que se aplicarán tarifas adicionales y es posible que se añadan impuestos.