69 Alquileres de apartamentos
This historic building situated in the heart of historic downtown Frederick was built in 1786. The apartment has 1,400 sf in a beautiful layout, decorated with antiques, including a full functioning French style kitchen and a laundry room. Children are welcome. Parking spaces are in the rear of the property for two cars. The front of the building faces Market Street and as you step out, you are right in the heart of vibrant historic downtown Frederick.
One rollaway with memory foam mattress. A crib is available.
Lovely place. Very clean, very comfortable. Convenient private parking spot. Great location.
Jack
2017-04-04T00:00:00Z
Best place in Frederick
John
2017-03-11T00:00:00Z
5 stars all around! After the second night, my 13 year old daughter (also an experienced Airbnb traveler) told me that I must give this 5 stars. The kids were impressed and so was I. Nothing compares to the convenient location, available parking and awesome apartment. I only wish our trip was longer because we did not get a chance to fully utilize all of the amenities. With the proximity to our favorite restaurants in Frederick, we did not even get a chance to use the amazing kitchen. We hope to stay again soon!
Regina
2016-12-23T00:00:00Z
We had a lovely weekend in downtown Frederick thanks to May and her lovely home. The Mayflower is in the middle of everything and provided us with a wonderful location for shopping, dining, and nightlife. If we stay in Frederick in the future, we'll definitely start by looking at the Mayflower!
David
2017-01-08T00:00:00Z
May is an amazing host! Her home beautiful and right in the center of downtown. We will certainly stay here agin!
Amber
2017-03-24T00:00:00Z
The Mayflower is quite charming and homey, exactly what you would expect in downtown Frederick, with the added bonus of a gorgeous high end bath. May has the kitchen stocked with drinks and snacks, making it feel like you are staying with a friend. The nightlife does get a bit rowdy at closing, but it is short lived and worth it for the location and feel of the flat.
Shannon
2017-02-04T00:00:00Z
Excellent location and an extremely well appointed quaint loft in the heart of downtown Frederick. Absolutely worth the cost and definitely better than any hotel. May is extremely helpful and easy to work with. We will definitely be back!
Paul
2016-12-18T00:00:00Z
We had the greatest stay here - what a lovely, amazing historic place. It was decorated perfectly and had lots of nice little touches; it was clear that a lot of thought had been put into the apartment. May was very accommodating and easy to communicate with. And for spending time in downtown Frederick, you couldn't have a better location. We hope to come stay again sometime!
Sarah
2016-11-26T00:00:00Z
Tipo de habitación
Casa/apto. entero
---
Tipo de propiedad
Apartamento
---
Capacidad
5
---
Dormitorios
Frederick, Maryland, Estados Unidos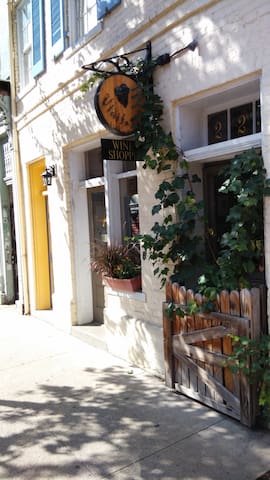 Spacious vaulted ceiling condo unit with lots of windows on the third floor in a quiet neighborhood. Lots of free parking. No TV but fast and free Wi-Fi and color printer. The second bedroom has a full-size futon that will accommodate two adults or children. Wood burning fireplace great for ambiance. The Monocacy River is very nearby with a lovely walking trail beside it. Easy access to all major highways and shopping. I am sorry but I cannot accommodate pets.
You will love the serene atmosphere of my home.
Great shopping nearby and very near Historic Downtown Frederick.
Very comfortable and clean - I enjoyed my stay. Winter storm Stella came thru while I was here and the crew did a great job clearing the parking lot and sidewalks. Teresa made sure I was ok and was a great host!
Mike
2017-03-15T00:00:00Z
Amazing place very clean. I would recommend staying at this cozy spacious place.
Larry
2017-03-17T00:00:00Z
Teresa's place was very clean and comfortable. Kitchen was well stocked. She also has some extremely nice art that she painted herself. One thing to note is that the unit is on the third floor and requires walking up (which was no problem for me). Overall I was very pleased and would gladly stay there again in the future!
Sam
2017-01-14T00:00:00Z
Teresa is a great host. Our place was just perfect. We were so happy to have a place right in Frederick so well taken care of.
Danielle
2017-04-04T00:00:00Z
We were VERY happy with the accommodations. Teresa's home was very clean, cozy and a lot more spacious than I anticipated. Everything was PERFECT and I will definitely rent from her again the next time we visit DC.
Traci
2017-01-21T00:00:00Z
There aren't enough stars on the review section for Teresa's flat!
Ian
2017-02-27T00:00:00Z
The host canceled this reservation the day before arrival. This is an automated posting.
Piper
2016-12-30T00:00:00Z
Very nice place! Clean and organized ready for my family's stay for the weekend. Close to new establishments as well as downtown Frederick which was nice. Easy to find and in a quiet neighborhood which was nice. Parking was a tad confusing but once that was figured out we had no problems!
Jordan
2017-03-05T00:00:00Z
Tipo de habitación
Casa/apto. entero
---
Tipo de propiedad
Apartamento
---
Capacidad
4
---
Dormitorios
Frederick, Maryland, Estados Unidos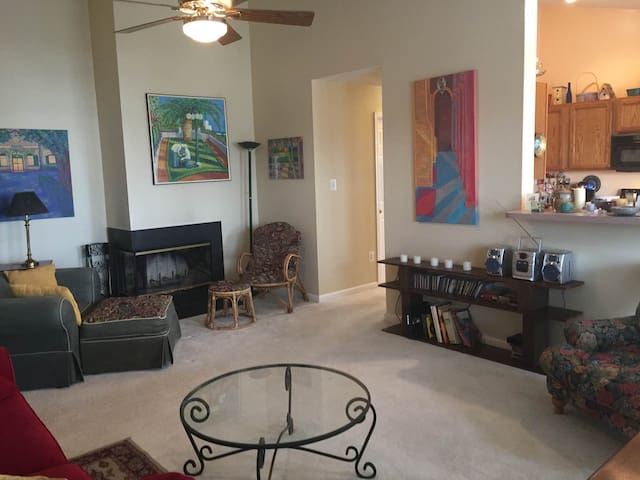 Great condo in a nice nghbhood that is a nature conservancy. Well kept, clean Jacuzzi tub and shower in master. 1st floor entry ( no stairs to climb) But it's considered a 2nd floor unit with a balcony with a view of the woods. Lots of windows.
New carpet, comfy furniture and pretty surroundings. Great for a commuter, business traveller.
There are trails, lots of wildlife and we are selfsustaining in that we have everything in our neighborhood. Right up the street is grocery store a few food options subway, Chinese, pizza and a great seafood place less then 2 mo utes from the (URL HIDDEN) addition, a salon, dry cleaner and liquor store.
Tipo de habitación
Casa/apto. entero
---
Tipo de propiedad
Apartamento
---
Capacidad
2
---
Dormitorios
Frederick, Maryland, Estados Unidos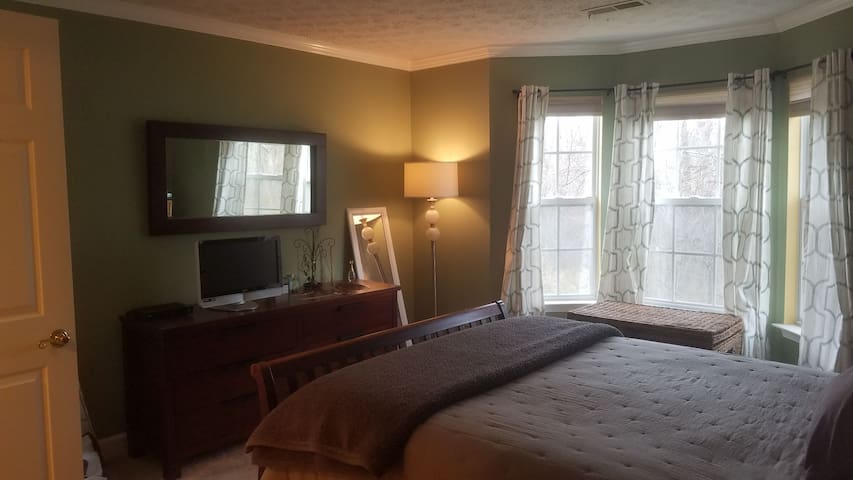 Enjoy your stay in Frederick with a cozy suite with access to a seasonal pool, 24/7 fitness center, outdoor deck (with gas grill), bike trails and everything you could possibly need! Free reserved parking spot and easy accessibility to downtown Frederick, 270, 70 and other main routes.
Located on a historic 1777 property with fantastic views and amenities around the property! Enjoy your stay with a fully equipped kitchen, washer and dryer, free-wifi, queen size bed and a small cot.
A lot of great local and chain restaurants within walking distance or a short drive. Giant Eagle on the next block and it is open 24/7 for any late night cravings. Downtown Frederick is about 10 minutes driving and offers shopping, good eats, and plenty of daytime and nightime entertainment!
Well stocked kitchen and laundry.
Arthur
2017-04-04T00:00:00Z
This Airbnb was such a great experience. The residence is very cute, clean, and has everything you would need. The location is fantastic, complete with access to a pool, a gym, and a patio with a grill. We had a great time overall.
Jeana
2016-07-04T00:00:00Z
This a great value and convenient location.
Regina
2016-11-10T00:00:00Z
First thing was parking was not easy to figure out and the reserved spot we were supposed to have was taken by someone else most of the weekend. Second I had a problem with the tv it didn't have any modern connections so I was unable to use with my computer/Apple TV. Third was the stove kept kicking the breaker so we couldn't use the oven or the stove on high. Forth was the sink drain was clogged and the garbage disposal didn't work. Fifth the fridge froze everything we put in it so it ruin food we brought with us. Sixth the neighborhood was very loud at night both nights we were there we had people outside yelling until atleast 2:30am. Seven the landscape outside had no upkeep(the walk ways were dirty, bushes/trees were overgrown, the pool had a ton of debri in it). Only good thing I can say is its close by to a lot of places to visit and eat.
Nicholas
2016-09-18T00:00:00Z
I enjoyed staying at this small but cozy suite. Kitchen is especially tiny but since I didn't do any cooking it was fine.
Mike
2017-03-23T00:00:00Z
Our experience was good. The apartment given was easy to access, with very convenient parking. Because we left a valuable in the apartment after we left I got to know the staff. Very kind and helpful with respect to getting the camera back.
Richard
2016-05-27T00:00:00Z
Great stay at the Residences. It was clean and nearby to local restaurants and downtown. The pictures depict the apt correctly.
Meredith
2017-03-30T00:00:00Z
Easy to find and a nice separate entrance. The kitchen had everything we needed, and the sitting room, bedroom, and bathroom were all good sizes. Being able to use the fitness center was a nice bonus!
Katie
2017-03-13T00:00:00Z
Tipo de habitación
Casa/apto. entero
---
Tipo de propiedad
Apartamento
---
Capacidad
3
---
Dormitorios
Frederick, Maryland, Estados Unidos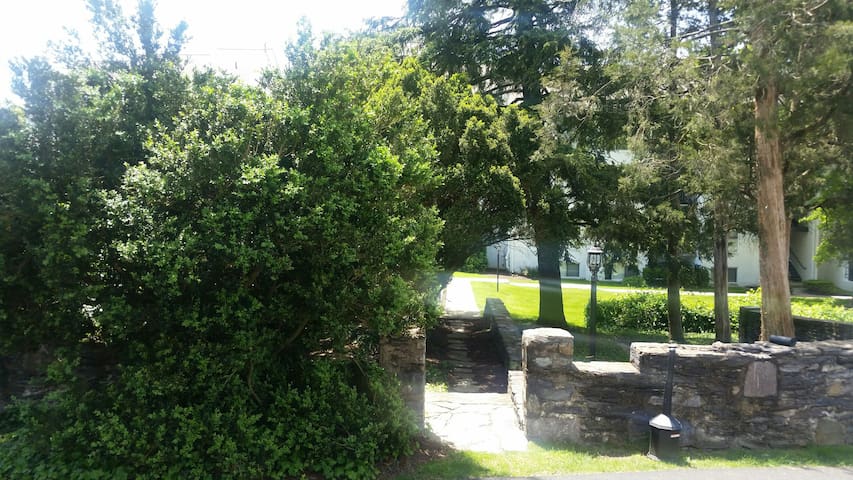 My place is close to parks. My place is good for couples, solo adventurers, and business travelers. Very quiet and peaceful in the evenings.
The room contains 1 queen bed, dresser and television.
Close to trails and parks.
The host canceled this reservation 2 days before arrival. This is an automated posting.
Michael
2017-01-17T00:00:00Z
Quiet and private. Perfect for a quick business stay. Thanks for the hospitality, Rick.
Tom
2017-04-09T00:00:00Z
Awesome host. He thought of everything that mattered, things I wouldn't think of. He had white noise and a room heater, a pillow wedge for reading in bed, private bathroom. Host was very quiet. Everything really clean. Very nice stay. Like a good hotel room, only better.
Eric
2017-03-19T00:00:00Z
Very homey, Rick was a fantastic host!
Alyson
2017-02-23T00:00:00Z
Rick's place is a nice second floor apartment with two bedrooms and two baths. It was nice having a bath all to myself and he definitely has it set up for travelers with lots of towels and linen closet space and a basket to put your toiletries in. The extra pillows, access to the kitchen and Keurig machine was nice too. The bed is a bit firm. Rick does live here and is very personable and welcoming.
Jennifer
2017-03-06T00:00:00Z
Clean, comfortable, as advertised great place to stay. I'm looking forward to staying at Rick's place in the near future.
Victor
2017-03-23T00:00:00Z
Rick was a great host for me. I will go there in the future.
Raymond
2017-04-04T00:00:00Z
Tipo de habitación
Habitación privada
---
Tipo de propiedad
Apartamento
---
Capacidad
4
---
Dormitorios
Frederick, Maryland, Estados Unidos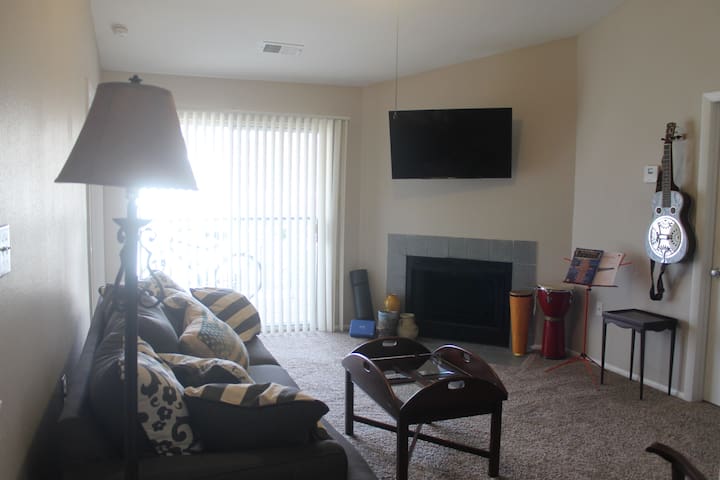 Comfortable apartment located in historic downtown Frederick. Close to restaurants, entertainment, and transportation! 3 bedrooms and two full baths along with a full kitchen. Cable and Internet provided.
Excellent views of the Spires from the apartment! There's also a great backyard for kids to play in, and the bedrooms are quiet despite being located downtown.
Easy access to parks, restaurants, entertainment, and more! Carroll Creek and the Baker Park Bandshell are a two- to three-block walk away. North Market Street is on the corner of the block, and down this street are many excellent restaurants and places to visit, such as The Tasting Room, Brewer's Alley, and West Side Cafe.
We had a wonderful experience at Tracy's place. The location was perfect, close to many fun places to eat and in a nice area for a walk. We arrived after midnight on Friday and Tracy was there to meet us and give us the keys. He was very, very accommodating, attentive and also easy to communicate with.
Heidi
2016-05-31T00:00:00Z
We had a fabulous stay in Frederick. Tracy met us and showed us the ropes. The apartment is right off of Market St. in the heart of Frederick's historic district. The three bedrooms were spacious and the unit was very comfortable. Tracy was attentive to our questions and gave great recommendations. The only down side is that the unit is on the 3rd floor of the building, but given the price and location, we were thrilled with the accommodation and would definitely stay here again and recommend it.
Michael
2016-07-06T00:00:00Z
Tracy and his wife were very accommodating. The apartment was perfect for what we needed and the location was awesome.
Kari
2016-07-25T00:00:00Z
We loved our visit to Tracy's townhome apartment in historic Frederick. It's right downtown with great walkability. We strolled along a beautiful canal and down brick paved streets lined with restored 19th century homes. We enjoyed a variety of excellent restaurants and a weekend arts festivals. There's a great bookstore and some nice gift and clothing stores, too. The apartment is spacious with three good sized bedrooms, 2 full baths, a comfortable living room and a well equipped kitchen. Tracy was an excellent host. He was thoughtful and always available providing a homey atmosphere with all the modern amenities in a home built in 1899. The backyard is fabulous with an enormous ginko tree. Tracy has several great photos of the Doll family who were the original owners and has provided a history of the house, too. This was my first experience with airbnb and It was a great success. Thank you, Tracy!
Mary
2016-06-08T00:00:00Z
Tracy was the perfect host. Very accommodating but kept it low key and unobtrusive. When asked for corkscrew and wineglasses these appeared almost instantly together with a nice bottle of riesling wine. The apartment is ideally located for discovering the many shops, bars and cafes of the picturesque historic center of Frederick.
Alar
2016-04-18T00:00:00Z
This apartment worked out great for our family visit. It is on the 3rd floor, that was a little hard on some of the family members. Loved having s washer and dryer, especially with kids! Thanks Terry for allowing us to use your place. Loved the ability to walk to get coffee, dinner and the park.
Jeannie
2016-06-25T00:00:00Z
Tracy did a great job hosting. Communication before hand was timely and accurate, and the place was both as described and as shown in the listing. Location is perfect to visit Market St in lovely Frederick, MD.
LT
2016-06-27T00:00:00Z
We had a wonderful stay at Tracy's apartment. The location was a block from downtown Frederick with good restaurants and shops. It was also minutes away from a lovely canal promenade and a beautiful historic neighborhood which was great for walks. Tracy was very attentive to our needs. He even provided us with bikes when we asked about rentals!
Maggie and Wayne
2016-07-12T00:00:00Z
Tipo de habitación
Casa/apto. entero
---
Tipo de propiedad
Apartamento
---
Capacidad
5
---
Dormitorios
Frederick, Maryland, Estados Unidos
2nd floor apartment with wonderful views, balcony on back. Across from Baker Park, and just steps away from restaurants, shops and museums. Perfect location to enjoy all of downtown Frederick, just a 1-hour drive from Baltimore and Washington. Hardwood floors, high ceilings, and large windows.
The apartment is on the second floor of the house. We live in the first floor apartment.
The historic district of downtown Frederick has many beautiful old buildings. Baker Park is a large city park right across the street.
Mary Beth and Scott were wonderful host!! The place was very inviting and we felt right at home. We were very comfortable and had everything we could possible need,,,,not to mention it was also very clean! :) The location in the heart of downtown Frederick and right across from Bakers Park was a huge plus as we love to walk and site-see. We certainly look forward to coming back Thank You, Mary Beth and Scott!! Michael and Dawn
Carol
2016-10-17T00:00:00Z
Mary Beth and Scott were great and so was the apartment! It's in a perfect location, walking distance to almost everything and the apartment itself was very nice and perfect for two people. I would highly recommend this place! I will definitely be staying there again!
Katie
2016-10-23T00:00:00Z
Great location! Historic, charming apartment with very large living room. Quiet but near everything. It was perfect for what we needed!
Abigail
2016-11-26T00:00:00Z
The location is perfect with a few blocks walk to downtown restaurants, shopping, entertainment. Then if that was not enough directly across the street is a huge park with tennis courts, outside amphitheater, playground and community pool. The apartment we had was similar to a NYC brown stone. A wonderful experience to meet our new adopted grandchild. They were gracious enough to have our grand daughter spend the night do the guys got some sleep.
Joyce
2016-12-27T00:00:00Z
We simply loved our stay ar Mary Beth and Scott's place. Location, location, location. Steps from shopping, great restaurants, and community amenities such as theatres. Right in the historic district, simply taking a stroll through the neighborhood and viewing the wonderful homes is a treat. Parking in Frederick can be a little hit or miss, so having the parking space is a huge benefit. The hosts also included small touches - a fun selection or records, CD player, plenty of board games, etc. These small items make the difference. Mary Beth and Scott are clearly in tune to their community and were able to offer recommendations that were helpful. We felt we were connected to them, while the separate entrances made it feel like we had our 'own' apartment. We would not hesitate to recommend Mary Beth and Scott's place to others.
Brian
2016-12-04T00:00:00Z
What a wonderful first time experience using Airbnb. Our hosts Scott and Marybeth made that happen!!! Thank you so much! The apartment was great, spacious, clean, comfortable and in an amazing location. Having driveway parking was a huge bonus. We will be back ( and hope "our little apartment" will be available) as our son is now stationed nearby. We so loved listening to your vinyl collection. Thank you again for making our first experience with Airbnb a great one!
Kelley
2016-09-27T00:00:00Z
The hosts were wonderful. Apartment was clean and ready for us. They were very helpful with activities to do in the area. Also recommend wonderful resturants and shoppes. Extremely wonderful location. We were able to walk everywhere! We would absolutely stay here again! Felt like home away from home!
Alexis
2016-09-06T00:00:00Z
Clean, cozy, comfortable apartment right in downtown Frederick, within walking distance to many great restaurants, shops, and museums.
Paul
2017-01-22T00:00:00Z
Tipo de habitación
Casa/apto. entero
---
Tipo de propiedad
Apartamento
---
Capacidad
3
---
Dormitorios
Frederick, Maryland, Estados Unidos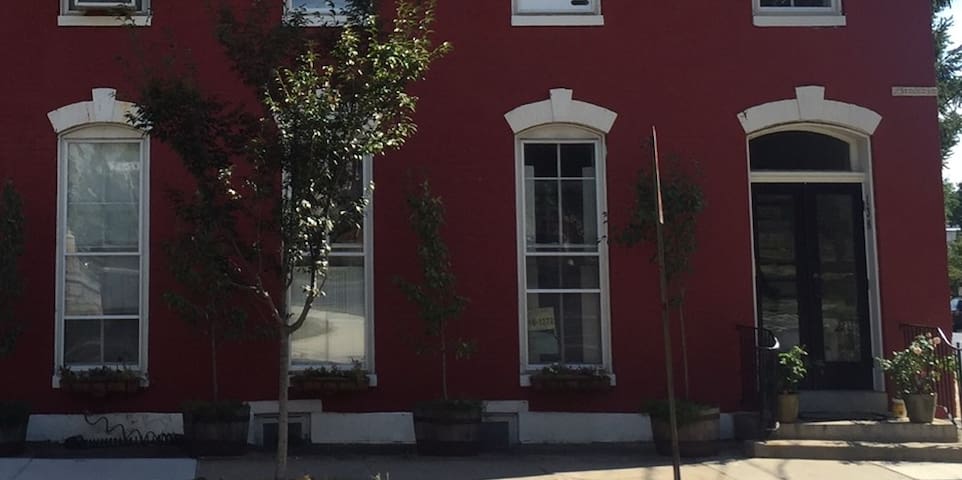 Located in historic downtown Frederick, this cozy apartment is situated on the second floor of a charming building on one of Frederick's main downtown streets and is conveniently located within walking distance to shops, restaurants and night life.
We are located just a few blocks away from the town center and within walking distance to a variety of attractions such as the Weinberg Center, as well as Carroll Creek and Market Street for a variety of restaurants, bars, shopping and entertainment.
It was great
Rachel
2016-04-15T00:00:00Z
Anytime there was a question, Heidi was quick to respond! The apartment had everything we needed while visiting Frederick over the weekend and the location was more than ideal! It is within walking distance to prime area bars & restaurants, shopping, museums, a dog park, and Baker Park! The neighborhood was very quiet during our stay. If we ever pass through Frederick again, we would definitely look to stay here!
Jennifer
2015-08-10T00:00:00Z
Easy to find, easy to get in to. I like that the parking was included. Clean and great location to downtown.
katherine
2015-08-16T00:00:00Z
This apartment is perfect for exploring and enjoying downtown Frederick. The skylights in living room and kitchen lend super lighting during the day. Downtown is easy to reach and walkability was high on our list. It is also perfect for a longer term stay for business. Heidi was very easy to communicate with, parking for one vehicle is included, and the kitchen is equipped for any length of stay. We would certainly stay here again in the future.
Karen
2016-12-11T00:00:00Z
Heidi communicated where the key would be located and if we had any questions we could call her which was great! The place was so cute and had everything we needed for an overnight stay! The neighborhood is adorable and Matt and I loved that we could walk around to the different shops especially Cafe Nola:) Thank you!
Emily
2015-08-02T00:00:00Z
This apartment was cozy and charming and allows for visiting downtown Frederick by foot. For long term stays, however, the location on a high traffic volume road is not ideal. The heating and cooling system was updated during my stay which greatly improved the temperature control.
Alex & Aude
2017-03-31T00:00:00Z
We loved the place and would recommend it to anyone visiting Frederick. It's quaint, clean, nicely furnished and a stone's throw away from the lovely downtown area. Heidi was also very responsive!
Derek
2015-08-22T00:00:00Z
Tipo de habitación
Casa/apto. entero
---
Tipo de propiedad
Apartamento
---
Capacidad
2
---
Dormitorios
Frederick, Maryland, Estados Unidos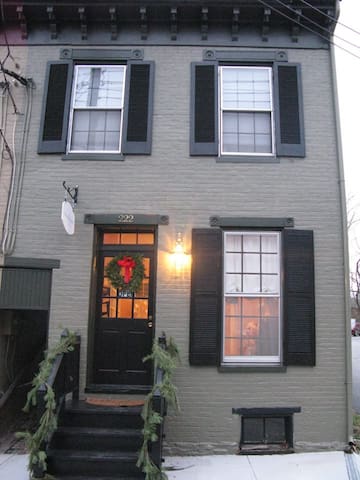 My place is close to Hood College, the downtown scene, and a grocery store! All walking distance. There is plenty of free parking by my apartment!
I am a ceramic artist working toward my master's degree at Hood College. When you come into my home you will find my work space, including a potter's wheel, a light table, and lots of shelves! I have a lot of my art, and art from others, around my apartment: hanging on walls, and sitting on shelves and tables. Almost everything I eat and drink on is handmade, most of it by me, but not all of it! There is always a project going on! I have a five year old, and I ask that quiet hours be observed between 9:00 pm and 7:00 am, I do have to get him up for school in the morning, so it is important that he gets enough sleep, believe me! The check in and check out times are preferences, but I am not strict about them. Though I would prefer for guests to check in sometime after I pick up my son from school, but before bed time, I occasionally have classes in the evening, so the best thing to do is just ask and make arrangements for arrival and departure ahead of time.
My apartment complex is pretty quiet, I have not had any problems with neighbors being too loud. The parking for the apartments requires a permit, but there is ample free parking on the street the complex is situated on (9th).
Alana and her son are great, very nice and welcoming. Also, her art and ceramics are wonderful!!
Robert
2017-02-06T00:00:00Z
Alana was personable and very attentive. She is also a very talented potter, her work is very beautiful. An artist indeed.
(EMAIL HIDDEN)
2017-02-18T00:00:00Z
Another great stay - Alana is a great host!
DAVID
2016-12-20T00:00:00Z
GREAT - super clean. Great experience. She's a SOLID artist too!!
Joshua
2016-12-04T00:00:00Z
Alana is a terrific host! My room included a very comfortable guest bed, and visitor maps on the walls for easy reference. The perfect place for a quiet recharge at the end of a busy day.
Robin
2016-11-26T00:00:00Z
Alana was a sweet and kind host. The room was very clean and the house was very close to the charming downtown of Frederick. Def recommended!
Lola
2017-03-05T00:00:00Z
The host canceled this reservation 5 days before arrival. This is an automated posting.
Lola
2017-04-03T00:00:00Z
Great host! Great place!
DAVID
2016-12-02T00:00:00Z
Tipo de habitación
Habitación privada
---
Tipo de propiedad
Apartamento
---
Capacidad
1
---
Dormitorios
Frederick, Maryland, Estados Unidos
Walk right in to your home away from home! This spacious one bedroom, fully furnished, 1,000 square foot, Parisian styled apartment is 6 minutes to downtown Frederick! Located on 3/4 acre with ample off-street parking, this delightful apartment is completely furnished with granite counter tops, tile kitchen, top quality leather furniture, new appliances, and a completely renovated bathroom.
This has a lovely open floor plan. Very light, spacious, airy feeling. Wood and tile floors, tastefully decorated; simple and serene.
The apartment is less than 15 minutes from Gambrill State Park which is perfect for trail running, biking, hiking or horse back riding. It is only 6 minutes from the heart of Frederick where local artists, boutiques, and fine dining abound. A grocery store, restaurants and a CVS drug store are less than 4 minutes from home.
We had an amazing experience at the Wander Inn. The host Rani was beyond gracious and accommodating. The place itself was very spacious, super clean and had all the amenities and comforting touches needed. The prefect home away from home.
George
2017-02-15T00:00:00Z
Wonderful host!! Very accommodating. Clean home away from home. Nice place for privacy too.
Tisha
2017-03-26T00:00:00Z
This was my first time using Airbnb. I was skeptical at first, but my fiance insisted that she only has good experiences using Airbnb before, so I figured I'd give it a shot. Our main concern was finding a pet-friendly place to stay, which can be difficult to do with hotels. I will definitely use Airbnb again after such a great experience! Rani's place was perfectly located near shops and restaurants, yet far enough from downtown that it is on a quiet scenic road. The yard was large enough for our 2 puppies to run and play, and the house was beautiful! The bed was comfy, and the kitchen was stocked with a keurig & coffee and tea, plus milk and orange juice in the fridge, and complimentary bagels the first morning. Rani really went above and beyond to make us feel welcome and at home. Rani was available to help, and responded so fast to my constant questions by text. A few days before check-in she emailed me the check-in details so I would have plenty of time to learn the Airbnb process and ask any questions. That was very nice and extremely helpful! When we told her we had come to Frederick to get married, she even left 2 bottles of sparkling champagne in the fridge for us! Fittingly, there was also Hershey kisses and candy hearts in the little candy bowls for us too. They were very thoughtful touches that made our stay more romantic <3 Her house has amazing skylights that keep everything well-lit. The living room has plush couches and a big TV. The entire house was spotless, kitchen table & chairs are modern, and there was lots of great decorations and art around to make you feel right at home! Also there are horses in the pen in the backyard too :) All around an amazing stay by an amazing host!
Patrick
2017-02-19T00:00:00Z
This space is clean, beautifully designed,and equipped well enough for light cooking. There are two private entrances, allowing for total privacy during our stay. The location is somewhat secluded with beautiful views of the back yard and next door horse farm. There is a grocery and small strip of shops less than 5 minutes away. As a host, Rani went above and beyond, providing filled candy dishes, breakfast items, and fruit. The water heater broke during our stay, and she had it fixed within hours of our notifying her of the problem. I cannot rave enough about our experience. I visit this area often, ad i plan t(URL HIDDEN)
Lisa "Omo"
2017-02-12T00:00:00Z
We stayed here for a quick overnight getaway and it was perfect. Rani's place is quiet, HUGE and in a great location. She also has an adorable corgi! Rani was super accessible and made sure we had everything that we needed. I highly recommend staying with her if you're traveling through Frederick!
Shervin
2017-02-20T00:00:00Z
Our stay here was amazing! The space was huge and everything was clean. Bathroom was very nice and bed was comfy. Rani had purchased water, OJ, and milk for us. As well as providing us with tea/coffee and some food as well. Very thoughtful. Her land was spacious and beautiful, very nice for our pup to run around on. Location was great, very close to both downtown and the mountains. Loved everything!
Kensey
2017-02-05T00:00:00Z
Tipo de habitación
Casa/apto. entero
---
Tipo de propiedad
Apartamento
---
Capacidad
2
---
Dormitorios
Frederick, Maryland, Estados Unidos
You'll love this charming, 2-story gem in Washington, D.C. This 3 bedroom, 1 bathroom townhouse, designed with hardwood floors throughout, will give you all the space you need while still having the feel of a quaint and cozy Capitol Hill home
Tipo de habitación
Casa/apto. entero
---
Tipo de propiedad
Apartamento
---
Capacidad
4
---
Dormitorios
Frederick, Maryland, Estados Unidos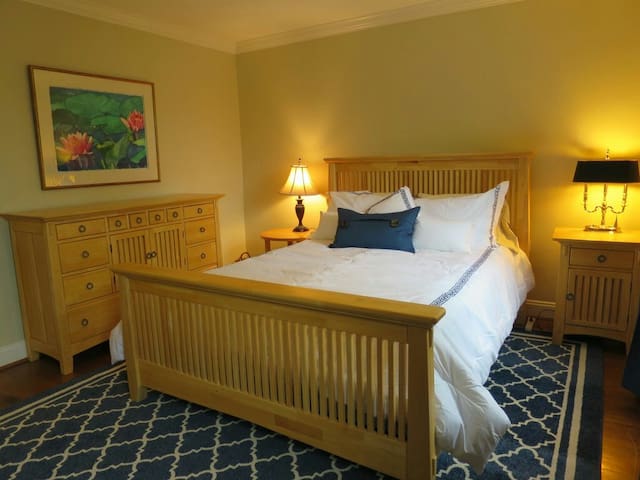 Meu lugar é perto. Meu lugar é bom para casais e aventureiros de solo. Meu lugar para 1 ou 2 do sexo feminino.
I can not explain my frustration with this reservation. I booked a night at this place, and the owner confirmed. A day before my arrival, I texted him, letting him know what time I'd arrive. No response. The next day, I texted him in the afternoon as a follow up. He read the message, but did not reply. Earlier that evening I texted him with an exact time I would arrive, and he read it but still did not reply. I called him, concerned about our stay, and he said "the room isn't available, you cannot stay here". Talk about horrible service! For the next two hours I scrambled, looking for places to stay on couchsurfing, with friends, etc. luckily, one of my friends had an open couch an hour away. Needless to say, my experience was HORRIBLE and I recommend people DO NOT stay with this guy. Thank you.
Noah
2016-11-14T00:00:00Z
Tipo de habitación
Casa/apto. entero
---
Tipo de propiedad
Apartamento
---
Capacidad
2
---
Dormitorios
North Potomac, Maryland, Estados Unidos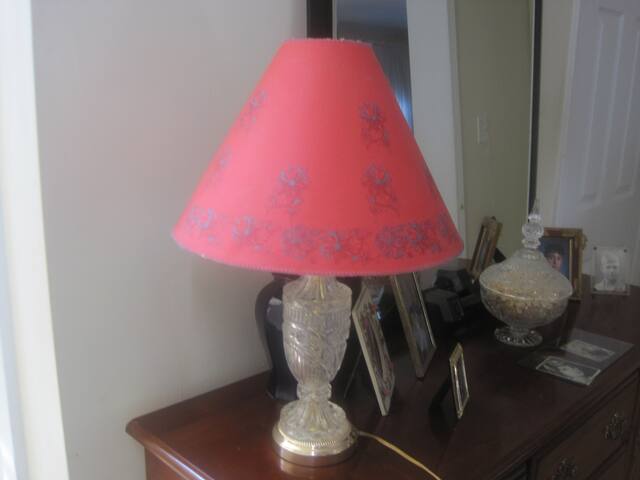 Alquiler entera, tres habitaciones y tres baños. Muy cómodo, limpio y tranquilo. Tiene capacidad para 7 personas.
3 plazas de aparcamiento privado, conexión.
Un montón de espacio de estacionamiento. césped enorme. Muy seguro y tranquilo.
Great home, great place, great host!
Malvern
2017-01-29T00:00:00Z
All the reviews are true! Ying keeps this place very neat and was very accommodating. It worked out perfectly for my family and an amazing deal for the price. Lots of good dinning in the area too.
Crissi
2017-02-26T00:00:00Z
Ying's home was quiet, she was available if anything was needed. Internet was available (not super fast) no TV. There was coffee, tea and water available. Shampoo, body wash and hairdressers also available. Towels very fluffy. 2 parking spaces in front plus other guest parking. Pretty close to HWY 270. Would stay there again, great price.
Nancy
2017-03-13T00:00:00Z
The house was very proper. Everything including the bedding and towels were fresh and very clean. The hair dryers, the iron and the ironing board made the stay very comfortable. The host provided free tea, coffee and water.
Saleem
2017-03-26T00:00:00Z
Tipo de habitación
Casa/apto. entero
---
Tipo de propiedad
Apartamento
---
Capacidad
7
---
Dormitorios
Gaithersburg, Maryland, Estados Unidos
Tipo de habitación
Habitación privada
---
Tipo de propiedad
Apartamento
---
Capacidad
1
---
Dormitorios
Gaithersburg, Maryland, Estados Unidos
Tout ce que vous avez besoin après une journée bien remplie
very good experience! clean house and o felt like home.
elie
2016-09-26T00:00:00Z
Iggy's place was very neat and clean. Public transportation was very convenient to mero station from/to his place. The communication was great and he was very responsible. Upon my arrival to their district GPS took me to the opposite direction and even though he was out of state that day, he sent his sister to pick me up. If there was an option in Airbnb, I would give him and his place 10 stars.
Iman
2017-03-24T00:00:00Z
Awesome hosts! I was having a terrible 2 hours of sleep kind of day and they went out of their way to get me checked in sooner. After that, I slept very soundly. I heard a baby a couple of times, but I went right back to sleep. I would describe the accommodations as a hybrid motel / airbnb feel. The whole place was military inspection ready levels of clean and check-out instructions were extremely precise. They are very friendly people. The only other hotels were charging $100+ for the Inaugural weekend so this was a super value!
Mike
2017-01-21T00:00:00Z
Nice room, close to transport and quite .
Ryan
2017-03-04T00:00:00Z
Organized, communicated well, and understood my needs.
Samim
2017-01-10T00:00:00Z
Good value, very responsive host. Bed is a little springy but that could be personal preference.
Michael
2017-03-16T00:00:00Z
A great stay. Very clean and cozy bed room/bath room, a safe neighborhood with parking spaces around apartment complex. Iggy is a great host with easy/fast communication. GPS based on (SENSITIVE CONTENTS HIDDEN) map didn't lead me to the correct address, but Iggy came out and found me (Thanks)!
James
2017-01-12T00:00:00Z
That' s was a good experience. Quite place, close to a forest and shops.
Julia
2017-02-15T00:00:00Z
Tipo de habitación
Habitación privada
---
Tipo de propiedad
Apartamento
---
Capacidad
1
---
Dormitorios
Gaithersburg, Maryland, Estados Unidos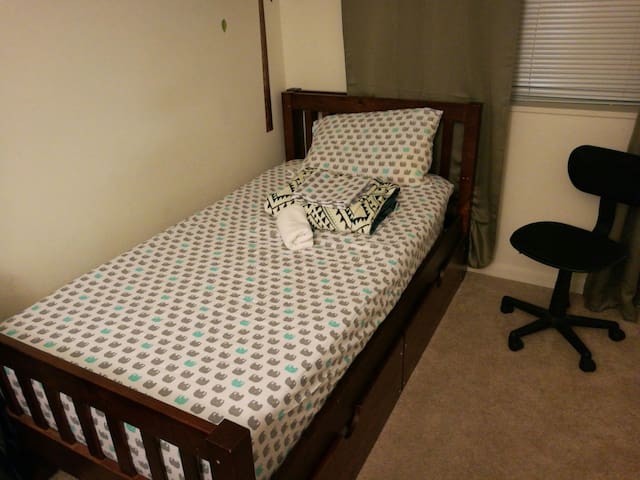 My Apartment offre le meilleur emplacement et le mode de vie. Profitez d'un trajet facile avec la navette à la station de métro Shady Grove. Vous pourrez vous détendre et prendre un bain rafraîchissant ou un salon à la piscine. Obtenez un 24-heures Centre de remise en forme de work-out. Il a les transports en commun, les activités de la famille. Vous allez adorer ma place à cause de l'espace extérieur, le quartier, et la lumière. Il est bon pour les couples, les aventuriers en solo, les voyageurs d'affaires, les familles et les grands groupes.
Raoul was a great host. He was always available by phone if I had any questions. The space was very clean, neat, and felt very comfortable. I enjoyed my stay here very much. I would definitely recommend staying here.
Felix
2017-03-12T00:00:00Z
I found the place was fantastic! It's clean, quiet, and also provided a great amount of amenities just as described. The parking spot is also convenient. Raoul was a nice host, he responded my messages well and quick. I wish I could stay longer.
Hans
2017-01-01T00:00:00Z
This is a very nice place to stay. It's not too far from Baltimore or DC if you plan on visiting either of those cities, and the apartment features a very nice amount of space and luxury for a good price.
James
2016-12-11T00:00:00Z
Rauol was very friendly and was available for any help needed at tht time .The house was neat and tidy too.
togin
2016-10-22T00:00:00Z
Place is clean, spacious, and convenient to getting into the DC area while letting you escape the crowd. Everything worked well and Raoul was very responsive. Couldn't have hoped for a better experience.
Amit
2017-04-02T00:00:00Z
Raoul est le meilleur hôte!! Il est juste génial, serviable, attentif et présent lorsqu'on fait Appèle à lui. L'appartement Est Tres propre. La résidence est Tres sécurisé.Vraiment séjour fantastic avec mes enfants qui ont adoré la piscine, la sécurité de la résidence et bien sûr Raoul. Je vous le conseil vivement.
Martin
2016-08-03T00:00:00Z
Raul was happy. I'm very content with my stay here and would recommend it to others interested in staying in the area.
Atniel
2016-10-23T00:00:00Z
The location was great and Raoul is very friendly. Raoul is always there if you need him. This apartment has everything you need, such as bath towels, shampoo, shower gel, clean sheets, water, air conditioning, heating, cable, internet, etc. I'm sure you will love staying in this apartment. Great neighborhood, very quiet and safe. Around 4 miles to the Shady Grove metro and then went straight into DC. It will take only 38 minutes to drive to DC. Super easy! I recommend 100%!
LIUFANG
2017-03-23T00:00:00Z
Tipo de habitación
Casa/apto. entero
---
Tipo de propiedad
Apartamento
---
Capacidad
4
---
Dormitorios
Gaithersburg, Maryland, Estados Unidos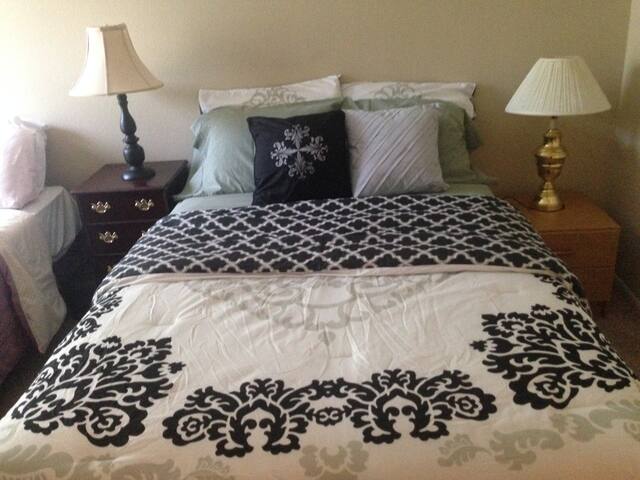 Tipo de habitación
Casa/apto. entero
---
Tipo de propiedad
Apartamento
---
Capacidad
1
---
Dormitorios
Rockville, Maryland, Estados Unidos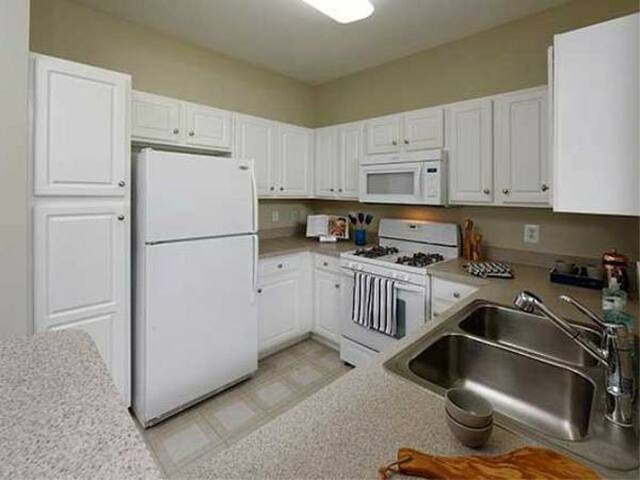 Estoy dispuesto a tratar de dar cabida a cualquiera de sus necesidades. Estoy muy familiarizado con la zona / atracciones y seguirá siendo local durante su estancia. Estoy permitiendo ocho máxima de invitados. Hay una cama tamaño California king y dos cómodos sofás que pueden caber alrededor de tres personas en ellos si es necesario.
Entre dos acontecimientos populares de compras / restauración. Un montón de horas felices y restaurantes de comida casual. Harris Teeter a 5 minutos y 24 horas.
Incredibly great place for my stay! Really loved the ability to cook and relax in a well-equipped and comfy condo. Will definitely stay here again!
Lynn
2017-03-18T00:00:00Z
Perfect for what our small group of 4 needed. The couches served just fine as beds for 2 of us (they are BIG). No kitchen table but it didn't impact us at all as we ate most of our meals out. Great location. We will consider staying again!
Sue
2017-04-10T00:00:00Z
We had a great stay at Rhythm's place. Rhythm is very nice and helpful. The apartment is conveniently located in walking distance to a variety of stores and restaurants. I also recommend it to people who would like to visit Washington DC, it's just a short drive into the city.
Sebastian
2017-04-05T00:00:00Z
Perfect location, clean apartment, reachable host. It cannot accommodate more than 2 guests (listing description says 8), there is one king bed and comfy sofas but sofa dont turn into bed.
Amit
2017-02-25T00:00:00Z
Rhythm's place was very nice, it was spacious and very clean. My stay was good.
Larry
2017-01-20T00:00:00Z
This location was great for us! So close to the Metro which takes you right to Washington DC, but far enough out that the cost is affordable. Rhythm was a great host--answered all my questions and helped me find what we were looking for -- a great host!!
Lisa
2017-01-22T00:00:00Z
This is the PERFECT place to stay when looking to stay near the metro DC area. A very clean and well put together apartment is what to expect. Very conveniently located next to multiple shops, department stores, movie theater, and not to mention the amazing food nearby...ALL of which is in walking distance! The neighborhood was family-friendly and quiet enough for me to get some rest mid-day if I pleased. RHYTHM IS AN AMAZING HOST! she was VERY attentive and communicated EXTREMELY well with me towards my requests and also answered and suggested about any questions I had about the area! Overall, I rate this a 10/10 . Definitely worth the stay. THIS place is the perfect example to what your Air BNB stay experience should always be like! :)
Erick
2016-12-30T00:00:00Z
Tipo de habitación
Casa/apto. entero
---
Tipo de propiedad
Apartamento
---
Capacidad
8
---
Dormitorios
Gaithersburg, Maryland, Estados Unidos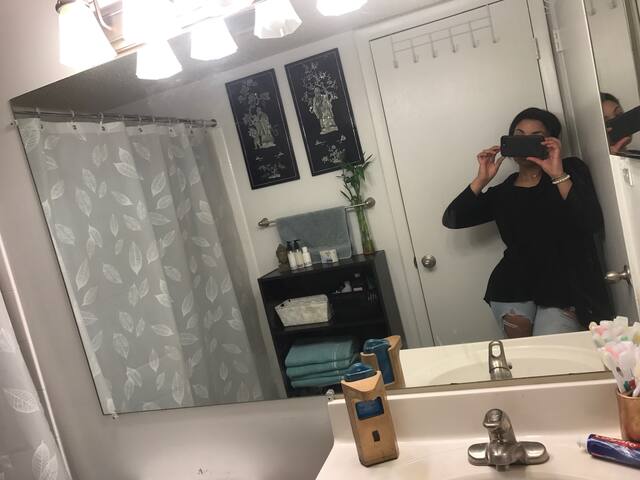 Monrovia - Airbnb
:
Una media de

4.79

estrellas de un total de

5

de

152

evaluaciones de huéspedes
1

–

18

de

69 Alquileres de apartamentos
Introduce las fechas para ver el precio total. Ten en cuenta que se aplicarán tarifas adicionales y es posible que se añadan impuestos.