This is a 1900 two-family New England home on Main Street. We have easy access to route 3. Shopping centers and malls are just minutes away. Note: If this listing is not available for the period you need, don't be discouraged! Try a different date range or one of my other listings (under my profile). If you need to rent a vehicle, please read the "Getting around" section below, under "Description".
Our unit consists of the second and third floors, with two bedrooms on the second floor and a loft studio on the third floor. This listing is the loft studio on the third floor. You have the entire floor to yourself, including a queen size bed, separate bathroom and kitchenette. Access is through the second floor, sharing common entrances with the second floor. There is also an additional foldable bed if needed.
We are on Main Street on the edge of a residential area, yet steps away from shops.
Chen was very thoughtful and attentive during my stay, I was in never in need of anything in the house, everything was provided for me in the loft. The mini kitchen was awesome, It worked very well. The loft was very cute I loved the design and everything with it. I got try some good food he cooked. If I needed something I could easily get in touch with him even with his busy schedule. I was very comfortable with the area and I was able to walk downtown with no problem. Overall it was a great summer for me in New Hampshire. I would recommend this place to anyone.
Nereida
2016-08-01T00:00:00Z
Tipo de habitación
Casa/apto. entero
---
Tipo de propiedad
Loft
---
Capacidad
3
---
Dormitorios
Nashua, New Hampshire, Estados Unidos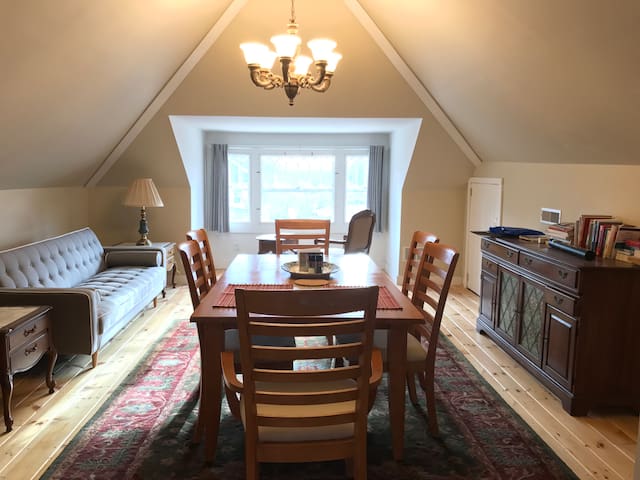 Newly renovated Condo directly across from Crotched Mountain! Only minutes to golf courses, hiking trails, antiquing & skiing. 15 minutes to Peterborough's restaurants,art, theater, and shopping.
This is a surprisingly sleek yet incredibly comfortable loft condo . Perfect for a relaxing romantic getaway. Enjoy a full beautiful view of crotched mountain from the living room or as well as from the front deck. You can literally walk across the street to the mountain!
My boyfriend and I stayed for 2 days. This place was better than we imagined. The view from the back porch was incredible. The neighbors were very quiet, but also friendly when we did see them. The unit was very clean and modern. The host made sure we felt right at home.
Samantha
2016-09-27T00:00:00Z
The place looks exactly like it does in the pictures. It is a beautiful loft condo that has a gorgeous view of the ski resort from the sliding doors in the living room. I can only imagine how pretty that is in the winter. The condo itself was very clean when we arrived and the instructions she gave us were super helpful when it came to getting to the property. My wife and I would definitely stay here again!
Chris
2016-07-17T00:00:00Z
Sheila and Patty's place was very cozy and super stylish with gorgeous views of Crotched mountain. Patty reached out to us right away after we made the reservation and gave us much helpful information and was available immediately when we needed to get back into the unit to retrieve an important item after locking upon departure. We had a wonderful and relaxing time and would definitely stay there again.
Elaine
2014-05-27T00:00:00Z
Sheila responded to our reservation request very promptly and was very accommodating when our schedule changed about a week before our trip. She also made it very easy to access the loft and gave some good suggestions. The loft is exactly as advertised, and then some. We were looking for a relaxing Memorial Day weekend away and were able to use the pots, pans, spices and grill that are all available. There are plenty of restaurants in nearby towns if you are looking to go out as well.
Chris
2016-05-30T00:00:00Z
My girlfriend and I loved the condo; this an ideal rental for 2 people looking for a weekend getaway. Sheila was very helpful with providing directions and anything else I needed for my stay. She was very diligent about responding to text messages. The condo was equipped with everything I needed from pots and pans, to a fan an heater found upstairs. I would definitely rent this condo again.
Alexander
2014-09-07T00:00:00Z
Shelia & Patti's condo is a beautiful spot to go if your looking for a relaxing getaway! A perfect place for two, the condo offered incredible scenery and serenity, and was only a two minute walk from the bottom of Crotched Mountain. The grill was an added surprise upon arrival, we were able to make our own dinners and just enjoy the beautiful surroundings. Also the surrounding towns were small and a much needed switch from busy city life.
Samuel
2014-06-23T00:00:00Z
It was a great place located right across the street from Mt Croched. Everything is as described and the neigbors are quite friendly too. Great place for a weekend getaway.
Josh
2014-10-06T00:00:00Z
I came up to Sheila's lovely condo with my partner for a relaxing weekend. The condo is exactly as described and even looks better in person. There were even spices and olive oil for cooking, which was a very nice and welcome surprise. The back deck overlooks Crotched Mountain and has a very efficient gas grill which we took full advantage of. The place is a little difficult to find especially when driving at night. As you're coming up the road look for the South Face Condos sign and turn into the driveway up the hill. I can definitely recommend Sheila's condo and would love to come back!
Alex
2014-07-07T00:00:00Z
Tipo de habitación
Casa/apto. entero
---
Tipo de propiedad
Loft
---
Capacidad
2
---
Dormitorios
Bennington, New Hampshire, Estados Unidos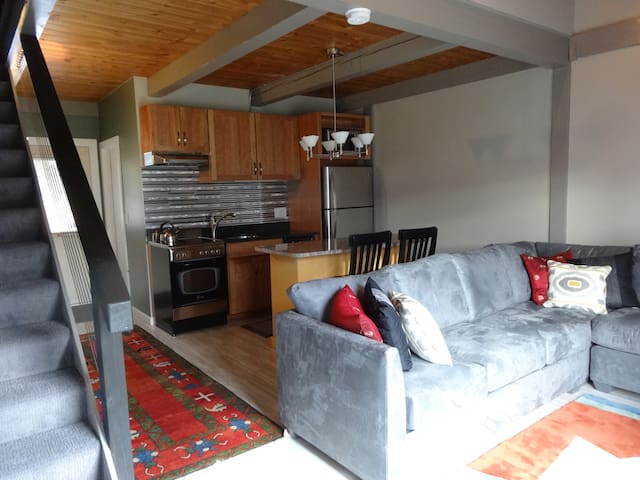 Situado en el centro a 3 cuadras del centro de la zona Concord. Amueblada concepto abierto 3er piso elevado. cama de matrimonio, sofá de cuero en forma de L, Smart TV, Internet, abastecido cocina, baño de 3/4. ropa de cama y toallas de monedas op. lavadora secadora aparcamiento en la calle.
Ellen is kind and welcoming. She was flexible and able to accommodate my arrival time. The space was private and architecturally interesting, as well as well located in downtown Concord. The bed was comfortable and the towels clean. Unfortunately the wifi, while available, was slower than optimal.
Caitlin
2016-10-02T00:00:00Z
Ellen was very accommodating in regards to my uncertain arrival time. She was willing to meet me with a 30 minute notice. The place is clean, quiet, and very comfortable.
Anthony
2016-03-16T00:00:00Z
Very gracious and loving home. The space was clean and the hosts were friendly
Eric
2016-09-12T00:00:00Z
Nice location!
Rachelle
2016-11-12T00:00:00Z
Ellen was very nice and the house was in a quiet neighborhood close to downtown and easy to find.
Catherine
2016-10-16T00:00:00Z
Cozy, elegant, minimalist. Thank you so much Ellen for a wonderful experience in Concord. The loft was so cool and all the good places were a short walk away. You were so friendly and accommodating and you really made us feel at home and welcome! Million times better than a hotel.
Daniel
2016-08-07T00:00:00Z
Nice space. Quiet, fun, easy. Ellen was the perfect host. We traveled to Concord from Massachusetts for a #24 hour vacation. Saturday night out - dinner at The Crazy Goat and a great live concert of Cape Brenton/Celtic fiddle music at the Concord City Auditorium. The morning after we enjoyed breakfast at Tuckers, followed by some good thrift store action and window shopping on the main drag which was a ten minute walk away. Thanks Ellen.
Timothie
2017-03-05T00:00:00Z
Ellen was welcoming and kind. The lofty was a very cool space and only made our visit more enjoyable. Her place is a 15 minute walk to town making it an ideal location for a weekend away. Thanks so much, Ellen!
Lindsay and Bill
2016-04-19T00:00:00Z
Tipo de habitación
Casa/apto. entero
---
Tipo de propiedad
Loft
---
Capacidad
4
---
Dormitorios
Concord, New Hampshire, Estados Unidos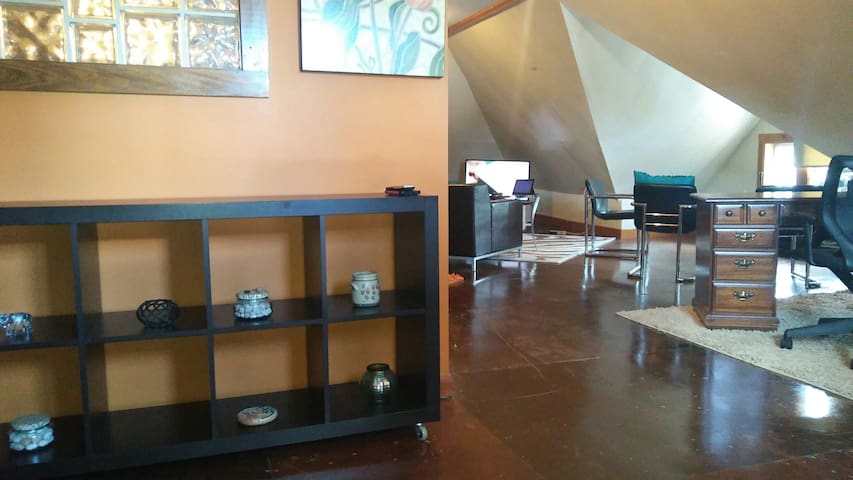 Introduce las fechas para ver el precio total. Ten en cuenta que se aplicarán tarifas adicionales y es posible que se añadan impuestos.