Our home is close to restaurants and dining, family-friendly activities, the beach, nightlife, and great views. You'll love Tenterden because of the location, the ambience, and the people. Old Tannery Cottage is good for couples, solo adventurers, business travellers, and families (with older children).
Thank you Anna and Richard for your wonderful hospitality. We had a lovely time. Breakfast was delicious.
Lelia
2017-02-12T00:00:00Z
Anna and Richard are so hospitable and made us feel at home from the moment we arrived. It was the perfect location for our trip to Chapel Down - we were able to walk home on a public footpath (Richard had given us wellies) which took us approximately 1 hour. Richard kindly drove us there so that we could leave our car at home theirs. Breakfast was delicious in the morning. The room was very clean and comfortable. We will definitely be back. It is just off Tenterden high street so very easy to get to a wide range of restaurants in the evening.
Emma
2017-02-15T00:00:00Z
Anna & Richard were so warm & welcoming! Comfortable bed & a fabulous breakfast at a very relaxed time. Tenterden High Street was lovely to have a wander around, coffee shops, restaurants & lots of shops! We also visited Chapel Down Winery & had dinner at The Swan (which was fantastic!) Richard was lovely enough to drop us off!
James &Amanda
2016-11-20T00:00:00Z
We had a wonderful time staying at this property. Richard and Anna were fantastic hosts who were able to advise on the local area - there are some great shops and pubs / restaurants in Tenterden and we will certainly return to the area. The room itself was a good size, very clean and well decorated. It honestly felt more like a boutique hotel than a B&B - thank you Anna for the wonderful biscuits! Breakfast was superb. All in all a very enjoyable stay! Thank you again
Michael
2016-12-18T00:00:00Z
Great hosts, convenient location and comfortable accommodations! Couldn't have asked for more in our first Airbnb experience. DON'T miss breakfast.
bruce
2017-04-04T00:00:00Z
Anna and Richard made us feel so welcome, we had an amazing time. The bedroom was beautiful with an amazingly comfortable bed. Anna very kindly offered to pick us up from the local vineyard. We had an absolutely fabulous breakfast and enjoyed are time in Anna and Richard's house immensely.
Jez
2017-04-06T00:00:00Z
Comfortable room and lovely bathroom. Fantastic breakfast and lovely hosts.
Olivia
2016-12-11T00:00:00Z
We had a fantastic stay at this lovely cottage. Anna and Richard were incredibly welcoming and excellent hosts. We felt truly at home. Tenterden is a delightful town - we really enjoyed the wine tour at the local winery, and had a delicious meal at the swan.
Leo
2017-02-19T00:00:00Z
Tipo de habitación
Habitación privada
---
Tipo de propiedad
Bed & Breakfast
---
Capacidad
2
---
Dormitorios
Tenterden, Inglaterra, Reino Unido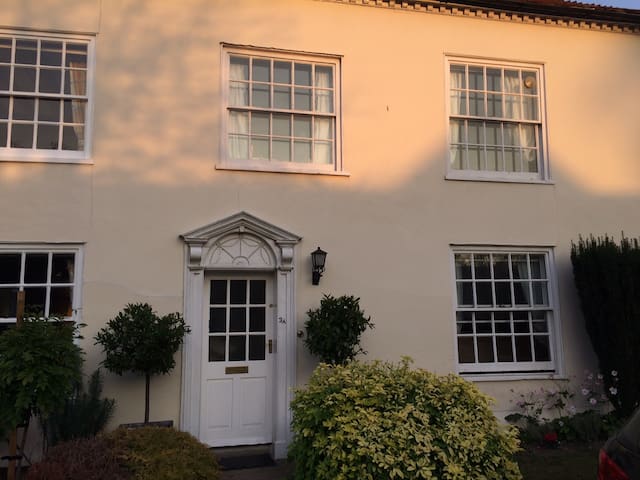 Bulleign Barn is situated in the stunning Kent countryside. A perfect location for those visiting Chapel Down Winery, Sissinghurst Castle, Great Dixter Place, Bodiam Castle and more National Trust sites. Only a 5 minute drive from Tenterden with fabulous antique shops and delicious cafes. The seaside town of Rye is a 15 minute drive and full of heavenly restaurants. The sandy beaches of Camber is a further 5 minute drive.
Tipo de habitación
Habitación privada
---
Tipo de propiedad
Bed & Breakfast
---
Capacidad
2
---
Dormitorios
Tenterden, Inglaterra, Reino Unido
Este espacio adicional sólo puede reservado por el mismo partido junto con una reserva de la habitación principal y compartir el baño privado - ver https://www.airbnb.co.uk/rooms/15753005?preview
The host canceled this reservation 4 days before arrival. This is an automated posting.
Natalie
2017-02-28T00:00:00Z
Tipo de habitación
Habitación privada
---
Tipo de propiedad
Bed & Breakfast
---
Capacidad
2
---
Dormitorios
Tenterden, Inglaterra, Reino Unido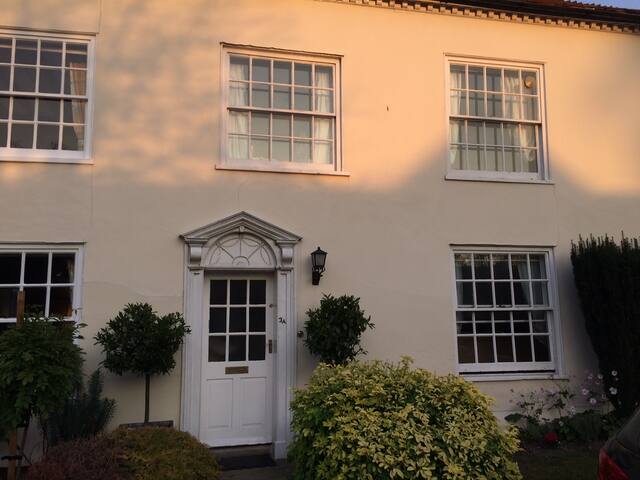 Fácil acceso: Lugares, Londres y aeropuertos carretera y ferrocarril. Reserve propiedad entera o habitaciones de huéspedes de 1 a 24. Las acogedoras habitaciones, baño, cocina grande, sala de estar, instalaciones adicionales, además de aparcamiento, barbacoa, s, espacios al aire libre, vistas, jardines y tierras de cultivo para explorar. Anexo disponibles.
entramado de, casa de campo moderna y atractiva, en Kent rural cerca de Tenterden, duerme 1- 24, opciones flexibles, libro de uso exclusivo de toda granja, granja y en el anexo o alojamiento y desayuno hasta un máximo de tres habitaciones como alojamiento y desayuno. Los precios de alquiler de la casa de campo de inicio de ocupación exclusiva a 699 £ por 6 para un fin de semana de invierno de 2 noches, 1.299 libras a 1.899 £ para una familia de 14/24 a mediados de junio de 3 noches de fin de semana, hasta £ (PHONE NUMBER HIDDEN) £ para una familia de 14 / 24 para un fin de semana temporada alta de verano, los precios de 24 incluyen anexo, pedir un precio para sus números si esto suena adecuado. cama a mitad de semana y opción de desayuno disponible para 1- 6. Podemos ofrecer a mediados de la semana de lunes a viernes de alojamiento y desayuno para aquellos que visitan o trabajan en la zona: Alojamiento con desayuno dormitorio y un alojamiento información de precios para grupos de 1-6 personas consta de: Un dormitorio del primer piso con cama de matrimonio o se divide para camas individuales y cuarto de baño con ducha duerme 1-2 £ 60 por noche 2 noches mínimo Un dormitorio del primer piso con dos camas y cuarto de baño adyacente uso exclusivo para dormir 2 £ 60 por noche 2 noches mínimo Un segundo piso de la habitación triple con cama de matrimonio o 3 camas individuales (divisiones de tamaño king y una individual en una alcoba lado) con propio cuarto de baño con bañera y ducha eléctrica más capacidad para 3 £ 60 por noche para 2 £ 90 por noche para 3, 2 noches mínimo. Cama y desayuno 1-6 ocupantes noches de la semana única temporada se suma el bajo. Bed and Breakfast ofrece el uso compartido con los propietarios u otros huéspedes. Notas: cabida a las familias reunirse, por supuesto, esto puede incluir partes de té y la cena de celebración, relajarse por la noche con una copa de vino, que no dan cabida; música y baile, o partes behavoiur que por lo general se asocia con el exceso de consumo de alcohol, mascotas o fuegos artificiales, en relación con el medio ambiente local. Cerca de Londres, con un montón de aparcamiento, conexión wi-fi, situado en un acre de jardines con césped, en el corazón del campo, entre los árboles, conejos, aves y fauna local, rodeado de campos propios, con estanque (sin vallas) y acceso a más. Fácil acceso Londres, M20 (10 millas) emisoras locales (s) y todos los aeropuertos. Privada zona rural, calle tranquila del campo, pero cerca de pequeños pueblos con tiendas, bares, oficina de correos, médicos y supermercados, un montón de restaurantes y pubs ingleses. Ideal ubicación central Kent. Tenterden 3 millas. Ashford 10 millas, 10 millas autopista M20, fácil acceso a las atracciones. Gran salón, comedor para 12+, sala de desayunos, sala de estar, gran cocina bien organizada y equipada, separe cocina y lavadero totalmente equipados. Dos patios, con un montón de asientos al aire libre, dos barbacoas de gas, con mucho espacio exterior para el fútbol y juegos, (suministrado) .Surrounded por sus propios campos y la vida silvestre, encontrar un rincón tranquilo para relajarse y ver. Una situación ideal para paseos por el campo y paseos en bicicleta a lo largo del Weald, de senderos locales, y el camino de herradura en el extremo de la unidad para el paso de extranjeros bien documentado. Cerca de muchos campos de golf populares, lugares de pesca de golf, viñedos, plantaciones de lúpulo, y muchas atracciones locales, así como tiendas, pubs ingleses, de los numerosos restaurantes de la mayoría de los estilos, y comida para llevar. O hacer acerca, conserje, servicio de limpieza, cocinero, la seguridad incl. Pesca y deportes acuáticos: pesca de agua dulce local, cacareo Hills, Biddenden, además de Bethersden Carpa Lagos, Cranbrook, agua y Bewel Lydd para practicar deportes acuáticos o el mar es sólo alrededor de 20 minutos en coche. Compras: Tenterden es de 3 millas, de Ashford es de 10 millas que ofrecen una toma de MC Arthur Glen tiendas de diseño, de alta velocidad y conexiones ferroviarias internacionales, de alta velocidad a Londres 35 min y París, o tomar el ferry que cruza el canal por el día o por qué no tomar una viaje a Lakeside y Bluewater a una hora Lugares para visitar : Tenterden tren de vapor de Romney, Hythe y Dymchurch ferrocarril de flujo en miniatura, una ubicación ideal para excursiones de un día a Londres. Viñedos: Biddenden, Chapel Down Tenterden y más. Woodchurch centro de Rare Breed, Port Lympne Zoo, Howletts parque natural. Playa en las arenas comba, Dungeness reserva natural, bosque y Bedgebury Pinetum, Sissinghurst, Leeds y Castillo de Dover, Cantebury y Rochester catedrales, muchas casas y jardines históricos más. Spa (s) cerca, o para el, quads, tiro con arco, tiro al plato local de energía y más, tal vez probar el paracaidismo de Headcorn. Historia: Tenterden, centeno, Canterbury, Rochester y más. Bares y restaurantes: Gran variedad todo dentro de una - Diez millas.
Hermoso lugar.
The house is great for big parties and is in a lovely location. Tony is such a sweetheart and made our stay as good as possible, including cake on arrival! We had a brilliant party here and would highly recommend it
Alice
2016-07-11T00:00:00Z
I stayed from Friday night to Sunday late afternoon with 10 friends in this property and had a brilliant time. Tony is a fantastic host, he was incredibly helpful in promptly answering all my random questions in the weeks leading up to our stay, and offered great advice in terms of local transport services, places to eat & drink, and activities for the weekend (we did grass-track go-karting at Arena Pursuits, visited Bodiam castle, and went on the Kent & East Sussex railway, for example, and there's much more than this in the area) The house itself is perfect for a large group, especially for those not sharing beds - we 11 all had a bed each (some singles, some doubles). The living room is enormous, with plenty of seating, and the breakfast and dining spaces are perfect for a large group. The property was very clean and had everything we needed to entertain ourselves while there (gas bbq, every bit of glassware and cutlery/crockery you could imagine, tons of toys & games). The grounds are beautiful and extensive. In summary it's an ideal place for a group of individuals or for large family groups, and Tony is the perfect host. Highly recommended!
Stuart
2015-06-08T00:00:00Z
Tony was a perfect host and made us all feel comfortable and well looked after. The house and grounds were amazing and great value for money. Everything we need and plenty of grass for all the kids to play and hide.
Catherine
2016-07-30T00:00:00Z
We had a fantastic experience booking this venue and thoroughly enjoyed our stay here. Tony was very helpful with providing information about the property and equipment in the house, and gave very accurate directions for getting there. We felt really welcomed with the sheets, towels and snacks prepared for when we arrived, which made settling in for the weekend a breeze. The property itself boasts plenty of room about the house and also in the fields for walks - a perfect respite for us city-folk! The house was tidy and clean when we arrived, and was equipped with everything we could need for the weekend. We had a fabulous time and will certainly be back again for future weekend retreats.
Eugene
2015-03-09T00:00:00Z
Perfect venue for hosting a hen weekend! Tony made us very welcome and was extremely helpful showing us around and providing information about the surrounding area. The house easily accomodated 12 of us in the 7 bedrooms, the beds were comfortable and the house is well equipped. It's in a lovely secluded location with great countryside views all around, perfect.
Helen
2016-03-08T00:00:00Z
Perfect for a large gathering of friends and family. Tony was incredibly helpful with helping us arrange our stay. We were having a large number of guests and he was happy to have us visit the property in advance so that we could check out how to accommodate people. He was very responsive and flexible to our changing requirements, and could not have done more to make our stay better.
Josh
2015-11-23T00:00:00Z
Tipo de habitación
Habitación privada
---
Tipo de propiedad
Bed & Breakfast
---
Capacidad
16
---
Dormitorios
Tenterden, Inglaterra, Reino Unido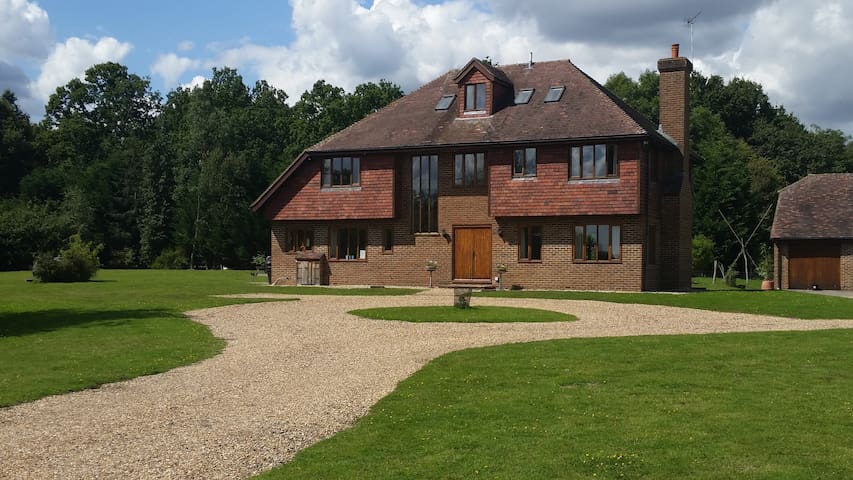 Elegant self contained B&B annex attached to the main house, combining its own living space, kitchen & outside seating area. Opulently decorated with luxurious soft furnishings & linen. Breakfast is served through the adjoining door to the main house. The B&B is located in the tranquil Kentish hamlet of Rolvenden Layne. Local pub within walking distance. Near to a number of wedding venues, Great Dixter Gardens, Sissinghurst Castle as well as the small towns of Rye and Tenterden.
The B&B has its own private lounge, dining and kitchen areas with the bedroom placed next to these all on one level at ground floor. The living area has a traditional log burner with chaise lounge, armchair and sofa to relax and rest in, whilst an array of dvd's, books and boardgames are provided for you to enjoy. This living area expands into the dining and kitchen areas. The bedroom, just off of the living area, has twin beds that are pushed together and dressed with crisp cotton linen. An en-suite shower room is placed within the bedroom with a small dressing area. French doors in the bedroom lead on to a small outside seating area where you can enjoy a glass of wine in the evening, or a nice coffee in the morning. Breakfast is served in the adjoining cottage dining room.
Rolvenden Layne is a small hamlet set in the heart of the countryside, ideal for exploring the Kentish countryside. The area is calming and very relaxed with little noise. The Layne also has its own pub nearby with a recreational park opposite the B&B. There are many local attractions such as Great Dixter, Sissignhurst Gardens, Bodiam Castle, and many local quaint villages and towns. The B&B is also within easy reach of the Great Barn wedding venue in Rolvenden.
This warm and cosy B&B surpassed our expectations. It is delightful and from the moment you arrive you can tell how much care and love that Diane has put into this place. Absolutely every thing you would need is on hand, and the breakfast was just wonderful. It is perfect for garden lovers visiting Great Dixter and Sissinghurst. Also for art lovers visiting The Jerwood at Hastings. For a country get away I could not recommend this B&B more highly. I will definitely be back.
Annie
2016-12-09T00:00:00Z
The stores is a charming B&B, beautifully decorated with lots of thoughtful touches. Diane was very friendly and welcoming, breakfast was great!
Harriet
2017-02-05T00:00:00Z
The cottage was so beautiful and cosy for our 1 night break over New Years Eve. It was easy to find and has everything we could need for a 1 night stay. There is a pub a few minutes up the road and a short drive away is Chapel Down Winery too. Diane was so lovely and welcoming and breakfast the following morning was delicious too! I would definitely recommend here to my friends :)
Grace
2017-01-01T00:00:00Z
Diane and Ian's flat was lovely. It was cosy, self contained and beautifully decorated. It had everything you could want from a b&b incuding tea/coffee, milk and even bottled water. The surrounding area is beautiful and our stay was the perfect relaxing getaway. Breakfast was also brilliant - cereals and fruit, and a top notch full English. Diane and Ian we're welcoming, helpful and I would highly recommend.
Lizzie
2016-04-10T00:00:00Z
Beautiful B&B! The photos don't do it justice- it's even more stunning in real life. Style, comfy beds, beautiful surroundings and very attentive hosts who gave us a lovely breakfast. Thoroughly recommended
Gemma
2016-08-22T00:00:00Z
Lovely cosy house in a lovely area! Delicious cooked breakfast and Diane and Ian were very welcoming and helpful.
Demi
2016-01-02T00:00:00Z
My boyfriend and I were looking to do some wine tasting in Kent and found this adorable Airbnb. It is a perfectly sized, beautifully decorated one bed apartment within walking distance to the local pub and a short drive from the picturesque Tenterden. It is perfectly placed between two great Kent wineries, Chapel Down Winery (10min drive away) and Hush Heath Estate (25min). Diane and Ian (the owners) were warm and friendly, and made us feel right at home. Their cooked breakfasts were delicious and the homemade jam was just perfect! Such a lovely bank holiday break!
Ashleigh
2016-05-31T00:00:00Z
Fabulously friendly hosts-met us with the door open and made us feel really welcome in their most exquisite B and B. A very special place. Amazingly comfy bed and Ian's full English was superb.
Jenny
2016-11-20T00:00:00Z
Tipo de habitación
Casa/apto. entero
---
Tipo de propiedad
Bed & Breakfast
---
Capacidad
2
---
Dormitorios
Rolvenden Layne, Kent, Reino Unido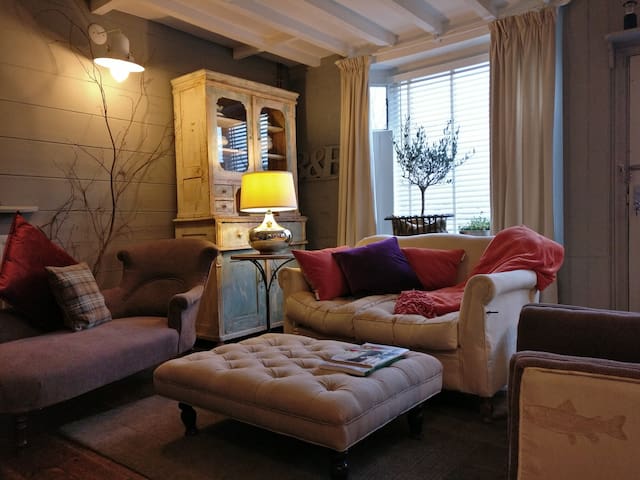 The White Cottage is a traditional B&B set just outside Tenterden in a beautiful countryside location overlooking the fields. Guest have free parking, free wifi, use of a guests lounge, and a mini kitchen, plus the use of garden furniture.
The White Cottage, commanded by Ruth, is a lovely Bed n Breakfast located close to Tenterden, in the middle of the forest. They have a wonderful House, just looking towards green fields. Ruth made our stay perfect, and cooks a perfect breakfast as well. All the equipment is in perfect condition, and beds are very comfortable.
Miguel
2016-05-31T00:00:00Z
Tipo de habitación
Habitación privada
---
Tipo de propiedad
Bed & Breakfast
---
Capacidad
6
---
Dormitorios
Kent, Reino Unido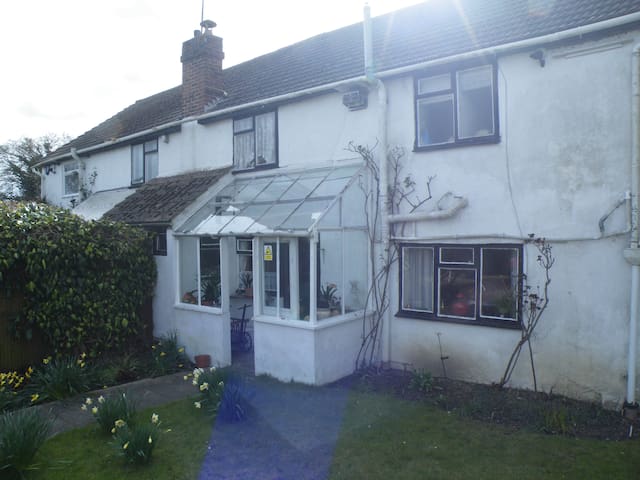 1

–

6

de

6 Bed & Breakfasts
Introduce las fechas para ver el precio total. Ten en cuenta que se aplicarán tarifas adicionales y es posible que se añadan impuestos.