6 Bleiben Gesamt King Size Memory-Foam-Bett & 2 Etagenbetten bis 4 vom weiten Blick auf das Meer auf die handwerkliche Qualität überall zu teilen, und das seltene 2 Morgen Land, 3 separate Balkon des für die vollständige Privatsphäre Bad Doppel-Dusche 2 Toiletten Wohn Bar Lounge-Bereich Aspik
Im Obergeschoss Etage Penthouse 3 separate private Balkone und gemeinsamen Raum im Erdgeschoss Lounge Küche mit Dauergäste
La casa es preciosa, todas las camas eran comodisimas. Nos ha encantado todo, altamente recomendable. Si volvemos a la zona nos quedaremos aquí seguro!
Marta
2017-03-30T00:00:00Z
It's awesome place.
Chloe
2016-11-25T00:00:00Z
Jason was very welcoming and helpful, lovely place had a beautiful stay. Would definately recommend for quiet weekend getaway
Johnny
2016-03-16T00:00:00Z
Good & Friendly.! Very good spa.! Had good time.!
Danya
2016-12-03T00:00:00Z
Amazing stay at this place. The best part was the view of the stars in the clear sky. It was absolutely break taking! Jason is very accommodating, he left the keys for us as we reached really late. The house is beautiful with modern furniture and an electric fire place and three balconies. The upstairs penthouse is spacious.
Shivangi
2016-11-19T00:00:00Z
Nice and Quiet place
Alvin
2017-03-15T00:00:00Z
We had an amazing time in Torquay at Jason's penthouse! The views were amazing, you could see all the way to the ocean from the house. The house is absolutely gorgeous!! It's really new and clean. Huge tv screen. He was very willing to help and flexible. Can't think of anything that could have made it better! :) would love to return!
Rena
2016-03-30T00:00:00Z
Had a great experience Jason was very attentive setting up the spa with a boom box for the kids,asking us if we had towels, etc. lovely spacious home with plenty for the kids to keep occupied.( volleyball, wet tramp,beach close by). Thanks Jason we look forward to coming back again. Deb&Matt
Debbie
2016-11-11T00:00:00Z
Tipo de habitación
Habitación privada
---
Tipo de propiedad
Loft
---
Capacidad
6
---
Dormitorios
Torquay, Victoria, Australia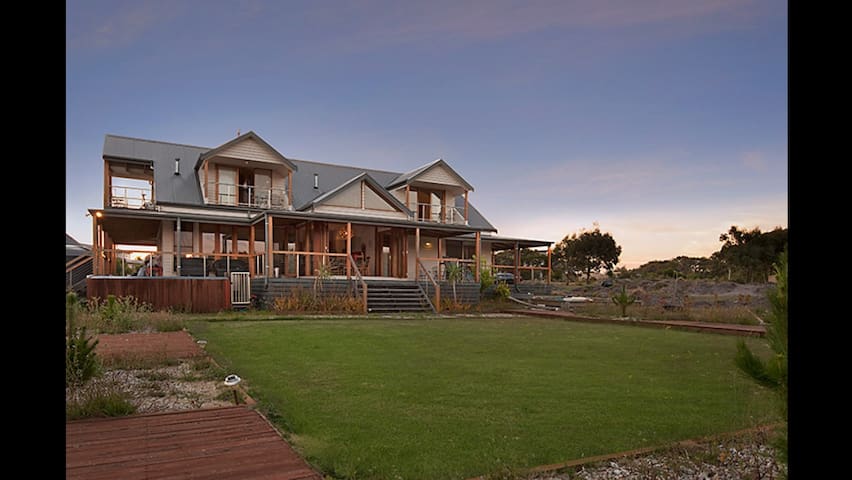 Välkommen till vår nyrenoverade Loft lägenhet, en perfekt tillflyktsort för par. Vi ligger i ett utmärkt läge, bara 400 meter från den vackra vita stranden och gångavstånd till många av de fantastiska attraktionerna.
På Golden Beach Retreat strävar vi efter att ge total komfort och avskildhet. Denna underbara ett sovrum loft, bekvämt kan sova 2 - 5 personer. Det stora sovrummet har egen toalett och kläder, med en dubbelsäng och enkelsäng. De ljusa, rymliga vardagsrummet är det perfekta stället att luta sig tillbaka och koppla av, med två stora bekväma soffor, en dubbelsäng och matbord. Pentryt har allt du behöver, med en fyra brännare gasspis, ugn, litet kylskåp, vattenkokare, brödrost och köksutrustning. Det nyligen renoverade badrum och andra toalett ligger ner trappan. The Loft är en fantastisk bas för att utforska allt detta fantastiska område har att erbjuda.
Detta är en fantastisk plats och området, med så mycket att erbjuda: - Ligger på en lugn gata bara 400 meter från den vackra vita stranden. - 400 meter till The Sands golfklubb och Peppers restaurang. - 1.2km till Wyndham, där du kan njuta av en spa-behandling eller äta på Ocean View Restaurant. -Njut En 2 km promenad längs den vackra stranden vandringsled till hjärtat av Torquay, där det finns ett överflöd av vackra kaféer, restauranger, barer och modebutiker. - Eller ta en kort 10 minuters bilresa till den berömda Bells Beach.
Super schöne Unterkunft und nette Gastgeber! Wonderfull flat und hosts!
antje
2015-02-01T00:00:00Z
We loved this place with its fantastic loft style arrangement. It was clean, neat and we would highly recommend this accommodation. As we only stayed one night, we unfortunately did not get to meet Jodie.
Leanne
2014-12-15T00:00:00Z
I had organised a working weekend stay in Torquay for my wife and I at the Wyndham, unfortunately that accomodation did not suit our requirements so Jodie came to the rescue for the second night! Prompt response and friendly communication saw us move 1 km up the road to this lovely beachside neighbourhood. The loft was super quiet and spacious with a great table and internet connection plus a very warm heater. The elevation provides a lovely feel. The beach was a short walk away to where the locals frequent :)
Michael
2016-09-12T00:00:00Z
The loft was lovely and exactly as pictured. Very clean and great for a small family like ourselves.Jodie was very fast and welcoming in all communication before,during and after our travel.
Dorien
2016-01-06T00:00:00Z
nice stay. The loft is good. It's very quiet in the neighborhood. The only problem is that all the restaurants in the center close very early. We arrived at about 8pm, but were told their kitchens are closed.
Olivia
2015-10-06T00:00:00Z
Everything was great and Jodie was easy to deal with. Very obliging and was happy for us to stay late as she had no one coming in the next day. Easy access to restaurants and the beach. Nice clean apartment, well heated and air conditioned. Very comfortable in all respects, with a well appointed kitchen, with ample glasses, crockery and cutlery. Would happily stay with Jodie in the future.
Kevin
2015-08-10T00:00:00Z
Lovely get away at the Golden Beach Retreat! The apartment was clean and very nicely set out, and enjoyed the beach being close by. Would definitely return!
Christie
2015-12-23T00:00:00Z
Everything at Ocean Edge was as listed: clean, spacious and comfortable. Check in process was smooth and hosts are so great with information and responding prior to arrival, even making sure we were settled in nicely. Super close to everything that's great about Torquay - the perfect location for a weekend away.
Jess
2016-03-29T00:00:00Z
Tipo de habitación
Casa/apto. entero
---
Tipo de propiedad
Loft
---
Capacidad
5
---
Dormitorios
Torquay, Victoria, Australia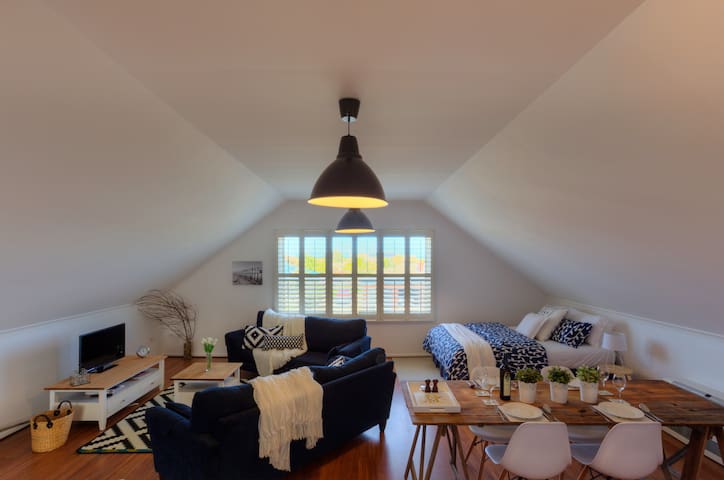 Highly recommend Yvonne's place. Hers was the fourth Airbnb place we stayed on our 2week road trip. We stayed 25-27Dec. It was clean, cosy, comfortable, large and quiet. Everything was as pictured. Toilet was extremely modern and new. Kitchen was very well equipped and plenty of breakfast options (the best of all the Airbnb places we've stayed!). As we travelled with two toddlers (2.5 and 1yo), Yvonne included toys, high chair and an extra inflatable bed for the kids which was a very sweet surprise. Our kids enjoyed their stay. There's ample free parking right outside the house, check-in was very easy, and communication was prompt. As it was the holiday season, we also had the pleasure of getting to know Yvonne and her family who were very hospitable people. Her place is very central and near to main attractions in Geelong like the Eastern Beach, Carousel, Bollards, Little Creatures Brewery, Stadium, etc. We'lol be back to stay again should we visit Geelong.
Mel
2016-12-27T00:00:00Z
Beautiful, spacious apartment in a great location. Had a very homely feel. The hosts were thoughtful and accommodating.
Rebecca
2016-08-17T00:00:00Z
Yvonne was a very flexible and accommodating host for my stay. The loft was exactly as described and I enjoyed my stay. The only thing I would add is that the loft is above their family garage so when they are coming and going you hear it all from the apartment. Her place was very close to the South Geelong train station and a bit further to the waterfront but still doable. The only thing I didn't expect was how dark the street was when coming home alone at night, but the neighborhood was generally quiet and safe. I would definitely stay with Yvonne and her family again!
Nicole
2016-10-01T00:00:00Z
The Loft was quite simply perfect. The overall space was large and well set out. The kitchen facilities were all new and everything you could think of was there. Great touches of snacks and treats in both the fridge and cupboards. The hosts couldn't be more helpful but also kept there distance unless you fancied having a few wines with them in the down stairs garden area ( which I did a lot!) Their two kids, Hugh and Paris were very friendly, respectful and helpful also. i couldn't recommend this apartment enough to anyone interested in the Geelong and Surf Coast area. Thanks Guys
bryan
2017-01-30T00:00:00Z
Tipo de habitación
Casa/apto. entero
---
Tipo de propiedad
Loft
---
Capacidad
2
---
Dormitorios
Geelong, Victoria, Australia
We had just one night in Barwon Heads recently and felt very privileged to have found Ange's loft. The location is excellent with everything you need in walking distance. Ange was a perfect host, organised and unobtrusive, and made us feel most welcome. The loft itself was impeccable, beautifully designed, luxurious and thoughtful. Thankyou Ange.
Rebecca
2015-11-23T00:00:00Z
The accommodation was in an awesome location and the apartment was set out beautifully to accommodate everything we needed. Everything was very clean and comfortable perfect for a getaway. Barton heads is in a great location with great beaches, cafes ,restaurants and golf courses within a stone throw. Highly recommend this AirBnB
Gareth
2016-01-06T00:00:00Z
Anges loft was so cute and cosy. It was super easy to acess and organise with her, perfect location only across the road from Barwon river and a 3 minute walk to the Main Street! Ange even left us chocolates and orange juice in the fridge!
Caitlin
2016-03-30T00:00:00Z
We only had one night, wish it could have been longer. Great loft accommodation, immaculate, fresh & comfortable. Great location, close to everything.
Julie
2016-10-23T00:00:00Z
Our Host Ange was very welcoming and helpful by responding to questions quick and providing local insights to make our activities and stay even more enjoyable. The location was super convenient, close to the beach and shops and the Loft itself was gorgeously fitted out. We loved our stay and would definately recommend and come back again!
Peta
2016-03-31T00:00:00Z
We stayed a night at Ange's accomodation and enjoyed our stay. The place was a 2 minute walk to the water and shops. The accomodation is modern and clean with kitchenette, decent sized living area and bathroom.
Alex
2016-03-28T00:00:00Z
A lovely loft that I would recommend to anyone! The host was also lovely!! Thanks Ange! I will stay here again next time I'm in town!!
Brenton
2016-01-11T00:00:00Z
We really enjoyed our stay at the Loft. The room was very clean, well appointed and had plenty of space for us to relax in. Ange kept in touch with us and we had no problems at all. I would recommend anybody to stay here if they are looking for accommodation in the area. Thankyou and we hope to come back again. Chris and Susan
Chris
2016-04-11T00:00:00Z
Tipo de habitación
Casa/apto. entero
---
Tipo de propiedad
Loft
---
Capacidad
3
---
Dormitorios
Barwon Heads, Victoria, Australia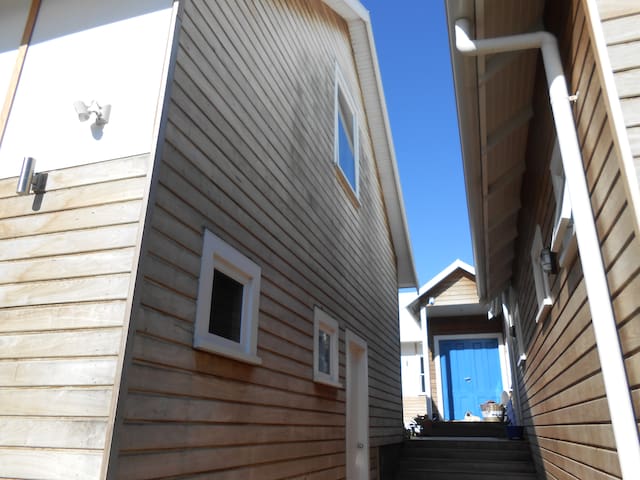 This is a large room with large double shower, toilet and kitchen. The room is comfortable and private and perfect for a quiet get away. Only a short walk to the beach and other attractions in a peaceful quiet little town.
The self contained room is in a quiet suburban neighborhood within easy walking distance to town, nature reserves and beach. It is intended as a quiet romantic getaway or medium term accommodation for those seeking a temporary base on the Bellarine Peninsular. Whilst celebrations of all kinds are encouraged and supported, is not a loud or raucous party house.
The neighborhood is quiet and suburban, only a short walk to reserves, a small but comprehensive shopping street, cafes, take away and eat in eateries, a pub, beach, boat ramp, fishing wharf. Plenty of room to park a boat trailer on or off road.
Clive is an excellent host, goes out of his way to make you feel welcome and to ensure you have all that you need. Very happy with this accommodation and found it to be a good base to visit the surf beaches and the more mild bay beaches.
Bronwyn
2017-01-06T00:00:00Z
Clive's studio apartment was perfect for our weekend away in St Leonards/Queenscliff. It was fully self contained and in a great quiet position, bed was very comfortable, the kitchen is perfect for self catering and had some breakfast provisions. Clive was very welcoming, contacted me to arrange our check in and was very flexible with check out time. He was more than happy for our son Billy (well behaved small terrier) to join us which was a great bonus. We can't wait to return to St Leonards and return to Clive's apartment.
Craig
2016-11-26T00:00:00Z
Thanks Clive for having us on short notice and right on Xmas day. Clive was very friendly and also recommended some surf beaches to go too. We stayed for one night and the studio was very comfortable and clean. It was equipped with everything you needed. Only down side was no aircon but had fans.
Marjorie
2016-12-26T00:00:00Z
Clive kindly accepted our last request, we just stayed 1 night without issue. The apartment was clean, a bit warm but that's January in Victoria.
Tim
2017-01-08T00:00:00Z
Clive was a very accommodating host. The studio apartment was perfect for our little family getaway and would stay again if in the area. Big comfy bed for a good nights rest. Supplied us with all the essentials including breakfast cereals which our 7 year old daughter was very happy with. Thanks again Clive.
Simon
2016-10-08T00:00:00Z
It was a fantastic location with nice views and close to all the amenities of st leonards. Clive was more than welcoming and met all requests and was a pleasure to meet and made our stay fantastic. The room was very clean and well kept and the fully stocked kitchen appliances made cooking a breeze. Highly recommended!
Joel
2016-09-14T00:00:00Z
Clive and Sandy were great hosts. Communication was clear and timely. The room was as described and was clean, comfortable and spacious. A great option for those on a tight budget.
Jane
2016-05-14T00:00:00Z
Clive is super nice! He's flexible with check-in and check-out time, and helped us a lot. The apartment is perfect if you'd like to have a beach holiday with your family or friends. It's spacious, comfortable, and there are even book and video tapes. Though it could be a bit hot during the day in summer, but generally it's a cozy place. Will definitely go back if I'm gonna have a holiday on the Great Ocean Road with friends.
Yiwei
2016-12-28T00:00:00Z
Tipo de habitación
Habitación privada
---
Tipo de propiedad
Loft
---
Capacidad
3
---
Dormitorios
Saint Leonards, Victoria, Australia
Introduce las fechas para ver el precio total. Ten en cuenta que se aplicarán tarifas adicionales y es posible que se añadan impuestos.