5 Alquileres de apartamentos
Lovely studio,wonderful valley views on one side (often to the ocean) and up majestic wooded mountains on the other side - beautiful 19' by 12' bedroom w/new TV - modern shower bathroom- large,modern kitchen with stove microwave, bar refrigerator.
The apt. is on the ground level of a lovely modern dwelling located on a beautiful hillside in the Pasadena Glen. We are located at the top of a hill which allows for the spectacular views.
It's rural, private and lovely, yet close to abundant city amenities.
Ann and her family welcomed us warmly and made us feel completely at home. The accommodation was lovely, quiet with great facilities for preparing light meals. The bed was huge and very comfortable.
Caroline
2016-06-08T00:00:00Z
Ann is a wonderful host. Her home is beautiful with breathtaking views. I attended a convention at the convention center and it was nice to be nestled in the hills away from the craziness. My friend and I had to arrive in the evening due to our schedule- I would recommend trying to arrive during the day as it is kind of hard to find your way up there at night ( Ann sends you very clear directions but if you're unfamiliar with the area it's easy to miss a turn). I would highly recommend staying here!
Brenda
2017-03-19T00:00:00Z
Ann was a great host. From giving us directions from the freeway, to greeting us upon arrival, Ann was first class all the way. The bathroom, bedroom and kitchens were well stocked and Ann was very thorough in explaining how everything worked. We would definitely stay with her again(URL HIDDEN)
Phil
2016-07-18T00:00:00Z
I have to say it's my favorite Airbnb experience ever! The host is really nice and warmhearted!!! And the Glen Delight is really clean and tidy. Everything is really good and perfect! Recommended !
Sophie
2016-05-27T00:00:00Z
The guest room was beautiful and clean. Ann did a great job explaining the quirks of the room. The view during the day from the kitchen is gorgeous. Jen and I are glad we found Ann here. Definitely on my list to request stay whenever I come to the LA area.
Ryan
2016-06-06T00:00:00Z
We so enjoyed our stay at Glen Delight. The space was clean and inviting. The bed was extremely comfortable. Ann was such a gracious host.
Ruth
2016-12-28T00:00:00Z
Although Ann was very helpful and accommodating for our arrival time. This place was the bare minimum. The guest house just simply provided a bed and bathroom/shower area. Yes, there is a full kitchen but if you are just visiting without your own personal transportation it is unlikely to buy food to then cook at the house. There was no water or coffee provided, only one towel per guest was accessible out for our two day stay. The space was clean, but we were deceived by the "Air B&B" when booking the B&B it was only natural to assume it was a Bed and Breakfast, definitely just a Bed.
Nina
2016-06-14T00:00:00Z
Glen Delight is a lovely secluded studio up in the hills. It's quiet and peaceful place to stay. Ann is a wonderful caring host who makes your stay as comfortable as possible. I know I'll be back when I'm in the area again!
stacy
2017-03-04T00:00:00Z
Tipo de habitación
Casa/apto. entero
---
Tipo de propiedad
Apartamento
---
Capacidad
2
---
Dormitorios
Pasadena, California, Estados Unidos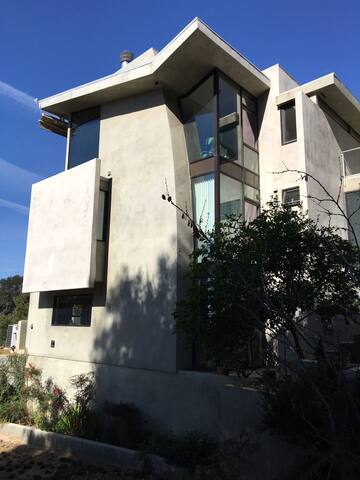 apartamento privado con entrada independiente desde la casa principal. cuarto de baño completo. Cocina, con nevera, microondas y horno tostador. Aparcamiento fuera de la calle.
Nuestra calle es tranquila y cerca de rutas de senderismo. Hay un divertido lugar para el desayuno alrededor de la esquina y la calle donde la gente pasar el rato y comer buena comida. El centro de Sierra Madre está a unos pasos de distancia.
Nuestra ciudad es relajado y agradable. Estamos a cinco minutos de la 210, pero nunca se sabe. Las montañas de San Gabriel están justo detrás de nosotros.
Another great stay at Luisa's! Her place is perfect if you are looking for something secluded, or if like me, you are moving to the area and need something to hold you over during your move. Thank you for another great stay.
Ellen
2017-03-16T00:00:00Z
The place was very clean, quiet, comfortable, and private. Luisa was very helpful and responsive. I would definitely recommend the place.
Monique
2017-01-05T00:00:00Z
Wonderful experience. Highly recommend
Prashant
2017-01-04T00:00:00Z
Luisa's home was clean and accommodating. I loved how close (walking distance) it was from trails and parks. She was very nice/responsive. I would definitely recommend her place!
Diana
2017-01-01T00:00:00Z
Great stay really enjoyed it :)
Donny
2017-01-23T00:00:00Z
Nice, quiet neighborhood and spacious room!
Sharon
2017-02-09T00:00:00Z
Great location. Very clean.
Jane
2017-02-22T00:00:00Z
Luisa's place was everything we needed for a quick over night stay. It was very clean and cozy and in a wonderful area. Luisa made our check in seamless. Would definitely recommend staying here.
Rubymae
2017-01-06T00:00:00Z
Tipo de habitación
Casa/apto. entero
---
Tipo de propiedad
Apartamento
---
Capacidad
2
---
Dormitorios
Sierra Madre, California, Estados Unidos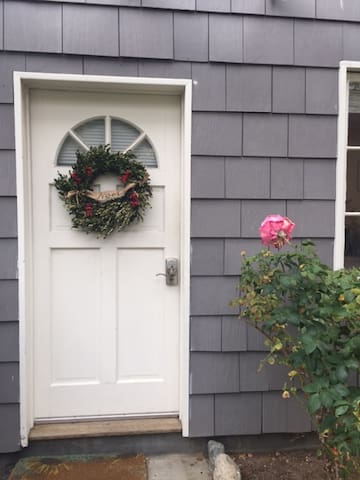 Cozy back house/studio near Hastings Village and Pasadena Rose Parade float viewing. Studio has a California King bed with ortho mattress with a large master on-suite bath and fully stocked kitchenette overlooking a beautiful yard with fruit trees. Has a separate entrance and totally private but attached to the main house.
This space is in a highly desirable and safe neighborhood of northeast Pasadena. It is walking distance to where the Rose Parade floats park for viewing on January 1st, 2nd, and 3rd. It has many restaurants nearby. 10 minutes from Old Town Pasadena and 20 minutes to Downtown LA (La Live, Staples Center, jewelry district, Fine Dining) ALL GUESTS TO STAY IN PASADENA MUST REGISTER FOR STREET PARKING IN PASADENA AREA. No parking allowed on the street after 2:00 am-6:00 am. This is a city ordinance. PLEASE PLEASE PLEASE purchase your guest parking permit and print out for duration of stay BEFORE your arrival. It's 3$/day for the permit. Or you can go to the Kiosk located at 2424 Villa St Pasadena Ca in front of Pasadena Fire Station No 32 which is 5 min from home to purchase the Overnight parking for the duration of your stay. To purchase the overnight parking you would need your full name, Vehicle License plate #, make and model of car, and color of car.
Very safe neighborhood in upper Hastings ranch where they do Christmas light up month of December ALL GUESTS TO STAY IN PASADENA MUST REGISTER FOR STREET PARKING IN PASADENA AREA. No parking allowed on the street from 2am-6:00am.
Gorgeous place. Reasonable price. Great communication. The most luxurious AirBNB rooms i have stayed in. Pictures are accurate. Quiet beautiful location. I would recommend this place to anyone who wants a five star experience at a very convenient price.
Carlos
2017-02-26T00:00:00Z
Lovely house. Very modern and clean. Everything is updated and great space for two people. Was like our own mini house. I would definitely recommend
Daniqua
2017-02-22T00:00:00Z
Overall,I had a great stay and would recommend coming back here if I had to be in the area.
Alex
2017-03-29T00:00:00Z
Peggy had a wonderful private room area for us in an awesome neighborhood. Not to mention, the bathroom, bathtub, and shower were absolutely wonderful. Perfectly clean, comfortable... I don't see why anyone wouldn't love it :)
Dave
2016-12-31T00:00:00Z
Great place to getaway with the comforts of a upscale home - We especially loved the jacuzzi tub with TV combo! Thanks Peggy
Christopher
2017-02-24T00:00:00Z
Peggy was very helpful in giving my friend and I directions for getting to the place and checking in. However, it can be a bit confusing to find the gate and entrance but the host's son helped us with the key and where to find our place. We didn't get to meet Peggy but she left a lovely note with her phone number and wifi on the dining table. The room has a small kitchen with a stove, a fridge, and a microwave, and as you walk past it, you're entering the bedroom area. Even the bathroom was really lovely but the only downside and inconvenience to this airbnb is the noise level and how it's attached to the rest of the house. Walls are paper thin, and the bedroom is divided by a closed door that leads to what seems to be the living room/kitchen area of the host's house. This means you hear the TV, any music or conversation going on, as well as the fridge opening and (URL HIDDEN) you're lying on the bed. I don't know what was going on but on both late afternoons and evenings, the noise level was quite high to extremely high (second night, volume of TV or music maxed for a good hour). This meant my friend and I couldn't really unwind in the airbnb area until the host's family was also resting up. All in all, it was a decent stay (and we made sure to leave the place clean, with trash bags sealed, etc.) but I wouldn't recommend this space for anyone seeking a private space or a quiet getaway. For those of you who plan on just using the space as a place to catch some sleep, this will definitely suit.
Esther
2016-12-20T00:00:00Z
It was a beautiful space, in a cute area, and Peggy made it an easy stay! Would do it again!
Nicole
2017-03-05T00:00:00Z
Excellent location in Sierra Madre, a charming and upscale suburban neighborhood nestled into the Pasadena foothills. The actual unit has luxurious amenities such as the tiled shower with double heads, and the jetted tub with pleasant view of the spacious backyard.
Nicholas
2017-03-26T00:00:00Z
Tipo de habitación
Casa/apto. entero
---
Tipo de propiedad
Apartamento
---
Capacidad
2
---
Dormitorios
Pasadena, California, Estados Unidos
My place is close to parks, great views, and restaurants and dining. You'll love my place because of the location, the people, space and natural light. My place is good for couples, solo adventurers, business travelers, and families (with kids).
Greg has a beautiful guest house situated in what I consider Northern Altadena. Always a quick trip to downtown LA for business and a relaxing setting to return to at the end of the day. Internet is consistent but may be a tad slow for those who require a lot of bandwidth for teleworking. Will happily look to book again when the need arises.
Duncan
2017-02-15T00:00:00Z
Tipo de habitación
Casa/apto. entero
---
Tipo de propiedad
Apartamento
---
Capacidad
2
---
Dormitorios
Altadena, California, Estados Unidos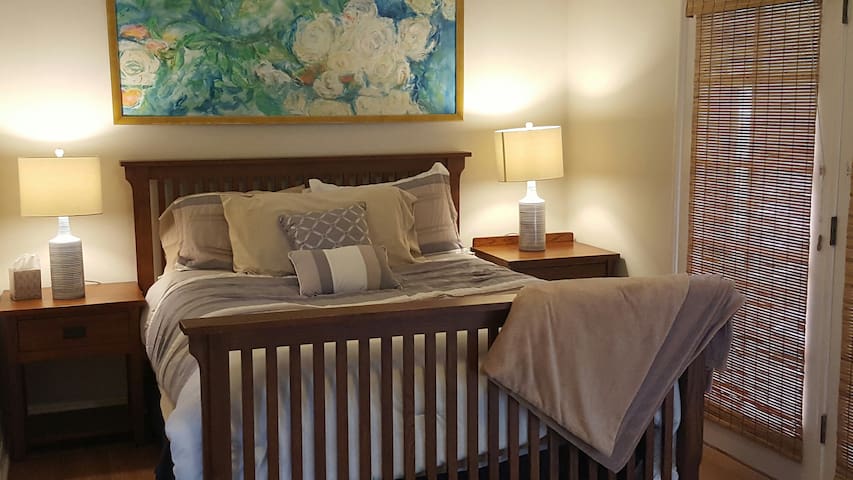 This is a comfortable and unforgettable studio in the mountains on the north edge of Altadena. Located on the Zorthian Ranch. One large room, with a bathroom and large covered porch, as well as a small private yard.
This property is located on a ranch, which also has a few other airbnb's spread across the property. It is in the mountains above Altadena.
We had a relaxing and peaceful stay at a very unique place. As we walked around the grounds, there was so much to look at: folk/junk art, a llama, a donkey, a bunny... Zorthian Ranch is for people who appreciate a rustic place that's a bit rough around the edges, but full of history. It was an inspiring place to stay. It felt like we were far away from the city, though we easily had dinner in Pasadena. The bed was comfy and we had a good night's sleep. A rooster crowed early in the morning, but we fell back to sleep, and were happy to wake up there.
Robin
2017-04-02T00:00:00Z
Rustic, but a great location.
Tamara
2017-01-31T00:00:00Z
Beautiful. Historic. Deffinetly going back but with more friends!
Ian
2017-02-20T00:00:00Z
These folks are awesome and the place is stunning. Awesome!
Christina
2017-04-10T00:00:00Z
The studio was great place to stay and a great getaway from the city. Super quiet, super nice people, really peaceful and unique place to spend the weekend.
Tom
2017-01-15T00:00:00Z
Staying at Zorthian was a tremendous experience for us. We were visiting the Pasadena area for a family wedding, and booked out the entire Zorthian Ranch - the main house plus both individual studios for three nights. Among the highlights: - Very clear and consistent communication with Alan and the entire Zorthian staff (including Robert and Gary!) both prior to our arrival and throughout our visit. - The main house is spacious and great for a large family, while the studios are both very distinct and meet the needs of individual travelers or couples. Everything was clean and comfortable. - Having the Zorthian staff around the property was not only fun, but they were able to answer our questions and provided a sense of security. They also respected our privacy. You can really relax in this mountain retreat knowing good folks are always around. - The entire Zorthian property is aesthetically fun and funky, with many areas to eat, relax, walk, and lounge. - The pool is saltwater, with views of the mountains in one direction and downtown Los Angeles in the other - need we say more?! We highly recommend Zorthian as a comfortable and welcoming retreat for families and small groups who want easy access to the Pasadena and greater LA area, while also getting away up into the hills for a distinctively unique experience. With family in the area, we'll be back!
Ebony
2016-06-26T00:00:00Z
Lots of history on this ranch. See story at (URL HIDDEN)
Tim
2017-01-03T00:00:00Z
The Zorthian Ranch was all we could have hoped for it to be and more! The pictures were accurate in displaying the layout, but only a fraction of capturing its magic. It is truly unique. Living in Los Angeles it was ideal, because it felt far away without being far away. The space includes only the things you really need. The outdoor grill was our favorite for dinners. We hope to come back again and have more days to spend!
Jillian
2017-01-01T00:00:00Z
Tipo de habitación
Casa/apto. entero
---
Tipo de propiedad
Apartamento
---
Capacidad
3
---
Dormitorios
Altadena, California, Estados Unidos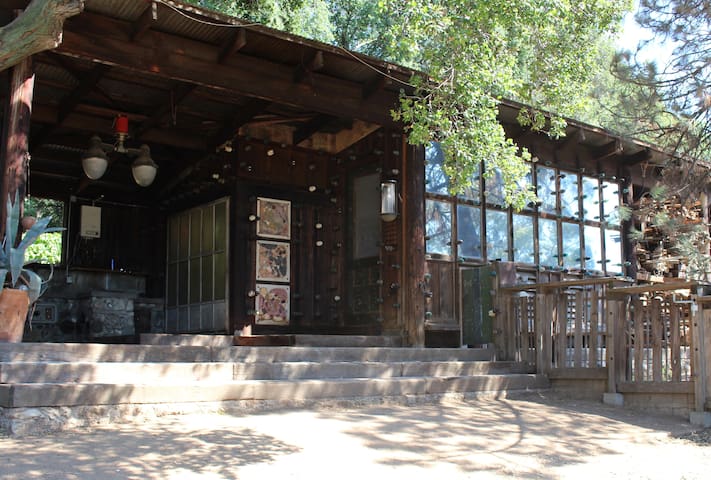 1

–

5

de

5 Alquileres de apartamentos
Introduce las fechas para ver el precio total. Ten en cuenta que se aplicarán tarifas adicionales y es posible que se añadan impuestos.