Introduce las fechas para ver el precio total. Ten en cuenta que se aplicarán tarifas adicionales y es posible que se añadan impuestos.
On the 6&7th floor. Private elevator. Away from the crowd. Parking available. Fully equipped kitchen with fridge, freezer, pantry, stove, oven, microwave, washing machine. Dining island. Maids quarter. Three bedroom downstairs with living room and dining. Upstairs is a gorgeous state of the art master bedroom. Spacious bathroom. One meter rain shower. 600 l jacuzzi inside the bedroom. Garden terrace. Very private with a huge room. Can be used for cinema setting or games room, opens to the roof top.
Tipo de habitación
Casa/apto. entero
---
Tipo de propiedad
Loft
---
Capacidad
6
---
Dormitorios
4
Cairo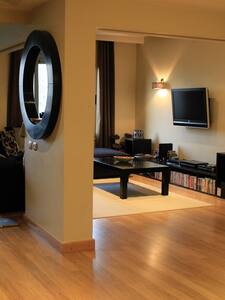 The Loft is a great location with a breathtaking view if you are visiting Cairo/Giza, Egypt. It's pretty with exposed bricks. It's clean with a high pressure hot water bathtub. It's super safe, only 50 metres away from the gate of the Great Pyramids area.
The Pyramids Loft is a four apartment house with a breathtaking Pyramids view- the best in town! We have it fixed with a barbecue and cushions on the shared rooftop. -The rooms for rent are spacious, furnished, clean, and safe. -The price is per room per night in one of the apartments, which all have four bedrooms. The apartments all have shared living rooms furnished with a sitting area, a table, and cable TV. -There is wireless internet access that covers the whole building. We have a wonderful terrace with a small garden and a breathtaking view. Enjoy sunbathing on the rooftop or try any of our other activities at your leisure. We do yoga, singing, and socializing on the rooftop, which is even equipped with a BBQ grill. Living at the foot of the Pyramids is a unique experience and we love to share it! We love meeting new people, sharing experiences and ideas. We will help you and make sure everyone feels at home. We also can help you organize tours around Egypt within a friendly budget.
- The idyllic village of Nezlet Semman, also known as living-right-at-the-foot-of-the-Pyramids! - It's a lively area attached to the ultimate tourist attraction in the WORLD. - People are friendly and welcoming (to an overwhelming degree!) - The area is away from downtown, but you will have no difficulty finding everything you need nearby. - There are supermarkets open 24/7, souvenir shops, swimming pools, cafés and restaurants, and even a golf course right at the foot of the Pyramids. - If you want to go downtown, the transportation is efficient and very cheap, costing no more than 50 cents for public transportation, or for your peace of mind you can ride a taxi or UBER for about 5 USD! A few extras can be arranged: - Pick up from airport 20 USD -Drop off to airport 15 USD - From Giza train station 10 USD - A coach for day tour 40 USD - A tour guide 40 USD Feel free to enquire about any excursions, we will be available for assistance and advice.
Un lugar muy tranquilo y con excelente vista a las pirámides. Muy recomendable.
Daniel Alexandre
April 2016
Thomas se encargó de que me sintiese comodo en todo momento. El lugar es impresionante. Alejado del centro del Cairo, pero en una ubicacion inmejorable. No tengo mas que cosas buenas que decir de una experiencia innolvidable! Recomiendo 100% visitar el lugar. Es al estilo Hostel, con habitaciones privadas y baños compartidos, y por lo visto hay siempre muy buena gente por el lugar. Tanto el como sus amigos y otros huespedes me hicieron pasar muy buenos momentos.
Santiago
December 2014
Thomas es una gran persona, fue la unica persona en todo El Cairo que me ayudo sin pedirme nada a cambio, todo lo bueno del viaje se lo debo a el. La casa es acojedora, con todo lo necesario para poder pasar una estadia, sin grandes lujos. No es lujosa, pero el gran valor agregado lo da Thomas con su ayuda. Sin dudas de volver a el Cairo, volveria con Thomas.
Diego
June 2015
Thomas is a great host, helps you with everything you need to guarantee you a great experience, were unforgettable days. very clean with everything you need, great view of the pyramids, great guides and excellent person. Super Recommended, thanks for everything
Luis
July 2014
Beautiful view beautiful people there. One of the most happiest days in my life. Thomas is nice as always he help you whatever you need. Unforgettable experience in Pyramid loft! :) see you soon I'm sure I will go back ome day
Bonnie
July 2014
Thomas was an absolutely incredible host! From the moment we arrived at the airport he made us feel welcome. As two American girls traveling alone we had some preempted hesitation about Egypt, but Thomas quickly showed us how kind and hospitable all Egyptians truly are. He made our trip out to the pyramids unforgettable by both showing us the tourist side of the pyramids and taking us to unseen treasures that aren't normally open to the public. Thomas even took it a step further by arranging all our transport for good prices and accompanying us on all of our excursions- he really made it easy to adapt to Egyptian culture. I would truly recommend the pyramid loft to anyone looking to go to Egypt. Not only does Thomas treat you as an honored guest, but you leave as good friends.
Brea
March 2015
I had a great time, the environment is warm and inviting. The light show is spectacular and the view is breathtaking. It costs 50 Egyptian pounds to travel from Giza to downtown Cairo. Uber is available, but often there aren't enough drivers. The wifi is consistent but slow at times. The area is well protected because it's so close to the Pyramids. You will be pestered by vendors constantly, because tourism is down 60% most souvenirs are on fire sale. Thomas helps negotiate great deals, for example he arranged the pick up from the airport with a driver holding a sign for me in 110 degree heat for $25. The drive from the airport to the pyramids loft is approximately 38 minutes depending on traffic. Beware of the cats if you are allergic animals and the lofts don't have AC so prepare to swelter at night during the summer.
Brandon
August 2015
Thomas is a great host. From day one in Cairo, he helped me in whatever way he could. He does it without any monetary expectation, he just wants to ensure that guests have a great, safe, and economic stay in Cairo. You will most definitely not go wrong staying at the Pyramid lofts... Of course the view is absolutely gorgeous--the pictures don't do it justice. The roof of the hostel is a mosaic that is reminiscent of Guadi'a park Guell. This is the place to be if you are visiting Cairo. Kudos Thomas!
Mohamed
August 2013
Tipo de habitación
Habitación privada
---
Tipo de propiedad
Loft
---
Capacidad
16
---
Dormitorios
1
Giza
One month minimum lease. This luxury 2 level condo is conveniently situated in the heart of Sheikh Zayed, minutes from the major shopping malls, hospitals and schools. The location provides easy access to Giza (Pyramids), Cairo (downtown area) and the Cairo-Alex Desert road.
Safe, Quite, with security and not far from all the action. Uber, car rental Long term lease preferred
The host canceled this reservation 2 days before arrival. This is an automated posting.
Lynda
Everything was great.
Amr
January 2017
this place is so lovely, clean, of wide space, and near to everything in Shikh Zayed District. All amenities are there and the neighborhood is so nice. I do recommend it to anybody visiting Egypt.
Tamer
February 2017
Tipo de habitación
Casa/apto. entero
---
Tipo de propiedad
Loft
---
Capacidad
5
---
Dormitorios
2
Sheikh Zayed City