The "Cracker Factory" condo building is within easy walking access to the downtown restaurants and shops. My loft unit is on the 4th floor of the building. The guests use the master bedroom/connected bath on the lower floor. The host 'space' is on the second floor in an 'open concept' loft.
Our stay at Joyce's home was exceptionally comfortable and enjoyable. Other guests have noted the close proximity of the apartment to Keene's different venues and the warm, tasteful decor of the apartment itself. To us, however, what stood out most about our stay with Joyce was her hospitality before, during, and after our stay. We would certainly stay with Joyce in the future.
Alexander
2016-12-29T00:00:00Z
A very comfortable loft condo. Joyce is a charming, well traveled , interesting conversationalist. The unit is clean and comfortable with convenience to restaurants, shops and entertainment. I will be staying here again in future travels. John B
John
2016-07-28T00:00:00Z
Beautiful condo close to everything in Keene. Joyce was wonderful to work with. Would definitely stay again if back in Keene. Thanks for everything!!
Kathy
2017-03-26T00:00:00Z
Joyce's loft-style apartment was spectacular, and she a terrific host. Joyce interrupted her own plans to make sure we could get in, and went so far as to leave out juice for us in the morning. The open-style design of the apartment made the room a bit less private than a more traditional bedroom (e.g. no door dividing the room from the rest of the apartment), but that was more than offset by the architectural beauty of the place. Really couldn't have been a better stay!
Nathan
2017-02-19T00:00:00Z
Great experience was A+
Dan
2016-07-21T00:00:00Z
Joyce's place is beautiful and comfortable. The central location made it easy to walk around town and is in walking distance to a favorite food coop. I found Joyce to be kind and friendly. I would recommend this to anyone and especially to women traveling alone.
Amy
2017-01-28T00:00:00Z
The nicest accommodations I have used in the Keene area. Walk to all restaurants, shops and churches. I highly recommend this lift condo. Joyce is very interesting and accommodating. John B
John
2016-07-29T00:00:00Z
Located just one block back from the heartbeat of Keene, Joyce's home is the ideal lodging location for those who appreciate getting acquainted with a town while having a quiet, sophisticated retreat. Joyce was out of town during my stay, but she made a local friend available to help me if any needs should've arisen and she responded promptly to Air Bnb messaging. This lodging is delightful, calming & inspirational.
Julie
2016-09-18T00:00:00Z
Tipo de habitación
Habitación privada
---
Tipo de propiedad
Loft
---
Capacidad
2
---
Dormitorios
Keene, New Hampshire, Estados Unidos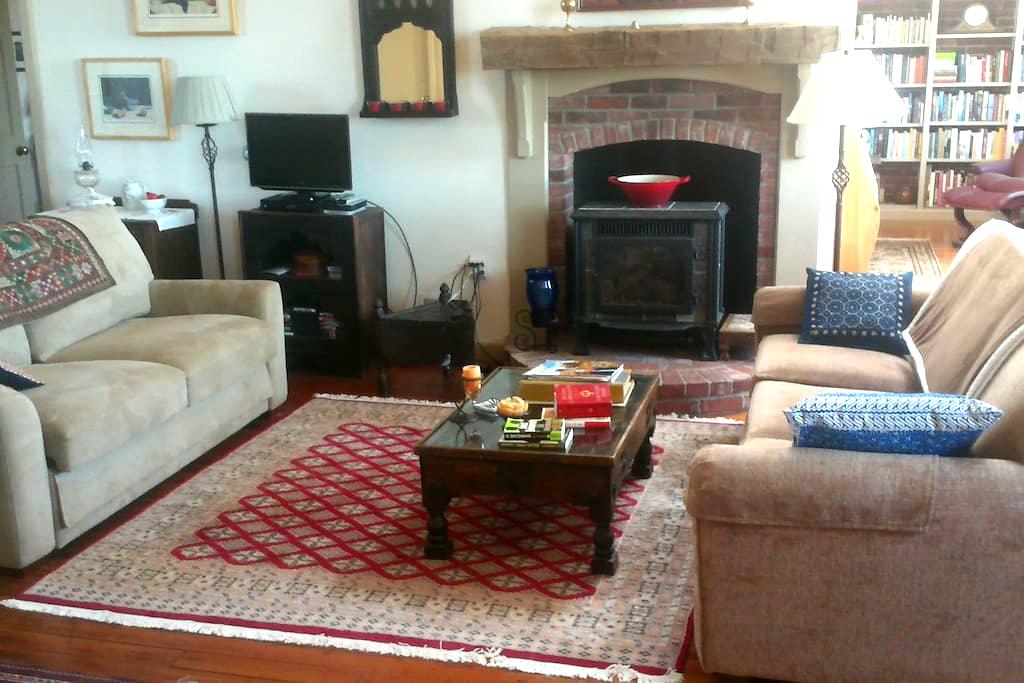 This is a 1900 two-family New England home on Main Street. We have easy access to route 3. Shopping centers and malls are just minutes away. Note: If this listing is not available for the period you need, don't be discouraged! Try a different date range or one of my other listings (under my profile). If you need to rent a vehicle, please read the "Getting around" section below, under "Description".
Our unit consists of the second and third floors, with two bedrooms on the second floor and a loft studio on the third floor. This listing is the loft studio on the third floor. You have the entire floor to yourself, including a queen size bed, separate bathroom and kitchenette. Access is through the second floor, sharing common entrances with the second floor. There is also an additional foldable bed if needed.
We are on Main Street on the edge of a residential area, yet steps away from shops.
Chen was very thoughtful and attentive during my stay, I was in never in need of anything in the house, everything was provided for me in the loft. The mini kitchen was awesome, It worked very well. The loft was very cute I loved the design and everything with it. I got try some good food he cooked. If I needed something I could easily get in touch with him even with his busy schedule. I was very comfortable with the area and I was able to walk downtown with no problem. Overall it was a great summer for me in New Hampshire. I would recommend this place to anyone.
Nereida
2016-08-01T00:00:00Z
Tipo de habitación
Casa/apto. entero
---
Tipo de propiedad
Loft
---
Capacidad
3
---
Dormitorios
Nashua, New Hampshire, Estados Unidos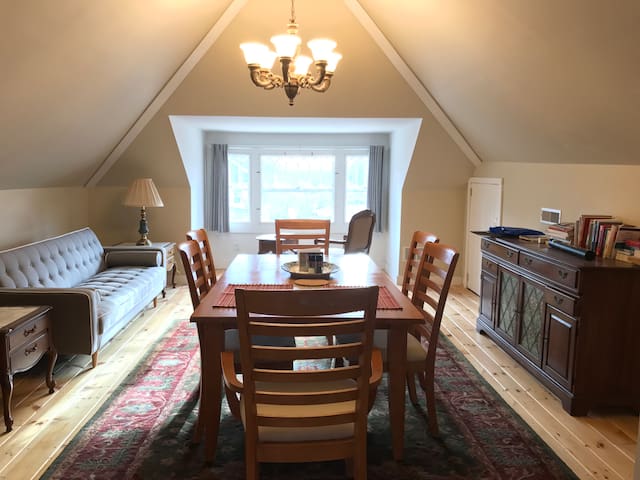 Tranquila, cómoda habitación en un hermoso espacio granero acabado con baño, yoga adyacente / estiramiento / espacio de baile, ducha al aire libre de lujo en 10 acres al lado del bosque del estado! Manzanos, vides, arces, corriente de la trucha con el agujero de la natación! Iniciar una sesión de sauna disponible por un costo. Caminata, bicicleta, nadar, descansar! Opcional programa de retiro de diseño personalizado disponible.
Oasis Rural! acogedor dormitorio con un gran yoga / danza / stretching / carrocería adyacente. Bar y zona de té, maderas duras locales en todo. Mucha luz, ventilación, Vermont Castings estufa de leña de gas, hermosas vistas de nuestro pequeño hueco.
Nuestras 10 acres de propiedad está enclavado en el histórico Mormón hueco en la ciudad rural de Wendell, MA, adyacente a 7000 acres de bosque estatal. casas de campo y las pequeñas granjas de trabajo la zona de puntos. Muy arbolada, un montón de espacio abierto. El diseño de su propia experiencia! Ver retirarse a medida formulario.
The space is beautiful and very clean! Joe is very kind and helpful! The surrounding woods are great for hikes and there's a lot of quaint eating places within a 10 mile radius.
Olivia
2017-03-11T00:00:00Z
It was a beautiful spot but the listing didn't say anywhere that there was no running water. If we had known that, we would have come more prepared. Also, it said there was wifi but the signal was so weak we couldn't get online, even for the basics but if you don't care about either of those things it is very secluded and quiet and the welcoming was fine. Otherwise, it was very clean and comfortable.
Leigh
2015-08-02T00:00:00Z
Joe and Sarah's place is in the best location: a wooded hollow nestled next to the Millers River and encircled by gorgeous hills and forests. If you're looking for a refreshing and rejuvenating stay somewhere close to nature, look no further. Not only are there plenty of options for hiking, snowshoeing, mountain biking, etc. within walking distance of the site (a hiking trail cuts through the woods right behind the house), Wendell State Forest is also just a short drive away, with 7,000 + acres to roam through. The loft style apartment is a spacious yoga studio with a bedroom/bathroom attached. It's very comfortable inside, with hardwood floors and a propane fireplace, a comfortable futon bed, and huge windows that let in lots of light. There is a compost toilet, a water cooler, WiFi connection, a teapot and plenty of tea. Everything on the property is eco-friendly and sustainable. There's no running water inside but we were welcomed into Joe and Sarah's home to shower. Overall, we had a great time and would definitely come back again. This is one of my favorite airbnb stays so far.
Travis
2017-02-11T00:00:00Z
Our stay at Joe's was great. The place is in a lovely location with huge windows looking out into the woods. The place was very clean and comfortable. It was too cold to use the outdoor, so they made access to their own indoor one available. There was also a wash basin provided in the room. We were perfectly warm and comfortable and would happily come back again! Joe also gave us a tour of his sugar house and lots of great info on maple sugaring in the area. It was very cool to see. Thanks for a great weekend!
Caitlin
2017-03-05T00:00:00Z
The location was just as promised. Secluded, clean, and very open. It was a cozy respite from my hectic and stressful daily grind.
Bart
2017-02-19T00:00:00Z
Tipo de habitación
Casa/apto. entero
---
Tipo de propiedad
Loft
---
Capacidad
2
---
Dormitorios
Wendell, Massachusetts, Estados Unidos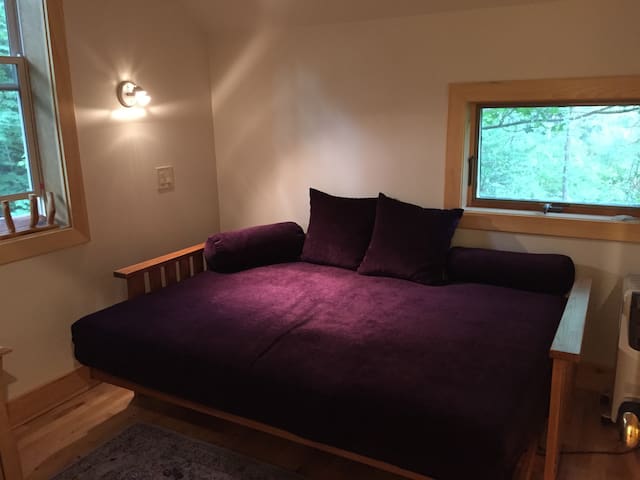 Newly renovated Condo directly across from Crotched Mountain! Only minutes to golf courses, hiking trails, antiquing & skiing. 15 minutes to Peterborough's restaurants,art, theater, and shopping.
This is a surprisingly sleek yet incredibly comfortable loft condo . Perfect for a relaxing romantic getaway. Enjoy a full beautiful view of crotched mountain from the living room or as well as from the front deck. You can literally walk across the street to the mountain!
The place was so adorable and very comfortable. All the kitchen utensils were new, nice and well kept. It was clean and cozy.
Ashley
2016-05-16T00:00:00Z
Great spot for couple or solo traveller. Small but comfortable with well stocked kitchen, comfy couch with nice view of Crotchet Mountain & great flat screen smart tv for a relaxing evening, tho the walls are a tad thin. Huge stupendously comfy bed as well. Nice area with lovely backroads & golf course nearby with good restaurant & bar. A ways from nearest decent market so stock up prior. Sheila is a good host & very prompt in her replies. Highly recommended.
Bruce
2014-10-10T00:00:00Z
Sheila's condo has a gorgeous view of Crotched Mountain and is within 30 minutes of tons of hiking, biking, water activities, state parks, antiquing and small towns filled with charm. The condo itself is exactly as pictured and described, with plenty of amenities and a full kitchen with all cooking equipment. We had a great time and felt right at home. The propane grill on the back deck is in excellent condition and ready to use. We did not have any problems and would gladly stay again.
Lyndsey
2014-08-18T00:00:00Z
We absolutely loved our stay in Sheila's condo. The Host communicated quickly with us with any questions we had, and was very professional. The condo was very clean and comfortable, and we never heard the neighbors. We enjoyed a relaxing weekend get-away, and tipped it off by barbequing steaks on the grill. For the Winter you have the ski slope across the street, but for us in a Summer/Fall visit, it is an easy drive over to Merrimack, NH to visit the Budweiser Plant and Clydesdales and the Outlet Mall. There are also several quaint small towns in the surrounding area like Peterborough, and Greenfield. We will definitely consider staying again when we visit this area. Randy
Randall
2015-07-19T00:00:00Z
Rented from Sheila for two weeks while I was home visiting family. I happened to luck out and come during some beautiful fall weather and peak foliage colors. Her home is perfect for a long stay with a well appointed kitchen, comfy couch, nice entertainment center, great wifi, super king sized bed, and over all very clean... all and all it was a great place to stay while I was there and I would highly recommend it to others.
James
2016-10-25T00:00:00Z
It was exactly as described and Sheila was easy to work with. Very comfortable and clean. All the amenities were great. Nice bed. Kitchen had everything we needed.
Amy
2016-08-14T00:00:00Z
If you're looking for an awesome private get away then look no further! It's designed as a skiing vacation escape but it's perfect for the spring, summer, and fall also!
Kevin
2016-09-05T00:00:00Z
Sheila responded to our reservation request very promptly and was very accommodating when our schedule changed about a week before our trip. She also made it very easy to access the loft and gave some good suggestions. The loft is exactly as advertised, and then some. We were looking for a relaxing Memorial Day weekend away and were able to use the pots, pans, spices and grill that are all available. There are plenty of restaurants in nearby towns if you are looking to go out as well.
Chris
2016-05-30T00:00:00Z
Tipo de habitación
Casa/apto. entero
---
Tipo de propiedad
Loft
---
Capacidad
2
---
Dormitorios
Bennington, New Hampshire, Estados Unidos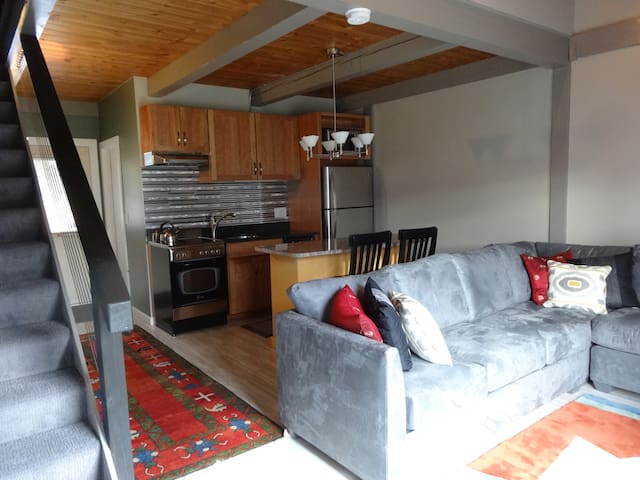 Introduce las fechas para ver el precio total. Ten en cuenta que se aplicarán tarifas adicionales y es posible que se añadan impuestos.