Dawn is a 26ft wooden sailing boat, and a beautiful little space. Modest and humble, she floats on the riverside, facilitating a simple, pared back and tranquil hideaway for those who are looking to escape and deeply connect with nature. The simplicity of this home will cultivate a real appreciation for the rivers beauty and of life simple pleasures.
Although only 26ft, she is spacious and light. Stripped back to her oak and pitch pine frame, the space is open with a raised cabin roof for extra head room. A small galley kitchen area hosts a surface to prepare food and an electric hob to cook. There is a small sink for washing up which can be emptied by the hand pump and a tap with running fresh, but only cold, water. There is dining space for two inside, but eating on the deck with a view of the river is really special! A small wood burning stove heats the cabin space. Kindling and timbre will be provided for the stove, but there is also the option of chopping your own logs if you would like. The bed is situated the forecastle, with a skylight looking to the mast and stars above. There is enough room for two to sleep closely and wake to the morning light. Please be aware that there is not a loo or shower aboard, but there are these facilities for your use in the boatyard. Up on deck you have expansive views across the river. The tide will rise and fall, shifting you as it does. Please do not be alarmed if she tilts at all.
Tipo de habitación
Casa/apto. entero
---
Tipo de propiedad
Barco
---
Capacidad
2
---
Dormitorios
Cornwall, Inglaterra, Reino Unido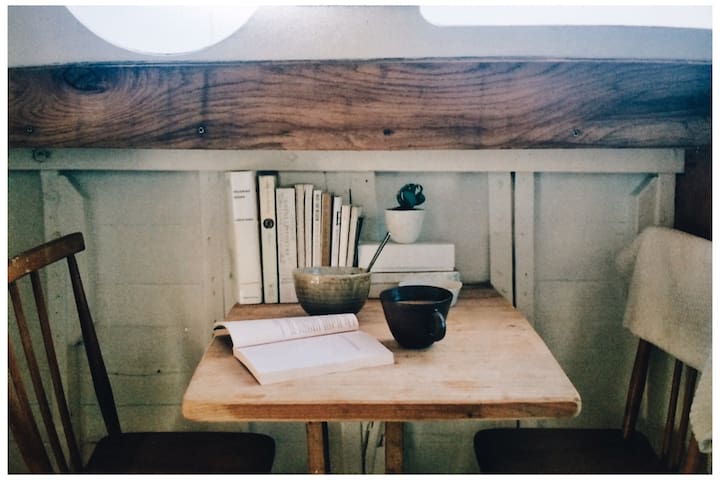 Imagine sitting on deck, watching the sunset, with the water lapping against the hull while you sip something cool and refreshing...and don't forget about those views, from every window, Chante Brise sleeps 4 with all mod cons inc. Wifi and TV
Chante Brise is a 38f classic yacht, commissioned in 1976 as a gentlemen's motor sailor. Accomodation for 4, is made up with a centre master cabin and 2 single berths in the fore peak . She benifits from a spacious galley kitchen with gas hob and oven, fridge & microwave. Toilet and sink on board, with running hot water. Wifi, and TV in saloon deck area with comfortable seating and dining space. Outside seating in the cockpit area. There is both internal and external sound system .
Our yacht is moored a short stroll (approx 1mile)into the vibrant & ecceltic historic harbour town of Falmouth. Falmouth is one of Cornwalls leaders when it comes to restaurants and bars. It is home to an array of art galleries and museums as well as being the point of departure for ferries exploring St.Mawes and the Roseland Peninsula
Thank you Lisa! We had a fabulous couple of nights on your gorgeous yacht. It was great that you were there to welcome us & show us all the little quirks! Such a relaxing break in a very different environment. Will definitely recommend to family & friends. X
Debbie
2016-06-14T00:00:00Z
Really flexible with timings of check in and out and lovely warm and friendly hello :) Really everything we needed, and would definitely go back! Thanks! Jenny and Tom xxxx
Jenny & Tom
2016-09-01T00:00:00Z
Lisa came down to the marina to meet us and explain everything there is to know about staying on a yacht. She was very helpful and responsive in arranging the booking. The vessel is plenty big enough for four people, and well equipped. It is moored in a great location in the marina, which is just a short walk from the town.
Roger
2016-07-28T00:00:00Z
Lisa was very communicative from the start. Was ready to meet us as we arrived and we intuitively spotted each other as we drove into the marina. She showed us the facilities and explained how to use everything onboard. Even though it was all in a manual it was great she took time to explain and show us how everything worked. She was very bubbly and likeable too and had even provided breakfast cereals, tea and coffee etc for us to use which was brilliant! We had a fantastic time on board 'Chante Brize' and would definitely recommend. The boat was Accurately described and the marina was perfect. Chante Brize was moored right next to the Marina so we didn't have far to walk to the restaurant and other facilities to have a shower. The showers were extremely good and clean. Was perfect!
Jane
2016-08-26T00:00:00Z
Our friendly host Lisa met us on arrival and talked us through the finer points of her beautiful yacht ( the pictures don't do it justice !) It was a fantastic 3 day stay and made very special by the location and overall experience of sleeping afloat. The Chante Brise is a wonderful period boat in super condition and we felt completely at home. The location is superb and near by Falmouth and St.Mawes offer lots to see and do.
Keith
2015-07-23T00:00:00Z
A lovely weekend enjoyed by the whole family, obviously the good weather helped but when your host and accommodation exceed your expectations all is going to be good. Chante Brise offered the ideal setting in Falmouth as a base for our stay, visiting Falmouth University with our eldest daughter. Sitting on the back of the boat supping a G&T or 2 come an evening was the icing on the cake. Thank you for sharing your boat Lisa.
Kim
2016-06-06T00:00:00Z
Everything needed for a relaxing stay was taken care of. Would highly recommend Lisa's yacht.
David J
2016-06-29T00:00:00Z
I had a great time and would stay again!
Ajay
2015-10-04T00:00:00Z
Tipo de habitación
Casa/apto. entero
---
Tipo de propiedad
Barco
---
Capacidad
4
---
Dormitorios
Falmouth, Cornwall, Reino Unido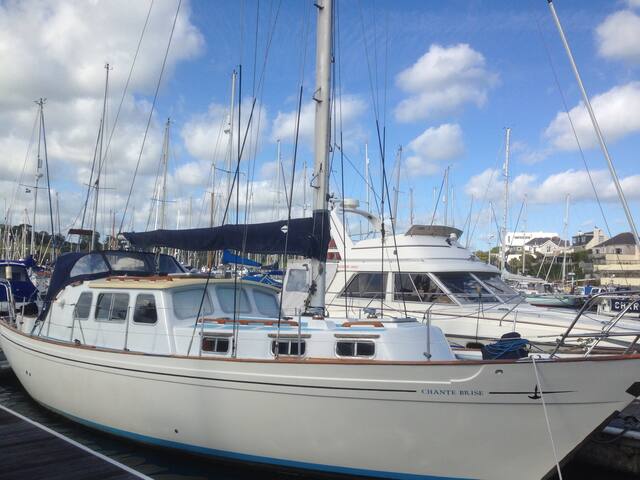 Imagine sitting in the cockpit watching the sunset, as the ever changing cycle of life on the river goes timelessly by while you sip something long, cool and refreshing.
Yemaya of Helford is a 50ft classic yacht, commissioned in 1982 as a fast cruiser racer. She offers accommodation for 8 but is most comfortable with a maximum of 5. She offers an aft master cabin with a double and a single bed, 2 bunk beds and a pilot berth in the saloon and a double in the focsle. She has a spacious galley kitchen with gas hob and oven, fridge & freezer. 2 toilets with ensuite shower and sink on board, with running hot water. Wifi and USB connection for I-Pods and MP3 in saloon with comfortable seating and dining space. Outside seating in the cockpit area and on a fine day a table can be used for dining under the stars
Yemaya is moored 15min walk from the centre of the vibrant historic harbour town of Falmouth and its eclectic selection of bustling bars, pubs and restaurants. It is also home to an array of art galleries and museums as well as being the point of departure for ferries exploring St.Mawes and the Roseland Peninsula
What a unique and memorable experience! We added a few days onto our trip to Cornwall to allow our daughter to experience life on a yacht for a few days. Cyprian greeted us and showed us the ropes (excuse the pun) and around Yemaya. The yacht is simply beautiful, polished wood, a real sense of what a sailing boat should be. The space is well laid out and exceptionally clean, right down to the quality of the towels/bedding. Kitchen easily dealt with breakfast for 4, basics are provided, and everyone slept well. Basics: close to Falmouth, easy to find, Marina has restaurant and car parking is a doddle. Unfortunately our trip was short so no sailing but we fully intend to return and have a proper sail. For something out of the normal and unique can't recommend highly enough, why stay in a room when you can have a boat? Thanks Cyprian.
Andrew
2016-08-14T00:00:00Z
The experience was wonderful. Cyprian was very friendly and helpful, full of fun and energy and useful suggestions about what to do in the area. We took a full day sailing trip with him also which really made our vacation memorable. I will try to stay with Cyprian next year also.
kambiz
2016-09-03T00:00:00Z
A great place to stay and a fantastic trip. Cyprian was very friendly and welcoming. All in all a very unique experience and we hope to visit again next year! Many thanks
Conor
2016-08-17T00:00:00Z
We have just had an amazing week on Cyprians luxury yacht. After a 7 hr drive Cyprian helped us with our bags and couldn't do enough to make us feel comfortable & welcome he left us relaxing on deck enjoying the stunning views with a welcoming complementary bottle of wine. The location is the perfect base to visit all of Cornwall's many stunning attractions. There was also additional facilities including on site restaurant, shower facilities and 24/7 secure parking. We decided we had to take the once in a lifetime opportunity for a days sailing the classic 50ft bowman yacht, Cyprian let us get involved as much or as little as we wanted, with Cyprians guidance I spent much of the time steering and got a good overview of how things worked, which was something I have always wanted to do. His many talents even extended to making an amazing meal (which I will be getting the recipes for) including Cornish cream teas which we enjoyed when we anchored in a small bay. A truly fabulous week in Cornwall. We highly recommend a stay on Cyprians yacht.
Karen
2016-07-23T00:00:00Z
I would like to thank Cyprian for such a good experience aboard his beautiful yacht. It was docked at the end of the marina, so benefitted from privacy as well as great views. Inside we discovered a smart, well appointed living area, kitchen and bedrooms, with the most comfortable beds ever. Towels were included, as were padded sun beds for sunbathing on deck. Tea, coffee, milk and orange juice were on hand for us upon arrival. I highly recommend this experience if you fancy something a bit different that you'll never forget.
Victoria
2016-08-25T00:00:00Z
Our host Cyprian really made this a truly memorable stay. Nothing was too much trouble and he went out of his way to ensure that we had everything we needed, including generous provisions on arrival. We are so glad that we also arranged a day sailing which was such an amazing experience on this beautiful yacht. We certainly hope to return!
Simon
2016-06-11T00:00:00Z
It was such a nice experience to stay on Cyprian's beautiful sail boat. The accomodations were just right and we were cozy and warm despite the blustery February weather. Our host was very accomodating and helpful. He was knowledgeable about the area around Falmouth and gave us lots of great tips on excursions and sight seeing. The boat itself is a lovely vessel. It is clear that she is lovingly maintained to the highest comfort and safety standards. Even with a toddler in windy conditions, I felt completely at ease thanks to Cyprian's efforts. We will remember this trip fondly for many years to come. Thanks again and happy sailing!
Denise
2017-02-24T00:00:00Z
If you are looking for something different than the run-of-the-mill hotel room - then look no further than 'Cyprian's place' onboard his sailing boat located in picturesque Falmouth Harbour. Don't just 'imagine' what it would be like sipping chilled wine - whilst watching the sun set and the swans drifting serenely along - book up a couple of days and experience it for yourself! Cyprian is courteous and communicative host - who does his best to ensure that your trip is a great one. The rest is up to you...
Lorie
2016-10-29T00:00:00Z
Tipo de habitación
Casa/apto. entero
---
Tipo de propiedad
Barco
---
Capacidad
8
---
Dormitorios
Falmouth, Reino Unido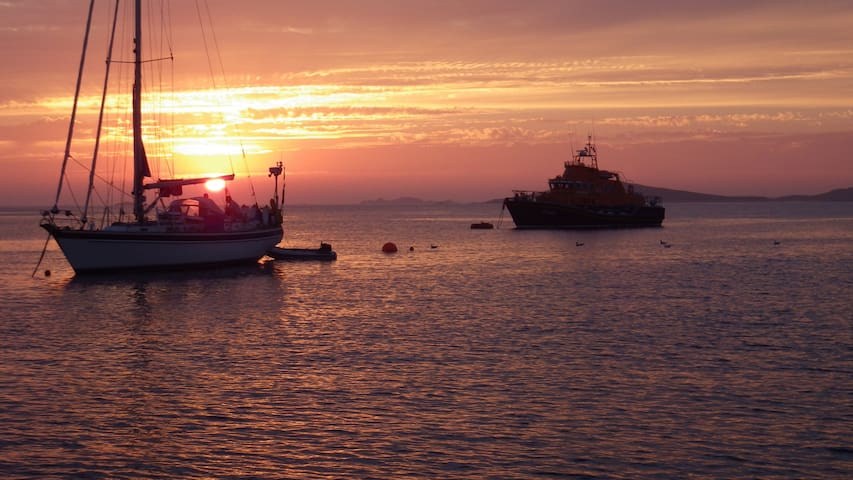 Accommodation is compact and versatile sleeping, cooking and toilet facilities for 4. Stay secure near the centre of town and enjoying a classic Cornish harbour and university town or time sailing the incredible marine environment and beautiful coast
If you have never stayed on a yacht before now is your chance. A little like caravanning but it floats. Forward cabin is a double bed with sheets and douvet and in the main cabin converts to two bunks with sleeping bags. Most unique option will be that your skipper and host can take you sailing for a day or more, bespoke sessions. Visit (URL HIDDEN) Book a skipper charter one day or up to week. £250.00 per day for 4, clothing and provisions all provided. Nb this is a working cruising sailing boat
The Haven is the heart of the town, The town is rich in history and is a vibrant university and art college town, with good shopping art galleries and a most unique Marine Museum. It is also the gateway to some of the best sailing in UK and its fabulous and varied marine environ, with wildlife, hidden smugglers creeks and vast craggy coastline.
Richard's boat Physis was perfect for staying while we were in Falmouth for our son's graduation. We are used our own boat & this was spacious by comparison. The sea is very much part of Falmouth so waking up and stepping onto the pontoon to see the early morning mist on the inner harbour was great way to start the day. This was an overnight stay, Richard cooked us an excellent full English breakfast and was an interesting and informative host. It would be great to try out the charter sometime. Unfortunately back to work next day this time, but would love to return for alight sail or passage crossing to the Scillys
Charlotte
2016-09-08T00:00:00Z
Sailing trip. I opted to book Richard and the boat for 3 nights at sea sailing and motoring as was keen to explore the local area, ports and gain some sailing experience. Richard was a fantastic host, his knowledge of the area, history, sea and boat is 2nd to non. Given this is not a commercial company or a new sparkling boat this host offers fantastic value for money along with a unique experience. I do hope to return in the future.
Chris
2016-09-17T00:00:00Z
Staying on board a boat in harbour was a dream come true for our son - and great for us as a family too. Falmouth is a beautiful harbour and just right for providing this experience - it's partly a working harbour so you get to see real ships and work in action. The boat itself was cosy, warm, clean, peaceful and a happy and interesting place to spend time. Richard made us very welcome and was really interesting to talk with, and an inspiration for us and our children. Excellent fish & chips for dinner and a lovely cooked breakfast in the morning. Richard also took us for half a day sailing the next day (paid separately) which added to the experience even more.
Don
2016-07-28T00:00:00Z
It was great. Lovely guy, beautiful location and a nice breakfast. Lots of fun x
Rob
2016-09-18T00:00:00Z
We loved our experience on the boat with Richard. He is a very warm and interesting guy and it was great spending a bit of time with him. He made us completely welcome and accepted everything about us. The cabin was cozy and atmospheric and bedding, towels and brekkie were all good. We had the privacy we needed as well as a bit of good company. The private washing facilities on the harbour are of a high standard and parking is not an issue. The location is superb. It was a bit choppy but we had unusual weather conditions and all good fun and part of the experience. We 3 are very different characters and we all enjoyed ourselves immensely. Thanks Richard.
David
2016-10-23T00:00:00Z
Richard was wonderful host. He lives in a micro mancave at the stern. As a worker in the pub trade my world runs a few hours behind the real world. He totally respected this never appearing before we were up and about. Brilliant knowledge of local places of interest. Didn't ask him to supply breakfast as a few minutes walk away is a wonderful cafe called Fuel who have an amazing b/fast menu. Hoping to spend a few days on board in Spring.
Peter
2016-09-09T00:00:00Z
Tipo de habitación
Casa/apto. entero
---
Tipo de propiedad
Barco
---
Capacidad
4
---
Dormitorios
Falmouth, cornwall, Reino Unido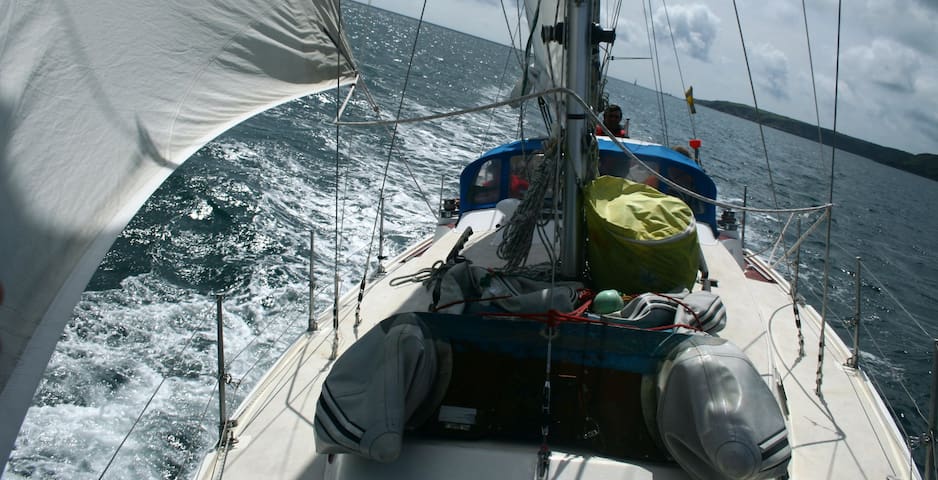 a unique stay in a cozy stylish boat with many original features perfect for a romantic break.
a unique stay in a cozy stylish boat with many original features perfect for a romantic break. This is a work in progress but the boat is a beautiful space and perfect for a couple or small family. Privacy, wildlife, a semi camping experience. On arrival and if you need anything at all during your stay West Penwith is historic wild and beautiful with the best coastline in the world. For nature lovers and beach bums. The bus stops at the end of the lane. We can help with lifts up and down the track. This is a work in progress but will be ready by next summer. I will update with photographs as it develops
West Penwith is historic wild and beautiful with the best coastline in the world. For nature lovers and beach bums.
Tipo de habitación
Casa/apto. entero
---
Tipo de propiedad
Barco
---
Capacidad
3
---
Dormitorios
Newbridge, Inglaterra, Reino Unido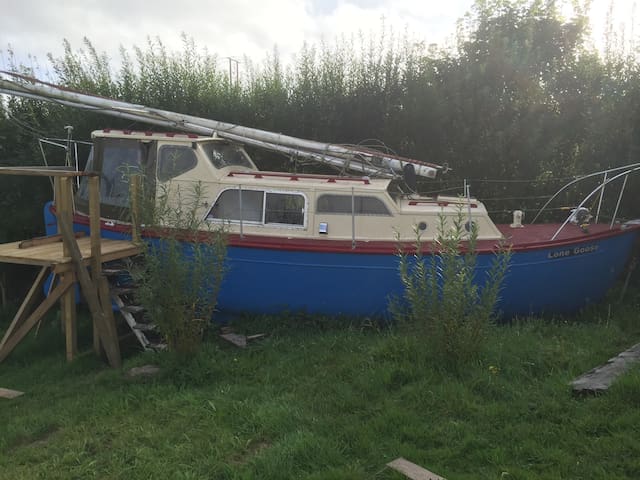 1

–

5

de

5 Alquileres de Barcos
Introduce las fechas para ver el precio total. Ten en cuenta que se aplicarán tarifas adicionales y es posible que se añadan impuestos.