Introduce la fecha de llegada en el formato dd/mm/aaaa
Introduce la fecha de salida en el formato dd/mm/aaaa
Anuncios que no requieren que el anfitrión acepte la solicitud.
Introduce las fechas para ver el precio total. Ten en cuenta que se aplicarán tarifas adicionales y es posible que se añadan impuestos.
My place is close to the city center, , family-friendly activities, nightlife, the airport. You'll love my place because of the people, the outdoors space, the ambiance, and the neighborhood. My place is good for couples, solo adventurers, business travelers, and families (with kids).
Tipo de habitación
Habitación privada
---
Tipo de propiedad
---
Capacidad
3
---
Dormitorios
1
Nosara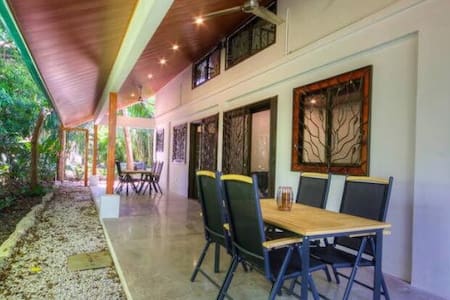 Watch This Video: youtu [dot] be [slash] 1qEBWyjJ7xk Fully Furnished Loft Condo 7 min to Tamarindo The weather is always warm and there is sunshine every day even in the rainy season. The best beaches (Tamarindo, Avellana, and Grande) and restaurants are all a short drive away. Also close to Flamingo, Potrero, Penca, Prieta, Langosta and other beautiful beaches.
Tipo de habitación
Casa/apto. entero
---
Tipo de propiedad
---
Capacidad
2
---
Dormitorios
0
Tamarindo
Private loft, perfect for couples. Climb the ladder to get to your bed and sleep among the monkeys! Private spacious outdoor patio, just 300 meters from Tamarindo beach.
Each apartment in Casa de los Arboles has its own entrance. The Guanacaste Loft suite is nested among the trees where you can observe howler monkeys all day. It had its own private terrasse, with hammakcs where you are going to spend most of your day. The living is equipped with a A/C unit, the kitchen is all equipped and all is furnished. The bedroom is upstairs where you can climb a big ladder to get there, but dont worry the owner by the name of Andrew is super tall and can climb there when owners come for a while. So if he can do it, we all can do it! The bedroom is surrounded by screened windows where you can see and hear all the sounds of nature. All apartments in Casa de los Arboles have hot water, a safe, cable TV and WiFi. to the apartment and property in general, garden, BBQ and outside shower.
5 minute walk to grocery store, restaurants, shopping and Playa Tamarindo! close to the beach and town. We can book tours and shuttles for you at no extra cost, this service is offered to our guests, contact us after booking about tours and activities. Late check-in fee: after our office hours (10am-6pm) 6pm-8pm $50 Later then 8pm: $75
I have very mixed feelings about my whole experience at Guanacaste Loft. I can say that the setting is very peaceful and close to town. The pictures however of the unit are obviously when it was brand new. Since that time, things have had alot of wear. The couch is a disaster, the hammocks are unusable, the smell in the bathroom is horrible and the whole place needs a very good, deep cleaning. I never did meet Claudia during my stay but was in touch with her several times. My first was to ask for the place to be cleaned again as it was filthy when I arrived. The second was to get some clean dish towels as I was left with none. The outdoor lights weren't working so that was the third contact. In her defense, she did give me the opportunity to leave early and said she would prorate my stay. The only problem with that is trying to find a place last minute in Tamarindo. I would not recommend this place to anyone staying in Tamarindo.
cari
March 2015
The Guanacaste Loft was okay, me and my boyfriend experienced a bad experience some of my belongings were take from the window but I guess that just happens anywhere you go ! this loft gets very hot throughout the day and night because there is only one cooling vent , the bathroom was very smelly at times however we had purchased febreeze to take away the smell ….. overall experience here was ok.
Mandie
April 2015
The reservation was canceled 58 days before arrival. This is an automated posting.
Max
Das Loft war echt ein cooles Erlebnis. Es ist gefühlte 10min von der city entfernt. Man hat also absolut seine Ruhe. Der Ausblick aus dem Zimmer war grossartig und atemberaubend. Die Treppe ins Schlafzimmer ist nichts für Leute mit Höhenangst oder wenn man mal ein Gläschen zu viel hatte. Auch würde ich empfehlen nicht mit zu schwerem Gepäck anzureisen. Ansonsten viel Spass beim schleppen. Das Haus war echt cool und bietet alles was man braucht. Der Eigentümer ist ein super cooler und netter junger Mann.. Bei Problemen wie z.B. eine kaputte Duschbrause hat er sofort umgesetzt und repariert. Das einzig nicht so tolle war der bestialische Gestank eer Toilette. Wir haben es gemeldet und es wurde uns gesagt, dass es repariert wird ner dies war bis zur Abreise nicht der Fall. War aber auszuhalten. Im grossen uns ganzen wars toll uns ich würde wiederkommen. Ach ja und neu gibt es sogar noch eine Outdoordusche ;)
Melissa
May 2015
Tipo de habitación
Casa/apto. entero
---
Tipo de propiedad
---
Capacidad
2
---
Dormitorios
1
Tamarindo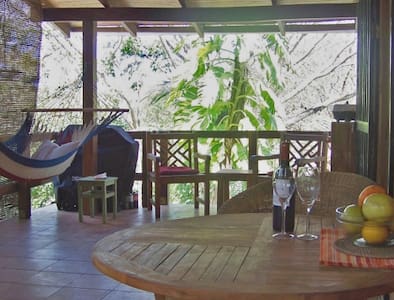 Welcome to Vista Bela Upstairs Beach Loft, enjoy our open living area design. Has private entrance, ocean view sundeck w/dining table for 4. Step down on beach relax in hammocks,beach chairs, swim,surf,snorkel,fish,walk/jog the beach.Playa Callejones located between Playa Blanca & Playa Negra. We're very much off the beaten tourist traffic flow. On the beach in front of ocean in Tropical Beach Jungle area for your Real Pura Vida Experience! Near by restaurants, grocery store, tours
Vista Bela is located on the beach front of the ocean where You can surf,fish,swim,snorkel,walk/jog the beach or simply relax under shady palm trees in hammocks or beach chairs.Howling Monkeys,bird life, restaurants,grocery store all near by.Loft is an open living area design has private entrance,private ocean view balcony deck,TV,WiFi,kitchen,restroom,shower,2 queen beds, 1 single bed. Please look at our 'Profile' for reviews & also all 3 Units, to see/choose which one You may have Your 'Pura Vida' experience for best relaxing:) We (Owners) are down on the main floor for all your needs/question & anything You may need/ forgotten. Laundry available, You supply your own detergent. Guest who book for month or longer furnish their own living supplies, such has kitchen seasonings, dish soap, etc.. We only supply toilet paper, hand soap, restroom garbage bags & kitchen garbage bags. Has much or when the Guest enjoys. Some enjoy their privacy, others like to enjoy having fun conversations. We respect both!
We are located in a coddle-sack which including us are 3 familys. So very tranquil,private,clean & safe! Another is Oviedo & Son's Fishing Tours for going out into the Big Blue to catch the big fish. We have a taxi service for getting Guest around who don't have vehicles.Rate depends on distance.Average fee from $6 to $10.00, also 2 bicycles to rent. P/U service at Liberia Airport for $90.00 We have total of 3 Units to choose Your best relaxing Pura Vida Experience, please look at our Profile to see what Units is best for Your 'Relax-Time':) ! Here options are to totally relax in your rental or on the beach. Or there are near by beach horseback riding tours,ATV tours,Waterfall Tours & fishing tours. Note we are very much off the beaten tourist traffic flow & in the Tropical Jungle o9n the Beach Coast for insects, hermit crabs, monkeys, squirrels, big crabs, iguana's, gecko's to visit some time. Then in the ocean theirs plenty of Tropical Fish/Sea life for the Real Pura Vida Experience:). You must enjoy the outdoor life to have fun & relax with us:):)
Nos sentimos muy bien atendidos con nuestra familia por Sonny y su esposa. Son unos anfitriones fantásticos. Nos recibieron con una cena el día 31 de diciembre. Estuvimos en uno de los rincones maravillosos de la maravillosa Costa Rica que siempre nos ha tratado muy bien.
Roberto
January 2016
Sonny was a great host! We had a little difficulty finding the property, but Sonny came right out to greet us when we arrived. The house is located on a beautiful beach outside of the touristy areas. We arrived just in time to get groceries from the store around the corner, go for a swim and watch the sun set from the hammocks on the property. You take dirt roads to get to the house, so I would recommend a 4x4 or SUV for transport. The break was calm while we were there so it was easy to swim even at high tide, but there are rocks, shells, etc. so good sandals are helpful. We were only there for one night, but we had a great time!
Kaitlin
April 2015
We loved this place. This place is right on the beach, is just a short walk to surfing with a nice restaurant down the beach. Not to mention authentic, wonderful meals right next door. Sonny was so welcoming, friendly and helpful. The whole vibe of this place is great...hammocks, the sunsets, bikes, a kayak, our own little balcony. We didn't want to leave!! We were lucky that they happened to not be booked because we stayed an extra night rather than travel to Liberia before our flight in the early morning. Sonny arranged transportation to the airport for us and even got up at 4 am to see us off with hot coffee for us and snacks for our 2 girls!! Highly recommend - thank you Sonny for the wonderful memories!! Jackie, Nils, Lia and Norah
Jackie
February 2015
Sonny and Rita were gracious hosts. Very warm and welcoming. Communication beforehand was excellent, with perfect directions to an otherwise difficult to find location. The location is gorgeous and mostly private, a nice quiet beach on the Pacific side of Costa Rica. The "restaurant" next door serves the best fish I've ever eaten (parrotfish apparently). The view from the deck of the loft is great and the chair is perfect for planting yourself in to relax and/or read while enjoying the view and warmth of the location. Monkeys live in the trees surrounding the house and it is interesting to watch them migrate from mango tree to mango tree while sitting on the deck. Geckos hunt bugs at night while you sleep. Great pura vida experience!
David
August 2014
Vista Bela was hands down the best way to enjoy a Pura Vida experience! Practically your own private oasis with the comfort of knowing you have great hosts like Sonny and Rita to help with anything you might need and answer any questions. I will definitely be back! Sonny, I still wanna stay this winter too!! ;-)
Meghan
March 2015
Sonny and Rita are excellent hosts!! They are very friendly, make you feel right at home, and have great recommendation of places to go around the area. They were also super accommodating because I has recently rescued a dog (after I had made the reservation) and they let us bring her along on short notice. My boyfriend and I stayed in the loft and it was the perfect beach get-away. It is right on the beach and the balcony is perfect for drinking a coffee in the morning or a cocktail in the evening with a view. I also always look for a place with a kitchen when I travel and the kitchen in the loft had everything you could need. We brought a surf board and walked to playa negra most mornings to surf - it was a quick walk and convenient - we liked that we didn't have to drive to a surf spot. We also enjoyed snorkeling right out front near the loft - we saw some pretty tropical fishes and 2 sea turtles!! Our favorite thing about this spot is that we felt like we were "away from it all" as there are only a few houses near by on the beach. But it was also really easy to hop in the car and explore some of the other towns/beaches nearby. We hope to come back soon!
Michelle
October 2015
The location was perfect, as it was on a private and secluded beach, and within 30 minutes to the craziness of tamarindo. So happy with the experience and only wish we were able to stay longer. Sonny was great and provided us with a lot of information about where to eat, nearby stores, etc. Thanks Sonny!
Christian
January 2016
Sonny and Rita, thank you!! Thank you for building and providing the perfect little getaway in Costa Rica. This was my first time using Air B&B and if all experiences are like this I'm hooked. Your place was exactly as you described, off the beaten tourist path, right on the beach, and Pura Vida! If we could have stayed two more weeks we absolutely would have. You were so attentive and kind yet completely non invasive. Samantha and I felt like it was just as much our home as it was yours and we really appreciate that feeling being hundreds and hundreds of miles away from our own. From the monkeys, tide pools, purple star fish, nice guests, and almost completely empty pristine beaches right in the back yard it was hard to leave the area. We loved Costa Rica, and you and your property had as much to with that than anything we saw or experienced in our trip there. We hope to be back some day and will certainly suggest your place to anyone who asks... though we would like you to be our little secret. Keep living your dream and maybe we will find ourselves waking up to the beautiful sounds of your little beach. Thanks again!!!!
Dylan
March 2015
Tipo de habitación
Habitación compartida
---
Tipo de propiedad
---
Capacidad
6
---
Dormitorios
1
Playa Callejones/Pariso,Guancaste-Costa Rica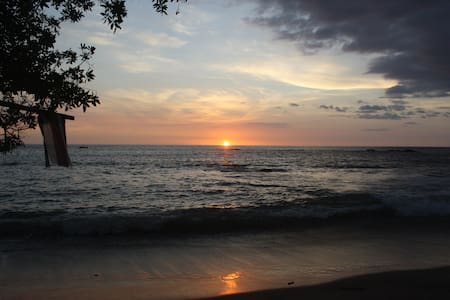 Fully equipped room/house located in Canas Guanacaste. Right off the main highway (Inter-American Highway). Approximately 45 minutes from Liberia Airport, its a great central location to visit all the main attractions in Guanacaste. Main Attractions are all within driving distance: 40 mins away from Best Hot Springs in Costa Rica 30 minutes away from the waterfall posted in my pics. 5 minutes away from beautiful rivers and mountains. 10 mins awau from Corobici Rafting Tours(great for bird watching) 1hr away from main beaches, Coco, Tamarindo, Hermosa beach. 1 Hr away from Jaco Beach, puntarenas, 2 hrs away from Monte Verde Cloud Forest 2hrs from Arenal Volcano 25 mins from Tilaran 15 from one of Guanacastes may wind power generators 10 mins from the Sandillal Hydroelectric Plant (nice view and place to enj0y the sunset 30mins away from the Ferry to the Nicoya peninsula and more spectacular beaches. If you prefer to stay local and get a more personalized feel of the people and culture, Canas is a great place for that. Here you can: Mountain Bike for all levels. Horse Back Riding. Tubing Bird watching or simply go for a walk in the town or by the river. Canas has many nice rivers you can enjoy with family and friends all within 10 min drive or you can even ride a bike there. To enjoy all these great places I suggest you rent a car, no need for expensive tours. We can give you directions to all the cool places or we can provide you with a guide and even a driver if you are not comfortable driving alone. What to Expect as a Guest? We have different accommodations available. This listing is for a private room, but we also have a small loft style house, private rooms w/bathrooms, and room shares are available. Below are a little description and prices. Private room w/bathroom - $20 per day Room has private entrance and own bathroom. Full size bed, air conditioned, large closet space, bathroom is spacious with hot water shower. Access to refridgerator and hot plates. Room opens out to a covered balcony with rocking chairs so you can enjoy the nice breeze and fresh air. Loft fully equipped with queen size bed $35 per day for 2ppl $10 per additional guest - Furnished Living room, Kitchen, bathroom and Dining room. Open floor model, bedroom over looks the kitchen. approx 800 sq ft. $10/night Room Shares Bunk up with other guests, meet other tourists and save some green. approx 420 sq ft Bigger groups can contact me for to make arrangements. Home has 4 large bedrooms each with its own bathroom. each room can host up to 4 people and still not be crammed. All accomadations have access to cooking appliances and utensils. If you are not into cooking. Just about a block away is the center of town which is filled with many options for food and entertainment. The location is a central location, and has easy access to the bus terminal. Buses leave from here to every corner of the country. Get away from the tourist areas yet still enjoy all the beauties of Costa Rica with this centrally located Home. Beaches, volcanos, Monteverde and hot springs are all within 2 hr or less drive.
Tipo de habitación
Casa/apto. entero
---
Tipo de propiedad
---
Capacidad
2
---
Dormitorios
1
Cañas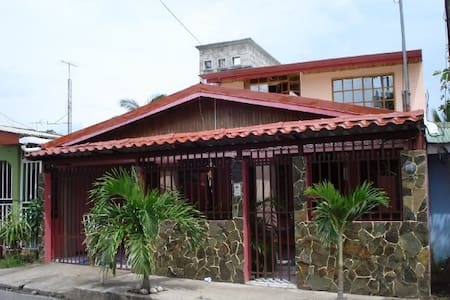 My place is close to the airport, the city center, parks, art and culture, and great views. You'll love my place because of the coziness, the views, the location, and the kitchen. My place is good for couples, solo adventurers, business travelers, and families (with kids).
The room is within walking distance from the beach (approximately 7 minutes) and main street in El Coco, Guanacaste (approximately (15-20 minutes). This is perfect for people who want to enjoy the excitement of the nightlife. At the same time, it is far away enough from that area so that guests can also experience a peaceful stay near the beach and nature. The location is also near many other must-see beaches in Guanacaste, including Playa Ocotal, Playa Hermosa, Playa Conchal, and Tamarindo!
Desde un inicio la comunicación fue muy buena y siempre con la mejor intención de ayudar y sentirnos cómodos. El lugar es muy tranquilo y seguro, EXCELENTE!
César
October 2016
Todo estaba perfectamente limpio y tal cual como se veia en las fotos. Myrna fue muy amable en todo momento y facil de contactar. Ademas muy detallista al dejar una pequeña tarjeta de bienvenida personalizada para hacerlo sentir aun mas a gusto uno.
Fabio
November 2016
Tranquilo y excelente, descansamos.
Melissa
January 2017
Excelente lugar, limpio y ordenado, buena ubicación. El host siempre estuvo muy atento en darnos todos los detalles y brindarnos cualquier información necesaria. Sin lugar a duda lo recomendaría y definitivamente regresaré.
Natalie
November 2016
Clean and confortable appartment. We didn't have the chance to meet Ana Myrna but all the explanation were perfect and we had a wonderful time. The appartment is nicer than on the picture.
Cathy
January 2017
Place is convenient and well equipped kitchen. Second floor is good. Good parking and nice looking pool. Over all good place to spend few nights. There was only one problem - WiFi does NOT work at all. Owner should not be allowed to put it on AirBnB as having WiFi. It is huge inconvenience for foreign travelers.
Roman
October 2016
The place was very quiet and very clean. Is it close by to a lot of local attractions that you can walk directly to­. Ana was easy to communicate with , and very friendly. The maid Martha was a pearl. She let us drop our baggage even if she had not finished cleaning the room. The pool was great, and the beach really is 5 minutes walking distance. We enjoyed our stay and would definitely recommend it in the area.
Karine
January 2017
This apartment is WONDERFUL!!! Beautiful and clean with ALL the amenities such as air conditioner, TV, refrigerator, good WiFi, and full kitchen. The property has a beautiful pool and a free laundry room. A gorgeous beach is just a few steps away. A wonderful restaurant is directly across the street, and a little food mart is also across the street. I was only able to get the apartment for one night because it was booked up; however, I was grateful for the one night. Absolutely loved the apartment and the location. I wanted to stay much longer. It is a GREAT value. The link in (SENSITIVE CONTENTS HIDDEN) maps was incorrect, however. It stopped short of the property. Continue on about a half mile, you will cross a small bridge, start looking for the property on the left. It is a large blue building called Marina Lofts. You will love it, I did!
barbara
January 2017
Tipo de habitación
Casa/apto. entero
---
Tipo de propiedad
---
Capacidad
3
---
Dormitorios
1
Coco
Have a unique experience in this brand new loft with pool, nestled above the canopy. A true bird sanctuary highlighted by the unique conception of this open house, overlooking the hills and a nice ocean view. Enjoy a peacefull and calm energy at 6/8 mins of the famous hermosa beach and 15 mins of santa teresa.
The loft is on the first floor of the house, large fully equiped open kitchen, swimming pool. Fegy and Michele will be thrilled to share their passion about Costa Rica, and permaculture here in the finca. You can also experience horsbackriding directly here or have private yoga class in the middle of the jungle. Knowing very well the area they can provide many advices about activities, surf etc...
Fegy and Michelle were spectacular hosts, making us feel comfortable while ensuring our privacy. They organized us a quad for our stay, and Michelle was always nearby for any of our questions. The pictures don't do it justice, we couldn't believe our eyes when we arrived in person - sleeping literally above the jungle is spectacular. The view is phenomenal & the bed is comfortable. The wooden blinds are closable if you need some more privacy. Power, hot water in the showers, everything worked great. The place is 15 minutes by Quad from Santa Teresa / Playa Carmen, you will definitely need some form of transportation, Quad or 4x4 recommended. If you're looking for a getaway, near a cool surfer town but outside of the hectic and loudness, this is definitely the place to be.
Philip
December 2016
Lieu paradisiaque pour tous les amoureux d'animaux, de nature et de calme. Loft ouvert permettant de vivre au rythme de la nature et de ces habitants. Expérience unique pour toutes personnes à la recherche de quiétude
audrey
November 2016
Endroit tout simplement exceptionnel et complètement ouvert sur la nature. Fegy et Michèle sont des hôte absolument charmants et accueillants, ils vous reçoivent comme des amis, comme si on se connaissaient depuis toujours. La vue sur la canopée est exceptionnelles avec en arrière plan l'océan. La nuit on entend les animaux. Vous aimez la nature ? C'est là que vous devez aller. Une remarque: au Costa Rica il est indispensable de se déplacer en 4x4. C'est sûr nous y retournerons un jour.
Vincent
December 2016
Tipo de habitación
Casa/apto. entero
---
Tipo de propiedad
---
Capacidad
2
---
Dormitorios
1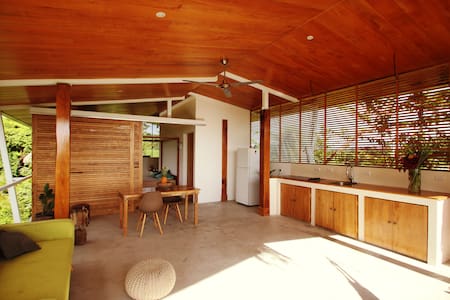 Geraldine was very responsive to my messages before and during the rental and was flexible to accommodate our request for an early check out. The apartment was clean and had all basic necessities (towels, fully stocked kitchen, AC) and also had a nice community pool. The location was very close to Playa Ocotal and Playa del Coco. We enjoyed our stay! Thank you!!
Amanda
February 2016
We were greeted by the owners son and he was very welcoming and helpful. We had a wonderful two days at Ocotal which is close to Playas del Coco. Although the condo has all the basics that you need the owner also provided some snorkling gear and floats for the pool, along with a variety of games. There is no TV or internet. I would recommend the following to make it easier to enjoy your trip: 1. Stop at the store on the way to the condo and get some groceries and beverages rather than waiting. Use that taxi ride to it's fullest advantage. 2. Rent bikes or a golf cart for your stay. The condo complex is not on a main road so getting a taxi may be difficult. But if you rented a car the above two recommendations do not apply. 3. Go to Father Rooster, it is a little pricey but all the restaurants are. It has a great ambiance right on the beach and good food and drinks. If I had more time at Ocotal I would have gone there everyday.
Karen
February 2016
Staying in Dolce Vita is so nice, quiet place to be and they let brought my pets so thats one of the most important characteristic for me. If you wanna meet El Coco, Ocotal and the closer beaches my advice is Stay here!!!!
Camilo
January 2017
Tipo de habitación
Casa/apto. entero
---
Tipo de propiedad
---
Capacidad
2
---
Dormitorios
0
Ocotal, Filadelfia, Carrillo
Walk to the beach 150m only!!! Best known location in the area. Very intimate close up ocean view. sitting on a 3000m2 view lot for optimum privacy. Best restaurants, surf, yoga, spa right down below. Breezy, safe, pristine&enchanting property to really enjoy the best that Santa Teresa can offer.
Very intimate studio with amazing close up ocean view. Cozy and romantic, it feels like the waves are rolling right in front even from this 30m high mirador. Walking distance to the beach (150m only) in the best part of Santa Teresa. Walking distance to best surf spots RocaMar, yoga classes and spa at resort Flor Blanca. Quiet ambience in a tropical landscape. No must of renting a car since everything you need is close by but recommended to explore. If you need to go to the busy commercial part of the village for shopping and action there are taxis always ready to come pick you up. The ocean view bed room is closed up and sealed for AC and keeping bugs out. king size bed, cable TV, cable speed internet, fully equip kitchen, one bathroom with hot water shower. Very close to pristine beach Playa Hermosa. Close to nice snorkeling tide pool. Close to all the finest gourmet restaurants in all types of flavors and styles like: Al chile viola, koji sushi, Tapas, and others. Perfect for honey moon or couple with young kid looking for good time in a more secluded ambience than regular hotels side by side units. Cable internet speed. Rare of a kind for quality, privacy and location for this price. The beauty and tranquility of that particular area will totally seduce you. Complete site exclusive to this one studio. We can help you in any way you need ( special requests, quad or car rentals, recommendations, etc...). We offer a total privacy. We always send a message in advance if we have to come over or when the cleaning lady is coming.
Very safe and quiet but not too far out to feel too secluded and isolated. Not visible from the road or neighbors (Nice and quiet neighborhood) but close enough for easy access in and out of the property and reach the action. Public access to the beach right in front of our entrance so you just keep walking down in straight line right to the beach 150m from the studio. We offer a list of taxi drivers who can move you around town at lower rate. We can advise you on basic details anytime.
Great place to stay. Beautiful view of the ocean that is only a 5 minute walk away. Ugo seemed like a great guy and was quick to response to any of our needs. Thanks again for a great stay and I would recommend your place to anyone that's is looking for a beautiful place to relax and take in the beautiful beaches of Costa Rica
Spencer
November 2016
We love Ugo s place! Very cozy, with a nice view from the ocean , lots of sun, a beautiful garden... It was perfect for relax and very private. Not far from the beach, we really want to came back!!! Tks Ugo!
Andrea
December 2015
We absolutely loved this place. We stayed at three Air BnBs during our trip, and Ugo's was the best! The views are incredible, and it's really close to the beach. the beach is perfect, you can rent boards and grab food and drinks nearby, but you can also have 100m+ of beach between you and the next person. It's really great! Ugo has the place set up really well with an outdoor kitchen and lounging area. We loved the outdoor shower, both for washing off the salt and sand, and also for cooling off on hot evenings. The Mal Pais area can be a little dusty during the dry season, but Ugo's house is situated high enough above and far enough away from the road that it's not a problem. I recommend the Green Store for fresh fruit; the rest don't have the greatest produce. Ugo can recommend the best restaurants. We tried a handful of his recommendations, and they were all great!
Hans
January 2016
I really would like to live at Ugo's place - it's my perfect home. It's ideal for privacy in a gorgeous setting. The bedroom is super comfortable, the bed is gigantic. Nearly two full walls of windows give an incredible view of the water and landscape when you wake up. The kitchen is also equipped with everything even a toaster and blender along with the full stove and kitchen. We cooked a lot of our meals there to enjoy the privacy and the view. I found literally every part of his set up to be perfect. I loved the beach in front of his place. Its fairly private, we rarely saw other people, with coves with tiny fish and crabs. Ugo is really cool, relaxed and helpful. We will definitely come back as soon as we can. Thank you!!
Michelle
August 2014
We had a fantastic stay at Ugo's place, and it was exactly as described! There is one main road that runs the length of the coast from Playa Carmen in the south to Playa Hermosa in the north. Ugo's place is closer to the north end of the beach, which is the nicest! The apartment is situated on top of a hill and has amazing views of the ocean - sunsets from here are incredible! We loved that we were able to buy groceries, cook for ourselves, and chill in the outdoor kitchen area - and also retreat to the air-conditioned bedroom when it got a bit too hot. We ran out of gas for the stove, but a quick email to Ugo and he stopped by the next day to replace it! He kept in constant communication and even made dinner reservations for us at Kika. I would definitely recommend this property for your next stay in the Santa Teresa area :)
Courtney
January 2016
Well kept place, very comfortable bed and beautiful views. Slight drive from the main part of town, but it meant hearing animals and the ocean every morning.
Eileen
April 2015
Ugo met us at his property upon arrival and took us into town to buy groceries. He was a great host and made us feel welcome from the start.
Mike
February 2016
We came to Surfsong for our honeymoon and we really liked our stay! It is perfectly located just outside of the chaos of Santa Teresa so it's very calm (howler monkeys in the backyard). But you are also very close to everything; 2 min walk from the beach, 5 min bike ride from restaurants and market. It's also close to Playa Hermosa which is another nice beach and, as we learned, the spot for beginner surfers. So we enjoyed the beach, the surfing, hiking in Capo Blanco's natural reserve, ziplining in Montezuma. We had rented a car so we drove around in the region which was a lot of fun! Ugo was a great host, he communicated with us regularly and gave us some tips and recommendations. We even went to visit his farm/ranch which was cool. In all, a very good experience!
Antoine
August 2015
Tipo de habitación
Casa/apto. entero
---
Tipo de propiedad
---
Capacidad
2
---
Dormitorios
1
Playa Santa Teresa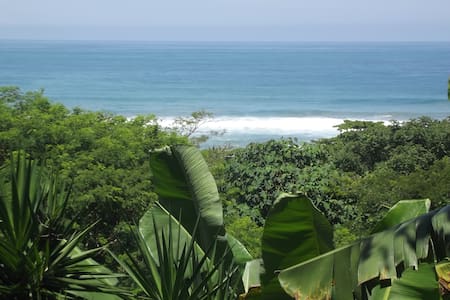 The concert construction and simple yet elegant design ensured the house kept cool during the heat of day. And the beautiful design touches made you feel like staying in a high end resort. (Written by a happy client:-))
The location of the house is ideal. 5 min walk to the grocery store, beach and a great Italian restaurant. The Casa El Camino is a two story house with a Loft at the first floor. The pool belongs to the basement. If the basement is not rent, the loft of course can use it as well. If you need recommendations what, were, just ask. I like to help you to have a unforgettable stay.
Daily cleaning lady, 24/7 caretaker
The Loft at Casa el Camino was perfect! The location was lovely, tucked away from the main road so it felt very private and yet still only a quick walk to the beach and town. We had a car but didn't use it much, we walked everywhere and enjoyed the local places. Mike was very kind upon our arrival and greeted us with two ice cold beers in the fridge! Gave us recommendations on places to eat and was really nice! The space it's self was clean and well decorated. Simple design and inviting, we fell asleep many nights in the open air kitchen laying on the hammock. We even got to use the pool when the downstairs people left, which was a great way to end our vacation in Santa Teresa! We would definitely stay here again! Thankyou Mike for making our stay lovely!
Amy
January 2016
auf unsere spontane Anfrage hatte Mike umgehend geantwortet. Wir fühlten uns bereits nach kurzer Zeit sehr wohl & sicher - die Zimmer sind mit viel liebe fürs Detail eingerichtet! Die Outdoorküche von der Loft machte soviel Spass zum kochen, so dass wir all die leckeren Restaurant & Bar Tips von Mike gar nicht alle ausprobieren konnten! Als Gastgeber von dirsem kleinen Paradies, hat Mike uns völlig überzeugt. herzlichen dank für die unvergessliche Zeit im el camino loft Tamara & Michel
Michel
January 2016
Für Surfer und Genießer. Super Outdoor-Küche mit einer Hängematte zum verweilen. Affen, Eichhörnchen und Leguane lassen sich von dem Grundstück gut beobachten. Familiärer Umgang mit Gästen und sehr zuvorkommend. Die Loft-Wohnung ist charmant gestaltet und praktisch eingerichtet. Zum wohlfühlen und surfen eine Oase in Santa Teresa. Wir kommen sehr gerne wieder! Pura Vida
Simone
August 2016
amazing place to stay! great location and nice outdoor kitchen. very comfortable and mike was super awesome! walking distance to cafe social and close to playa hermosa.
kenny
January 2017
Mike was an incredibly gracious host - he organized a taxi to pick us up from Tambor airport and was flexible with our arrival time when we had a last minute change. He also offered to set up an ATV rental for us! The loft is secluded, but only a 5 minute walk to the beach and a 15 minute walk to "downtown" Santa Teresa. Great A/C in the loft, comfy hammock, gorgeous pool, really cool partially outdoor bathroom. Oh and Mike had great restaurant recommendations. Overall it was a fantastic experience and I can't recommend this place enough!
Meghan-Rose
January 2016
There are not words superlative enough to capture how wonderful our trip to Santa Teresa was and what an extraordinary host Mike is. The loft at Casa El Camino is gorgeous, safe, and perfectly-sized for a traveling couple. Highlights include the open-air shower, from which you can observe squirrel monkeys in the trees; watching a jungle storm, complete with thunder and lightning, from the security of a swaying hammock; the very comfortable and large bed; air conditioning; a fridge stocked with two bonus bienvenidos beers; and many thoughtful design details throughout. Mike was extremely accessible during our stay - responding to all of our queries within minutes. He helped us to arrange transportation, shared contacts for tours and our quad rental, and provided great restaurant and activities recommendations. Perfect location - walk to the beach in 5 minutes or to town in about 15. We will absolutely return to beautiful Santa Teresa and will definitely rent from Mike again. All expectations far surpassed! Pura Vida! -Christine + Lori
Christine
May 2016
Mike was an excellent host. Communication was prompt, clear and friendly. The apartment is well equipped, very comfortable and in a great location. Close enough to the main part of town for easy access to bars and restaurants but far enough out for peace and tranquility too. Perfect location for access to the beach and surf. I look forward to going back sometime!
Luke
December 2016
We had an amazing stay at Casa El Camino loft! Mike made our arrival super smooth despite being out of the country at the time. The house is located just outside of the busyness of town but with easy access to amazing restaurants, groceries and the beach. We were very thankful to have a car, though we understand its easy to rent a quad in Santa Teresa which would be a great alternative. Both the outdoor kitchen and outdoor shower were really nice touches and made leaving the AC worthwhile! We actually loved the kitchen so much that we did all our breakfasts and lunches at home. We were lucky enough to be the only guests upon arrival so had the opportunity to take advantage of the pool which was a nice touch after a day at the beach. There is also a daily cleaning service which was a treat! We honestly have nothing bad to say! We look forward to coming back with friends and maybe renting the whole house :)
Tyler
March 2016
Tipo de habitación
Casa/apto. entero
---
Tipo de propiedad
---
Capacidad
2
---
Dormitorios
0
Santa Teresa
Located on a quiet street between Flamingo and Potrero, 300 meters from the beach, Casa Rana has two upstairs bedrooms, sleeping four. There is a shared bath and large balcony. Rent one or both upstairs rooms for the time of your life! Leslie will serve a fabulous breakfast each morning, either by the pool or up on your balcony - your choice! Concierge services are also available. Knowledgeable in all of the local places: restaurants, bars, night life, beaches, and adventures, you are guaranteed the time of your life. Enjoy your own backyard jungle and pool! Run of the house, including yard and pool. How much interaction do you need? I can help with recommendations and arrangements, and I will prepare you a fabulous breakfast each morning. In the evening, a snack and beverage will be made available to you before you head out for sunset! Otherwise, enjoy your space! The entire upstairs with private balcony is yours, and I tend to avoid the pool area when my guests are using it so they can enjoy it on their own. I love my neighbors and my neighborhood! There are folks from ariound the world, so it is quite cosmopolitan, and cows and horses routinely graze up and down the roads. There is plenty of nightlife without having to get in the car, and you will feel welcomed. The short walk to numerous beaches is like frosting on the cake! A bus goes along the main road, and bikes can be rented from Claudia down the road. Ecotrans runs a shuttle service from the airport in Liberia, and here are several car rental agencies in Potrero and Flamingo. Many people traveling are concerned with safety. We do have a security system and a neighborhood security patrol. You can sleep soundly at Casa Rana! You will have run of the house. You are welcome to use the pool, within reasonable hours, I will be available to answer any questions you may have.
Visiting Casa Rana was pleasant and relaxing. Leslie was a very gracious host, and is very knowledgeable about places to visit in Costa. There are about a half a dozen little restaurant/bars within a 10 minute walk, but, I would definitely recommend renting a car, as there is not much to see in Potrero, and the closest beach is Playa Flamingo, which is a 30 minute walk on the beach or road. It gets very dark after the 6pm sunset, so you must be careful walking on the road. If you are going to simply relax and get away from it all, I would recommend Casa Rana. No TV.
Suzanne
April 2015
Tipo de habitación
Habitación privada
---
Tipo de propiedad
---
Capacidad
4
---
Dormitorios
1
Potrero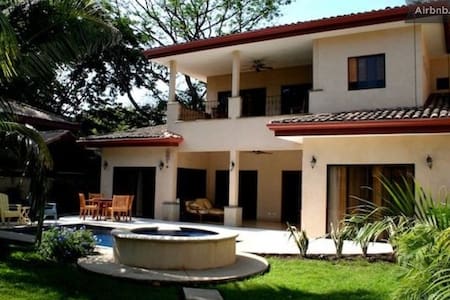 The property is amazing close to the city and very conformable., the service by sunset was fast and great, fully recommended.
Ronnie
January 2017
Tipo de habitación
Habitación privada
---
Tipo de propiedad
---
Capacidad
4
---
Dormitorios
1
Coco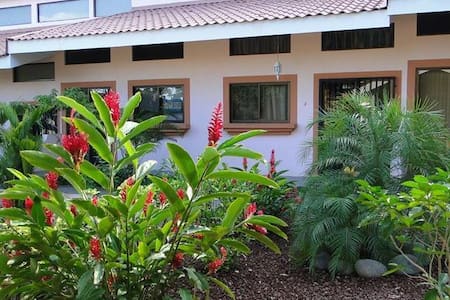 Nouveau!! Un super espace de vie face à la mer, 300m de la plage et proche de toutes commodités avec un service comme à l hotel! 2 superbes chambres, 2 salles de bains, une grande terrasse avec un espace de vie très comfortable qui vous permet de découvrir la nature du Costa Rica lors de tous repas. Une belle cuisine super équipée, une table pouvant accueillir 8 personnes. Superbe piscine entourée de nature. Situé dans une propriété privée avec un garde 24h24, jardinier et service de nettoyage.
Superbe penthouse de 200 mètres carrés avec une terrace de 100 mètres carrés avec vue sur mer. Le logement possède deux chambres mais il est possible avec un supplément d obtenir deux lits simples. La terrace est spacieuse et permet une vie extérieure. Il y a deux salons, un extérieur et un intérieur. Une cuisine super équipée et un coin bar. Un patio est à votre disposition pour des moments de repos face à l océan. Situé seulement à 300 mètres de la plage et de tous commerces. Nous offrons toutes sortes de services afin de vous faire passer vos meilleures vacances! Pour plus d informations, n hésitez pas à nous contacter! Whether it's for business or pleasure, our services are designed for you. From last-minute restaurant reservations and bespoke travel itineraries, to property searches and accessing private schools, we offer you tailor made services.
Costa Rica > Péninsule de Nicoya > Playa Santa Teresa Au sud de la péninsule Nicoya, la Playa Santa Teresa est une plage privée connue comme l'un des meilleurs spots de surf du Costa Rica. Cette plage au sable blanc grisé offre toute l'année des conditions idéales pour pratiquer ce sport, mais la période idéale s'étend de mai à décembre, lorsque des vagues phénoménales déferlent sur la côte. A proximité, vous avez également la possibilité de visiter les réserves naturelles de Cabo Blanco. N hésitez pas à nous contacter pour toutes questions, itinéraires!
Tipo de habitación
Casa/apto. entero
---
Tipo de propiedad
---
Capacidad
6
---
Dormitorios
2
Santa Teresa Beach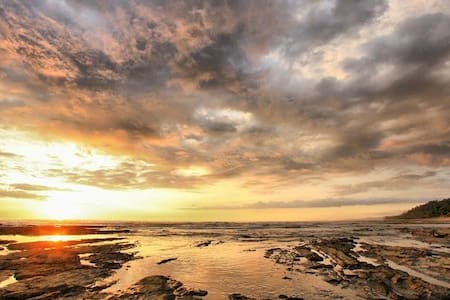 Beautiful house located on a green hill, 2 minutes drive from town center and the best surf breaks. Nature and ocean sounds and sights, big garden, overlooking a green valley. Swimming pool, A/C, transportation required.
Big space, with a big bathroom and bathtub. Terrace with ocean view, perfect for sunsets. Fully equipped kitchen, 1kingsize bed with musquito net, open space living area, Option to put an extra bunkbed or babybed. Big garden. Electric gate. Acces to the pool and big garden We are a young family living on the same property, with more than 10 years of living in the area. We can help you with any requests.
We are located on a beautiful hill next to an big nature reserve, the natural habitat of howler monkeys, deers, birds and other wildlife. Our mountain is very private (with gate) but at the same time very close to town. Just a 3 minutes drive. ATV or 4x4 car is required 2 friendly dogs on the property
Tipo de habitación
Casa/apto. entero
---
Tipo de propiedad
---
Capacidad
3
---
Dormitorios
1
Mal Pais