Si usted está buscando un piso precioso en una de las mejores zonas de Berlín que ya lo ha encontrado! El piso está situado minutos del lago Schlachtensee y Wannsee.
El apartamento "En la azotea Apartamento en una zona muy tranquila en Berlín" Este hermoso apartamento fue construido en 2014 está situado en la parte superior de una casa con estilo construido en la década de 1970. El piso está rodeado por una terraza y se encuentra a sí mismo en medio de los grandes árboles del jardín. El piso fue construido únicamente con interiores de alta calidad y se llega a través de una escalera exterior. El acondicionamiento interior incluyen: • Sofá cama • Baño de ducha e inodoro • Cocina totalmente equipada incl. una tapa de la estufa de cerámica • Ropa de cama, edredones y toallas • TV de pantalla plana con canales internacionales La estación de tren está a sólo unos minutos a pie y que no nos llevará alrededor de 20 minutos para llegar al centro de la ciudad de Berlín. También encontrará un centro comercial en la esquina y un mercado semanal. El hermoso lago también está a sólo 2 minutos.
Schlachtensee es considerado como una de las zonas más Exklusive en Berlín. Es muy tranquilo y también muy cerca del centro de la ciudad por lo que es ideal para un viaje de la capital de Alemania.
Un lugar muy agradable y silencioso. También independiente. Barrio residencial seguro y tranquilo. Apto para viajar una chica sola. Con todos los servicios cerca: un supermercado y a cinco minutos reales de la estación de tren/metro. Está a más de media hora en tren de la Puerta de Brandeburgo pero es línea directa hasta allí. Gracias Frederick, todo perfecto!
Montserrat
2017-03-30T00:00:00Z
It's a lovely place if you're looking to have a few quiet days out of the city, like we did. The apartment fits the description very well. Although we did not meet Frederick in person, our arrival was made very easy thanks to his mother who gave us the keys and was very friendly.
Lisa
2016-07-28T00:00:00Z
Frederick war zwar selbst nicht vor Ort. Die Kommunikation war dennoch unkompliziert und gut. Ich habe mich in dem Apartment wohl gefühlt und es war immer jemand da, falls Fragen aufkamen.
Katrin
2016-02-18T00:00:00Z
It's a cozy and spacious room,everything was perfect.The neighborhood was quiet and the people were so friendly.The transportation is very convenient,just ten-minute walk to take S1 to the center of the city.There are some supermarkets and cafeterias near the house.Berlin is such a beautiful city and our BNB experience in Berlin was so great as well. Thnx Frederick!
Duo
2015-08-07T00:00:00Z
L'hôte nous a très bien accueilli, nous avont directement eu accès à l'appartement qui est exactement comme décris sur les photos !! Appartement fonctionnel et largement suffisant pour un séjour d'une semaine avec accès à des commerces et au métro à même pas 5 minutes à pied ! Franchement très agréable je le conseille pour découvrir berlin ! Merci Frederick !
Lamarque
2016-11-07T00:00:00Z
Świetne miejsce w przyjemnej okolicy. Spędziliśmy tam dwie bardzo przyjemne noce. Niedaleko sklepy i stacja kolejki. Małym mankamentem są wąskie schody do pokoju - trudno wnieść duże bagaże
Kamil
2016-11-02T00:00:00Z
Amazing time in Frederdick's apartment! So chill and cool place near the beautiful lake. Town is very small and was pleasantly not crowded. The room is spacious, light and very comfortable. Sunny breakfasts on the terrace is JOY. Cool cool cool
Inna
2015-06-05T00:00:00Z
Wir waren für einen Kurzztrip in Fredericks Apartment , konnten den Schlüssel bei seiner Mutter abholen , die uns auch netterweise unsere Pizzas in ihrem Ofen hat aufbacken lassen .Das Apartment ist hell & modern eingerichtet ; man hat vom Bett / App./ Terasse aus einen wunderschönen Blick ins Grüne .Die Küche ist ausreichend bestückt , hat sogar eine tolle Nespresso-Maschine. Das Bad ist klein , aber sehr modern . S -Bahn / See /Lebensmittel- Läden(REWE 7:00-22:00! ) & ALDI & Bioläden & Café Restaurant alles in nächster Nähe .Wir haben uns in der schönen Gegend sehr wohl gefühlt und kommen sicher nochmal wieder .
Michael
2015-05-19T00:00:00Z
Tipo de habitación
Habitación privada
---
Tipo de propiedad
Loft
---
Capacidad
2
---
Dormitorios
Berlín, Berlín, Alemania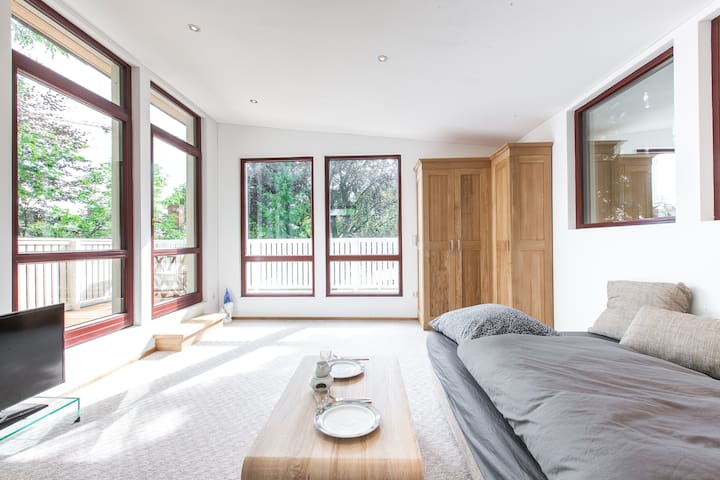 180m² Loft moderno y limpio en 2 plantas en el corazón de Potsdam del centro urbano con terraza 60m² que ofrece un lugar para relajarse. No podía ser más central, a sólo 10 metros de la calle principal Potsdams caminar, con restaurantes, bares y tiendas.
El apartamento siempre limpio permite una estancia en todo el nivel más alto. Se encuentra ubicado en un moderno y a pesar de la ubicación céntrica y tranquila nuevo edificio, que encaja en las pintorescas calles del centro. Los dos dormitorios y el gran sofá en la sala de estar permiten cómodo para dormir hasta seis personas. Se trata de dos baños completos listos y una cocina moderna. La planta superior de una galería de cargas con una mesa para la cena juntos, la barbacoa en la azotea, gran grupo de 6 o más, y la silla de playa directamente a estas uniones.
Palacio de Sanssouci, el barrio holandés, Puerta de Brandenburgo, la Iglesia de San Nicolás, estos son sólo algunos de los casi innumerables lugares de interés histórico, todos los cuales están a poca distancia en cuestión de minutos. Pero Potsdam no sólo histórico, sino también viva: La ciudad ofrece una gran cantidad de restaurantes, bares y tiendas. zona peatonal Brandenburger Strasse se encuentra a pocos metros de la puerta principal, que aquí son centrales.
Tipo de habitación
Casa/apto. entero
---
Tipo de propiedad
Loft
---
Capacidad
6
---
Dormitorios
Potsdam, Brandeburgo, Alemania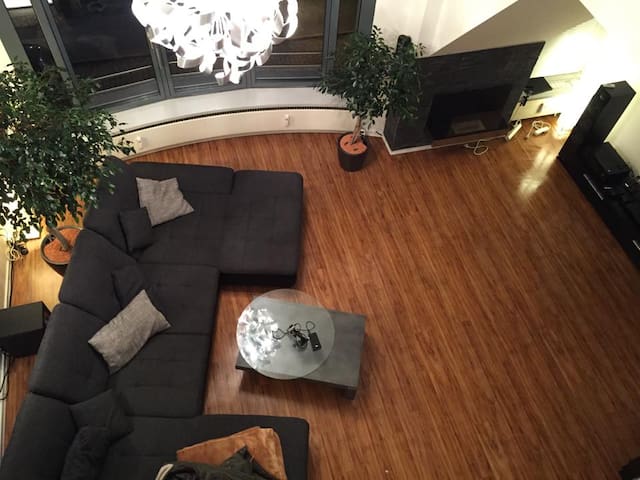 Set in a historic building, this family loft is a rarity with direct garden access. Located near lakes and forests between Berlin city centre & the historic town of Potsdam, both can be reached in 15 minutes by car, or 30 minutes by public transport.
Located in quiet area that is ideal for families, this spacious loft (190M2) with a 100m2 living room, provides a unique springboard to the best locations Berlin has to offer.
The 2500m2 Japanese-style garden is shared with our neighbours and is a semi-closed space that provides ample security for children. There is a park nearby that honours the American presence in Berlin, the buildings having one once formed part of the main U.S. base in Berlin.
La casa de Ian es expectacular. Muy amplia, luminosa, cómoda, muy bien equipada y ordenada. Zona muy tranquila que permite el descanso total, con buenas vistas a un parque y la montaña al fondo. Tiene un supermercado al lado que te permite comprar lo que necesites sin tener que coger ni coche ni otro tipo de transporte. Muy bien comunicada, muchas líneas de autobuses a apenas 5-10 minutos de la casa, que te trasladan al centro de Berlín o cualquier otro lugar.
Rebeca
2017-01-03T00:00:00Z
It was an extreme comfort staying in ian's place. The apartment is very spacious and comfortable in a tranquil environment.....i will strongly recommend others to consider staying in ian's place for their berlin trip :)
Kh
2016-08-27T00:00:00Z
Die Unterkunft von Ian und seiner tollen Familie war phänomenal! Wir waren vom ersten bis zum letzten Tag herzlich willkommene Gäste und rundum versorgt. Die Kommunikation im Vorfeld und bei der Anreise war vorbildlich. Und auch die Umgebung war wie beschrieben, für Berliner Verhältnisse sogar außergewöhnlich ruhig. Würde ich als Ex-Berliner wieder Lust auf Großstadt bekommen – hier würde ich wohl hinziehen. Für dieses Airbnb-Erlebnis ohne Einschränkung die volle Punktzahl!
Oliver
2015-09-29T00:00:00Z
Auch unser zweiter Aufenthalt bei Ian und seiner Familie war wieder klasse. Wir hatten wieder viel Spaß und Ian und seine Familie waren tolle Gastgeber. Besonders hervorzuheben ist Ian´s unkomplizierte und herzliche Art. Wir haben uns wieder sehr wohl gefühlt.
Andreas
2016-10-21T00:00:00Z
Ian & Mies are very warm and welcoming hosts, they guided us through our first visit to Berlin, gave us lots of advice about the city and the surroundings (The lakes!). Their loft is fabulous, very spacious and bright. For our kids it was like paradise :-) they didn't even want to go home - lots of toys for them to play, a garden, ...
Vicky
2016-07-30T00:00:00Z
The host canceled this reservation 91 days before arrival. This is an automated posting.
Elena
2017-02-23T00:00:00Z
Ian and his family were extremely hospitable and helpful hosts! They have 3 wonderful boys that our children enjoyed to play and hang out with. Their home is comfortable and beautiful and inspired us to go home and make changes to our own home. We felt very, very welcome and would definitely visit again in the future.
Helle
2016-07-11T00:00:00Z
Ian und seine Familie waren ganz tolle Gastgeber. Wir wurden von ihm und seiner Familie sehr herzlich aufgenommen und wir haben die gemeinsame Zeit in seiner Unterkunft sehr genossen. Sein Apartment entspricht genau den Bildern und der Beschreibung, so dass wir uns vom ersten Moment an sehr wohl gefühlt haben. Da nicht nur wir Erwachsenen uns sehr gut verstanden haben, sondern auch unsere Kinder immer wieder gerne mit Ian´s Jungs spielen wollen, werden wir wohl sogar noch etwas länger bleiben.
Andreas
2016-09-30T00:00:00Z
Tipo de habitación
Casa/apto. entero
---
Tipo de propiedad
Loft
---
Capacidad
5
---
Dormitorios
Berlín, Berlín, Alemania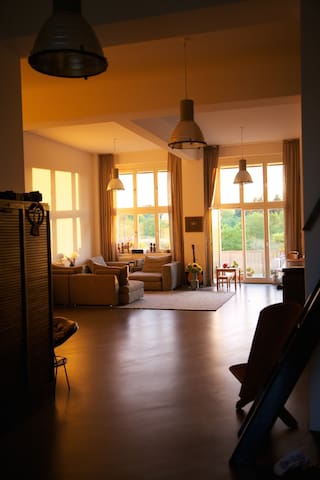 hermoso estudio de artista, que está justo en el Schloßstr, es decir, tiendas y todo lo que necesita en su puerta y los edificios desgastados de Berlín: el "cepillo de la cerveza". Muchos transporte público.
This accommodation is not like a hotel. It is a working space. For the more adventurous not philistines.
The loft is truly unique and perfect for getting off the beaten path and avoiding a standard hotel. Lale welcomed us very well despite our very late arrival. The Loft is very spacious, and Lale has done everything possible to make this stay very enjoyable. We loved the mix of styles of furniture and objects in the apartment. Do not hesitate to come and let yourself be transported in this workshop of artist painter.
jean-francois
2017-01-29T00:00:00Z
Für unsere junge Generation, ein Mädelswochenende in Berlin, war die Wohnung von Lale perfekt! Die Einrichtung ist einfach, war aber für uns komplett ausreichend und das Atelier hat einen ganz eigenen besonderen Charme! Von diesem waren wir total begeistert (wie auf den Bildern angegeben)! Die Kommunikation mit Lale hat super geklappt und wir konnten uns auch mit Check-in und Check-out Zeiten gut abstimmen! Tolle Wohnung, die wir gerne weiter empfehlen würden!
Volker
2017-03-26T00:00:00Z
Lale's flat is quiet, light, clean, spacious and comfortable. The neighbourhood, too, is quiet and has all the desired amenities within walking distance. The nearby underground station allow you to access all of Berlin's districts quickly and with ease. Lale was a lovely host, happily recommending different places to visit and eat throughout our stay. I would definitely recommend stay here.
Gregor
2017-03-15T00:00:00Z
She is really nice and the apartment is very pleasant to live. Really in the soul of Berlin.
Marie
2017-02-20T00:00:00Z
Gemütliche Wohnung, Nähe zur u-Bahn:)
Laura
2017-02-05T00:00:00Z
Wir durften während der Fashion Week Gast in Lales Künstler Loft sein. Das Loft ist wirklich einzigartig und perfekt für Leute, die es satt haben in einem spießigen Hotelzimmer zu übernachten. Wir waren begeistert von dem Stilmix der Möbel und den Bildern, die sich in der Wohnung befinden. Also seid keine Langweiler und lasst euch von dem Loft inspirieren :-)
Kevin
2017-01-19T00:00:00Z
Das Atelier ist sehr sympathisch und mit Geschmack eingerichtet, so gesehen habe ich mich wirklich wohl gefühlt. Was mich gestört hat, ist, dass es erstens sehr kalt war, weil es unterm Dach liegt und da offensichtlich keine gute Isolierung ist. Ich habe sogar mit Mütze geschlafen. Und zweitens waren die sanitären Einrichtungen sehr improvisiert. Aus der Dusche lief Wasser in die Küche, die Zähne musste man sich in der Spüle putzen, und auf der Toilette war es ebenfalls bitter kalt. Also, im Hochsommer sicher eine super Unterkunft, im Winter allerdings nicht ideal, wenngleich, wie gesagt, sympathisch und phantasievoll eingerichtet.
Katrin
2017-02-09T00:00:00Z
Es war ein sehr angenehmer und freundlicher Kontakt und die Wohnung ist wie auf den Bildern angegeben.
Alessandro
2017-01-16T00:00:00Z
Tipo de habitación
Casa/apto. entero
---
Tipo de propiedad
Loft
---
Capacidad
2
---
Dormitorios
Berlín, Berlín, Alemania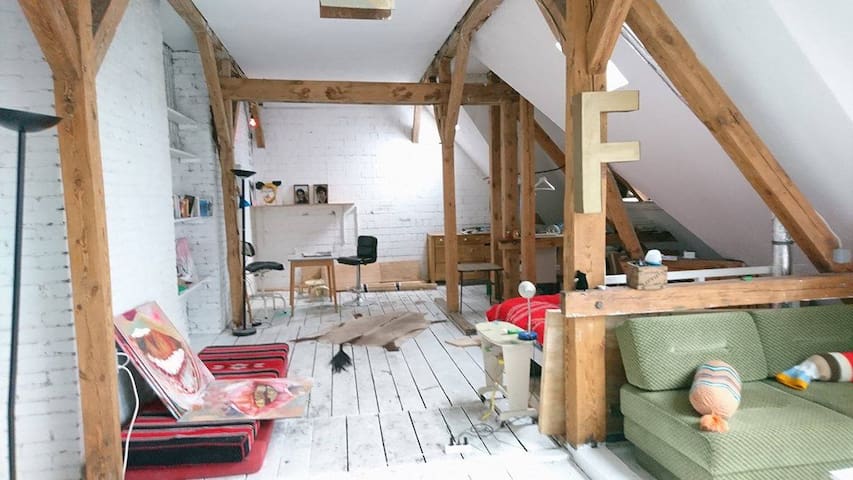 Nuestro apartamento es amplio y tiene mucha luz. La conexión con el transporte público es muy bueno y Banda S y U Bahn están a sólo una cuadra de distancia. Hay un dormitorio principal privado con una cama de matrimonio y la sala de estar tiene una cama individual / reina.
Recientemente una nueva actualización con muchas características de diseño hermosas En primer piso subir, vecinos tranquila y turística muy relajado amistoso de la vecindad
Grandes internacionales de barrio, cafeterías, bares, discotecas, transporte público muy bueno, fácil de bicicleta en todas partes Tres cafés de la cadera son en el bloque, muy buenos restaurantes turcos y otros, gran centro comercial en la estación de tren. El hermoso Parque Körner es de 5 minutos y las Tempelhofer Feld 20 minutos a pie
We stayed 2 nights in the apartment and can thoroughly recommend it. Clean, stylish, lots of space, and well equipped. We specifically wanted to stay somewhere in Neukoelln, so the location was perfect for us, though others may wish to stay closer to Mitte. However, the U Bahn was only a short walk, while shops, supermarkets, lots of great atmospheric small bars and eateries are practically on the doorstep. Would definitely stay here again!
Immanuel
2017-03-26T00:00:00Z
The host canceled this reservation the day before arrival. This is an automated posting.
Kathie
2017-02-24T00:00:00Z
Phil's place is extremely cool and stylish. In the centre of hip Berlin Neukölln with Cafes around. Great place. Thank you!
Saskia
2017-02-24T00:00:00Z
This apartment is fantastic! Phil is friendly and easy to coordinate with. The apartment is exactly as described in the ad, is very clean, and looks even better than the pictures. The design is striking, contemporary, and comfortable. It's well equipped with everything I needed: a big open kitchen, a washing machine, great working living and sleeping spaces, and super fast wifi. Phil provided great coffee and beverages. The shower was divine. The neighborhood was great, too: lots of cafes, nightlife, and restaurants. And the apartment is ideally located on a quiet street that is only a block and a half from Hermannstrasse (a very convenient metro stop). You can get anywhere quick! Overall, I'm really happy with my stay and I'll definitely be booking Phil's apartment when I come back to Berlin.
Emerson
2017-02-19T00:00:00Z
The flat is like in the pics. Close to U and S bahn. Fully equiped and clean. Great decoration. We enjoyed our stay in Phil's flat. It was easy to get the key on arrival. Phil was nice and answered to our questions very quickly. Thanks Phil for everything!
Nadia
2017-04-02T00:00:00Z
Tipo de habitación
Casa/apto. entero
---
Tipo de propiedad
Loft
---
Capacidad
5
---
Dormitorios
Berlín, Berlín, Alemania
Se le realizarán una habitación a sí mismo en un colectivo estudio. Nuestra casa está cerca de básicamente todo, ya que no podría estar más en el centro. El U6 subterráneos y U2 son tres minutos. Hay más de cinco diferentes tiendas de comestibles a poca distancia. La catedral alemana, la catedral francés y la sala de conciertos son dos minutos a pie. El Friedrichstrasse está a la vuelta de la esquina, con sus opciones de compras sin fin como Es uno de los principales centros sreets ....
La habitación está situada en un espacio / estudio de arte funcionamiento. Hay artistas plásticos, arquitectos y diseñadores de moda que trabajan / viven en habitaciones alrededor de la cocina y baños que son comunales. Por lo tanto, puede ser un poco caótica en las salas comunes, pero como estás tener su habitación separada en la parte trasera del loft Estoy confiado you'll sentir como en casa.
Muy bien situado, muy particular, hemos estado muy a gusto e independiente.
Marisa
2017-01-23T00:00:00Z
Venus is a nice and warm host, we are happy of our stay and we would like to come again because the appartment offers a very friendly atmosphere. The (SENSITIVE CONTENTS HIDDEN) are very cool too. I recommand this place for a trip in Berlin.
Lucy
2017-02-12T00:00:00Z
Besonders für junge Leute sehr geeignet. Mir hat es gut gefallen, immer wieder gerne.
Timon
2017-03-26T00:00:00Z
The apartment was in a perfect location and very private even though there were other people living in the apartment. Really cool!
Olivia
2017-02-05T00:00:00Z
Fast communication and lovely place. Thanks for the stay!
Roope
2017-02-23T00:00:00Z
Tipo de habitación
Habitación privada
---
Tipo de propiedad
Loft
---
Capacidad
3
---
Dormitorios
Berlín, Berlín, Alemania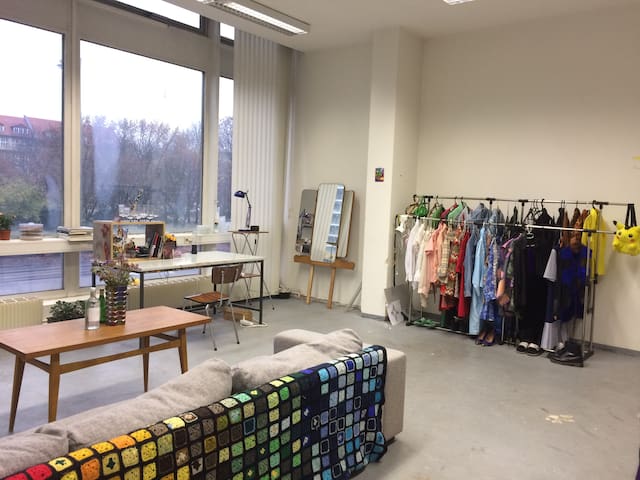 Das Zimmer ist abschließbar und hat seine eigene Dusche und Toilette. Meine Unterkunft ist gut für alleinreisende abenteurer und Geschäftsreisende. Es gibt keine Küche. Die Wohnung liegt in der Nähe der A10 & A13, Flughafen Berlin Schönefeld ist in 20 Minuten. Der Bahnhof Königs Wusterhausen ist 15 Minuten Fußweg entfernt.
Besucherzimmer mit eigener Dusche und Toilette. Fernseher, WLAN, ausziehbares Schlafsofa sind enthalten. Ruhige Lage.
Supermarkt zu Fuß erreichbar. Ruhige Lage mit viel Natur. In der Nähe sind auch das Schloss Königs Wusterhausen, Spielmöglichkeiten für Kinder.
Sehr sehr nette Familie! Sehr schönes Haus mit einem wunderbar gepflegten Garten!
Tilo
2016-07-16T00:00:00Z
Tipo de habitación
Habitación privada
---
Tipo de propiedad
Loft
---
Capacidad
1
---
Dormitorios
Königs Wusterhausen, Brandeburgo, Alemania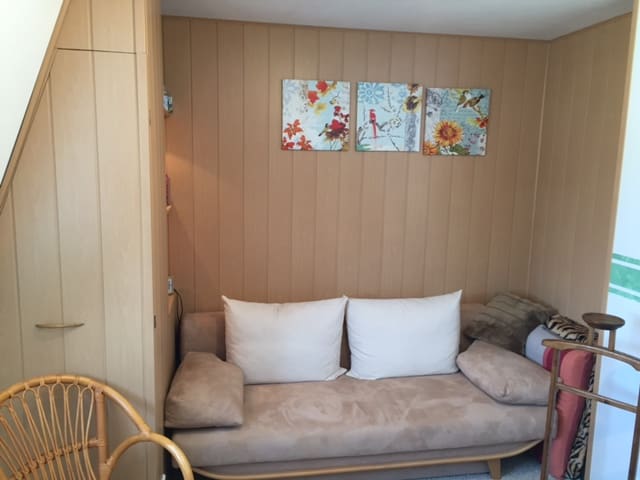 In unserem hellen, komfortablen und gemütlichem 2 Raum Apartment mit großem sonnigem Balkon kann man die Seele baumeln lassen und das berliner Leben genießen. Sie liegt im herzen von Kreuzberg vor dem tempelhofer Feld mit einer guten Verkehrsanbindung. Der historische Bergmannkiez lädt mit seinen zahlreichen Boutiquen und Restaurants zum gemütlichen Ausflug ein. Genieße ein komfortables Wohnloft mit einer modernen Küche und einem großen begrüntem Balkon zur Sonnenseite.
Es gibt einen großen sonnigen Balkon und ein modernes Bad mit einer Dusche sowie einer großzügigen Badewanne. Ein geräumiges Apartment mit Wohnküche und einer Arbeitsplatzzeile mit Fußbodenheizung.
Der Bergmannkiez bietet mit seinem traditionsreichen Pflastersteinstrassen ein besonderes Ambiente in dem es viele kleine Bistros und Boutiquen zu entdecken gibt. Das tempelhofer Feld lädt zu ausgedehnten Spaziergängen oder einfach zum Sporttreiben oder zum sonnenbaden ein. Eine gute Anbindung an die öffentlichen Verkehrsmittel
Tipo de habitación
Casa/apto. entero
---
Tipo de propiedad
Loft
---
Capacidad
3
---
Dormitorios
Berlín, Berlín, Alemania
Die Unterkunft ist in der Nähe von Rathaus Schöneberg (Ich bin ein Berliner ...) , Café BilderBuch, I due Emigranti, Café Taubenschlag. Du wirst meine Unterkunft lieben wegen Ihrer Gemütlichkeit, der Lage und der hohen Decken. Meine Unterkunft ist gut für Paare, Alleinreisende Abenteurer und Geschäftsreisende. Sehr schöne Lage im Akazienhof, mit dem Cafe Bilderbuch direkt unten im Hause, dem Buddha Haus in dem man lecker speist, einer Yoga Schule, Meditationszentrum, Schauspielschule ...
Das Appartement ist für zwei Personen ausgestattet. Auf Anfrage kann gerne eine dritte Person übernachten. Dazu wird im zweiten Raum ein Komfort Luftbett aufgestellt. Zusätzlicher Preis für die dritte Person: 30,00 € pro Nacht. Es ist Teil der Coaching Etage, in der auf über 300 qm top ausgestattete Räume für Seminare und Coachings zur Verfügung stehen.
Dutzende von tollen Restaurants, Supermärkten Cafe´s und Bars in unmittelbarer Nähe, ein wunderschöner Park um die Ecke, 10 Minuten zum Potsdamer Platz mit dem Rad oder dem Bus.
The appartment was Nice and clean. The communication with Hergen was excellent, we enjoyed our Stay in berlin
Nino
2017-01-02T00:00:00Z
Erstklassige Kommunikation und netter Empfang, sehr sauber & ruhig, beste Lage. Das Appartmenet hat alles, was man benötigt - gerne wieder. Hergen hat uns auch bei einer misslichen Lage super unterstützt! Absolut empfehlenswert.
Rena
2017-03-26T00:00:00Z
Wir hatten einen tollen Aufenthalt in Hergen's Wohnung. Die Ausstattung der Wohnung ließ keine Wünsche offen, von Kaffeemaschine bis hin zu gemütlichem Wohnzimmer war alles vorhanden. Die nächste U-Bahn Station ist nur wenige Minuten entfernt, somit hat man eine super Anbindung in die Stadt. In der ganzen Akazienstraße gibt es viele Cafés, Restaurants und kleine schöne Läden. Hergen hat uns sehr freundlich empfangen und beraten, wir haben uns sehr wohlgefühlt und kommen auf jeden Fall gerne wieder!
Marie
2017-01-04T00:00:00Z
Eine sehr gute Platz in freundliches und lebendiges In der Stadt
Renee
2017-02-28T00:00:00Z
The host was friendly, and the place was well-furnished and well-equipped. We were very happy with our stay. Would definitely recommend!
Rio
2017-04-03T00:00:00Z
Hergen hat uns sehr gut empfangen. Die Wohnung war sehr gemütlich, es gab alles, was wir brauchten und es war in einem netten Viertel (nah von Verkehrsmitteln). Nächstes mal, dass wir nach Berlin fahren, werden wir wieder da übernachten!
Caroline
2016-12-19T00:00:00Z
Sehr schöne, saubere und helle Unterkunft mit zentraler Lage. In der Straße sind einige Restaurants und Cafés, außerdem ist man in zwei Minuten an der nächsten Haltestelle. Leider hatten wir nicht das abgebildete Bett, war aber weiter nicht schlimm. Hergen hat uns nett empfangen und schon vorab einige Tipps gegeben.
Eyleen
2016-12-30T00:00:00Z
We had a wonderful time at the flat. So welcoming and comfortable with everything we could need for a great weekend in Berlin! Hergen was great at communicating all the info we needed beforehand and really helpful with my poor German language abilities. The flat itself is in a cool part of town with easy links to public transport and lots of great shops and eating/drinking places nearby. I wish we had more time to take advantage of what is on offer locally....We will definately be coming back soon :)
Helen
2017-02-20T00:00:00Z
Tipo de habitación
Casa/apto. entero
---
Tipo de propiedad
Loft
---
Capacidad
2
---
Dormitorios
Berlín, Berlín, Alemania
Welcome to an east german, rustic, loft adventure in the old empty church of village Briest. You will find rural tourism, focuses on actively participating in a rural lifestyle. Be a part of ecotourism. Buen Camino!
welcome in brandenburg gothic building with naval architecture, late 18th Century, red brick. typically Prussian, traditional Brandenburg clock tower and surrounded by a beautiful garden. It is situated in Briest / Havelsee by Brandenburg overlooking the river Havel, about 1.5 hours drive from Berlin. The space is 180 square meters in size, with about 10m high ceilings, a wooden loft and a barn-like interior with white walls and 8 arched windows. Location: Havelsee - district Briest near Brandenburg, about 1.5h west of Berlin. 180sqm floor space / ca.10m ceiling height / wooden loft / white walls / arched windows / large garden. Garden: features a water pump, a portable toilet, meadows, and a hundred year old oak tree. Small kitchen: featuring - coffee maker, dishes, table, bench, camping stove, equiped for self catering. Sleeping: Recommended- in the gallery where the organ once stood and there are clean mattresses with colorful blankets, or anywhere else in the house you chose. At present there is no Internet connection. Activities: Apart from a large offer of activities available in the area, including swimming in the river Havel, cycling, walking, fishing, barbecuing, ice cream parlors, watching movies…… the house also offers a great acoustic for musicians and singers! Getting there: Possible by car, train, boat, bicycle and on weekdays with Brandenburg school bus no. 571 Brandenburg Station is at 14km. Kirchmöser bike rental is at 10km. Berlin Alexanderplatz / Central Station - Brandenburg Hbf: direct connection by Train (approx.40 min / c.a. €6)
Es war einfach wunderbar und ganz besonders. Die wunderschöne Kirche ist kreativ eingerichtet und man fühlt sich hier sehr wohl. Gegenüber sieht man die Schwäne auf der Havel schwimmen und wenn man ausgiebig frühstücken möchte, fahrt man am Sonntag zum brunch in das ebenfalls ganz besondere Schloß Plaue. Dort kann man auch wunderbar spazieren. Ich und mein Hund wollten eigentlich gar nicht mehr hier weg. Vielen Dank für diese tolle Entdeckung. Es könnte gut sein, dass wir wiederkommen. Besondere Menschen tritt man auch. Den super sympathischen Vater der Gastgeberin oder die beiden Zwillingsschwestern im Eiscafé.
Evelyn
2016-05-25T00:00:00Z
Juliane is a great host! She was very flexible as we had to postpone our arrival twice. The place itself is unbelievable, surpassed every expectation we had. The surroundings were also incredibly beautiful, with the lake literally in front of the church. Thank you Juliane, we´ll be definitely back!
Antonio
2016-05-30T00:00:00Z
The reservation was canceled 26 days before arrival. This is an automated posting.
Matt
2014-03-09T00:00:00Z
The Havelsee church was a remarkable place to stay for an adventurer who wants something unique and off the beaten path. My partner and I were amazed by the huge open space we got to call home for a night, and it was even better that there was a kitchen fully equipt for all our cooking needs. The church is located directly across from a river, and we greatly enjoyed picnicking, swimming, and walking through the country. The best part about this listing is that it is located only 50 minutes by train from Berlin, making it the perfect rural detour!
Sarita
2016-06-17T00:00:00Z
This place is truly special. Juliane is very friendly, thorough and welcoming. She has clearly put a lot into making this a great place to stay (and seems to be continuously making improvements and adding amenities). The town is also lovely. I would highly recommend buying a smoked fish from the fish market - probably the best fish I've ever tasted!
Julia
2016-07-28T00:00:00Z
The church was comfortable to stay in, and the village is fabulous! with such an amazing landscape, I can honestly say I don't see a case one will not enjoy his stay. perfect for a relaxion weekend outside of the city. Also, Juliane's family was very nice and welcoming. highly recommended.
Nimrod
2012-09-24T00:00:00Z
Wir haben ein grossartiges Wochenende in der Kirche und um die Kirche herum verbracht. Alles ist sehr unkompliziert und positiv gelaufen. Vielen Dank !
Diane
2016-09-25T00:00:00Z
We stayed for one week in the church. And we had a great time. Briest is a hamlet along the river Havel, which is across the street of the church (bring flip flops and swimming towel). It is the best spot to relax.The river is nearby, there is a garden and enough room to do your thing. We rented bikes. It's great to cycle in the environment. It's flat and the routes are cleary marked (although a few times we had to search.... ). The bikes we found in Plaue (4km from Briest). Here is also a supermarket,a few restaurants and in summertime an open air cinema. Besides 2 fish-shops ( fresh fish for the grill or smokes fish.. both we recommend) ,1 bistro and sometimes a mobile shop there is 'nothing' in Briest. So for the first evening and/or breakfast bring some food. The parents of Juliane (the are keeping the key) are really sweet people and fun to talk to (even we hardly speak german, they made an effort to chat with us). We also met the neighbour, who's a happy and jollyfull lady. If you come in summertime, bring something against the mosquito's, 'cause you are not the only one in the church ;-). It is a lovely place and if you like camping in a different way, this is the best place to be! We wish Juliane lot's of luck with her plans she has for the church and we hope it will keep it's character like it is now. We loved it!
Natasja
2013-07-13T00:00:00Z
Tipo de habitación
Habitación compartida
---
Tipo de propiedad
Loft
---
Capacidad
8
---
Dormitorios
Havelsee, Brandeburgo, Alemania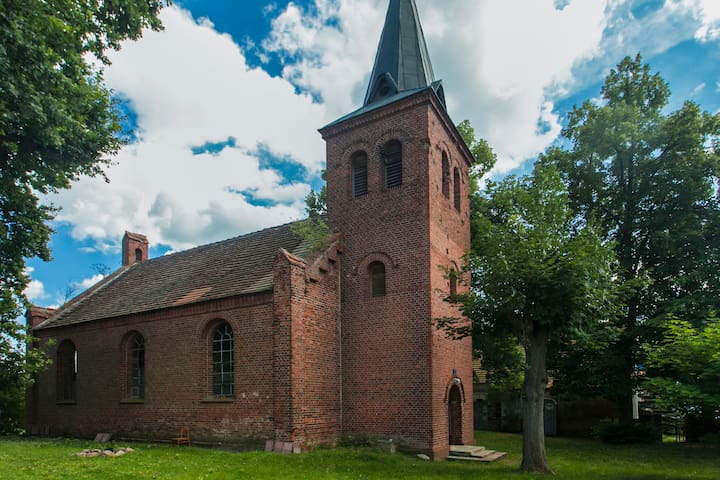 El desayuno está incluido en el precio de: fresco café, leche, cereales, queso, jamón, fruta, pan, mermelada, etc. Nuestro lugar está cerca del lugar de interés Schloss Charlottenburg y la cervecería local Brauhaus Lemke. Te encantará nuestro lugar debido a la chimenea, terraza cubierta y la fealdad. Nuestro lugar es perfecto para parejas, aventureros en solitario, y los viajeros de negocios que tiene conferencias en el Messe Nord / ICC.
La casa es de 120 metros cuadrados con acceso a un jardín en la azotea, ascensor y está recién reformado. El dormitorio de invitados es de 18 metros cuadrados con baño de invitados.
Cerca de los jardines de Schloss Charlottenburg, el río y una gran variedad de bares y restaurantes en la ciudad de West / Kurfürstendamm.
The stay was absolutely brilliant! Videesha and Martin were great hosts that provided us with recommendations for places to see and eat throughout our stay. Their place was also amazing, clean, spacious and and extremely homely. As an added bonus they also made myself and my partner breakfast! I would definitely recommend this place to anyone interested in having a stellar time in Berlin :)
Shari
2016-11-27T00:00:00Z
Super Location. Toll gemacht und die Lage ist sehr schön.
Jens
2016-12-18T00:00:00Z
the house in quiet&safe area! Martin&Videesha are friendly!they provide huge information for tour&restaurant!just be there....you will understand what i mean!they also provide ipad for music in your room!
憲文
2017-02-05T00:00:00Z
Videesha and Martin are great people and fantastic hosts. They made my weekend stay very enjoyable, offering tips about where to go and what to see. They were prompt to communicate with me and very welcoming in their home. Their place is easy to get to Tegel airport and a 5min walk to the metro. I would definitely recommend staying with them if you are visiting Berlin!
Laura
2017-03-27T00:00:00Z
Super nette und aufmerksame Gastgeber. Das Apartment war sauber und ordentlich. Das Bett ist sehr bequem und das Frühstück war auch sehr gut. Die Lage ist gut gelegen, man ist innerhalb von wenigen Minuten an der U-Bahn Station. Ich würde dies Unterkunft jederzeit weiter empfehlen :)
Celine
2017-03-15T00:00:00Z
Cool place and cool hosts. Felt like I was at friend's house. If you consider travelling to Berlin check the availability at their house. You will get the best of hospitality and the best of comfort.
Davorin
2016-09-11T00:00:00Z
Very welcome and easy going host, prepared everything for us when we arrived at the flat. cleaning and beautiful view on the bancony. will definitaly recommend this apartment.
ZHIQI
2016-08-24T00:00:00Z
The host is a realy nice and great guy - always available on (SENSITIVE CONTENTS HIDDEN) or (SENSITIVE CONTENTS HIDDEN) -great personality -thx.again
Keric
2016-11-13T00:00:00Z
Tipo de habitación
Habitación privada
---
Tipo de propiedad
Loft
---
Capacidad
2
---
Dormitorios
Berlín, Berlín, Alemania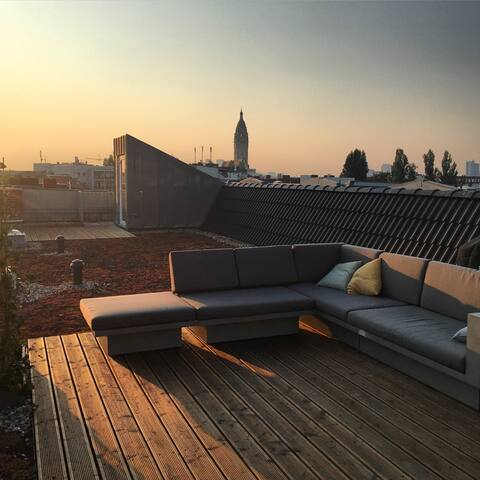 Buen tamaño de la habitación doble en un bonito apartamento loft de 120 m2. El apartamento tiene WiFi, dos dormitorios, cuarto de baño y un plan de cocina / sala de estar de 60 m2 abierta impresionante, con un balcón.
Good size double room available in Neukölln in a beautiful 120 m2 loft apartment that was recently built (please note, recently built not just renovated...) The apartment has WiFi, two bedrooms (the second one is my room), bathroom and a stunning 60 m2 open plan kitchen/living room with a balcony and lots of natural light (there are 5 windows, two ceiling windows and a huge window to the balcony). The room has a fairly good size (approx 13m2) and it has basic furniture: a double bed (standard size of 140x200cm), a clothes rack and a chest of drawers that can also serve as a desk. The room has two windows and white wooden floor. The apartment is very conveniently located, the U8 Ubahn station Hermannstraße is right outside the doorstep and the Sbahn ring (which takes you to the Olympiastadion in 28 minutes and to Schönefeld Airport in 20 minutes) is a one minute walk! The amazing Tempelhofer Park is a 5-min walk. There are lots of Turkish restaurants in the area and an amazing Vietnamese restaurant two blocks down the road. Also two supermarkets right in front of the building and lots of bars and cafes within a 10-min walk.
Esta parte de Neukölln es un barrio muy vibrante y diversa, con una gran comunidad turca que ha traído una sensación de amenidad y mediterránea a la zona y un montón de buenos restaurantes turcos
We had a very nice stay at Francesco's place. The loft is amazing, beautifully decorated and located in the interesting area of Neuköln. The communication was easy and Francesco is a very nice guy. We can highly recommend to stay at his place!
Svenja
2016-07-17T00:00:00Z
Great host! Easy going and very helpful. Beautiful loft room too.
Willow
2016-10-11T00:00:00Z
Francesco's loft is amazing! He made a great work on it. The apartment is spacious and because of the large windows full of light. Really cool is a terrasse facing the inner courtyard. Francesco's apartment is well equipped with everything you may need. Is also situated right next to U and S Bahn, so transport is easy. Our host is a nice person and we had a great time in Berlin. Thanks :)
Tereza
2016-09-26T00:00:00Z
Отличная квартира! Francesco продумал все до мелочей. Все очень удобно. Квартира большая, светлая и очень уютная. Со своей непередаваемой атмосферой. Дизайнерский лофт. Расположена очень удобно. До метро 1 шаг. До центра Берлина можно доехать за 20 минут. Francesco очень приятный и радушный хозяин. Интересный собеседник) Рассказал нам много важного и полезного о Берлине. Рекомендовал места для прогулок и хорошие рестораны. Настоятельно рекомендую Francesco и его квартиру!
Антон
2016-05-10T00:00:00Z
Francesco was a wonderful host! He gave me directions to get to and from the airport and was incredibly helpful during my stay. The space was very beautiful and the room was light-filled and pleasant (also well-connected to all parts of the city!) I would come back to stay anytime and I highly recommend staying with Francesco!
Renee
2015-07-16T00:00:00Z
Scenic, light, bright apartment. Loved staying there, and Francesco gave us delicious cookies, too!
Amelia
2017-04-01T00:00:00Z
I had a nice stay at Francesco's place. His loft is very cool and spacious. Room was comfortable and clean. Bathroom was very good. Francesco is a very kind and helpfull host! In front of his door is the subwaystop of U8 and also the S-bahn so within a couple of minutes you are in the citycentre.
Diana
2016-12-31T00:00:00Z
Very nice stay at Francesco, I can only recommend him!
Renaud
2017-03-09T00:00:00Z
Tipo de habitación
Habitación privada
---
Tipo de propiedad
Loft
---
Capacidad
2
---
Dormitorios
Berlín, Berlín, Alemania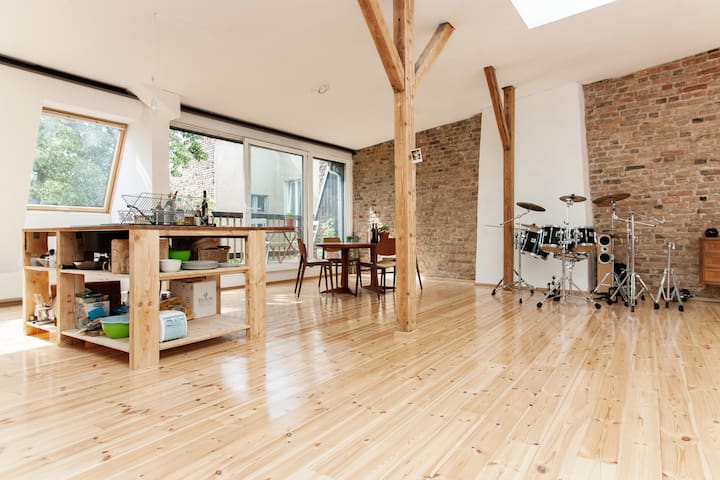 It is 120 sq.m. private imaginative loft in old fabric, in a house where artistic community work and live. By the river - Spree.
Obtendrá su propio privada loft de 120 m² situado junto a la gran área común. En su desván se le proporcionará con su propia cocina, 2 comedor / zona de esparcimiento, 2 baños, 2 habitaciones cerradas, 2 cabinas para dormir y muchos espacios comunes para compartir. El espacio va a satisfacer todas sus necesidades.
El edificio está situado en el distrito de Moabit. La gran ventaja de esta ubicación es un sentimiento de verdadera vida local en Berlín. Usted no encontrará una atmósfera así en otros distritos Berliner turísticos. Comunidad es muy abierta y amistosa a nuevas personas de diferentes orígenes.
Tipo de habitación
Casa/apto. entero
---
Tipo de propiedad
Loft
---
Capacidad
10
---
Dormitorios
Berlín, Berlín, Alemania
Hermoso loft de 130 metros cuadrados llenos de luz, calor, gran terraza al aire libre y zona de oficinas para el trabajo. Este loft está cerca de todo: Parques, canales, restaurantes, tiendas, centro de la ciudad (Mitte), Neukölln, metro y autobuses. El Loft es 100% privada, nadie puede ver en, realmente se siente como si estuviera en su propio oasis privado. He decorado el espacio para tener una sensación de California (ya que soy de LA). Sólo subarrendar mi casa cuando estoy lejos de viaje, por lo que sólo acepta huéspedes con críticas positivas.
La cama es enorme colchón de espuma de 200 cm x 220 de memoria y almohadas. La segunda cama es un cómodo colchón de aire grande. Hay un montón de espacio aquí para dormir y disfrutar de su propia intimidad. Tengo una lavadora, 2 baños, y un montón de espacio para descansar.
El Loft se encuentra en Oranianplatz en Kreuzberg.
Great place, really cozy and convenient, excellent support from Rachel. We are more than satisfied.
Maksym
2017-03-11T00:00:00Z
Large cool space close to train surrounded by restaurants, cafes and bars.
Jonathan
2017-02-13T00:00:00Z
Unique, spacious, beautiful and cosy. These are the words that come in my mind when thinking about the loft again. From all our visits to Berlin, this was our best time we had. We loved every second of our stay and will come back for sure. Rachel, you are the best ;)
Tilopa
2017-01-03T00:00:00Z
It was really an amazing stay in Kreuzberg. The appartment is very near to the Oranienplatz and everything is easy to reach by feet in Kreuzberg. The apartment has a nice rooftop terrace and is very bright.
Dogan
2016-12-02T00:00:00Z
Tipo de habitación
Casa/apto. entero
---
Tipo de propiedad
Loft
---
Capacidad
4
---
Dormitorios
Berlín, Berlín, Alemania
Loft type apartment in central locations, with plenty of restaurants, bars and coffee shops around, but still an extremely quiet spot. Completely new construction in an historic building. Excellent bus and underground connections.
SMALL PARADISE IN BERLIN KREUZBERG This accommodation is available for temporary residence (WOHNEN AUF ZEIT: longer than one month) and not for short term holiday rentals. Brand new and fully furnished loft apartment in the most attractive part of Kreuzberg. The location is close to 3 metro lines (one of which leads to the two airports). Metrobus No. 41 goes straight to the main train station stops right in front of the house - next to a taxi stand. The apartment is located in a protected historic building transformed into quiet residential park like mansion in 2011. It can accommodate up to 4 people (1 double and 1 small bed on the second level, 1 convertable sofa bed on the lower level). More than 40 bars, cafes and restaurants, cinema, art galleries are within 5 minutes walking distance. Popular ethnic market on Tuesdays, Fridays and Saturdays. The Admiral bridge, meeting point of musicians during most summer nights, is only 100 meters away, as well as the lawn commons along the former Urban harbour. Highlights fo the apartment: --> architect designed interior --> first floor . no elevator needed --> bright illumination through additional roof lights --> central heating - also available outside conventional heating seasons. --> fully equipped kitchen with fridge, ceramic stove, oven, micro wave, --> easy-to-handle electric espresso maker toaster, kettle, mixer, vaccum cleaner, iron. --> free wifi internet access --> two bathrooms with shower --> towels and bedding included --> 32 inch TV on second level --> quiet low rise / low density residential community at the doorstep of busy Kreuzberg social life --> easy parking along public streets --> only 40 minutes to either airport or to the main railways station with public transport --> bicycle renting accross the street --> 5 art cinemas within walking distance --> map with recommended places around the house will be sent to you in PDF format before arrival
Mejor imposible. El barrio es muy vivo, bien situado, cerca del metro, con tiendas cerca, supermercados... El apartamento es genial, muy cómodo y con todo lo necesario. Y el anfitrión nos ha facilitado mucho las cosas, y ha hecho que nuestra estancia sea aún más agradable.
Dámaris
2013-10-01T00:00:00Z
The title says it all. Gregor's apartment is truly a small paradise in Berlin. We were 3 guys 19yrs and we stayed for 7 night in August 2013. The Apartment was spacious enough for the three of us. The double bed and futon were very comfortable, while the single size bed is a little uncomfortable but bearable. The complex itself is beautiful and very quiet. The biggest advantage is the location. The apartment is located in a nice closed residential complex in the middle of quiet Kreuzberg and is nearby 2 U-bahn stations served by 2 lines that can get you almost anywhere you want in berlin in less than 10 mins. I must say that the apartment was a bit dirty although the cleaning lady was cleaning exactly when we arrived. Thank you Gregor!
Ido
2013-09-21T00:00:00Z
Love the location and neighborhood. Gregor is a wonderful host, thank you for the pizza
Alex
2016-06-03T00:00:00Z
the apartment is beautiful and in mint condition; it is in in the nicest part of Kreuzberg - indeed a small paradise! It is a former hospital turned into a housing complex - architecturalyl very well done! Though Gregor was gone when we arrived, he made sure that we get into the apartment. We had a great time in Berlin and even had an opportunity to meet hime face to face (very nice gentleman)
ursula
2012-10-07T00:00:00Z
Gregor was abroad when we arrived but everything was perfectly fixed with a young lady who welcomed us. The apartment is exactely as described and in a great multicultutal environment. Location is top. Unfortunatelly the cleaning was not done properly: overall really dusty. When we met Gregor 3 days later, he didn't discuss at all and returned us the cleaning fee. I could really recommend this place.
Viviane
2015-05-18T00:00:00Z
As it states 'A small paradise is Berlin'... gorgeous, cosy, light filled apartment in a quiet but wonderfully diverse location. Gregor was a sensational host and his instructions were perfect. The apartment was very well equipped and a great location to base yourself in Berlin. Close to shops, transport and sensational cafés. I would happily recommend Gregor's apartment to anyone looking for an apartment in Berlin.
Jen
2013-10-18T00:00:00Z
Gregor was from the very begining very receptive and helpful to all my requests. He contacted me several times qith the proper answers to my questions. He is very professional and correct. The flat is very comfortable, clean and nicely (decently) decorated. It´s location is one of the best in the whole city, with many restaurants, bars, shops, parks, bus and subway stations, Just a perfect location for those who really want to enjoy Berlin just as the locals do. Unquestionably a great option if you're looking to spend a couple of days in your own Small Paradise away from home
Daniel
2013-11-30T00:00:00Z
Great experience,the location was great,apartment was as decribed and very cool! Thanks a lot!
Marty
2016-01-23T00:00:00Z
Tipo de habitación
Casa/apto. entero
---
Tipo de propiedad
Loft
---
Capacidad
4
---
Dormitorios
Berlín, Berlín, Alemania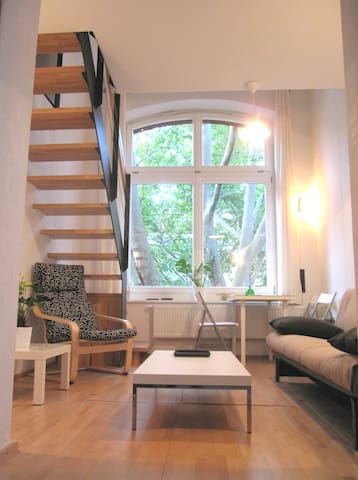 Ruhig gelegene großzügige Wohnung mit guter Verkehrsanbindung im Herzen von Berlin...
Geräumige und sonnige Dachgeschosswohnung in friedlicher bester Kreuzberger Lage und umgeben von guter Infrastruktur zu vermieten. Zentral gelegen aber sehr leise und nur ein paar Minuten zu Fuß von kleinen Einkaufsmöglichkeiten, Cafes, Restaurants, Bars sowie Parks und dem Tempelhofer Feld. Unmittelbar in der Nähe sind öffentliche Verkehrsmittel wie die U Bahn 7 Gneisenaustr, die U Bahn 6 Mehringdamm sowie Bus und Fahrradverleih. Auch am Wochenende gibt es eine Vielzahl an Auswahlmöglichkeiten wie Flohmärkte, frische Obst und Gemüse Stände und Molkerei Produkte vom Biobauer. Die Wohnung hat eine Gaszentralheizung (die gewünschte Temperatur kann über ein Temperaturregler eingestellt werden), ein eingerichtetes Wohnzimmer mit gemütlichem Sofa sowie Couchtisch, eine Computerecke ein großes Badezimmer mit Eckbadewanne, eine vollausgestattete Küche mit Gasherd. In der 2. Etage der Wohnung mit Ausblick über die Dächer von Berlin, zwei Schlafbereiche jeweils mit Doppelbett. Alle Zimmer mit Fenster, sehr friedlich und leise. Inbegriffen W-Lan und Soundanlage mit Audiokabel für Verbindung zum Laptop. Die Wohnung wird mit Ökostrom und Ökogas betrieben.Perfekt für Familien die Urlaub in Berlin machen wollen aber auch für jeden der diesen besonderen Ort zu schätzen weiß !
Ruhige Nachbarschaft mit netten Nachbarn. Familienfreundlich !
It was perfect. Central location with easy acces to transport. Clean, cozy and unique apartment.
Lourdes
2017-02-03T00:00:00Z
Nino's appartment is very nice with cool spaces and a lot of light. It is very calm and the neighbourghood is great with nice restaurants and a cousy atmosphere. I wouls definitly come back to Nino's place in a future trip to Berlin.
IVAN
2015-06-16T00:00:00Z
We had a wonderful time in Berlin at Nino's apartment. The location is great with some open spaces, good transport links, shops and bars close by. It's a great place for Vegans and organic foodies with speciality shops and a market minutes away plus some nice places to eat out. The apartment itself was ideal for us, we found it a warm and welcoming place to sleep after a days sightseeing. The beds are super comfy with amazing views over the city roof tops. We enjoyed making breakfast in the fully equipped kitchen while listening to our music on Nino's plug and play stereo. Nino himself was very welcoming, he was there to meet us at a time of our choosing. He gave us some helpful advise on arrival and messaged me later with further suggestions. I would highly recommend Nino's apartment for your visit to Berlin and I fully intended to return there myself.
Penny
2016-03-20T00:00:00Z
The apartment was great, the location was nice and the house was very complete. It's on the top floor so we could work out with walking the stairs :) I was with two friends and we had enough space. We got the keys from Frank, the neighbor, who is also a really nice guy. No complains at all, i would definitely come back here and recommend it to other people. I felt home and not like if i was in someone else's house, afraid of touching things. For the music lovers, recordstore Spacehall is around the corner.
Olga
2015-01-11T00:00:00Z
We had an amazing time at Nino's apartment. He met us with his lovely son to hand over the keys and explained how everything works. The apartment is very clean. The area is central and located close to a large food market and public transport, Metro station is only 7 minutes far from the apartment. There is everything you need, a well-equipped kitchen, good bed, a nice and big bathroom, a good sofa and more. We also enjoyed the amazing rooftop view, Nino's plug and play sound system and the instruments :). We had really great time here and if we return to Berlin, we will definitely stay here again.
Kata & Gábor
2016-05-11T00:00:00Z
We had a great stay, The apartement is clean and nicely decorated and in a great location. Bedding was very comfortable . We would recommend staying here
KIKI
2015-08-23T00:00:00Z
Très bon contact par mail puis SMS avec Nino. Appartement très propre et confortable, et un peu plus grand que ce que ne laisser supposer les photos. Bonne situation dans le quartier Kreuzberg tout près de l'étonnant parc de l'aéroport de Templelhof. Nombreux commerces et restaurants à proximité. Possibilité de rejoindre l'hyper-centre et Friedrichshain en métro ou en vélo en 10/15 minutes. Bilan très positif !
julien
2015-08-01T00:00:00Z
Nino was the best host ever! So kind and sweet. I wish we got to hang out more! The apartment was beautiful, spacious, and very clean. Beds were really comfortable and the rooftop view is amazing. Don't hesitate to pick this place. We love you Nino - Ashley, Liz, and Julia
Julia
2015-08-10T00:00:00Z
Tipo de habitación
Casa/apto. entero
---
Tipo de propiedad
Loft
---
Capacidad
5
---
Dormitorios
Berlín, Berlín, Alemania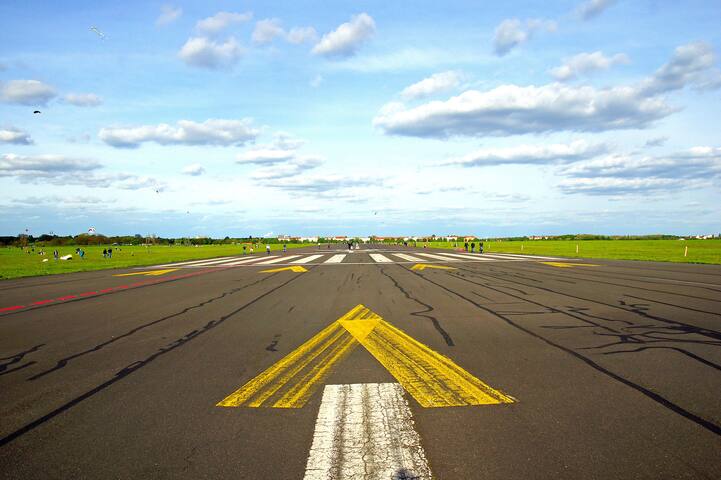 Grand loft près de Treptower Park et de la Spree. Accolé aux quartiers de Friedrichshain, Kreuzberg et Neukölln. Au dernier étage avec ascenseur, lumineux et moderne. Il comprends une terrasse, un barbecue, lave vaisselle, four, video projecteur, etc... N'hésitez pas à me poser vos questions!
Grand loft près de Treptower Park. Au dernier étage avec ascenseur, lumineux et tout équipé. L'appartement est au croisement des trois quartiers les plus vivants de Berlin, Neukölln, Kreuzberg et Friedrichshain. Il est surtout en bordure du grand parc de Treptower Park. Nous louons notre apartment durant nos vacances. L'appartement de 120m2 est grand et lumineux, un loft avec une grande pièce à vivre regroupant le salon, la salle à manger et la cuisine avec un bar. Une grande chambre principale, une grande chambre d'ami/bureau ainsi qu'une grande salle de bain avec baignoire, douche et toilettes, d'autres toilettes séparées et un balcon. Proche des bus (PHONE NUMBER HIDDEN) et de la station de S-bahn Treptower Park (5min à pied). Vous pouvez fumer sur le balcon mais pas à l'intérieur.
Really nice house. :)
Maribel
2016-11-13T00:00:00Z
Really good location for exploring east Berlin. Beautiful apartment, open and bright, with a nice roof terrace and very friendly! Would defiantly visit again
Frederik
2016-07-22T00:00:00Z
Die Unterkunft war wirklich schön und genauso wie man sich, für ein großes Apartment es vorgestellt hat. Leider war es bei der Ankunft etwas verwunderlich einen weiteren Mitbewohner für zwei Tage zu haben (Fammilienangehöriger, der temporär dort wohnt). Ich bin mir sicher, dass Fanette die Wohnung noch sauberer verlassen hat, als wir sie dann vorgefunden hatten. Nach ein Paar Handgriffen und einer halben Stunde, waren alle "Störfaktoren" beseitigt. Sie hat sich davor und während dem Aufenthalt erkundigt und wir konnten alles gut aufeinander abstimmen. Alles in allem: Note 2+ in Schulnoten!! :)
Stefan
2016-08-22T00:00:00Z
No problems. Fanette had a very nice apartment in a well-kept building. Handover of keys went very smooth and she kept in touch during our stay just to make sure that everything was OK. Highly recommended!
Vegard Muri
2016-07-19T00:00:00Z
Ich konnte leider die Reise nach Berlin aufgrund gesundheitlicher Beschwerden nicht wahrnehmen, daher kann ich nur aus zweiter Quelle von meinen beiden Freundinnen berichten: Sie waren super happy mit der Unterkunft, die Lage ein Traum und die Ausstattung tadellos! Beide können das Loft zu 100% weiterempfehlen. Auch Fanette war sehr unkompliziert in der Kommunikation und ist uns bzgl. Ankunftszeit und Schlüsselübergabe sehr entgegen gekommen. Daumen hoch! :)
Magdalena
2016-09-13T00:00:00Z
Apartment was modern, nicely decorated and spacious with a well equiped kitchen. Neighboorhood is quiet, nice park is around the corner, but no nice coffee bars, restaurants, boutiques etc are close by. Public transport (S-bahn) was within walking distance though, but does take some time to get to nice areas such as Kreuzberg and Friederichshain. Apartment is well equiped and suitable for preferably a couple, since the extra bed for 2 is an inflatable bed build in the sofa, that stands in the living room, where there are no curtains or blinds. We thought that wouldn't be a problem in winter, but the living room is bright and on the sunny side, so you wake up relatively early. On request, Fanette offered to move the sofa to the spare room, but then you wouldn't have a sofa during the daytime, since it's not very easy to move, unfortunately. Furthermore, the apartment was quite dirty when we arrived, at least according to our standards. We realise it isn't a hotel, but although Fanette told us she cleaned, there was dirt on the floors, tables, kitchen cabinets and the sink and toilet in the bathroom were stained. We cleaned the floor and bathroom ourselves, in order to be able to use it properly. We were in contact with Fanette about this and eventually we managed to settle it. Al in all, nicely decorated, spacious apartment, good for a couple that doesn't mind a bit lower hygiene standards and travelling a bit to livelier areas.
Chrissy
2017-01-24T00:00:00Z
Beautiful spacious apartment on a quiet residential street which is tastefully furnished. It's even bigger than you would imagine from the photos. Very quiet and also warm during winter. You won't be disappointed. About 500m walk to S-Bahn Treptower Park.
Hubert
2016-12-23T00:00:00Z
Tipo de habitación
Casa/apto. entero
---
Tipo de propiedad
Loft
---
Capacidad
4
---
Dormitorios
Berlín, Berlín, Alemania
10 camas dobles en 10 Cabinas Coje es perfecto para grupos, talleres, eventos, mensajes publicitarios que viajan por negocios razones, los estudiantes, los expositores y por supuesto para todos los demás viajero agradable y de mente abierta que le gusta estar en un ambiente imperfecta extraordinario y encantador!
Por favor, lea antes de reservar! EL ESPACIO Es un gran loft de 10 cabañas de madera privadas con una cama doble. Las cabinas son tan grandes / pequeñas como una cama de matrimonio + espacio de la entrada pequeña. Dos de los diez cabinas están en el segundo piso y han conseguido la altura del asiento, pero son muy agradable sin embargo. RESERVA El espacio es para su uso exclusivo. Los fines de semana solamente vienen alquiladas para un mínimo de 2 noches. Sus anfitriones Estamos Isabella y Marcus, un par de diseño con dos niños pequeños. Nos dimos cuenta de que nuestro sueño de combinar alojamiento y la creación y construimos 10 cabañas de madera en un loft de 160 metros cuadrados para alojar a clientes, organizar talleres de creación, etc. Todo dentro de uno mismo se construyó y sigue el principio de Upcycling. Nos dio nueva vida a la madera de un 100 años derribado House Berlin edad. El ambiente interior se caracteriza por la calidez de los materiales en bruto y se carga con el encanto de la emocionante incompleto. Las superficies son crudos fuera y suaves por dentro. Estar al tanto de viejos clavos oxidados y bordes sin pulir;) IDIOMAS Por favor, siéntase libre de escribirnos Deutsch, Inglés, Francés o Español.
BARRIO Justo en la frontera de Kreuzberg se puede sentir la atmósfera vibrante de una mezcla multicultural y creativa de las personas. Se encuentra cerca de una gran cantidad de lugares alternativos para el día y la noche. Los parques Hasenheide y la gran Tempelhofer Feld se puede ir andando en unos pocos minutos. Puede encontrar una lista con las recomendaciones en el espacio o en nuestra página web.
Très chouette endroit, fidèle aux photos! Beau, fonctionnel, agréable. Parfait pour un groupe de 10, car l'appart est privatisé et nous avons chacun une case avec un lit double. Et chacun une clefs, ce qui est très pratique ! Le quartier est très bien, et Marcus et Isabella nous avaient donné pas mal d'adresses top. Je n'ai pas vu Marcus ni Isabella sur place, mais nos échanges par mail étaient très agréables et ils avaient l'air très arrangeants. Attention, il est précisé partout qu'il ne faut pas faire de bruit (ce qui est compréhensible); mais les voisins du dessous, qui ont dû avoir quelques mauvaises expériences, nous ont sauté dessus en arrivant pour nous le demander directement (on n'avait pas encore mis un pied dans l'appartement)... un peu désagréable, mais finalement tout s'est bien passé. Pour le reste, tout était parfait !
Laura
2015-07-20T00:00:00Z
C'est un endroit extraordinaire, sorti de nulle part. Génial pour une immersion d'équipe qui souhaitait découvrir Berlin sous un angle hors des sentiers battus. L'accueil était très sympa avec Marcus, très cool. On se sent chez soi tout de suite et même à 17 personnes on n'est pas les uns sur les autres. Chacun peut avoir son intimité. Nous nous sommes sentis des Robinson Crusoé modernes débarqués sur l'île de Berlin ! Topissime !!!!!! L'équipe Retail Design & Merchandising l'oréal Luxe France vous remercie du fond du cœur.
SYLVIE
2015-12-09T00:00:00Z
Everything was great!
TORI
2016-07-05T00:00:00Z
Exactly as described, my friends had a great time and enjoyed their stay at COJE! Thanks everybody!
Mike
2015-05-09T00:00:00Z
We had a fantastic nights stay at COJE on the way to a conference in Potsdam. The loft is very cleverly designed to make a fun and comfortable place to stay. The facilities were perfect and we really appreciated the coffee in the morning. Even though we arrived quite late, Camilla met us at the gate and was very helpful and welcoming. Would very happily return!
Sian
2016-08-29T00:00:00Z
Marcus' space is absolutely incredible, crisp, comfortable and spacious. The concept is so cool and had I been traveling with coworkers, we would have had everything we needed to work, hangout and sleep. Marcus is also incredibly thoughtful and even offered me an extra night when I missed my flight.
James
2016-03-16T00:00:00Z
Der Kontakt mit Isabella war von Anfang an super und das Treffen mit Marcus ebenfalls! Wir haben uns sehr wohlgefühlt und die Loft ist fast noch schöner als auf den Bildern! Sehr viel Platz!
Jasmin Leila
2016-09-12T00:00:00Z
Coje is an amazing apartment! It is exactly as the pictures show but much better and bigger. The space is very rural but homely at the same time, it's great for a big group there was 10 of us in total and we all had our own rooms. Beds were comfortable, once heating is on the whole apartment is cosy and warm. Nice location food shops and several train stations within 2-5 minute walking distance. Marcus and Isabella provide a list of food establishments which came in handy for breakfast and dinner, if you are a Vegan there are plenty of great restaurants local to the apartment called TWO PLANETS. The only downside is that there are a lot of stairs to walk up to get to the apartment and you have to be quiet after 10pm as walls are thin so neighbours will complain. Which is pretty minor as we would all go back.
Jolisa
2016-04-10T00:00:00Z
Tipo de habitación
Casa/apto. entero
---
Tipo de propiedad
Loft
---
Capacidad
16
---
Dormitorios
Berlín, Berlín, Alemania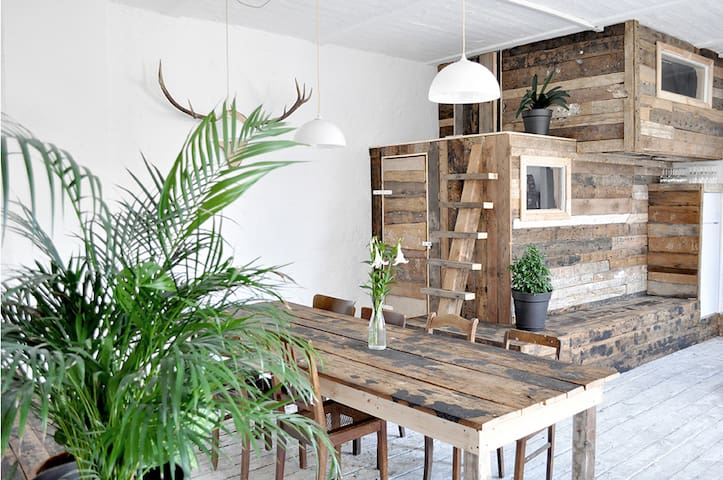 Niedergörsdorf - Airbnb
:
Una media de

4.84

estrellas de un total de

5

de

492

evaluaciones de huéspedes
Introduce las fechas para ver el precio total. Ten en cuenta que se aplicarán tarifas adicionales y es posible que se añadan impuestos.