Introduce la fecha de llegada en el formato dd/mm/aaaa
Introduce la fecha de salida en el formato dd/mm/aaaa
Anuncios que no requieren que el anfitrión acepte la solicitud.
Introduce las fechas para ver el precio total. Ten en cuenta que se aplicarán tarifas adicionales y es posible que se añadan impuestos.
En julio y agosto, podrás disfrutar de 100 de los alojamientos con las mejores valoraciones de Sonoma a precios muy diferentes y disfrutar de la cara más auténtica de la ciudad. Relájate y disfruta de tu estancia sabiendo que puedes hacer una reserva inmediata, llegar a cualquier hora y disfrutar del vino de la zona y de otros tentempiés.
Seperate entrance semi self contained queen mezzanine room. Ocean glimpses 1.5km from Falls Fest site. Lots of natural light, use of house & all amenities. Comfty couch, tv, mini fridge & great queen bed.
Light, chilled & seperate entrance. Entire house w gourmet kitchen, 2 bathrooms & vege patch, yard & deck. We let you run your own breakfast (continental style provided) & let you sleep in!
Quiet street surrounded by Billinudgel reserve & ocean views for whale spotting. Festival shuttle at bottom of the street. 3 mins drive to local beach & cafe/shop. We have 2 boys- 5 and 2 and a half yrs old & Skip the Kelpie. Friendly family & festival lovers. We let you sleep in so let us sleep at night!
We had a great time in Ocean Shores with Kelly and her family!
Sara
January 2016
Kelly and her family were very welcoming, friendly and relaxed. The bed's comfy, and the room has everything. Their suburb is really quiet, close to lots of national parks and nature reserves and close to Splendour and the beach. I especially loved her dog - such a friendly, calm nice-natured pet!
Greta
July 2015
Myself and a friend stayed here for one night over the splendour weekend in the new private room side of the house and we loved our stay. Kelly was really accommodating and easy going and her house is really nice. I would recommend staying here to anyone and will be back for another stay next time I'm in byron! Thank you Kel for the enjoyable splendour weekend! :)
Tara
July 2015
Staying at Kel & Dave's is always an awesome time, so much so that we came back for more! They have a beautiful home, a beautiful family (including Skip the dog) and make you feel so welcome - it honestly feels like we've known them for years. Kel & Dave go over and above to make sure their guests have a great time. Thanks so much again guys. We can't wait until next time!
Amy
July 2016
The bald eagle soars in Ocean Shores.. My time with Kel, dave-o, the adorable kids, and of course skip the kelpy was a magical experience. The house is a beautiful modern home with a huge kitchen and all the fixings for all those aspiring chefs out there! There is a shower that caresses you body to make you feel like royalty. The beds are big and cozy, the rooms gets very dark so you are expected to have a excellent, peaceful sleep. Did I mention that the house is completely made by the owners? You can defiantly tell the hard work and attention that went into the house, it really shows.(URL HIDDEN)house isn't a home with out a happy family to experience it all with. If your traveling and need to know anything about the surrounding area, Dave Is your go to tour guide. Do you need a detailed explanation on what to do today? look no further your personal tour guides are right in the kitchen making a healthy snack for their little boys. You are never, not entertained at the house, the kids keep you grinning from ear to ear. Nothing fills your heart more then happy children running around showing you their impressive cars and giving you a hug and wave goodnight. Kelly is quite the impressive, hilarious, generous, women/mom and you would be very privileged to meet her, let alone share the same roof with her. It was really hard saying goodbye to ocean shores and the family. It was like saying bye to my own family. My first airbnb in a different country and i got above and beyond what i could have ever asked for! I hope you all enjoy the laid back, quiet place too(URL HIDDEN)
Hana
November 2015
Staying with Kelly and her family was absolutely amazing. I arrived very tired but a couple of weeks in Ocean Shores made all the difference. The area is great, the beach beautiful and people are so friendly. The room in itself was very comfortable and private and I would happily stay there anytime. They made me feel very welcome and I left feeling part of the family.
Tina
October 2015
Kel and Dave were great - they made us feel welcome from day 1 of our 4 week stay, and were always a question away from giving great tips and advice on the best places around. The room is spacious and private - with your own toilet/shower room below. We were able to borrow a couple of bikes to explore the local area and head down to the beach (just a 5 min drive away). There is a Coles/Sushi bar/Target Country store/Bottlo/Bakery less than a 10min drive, as well as the Ocean Shores Tavern (must try the steak sandwich!) and the Golf Club (also serve great food). It's a quick jump onto the pacific highway, where we were about 30mins drive from work at the macadamia farm (avoid!), with Byron Bay at the same distance from the house (Wategos beach was our fave!). We figured parking at Belongil and walking about 10mins down the beach into Byron Bay was a better option than trying to park/pay within the town (super busy/restricted times). We opted for airbnb over a hostel stay and we were not disappointed - Kel, Dave and the boys (and Skip!)made us feel so welcome with a great balance of our own privacy after a long day at work. Would highly recommend!!
Fiona
May 2016
We spent 10 days at Kelly's place and it was the best airbnb experience we had EVER. Kelly's family were amazing hosts. Made us feel super welcome and as if we were part of their own family! Would recommend anyone looking for a warm and genuine home away from home experience to book with these wonderful people. Such a open and generous family, we could share all the space with them. Cooking and baking in their big kitchen is just awesome, we loved the huge chopping board. And don't miss out the fun sharing stories with them. If you are lucky enough, their sweet little boys might put on a music show for you, you'll love it! We didn't have a car when we travelled. But it was not a problem for us at all because they were very considerate and offered us a ride whenever they went out. They let us stayed for longer when we had to change our plan. Don't miss out the chance staying with them if you are coming around the area.
Gilles
October 2016
Tipo de habitación
Habitación privada
---
Tipo de propiedad
---
Capacidad
2
---
Dormitorios
1
Ocean Shores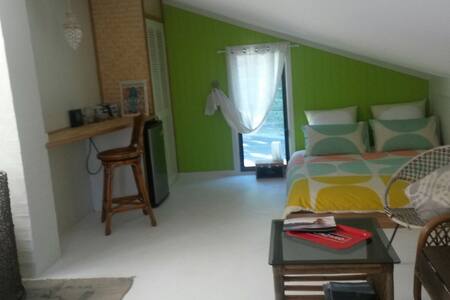 Mullum Tree Loft Studio is... Your Luxury Retreat right in the heart of Australia's biggest little town. It has everything you need, so you can relax and enjoy your stay in this country yet cosmopolitan picturesque town. The space is perfect for couples, families and business travellers.
The space for rent is a large, stunning self-contained loft studio with high ceilings, antique recycled windows, complete with its own fully equipped kitchen and bathroom that spans over two spacious stories. There's one queen bed in the loft, but the loft can accommodate three adults with a king single sofa available downstairs. The loft cabin itself is impeccably furnished and will instantly put you at ease, and provide the perfect setting for you to relax and rejuvenate. It's the perfect spot for a romantic getaway, family getaway or relaxed business stopover. You'll also have all the amenities you could need here to just chill and relax. The Wifi is excellent, we have Netflix, you can cook up a storm in the kitchen for when you'd rather stay in, but is only a short stroll to town if you'd rather dine out, directly across the road is the local pools to enjoy if the weather is warm and we also provide clothes washer, dryer, hairdryer and parking on premises. The structure is made of mostly recycled materials and is eco-friendly. The space is the perfect place to getaway and unwind in luxury and style, away from the hustle and bustle of Byron Bay. We are located in the hub of town, the heart of Mullum, so you will note some road noise in particular during peak season. Mullum during the summer is quite humid and as we are nature lovers and up early we love fresh air and sunshine, the loft reflects this by having numerous windows that let in the air and sunshine. There are two fans and a large lovely mosquito net over the bed to combat this ;) but no screens or block out blinds as it's not a hotel. As the loft studio is fully self-contained, we'll leave you with the keys in a lockbox to your private space and you can come and go as you please. We'll leave you to enjoy the beautiful space and the sights around the town and beyond, but will be here if you need anything. Your hosts are a young, fun and busy family (toddler in tow and pets). We'll run through your check-in and check-out with you and will be available to discuss anything about your stay and will happily recommend local sights, pampering, eateries and things to do.
Mullumbimby is a charming cosmopolitan and vibrant country town, a 20-minute drive north of Byron Bay. It has its own farmers markets each week, music festivals and world class eateries that use local produce. It's also the perfect base to explore the rainforest in the hinterlands or the gorgeous beaches either in Byron or only 10 minutes away at the very beautiful Brunswick Heads. It is iconically known as "the biggest little town in Australia", with beautiful and quaint local shops, parks and beaches. Our place is right across the road from the Mullumbimby public pools and an easy stroll into town. There's also the Mullumbimby Musical Festival. This year it's on Thursday 17 November to Sunday 20 November 2016. For more info, see: (URL HIDDEN) We are a 15 minute drive to Crystal Castle: (URL HIDDEN) It's a great idea to get a hire car or bring your own as the area and sights to be seen are spaced out a little. However we are walking distance to Mullumbimby itself and only a short cab ride to Brunswick heads. Byron Bay Shuttle has shuttles running from Brisbane and/or the Gold Coast to Mullumbimby for $42 each way: see (URL HIDDEN) The Blanches Bus Company has a local bus from Ballina – Lennox Head – Suffolk Park – Byron Bay – Mullumbimby: see (URL HIDDEN) The space accommodates three people … and pets! Yes, your pets are welcome too (small to medium dogs and possibly indoor cat) Please just let us know in advance if your pet will be staying with you. Subject to additional cleaning fee. Also we are very close to town and and at busiest times you may get general street noise.
I would highly recommend staying here. Newly built with everything we needed for our stay. Heaps of room. We will be back.
Dominique
December 2016
Emily's loft was beautiful. My partner, puppy and myslef had a great and relaxing time. Everything was as described on the website. The loft was trendy, very clean and fully stocked. Emily was a tremendous host and communication was perfect. The location was perfect. Close enough to town to walk. My favourite part was all the natural light and the bed curtains. So breezy and beautiful. We will definately be back :)
Zoi
December 2016
We loved staying at Emily's place. We drove straight from Sydney so were tired on arrival. Emily had the key waiting at the front door and essential food for us and our puppy waiting inside (the food was quality and healthy too, as were the bathroom products). The place was beautifully presented and the furniture stylish and modern. The upstairs was our favourite part, we could watch Netflix from the canopy bed as well as look out the window at the bush sunset - it felt like a jungle escape. Our stay was short but we loved that the place was across the road from a big park for our dog and the town was a 5-10 minute walk. The town was cool and the staff at the restaurants so helpful - the local pub boxed up two steaks for us to take home because we were too tired to eat out and the health food cafe did great coffee and smoothies in the morning Everything was pretty self explanatory but if we needed anything Emily replied to our texts straight away - We want to stay again!
Samantha
December 2016
Stunning loft and Emily was fabulous to deal with! Can't recommend this place highly enough. I felt instantly relaxed when I entered. Book now you won't be disappointed!!!
Courtney
December 2016
Emily's loft scores each aspect of the accommodation experience. The accommodation experience is designed to offer the ultimate in elegant luxury and comfort. The loft is furnished using the finest quality furniture/supplies and latest technological appliances. Emily was so quick and friendly in helping us with check-in, check-out and questions. The loft is close to Byron Bay but in the mean time located in a quite with spectacular views spot. We will definitely come back.
Adam
December 2016
We had a fantastic (but too short) stay. Emily was easily accessible and the accomodation was as expected and very clean! Also there was extra supplies left for us in the kitchen which came really handy and kind. It is Just 20mn by car from Byron bay. We would surely recommend this place to anyone. Thank you Emily! :)
Christelle
December 2016
Absolutely amazing !! Located close to town and the loft is beautiful. Very clean and would 100% stay again.
jacqueline
December 2016
I adored everything about this unique living space. Light and airy. So serene, gracefully simple, I felt relaxed the moment I walked through the front gate. Emily pays attention to details. She has impeccable creative flair in everything chosen here (style wise), and nutrition wise with food choices.
Frances
December 2016
Tipo de habitación
Casa/apto. entero
---
Tipo de propiedad
---
Capacidad
3
---
Dormitorios
1
Mullumbimby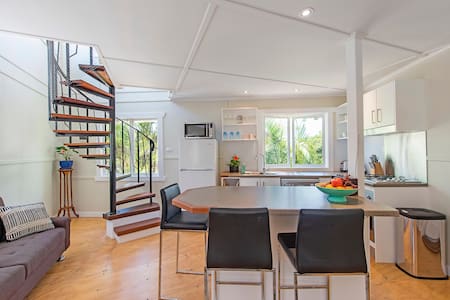 The Surf Shack is ideal for couples or a single working professional. Located just 10 minutes by car from heart of town and 5 min walk to the beach and shops/pub. It´s a beautiful and cozy getaway loft. Fully self-contained kitchen and garden.
One self-contained space including an outdoor garden. Access through the wooden gate next to the right parking place. Follow the steps until you reach the small wooden gate in the upper deck. From the deck you will see the Surf Shack located in the garden. This little getaway adjoins the back of the owners house.
Located on a nice and quiet neighborhood called Baywood Chase. 5 minute walk to shops/pub and beach
Staying in this lovely and quiet surf shack was exactly what we needed for a couples weekend away. The hosts were fantastic - very helpful, friendly and going above and beyond. Will definitely come back again!
Selina
May 2016
Ursula was a great host ! The shack is clean and quiet just as described ! We'll definitely come back ! Thks Ursula
Alexis
May 2016
The surf shack is so beautifully presented and is sparkling clean. It is completely detached from the host with a side entry. It has a large grassy area thats lovely to sit in and relax. The kitchen has an electric stove, microwave,fridge, toaster and kettle so we were able to cook a hot breakfast and enjoy it in the morning sun on the deck. Its about a 2 min drive to Suffolk Park beach & shops which was easy for a morning stroll on the beach! Its a good 10 min drive into Byron Bay beaches. We would definitely recommend staying here if you are fit & agile due to the cute little sleeping area is being up a steep set of stairs in a small headspace in the roof.
Rebecca
November 2016
I had a lovely stay at The Surf Shack, it was very modern and comfortable with a relaxing feel. The area is very quite although not very close to the beach. Lovely and welcoming hosts.
Elissa
November 2016
We stayed here for 3 nights and it was lovely. It's only a short drive to Suffolk park beach and only 10 mins drive from Byron. The place was lovely and we really enjoyed it. The hosts were accommodating and even helped us out when the shops ran out of garlic. Definitely would recommend.
Callum
December 2016
Friendly host that gave us our space but provided us with some good local information. Cute beachy decor. Modern well appointed kitchenette and bathroom with some nice touches - appliances and condiments, towels and soap. A small warning to older guests that stairwell to loft was quite steep and a bit awkward. Loft height a little lower than pictures suggest. If we had another night it may have been nice to relax and enjoy our coffee in the deckchairs set up in the backyard. Thanks again Ursula!
Brianna
November 2016
What a lil gem of a place , the host were very warm and welcoming in to their home . Great spot to get away and relax and everything is within 5 mins drive . I recommend to all travellers.
Sam
October 2016
So lovely! Open to having a chat but also allowed me to have my own space and enjoy the peace of the area. Highly recommend spot! ❤️
Sarah
September 2016
Tipo de habitación
Casa/apto. entero
---
Tipo de propiedad
---
Capacidad
2
---
Dormitorios
0
Suffolk Park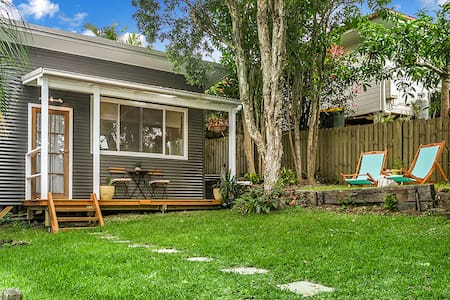 Amaroo beachside holiday lodge is nestled in the exclusive Tuckeroo gated beachside estate. Short walk along a beach track leads you on to the famous Tallows Beach with great surfing, fishing, swimming and walk.
The property is located in a private estate. From the beach you have views to Byron bay lighthouse to your left and Broken Head Nature reserve to the right. The busy suffolk park bakery is just a 5 minute walk away great for coffee and breakfast.The village also has a supermarket, post office, chemist, several resturants and pub. The accomodation comprises of a parking space for one car leading to a tropical private courtyard, bbq and entrance to downstairs bathroom. Stairs to 1st floor living space with sofa bed, air conditioning, TV,kitchen (no oven) microwave, portable hot plate, fridge, with east facing balcony. Bedroom with either x 2 kingsize single beds or king size bed, TV, west facing balcony. The ceilings are vaulted with window shutters and timber floor. Wireless Internet provided. A BBQ in the courtyard makes a lovely dinner! We respect our guests privacy but should you require any local knowledge, help or tips we are here at any time.
Explore the surrounding countryside & rainforests. Visit the many towns and villages. Stroll down the main street in Bangalow, beaches and main street of Lennox or enjoy the laid back town of Byron Bay. Local markets. Byron Bay 1st Sunday Lennox Head 2nd Sunday Ballina 3rd Sunday Bangalow 4th Sunday Lennox Head 5th Sunday The busy suffolk park bakery is just a 5 minute walk away great for coffee and breakfast.The village also has a supermarket, post office, chemist, several resturants and pub. Just a 5 minute drive to the hustle and bustle of Byron Bay or or bicycles can be rented in town. Bus service also leaves Suffolk Park for surrounding areas. The Suffolk Park Motel provides a shuttle bus in to Byron on weekends. No schoolies sorry! This property has shared driveway access with onsite owners but has own car parking space and offers total privacy. Not suitable for toddlers No extra charge for babies
Great communication prior due to late arrival. Responsive and helpful. Great spot - was working all weekend so didn't get the opportunity to enjoy the beach or area on this trip.
Dominic
November 2016
Amazing place in a perfect spot. Steps to the beach and a short walk down the road to the bakery in the morning that also proofed to have fantastic coffee. Was great to have the little extras like beach towels, bogey board and so one. Perfect treat in a lovely quiet area and easy acres by bike or car to Byron.
Mike
October 2016
We had a wonderful stay at this property in Suffolk Park. Lorna was timely and effective in her communications. The stay was perfect for our needs. It was about 9mins out of Byron and preferred to be out of the central area which was absolutely packed on the weekend so it was lovely to come back to the little sanctuary in Suffolk Park. We had a hire car which made everything very easy and taxis into Byron and surrounds from the stay were about $20. As a couple we would have preferred the one bed as opposed to two singles pushed together but twas a minor detail for the rest of the perks. I would recommend to others.
Candice
November 2016
Amaroo Beach Retreat was in a lovely quiet location at the end of a leafy cul-de-sac. A hop skip and jump and you are on the beach. Lovely and private with separate entrance. The apartment has everything you need for a relaxing break. Was really nice to arrive on a Friday night after a hectic week, to an icy cold welcome drink.
Cheryl
March 2015
Amaroo Beach Retreat is an awesome place to stay very near Byron Bay. Sounds of the waves great you upon your arrival and the short trail to the beach is great. The guest house is perfect for a couple or a couple with a child. Easy access to the surrounding area including Byron Bay town, beaches and lighthouse. Lennox Head is a 15 minutes away and is a great place to visit as well. The house was quiet and comfortable and we will definitely try to stay there again on our next visit. We had a great time and recommend staying at Amaroo Beach Retreat.
Scott
January 2016
Great spot and love the keyless entry to the gate and unit - makes things so much easier. Small, but just right for 2 people - highly recommend. Note: there's no stove, only an electric hotplate which was fine for us - too many new restaurants in Byron to try!
Eran
February 2015
Amaroo was lovely, very neat and tidy and had everything I needed. Very quick responses. Beautiful area =)
Michelle
May 2015
Lorna was very responsive to messages and we loved the location's proximity to the beach. The property was very clean and tidy and had a warm feel. Thanks again it was a great Byron getaway.
Jessica
September 2015
Tipo de habitación
Casa/apto. entero
---
Tipo de propiedad
---
Capacidad
3
---
Dormitorios
1
Suffolk Park